FREE Garden Seedling Labels + Garden Tips and Recipes
This post may contain affiliate links, view our disclosure policy for details.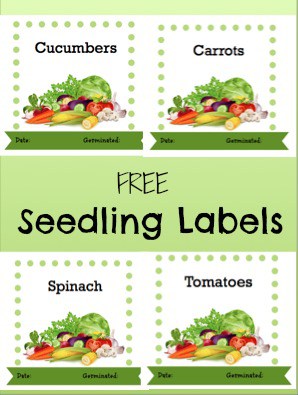 When the weather is warm enough and I'm not blogging or traveling you'll find me in the backyard buried deep into my veggie garden! Actually I should say veggies gardens as I actually have several! One thing that I seem to be lacking in, however, is properly storing and labeling my seeds!
So I've put together some FREE Garden Seedling Labels for you to print and use! GREAT for your own personal garden as well as for use in the classroom! AND there are plenty of blank labels too for you to create your own! You'll find labels for cucumbers, carrots, spinach, tomatoes, lettuce, broccoli, cabbage, zucchini, peas, green peppers, jalapeños, and of course blank ones.
Check out our other Garden Related Articles:
Planting a Garden in a Wood Pallet
5 Ideas to Spruce up your School Garden
6 Tips to Save Money on Seedlings & Plants
A Cheap Tip to Start Seeds Indoors 
Visiting a Hydroponics Farm
DIY Gardening Bag Gift Craft
RECIPES from the GARDEN: 
Homemade Bread and Butter Pickles Recipe
Homemade Spaghetti Sauce Recipe
Homemade Salsa Recipe
Homemade Bruschetta Recipe
Simple Apple Pie Recipe
Flavorful Pumpkin Pie Recipe