The BEST Thick Crust Gluten Free Pizza Recipe (Dairy Free!) – EASY Dinner Recipe Idea
This post may contain affiliate links, view our disclosure policy for details.
You guys – I have FINALLY come up with the PERFECT thick crust gluten free pizza recipe that works EVERY time! We make it dairy free too! It's SUCH an EASY dinner recipe idea that you can make AND have in the oven in just an hour! NO kneading, no waiting hours for bread to rise, just throw all of the ingredients in one bowls and mix!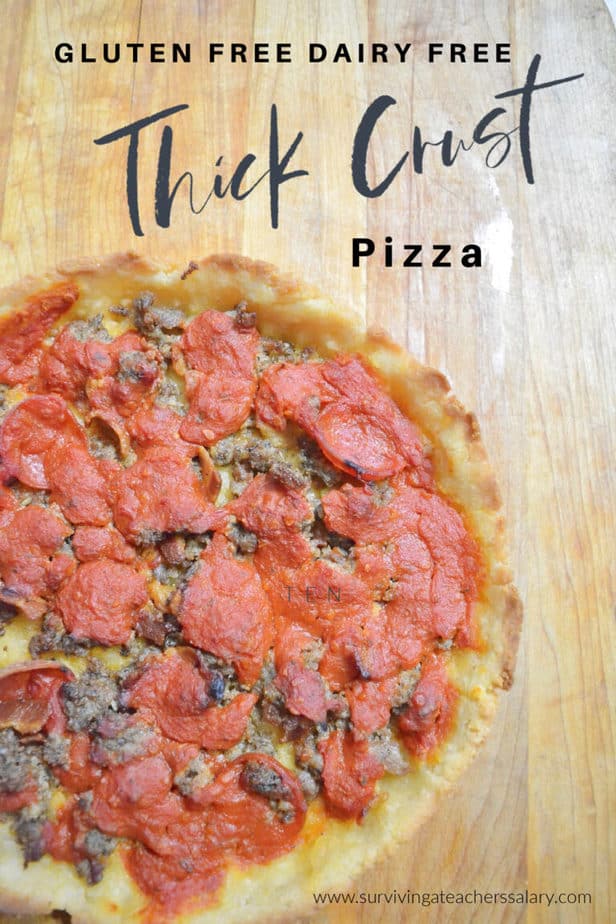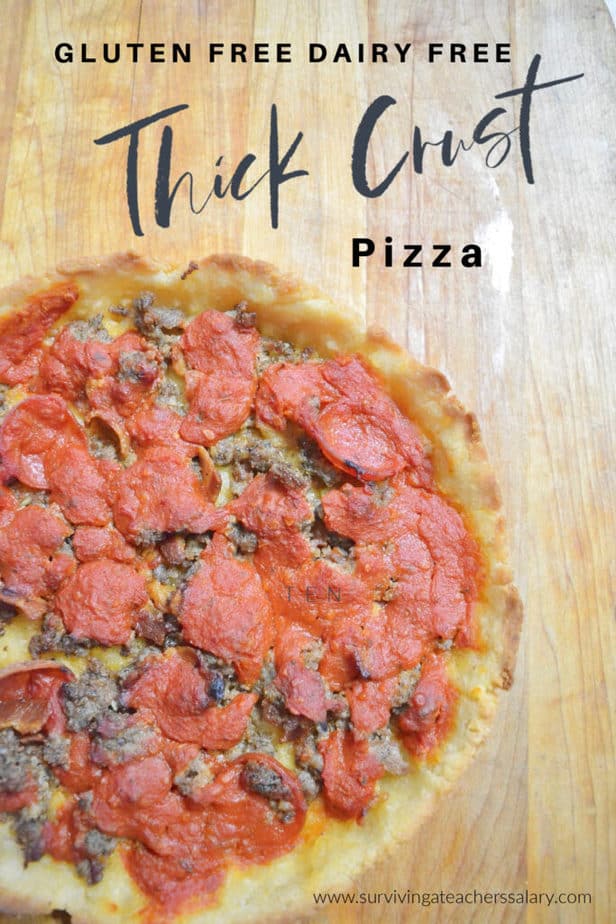 Developing food allergies in my 30's really threw me for a curve and two of my three kids have since realized they have issues with gluten and dairy as well! It took me 3 years making all sorts of gluten free recipes that I found online (and wasting a lot of money and good food ingredients!) till I found a gluten free bread recipe that FINALLY tasted AMAZING AND the recipe works every time!!!
Originally inspired and closely follows the Gluten Free Artisan Bread from Gluten Free on a Shoestring (which I absolutely use for everything from sandwich bread to monkey bread!) , I will list exact brands and ingredients that I use below along with my process.
My 14 year old son (who rarely ever cooks!) has replicated this multiple times with 100% success! Of course as food allergies go, you can do some trial runs to try out your own substitutes but below is my exact method of creating thick crust gluten free pizza that hasn't failed me yet!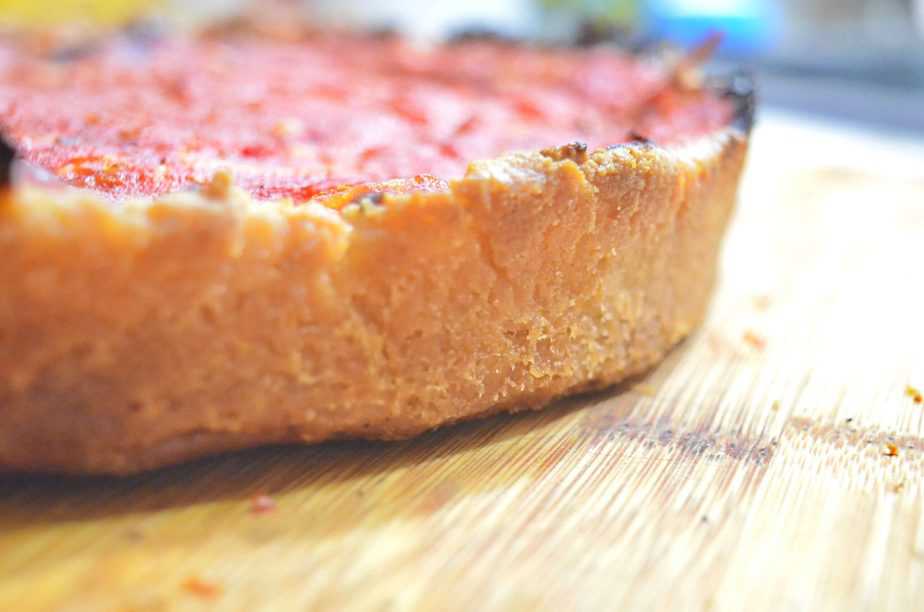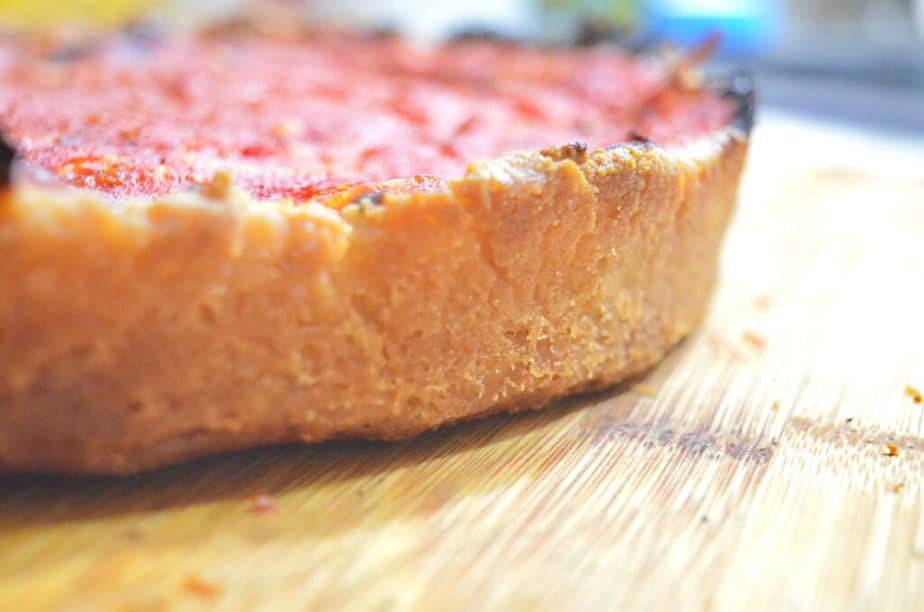 The one thing I've noticed over the years of trying to make both homemade gluten free pizza recipes and box kit gluten free pizza dough is that all the ones I've come across are thin and crunchy like a cracker! I used to LOVE deep dish pizza – the soft and thick fluffy (NOT DENSE like most gluten free recipes!) pizza crust which I had just accepted as impossible to make. Then I stumbled on that GF Artisan Bread recipe and started modifying it for pretty much all of my gluten free bread needs!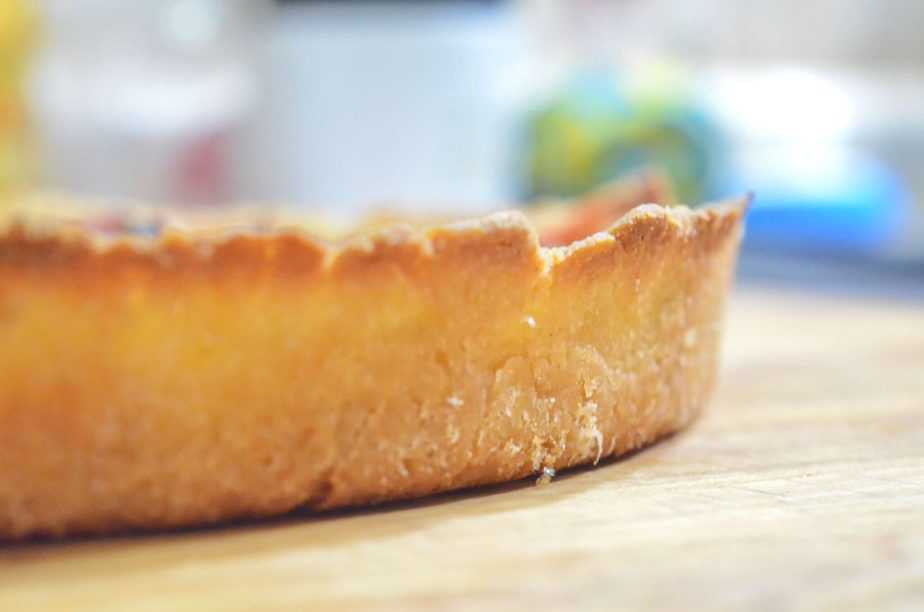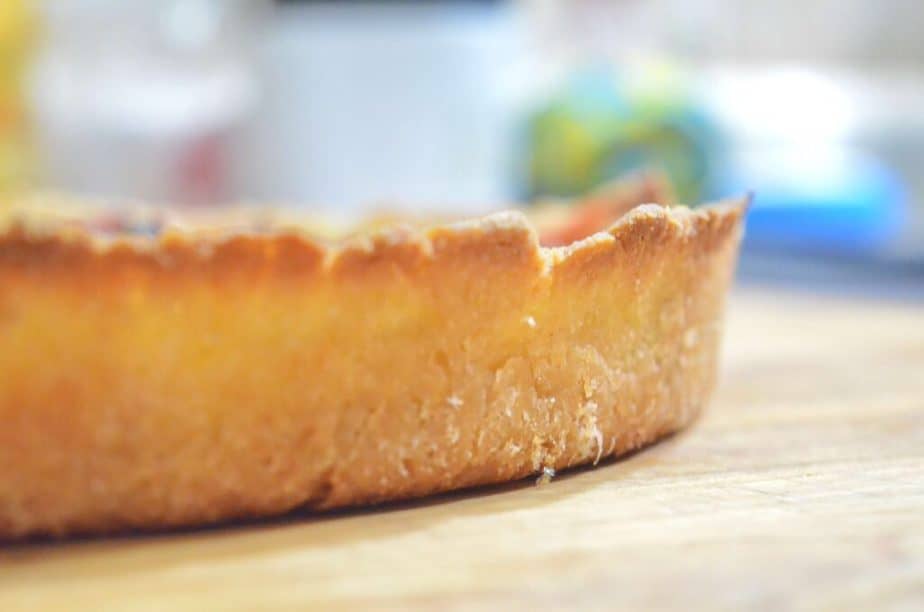 Yuuuuum! Look how thick that crust is!!! It just makes my mouth water thinking about it! For my two teenagers and myself I usually double-triple the recipe since my boys eat a TON right now! Assume one pizza per recipe, but if you're in a pinch, don't have very big eaters that devour everything in sight, or don't want a lot of leftovers I would make 2 batches for every 3 people.
*I throw up to 2 or 3 batches in ONE bowl! I used to separate the batches out into different bowls but I've found that it didn't appear to make a difference in the long run. I've never tried more than a triple batch in one bowl.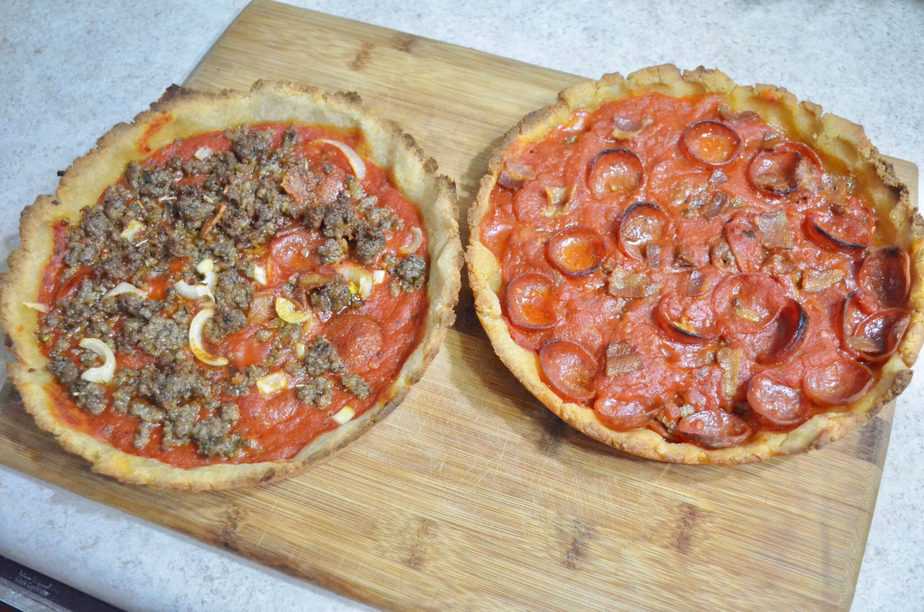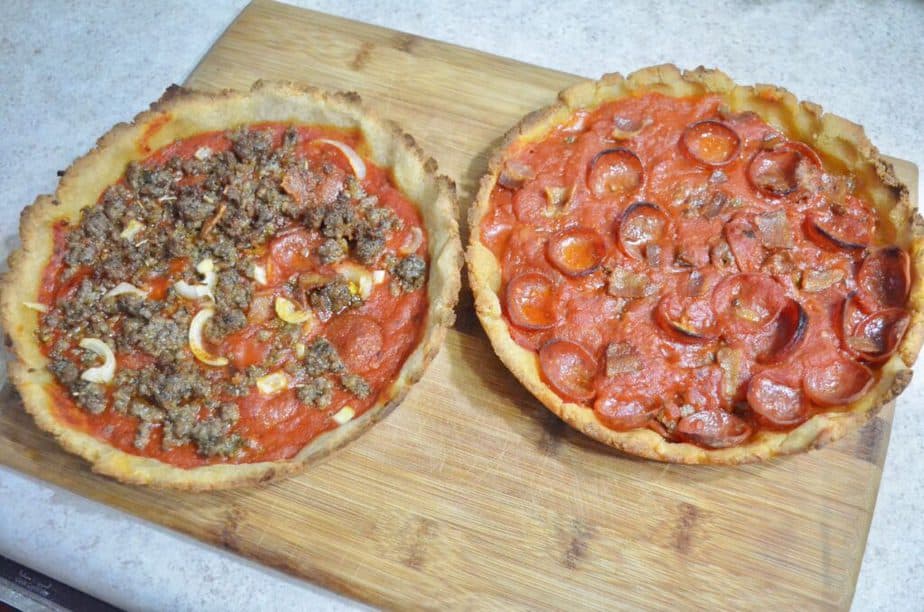 The secret to a good dairy free pizza:
If you have discovered a vegan cheese that you love then you're probably set! But it seems every time I actually find a vegan cheese that I love (there's only been 2!!) then the stores stop carrying them and I can't find them anymore! WAH! So we have found a great way around the whole cheese thing!
The key is to add enough greasy meats (and sauce of course) to offset the melty cheese you are missing! Typically pepperoni does a really great job of soaking up the pizza crust bread but we experiment with all sorts of things!
Goat cheese is another great creamy option if you can handle it. I've found we can use goat cheese without any side effects for us.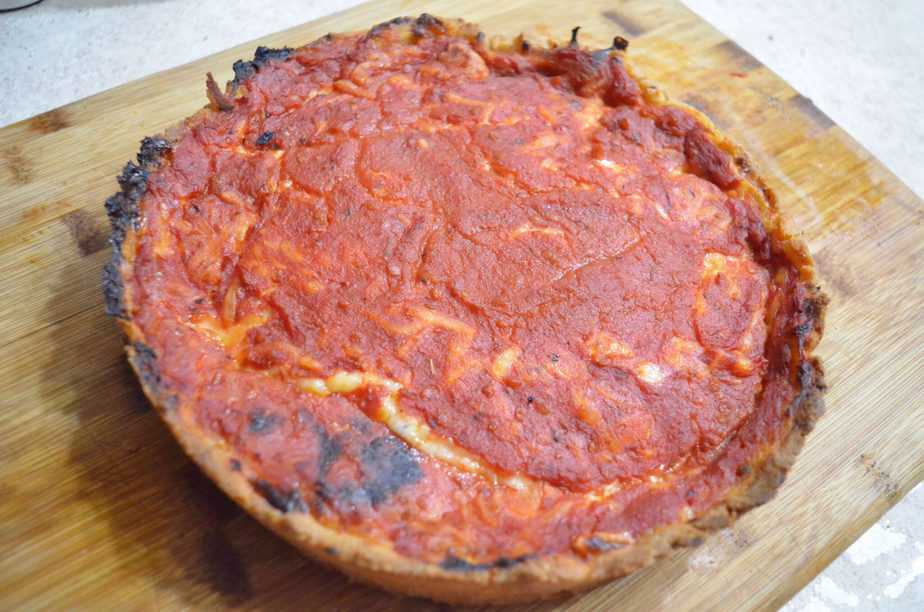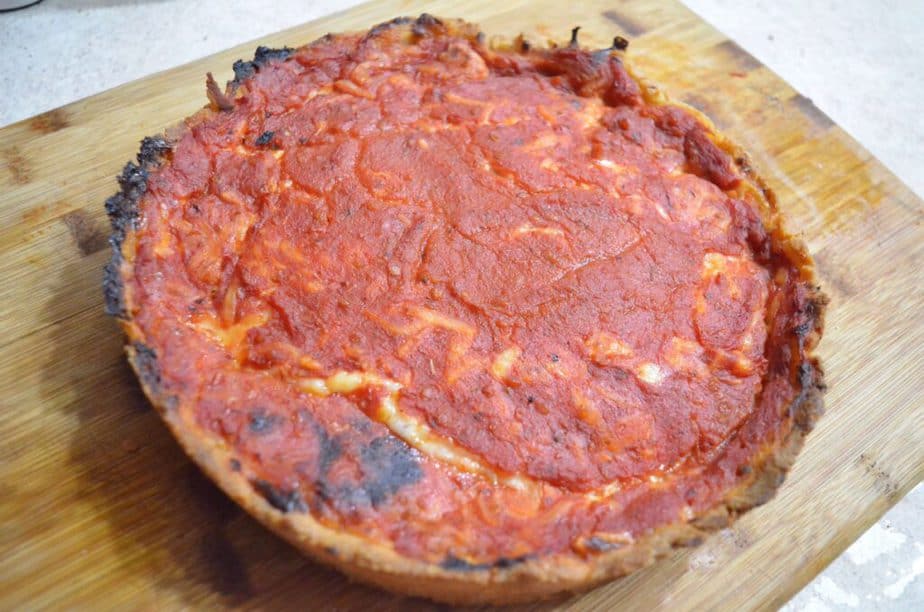 Here is one of our gluten free pizza recipes where we smothered the top in sauce and put all of the ingredients underneath. It helps to hold all of the meats on the pizza.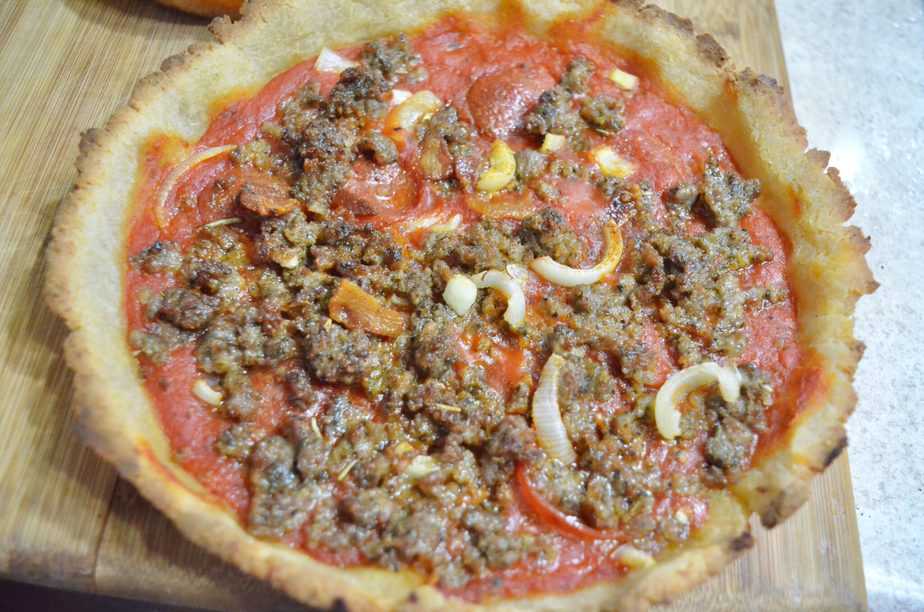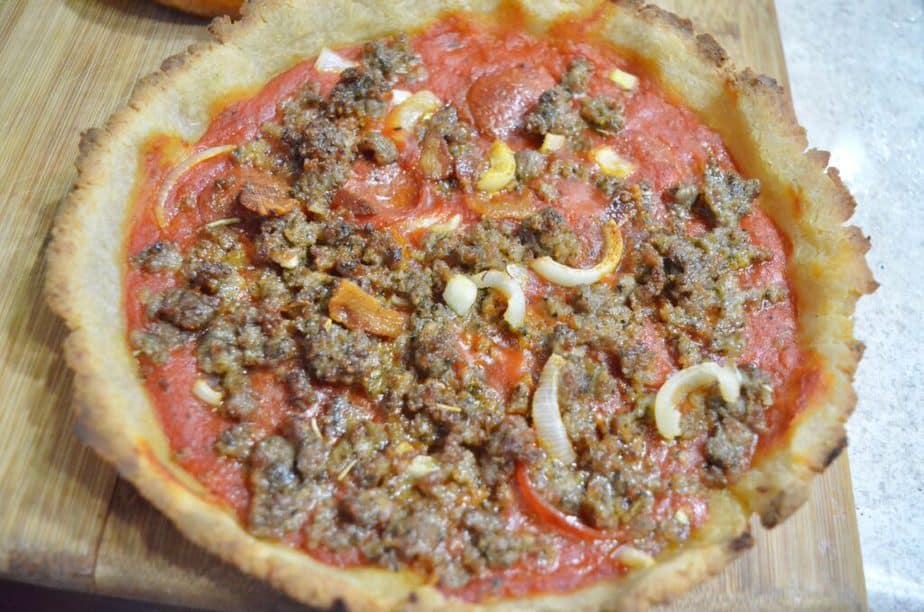 Although this is our typical type of pizza. A healthy amount of sauce on the bottom, sprinkled with things like sausage, pepperoni, onions, peppers, goat cheese, mushrooms, or anything else you want to add on top.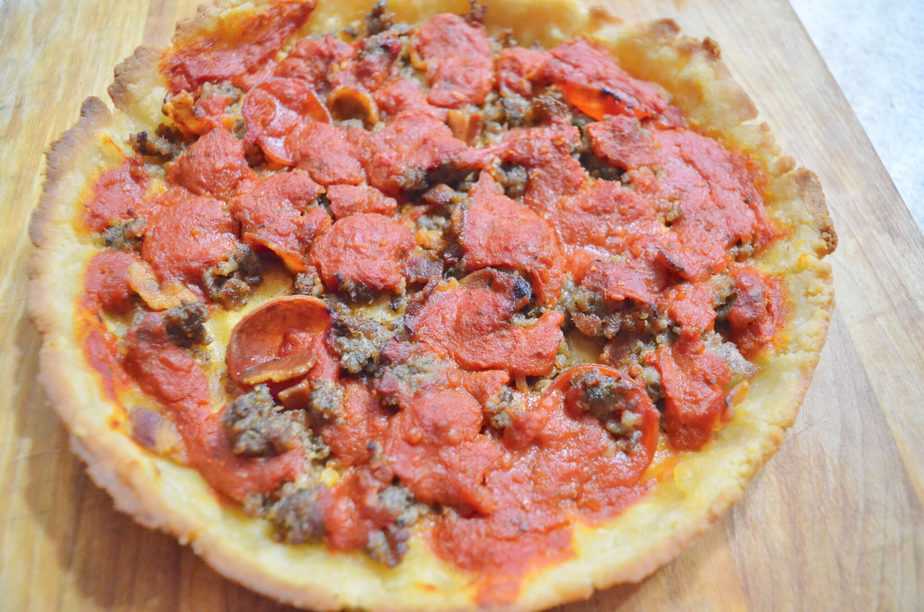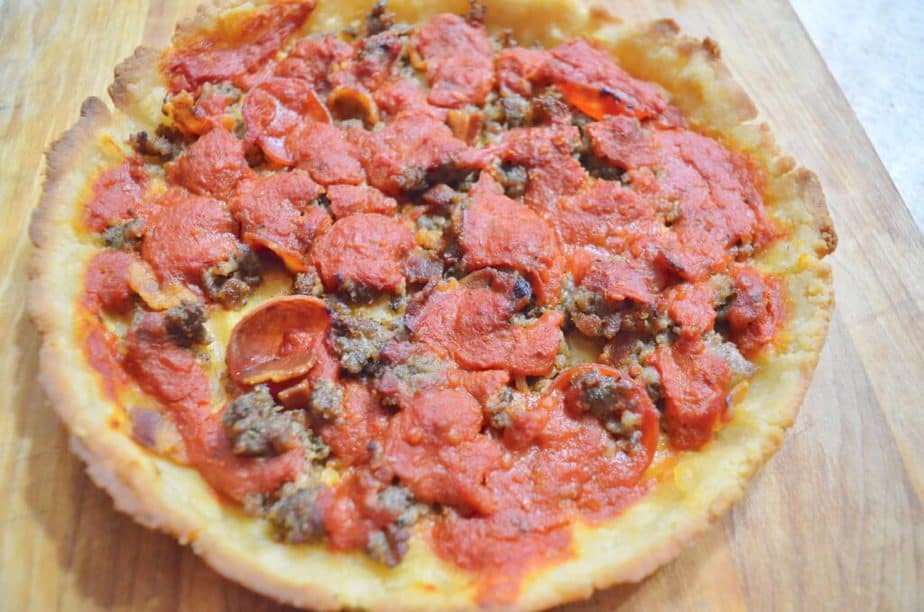 **Please make sure you read the additional notes on the warming of the milk (#3), the batter, and the pan size/shape in the recipe card below – it is VITAL to this recipe!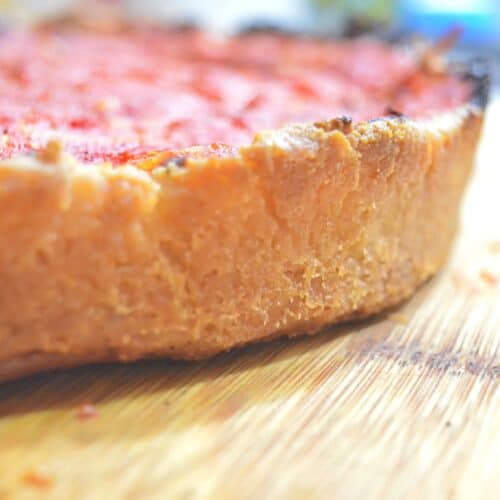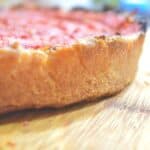 Gluten Free Thick Crust Pizza Recipe
EASY thick crust gluten free pizza – dairy free too!
Ingredients
1.5 cups + 2 Tbsp.

King Arthur's Gluten Free Flour

1/4 cup + 2 Tbsp

Tapioca Flour

2

tsp

granulated sugar

1

whole

instant yeast packet

(individual packet = approx. 2 tsp)

1/4

tsp

baking soda

1

tsp

iodized salt

1

cup

warm almond milk

1

egg

beaten, room temperature

1

Tbsp

olive oil
Instructions
Place all dry ingredients into one bowl and mix well with a fork.

Beat one room temperature egg in a small glass or dish.

Warm almond milk by stirring after heating every 15 seconds in the microwave. You do NOT want to overheat the milk as this will lessen the effects of the yeast. You want it warmer than room temperature (like a hot bath).

Add the pre-beaten egg, olive oil and warm almond milk into your dry ingredients at the same time and stir lightly with a fork. Do NOT over stir! Batter will appear runny and slightly lumpy – this is OK! You do NOT need to knead the dough nor will you be able to pick it up – this is all OK! Simply stir lightly to mix most of the ingredients.

I have done both of the following with similar results but you can experiment and choose what is best for you – choose one choice from CHOICE A OR CHOICE B below.

CHOICE A- Once the ingredients are mixed lightly, cover the bowl with plastic wrap and set aside to rise for 45 minutes. Dough WILL rise some. Warm locations are the best. After 45 minutes is up then pour batter into desired greased pan.

CHOICE B- Once the ingredients are mixed lightly, pour the batter into the desired greased pan and cover. Let sit to rise for 45 minutes.

Add desired sauce(s), dairy free or goat cheese, sausage, pepperoni, onions, bacon, peppers, mushrooms, etc. onto the pizza and cook for 20-30 minutes at 375*.

OPTIONAL – I also melt dairy-free butter and mix with a healthy amount of garlic, then brush it onto the crust before placing into the oven, and again half way through. You can pour any extras right onto the top of the pizza!
Recipe Notes
NOTE ABOUT THE BATTER:
As mentioned in the direction list, this batter will NOT be your typical fluffy "pick it up and knead it" dough! My teenager once in a great while may get a firmer dough but our dough is always thin – the consistency of a thick pancake batter. This is OK, preferred and is normal. Although it should not be as thin as water! The dough will still rise and perform well! I find the less you mess with it the better it rises. The more you mix your dough and the firmer it is, the more dense your dough will be when you cook it! 
NOTE ABOUT THE PAN:
Because the batter is not stiff and more "runny" you will need to think about your pan size and shape! I like to use pie pans for smaller round pizzas which provide a great shape! Many times we just grab a baking sheet covered in foil and pour the dough right onto it allowing for a more "flatbread" pizza approach. You can use a fork to lightly smooth the dough into your desired rectangle (or other) shape. Although I love how it tastes when using a glass dish, we somehow always grab an aluminum pan, so either will work.
More Popular Recipes: