DIY Homemade Bread & Butter Pickles – Easy Recipe
This post may contain affiliate links, view our disclosure policy for details.
This easy tutorial will help you learn how to make your own diy homemade bread and butter pickles! This canning recipe is SO delicious and easy to make if you love bread and butter pickles!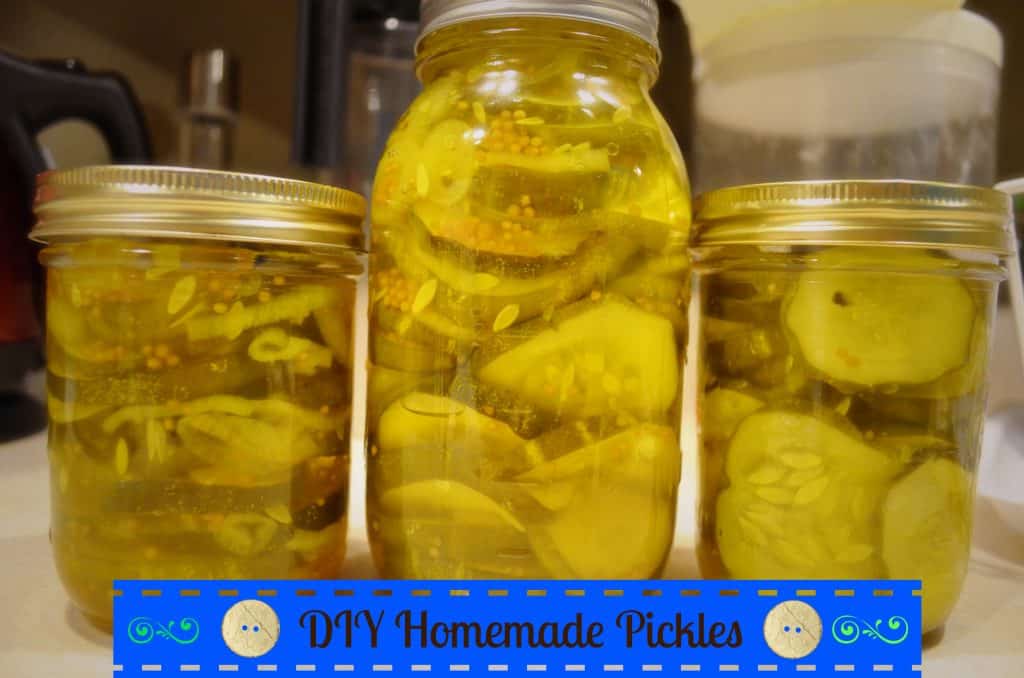 I made the mistake of planting THREE cucumber plants in my garden (evidently you only need one!) and now I am overrun with a zillion cucumbers….or at least it seems that way! We have a LOT more cucumbers than our family can eat, so I decided to try and make my own homemade bread & butter pickles – which turned out to be VERY easy to do! I canned the ones I made which gave me 2 quart jars and 2 pints of yummy homemade sweet pickles!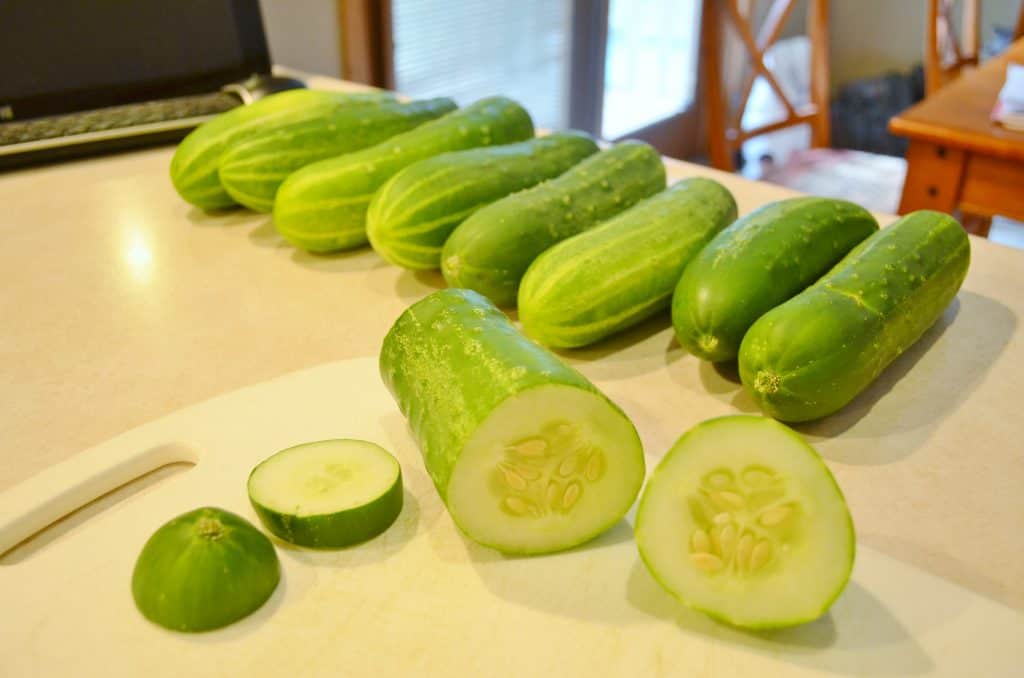 I used 7 pickles for my recipe – about medium size. I cut of the ends and set them aside for my compost pile, pig, and chickens to eat.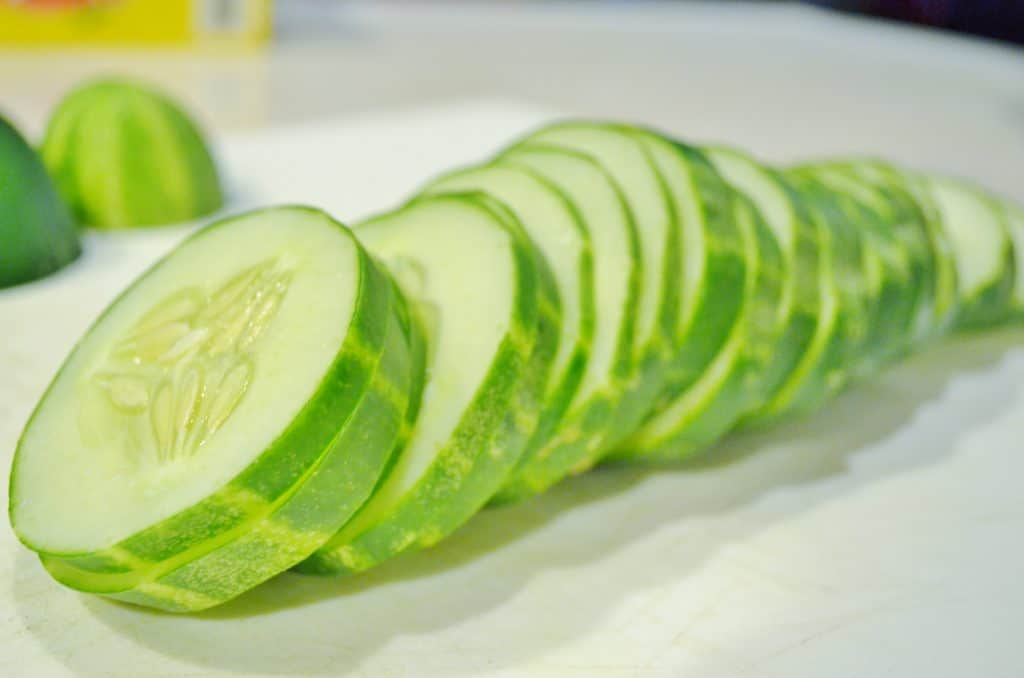 The I sliced the cucumbers up, leaving the skin intact. You'll need a very large pot so I used my crock pot insert to hold my cucumber slices! You'll also want 3 large onions, sliced thinly, and pile those into the same pot of cucumber slices.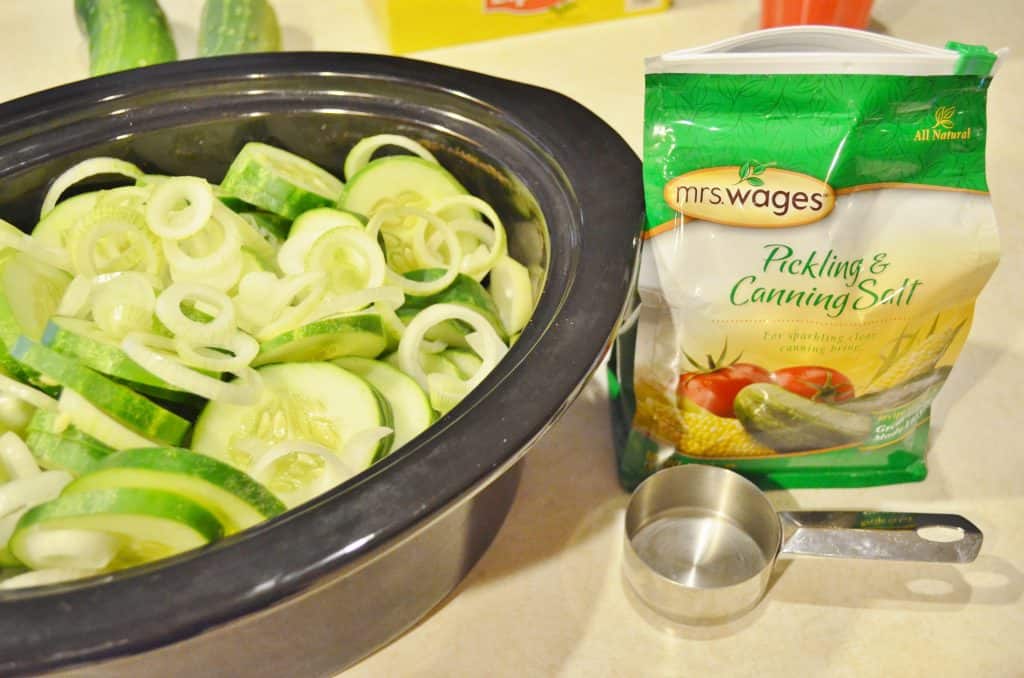 Once all of your cucumbers and onions are sliced up and dumped into your pot pour 1/3 cup of Pickling & Canning salt over everything (I found pickling & canning salt in the canning/mason jar section of my Walmart). Mix it in quickly so it coats everything but don't worry too much about it – just make sure it's not dumped all on one spot. Let your post sit in the refrigerator for 3 hours.
If you are going to can your pickles sterilize them when your 3 hours are up.
After 3 hours of letting your cukes/onions/salt sit rinse them off with cold water in the sink in a colander so it all drains off.
Combine 3 cups of granulated sugar, 1 tsp. turmeric, 1/2 tsp whole clove, 1.25 Tbsp whole mustard seed, and 3.5 cups of white distilled vinegar in a pot and heat to scald. Immediately add your cucumbers and onions to the scalding liquid, bring to boil, then immediately remove. You don't want your cucumbers/pickles getting too mushy!
Use a slotted spoon to remove your onions and cucumbers and pack your mason jars full leaving about 1/2 inch of head space. Mine filled up 2 quart jars and 2 pint jars with a small container of leftovers to eat right away! Once you've packed in your veggies pour the rest of the hot vinegar mix into the jars leaving about 1/2 inch head space.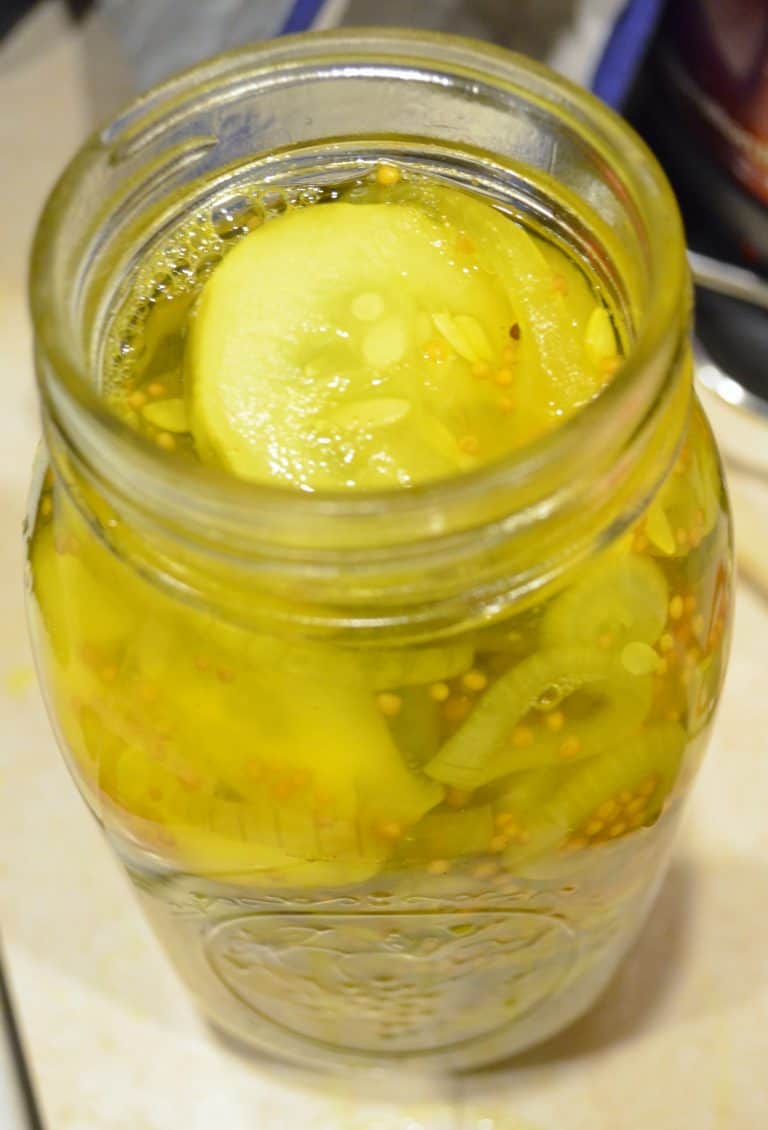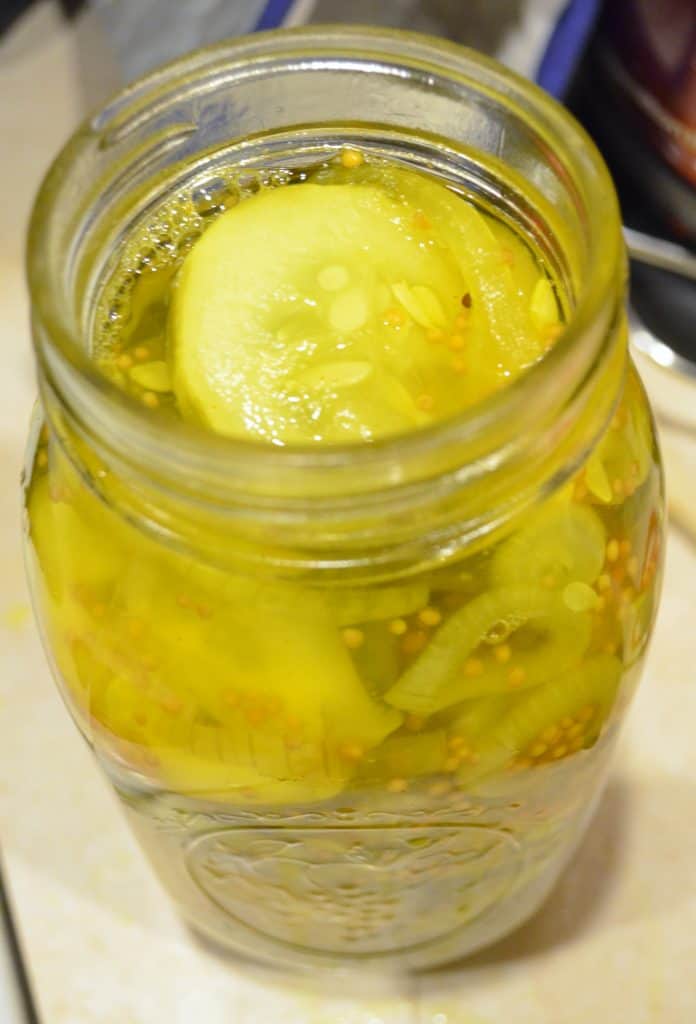 If you're canning your pickles for later boil them in your water bath (make sure the tops are covered!) for 25 minutes – just long enough to make sure the seal is set properly.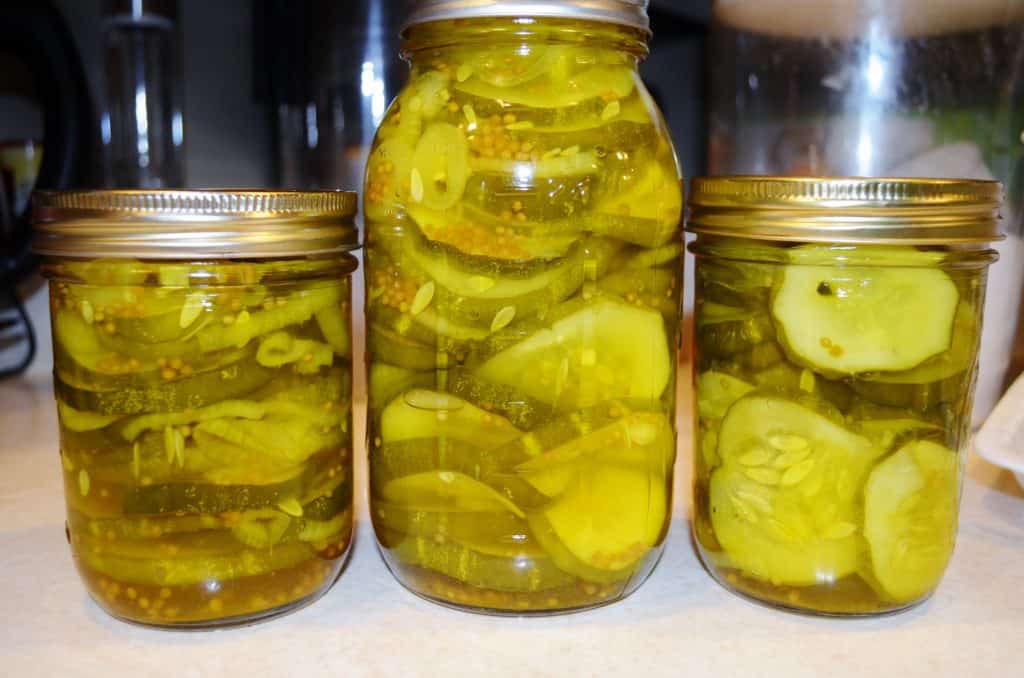 Let cool for 24 hours and check the seal! Label, eat, gift them, or set them in your cupboard for later in the year! It was SO incredibly easy to make these! I will definitely be making some more as I've got quite a few more cucumbers growing right now! Here's a printable version for you to print and use! And here's an interesting article by that I found about online grocery shopping!
DIY Homemade Bread & Butter Pickles – Easy Recipe
Author:
Prep time:
Cook time:
Total time:
Homemade Bread & Butter Pickles Recipe
Ingredients
7 medium cucumbers
3 large onions
1/3 cup pickling & canning salt
3 cups sugar, granulated
1 tsp turmeric
1/2 tsp whole cloves
1.25 Tbsp whole mustard seed
3 1/2 cups white vinegar
Instructions
Cut unpeeled cucumbers and onions into thin slices and place in large pot. Pour pickling & canning salt on top distributing evenly.
Let sit in refrigerator for 3 hours.
Sterilize jars if canning.
Rinse salt off of cucumbers and onions in cold water. Drain.
In large pot combing sugar, turmeric, whole cloves, whole mustard seeds and vinegar. Scald. Immediately add cucumbers and onions. Bring to boil them immediately remove from heat. If canning spoon cucumbers into mason jars then add remaining vinegar liquid mix on top leaving 1/2 inch head space otherwise place in container to serve later. If canning boil in water bath for 25 minutes. Let cool 24 hours.
Follow Surviving a Teacher's Salary's board Gardening on Pinterest.