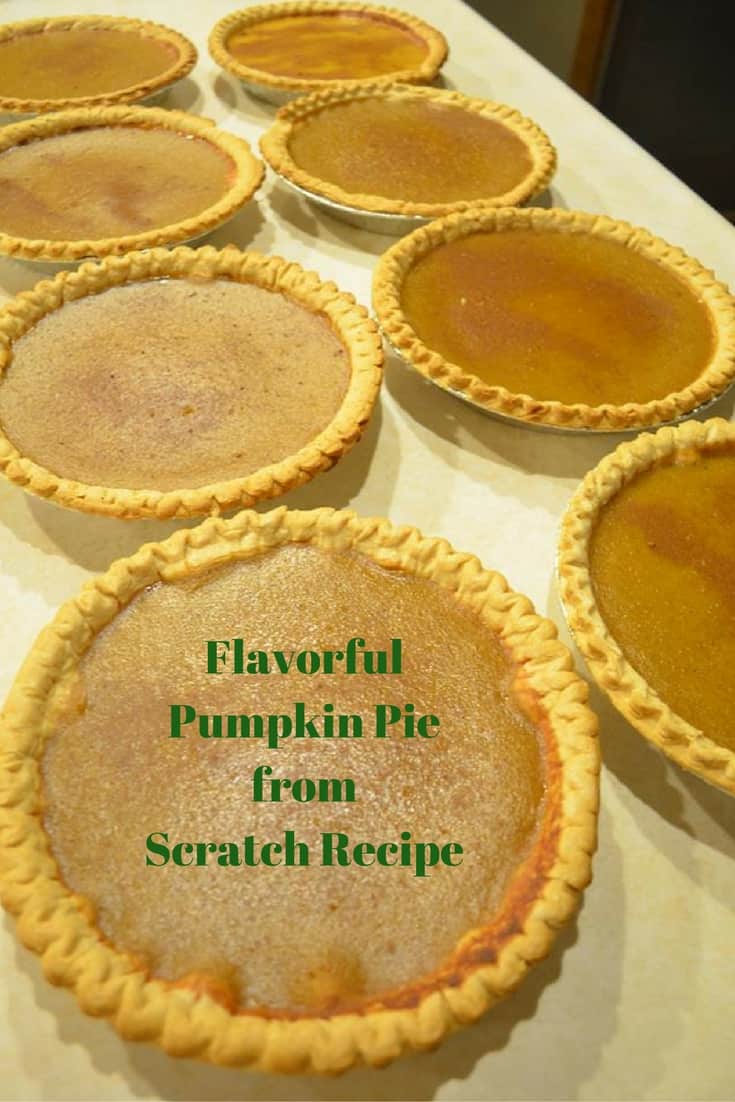 Since I had so many wonderful pumpkins from my garden this year I decided to make my pumpkin pie recipe from scratch (except for the crust because I ran out of time!). I absolutely adore the recipe from Carpe Season so decided to try my own version of that recipe. I typically make about 7-8 pies at a time so you can just adjust your recipe as needed depending on how many pies you are going to make. If you're like me and you make a large amount of pies every year to freeze I highly recommend purchasing pie pans in bulk as it will save you a TON of money in the long run. These pies freeze PERFECTLY too!
Although I made a huge amount of pumpkin pies I am actually only going to give you the recipe for 1 pie since that's what normal people make. Making pies (and freezing them for later) is a great way to offer gifts throughout the year to friends, family, and co-workers! It REALLY comes in handy around the holidays when you could use a little less time in the kitchen!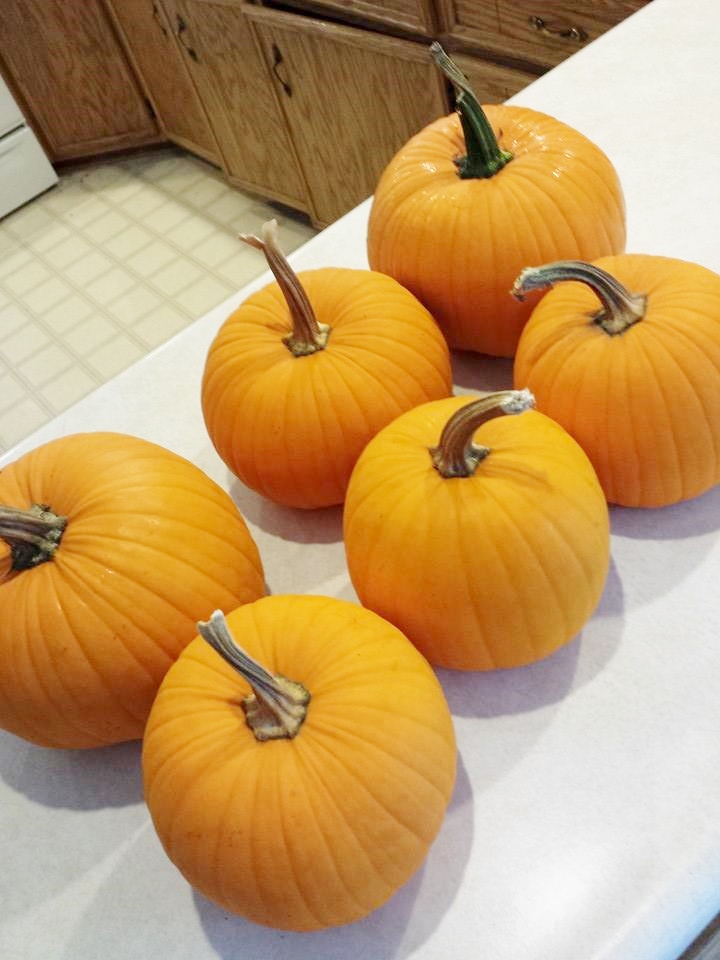 Fresh Pumpkin Pie Ingredients Needed:
1 pie pumpkin
1 tsp. granulated sugar (or powdered sugar)
3 small-medium eggs, beaten
1/2 Tbsp. nutmeg (I add 1 Tbsp. but it's a very strong nutmeg taste)
1 tsp. cinnamon, ground
1 cup brown sugar, packed
1/4 tsp. ground ginger
1/8 tsp. salt
evaporated milk (1/4 c. & 1/8 c.)
pie crust (pre-made or fresh)
Pie tin
Directions:
First I start by cutting my pumpkin in half horizontally, scooping out all of the seeds and stringy material (save the seeds to bake for later!) and then place each half flesh side down onto a baking pan lined with nonstick aluminum foil. I actually rubbed a little bit of sunflower oil around the edges of the pumpkin so that it would be less likely to still to the baking pan. Bake at 325* for 1 hour, flesh of pumpkin will be soft and tender. The pumpkin will literally fall apart as you are removing it from the pan so be careful not to burn yourself! Scoop out the fleshy part of the pumpkin and puree it. (I used my food processor but you can use a mixer if you need.)
In a large mixing bowl add 2 cups of your pumpkin puree, brown sugar, salt, nutmeg, cinnamon, ginger and eggs and mix well. Beat in milk. Don't worry – your filling will look  incredibly runny (almost like water) – once it cooks and cools it will set! Bake your pie at 325* for 60 minutes. Then cool and serve or freeze! Don't forget to sprinkle your granulated sugar and cinnamon all over the top of the pie before serving!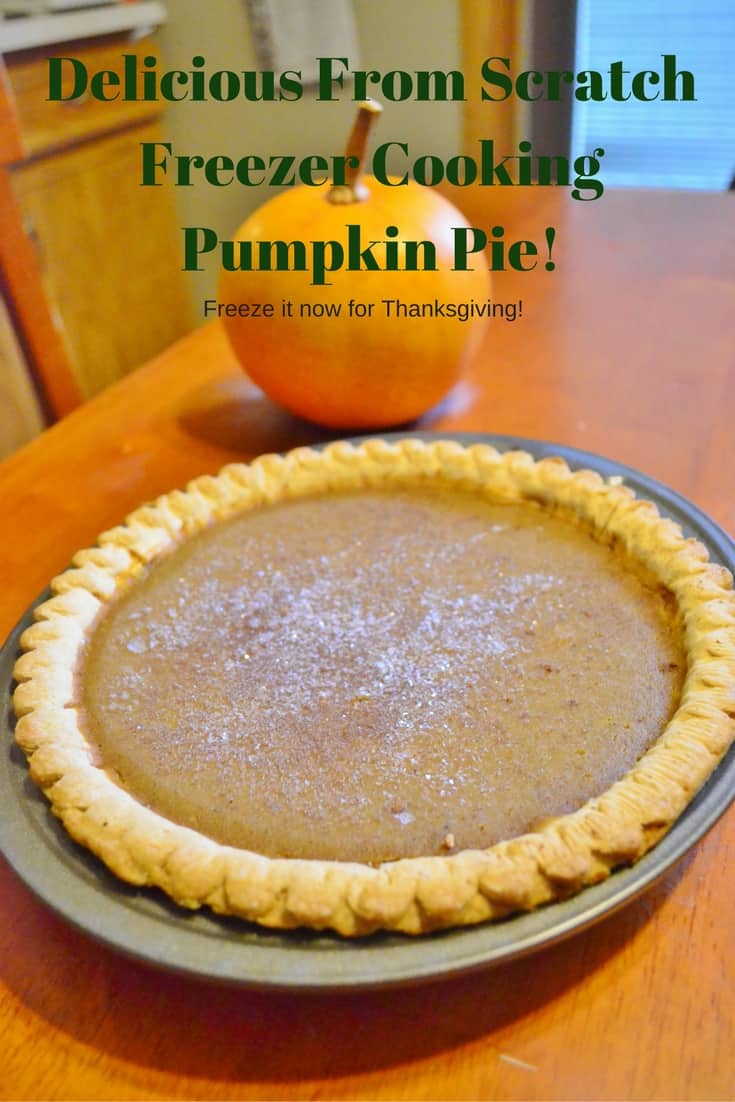 If I'm making freezer pies and I'm short on time/energy I always purchase pre-made pie crusts in aluminum tins so that I can give away my pies as a gift without needing to get the dishes back. Although it's MUCH  cheaper (and tastier) to make your own dough and purchase pie tins in bulk. Otherwise these simple glass Pyrex pie dishes will work great.
If I'm warming my pie up straight from the freezer I slip this pie shield over the edges so the crust doesn't burn, pop it in the oven at 250* for about 40 minutes or so, then carefully place the pie into our Pyrex portable pie carrier before we head out the door!
Enjoy some MORE of our delicious recipes below!
Share the post "Flavorful Pumpkin Pie from Scratch Recipe"