DIY Dr Seuss Inspired Nesting Dolls Craft
This post may contain affiliate links, view our disclosure policy for details.
How adorable are our DIY Dr. Seuss inspired Nesting Dolls?! You can of course paint any Seuss theme on your dolls but we decided on a few of our favorites (the Lorax and Grinch) along with some Seuss inspired patterns. I used acrylic paint on all of them.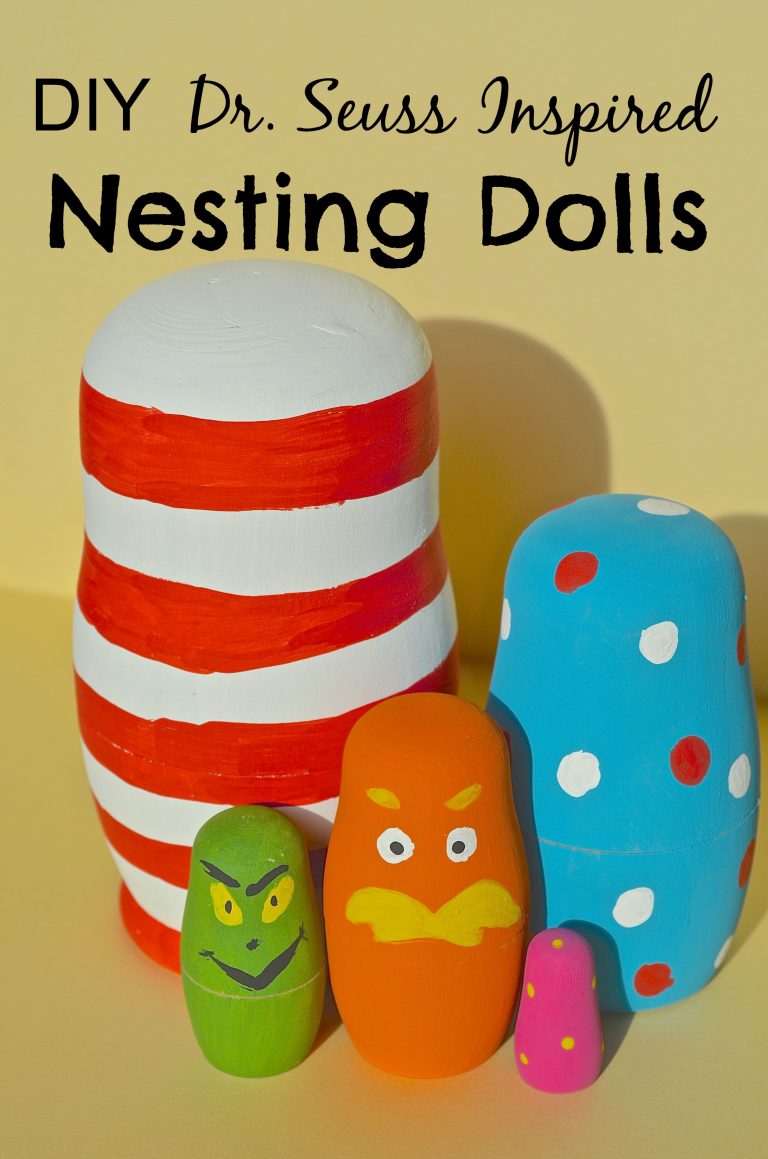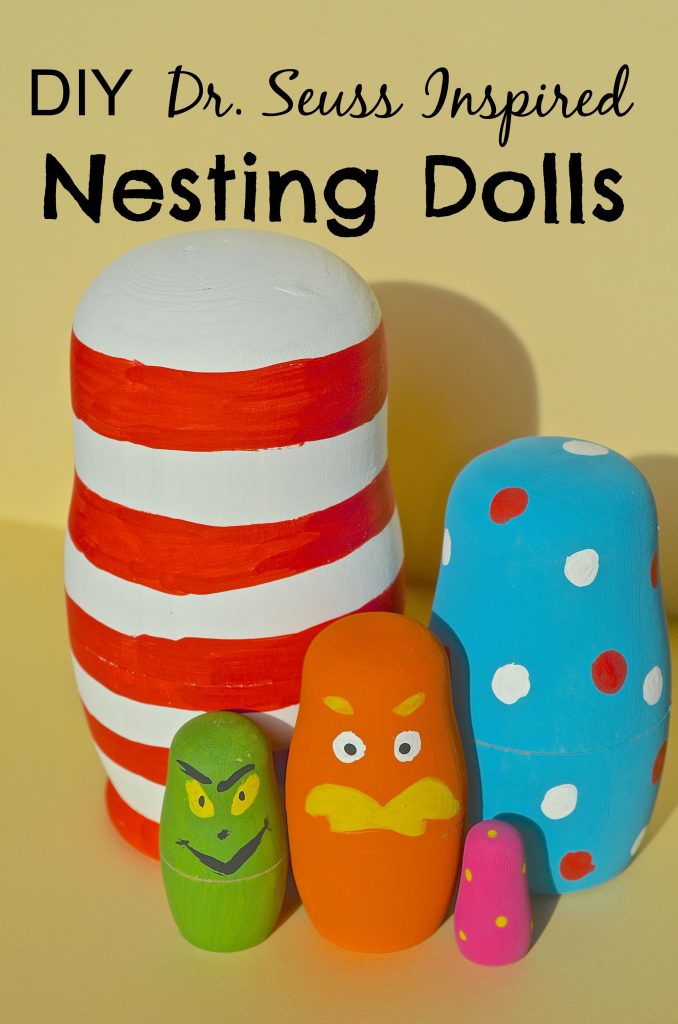 When I saw these blank unpainted wood nesting dolls on Amazon for about $6 I immediately bought a couple of them. They take 1-2 months to ship though unless you order these more expensive ones ($9-12ish) so make sure you plan ahead if you want the cheap ones! When they arrived I immediately wished I'd ordered 4 more sets – I have so many fabulous ideas for them!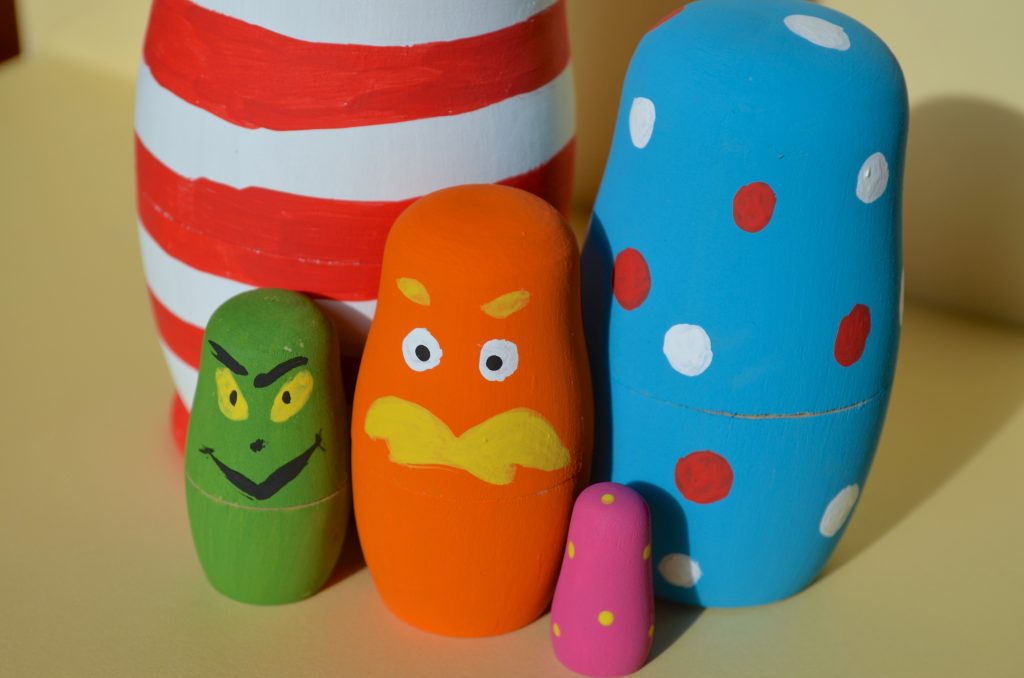 The red and white striped one is of course the Cat in the Hat inspired. The red white and blue dotted one is Thing 1 & 2 inspired. Horton Hears a Who
inspired our pink and yellow dotted one. The Grinch and Lorax were super easy. I paint their green and orange background first. Then I added the eyes, mouth and mustache, and finished up with the eyebrows.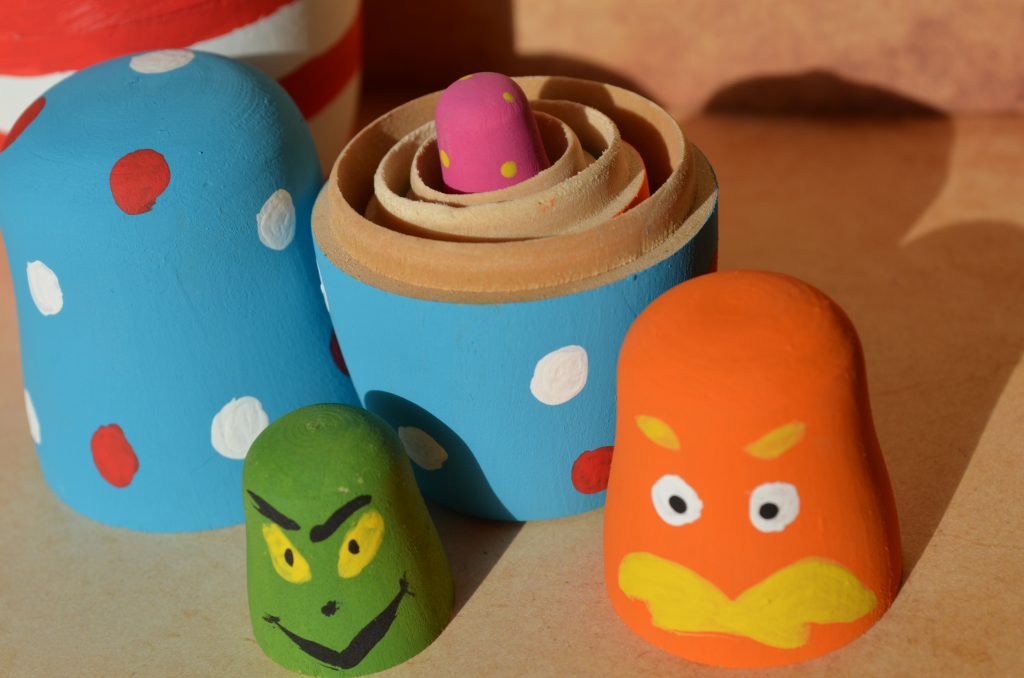 Nesting dolls are so fun and such a fascination for kids since it's a surprise to see what's inside! You can easily use these for preschool hands on activities (bigger smaller), color coordinate them in primary colors for color learning and patterns, or simply display your DIY Dr. Seuss nesting dolls in your child's room or baby nursery! They would especially be fun on a bookshelf in your classroom during Seuss week in March!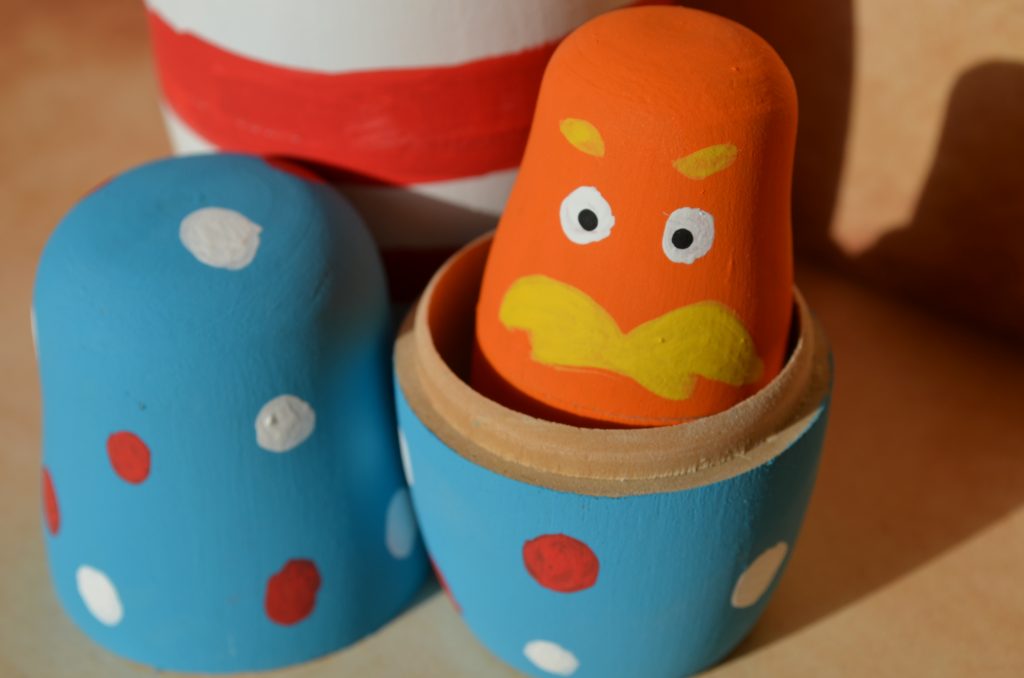 I did NOT paint the inside of the dolls, which aren't usually painted anyway. I also painted the dolls while they were separated in half so that I didn't exactly paint them so they go stuck together. If you're buying the cheap nesting dolls though just double check the ship date! If you need it sooner go with the slightly more expensive nesting dolls to ensure quicker shipping.
Other FAVORITE Dr. Seuss Crafts & Activities:
Lorax Pool Noodle Craft 
Lorax Pencil Jar 
Lorax Jello Snack
Lorax Pinata
Barbaloot Snack Attack
Barbaloot Math Graphing
Thing 1 & 2 Reading Puppets
Seuss inspired Straws
Oh the Places You'll Go Balloon Craft
TP Tube Truffula Trees
Wall Sized Truffula Trees