DIY Skeleton Frame Halloween Wall Decor Tutorial
This post may contain affiliate links, view our disclosure policy for details.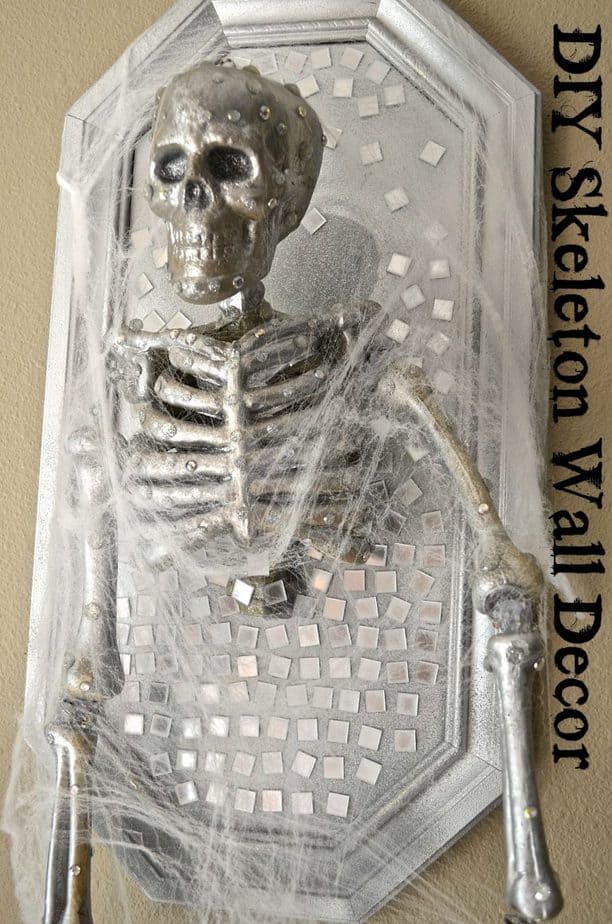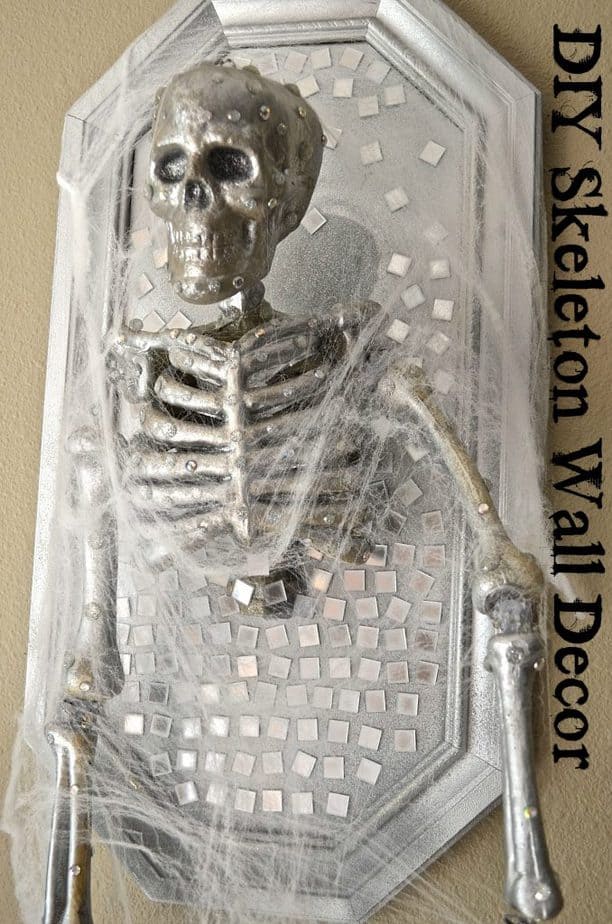 I fell madly in LOVE with this incredible Skeleton wall decor on Pinterest but I about passed out when I saw that it cost $500!!! Mine may not look quite as glamorous but it's pretty darn close and I LOVE it! Oriental Trading sent us some great extras to add to our project which we appreciated! Those mirror tiles you see were the perfect touch!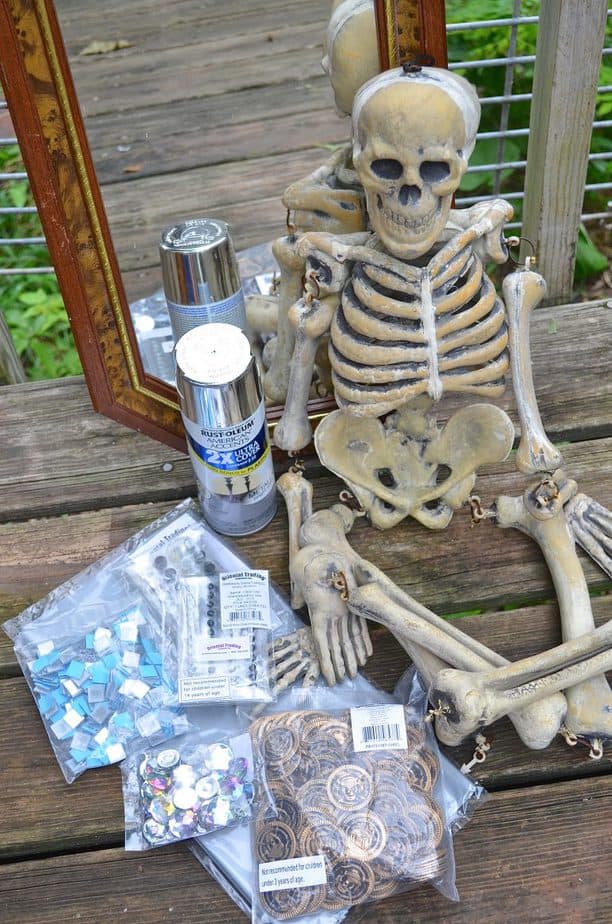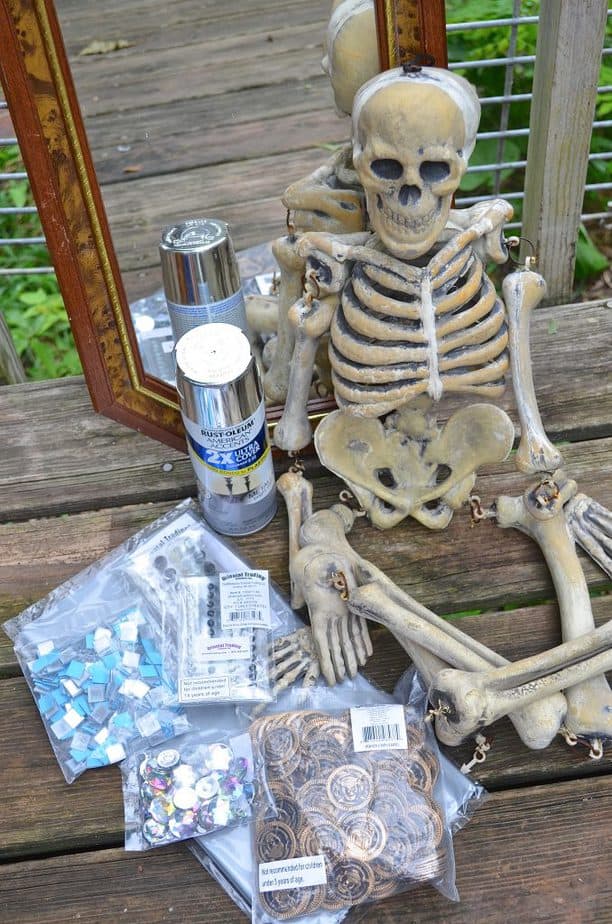 Silly me forgot to order my skeleton when I placed my order with Oriental Trading so I had to buy one – but theirs is the cheapest!
DIY Skeleton Frame Wall Decor Materials:
mirror tiles
pirate coins
iridescent jewels
black and white adhesive jewels
silver tablecloth optional
Rustoleum Metallic Silver spray paint
mirror (bought from the thrift store)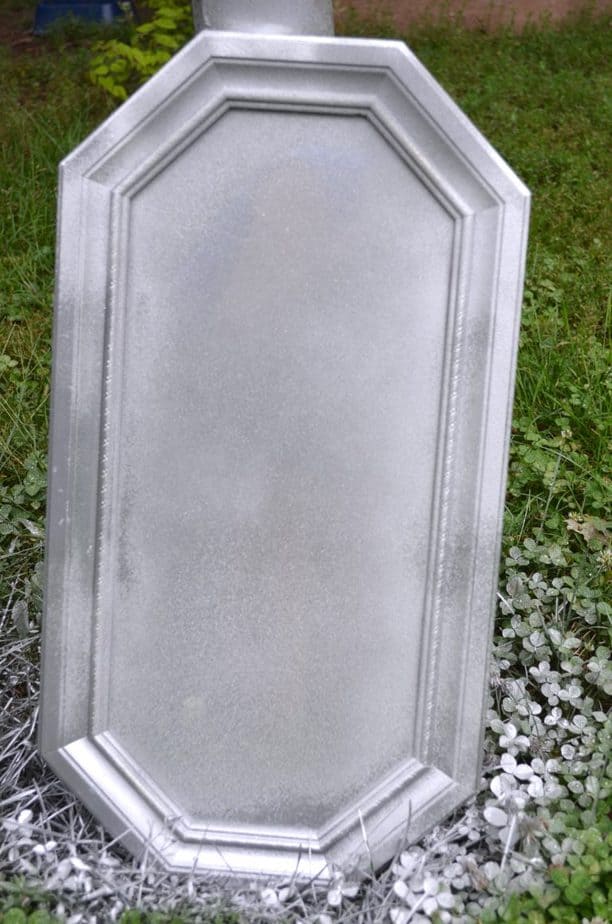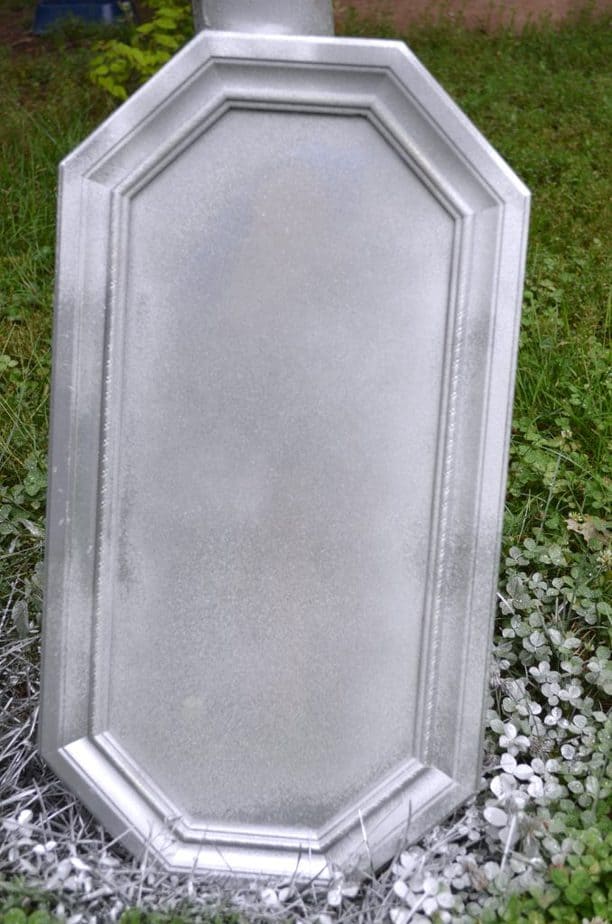 DIY Skeleton Frame Wall Directions:
Spray paint your mirror. Once I acquired my skeleton I set out to find the perfect picture frame or mirror for our project. I REALLY wanted a large oval vintage ornate picture frame or mirror but couldn't find one in the time frame of my project so I settled on this uniquely shaped mirror that I picked up for $2 at my local thrift store, I added a light coat of metallic spray paint onto it and all of the edges and let it dry.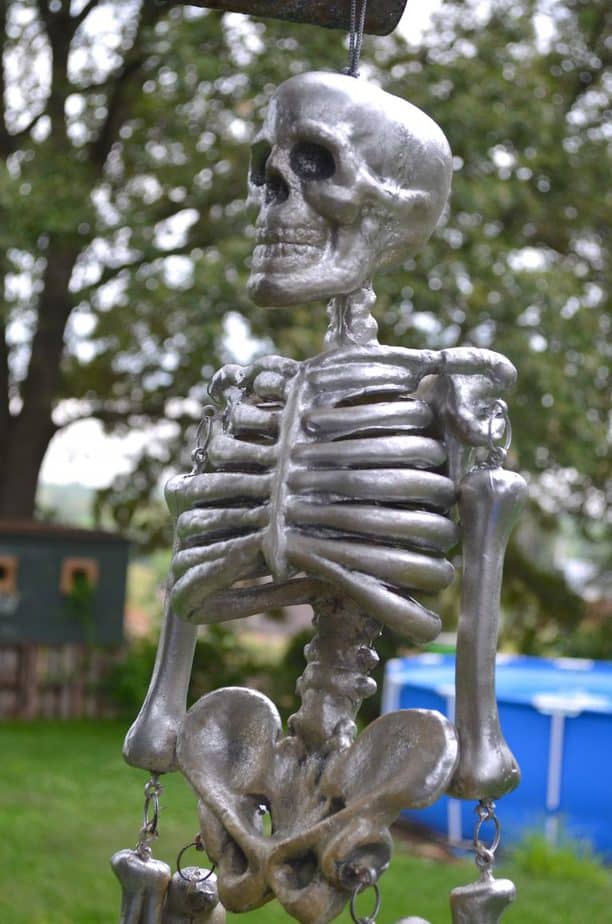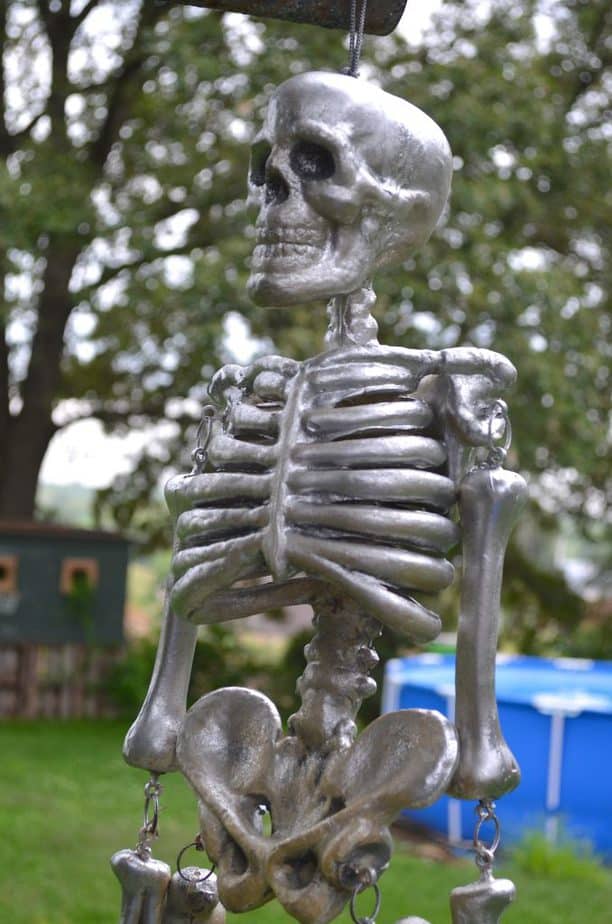 2. Spray paint your skeleton. I also wanted my skeleton to look shimmery so I took it outside and hung it up on our clothesline and gave it a light spray over with the same metallic spray paint. I didn't want it too heavy since I still wanted some texture showing through and I liked the darker black eye sockets. Since I only needed the torso and arms I didn't bother spray painting below the rib cage. (not on purpose anyway!)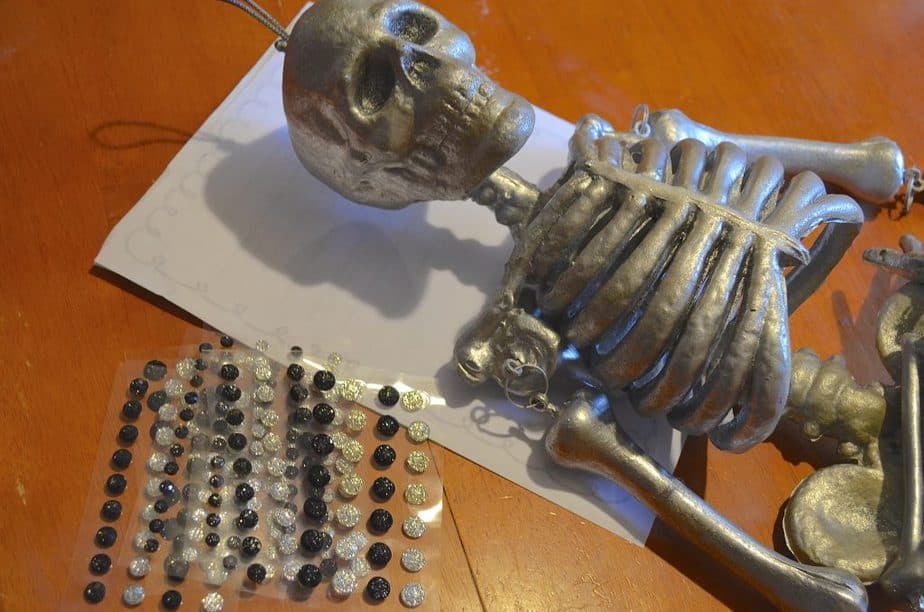 3. Add jewels to your skeleton. We decided to name our skeleton Madame Sherona so I added some sparkly jewels to make her shine. Once her spray paint was dry I brought her in and started adding on the clear and iridescent jewels.
Although some of the jewels were adhesive they did fall off over time because of the curves of the skeleton and the spray paint so I used some hot glue or tacky glue depending on what I had at the time. I just randomly added jewels over her rib cage, arms, and head.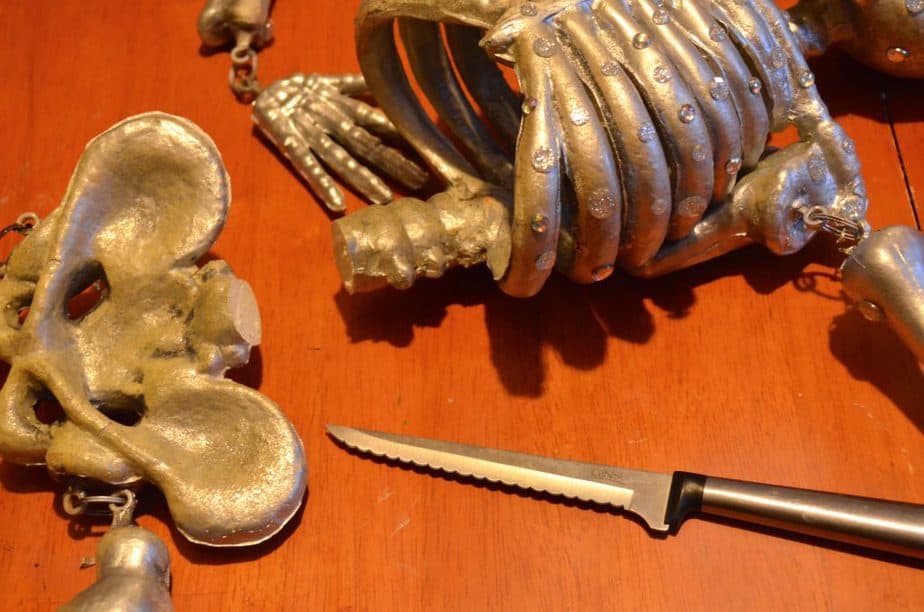 4. Cut skeleton just below the rib cage. I wanted Madame Sherona to look as if she was breaking through a glass mirror so I didn't need her lower half and used a serrated knife to cut the skeleton in half at the vertebrae just under the ribs. I left enough vertebrae on so that I could secure it to the mirror.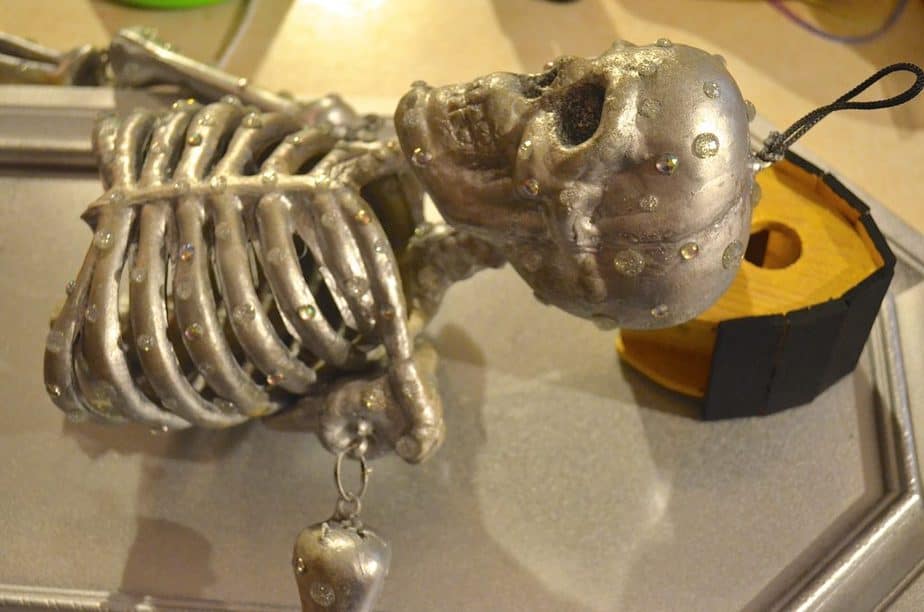 5. Glue Skeleton onto mirror. I propped Madame Sherona's head up at the distance that I wanted her to look like she was breaking through the mirror. I didn't want her just laying flat against the mirror like a 3D portrait. The little birdhouse I used stayed there through most of the creating process to ensure our glue dried firmly.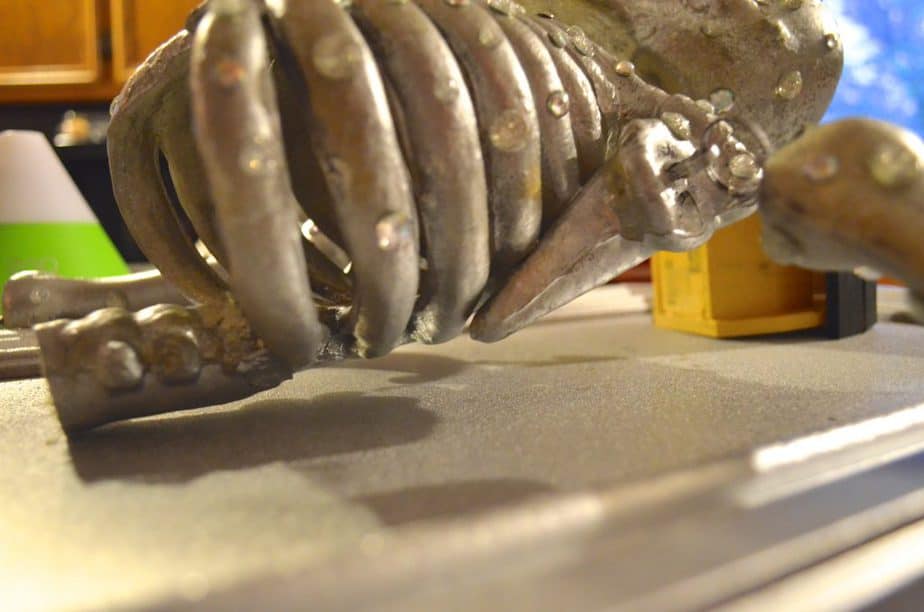 You'll need to look under your skeleton and make sure you have enough of the skeleton to properly anchor it onto the mirror without having it fall off. You can see on the bottom left I had a nice chunk of vertebrae to glue and attach to the mirror. Through the entire process I was a little concerned that it wouldn't hold but she's still hanging on my wall!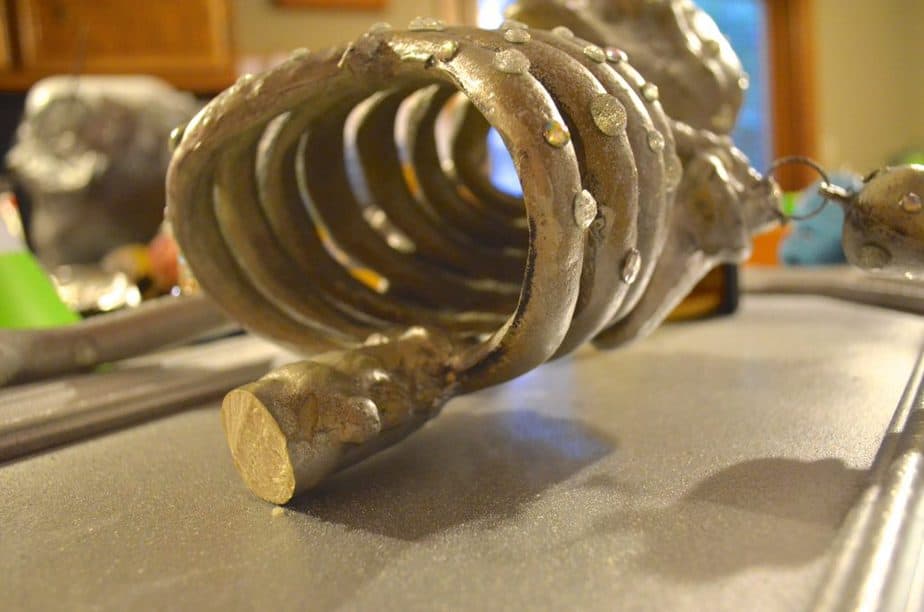 Here's another view from the bottom looking up. To attach Madame Sherona to the mirror I alternatively used hot glue and Krazy Glue because I didn't know which the better choice would be! I started by filling in as much as I could under the vertebrae with hot glue and letting it dry. Then I went out the edges with the krazy glue and filled in the cracks. I switched back to the hot glue and continued covering the bottom and did this until I felt satisfied that there was enough glue on there.
You have to remember that not only does the glue need to hold the skeleton up but our skeleton was leaning forward which adds additional pressure – especially with the arms hanging down. Just something to keep in mind as well when you're picking out your skeleton! I let her sit on the counter for several days when I was completely finished with the glue to give her the optimum dry time before trying to move her.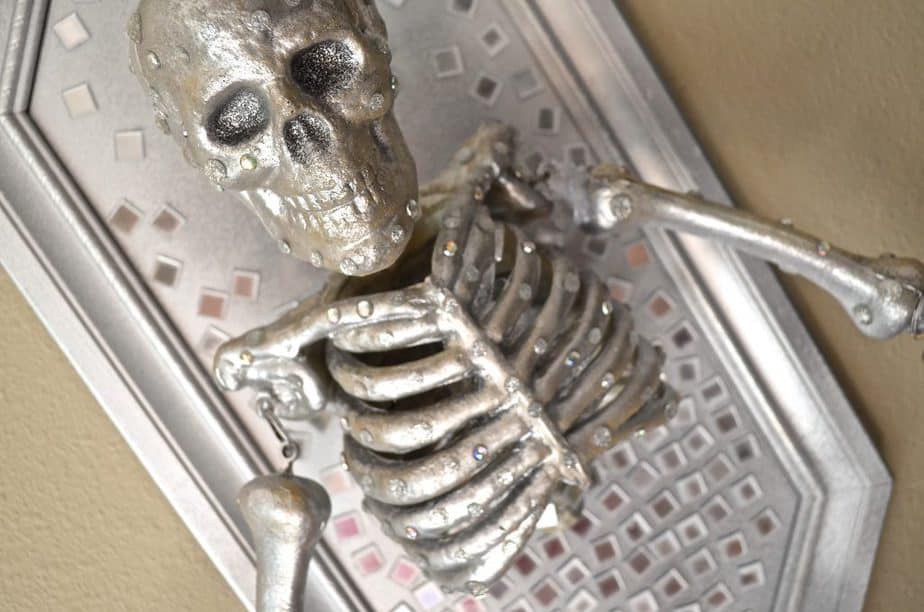 6. Add mirror tiles to mirror. I then used those beautiful mirror tiles and hot glued them onto the mirror. I started at the bottom in a fairly even pattern across from side to side, slightly tilting each tile as if it had been moved or cracked.
As I got closer to Madame Sherona and moved up the sides and at the top I began to spread the mirror tiles out further apart and put them in various directions to create the illusion that the mirror is being broken through and shattered.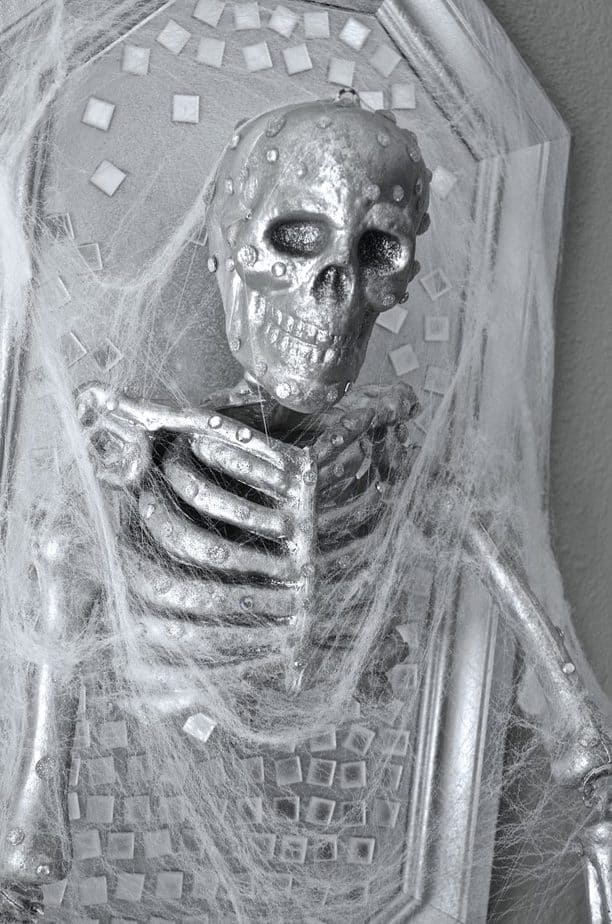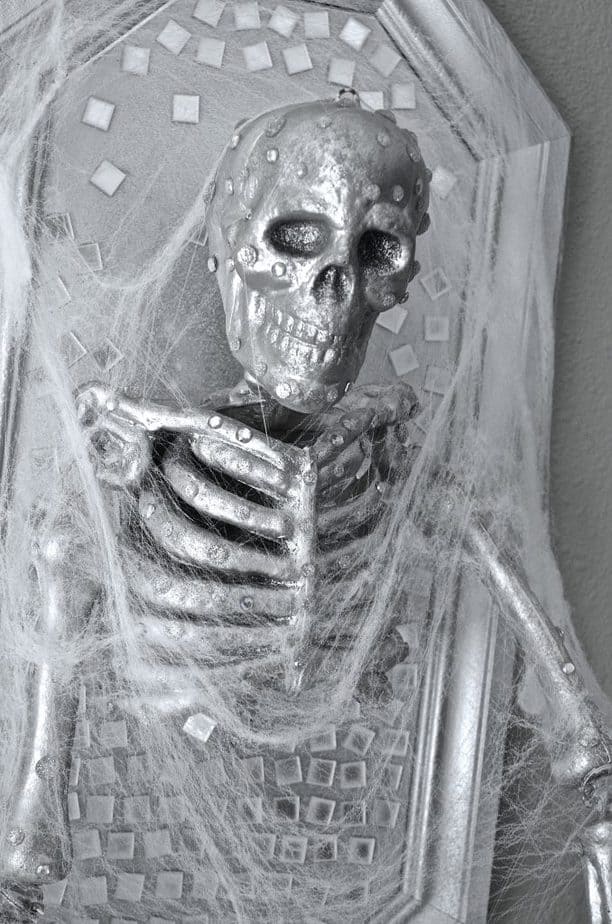 For my final touch I thinly weaved some cobweb over her for a spookier effect!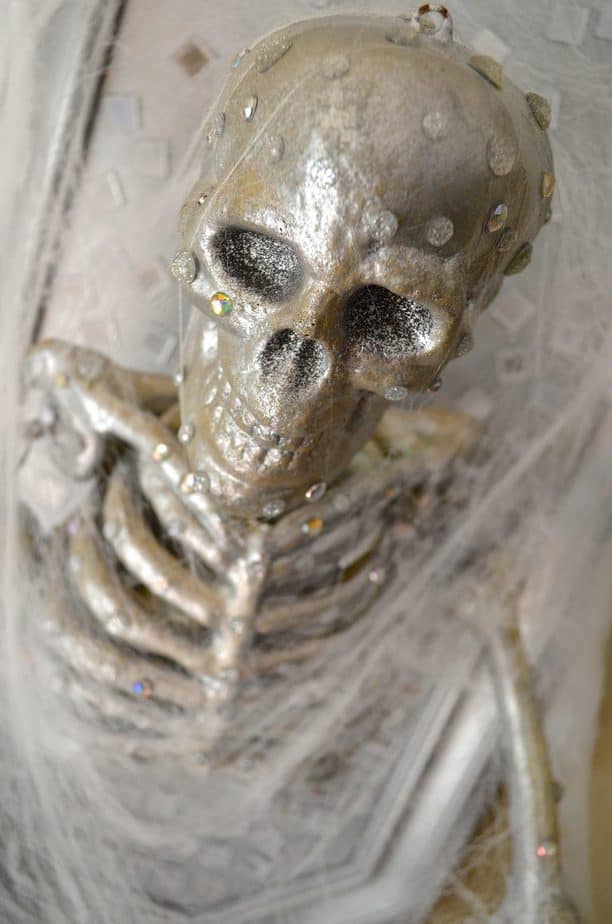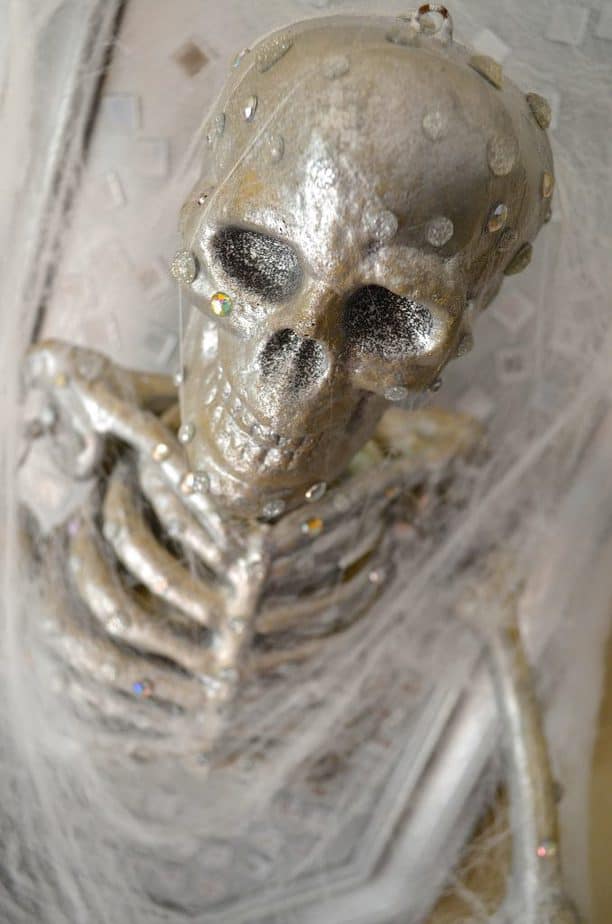 Here's a better view of her face, the jewels on her head, and her darker eye sockets.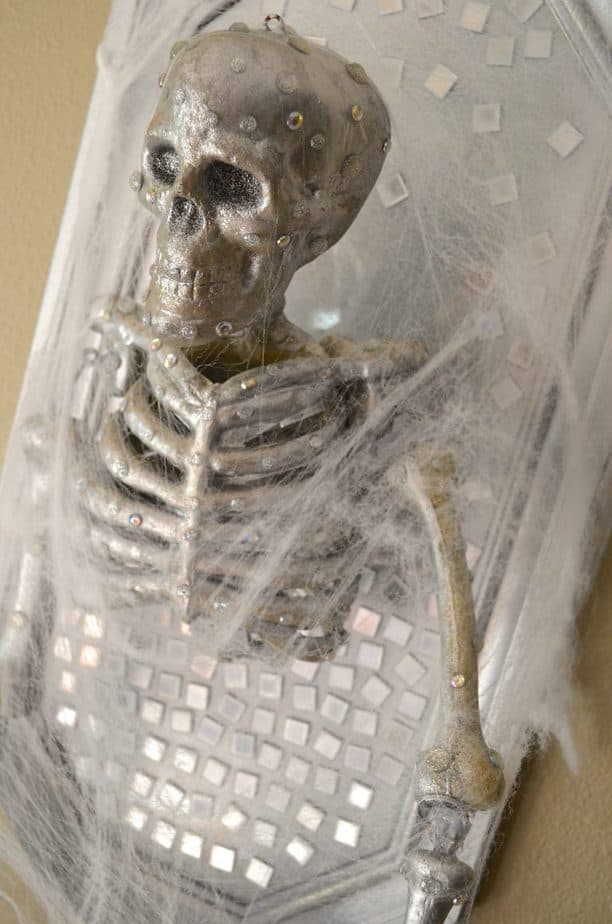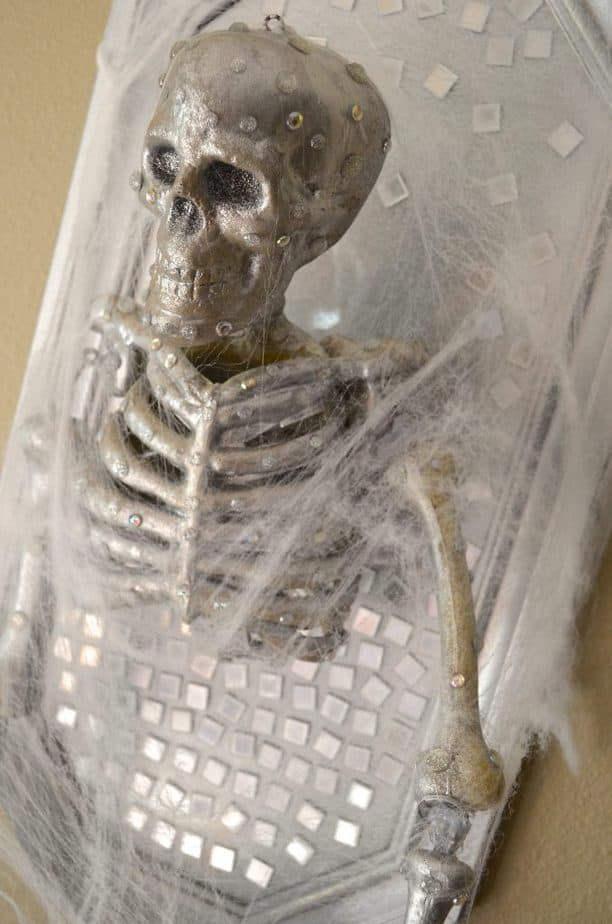 Isn't she fun?!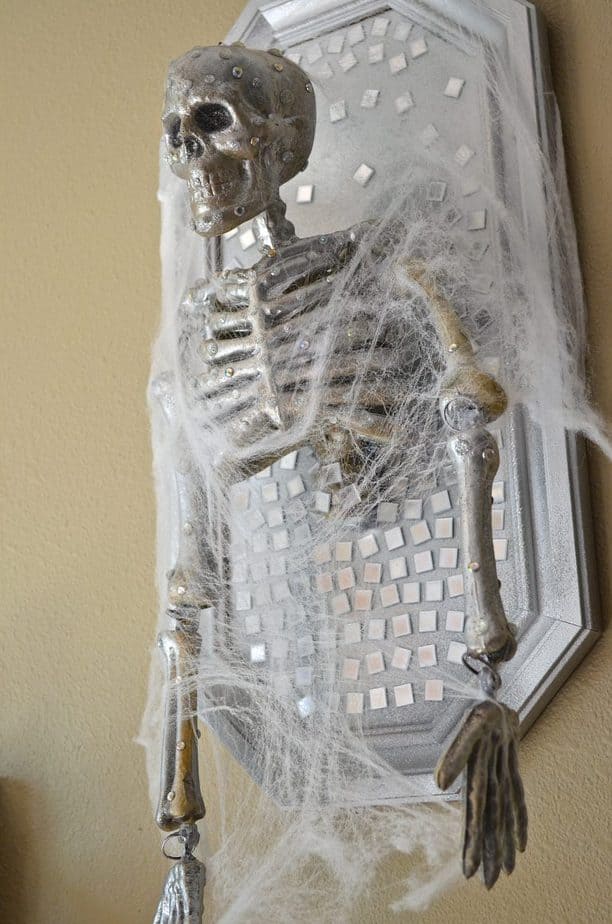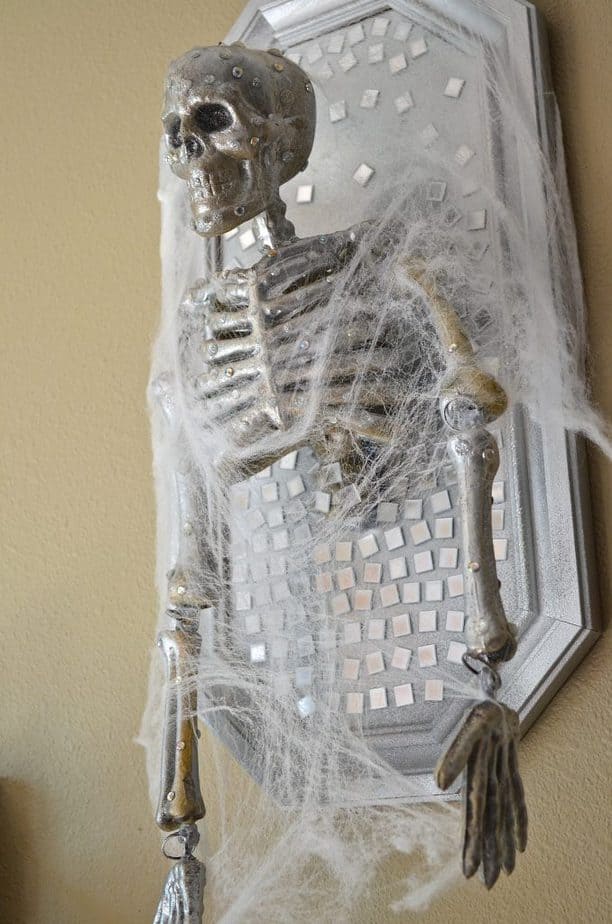 I tried glueing her arms so that they were reaching out to grab someone but the glue couldn't seem to hold so for the photo they are just hanging down.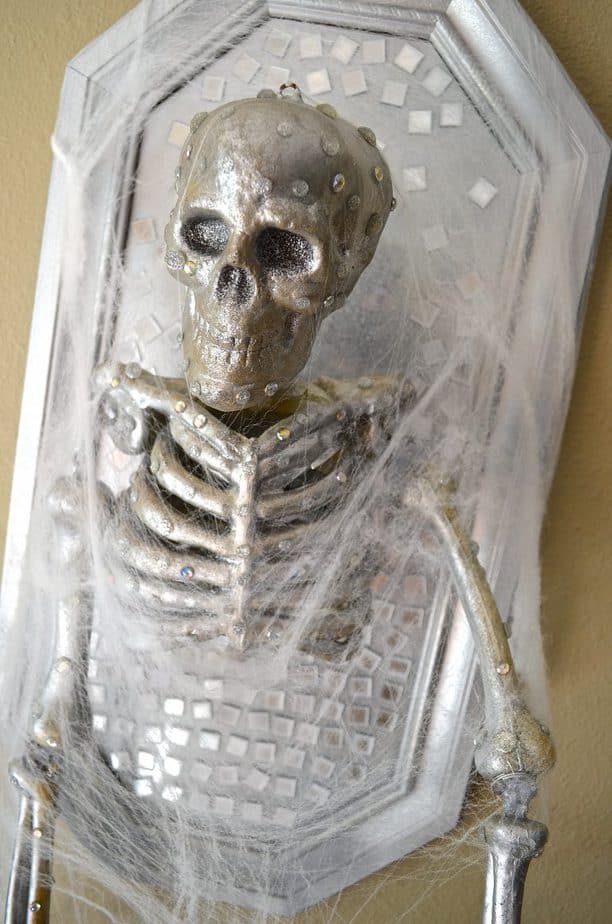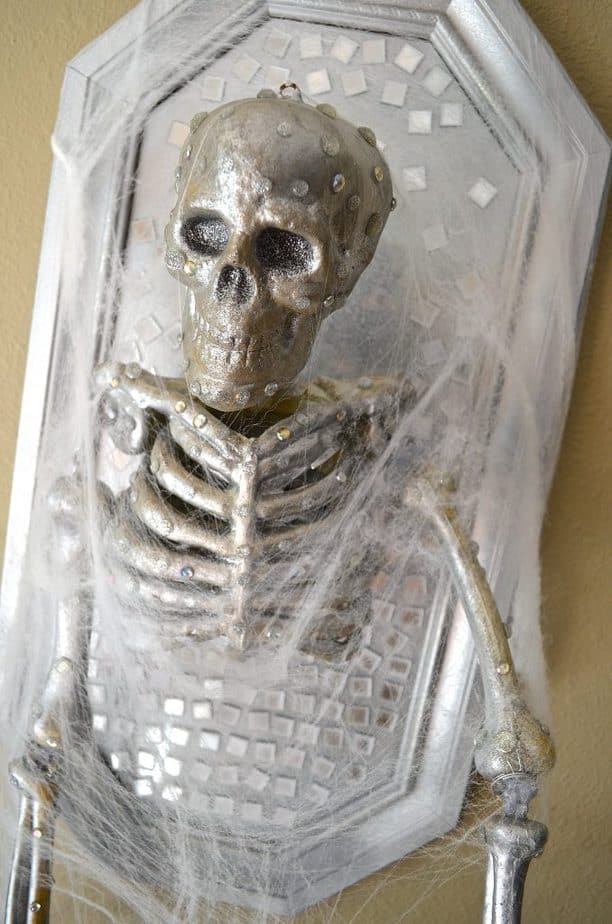 For Halloween she will be moving over the top of my piano and placed low enough that she can grab the pirate coins and bucket of eye balls off of the top of my piano. This will also allow me to position her hands and arms better.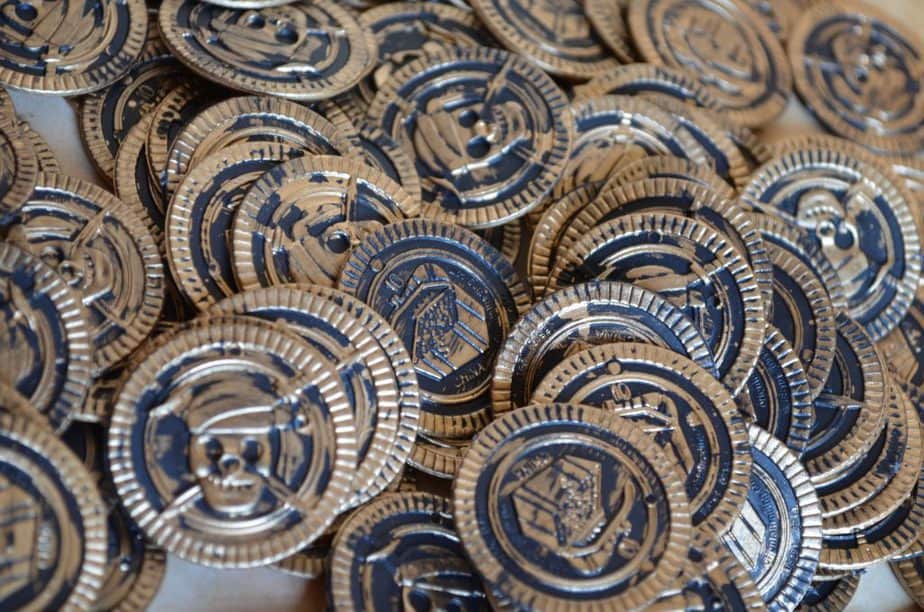 These are the awesome pirate coins that Oriental Trading sent us – aren't they great?! I can hardly wait to show her off to everyone! I'm not really sure how long the entire project took as I did it over many days when my schedule allowed but it wasn't hard at all to do. If you can spray paint something and hot glue something YOU can do this too!
The skeleton was my biggest cost so if you can try to grab one on clearance after the holidays or secondhand. But everything brand new (except for the thrift store mirror of course) cost under $40 and I have left over materials. That includes the skeleton ($20ish), pirate coins, assorted jewels, spray paint, hot glue and mirror.
If you find a silver picture frame you can wrap the inside with a silver tablecloth too instead of spray painting it if you want – just make sure to anchor it firmly to the frame!