Abraham Lincoln Unit Study Series for President's Day
This post may contain affiliate links, view our disclosure policy for details.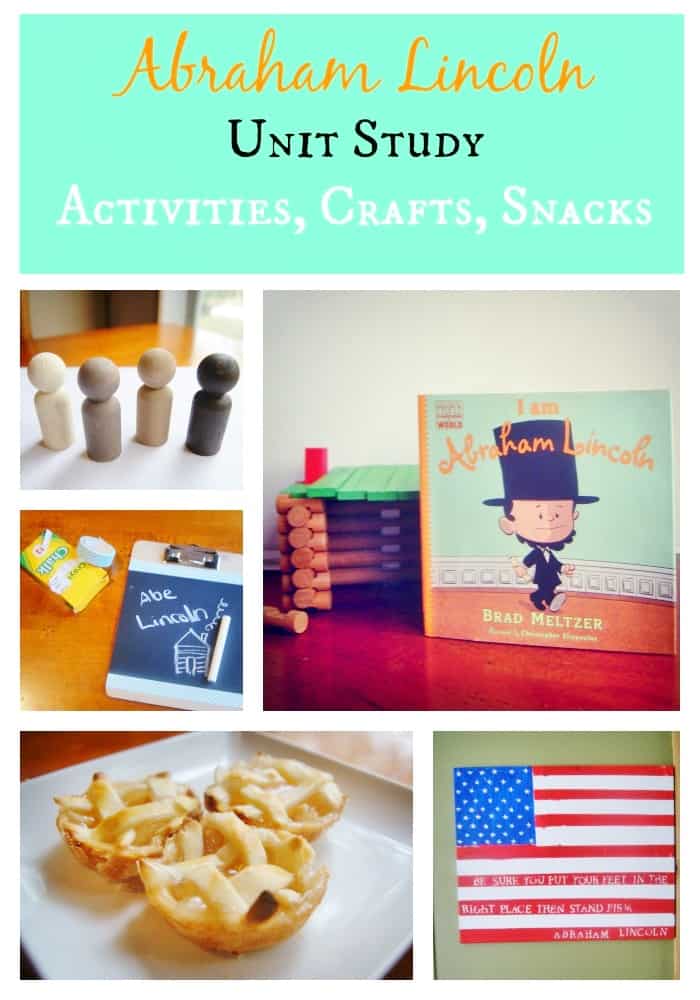 This unit study series is based off of the children's book "I am Abraham Lincoln" by Brad Meltzer. Below you can find links to each post broken down by day, craft, activity, etc. This series is geared for preschool students through age 6.
DAY 1 Unit Study
DAY 2 Unit Study
DAY 3 Unit Study
DAY 4 Unit Study
DAY 5 Unit Study
"I am Abraham Lincoln" Activities & Crafts
Abraham Lincoln Sorting Sizes Activity
Abraham Lincoln Beard & Hat Costume Tutorial
Building with Lincoln Logs Cabin
Presidential Stick Puppets
Patriotic Flag Art Canvas
Multicultural Wooden "people" Craft
Lincoln Sudoku Activity
DIY Chalkboard Slate Tutorial
President's Day Printables
George Washington Coloring Sheet
Abraham Lincoln Coloring Sheet
President's Day Coloring Sheet
Abraham Lincoln Handwriting Practice Sheet
Presidential Writing Prompt
Abraham Lincoln Sudoku Printable
President's Day Snacks
Abraham Lincoln String Cheese
Lincoln Log Cabin Pretzel House
Mini Apple Pies
BONUS: This "Apple Tree Craft" and activities can easily be spun into a Presidential "cherry" tree craft for George Washington!

Overview Tour of the Benjamin Harrison Presidential Site: