All About Jane Goodall Worksheets & Activities + Rainforest Crafts
This post may contain affiliate links, view our disclosure policy for details.
Chances are you may already know all about Jane Goodall, a strong woman with a passion for science, conservation and chimpanzees. But below are some fantastic facts about Jane Goodall and other free resources that you probably don't know about!
PLUS our FREE Jane Goodall worksheets and activities for kids can be printed and used by anyone! This can also be found as part of our AWESOME 11 Famous People Workbook set!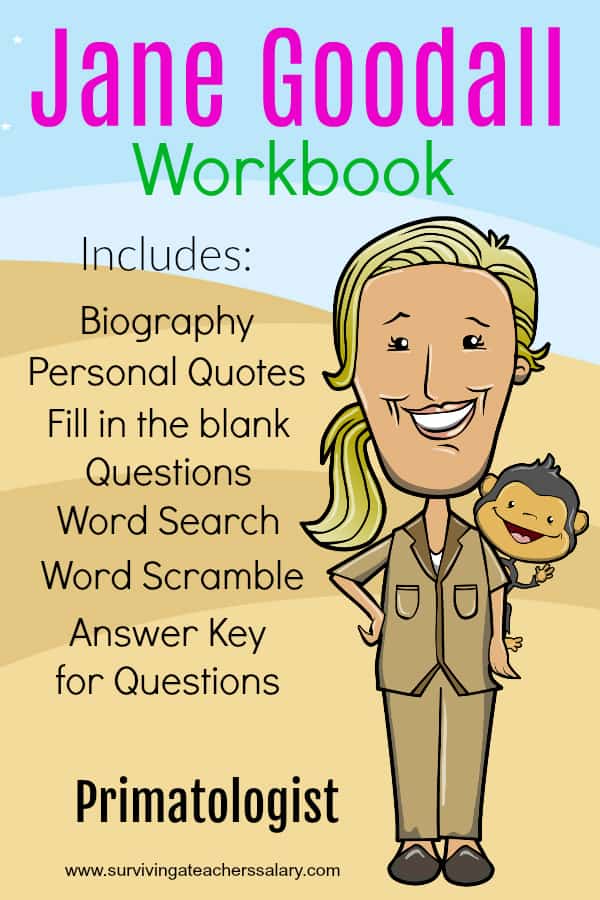 Who was Jane Goodall?
Jane Goodall is a real life hero in the scientist community and an English primatologist and anthropologist. In the 1960's she traveled from England to Tanzania to live amongst the wild world of chimpanzees – of which little was known about them at the time.
She has spent 60 years of intensely important work redefining species conservation and urging others to become active in saving the environment. She immersed herself in their habitat instead of researching from a far – a true pioneer of her time.
Facts About Jane Goodall:
Jane Goodall, formerly known as Valerie Jane Morris-Goodall, was born in London on April 3, 1934.

Her father was a race car driver, her mother an author.

She received a toy chimpanzee named Jubilee from her father when she was just one year old.

Jane Goodall began her famous quest into the world of chimpanzees at the age of 26 years old.

She once worked as a film production assistant before her work assisting a paleontologist and anthropologist.

She established Gombe Stream Game Reserve in 1960 which is now a national park.

She was awarded a Ph.D. in ethology by the University of Cambridge in 1965.

In 1977 she founded the Jane Googall Institute for Wildlife Research, Education and Conservation in California (later moved to the Washington, D.C. area).

Jane Goodall was even created Dame Commander of the Order of the British Empire in 2003.
Books by Jane Goodall:
Jane Goodall Quotes:
"We are not the only beings on the planet with personalities, thoughts, and – most importantly – feelings."
"Every individual matters. Every individual has a role to play. Every individual makes a difference. The least I can do is speak out for those who cannot speak for themselves. The greatest danger to our future is apathy."
"There is still so much in the world worth fighting for."
"What you do makes a difference, and you have to decide what kind of difference you want to make."
Was Jane ever scared in the forest?
Watch this fantastic video where Jane answers this exact question! I know it says "Sorry Because of its privacy settings, this video cannot be played here." —> Just click on the video below and it will open to a new page where you can watch it.
More about the Jane Goodall Institute:
The Jane Goodall Institute is a is a global wildlife and environment conservation organization that was founded by Jane Goodall in 1977 and is headquartered in Vienna, Virginia.
It actually has 25 offices around the world and works tirelessly to protect chimpanzees and other primates. They also strive to help improve water supplies, academia for girls, and take part in community-centered health projects.
You can find their Roots & Shoots youth groups is almost 100 countries which helps promote positive changes through young people. You can also participate by recycling cell phones and learning about wildlife trafficking. If you're wanting to make a monetary donation with kids consider their Chimp Guardian program!

What's Included in our Jane Goodall Worksheets?
Word scramble worksheet

Word search game

Fill in the blank + answer key

Jane Goodall Quotes

Jane Goodall Biography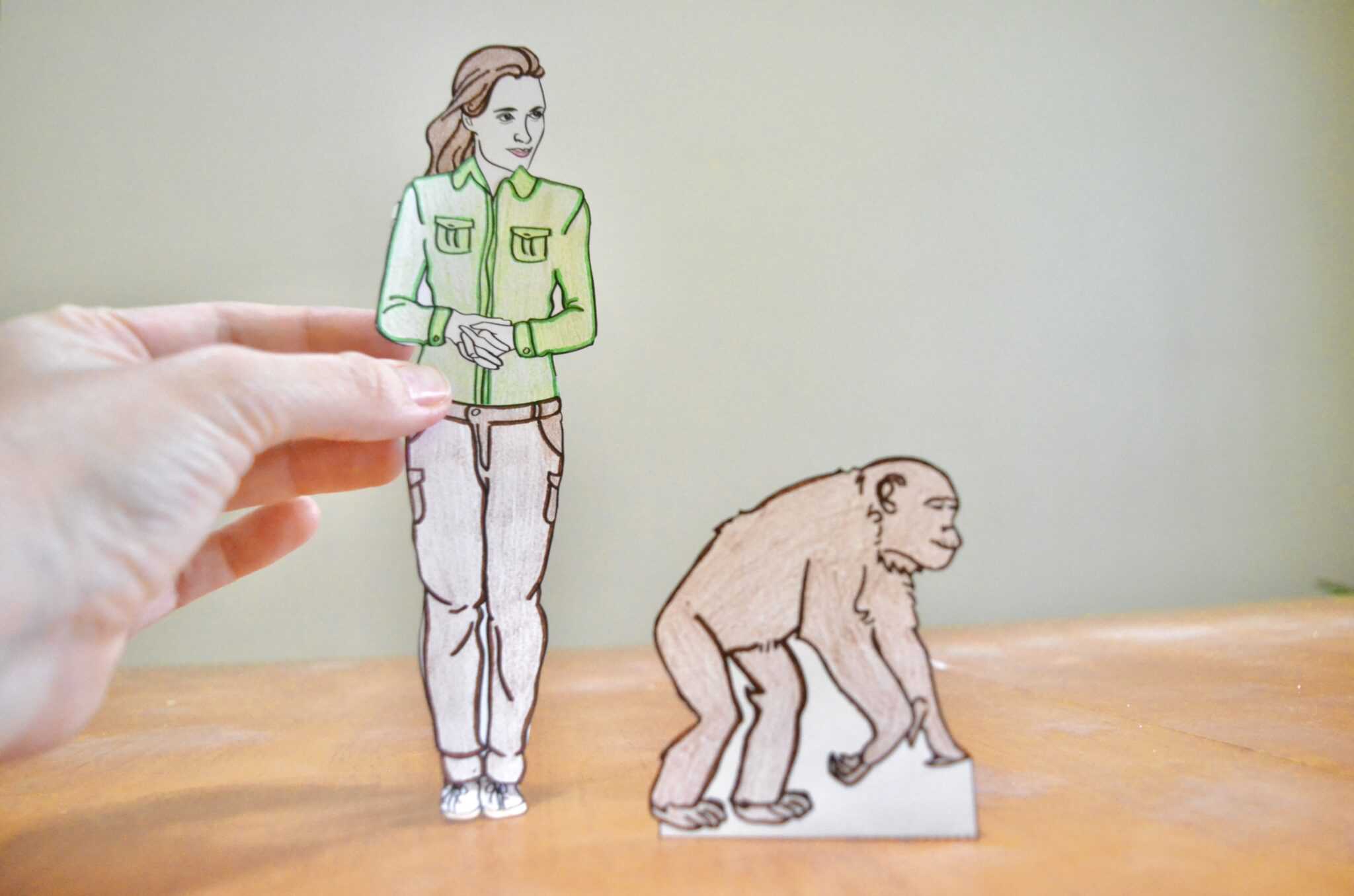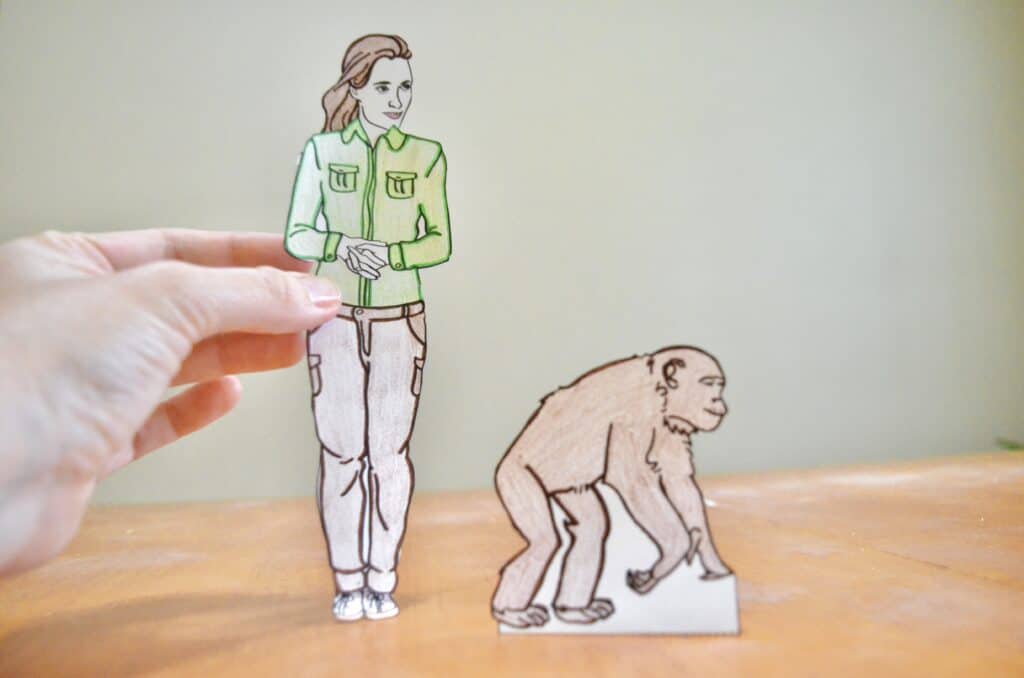 ---
Books About Jane Goodall:
Other Related Activities for Kids:
Rainforest Activities for Kids
These rainforest and conservation activities for kids pair great with Jane Goodall lesson plans.