Back to School Treats – Notebook Paper S'mores Recipe
This post may contain affiliate links, view our disclosure policy for details.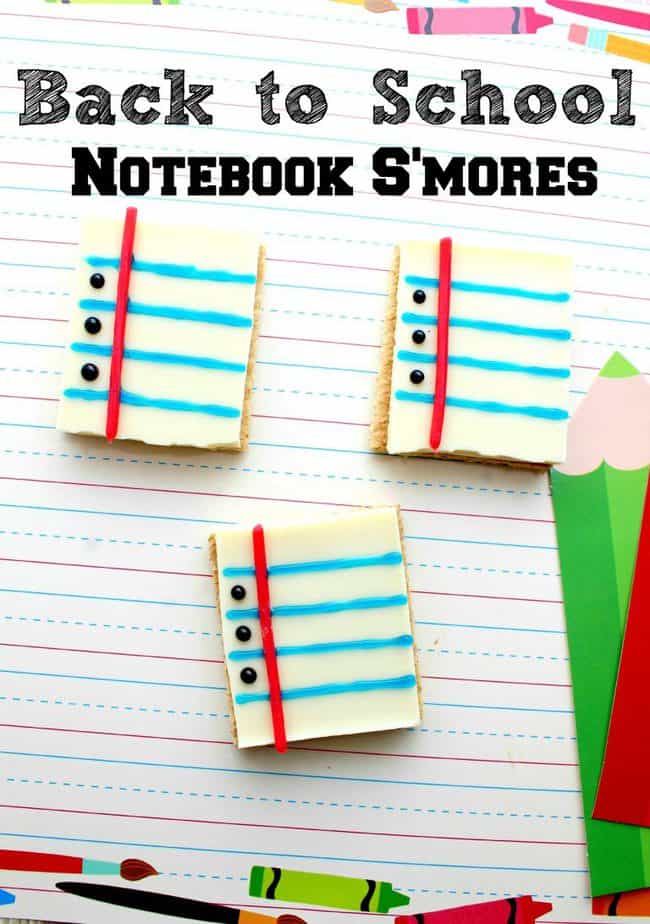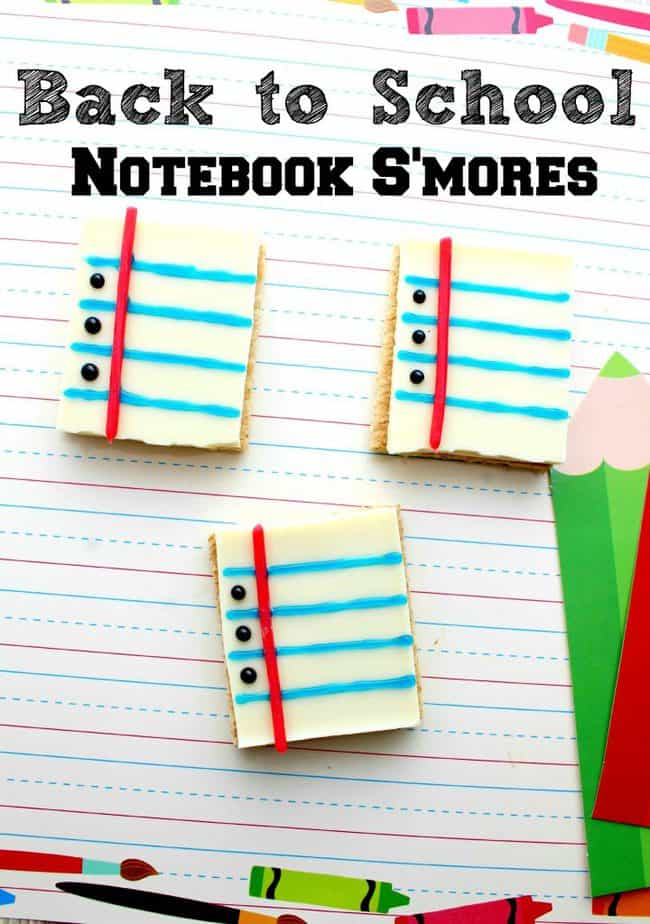 This Back to School S'mores Treats Notebook Paper recipe has got to be one of the easiest and cute decorative back to school treats I've seen in a while! Notebook paper designs pretty much always make me think of the back to school season so turning them into back to school treats is just beyond cool! You can even laminate a piece of notebook paper and lay flat on a tray to serve your s'mores on top of! Check out our recipe and tutorial below to make your own back to school treats!
S'mores Notebook INGREDIENTS:

Graham cracker squares
Marshmallow Creme
White Chocolate bar (I used Lindt)
Red pull-a-part twizzlers

Wilton black icing gel

Wilton blue icing gel
DIRECTIONS
1.   Take a graham cracker square and spread about 1 T of marshmallow creme on it.
2.   Place a piece of white chocolate on top and press down gently to even out the marshmallow.
3.   On a microwave-safe plate, place the chocolate and marshmallow graham cracker in the microwave and heat for 10 seconds to allow the chocolate to slightly adhere to the marshmallow.  Do not overheat or the white chocolate will begin to melt and lose shape. Let completely cool.
4.   Use a single strand of a red pull-a-part twizzler
candy and cut a 2 inch strand from it. Place the strand going down the s'mores cracker to resemble the red line in a piece of filler paper.
5.   With the blue Wilton gel icing tube, squeeze 5 lines across the smores cracker to resemble the blue lines on a piece of filler paper.
6.  With a black Wilton gel icing tube
, add several "dots" going down the left side of the s'mores cracker to resemble the holes in filler paper.
In the mood to make some more back to school treats? Check out some of our favorites: 
Composition Notebook Rice Krispy Cake 
ABC Notebook Sugar Cookies
Back to School Brownies – School Themed
Back to School S'mores
Apple Themed Cupcakes
Apple Themed Cookies
Check out our entire BACK TO SCHOOL Pinterest Board here!