Campfire Camping Birthday Party Ideas for Kids & Campfire Cake Tutorial
This post may contain affiliate links, view our disclosure policy for details.
From camping decorations to an epic campfire birthday cake – this kid's camping birthday party is one you'll never forget!

I am ALL about super fun, creative (but simple!) and inexpensive kid's birthday parties. In the past we've done bugs, fossils and dinosaurs, robots, and popsicles. After our cross-country RV trip last year my son wanted a camping birthday party this year! This is SUCH a fun theme and I didn't even do half of the awesome ideas I found!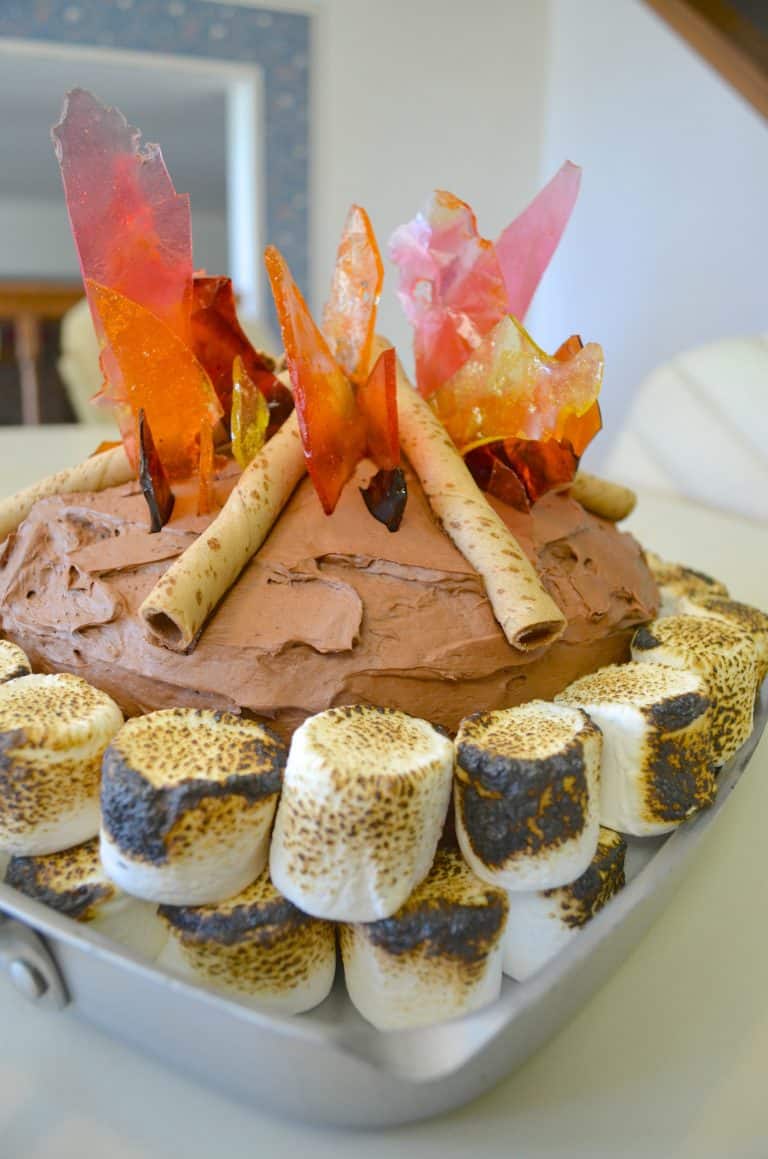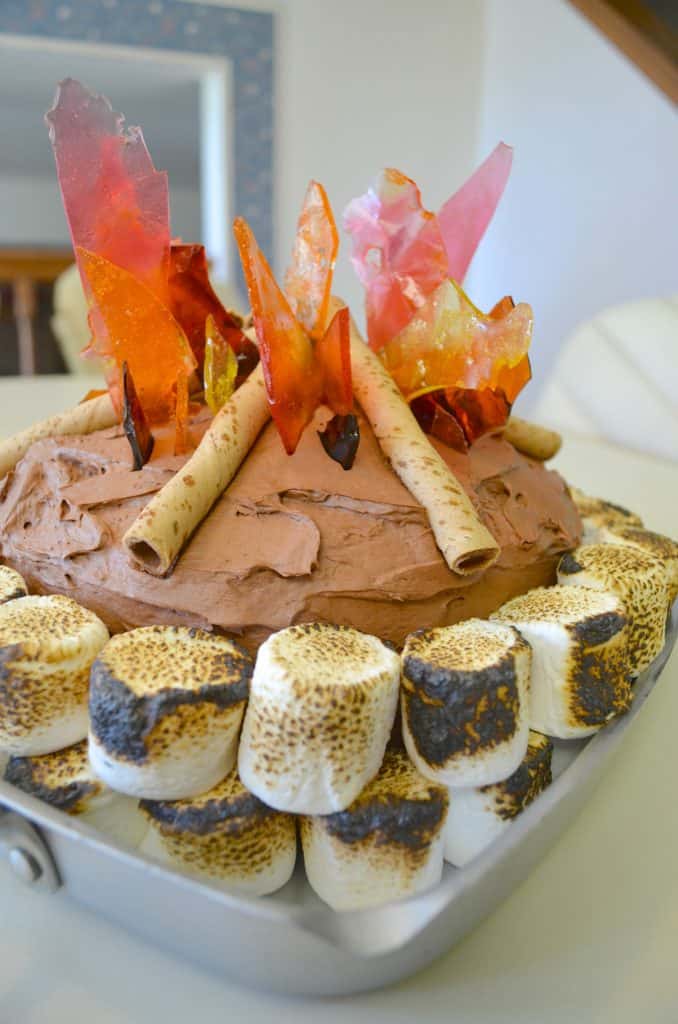 This awesome Campfire Camping Cake was SO easy to make and was a huge "WOW" effect at the party.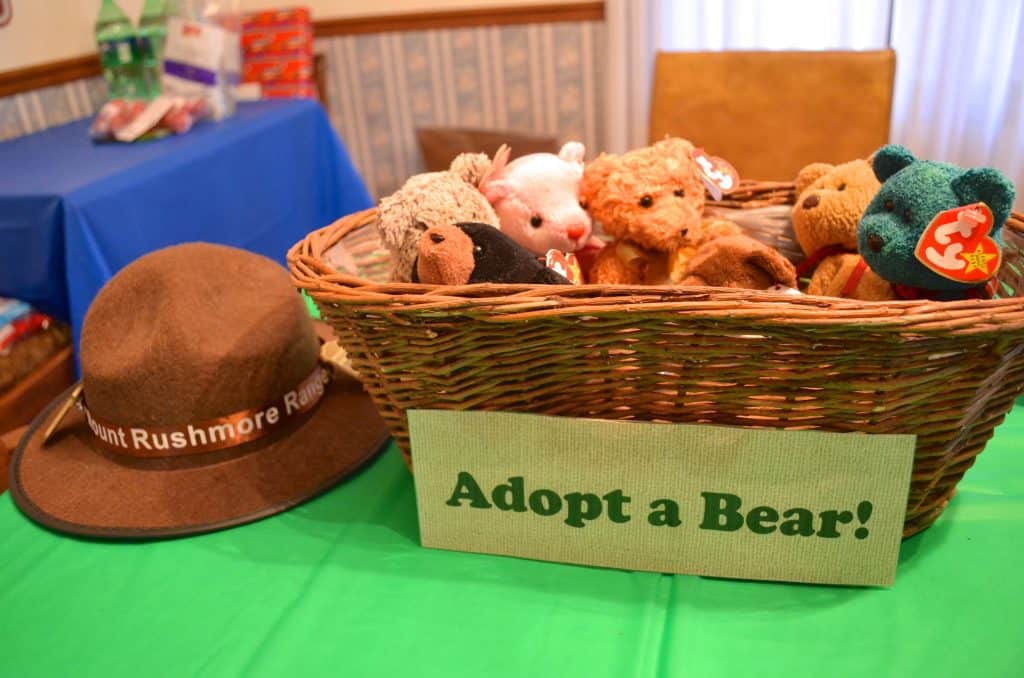 The birthday boy wore his ranger had we had previously purchased while visiting Mount Rushmore. And luckily our thrift store has Ty Beanie Babies
with tags for just $.50 each so I stocked up on the bears and printed out a sign that said "Adopt a Bear".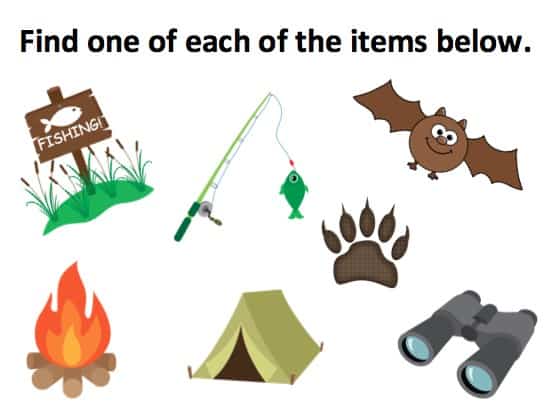 I created a scavenger hunt for the kids (Print the scavenger hunt here: Camping Scavenger Hunt PDF) to do and once they had completed it they were allowed to adopt their bear which was also their party favor. Just print a sheet for each child attending, cut out all the images, and hide them around the house!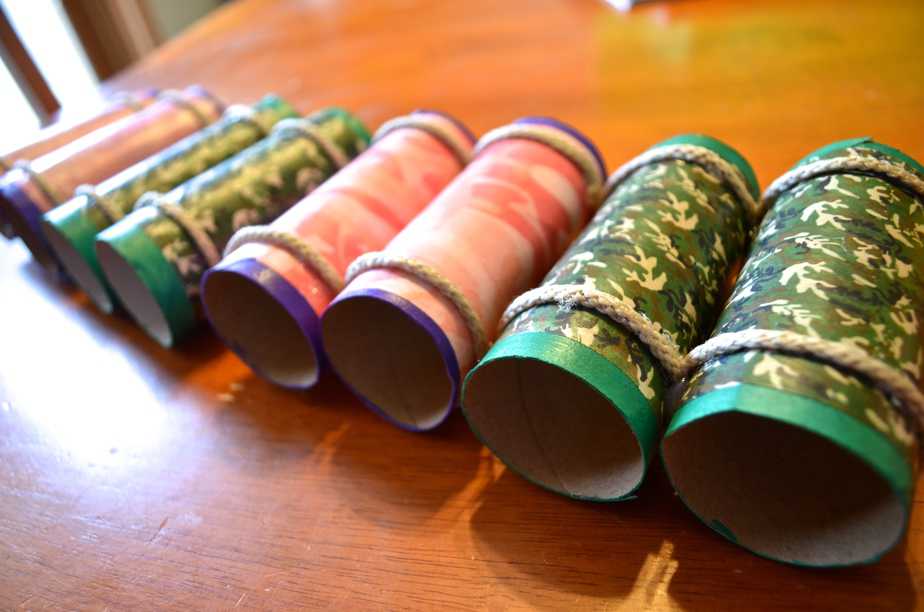 Once each child had "adopted" their bear we grabbed these Camo Binoculars I made for the party and headed outside on a bear hunt!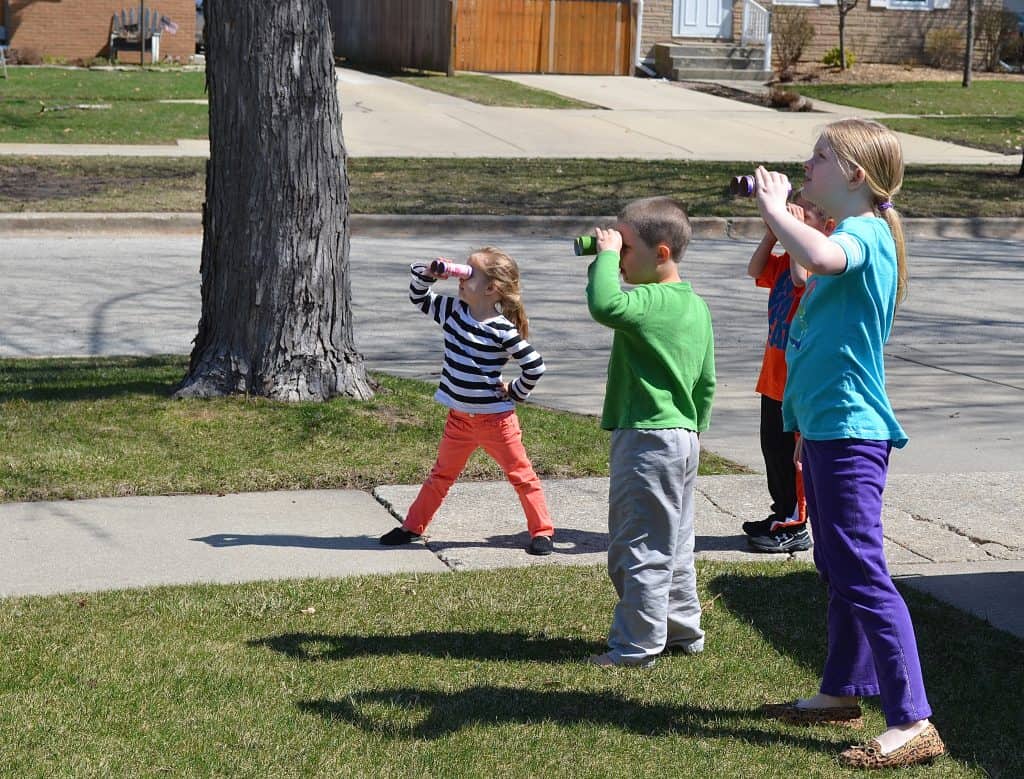 While the kids were in the front yard "searching for a bear" an adult ran into the back with each of their new teddy bears and hid them all over the yard. Each child then had to find his/her teddy bear on their hunt! It was a HUGE hit and had the kids running back and forth for quite a while!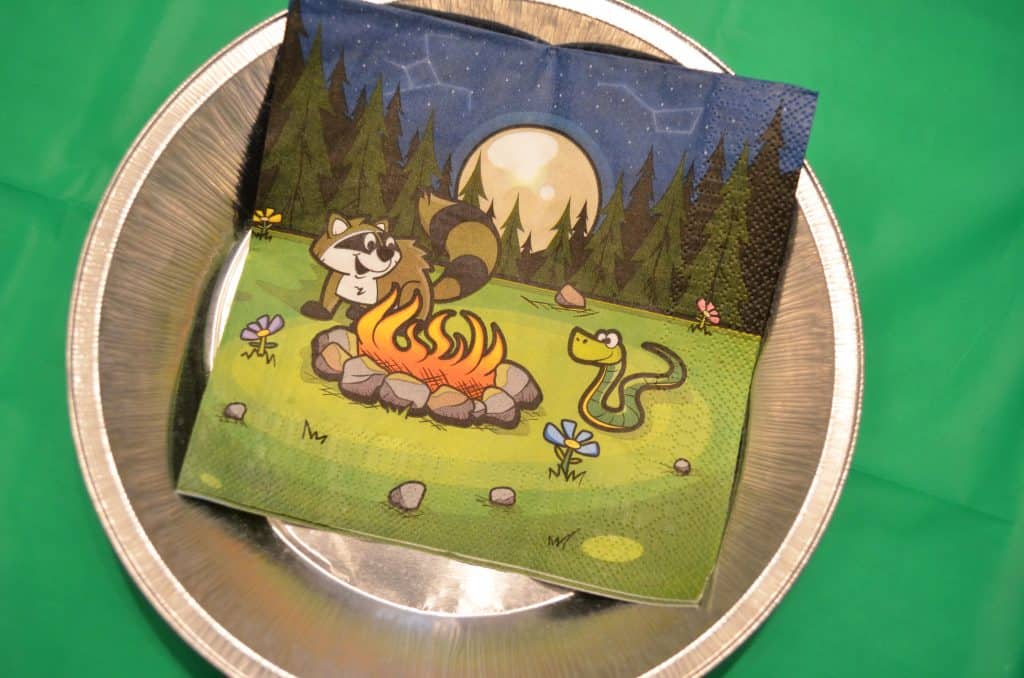 Instead of buying party plates I bought pie tins at the thrift store and splurged on these totally adorable camping napkins from Oriental Trading (for under $2 you can't go wrong!). This tablecloth matches the napkins.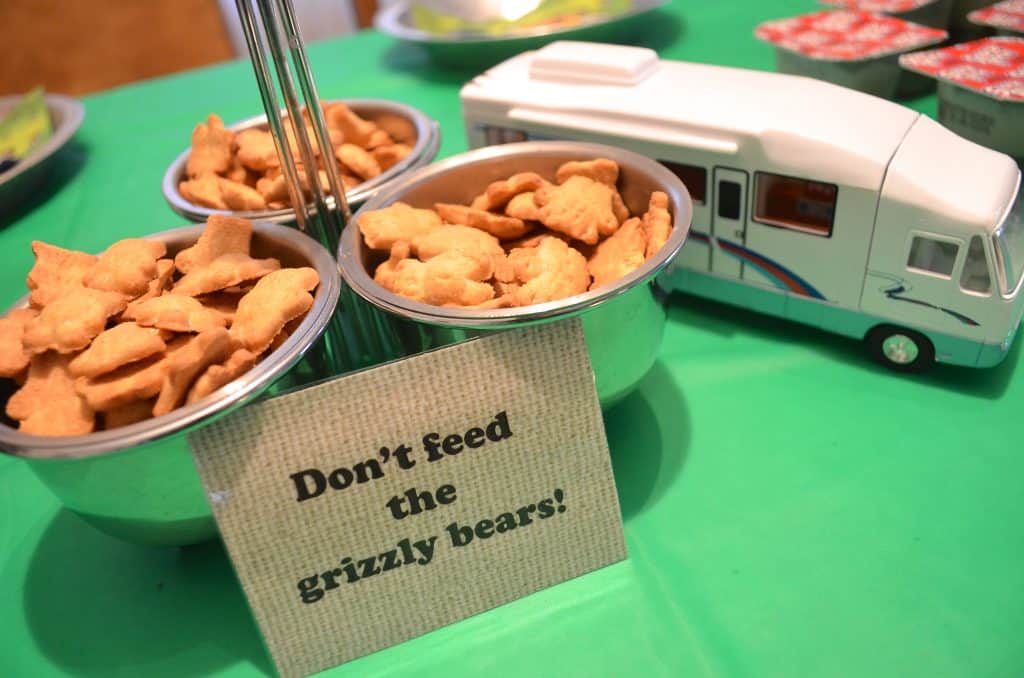 On the table for snacks I had little containers of Teddy Grahams with a "Don't feed the grizzly bears!" sign as well as this RV Camper toy that I had purchased. (seriously – BEST toy ever – it opens up and you can move furniture around – super cool!)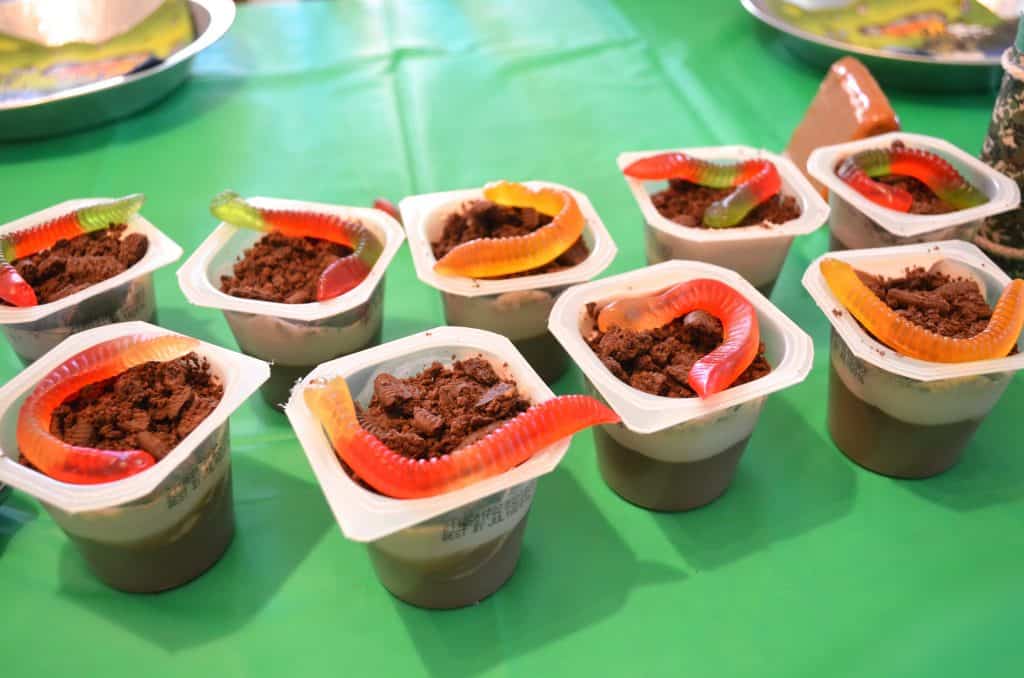 Also on the birthday table were "dirt cups" the cheating way. I bought pre-made pudding cups, crushed some chocolate cookies and sprinkled them on top, and placed a gummy worm on the top of each pudding cup.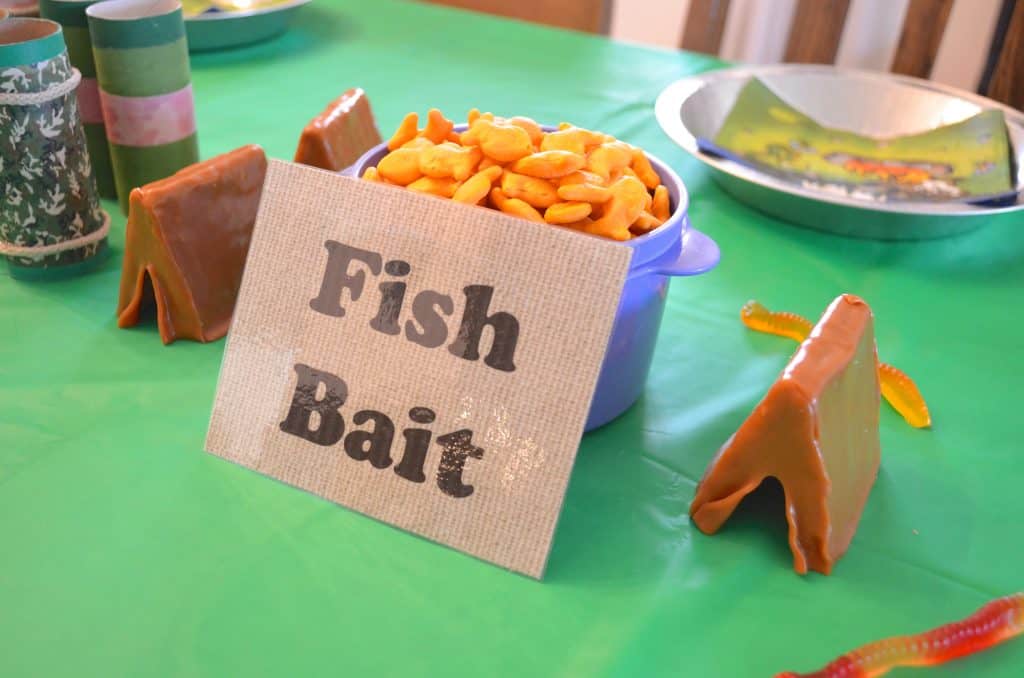 We also had some "fish bait" goldfish crackers for the younger kiddos at the party.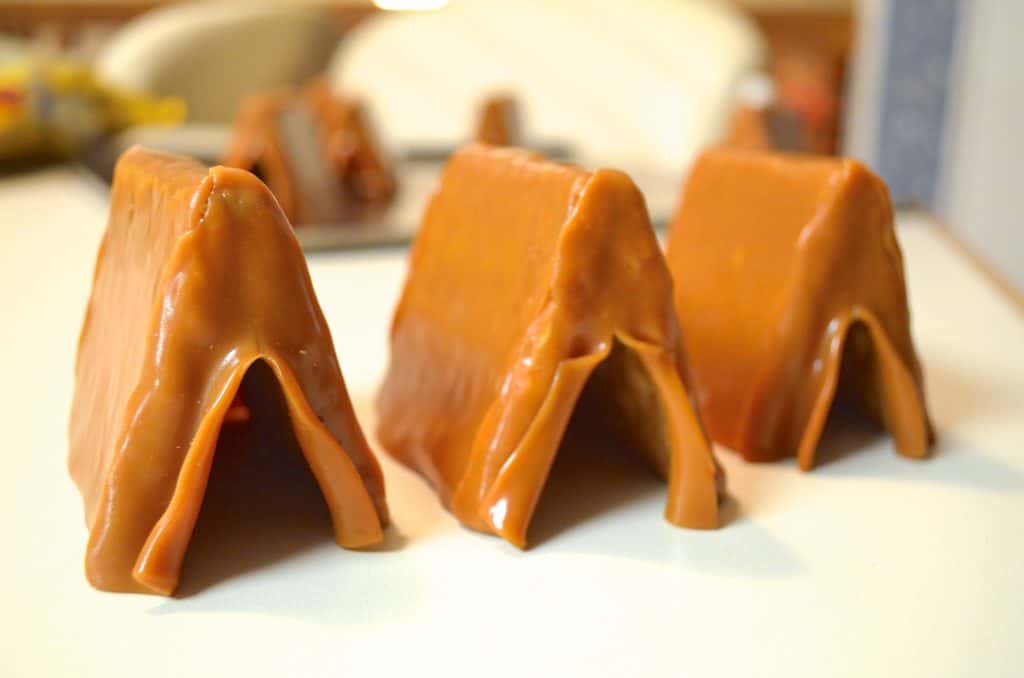 These caramel tents turned out super cute although they were a little time consuming to make. The "A" frame part is just two graham crackers "glued" together with melted chocolate chips. Then I used Caramel "sheets" that you would normally use for caramel apples and folded them onto the tent cutting out flaps for the front and back.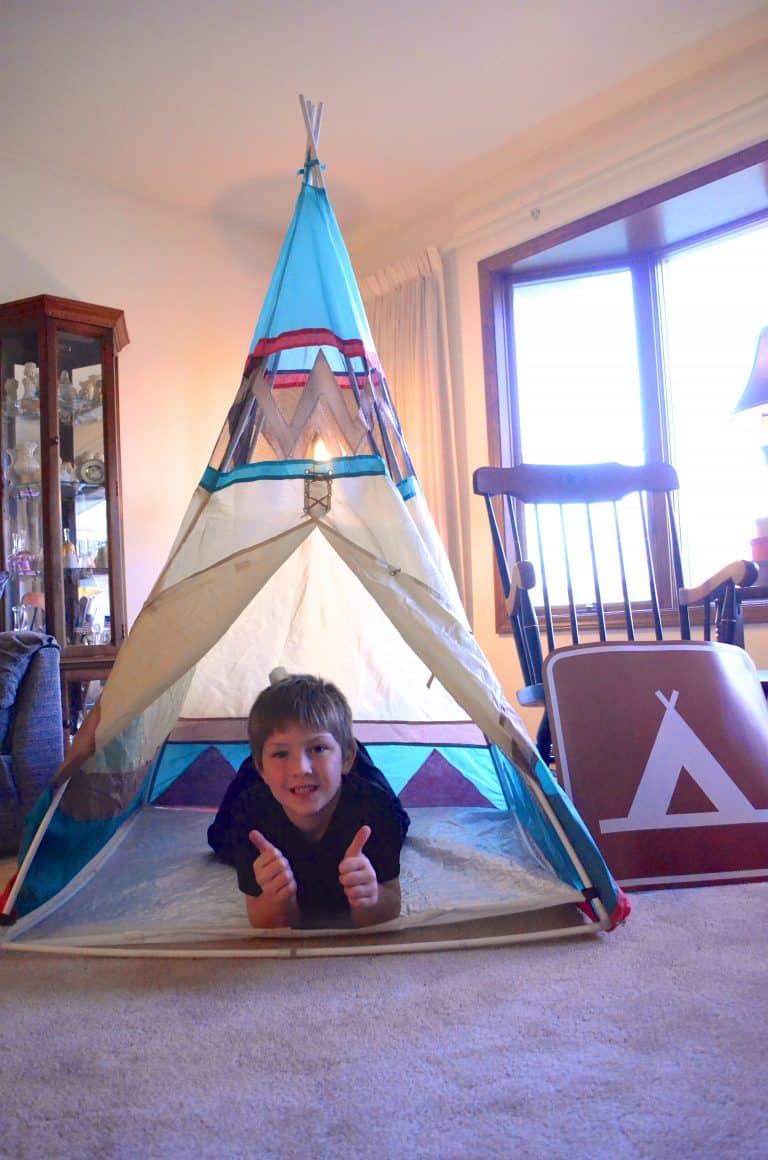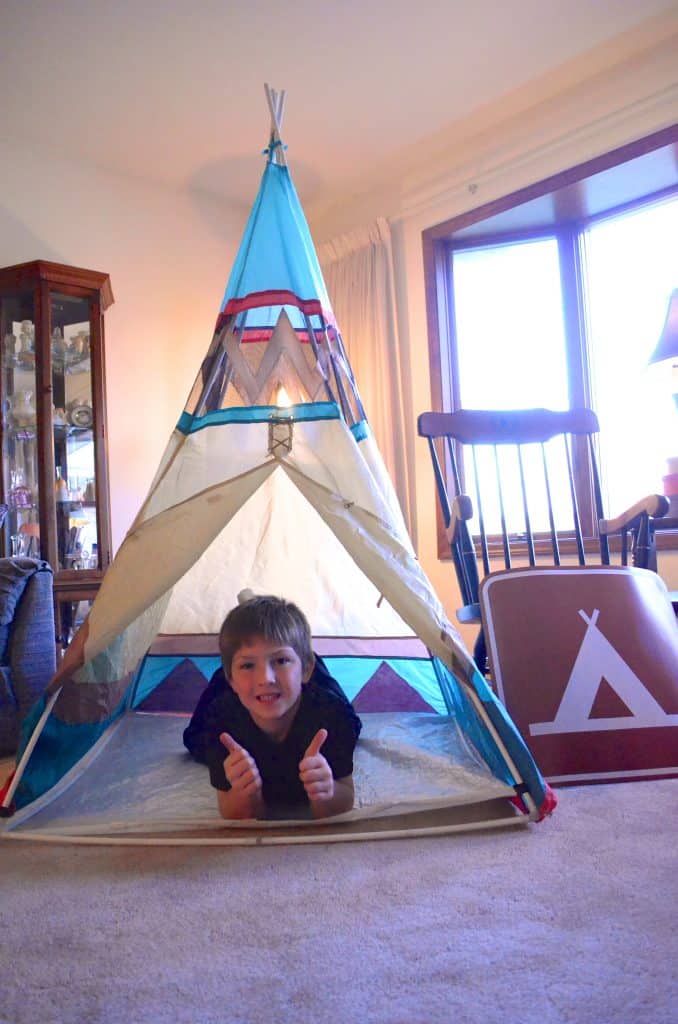 I was SUPER lucky enough to snag this teepee for ONLY $2 at my thrift store!! It was a huge hit so any kind of tent you can make or buy will be perfect for your party. Even if you just build a big fort that the kids can go "camping" in will be great!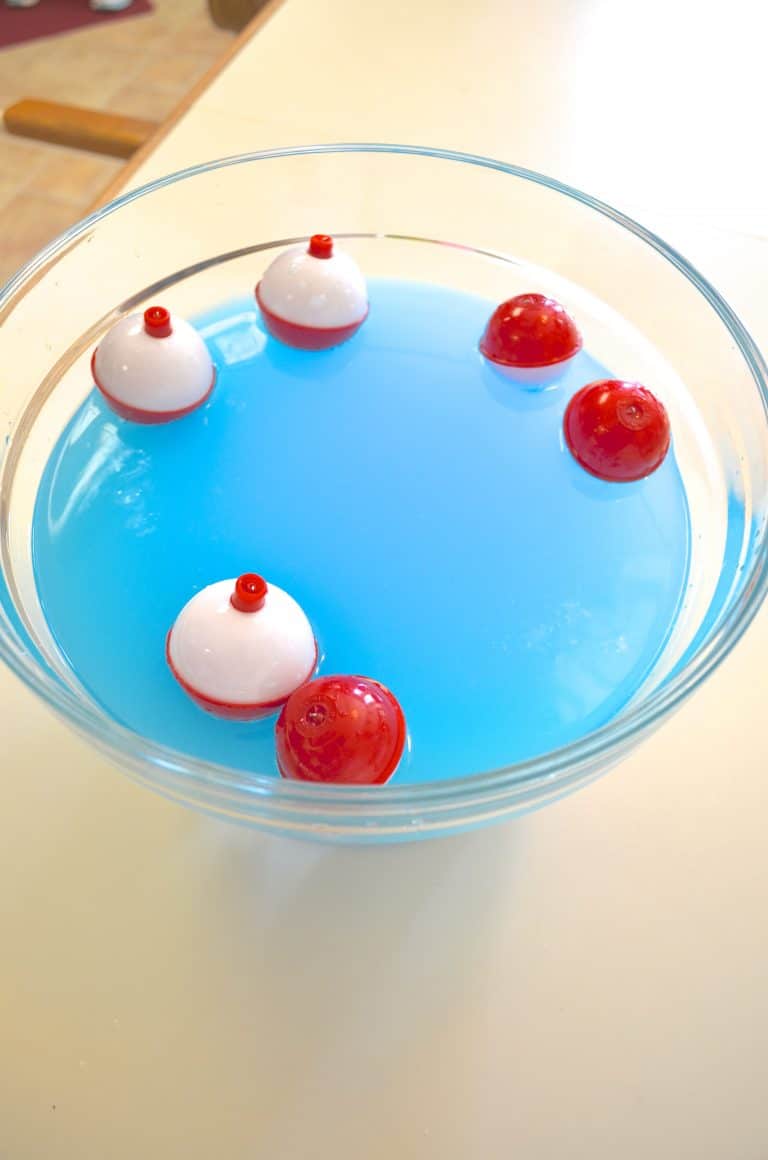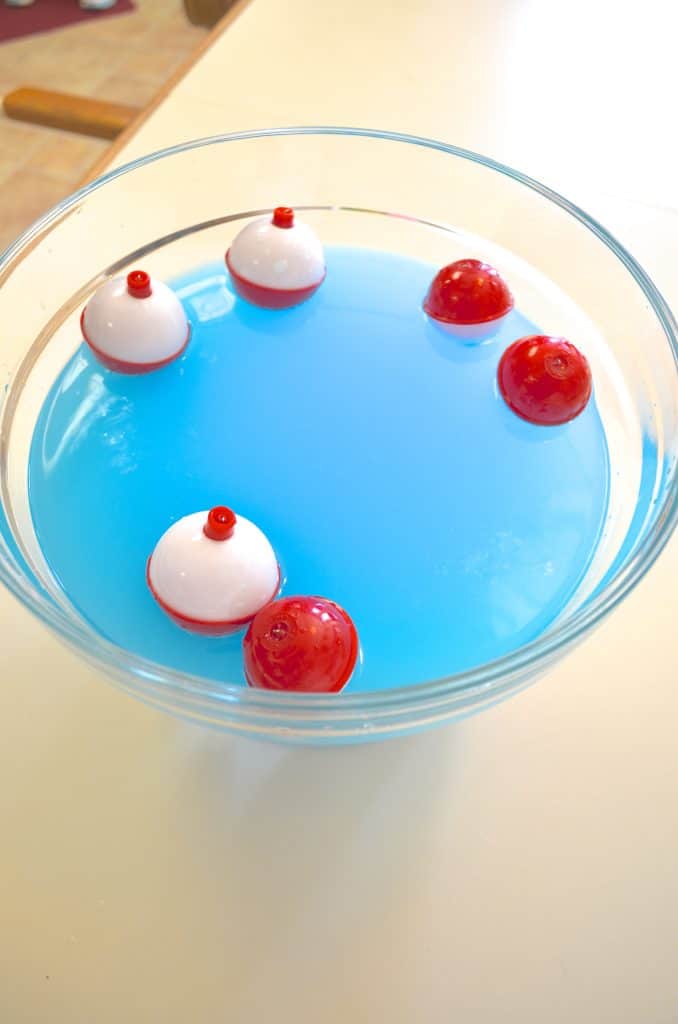 Another fun part to our party was the drink! I mixed two packets of Blue Raspberry Lemonade Kool-aid with 2 bottles of Sprite to make "pond water" and added a package of bobbers on top. Make sure you wash the brand new bobbers well with soap and water and don't add any bobbers that are so small that a child could accidentally drink or swallow them! I also froze ice cubes with Swedish fish in it to add to the punch bowl.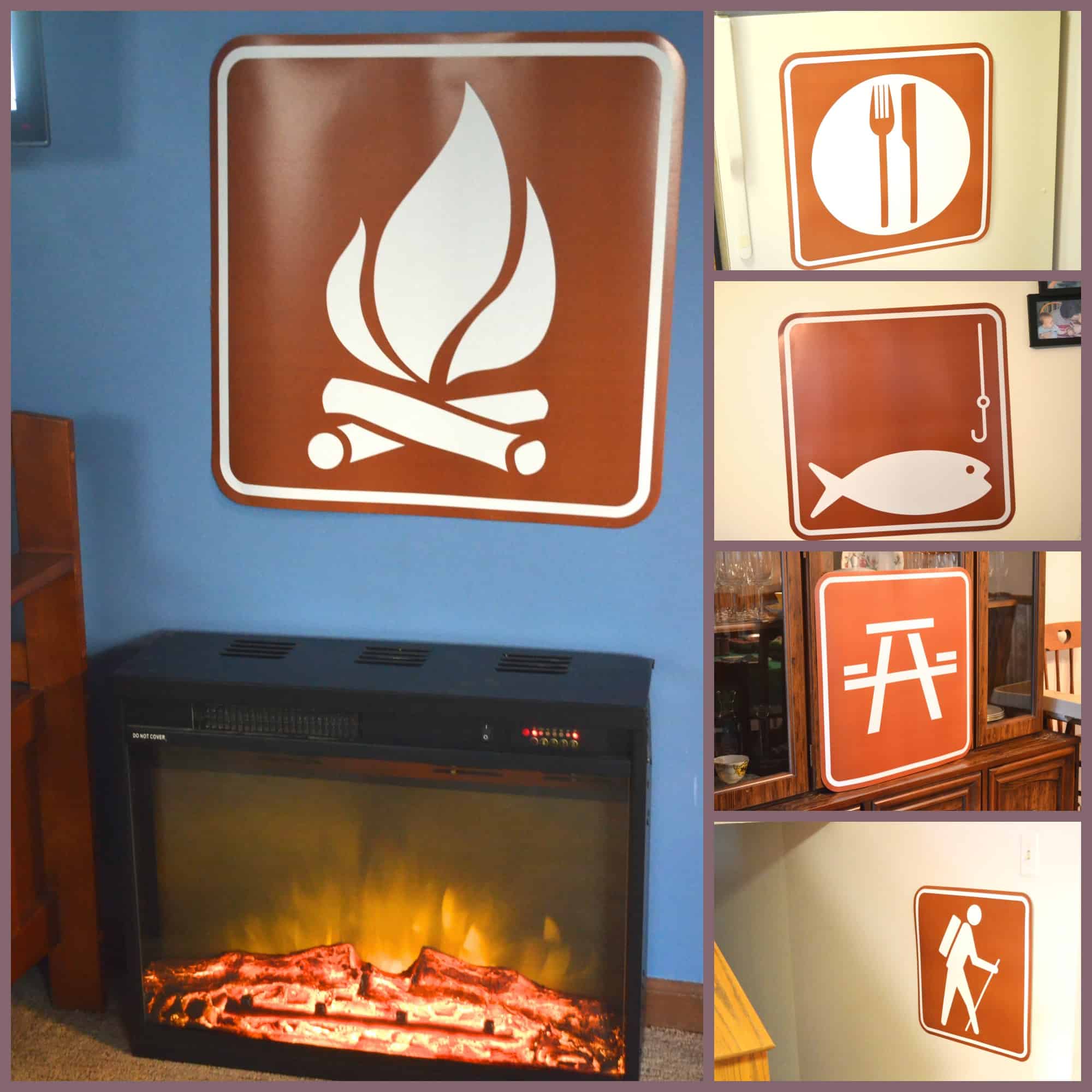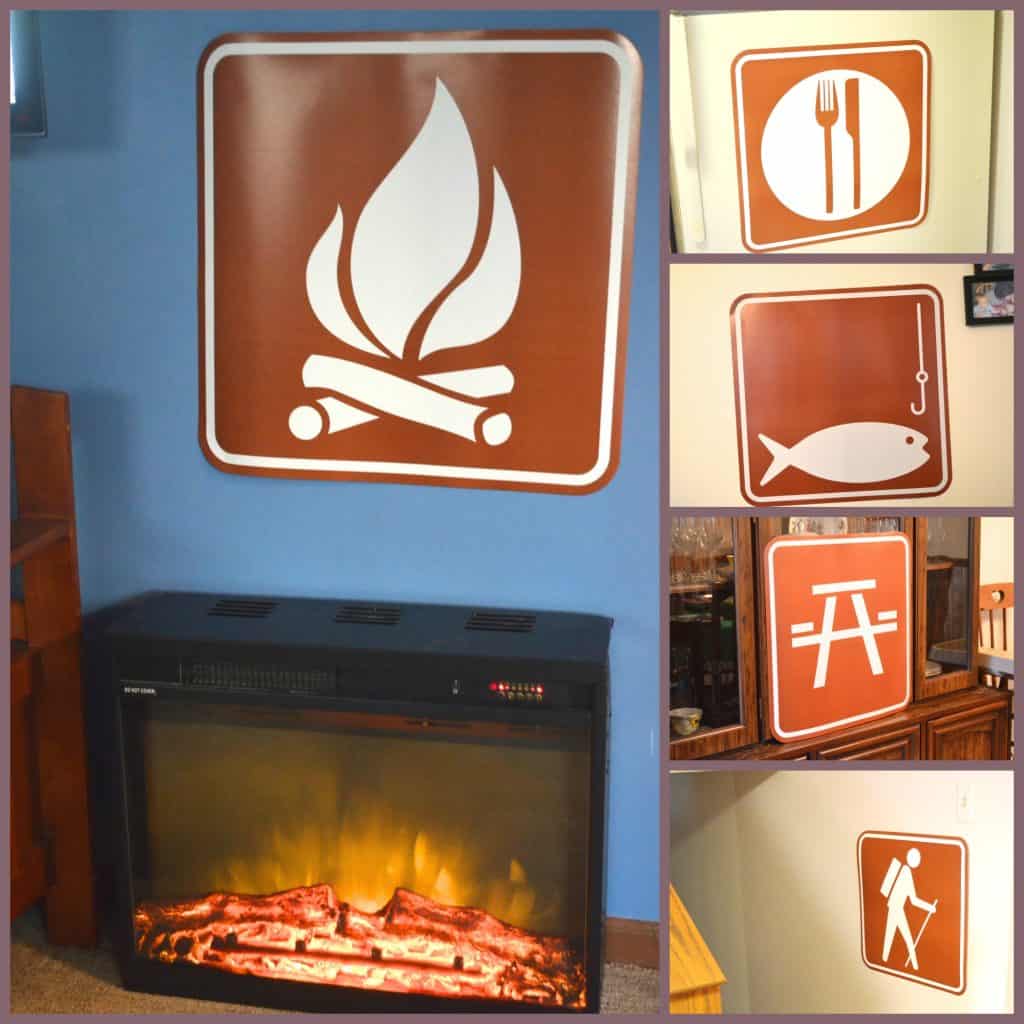 And to finish off the camping party decor I ordered these AWESOME 6 pack camping cardboard signs !! They are HUGE and was super awesome for the party!
Because I was on a super super tight budget I didn't spend much on the party (under $20!) but here are the other awesome items I found that I wanted to purchase for the party:
Bug Birthday Party Related Posts: