How to Make a Campfire Camping Party Birthday Cake Tutorial
This post may contain affiliate links, view our disclosure policy for details.
This camping birthday party tutorial will teach you

how to make flames for a campfire cake

!
I've seen several versions of this Campfire Camping Party Cake floating around and I have to tell you it SO easy to make! I'm no cake guru and me and fondant don't mix well – but this seriously awesome cake can be made by anyone.
In fact my 8 year old son actually did most of the decorating himself! Plus it's EASY to make the flames for a campfire cake – not nearly as scary as I'd imagined!
Check out our Camping Birthday Party for more camping themed ideas!
Campfire Cake Materials Needed:
cake mix (1 box)
chocolate frosting (1 tub)
marshmallows (1 bag)
hard candies (yellow, red, and/or orange) – Jolly Ranchers, Cinnamon, and Butterscotch all work well
Start by making a round cake
or two. I made two 9 inch circle
cakes and put them on top of each other. I used a box cake mix but you can easily make it from scratch. Use one container of chocolate frosting and completely cover the cake.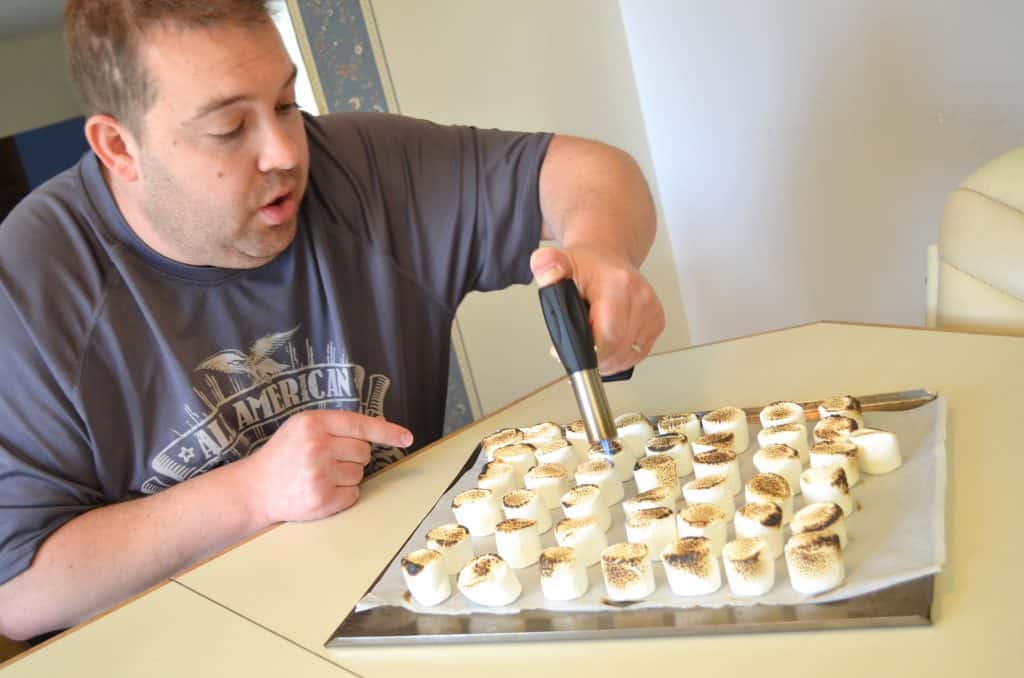 Next comes the fun part – charring the marshmallows! We "burned" an entire bag. We used a creme brûlée torch to do it but if you needed to you could actually roast them.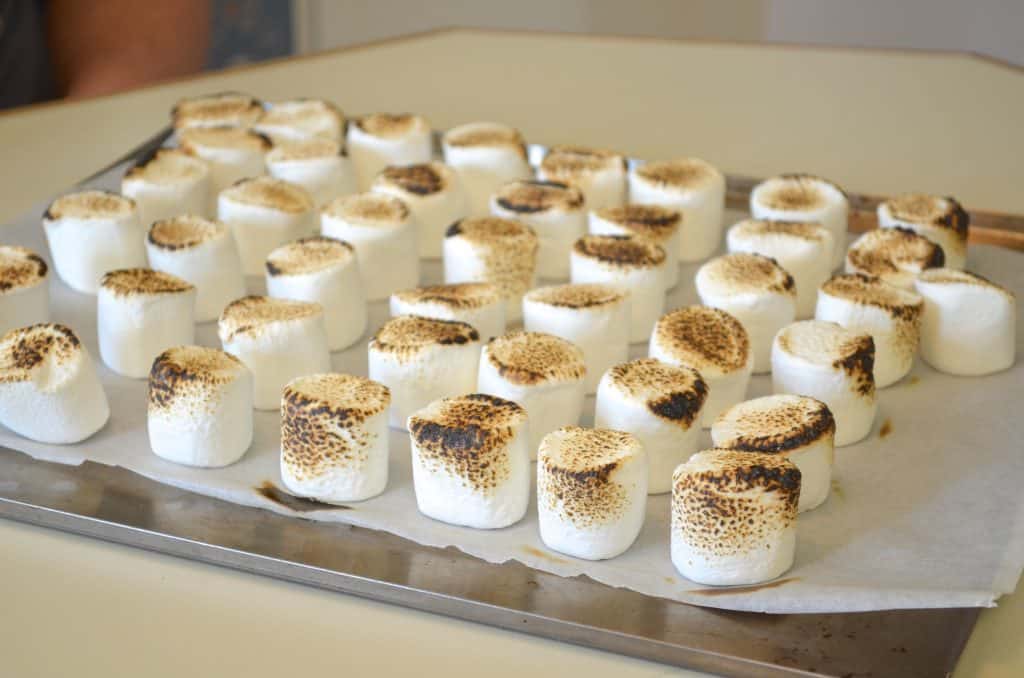 Make sure to char the tops and sides of the marshmallows.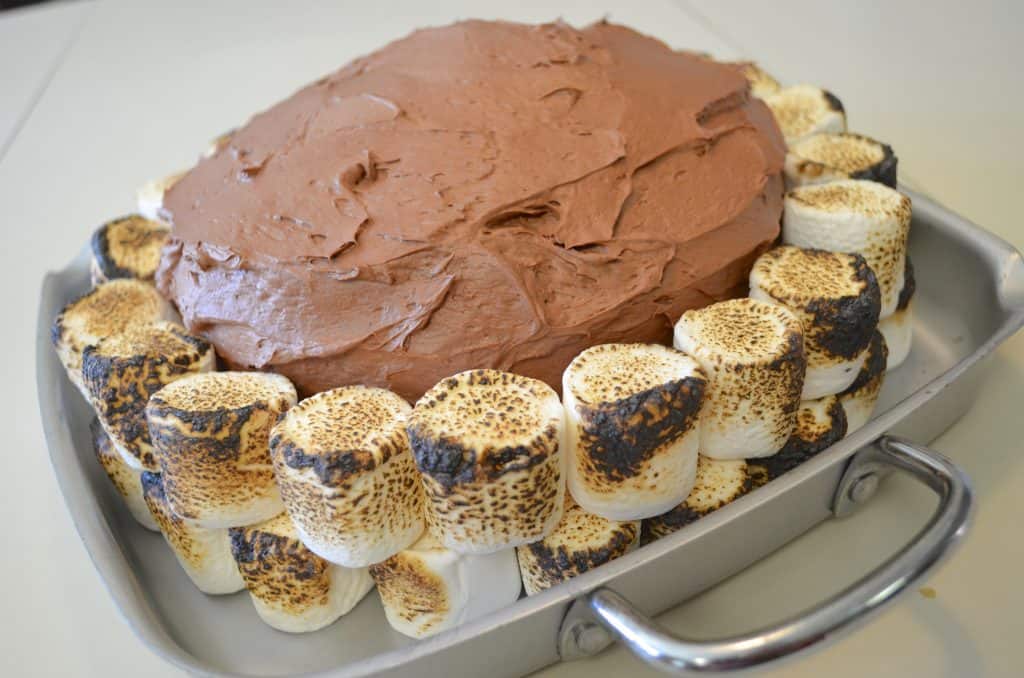 You'll want one layer of charred marshmallows per layer of campfire cake. I have two layers of cake so I made two layers of marshmallows.
Once your marshmallow "rocks" are in place lay Pirouette cookies
on top of the cake and shape them like a pile of logs in a campfire.
How to Make the Campfire Cake Flames:
The campfire cake flames are incredibly easy to make and have such a dramatic effect on the cake. The colors, however, were the most difficult thing to find! I used Easter lollipops, Jolly Ranchers
, and butterscotch hard candies
to get the colors I needed.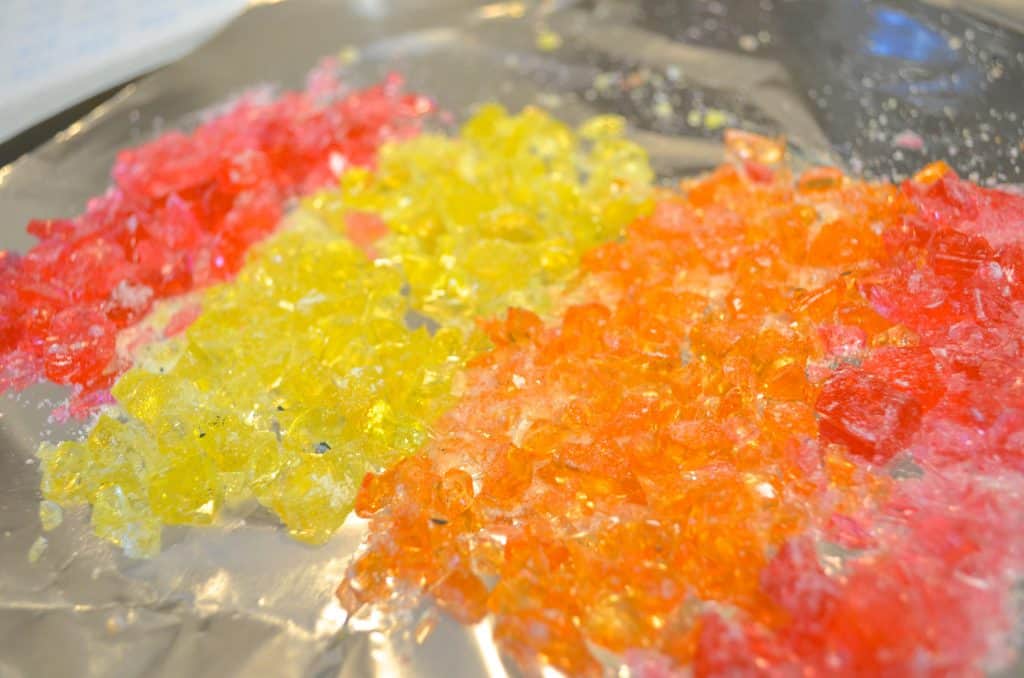 Crush all of the candies you need and crumble them onto a sheet of aluminum foil
. Melt in the oven (this isn't exact, but about 250* for a few minutes till they are liquid) then pull out and let harden. Once they are dry just peel it off of the foil and break it up!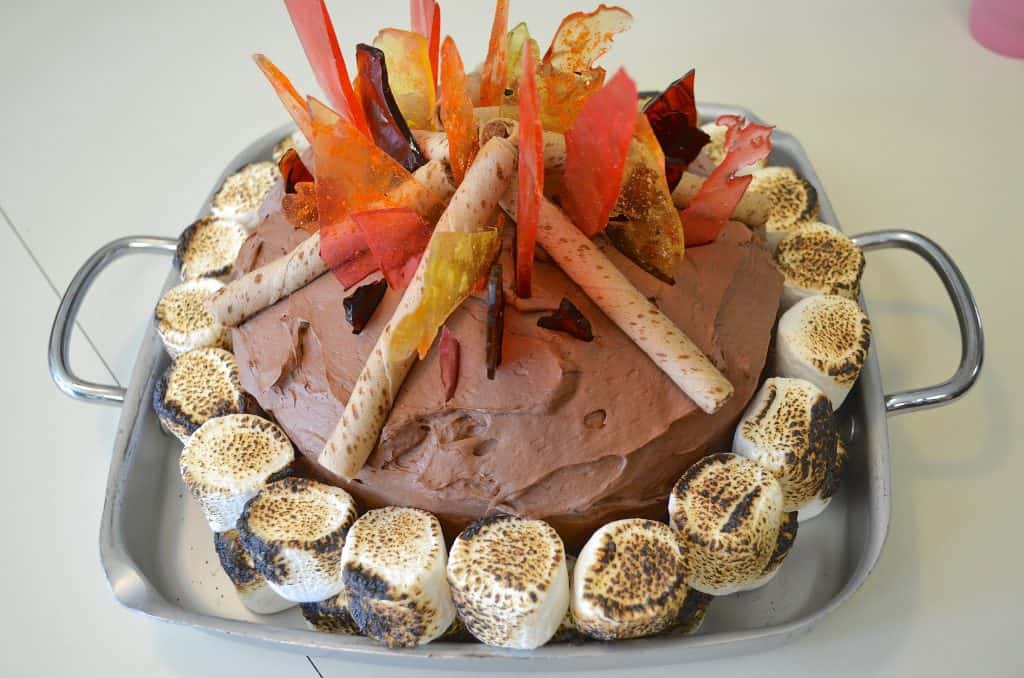 Stick the melted candy flames down into the top of the cake in between the "logs" and voila! You've got yourself one pretty awesome campfire cake!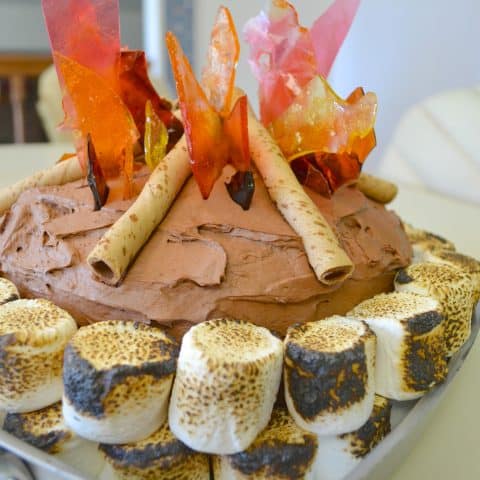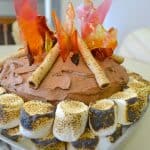 Campfire Camping Cake Recipe
Simple campfire camping cake recipe.
Ingredients
1

box

cake mix

1

tub

chocolate frosting

1

bag

hard Jolly Rancher candies – yellow, red, orange
Instructions
Make cake per directions on box. You need two 9 inch round cake pans.

Use a creme brulee torch to char the top and sides of a bag of marshmallows.

Frost cake as you normally would then stack charred marshmallows around cake, two high.

Crush Jolly Rancher hard candies and spread out on aluminum foil. Melt in oven at 250* a few minutes until they look melted. Cool completely.

Peel the cooled candies off and break into shards simulating flames! Insert into top of cake.Lay Pirouette cookies on top of the cake to look like logs.