Industrial Steampunk Light Switch Plate Cover DIY Home Decor Tutorial
This post may contain affiliate links, view our disclosure policy for details.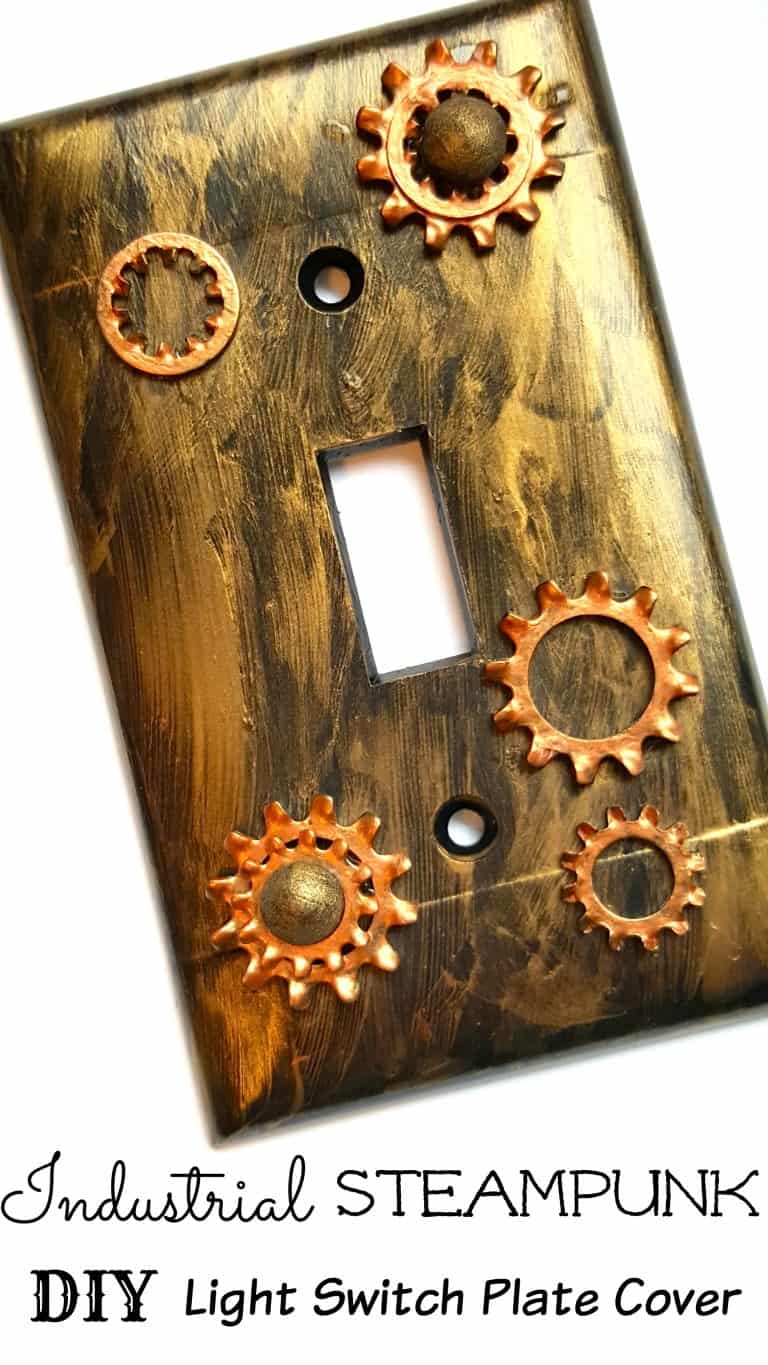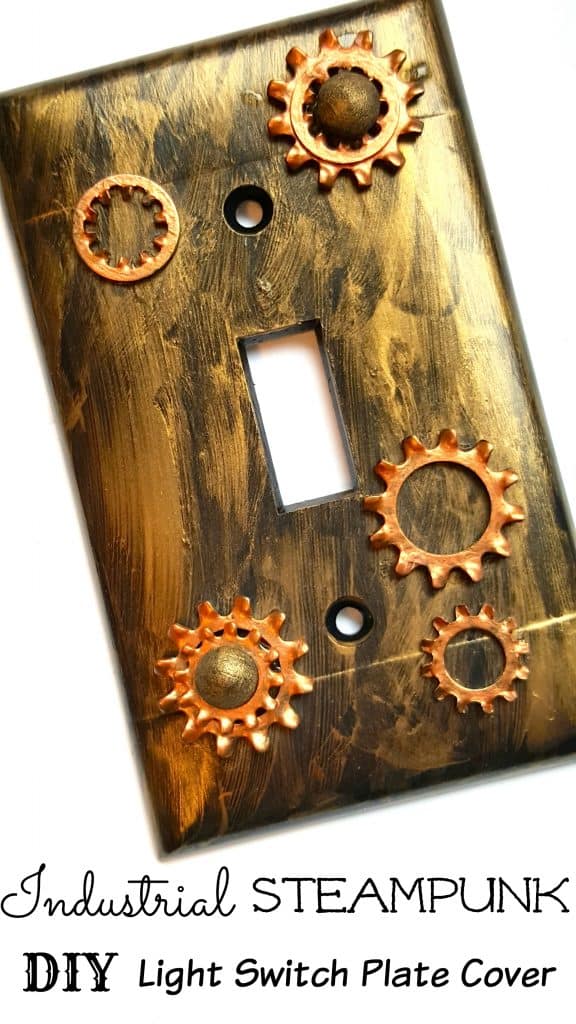 When we moved to Iowa 4 years ago now we hit the ground running and have been SO busy that I recently realized we have never decorated our bedroom – like at all! I LOVE the steampunk industrial vintage travel type styles so I decided it was time to try my hand and creating my own steampunk designed home decor. (Check out my recycled clock and DIY Apothecary jar here!) Then I quickly realized I did not have any accessories to work with! This EXTREMELY easy to make Industrial Steampunk Light Switch plate cover also goes great for little boy's robot and gear themed rooms! (just change up the colors!) Check out or simple tutorial below:
Industrial Steampunk Light Switch Plate Materials: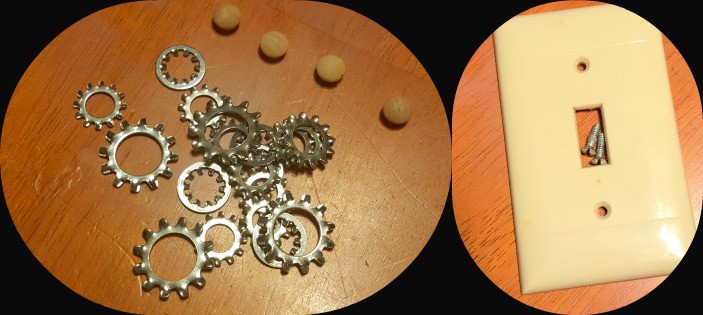 Light Switch Plate Cover w/screws
Metallic Acrylic Paint (I used black, gold & bronze)
Paintbrush
Krazy Glue
Embellishments (gears, knobs, etc. – more details below)
Industrial Steampunk Light Switch Plate Directions:
1. Paint your light switch plate cover (and the top of the screws) black. I used an acrylic metallic black paint but you can also just use an acrylic black paint since it will mostly be covered up. Let dry. Don't be too worried if a little bit of the original color shows through – the next color(s) will cover that up.
2. Dip your fingertip into your metallic gold paint and smear it all over the light switch, allowing some of the black to show through. Make sure to get the edges too! Don't forget to smear a little on the top of the screws as well so they match. Let dry.
3. Now it is time to paint our embellishments and this is where I initially ran into trouble because I didn't have any steampunk industrial type accessories in my craft supply. I started out at my local farm supply store since there are no hardware stores nearby and picked up the lock washers you see along with small wooden knobs which is what I used but ultimately I came home and ordered this 50 pc. gear set and this set of vintage keys on Amazon since they were SO much cheaper and exactly what I was looking for. I'll be making another light switch plate cover with my new supplies when they come in. I also ordered this cheap compass for a steampunk box I am making. I did put a thin coat of black, then bronze on my gears and knobs and then touched them up with the metallic bronze on top so that it really made the gears and knobs stand out. I didn't want anything too high off of the light switch plate because I was afraid I'd knock it with my fingers every time I flipped a switch! Let everything dry.
4. Add a dab of krazy glue onto the back of all of your embellishments and add it to the switch plate cover in whatever design you want it to be! I DID add a quick coat of clear acrylic sealer once everything was dry and completed just to help the acrylic paint from getting scratched but I'm super happy with the way it turned out! Don't forget to add some metallic bronze onto your actual light switch so that it matches the set!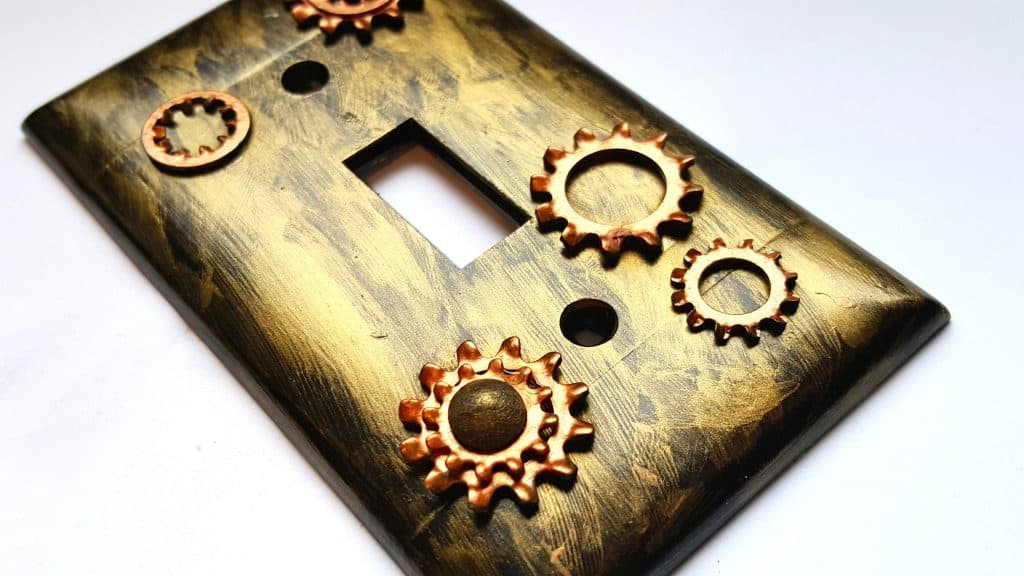 There you have it! EASY PEASY! This Industrial Steampunk Light Switch Plate Cover is simple enough for kids to make themselves too! (although I recommend helping out with the krazy glue!) My boys were astounded at how cool this looked when I was done and were begging to make their own! If you want your gears to be flatter or simply have a quicker light switch plate to design you could paint your cover black and mod podge on scrapbook paper gears as well but I really like the extra depth and texture our plate cover has!
Click on the images below to see some of our other Steampunk inspired tutorials!