How to Save Money on Produce and Fresh Veggies
This post may contain affiliate links, view our disclosure policy for details.
I get it…..eating healthy can be expensive! Our family tries to eat healthier and one way we do that is buying fresh produce (organic when we can). The tips below will help you learn how to save money on produce and fresh veggies.
You can fill just a small pile up in your grocery cart and drop almost $20 depending on what you buy and whether or not it's in season. Make it all organic and you could be doubling your cost!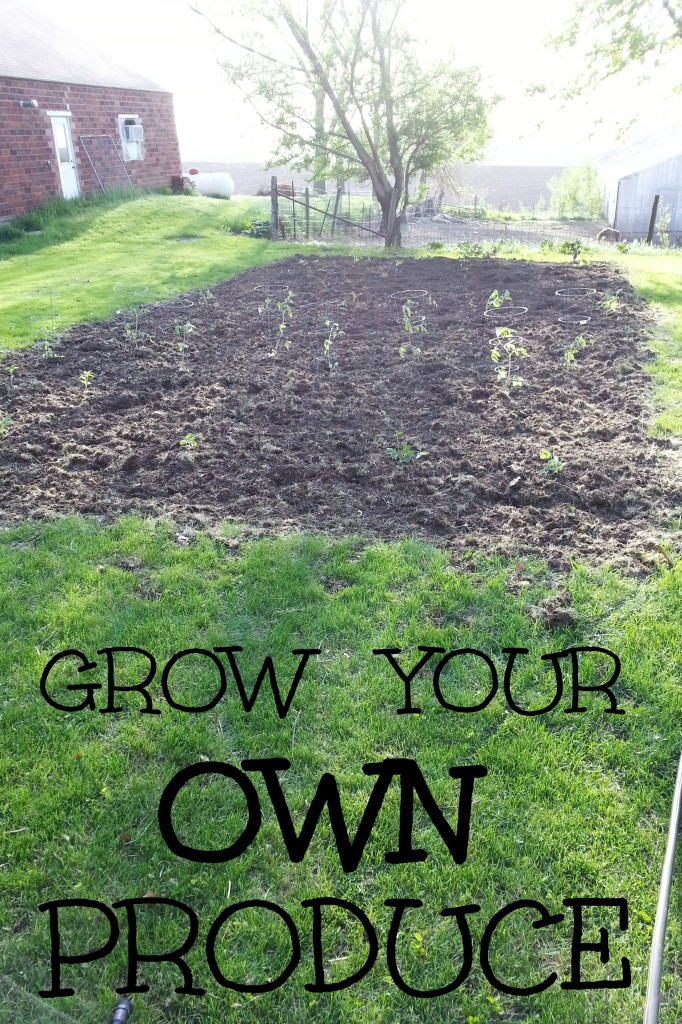 So one year I decided to try something completely new for us – growing my own produce….and not just a small veggie garden but enough to feed our family for more than half a year. You can see how we saved a TON of money buying vegetable plants.
I've been working hard each year planting potatoes, carrots, onions, cabbage, cucumbers, beans, peppers, tomatoes, broccoli, cauliflower, watermelon, cantaloupe, pumpkins, corn, spinach, oregano, thyme, basil, cilantro, parsley, strawberries and lettuce in our 44 ft. x 15 ft. garden. (I've since expanded this to a 24 ft x 67 ft!)
But I know we can't eat all that fresh produce before it goes bad so I've decided to can a lot of it and create sauces and frozen meals out of it. You can also try juicing your fresh produce! Don't think your kids will eat any of this? Try these 10 tips on getting kids to eat their veggies.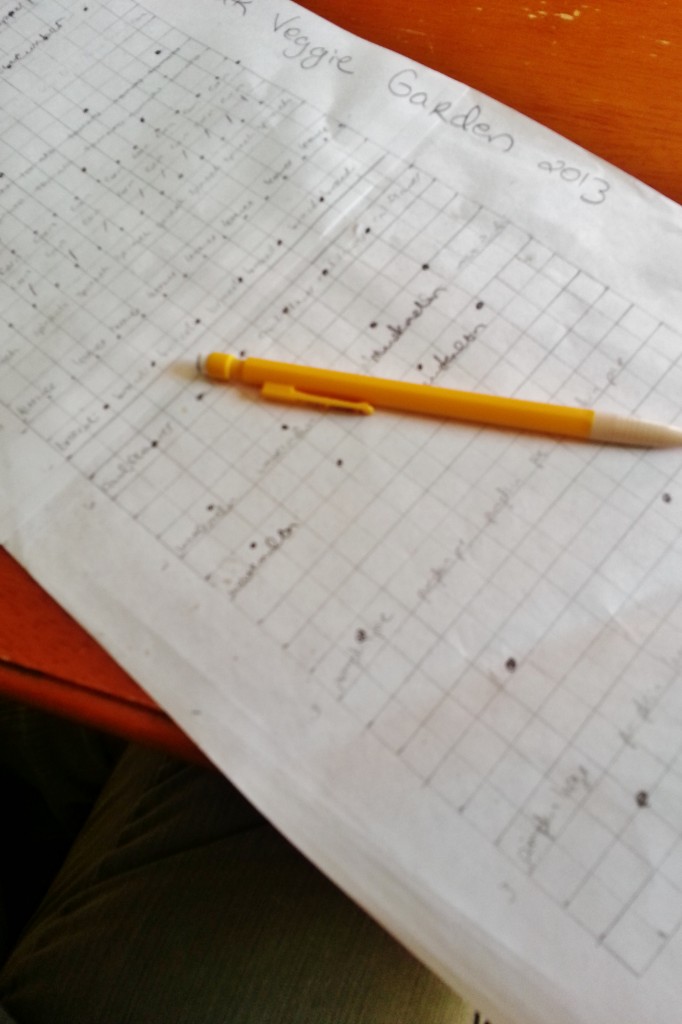 The first thing I did was spend a lot of time researching what plants I should plant next to each other and how far away everything needed to be spaced, and then I created a map of exactly where I was going to plant everything. I Love Tomatoes has been a great help in researching for my tomato garden.
Since my garden is 44ft x 15 ft I decided to create my map 44cm x 15 cm so that I could easily plant my veggies based on my scale map. (1 cm per ft) The little dark dots you see above are my veggie plants.
Once we harvest everything we'll be eating it fresh as well as canning it. I saved all my seeds in an airtight container and printed out these FREE Garden Seedling labels.
Canning jars can be very expensive if you need to buy a large amount of them (about $1-$2 per jar) so I've been scouting around for deals since I knew I would need a lot of them! My two favorite places for scoring cheap prices on canning jars are at yard sales and off of craigslist.
My absolute highest price I'll pay is $.50 per jar but I prefer to pay $.25 per jar. The photo below is what I found at yard sales just today – I paid about $12 for all of it (it would have cost over $50 in the store)! Now all I need to buy is jar lids which are very inexpensive.
The great thing is that once you buy them once you won't need to buy them again since they are reusable!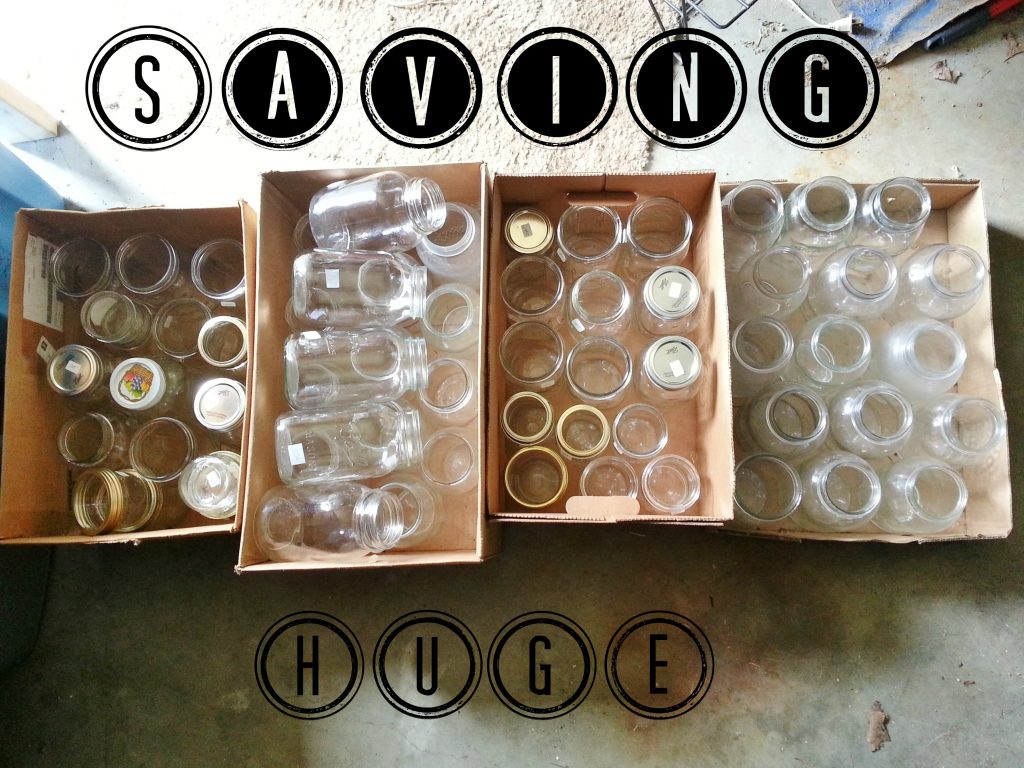 Here are a few of the things I plan on doing with our fresh produce in the fall:
Can Salsa

Can Spaghetti Sauce
Can Diced & Stewed Tomatoes
Freeze Veggie Lasagna
Freeze Veggie & Venison Chili
Eating it fresh!
Freezing straight veggie mixes (beans, peppers, broccoli, etc.)
Baking pumpkin pies
If you have any other ideas of what I can do with our produce I would LOVE to hear them! This is my first year doing such a large garden and we are fortunate enough to have the area for a garden like this.
Next year I'm planning on expanding it. If you're cramped for space on your garden there are SO many different ways to grow veggies – even if it's just on a balcony or patio! You'll need a sunny area or a good grow light.
Just google or look on Pinterest for "Container Gardening" and you'll find all sorts of amazing ideas! You can also look for stackable pots like this one, or simply plant straight into a recycled wooden pallet!
There is the cost of your seeds or plants as well as the water you'll need while they are growing but you get so much more back out of it and it's cheaper than buying the produce in the grocery store!
Not only that but it's healthier to grow your own produce, it's fantastic to get your kids involved and it's a great way to provide for your family and bless others with throughout the year! It's hard work and takes a lot of time but for our family, it's a great experience and well worth it!
Some other fabulous related articles: