Hearty Sausage & Shrimp Kabobs Recipe
This post may contain affiliate links, view our disclosure policy for details.
This is a sponsored post written by me on behalf of Tyson Foods, Inc. All ideas, recipes, & opinions are entirely my own.
My mouth is watering right now thinking of this hearty Sausage & Shrimp Kabobs recipe! Towards the end of every summer we seem to brace ourselves for the insane school schedule that is approaching – it's truly one of the busiest times of year for our family.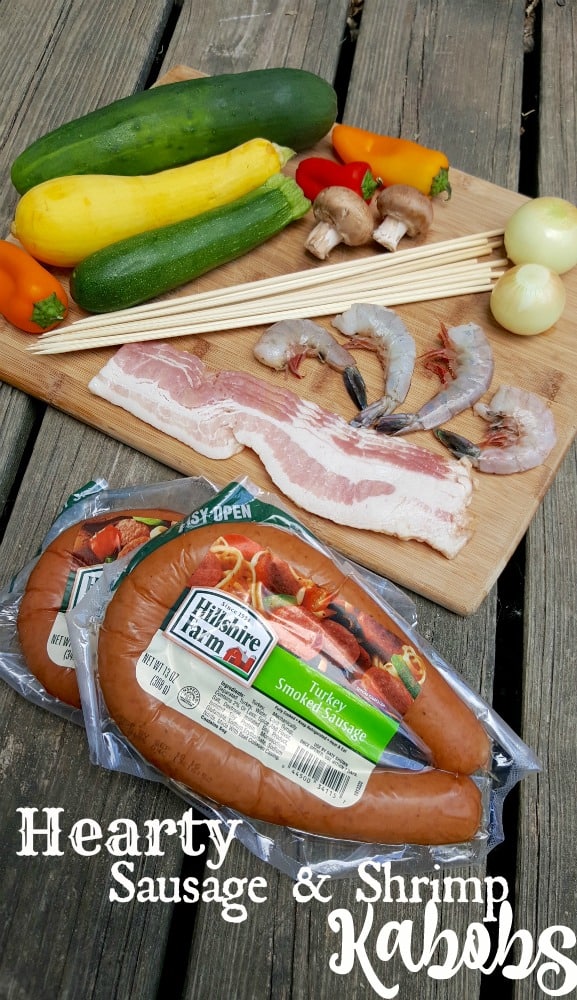 Knowing that we soon will have absolutely no spare time we tend to focus our meals on more enjoyable high quality recipes that we can create together as a family. We bought several varieties of Hillshire Farm® smoked sausage as well as fresh Gulf shrimp at Walmart to create delicious hearty kabobs and they turned out better than I could have imagined! Not only is this an easy meal for the kids to help make but each person can customize exactly what they want their meal to be!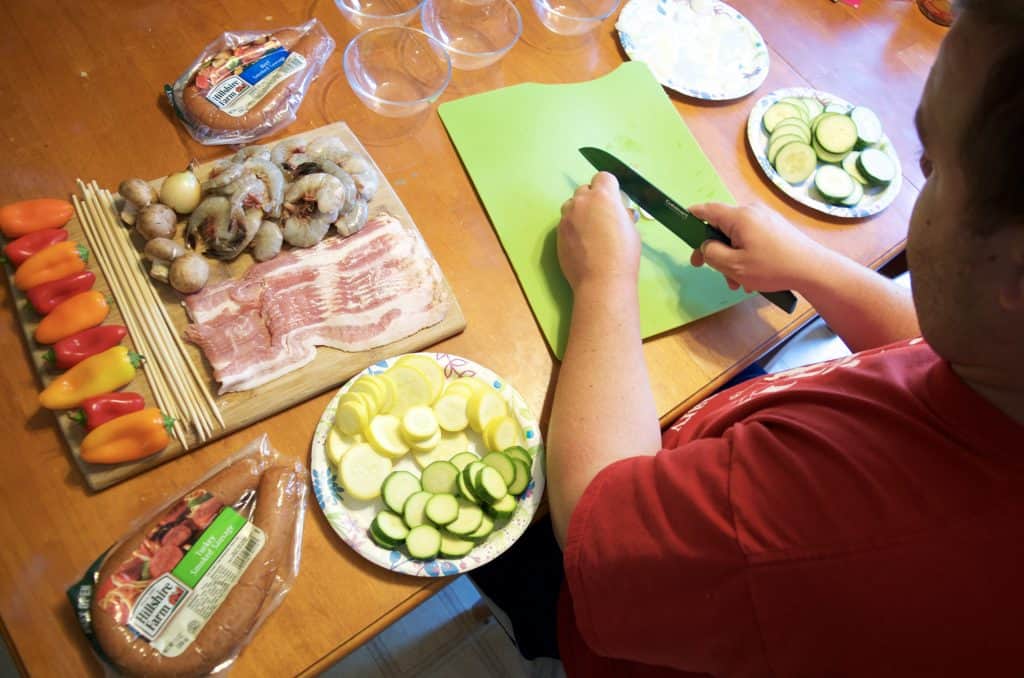 Hearty Sausage & Shrimp Kabobs Ingredients:
Skewers
1 package of Hillshire Farm Turkey Smoked Sausage
1 package of Hillshire Farm Beef Smoked Sausage
1 Cucumber
1 Zucchini
1 Yellow Squash
1/2 pound Mushrooms
1 pound Fresh Raw Shrimp
1 bag of Fresh Peppers
2 Small Onions
1 pound Thin Sliced Bacon
Serves eight.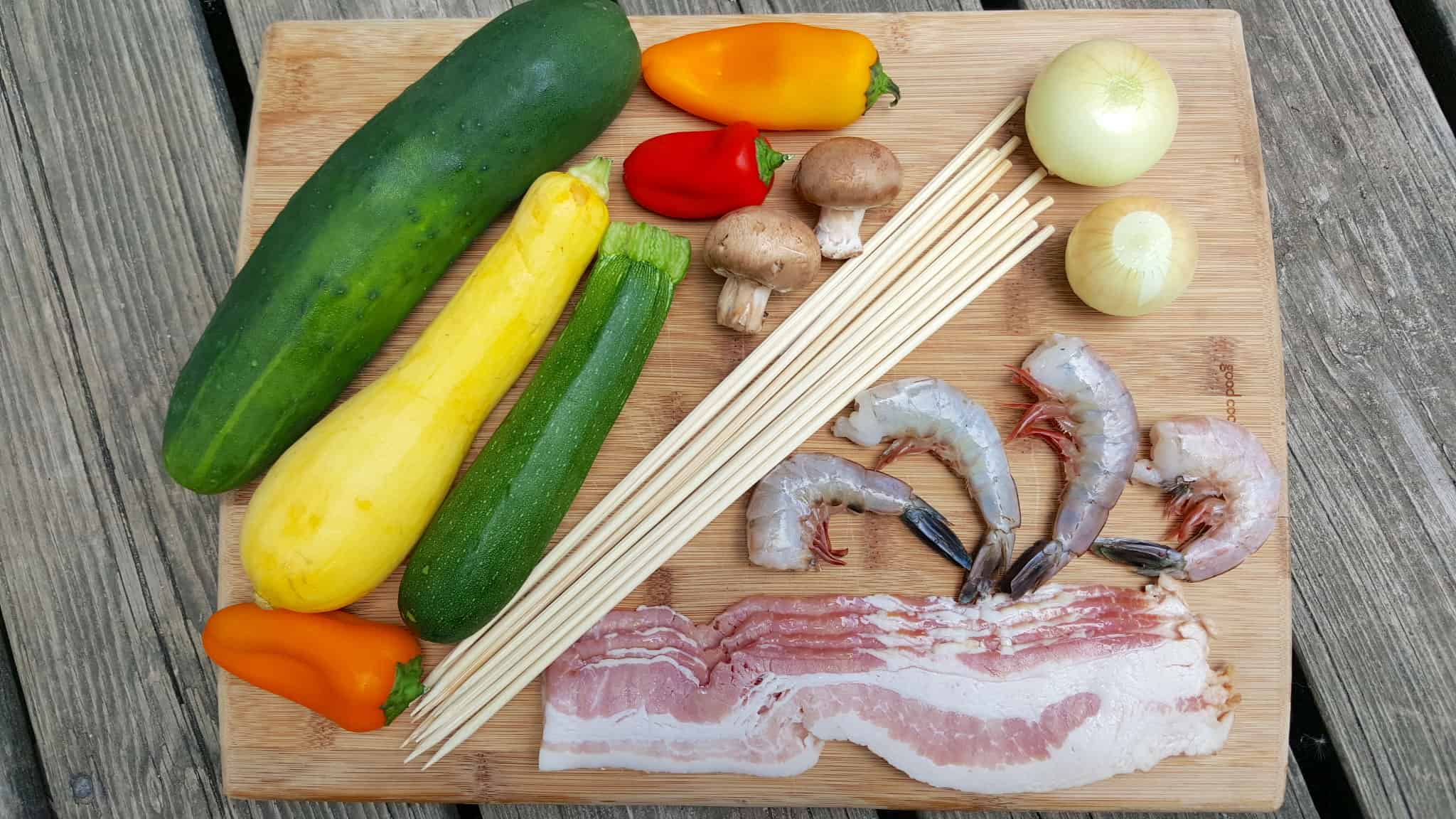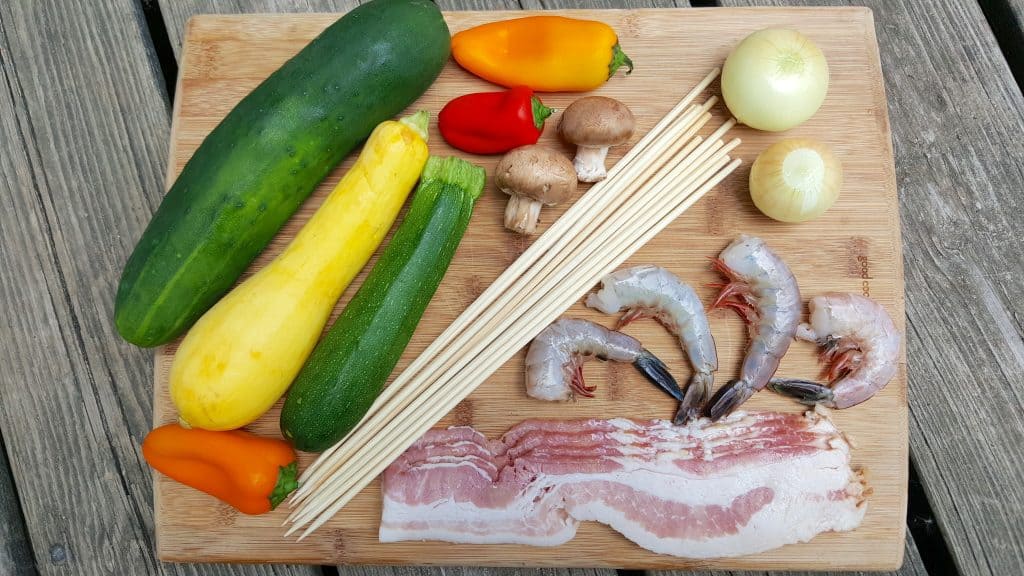 The awesome thing about this recipe is that not only can kids help with creating it but you can actually make your skewers the day before and place everything in the fridge overnight! That way if you're cramped on time the day of it's all done for you and ready to go!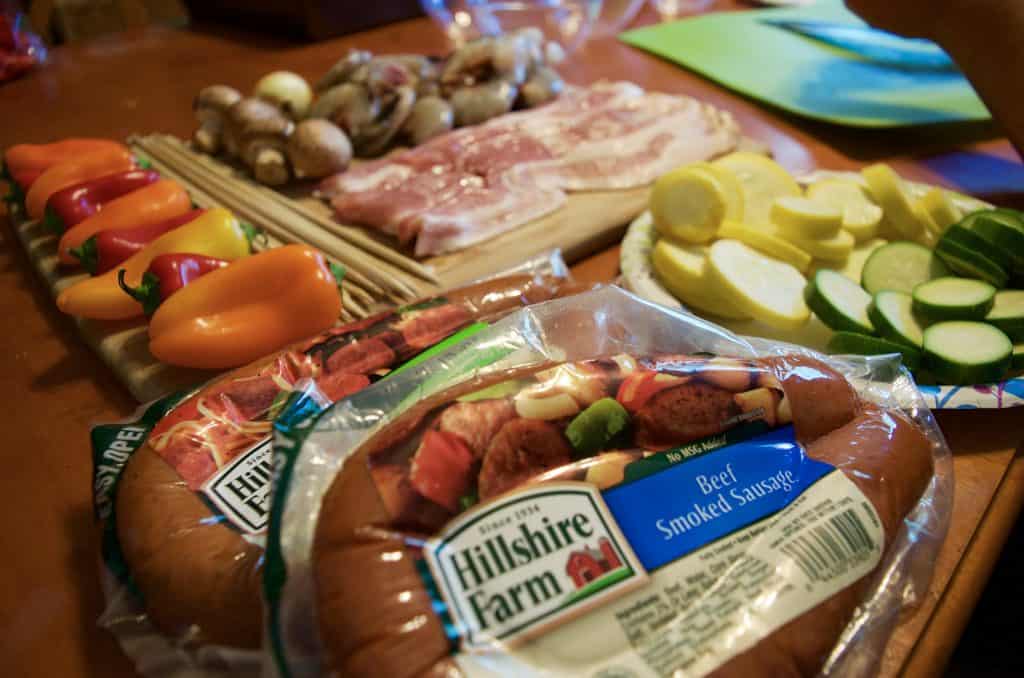 We started by laying all of our ingredients out on the table, pre-sliced, and peeled everything.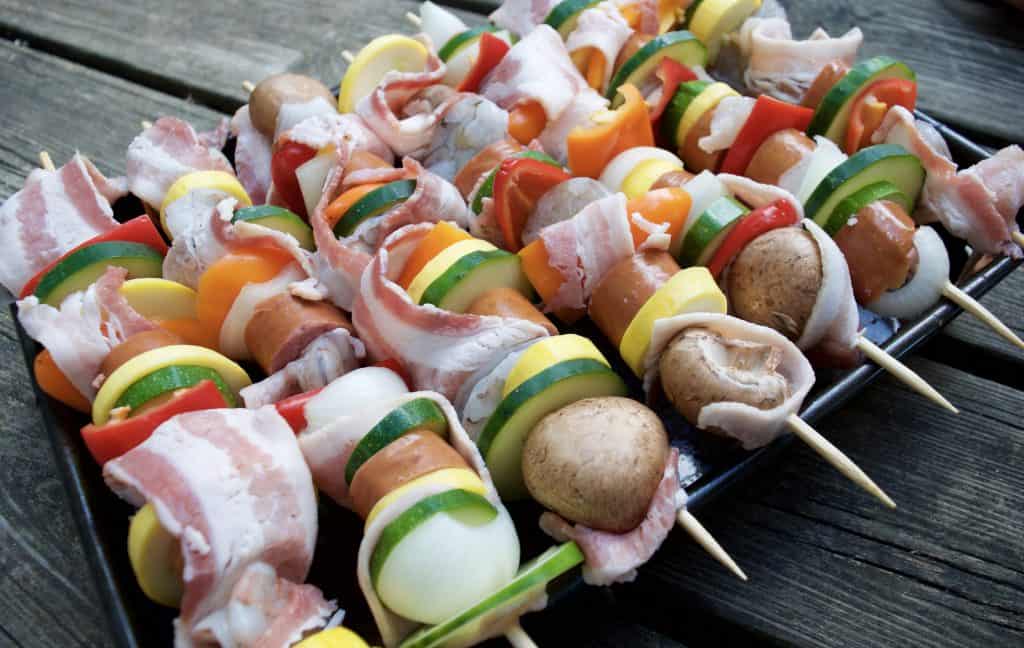 We then began creating our Hearty Sausage & Shrimp Kabobs. For each kabob we pierced a full slice of bacon and began adding an alternating mix of fresh veggies, slices of Hillshire Farm smoked sausage, and shrimp while lacing the bacon through the skewer around every few ingredients. As we completed each skewer we laid it across a 9×13 baking pan which was the perfect size for the skewers to rest on.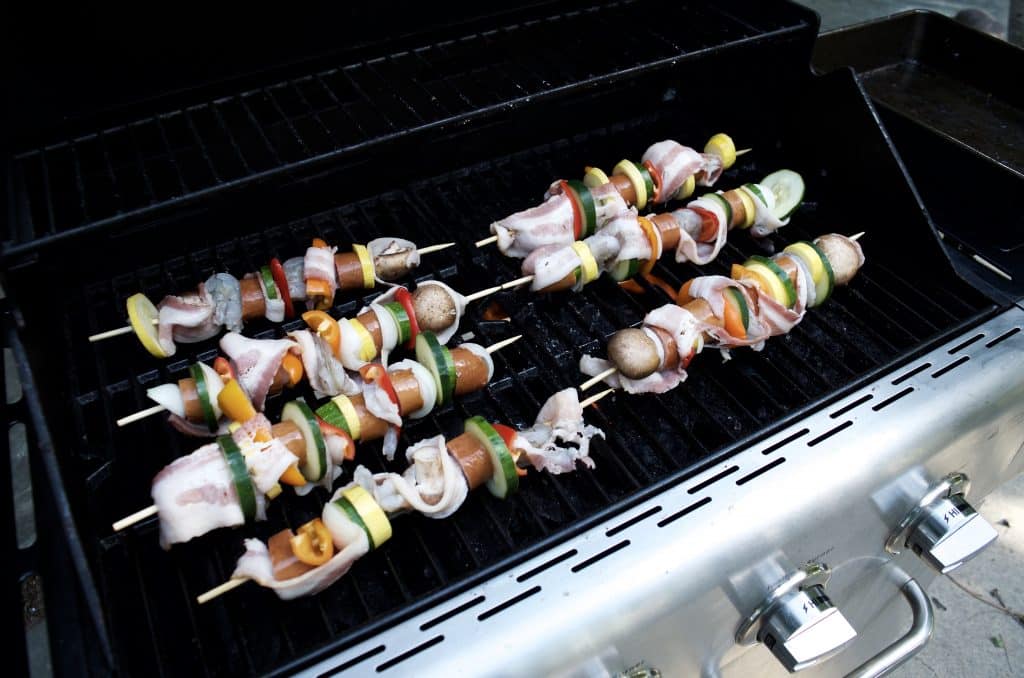 Once we had the grill going really hot it only took about 4 minutes or so for the skewers to cook (depending on the heat of your grill). As the kabobs cooked, the bacon grease caused a little extra fire from the grill so be mindful not to burn your kabobs!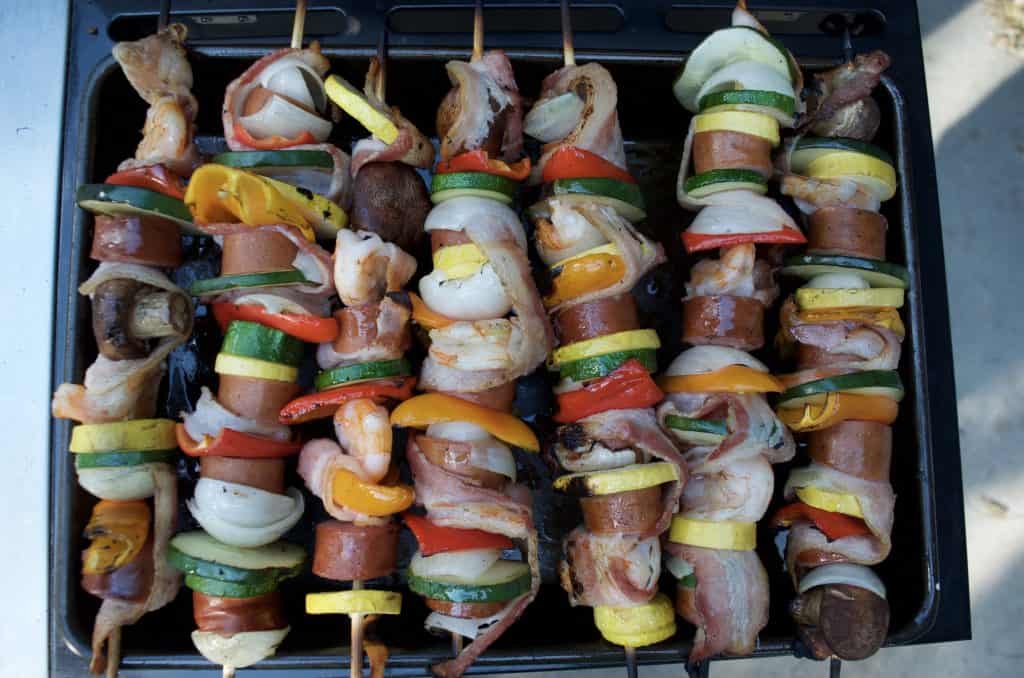 Once they were cooked we simply placed them right back onto the 9×13 pan edges. That allowed any juices to fall into the pan below so the kabobs weren't sitting in it.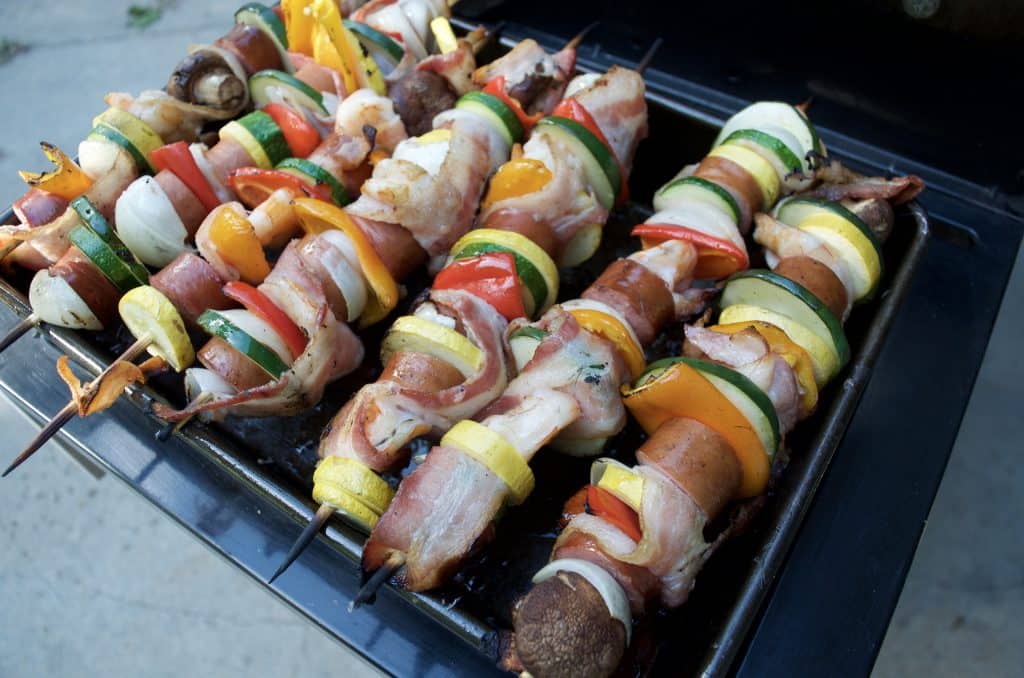 Don't these look amazing!!! And they tasted even better than they looked! It was AMAZING! Even my kids who aren't the biggest fans of peppers and squash gobbled up their entire skewer! One skewer was really enough for each person because they were SO meaty and filling. Using Hillshire Farm smoked sausage from Walmart for these kabobs was a HUGE time saver and so delicious!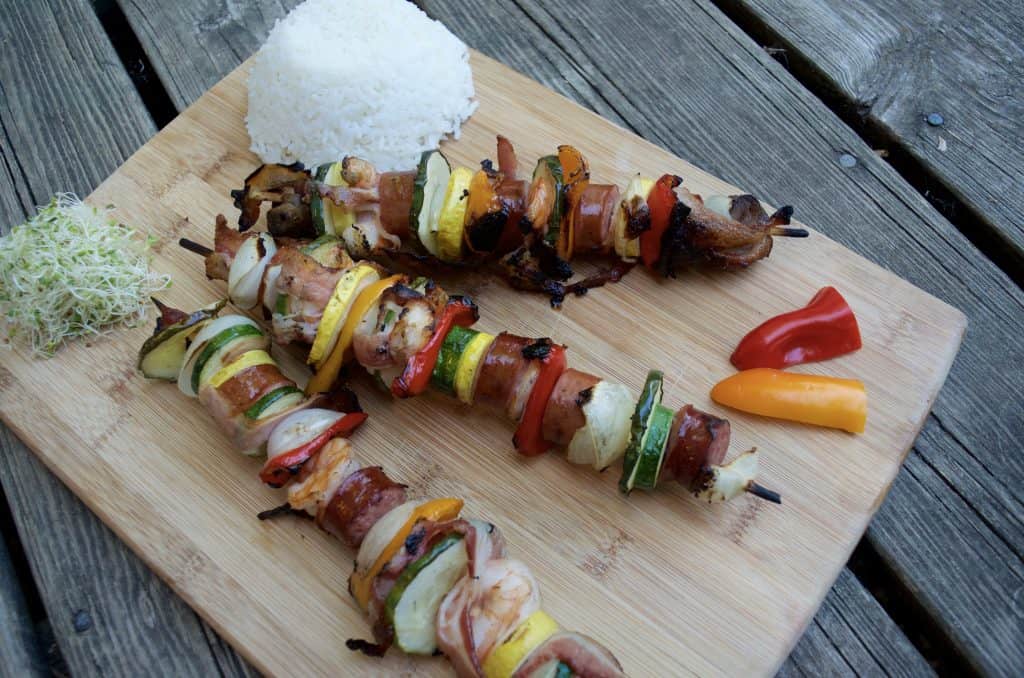 Although you can certainly just serve the kabobs on their own because it is so filling with all the delicious meats in there, we served ours with a side of rice and alfalfa sprouts.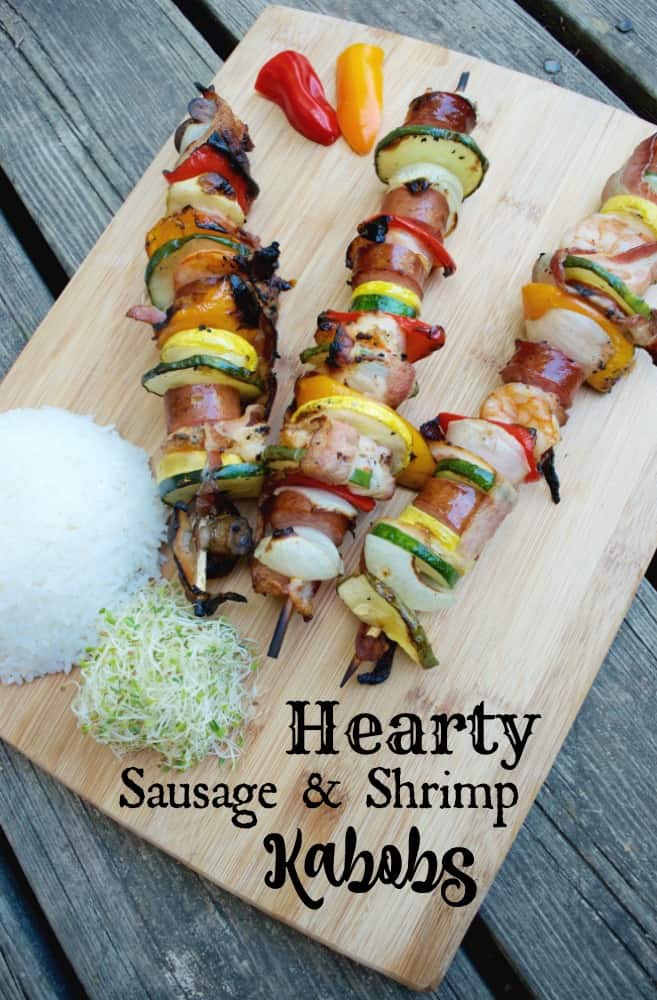 Supplies to Help you with this Recipe: