Encouraging the Child Who Hates to Color
This post may contain affiliate links, view our disclosure policy for details.
It's no secret that every child is so extremely different from the next. My oldest son HATED to color. I mean HATED! He wouldn't even pick up a crayon if you bribed him to! By the time my 3rd child came around ALL she wanted to do was color and I couldn't keep art supplies in stock long enough! Below are some creative tips for encouraging the child who hates to color.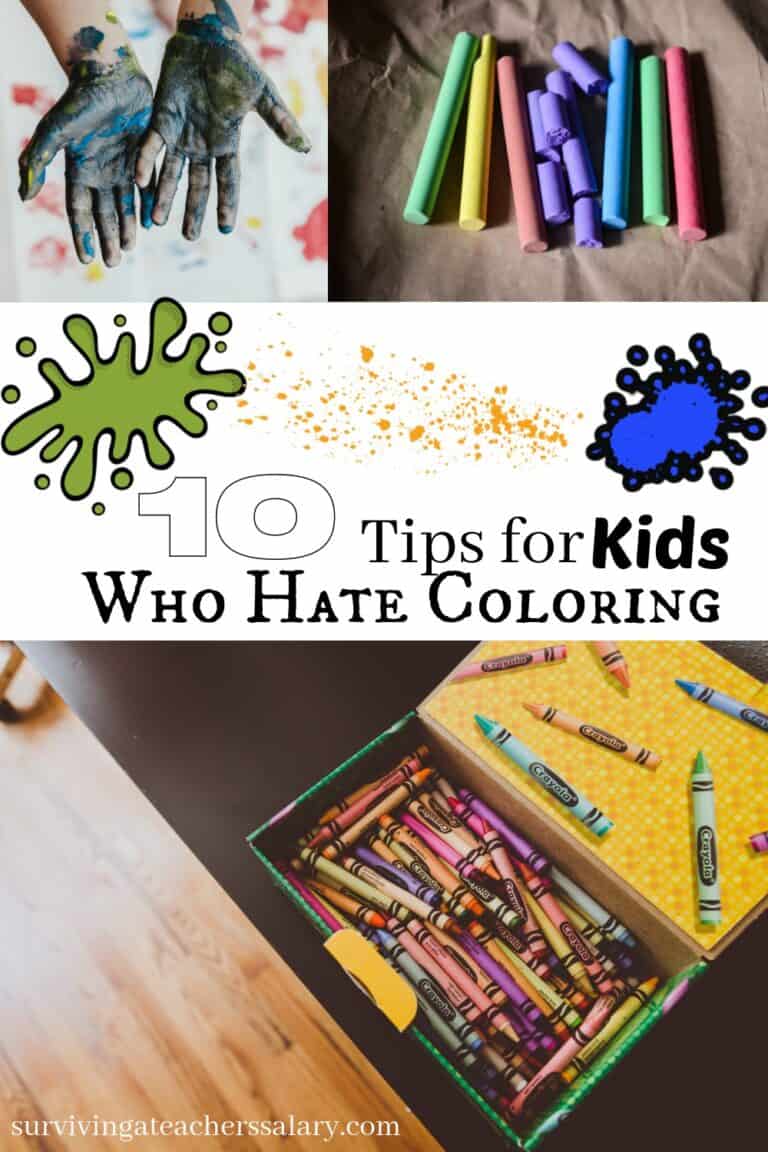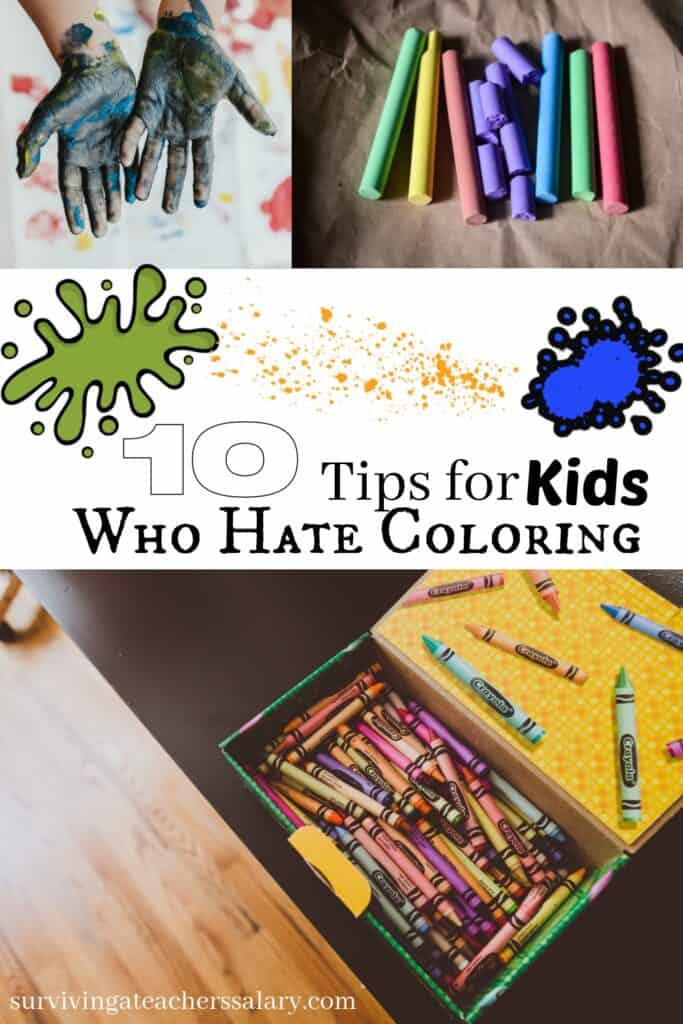 I always though all children liked to color- right? I learned quickly how WRONG I was! My child HATED coloring! Seriously- every teacher he has been with has complained how he will pick up a crayon, make one mark and claim he is finished. Then off he runs. I mean after all, he did "color" – at least in his mind!
I didn't realize it could be SO hard for some kids to just sit and color! So in an effort to not only help him learn how to sit and color (even if only for a few minutes) and also to help his minor motor skill coordination (which weren't all that great), I dreamed up creative ways to get him to sit and color.
Some kids, on the other hand, LOVE to color. My middle son loved to color SO much in fact, that we had to hide all crayons, markers, and pencils in our house in a locked closet!
We went through a few weeks of colored doors, colored walls, coloring on my oven, my pantry, floors, my windows….ANYTHING my youngest could get his hands on he colored with. It's not infrequent that I walked into the room and he has a marker or Sharpie and is coloring his legs or hands.
One day he had so much black marker on his legs I had to put him in pants and socks just so no one would look at him weird!
Here are a few ideas to encourage your "I HATE COLORING" children how to color or stay put for a few minutes!
1. Try a different drawing medium!
I swear sometimes just the difference between using colored pencils instead of crayons will do it! Try markers, licensed characters, smelly art supplies like
Mr. Sketch
,
Scento
, etc. It will engage a different type of sensory experience for kids who need that little push into the art world.
2. Try coloring on 3D objects!
For some kids, the extra dimension and coloring on various planes makes all the difference. It is more enticing than a flat "boring" piece of paper! And it doesn't have to be expensive either! You can find wooden rolling cars and the Dollar Tree, rolling pins at the thrift store, wooden blocks are easy to make at home or buy in bulk, etc.
We have a lot of salt dough activities which I find kids are more willing to color on! Try our funny salt dough faces, salt dough snakes, our flower in my pocket, or these 20+ salt dough ideas. The great thing about salt dough is that is CHEAP CHEAP CHEAP and can be stored for YEARS! Spend one day creating salt dough shapes and you can use them for many years to come.
3. Try crafted art projects that are useful.
Color things that you can hang on your fridge – such as magnets. An art project that has a purpose besides just biding time like coloring sheets. Your child may not see the point in coloring on a paper that will be thrown away.
4. Hang a string to display artwork, or have a special designated from for it.
Similar to the situation above, your child may not be interested in art because it's just something to do that will be thrown away. If you display their artwork it may help instill a sense of pride. Or perhaps they'll be interested in rotating out artwork which will encourage them to color you a new piece to hang!
5. Try crayon activities that aren't
JUST

coloring.

For example, have them color a picture, and then with your help have them iron it on to something else. Take their coloring one step further. If you're in a classroom setting maybe run their artwork through a laminator and punch a hole in it to hang.

Or color a lot of colors on a piece of paper, then color over it with a black crayon and scratch of the crayon to make new designs. It will add an additional "secretive" element to their artwork.
6. Try watercolor paint books for kids who hate to color.
It's not coloring, but it's more interesting and will keep kids in one spot longer. It's also a great positive behavior support reward as well as awesome for working on fine motor skills!
7. Create a specific REASON for coloring.
I find that if I instill a specific reason for coloring my kids that hate coloring will be more likely to help. Things like creating a picture for your school janitor, design cards for grandparents, adding a theme to your room – these give a purpose to their artwork that just might do the trick into enticing them to participate.
8. Invisible Ink sets are AWESOME!
Although this can add up if you're not careful, I could usually "trick" my kids into coloring with sets like Imagine Ink, Color Wonder, etc. Although I tried to reserve these for special times (doctor visits, road trips, etc) due to budgeting, they are a VERY popular choice! The Melissa and Doug Water Wow series is GREAT for adding an additional sensory component that is largely mess free.
9. Color your own frame!
Have a reason for coloring. Color a picture for a specific person, or for a specific decoration. This goes back to creating a purpose for that child to work towards. You can buy wooden frames for $1 at the craft store and have your child design their own frame. OR to modify a larger existing frame just glue wooden rulers or paint stirring sticks onto it and let them color.
10. Don't push it! Don't force them to color.
You want to look for creative ways to encourage your child to color without forcing them. Take the power play struggle out of the situation and try new angles for creatively enticing your child into the art process. The above ideas should help you flush out some new interest in art. In the summer take them outside to paint instead!
Everyone, even adults, have a different preference in their art experience. Just because your child hates to color doesn't mean they should be allowed to run wild and free during preschool art times. It just means you may need to think outside the box a little to find something quiet and engaging for them.
Creative Art Ideas: