How to Make Your Own Art Sand – Non-Toxic Edible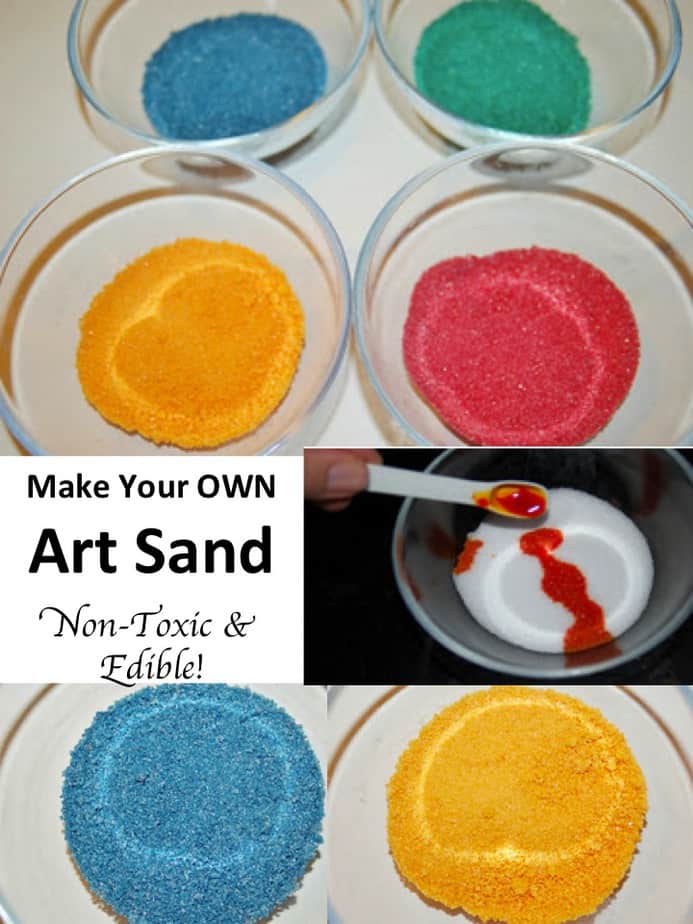 Do you know how EASY it is to make your own art sand? YES! It's THAT easy! We've made tons of this in the past – simply store in a sealed bag or tupperware container and you're all set to make all sorts of colors and shades! It's great to experiment with!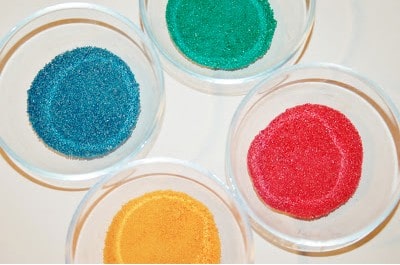 I love trying new things, especially when I make them cheaper than I can buy them. I immediately got to work to try this recipe!! It IS non-toxic and edible which is perfect for toddlers or children with special needs HOWEVER as it is primarily comprised of salt I cannot imagine that it would taste very good! But unless your child really guzzles the container of salt this is a good recipe for young children and children with special needs that may be inclined to eat their art supplies. 
Make Your Own Art Sand Recipe:
baking pan/sheet
aluminum foil
Pour 1/2 cup of salt (I used iodized table salt) into a dish or container. I wanted to try four colors so I set everything out that I needed to get started.
Pour 1/4 tsp. of desired color in one container of salt and mix until the salt is completely covered evenly with the food coloring. I used a fork to mix my colors which worked well.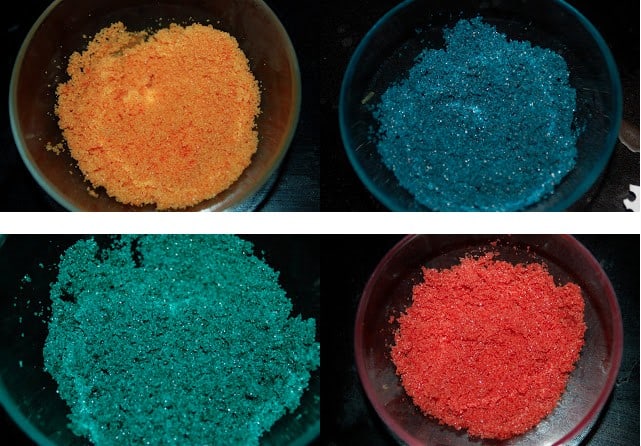 Pretty isn't it? Now you'll need to place one large sheet of aluminum foil over your baking sheet or pan. Cookies sheets work well for this! 
Spread your colored salt out onto the aluminum foil covered baking sheet and spread it as thin as you can get it! The moist salt will need to dry out in the oven so the thinner you can spread it the better. Bake it in your oven at 350* F for 10 minutes. 
Once your batch of colored salt has baked for 10 minutes take it out of the oven. When it has cooled off you can pour it into the appropriate storage containers! It will store for several months in an airtight container.
Now that I realize how incredibly simple and inexpensive it is to make your own art sand I will be making ours homemade in the future instead of purchasing it! You can use this with glue, crafts, throw it in your sandbox, or even make sand art gift bottles!
**You can also use actual sand to make this craft which you can find at the beach or purchase in 50 lb. bags from Lowe's or Home Depot for about $3. If you use sand instead of salt, however, I cannot verify that it is non-toxic or edible! Also make sure you get specific playground sand which has less irritating inhalants!
POPULAR DIY Sensory Recipes: