Recycled Pool Noodle Halloween Flameless Candle Decor
This post may contain affiliate links, view our disclosure policy for details.
I have been wanting to make this Pool Noodle Halloween Flameless Candle decor for YEARS now (I saw it originally on Pinterest!). Since we were doing a Harry Potter holiday I KNEW I HAD to buy some extra pool noodles to cut up for this astonishing decoration. This has also worked perfectly to pair with our Haunted Mansion gift guide!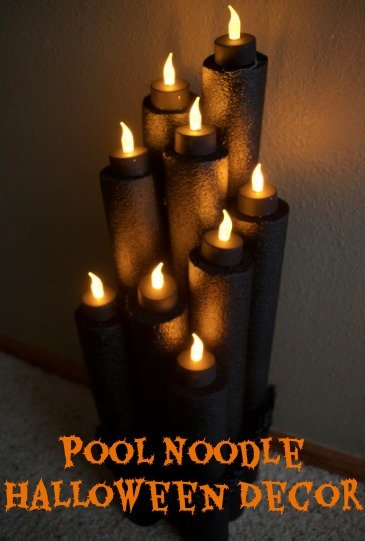 Although it was really simple to make these flameless candles it did take a long time since you have to spray paint ALL the sides of the pool noodles! I really want to make a set that's 4 times this size but I can imagine it would take a while! Maybe next year…..
Halloween Flameless Candle Decor Materials Needed:
Halloween Flameless Candle Decor Tutorial:
1.First you'll want to grab your serrated knife
and cut your pool noodle into pieces. There's no right or wrong length to cut them, but be forewarned it can be a little messy so you might want to step outside. I tried not to cut any the same exact size. Some pieces I cut 3/4 long, 1/5 long, etc. (Most of the pool noodles I cut into 2 pieces but a few I cut into 3 pieces.)
2. Once your pieces are cut you'll be ready to spray paint them all black! This takes a little while. Just lay them outside on the grass and spray paint evenly. When it has dried keep rotating the pool noodle and spraying it until it's all covered nicely. Don't forget to spray the ends black too!
Once it has all dried do be careful because you can accidentally scrape off some of the paint – but don't fret! You'll have a chance to touch it up if needed. Remember – more than likely you will have it in a dark location so it won't matter anyway.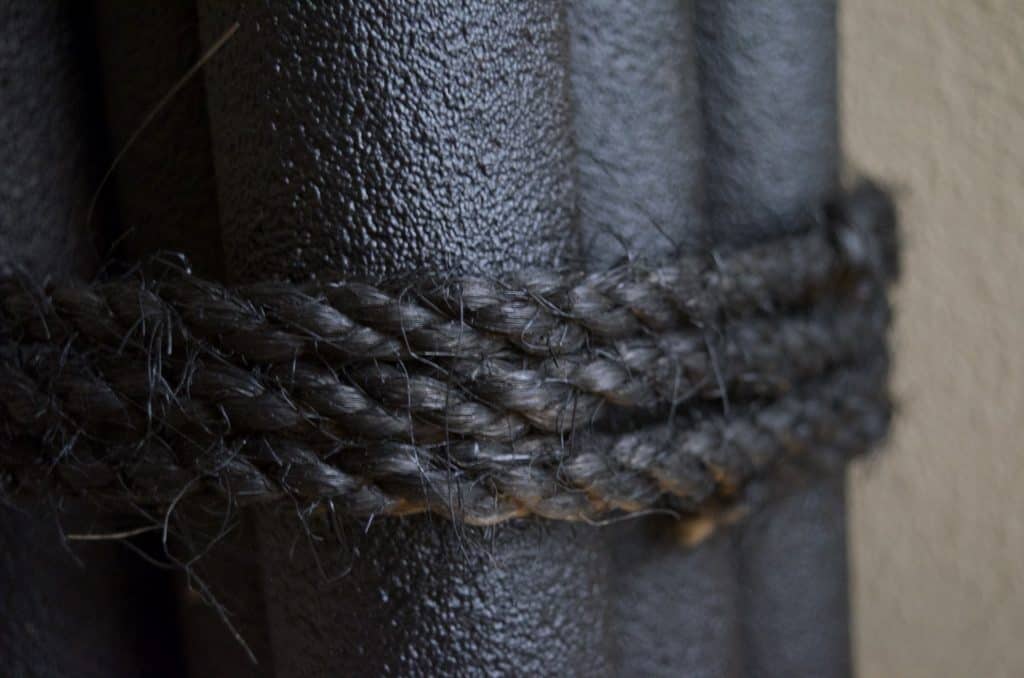 3. For this step you CAN do it by yourself but it's easier if you have a second pair of hands for a few minutes. In this step we'll be attaching your rope around the pool noodles and after a little bit of trying different things this is what I found worked best for me…. I began by hot glueing the tallest pool noodles together and adding one pool noodle at a time. Just sort of work them together in a nice pattern with the tallest "candles" towards the back.
Your hot glue just needs to be enough to hold it semi together until you attach the rope. Once you have your pool noodle candles blocked together hot glue your rope and wrap it around in small bits. It doesn't matter how many times you wrap it or if you want to wrap it in different locations – that's all preference.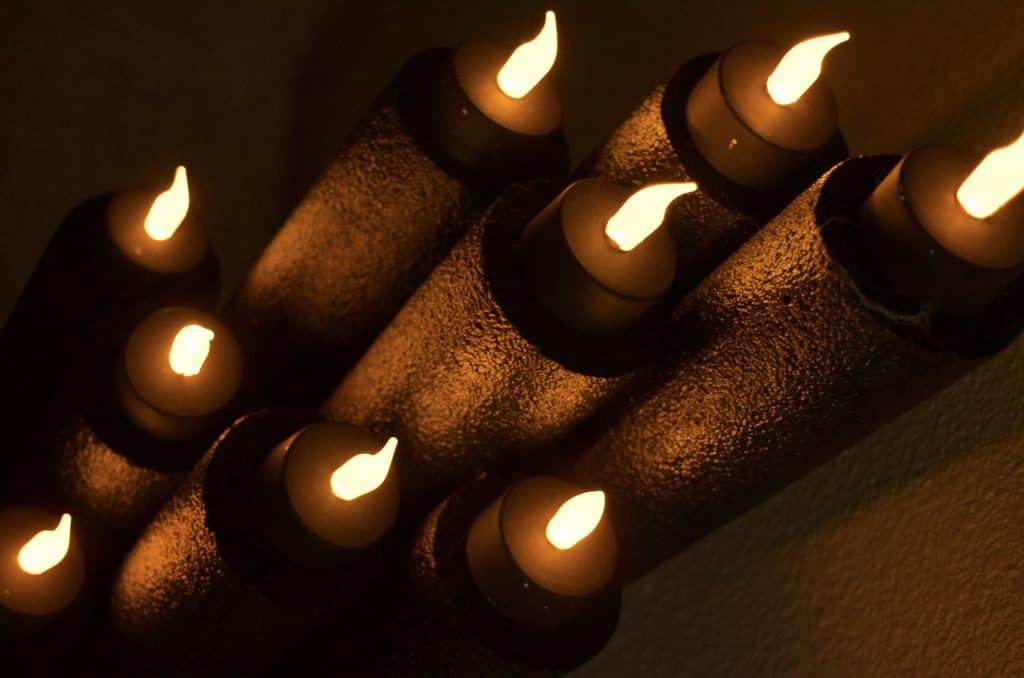 4. Once you have your rope nicely glued to your pool noodle candles you're ready to spray paint the rope with your black spray paint outside. This is a good time to re-touch up any color showing through on the pool noodle where you might have accidentally scraped off the black paint.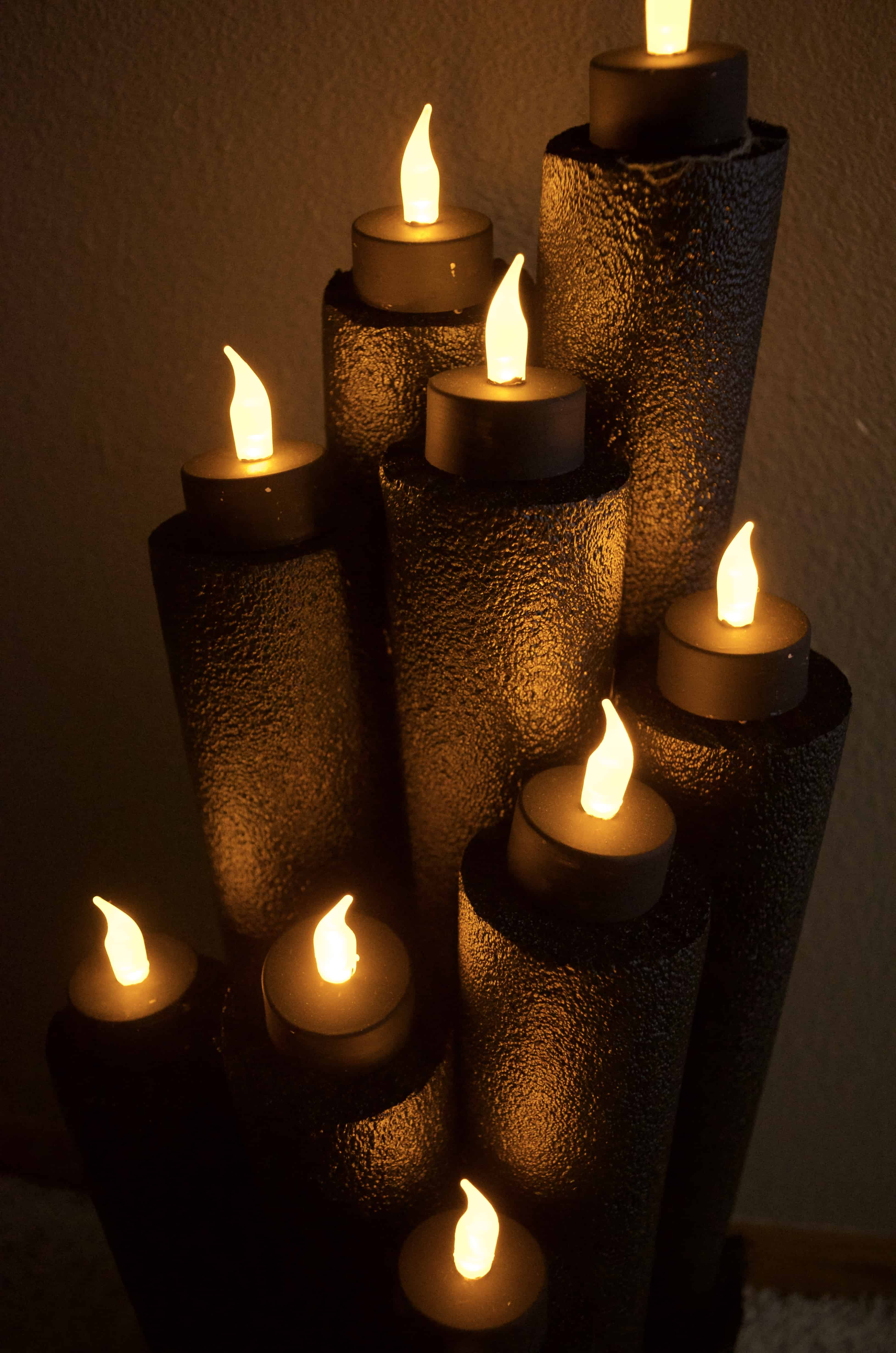 5. The LAST step is my favorite! Just add the tea lights on top! I spent WAY too much time researching the best kind of battery operated tea lights to buy and I settled on this specific tea light set for several reasons. The price is phenomenal, the reviews fantastic, the "flames" look more realistic, and it emits a yellowish hue instead of plain white so it's more spooky.
I'm using the same exact tea lights for our Harry Potter Floating Candles as well. I DID paint the white bottom part of the tea light black to match my candles better. And I literally just set the tea lights on the top of the pool noodles. You can certainly "scoop out" the inside of the pool noodle and settle the tea lights down inside but it will take a while.
NOTE – after years of storing this the paint DOES eventually crack or flake off if you don't use a really heavy coat of acrylic sealer. Don't worry – you can just re-spray on black paint and voila! You're ready to go again!
Etsy Haunts: