Number Hunt Math Game Review by Educational Insights
This post may contain affiliate links, view our disclosure policy for details.
Number Hunt is an eco-friendly math success game distributed by Educational Insights and invented by Jill Gaynor. This is by far one of the best simple addition math games I have personally ever played.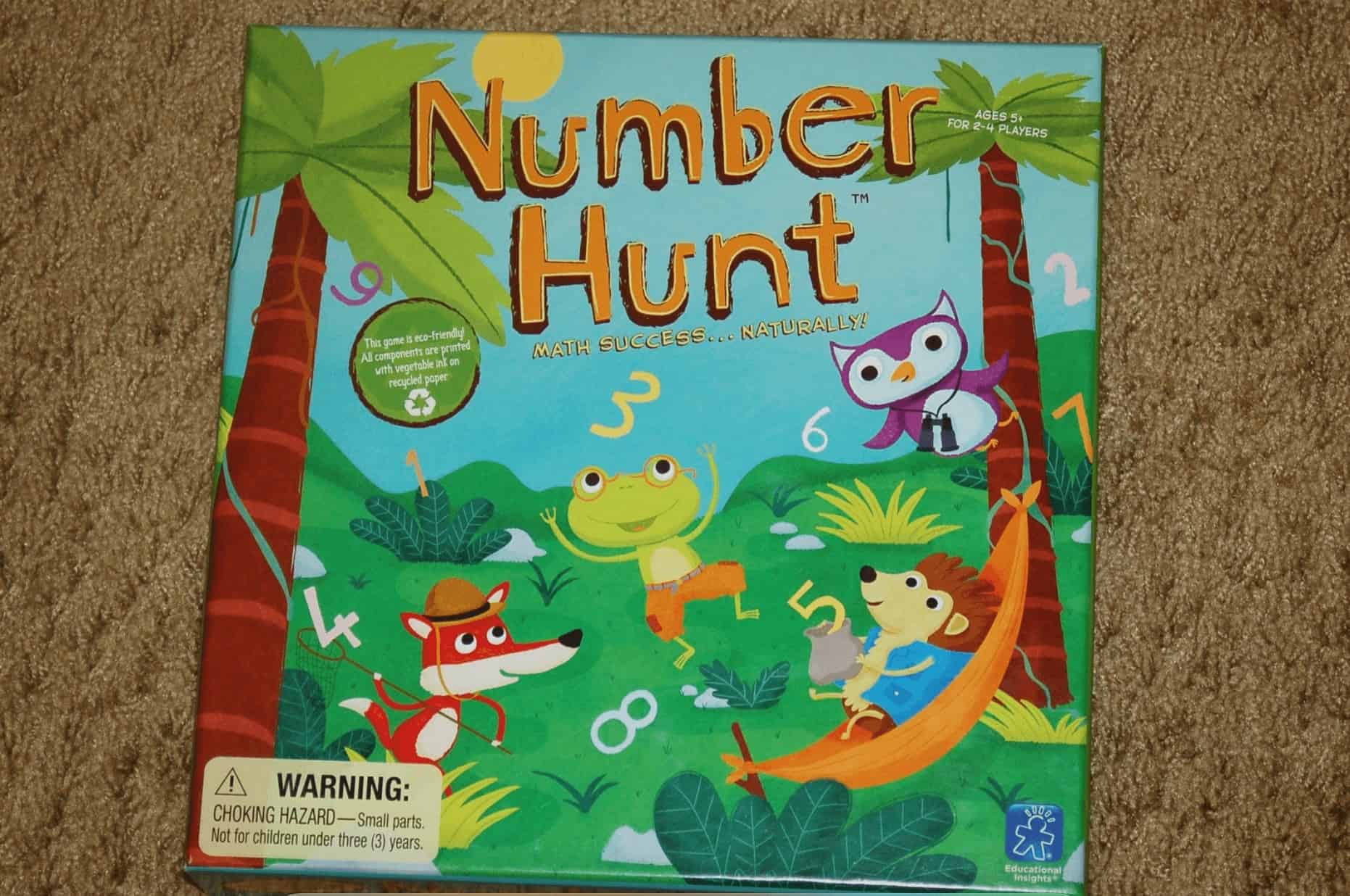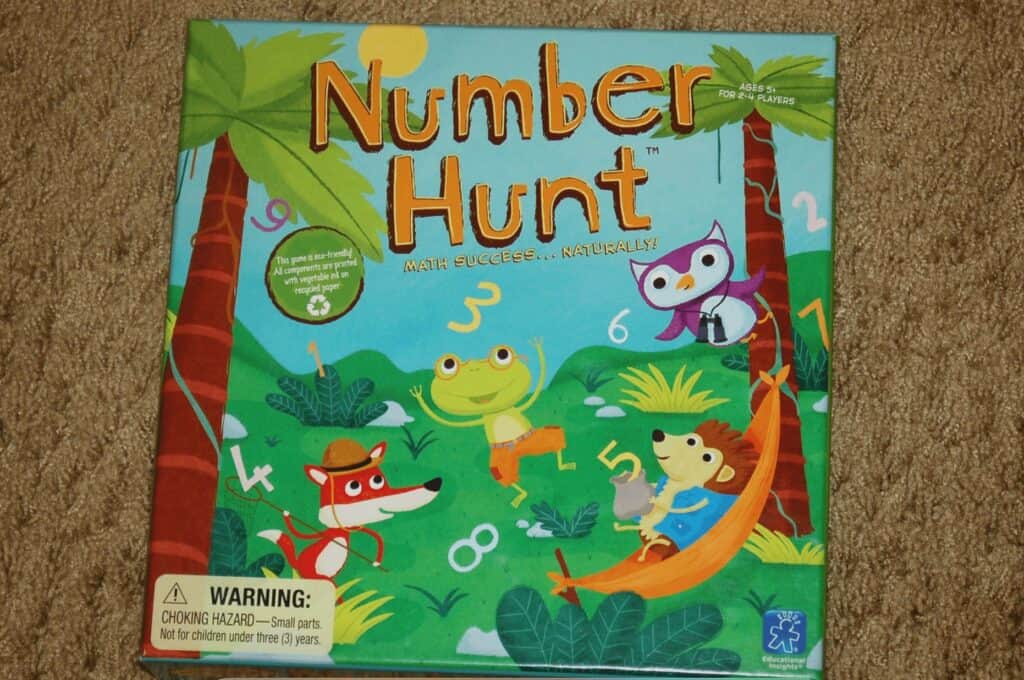 It is geared for ages 5+, although my almost 4 year old son who can do simple addition was able to play the entire game with a little help from dad and thoroughly enjoyed it. Number Hunt is a game for 2-4 players, and includes the game board, 4 game pieces, and 1 wooden dice.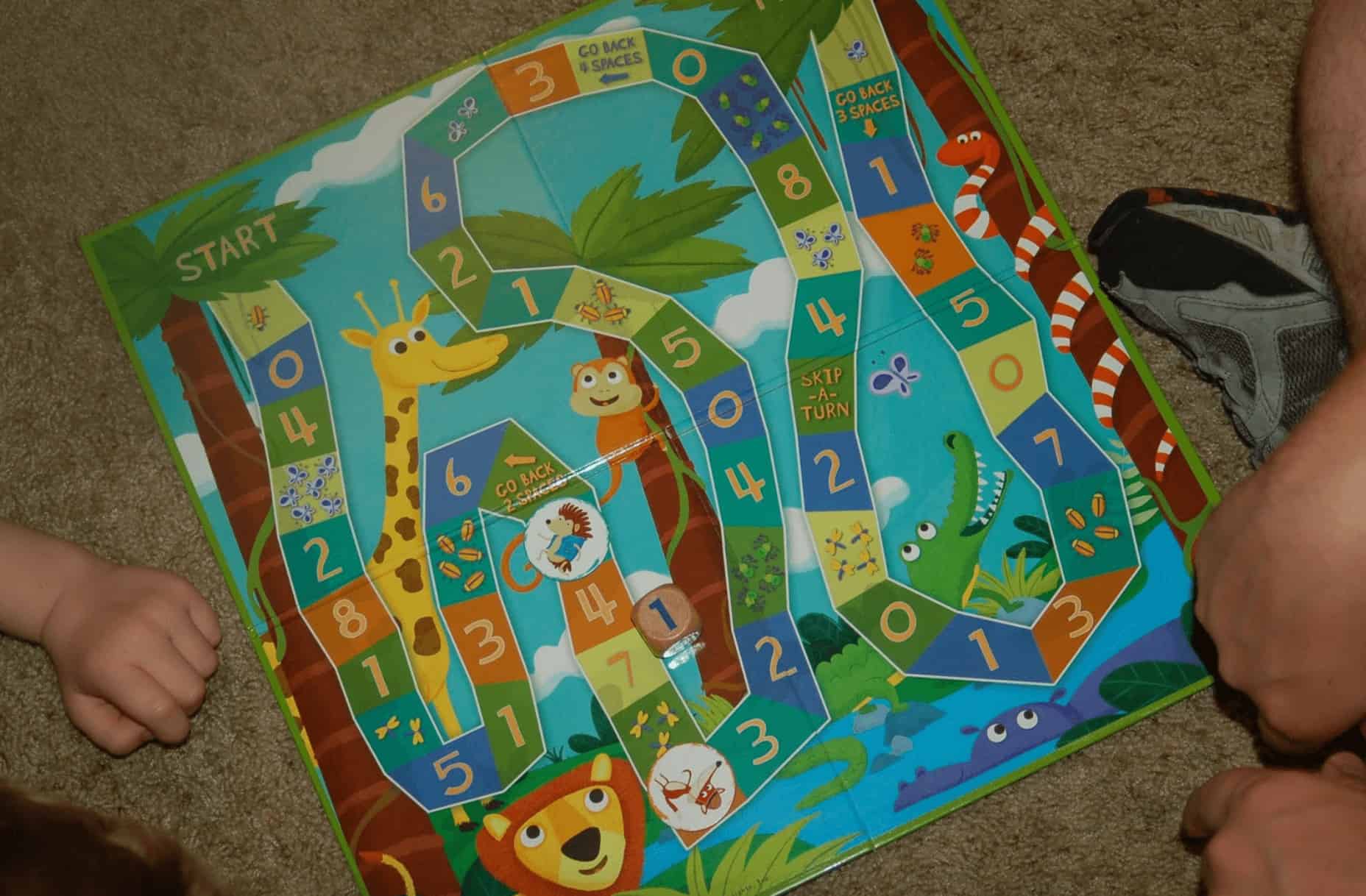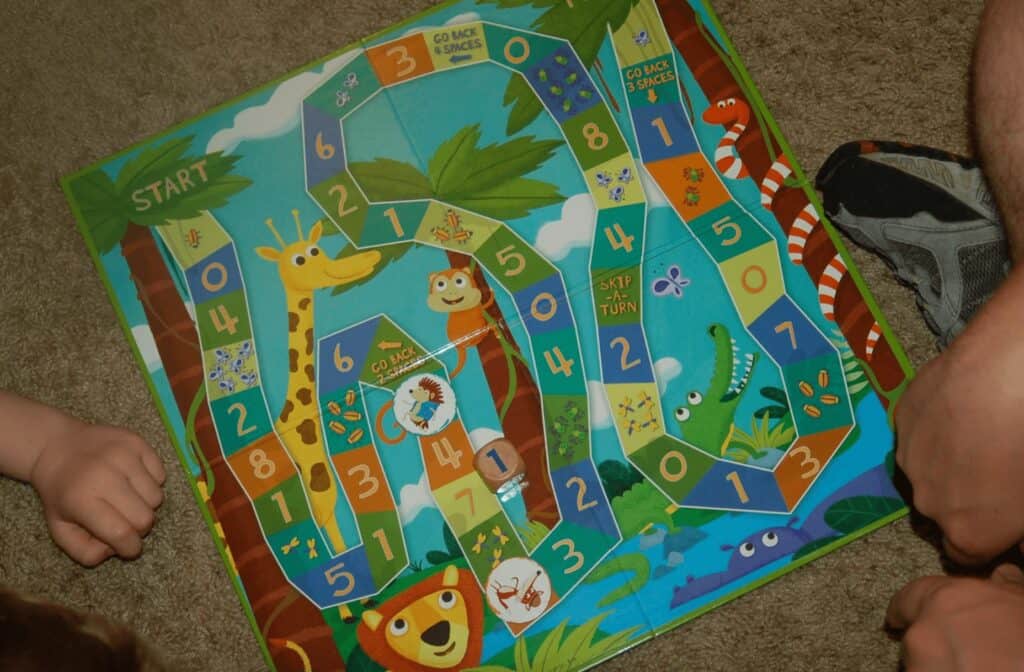 One of the first things I noticed as I received this game was the bright colors. It immediately caught my attention (and my son's!). The design is very eye-appealing for both kids and adults. As I opened the box I noticed on the cover that Number Hunt is eco-friendly which is always a plus!
I used to associate eco-friendly games with a little bit of lesser quality but this is definitely not the case. In fact I would dare to say that this game is of much better quality and is more durable than any other board game I own! (and I own a lot!!) I was very surprised at the thickness of the board and the durability of it – it is not flimsy at all.
This will definitely hold out through a lot of usage- very good quality. All components of Number Hunt are printed with vegetable ink on recycled paper.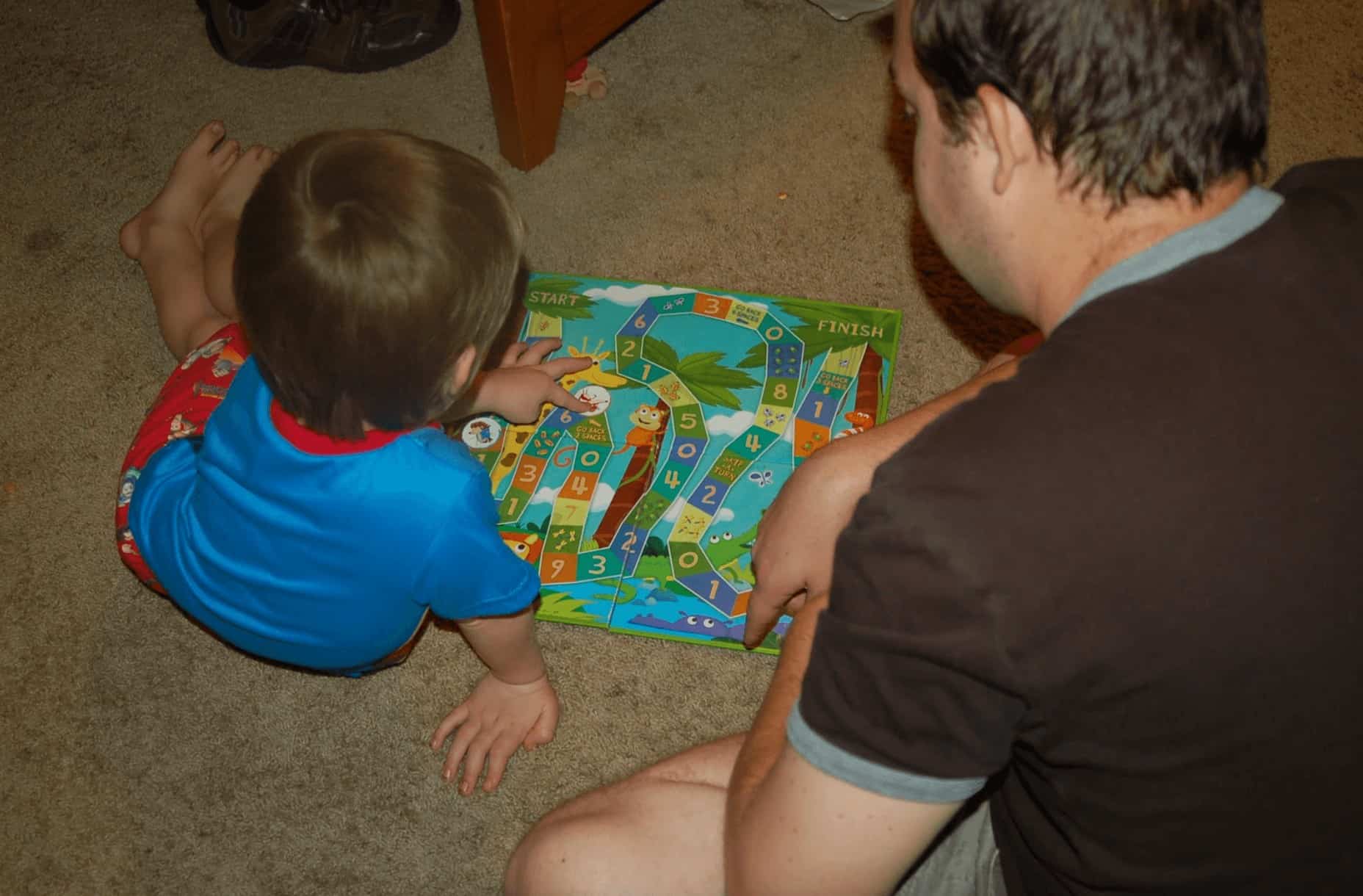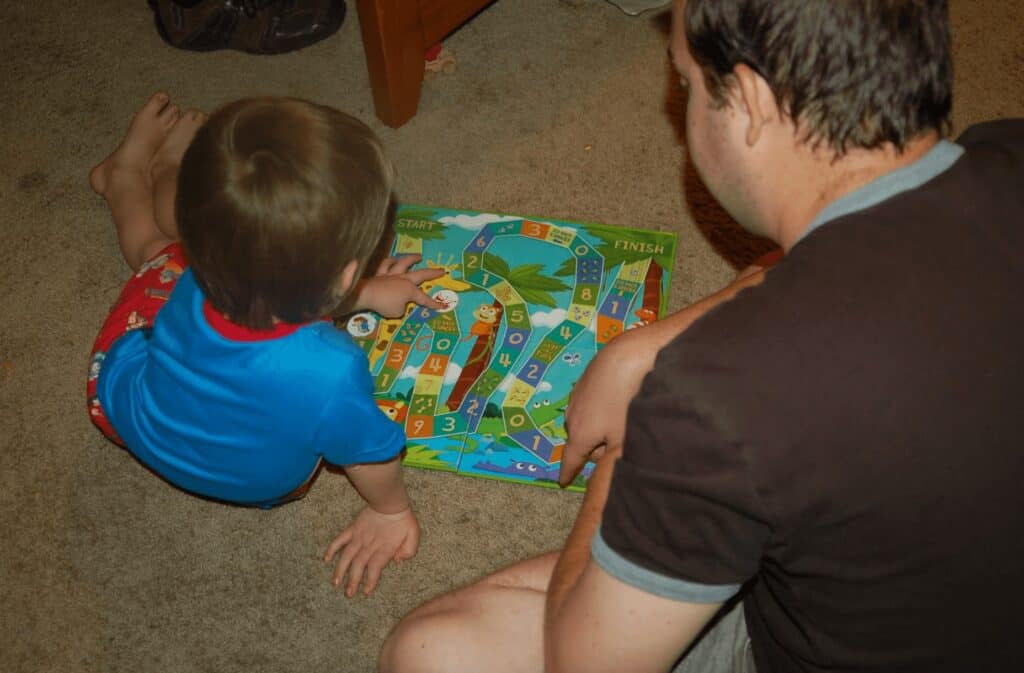 When I heard about Number Hunt I loved the idea because I was thinking "super educational" and "enforcing strong number knowledge". I was expecting it would be enjoyable to play- but my son really took to this game because it was a challenge for him.
It wasn't mindless rolling the dice and moving. To me it's extremely educational- to my son, it's just plain fun.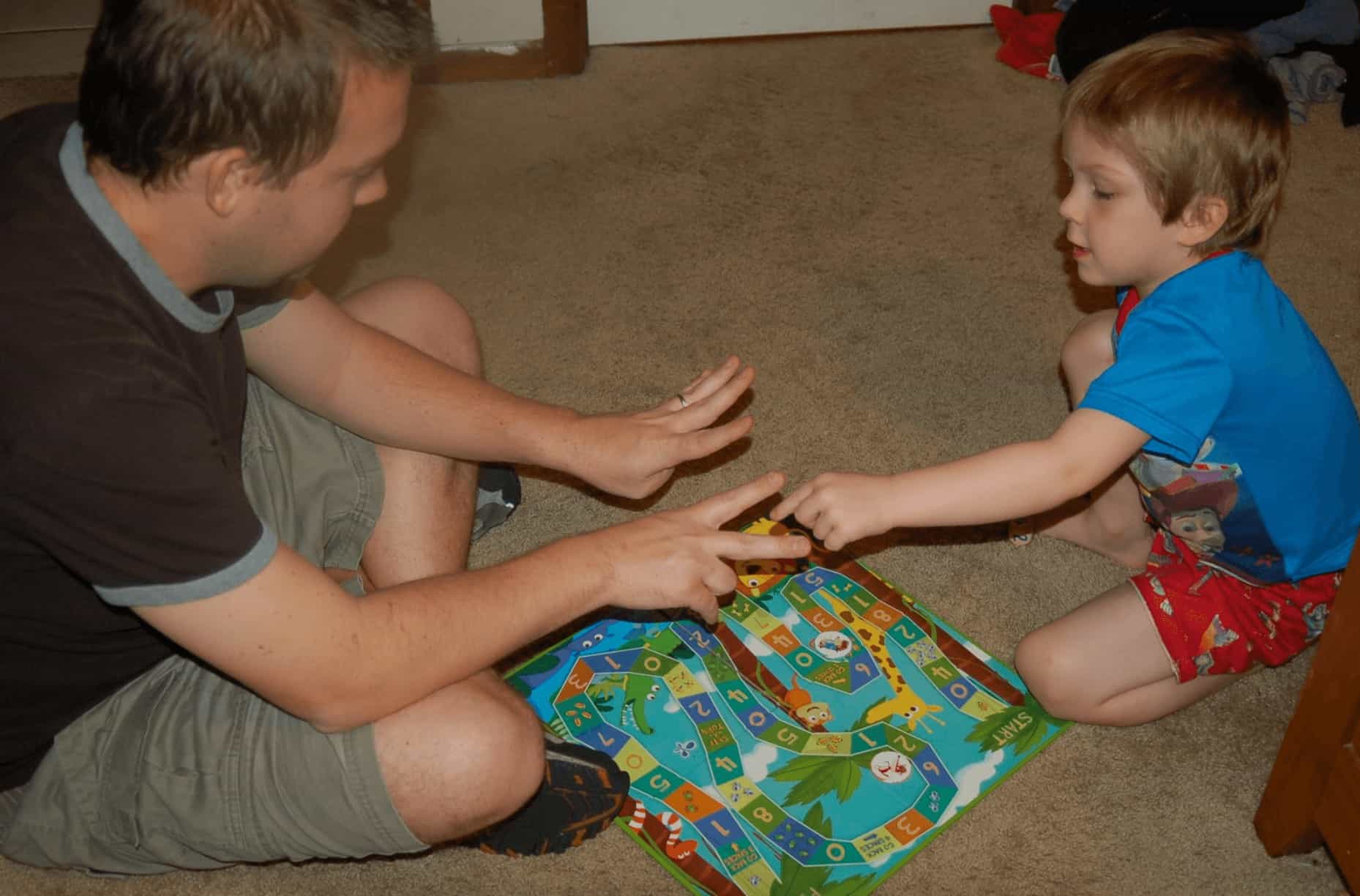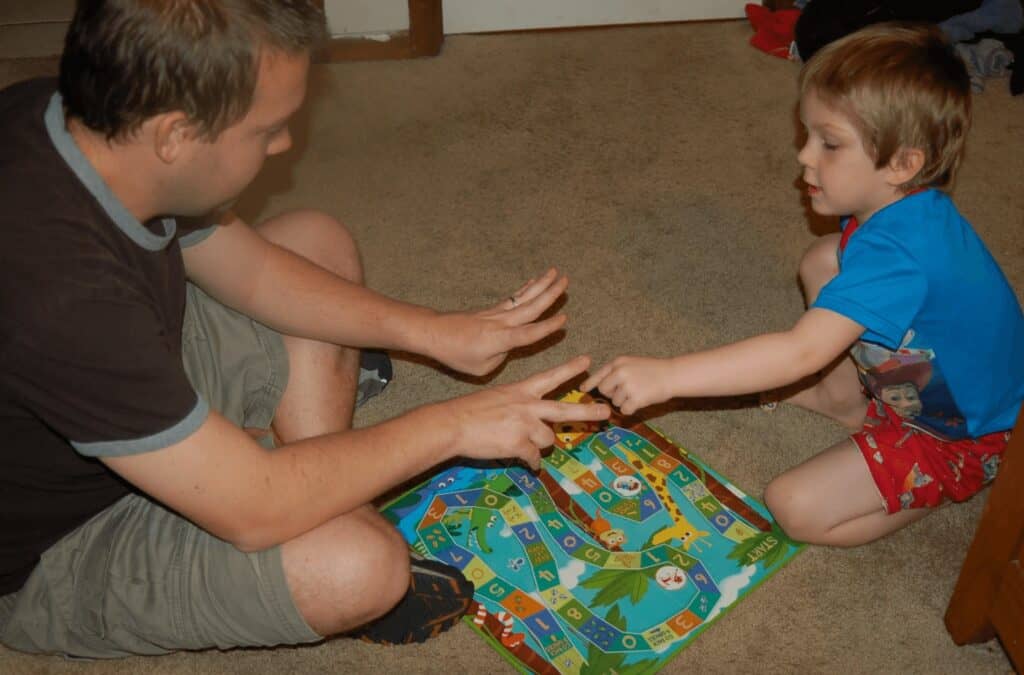 You can see a closer view of the board below. There is a path through the jungle of numbers, all under 9 joined by some silly safari friends! The object of course is to get to the end of the game and win. In order to get to the end of the game all players must place their game pieces at the start- way up in the tree on the top left hand corner.
When it is your turn, you roll the wood dice and read your number. Let's say you rolled the number 2. To begin you would simply move 2 spaces ahead. For the next turn, however, and all turns following the initial roll, you need to ADD together the number you are on and the number which you roll on the dice.
So if you are sitting on a space with a 2 on it, and you roll the number 3, you must ADD the 2 and the 3 together (5) and then move that number of spaces (5).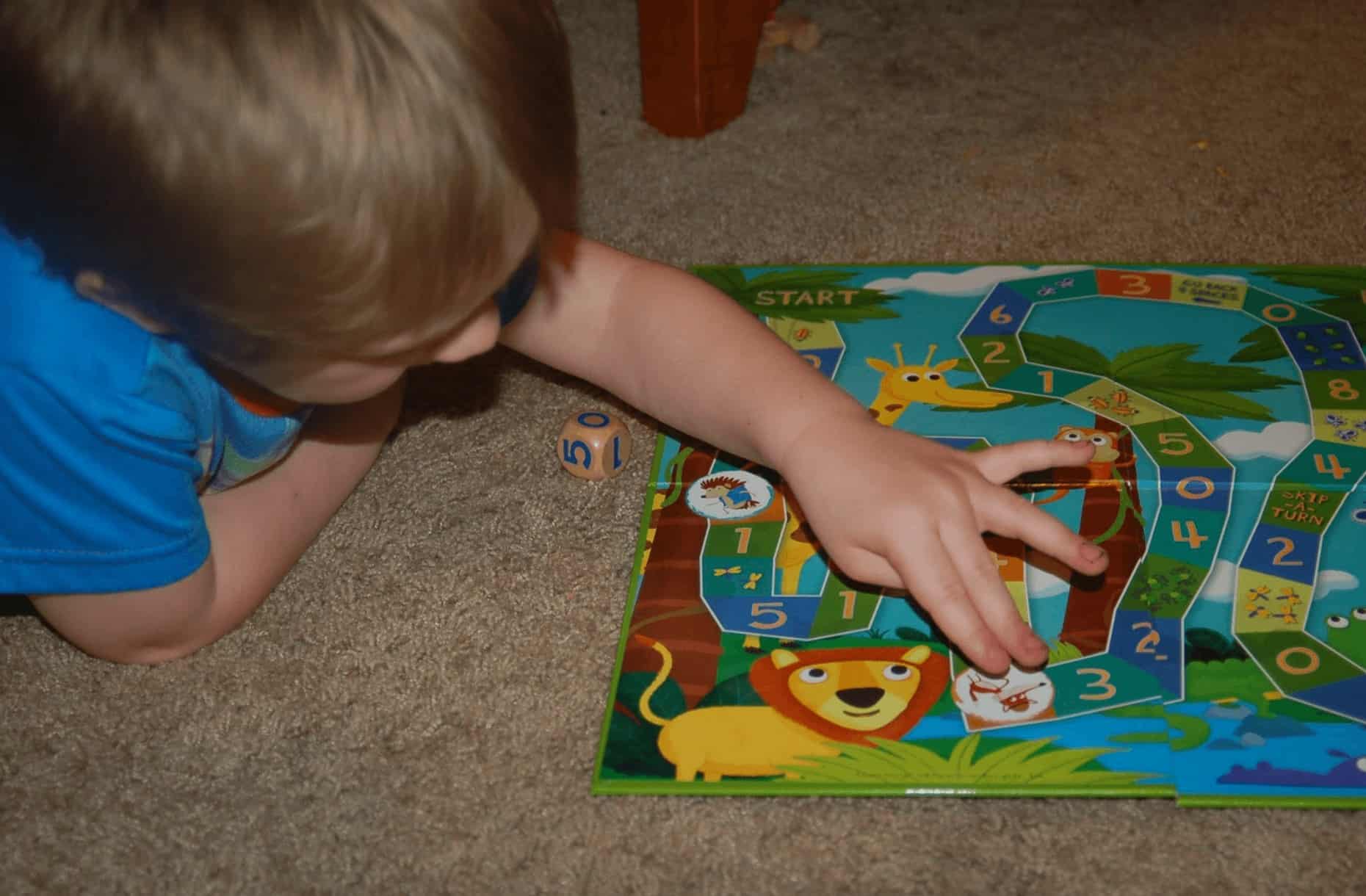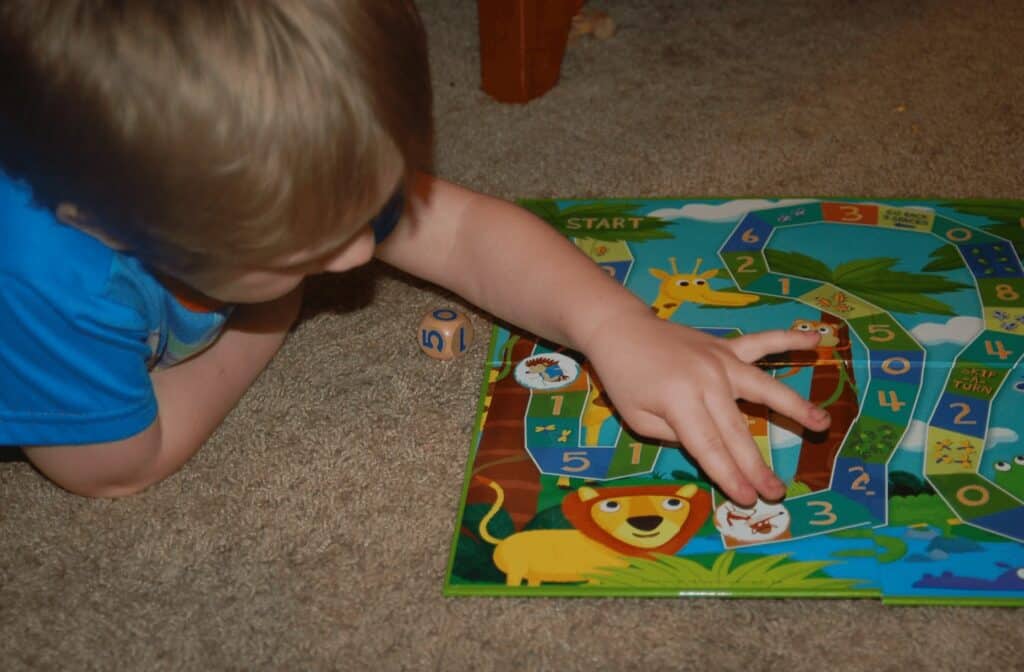 Just to throw a little twist in the counting, however, there are some places that have pictures of bugs on them instead of a number. If you land on these spaces you must count the number of bugs pictured, and then add them to the number on your dice.
I thought this was a clever way to change up the repetitiveness of counting for the child. My son loved being able to actually count the bugs as opposed to simply adding numbers so it was a great change of pace as we played the game. It was a nice variation.
There are also "Skip a Turn" spaces and "Move backwards" spaces.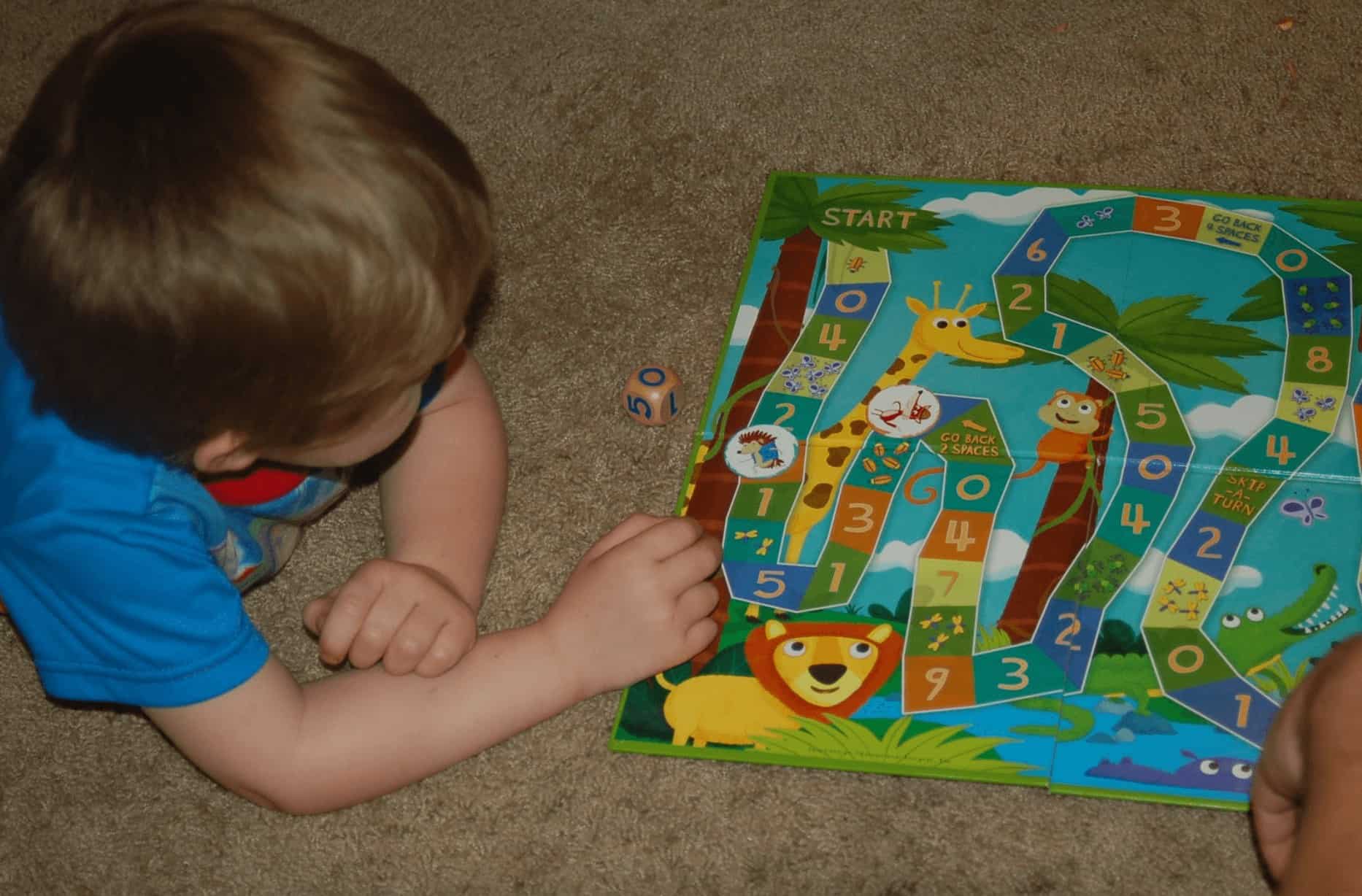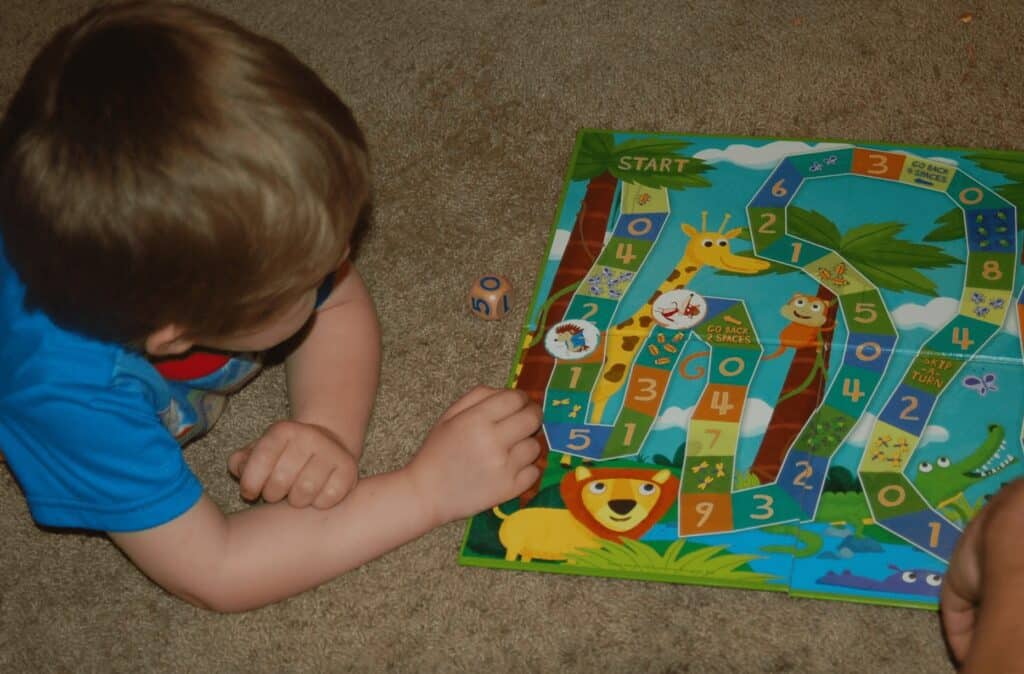 Number Hunt is a fantastic game to strengthen a child's basic knowledge of numbers and encourage a strength in addition. My son is almost 4 years old and can is starting to understand simple addition so my husband played it with him and helped him to visually see it by counting on his fingers as you can see above.
If you have a child who is weak in addition you could also have some bug counters off to the side for them to use as a visual aid (I actually might do this next time). My son loved this game. He did not see adding the numbers as a chore- but more a challenge to win the game. We all really enjoyed the game.
It was a unique but fun way to play that I have never seen before (adding the dice number to your space number).
What did we think? We highly recommend Number Hunt to teachers and families! I cannot say it enough – it is a fantastic game. Sturdy, durable, and a 'sneaky' fun educational game to really build a strong addition base for a child.
This is also a great way to introduce addition to your young learner. Not only is this a fun preschool/elementary aged game to have at home, but is a great tool in the classroom to get your struggling students counting in a fun way. My husband is a 2nd grade teacher and when we pulled the game out of the box he was very impressed.
You will not find a better quality game for the price. I will actually have a link to it on my sidebar under my recommendations for a while because this is one of my favorite games I've seen.
Disclosure: I was not compensated for this review. I received a game to form my opinions. All opinions are my own.
More Favorite Math Posts: