Hexbug AquaBots Jellyfish & Seahorse Review
This post may contain affiliate links, view our disclosure policy for details.
 Disclosure: I received the below product to facilitate this review. All opinions are my own.
 As a HEXBUG enthusiast and ambassador I get a sneak peek to check out some of the coolest new robotic creatures produced and these AquaBot creatures are a blast! In fact if you haven't looked lately the AquaBot line has expanded quite dramatically! From shark tanks to cranes and remote control fish there are a LOT of awesome robotic options for play! You can see above the Jellyfish and Seahorse that we received! Both are uniquely different but got my kids equally excited! (although they are totally leaning towards the jellyfish!)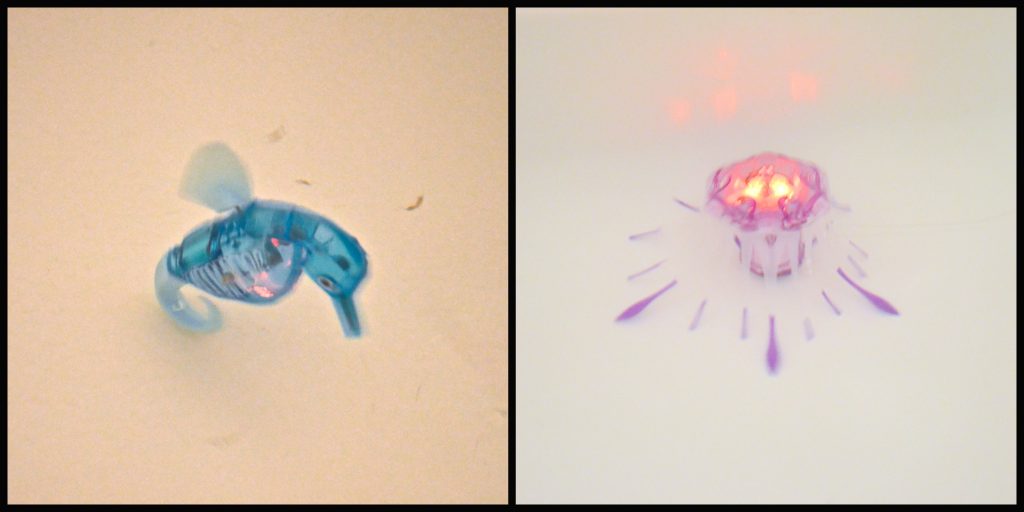 The cool thing about the seahorse is that he's fast and he never stops moving! And the jellyfish has these awesome "floating" tentacles that just flow as it slowly moves through water. Both critters light up as you can see in my bathtub above! The seahorse must have made several full laps around the entire tub while the jellyfish just cooly floated around doing it's thing. I haven't pulled it out yet for my review but we're also checking out the Remote Control Fish this weekend! These little guys are such a fun way to draw kids into loving robotics in such an affordable way. My kids also especially love that the critters are pretty see through so they can look at all of the parts inside as it works.
Just a warning of advice – my kids store their AquaBot in the shower/tub on the shelf and every time I hop in the shower and the water hits them I hear the flapping of the seahorse – haha! So be forewarned if your kids leave their AquaBot on the tub shelf! HAH!