How to Make Your Own Grass Flip Flops Tutorial – Summer Sensory Activity
This post may contain affiliate links, view our disclosure policy for details.
Ever want to know how to make your own grass flip flops? This tutorial will show you how to make a pair in just 10 minutes for MUCH cheaper than you'll find anywhere else!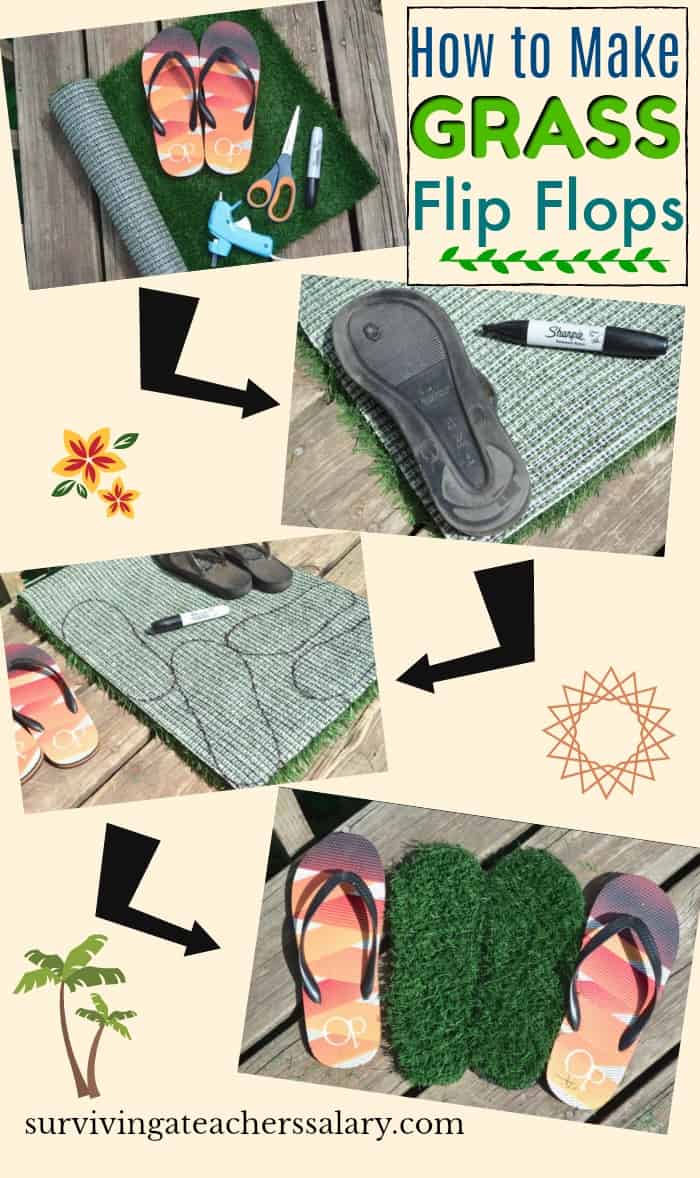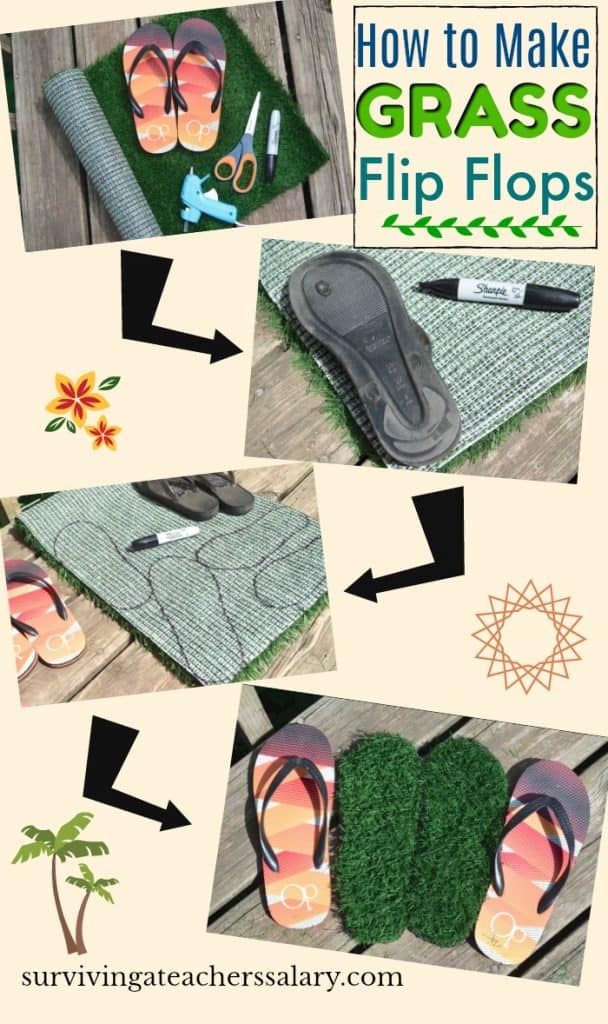 Sensory Summer Feel Between Your Toes
My kids have been begging for a pair of grass flip flops that they spotted in a store (for $60 – OUCH! You can buy them for about $20+ on Amazon here.) so I thought I'd try my hand at making a pair of my own. They turned out absolutely FABULOUS and for a fraction of the price that we saw. My son with a sensory disorder practically lives in his new grass flip flops. The best thing is, they only took about 10 minutes to make!!!
Grass Flip Flops Materials Needed: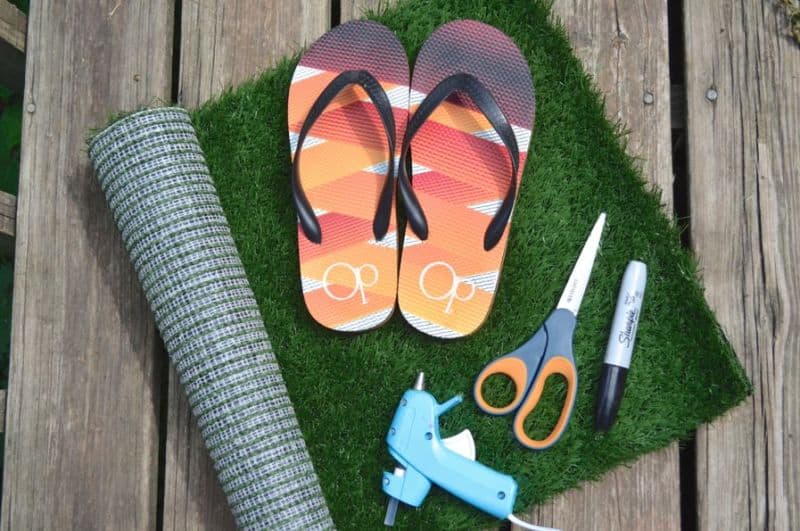 Faux Grass Turf Mat

Flip Flops
Scissors

Sharpie Permanent Marker

Hot Glue Gun + Glue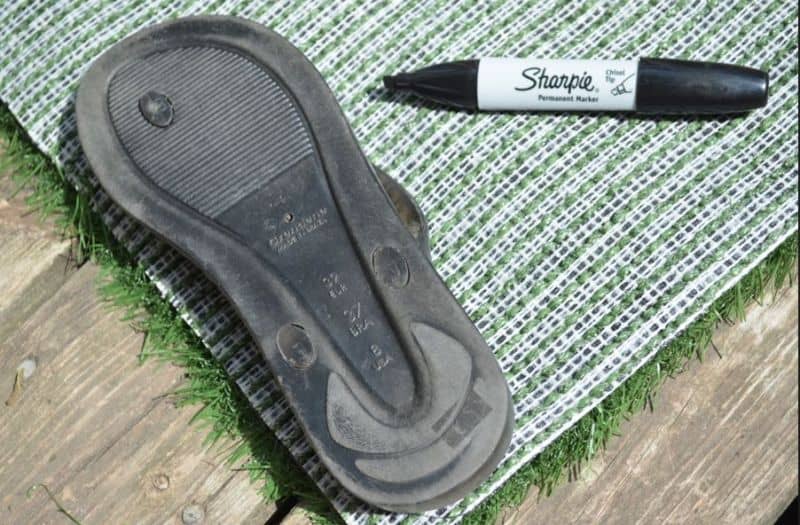 Start by unrolling your grass mat
and flip it over so the backside is up. Place each of your flip flops top side down as shown above and use your Sharpie marker
to trace around the sole of each flip flop. Out of the mat I ordered I was able to make our family 4 pairs of grass flip flops.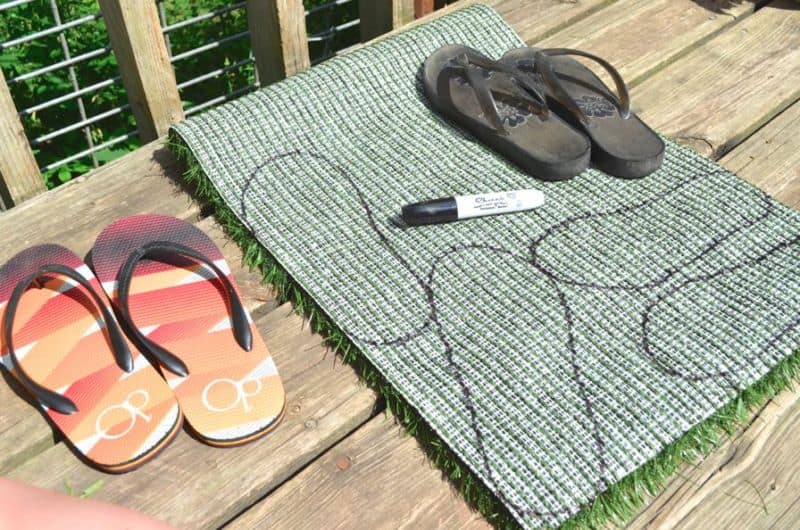 Above you can see how I spaced the flip flops and marked them closely together and then kept the flip flops near the sides of the mat where I marked them so I didn't get confused. Flip flops can look deceivingly similar when traced!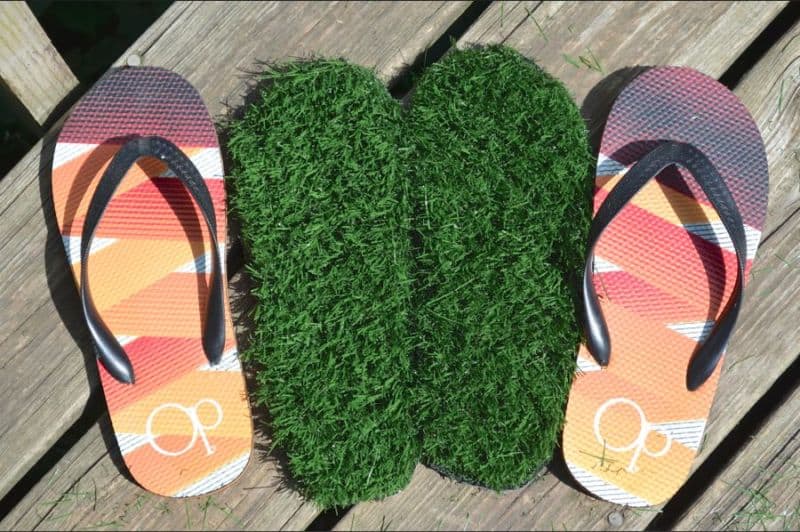 Cut out each traced section on your grass mat and lay them by the matching shoe.
NOTE – I recommend cutting this outside or over a trash can as the grass "clippings" will make quite a mess! Make sure to shake each grass "sole" out as well after cutting to remove the excess "grass".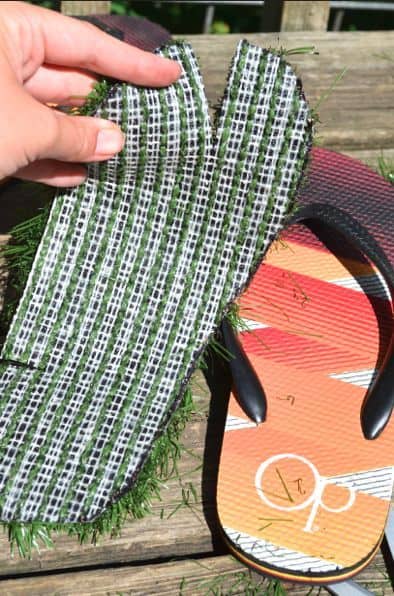 Hold your grass "sole" over the flip flop it will be attached to and cut a slit in the top and on each side so that it can slide around the existing straps. It doesn't need to be fancy or even cut straight. When you glue the grass mat in place you will not see any cuts since the grass will cover it.
Slide the grass "sole" into place on the flip flop. Peel up and fix in place with your hot glue gun paying attention to put plenty of hot glue under the grass mat, especially around the edges and near the straps.
VOILA! Your very own pair of Grass Flip Flops (or buy them here)! These are great for kids with sensory seeking issues, those of us who love the feel of grass in between our toes, or just a fun beachy sandal to wear in the summer time! If you want to expand on the "grass" theme check out these grass pens and grass skirts!


Other Summer Sensory Fun Activities: