Birds & Butterflies Nature Sensory Bin Idea for Preschoolers
This post may contain affiliate links, view our disclosure policy for details.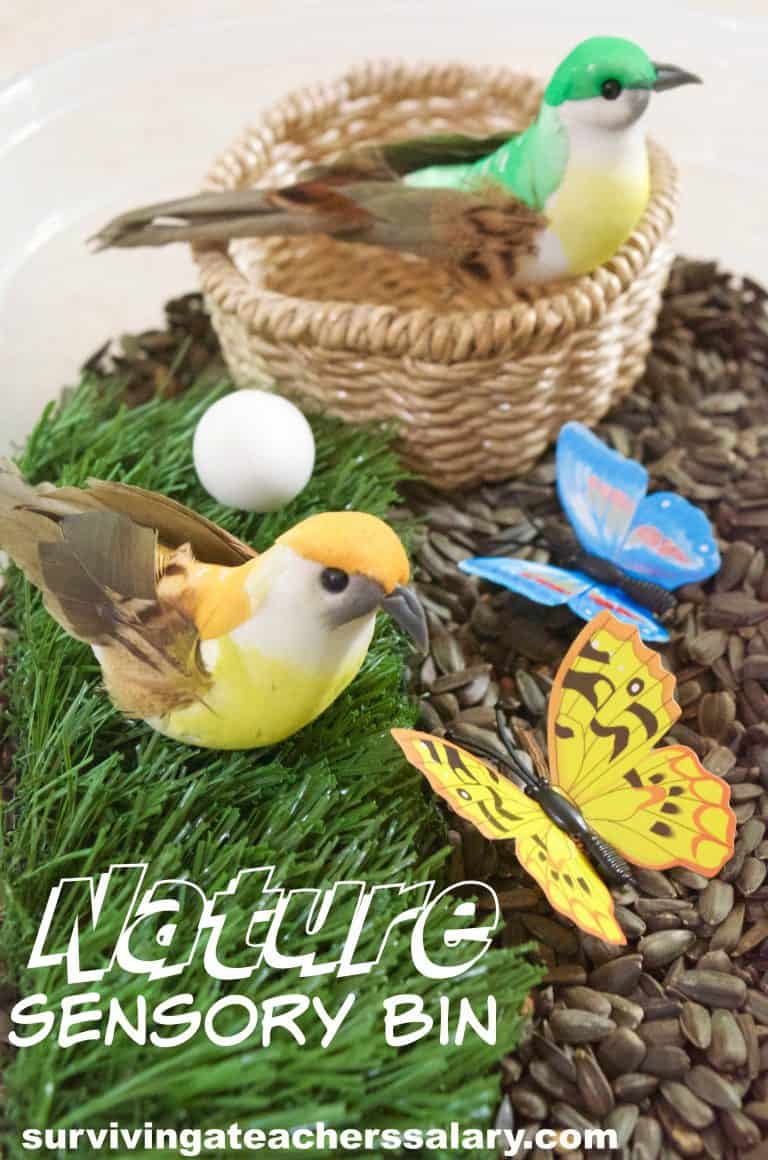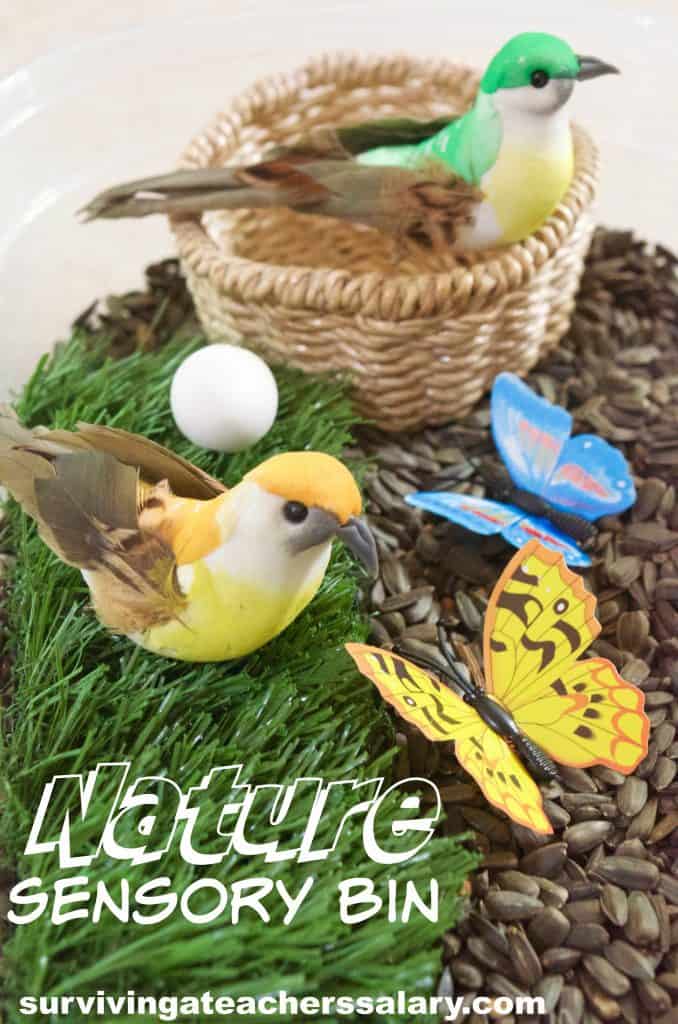 Once spring hit we walked outside and pretty much only come inside to sleep at night! We LOVE spending time outdoors. The kids have been collecting sticks, bird eggs and nests that have fallen to the ground, sticks, rocks, and anything else they can find outdoors.
It gave me the great idea to make a nature sensory bin that we can play with indoors on rainy days!
Birdseed for Nature Sensory Bin Idea: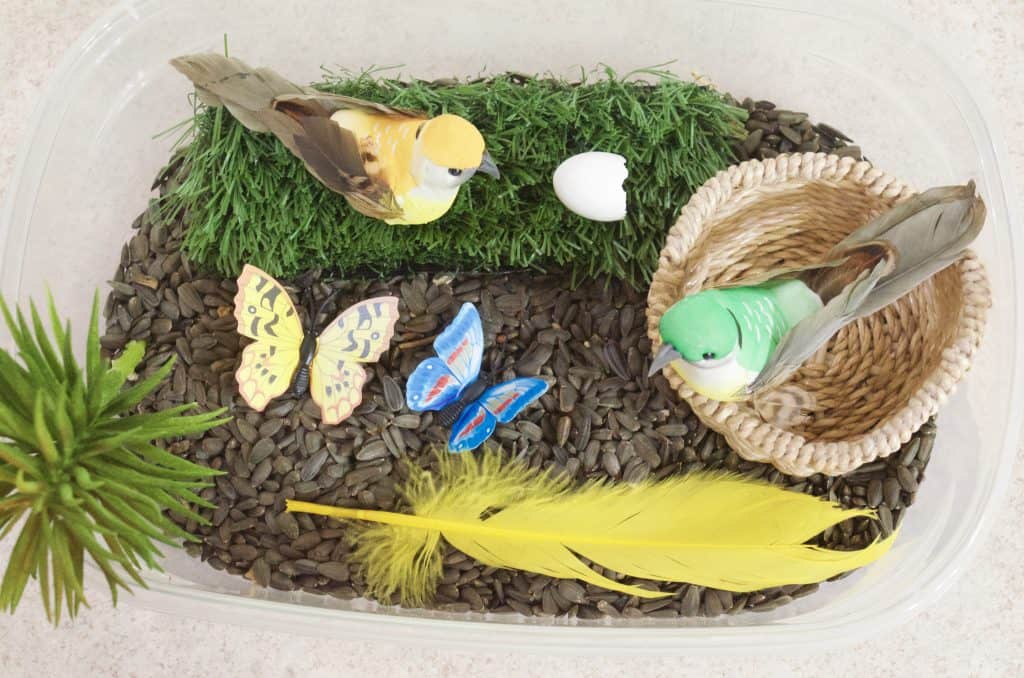 Since our theme was birds and butterflies we decided to use birdseed as our "base" sensory bin filler! Then when we're done playing I can either just put the birdseed in my bird feeders
outside or we can use them to make our own bird feeders!
Nature Sensory Bin Idea Materials: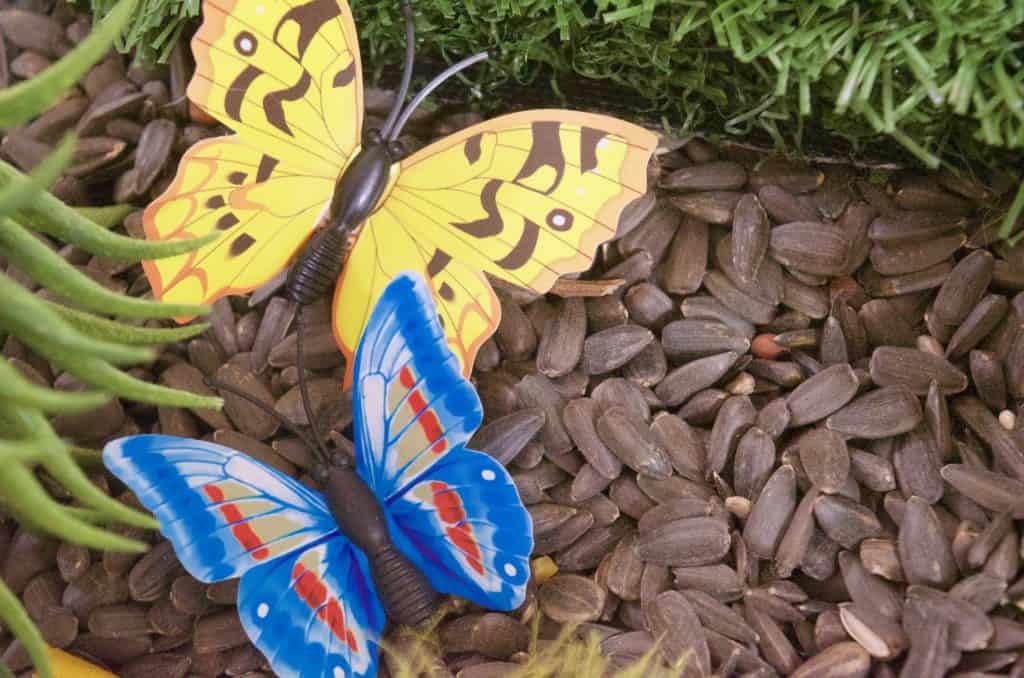 For our nature sensory bin I mostly used materials I've been collecting in my craft room or that we found outside! You can get creative with this! These fabulous butterflies I picked up inexpensively on eBay.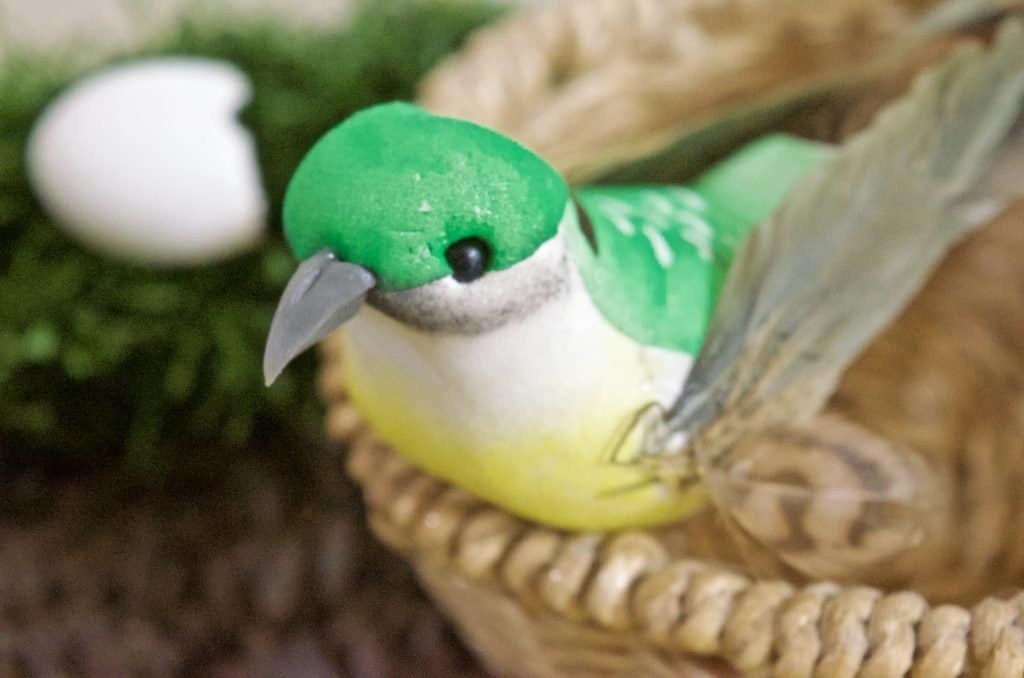 I picked up these craft birds at the Dollar Tree! They also had some great faux bird nests there too! I swore I picked some up but couldn't find them later so I just used a small woven basket that I had on hand for my nature sensory bin!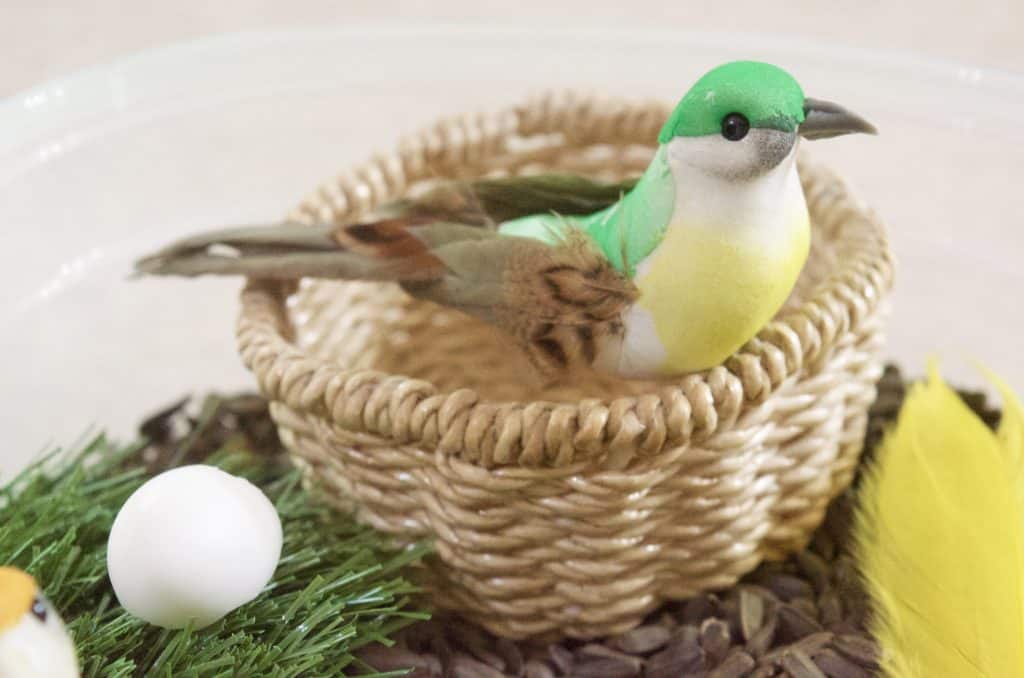 My kids are always finding parts of bird eggs in our yard, especially in the spring as new birds are hatching. I added them to our sensory bin but since they can be crushed easily you may want to pick up some fake bird eggs as well while you're shopping.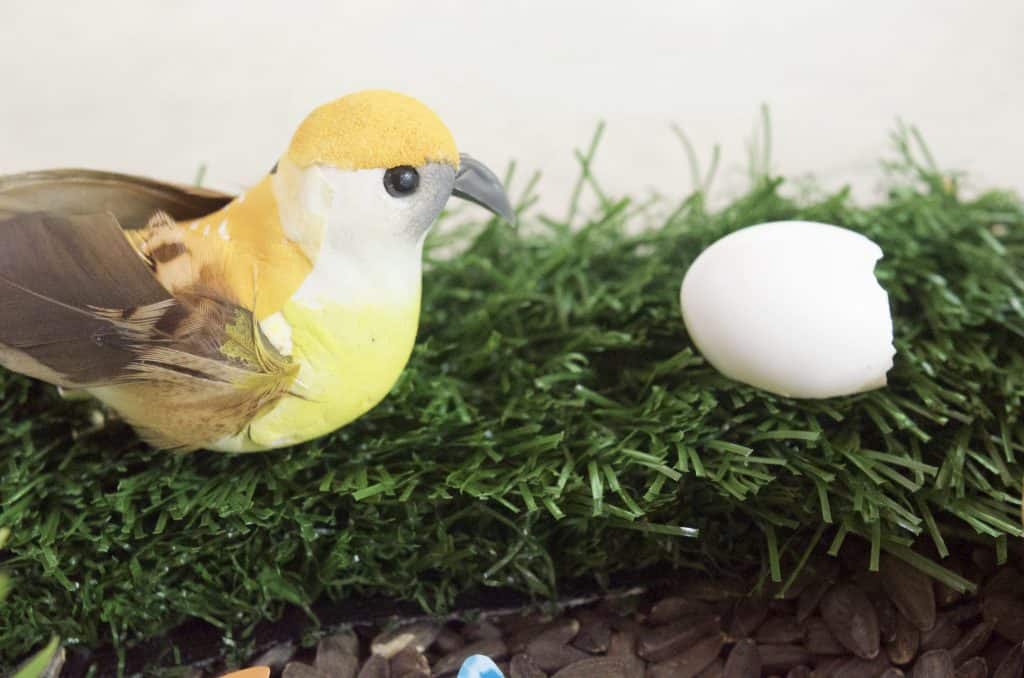 Since we know that birds like to walk in the grass and look for worms I also added a small patch of faux turf grass
that I had leftover from our tea party! It really brightened up the color in our sensory bin!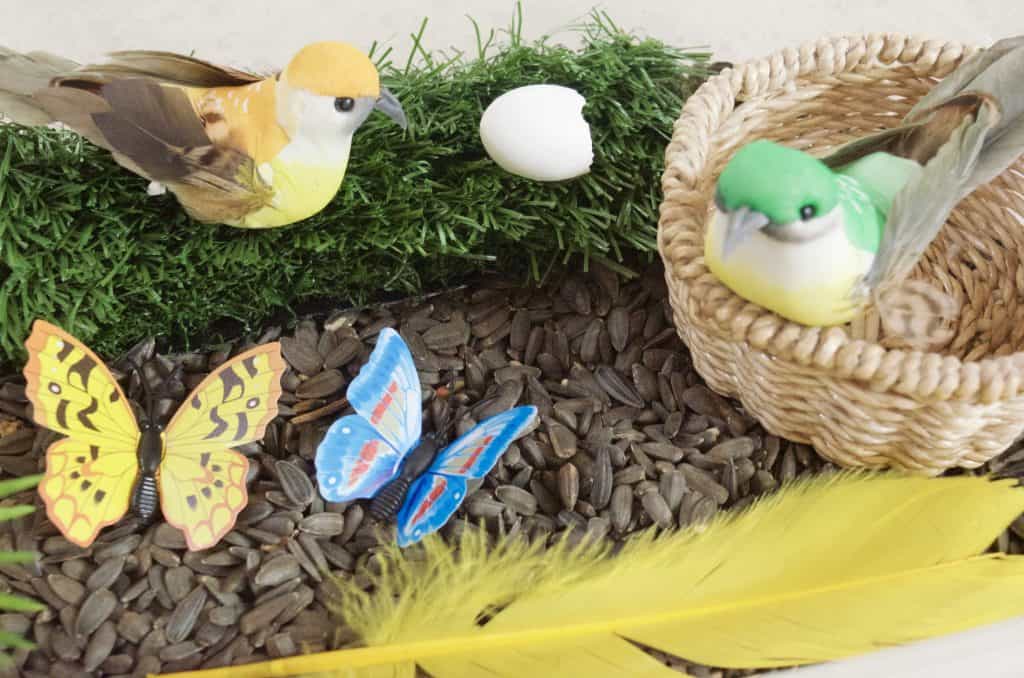 Other Nature Sensory Bin ideas:
*Faux Bird Feathers

*Faux Plants
*Sticks
*Stones
*Wood Slices

*Acorns
*Pinecones
*Seed Pods
*Seashells
*Craft Moss
Sensory Bin Storage:
I'm all about staying organized and making things easily accessible for my kids! The Dollar Tree is the best place I've found for wide storage bins WITH lids. I buy a lot of the rectangle storage containers you see in this post as well as large square containers for water play.
Above is our learning colors sensory bin collection! You can also store the contents of each themed sensory bin in a gallon size ziploc bag
and just pour it inside of a storage container at the time you are playing.
Watch this CRAZY loud Killdeer Plover Bird:
Click the Image Below to PIN it!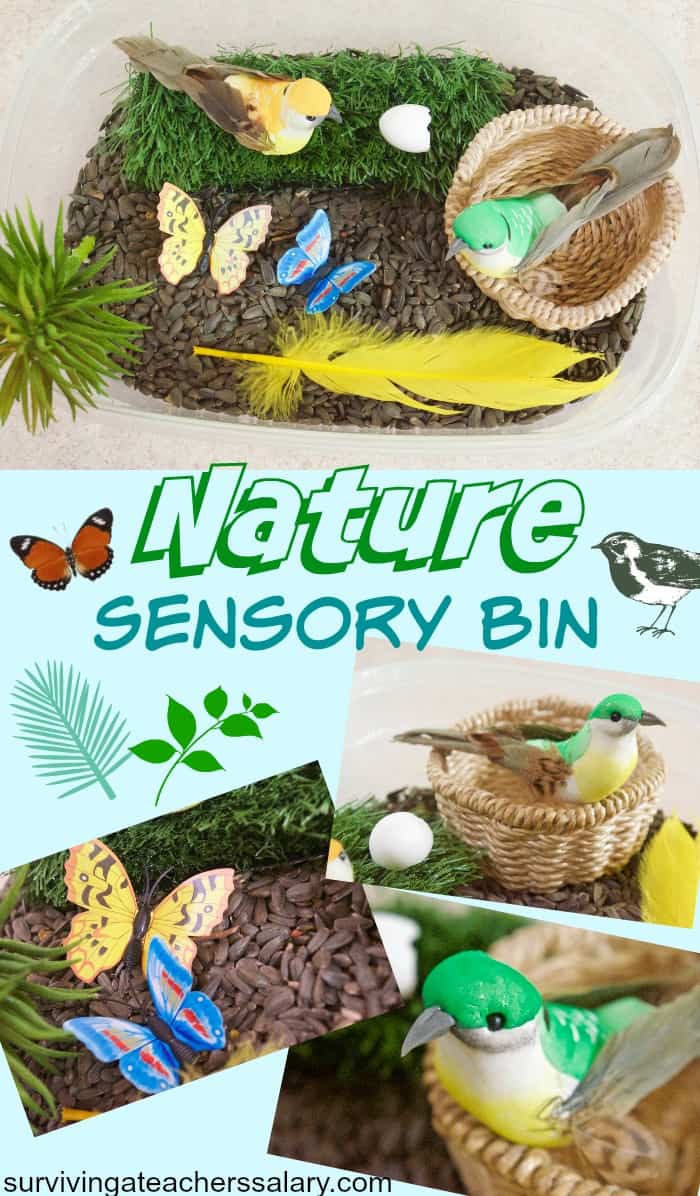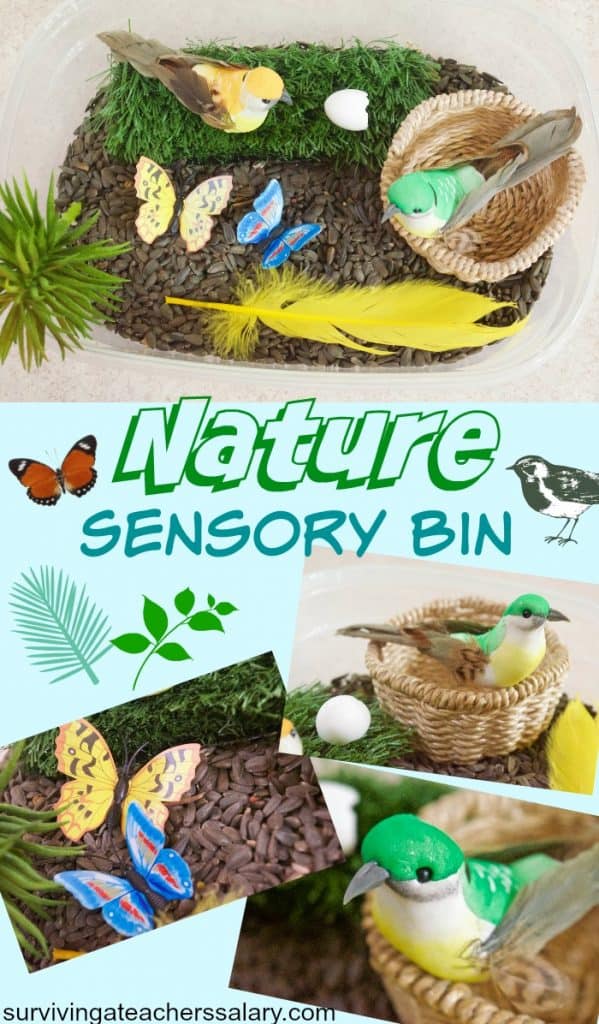 See how easy it is to tap maple trees!
Other Sensory Ideas for Kids: