Secrets of Pixar: Making Baby Jack Jack and His Powers Incredibles 2
This post may contain affiliate links, view our disclosure policy for details.
Pixar artist insider information on making Jack Jack powers and animation! This was a presentation I attended as part of the Pixar press trip I was invited to attend.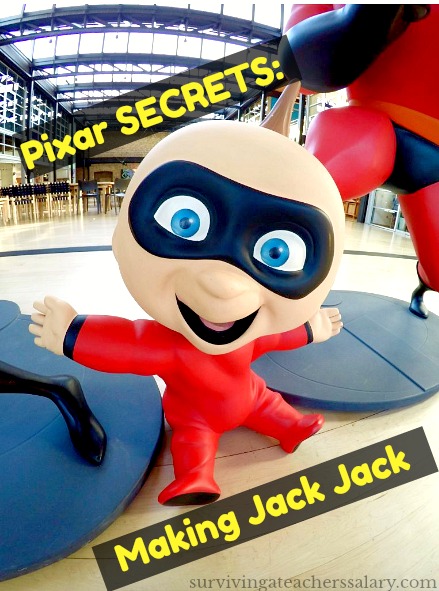 Perhaps ones of the most well loved characters from the Incredibles movies is baby Jack Jack Parr! While at Pixar Animation Studios in California I met up with Supervising Animator Tony Fucile, Effects Supervisor Bill Watral, and Effects Artist Jason Johnston who are the stars behind creating baby Jack Jack for Incredibles 2.
In the first Incredibles film the Pixar team spent more time creating and designing the other Parr family members since, after all, Jack Jack only needed to wear a diaper! So in Incredibles 2 they spent a considerable amount of time working on the character of Jack Jack and expanding on his powers. In the end of the first film we got a glimpse at just a little bit of what Jack Jack can do!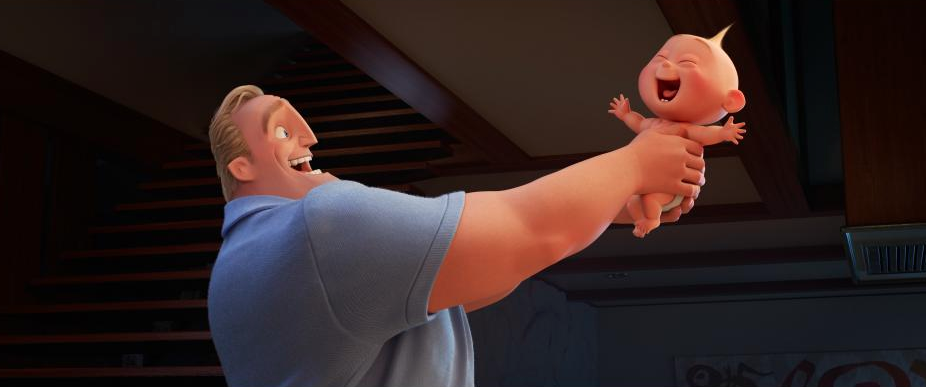 Brief Film Overview:
The Parr family is back for another movie and Incredibles 2 picks up immediately where the Incredibles movie left off – right in the parking lot facing the Underminer! In Incredibles 2 Helen Parr (aka Mrs. Incredible or Elastigirl) is going back to work to save superheroes and Bob Parr (Mr. Incredible) is left with the task of managing the three children – Violet, Dash, and Jack Jack – at home. And BOY does he have his work cut out for him! Not only is managing three children a big task but Jack Jack is discovering his (many!) new powers! Throw in a few villains and you've got quite a mix!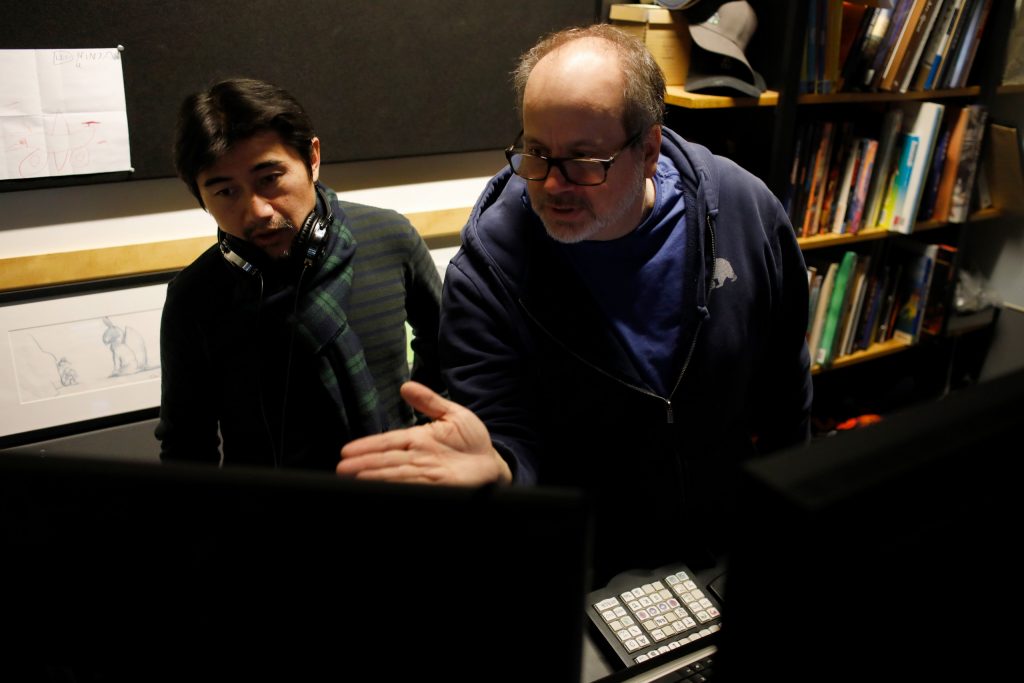 The big question Pixar artists faced when beginning work on the new Incredibles 2 film was how to change Jack Jack from the first film to the second. Ultimately they fleshed him out a bit and added fat on the cheeks and shoulders to give him more of the soft cuddly baby appearance. The Pixar artists said it was "endless tweaking for months".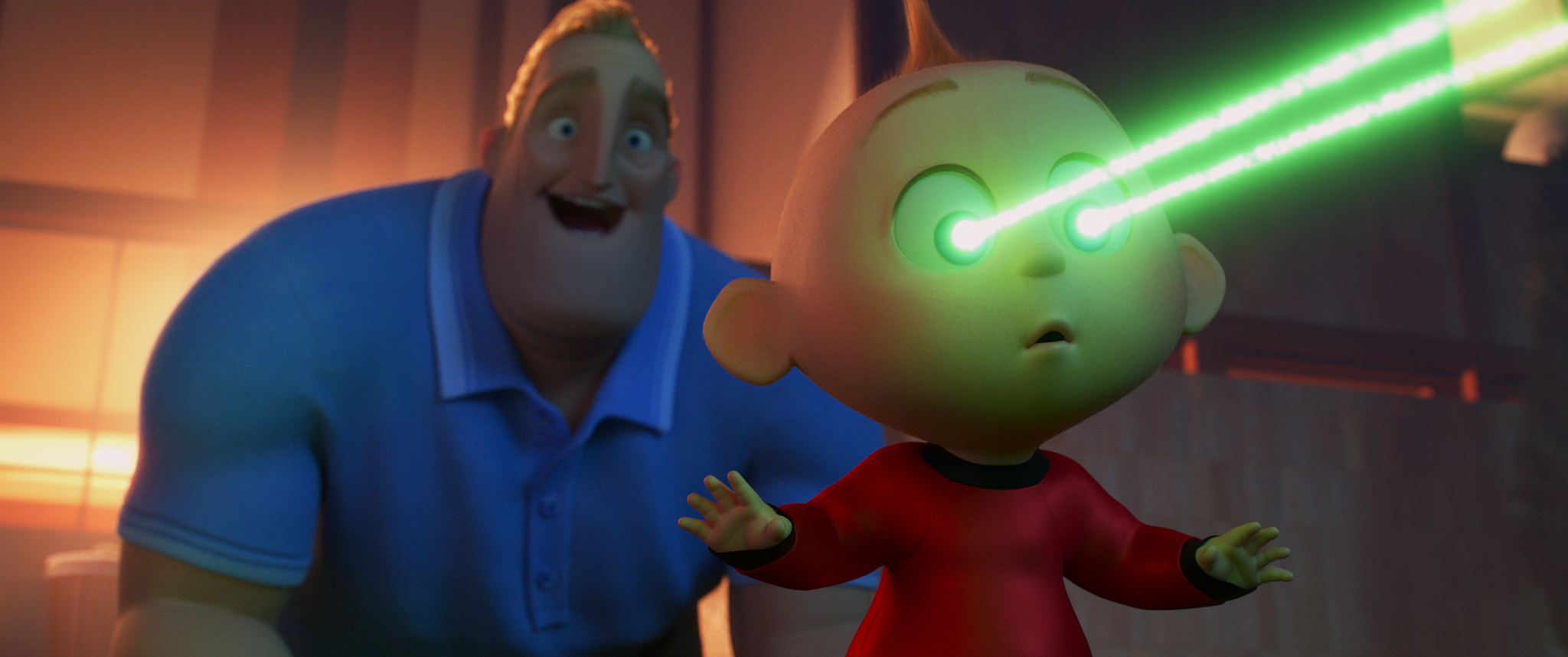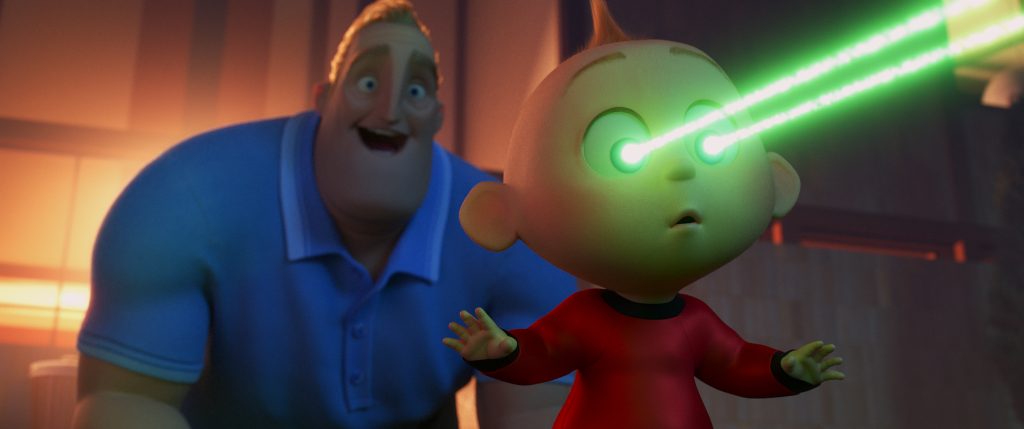 They also spent an incredible amount of time on Jack Jack's new powers! I don't want to spoil the movie too much for you so you'll have to count his powers as you watch the film, but I do want to share specifically some insight into two of Jack Jack's powers: the fire effect and the "goo baby" effect.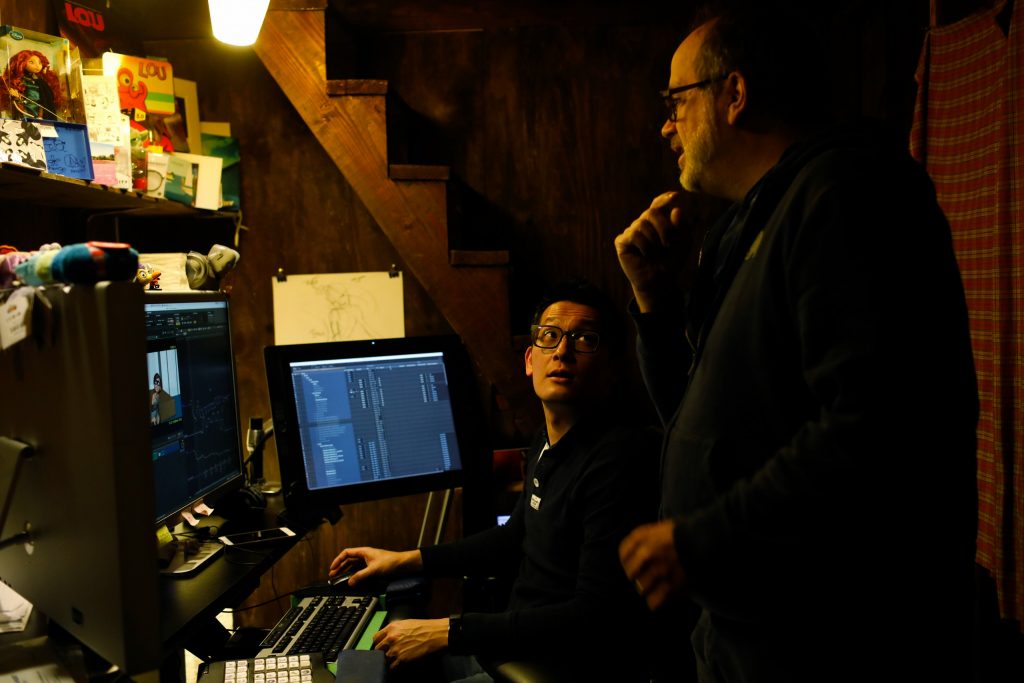 Jack Jack's Fire Effect:
Jason Johnston, Pixar's Effects Technical Artist on Incredibles 2 was in the presentation with us and had a big hand in creating the "Jack Jack fire effect". He wanted to change up the fire effect from the original film in 2004 because Jack Jack's role in Incredibles 2 would be even bigger and you really need to read his face.
It was VERY IMPORTANT to the Pixar artists to make sure that Jack Jack was not the actual source of fire. The baby was not ON fire. There was no smoke, no ember. It is not supposed to be scary or creepy. The last thing they wanted to do was scare kids – although after watching the original Jack Jack artistic concepts with software editing I admit, some of the drafts were pretty frightening!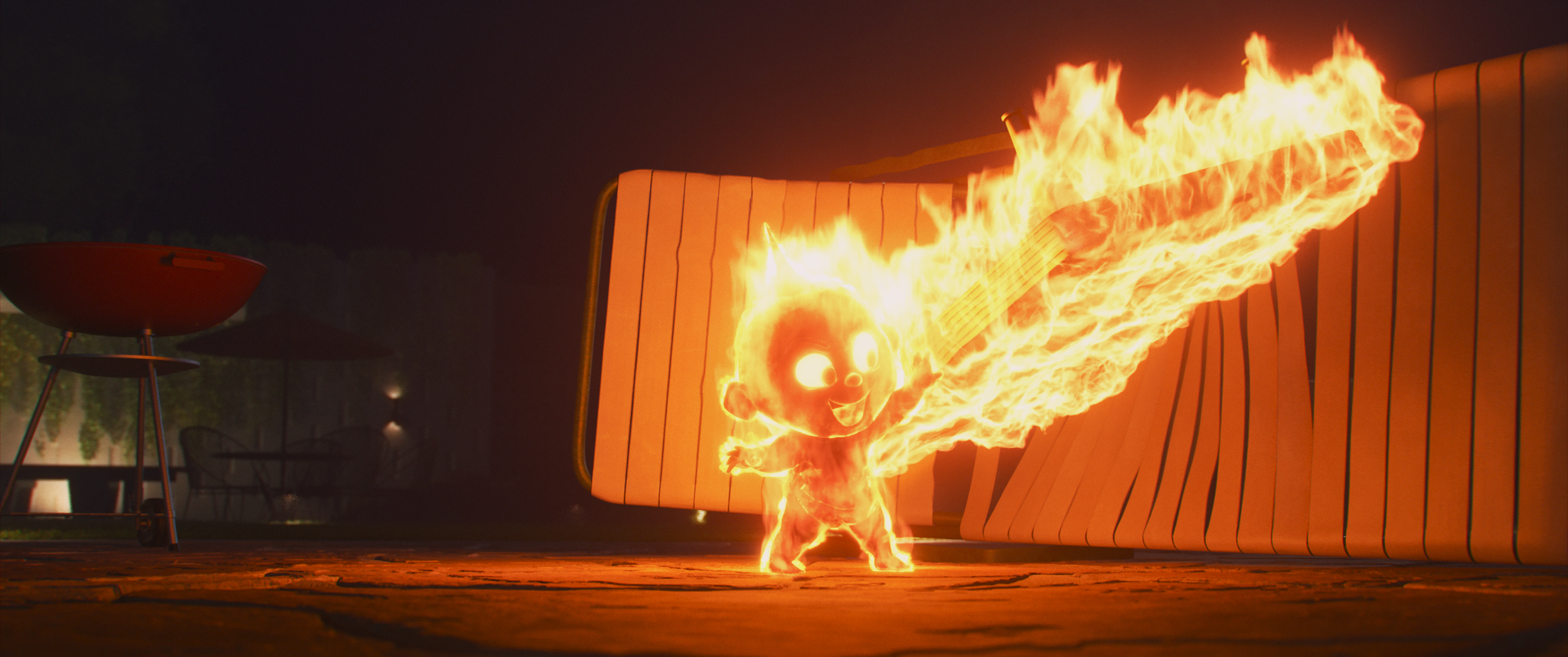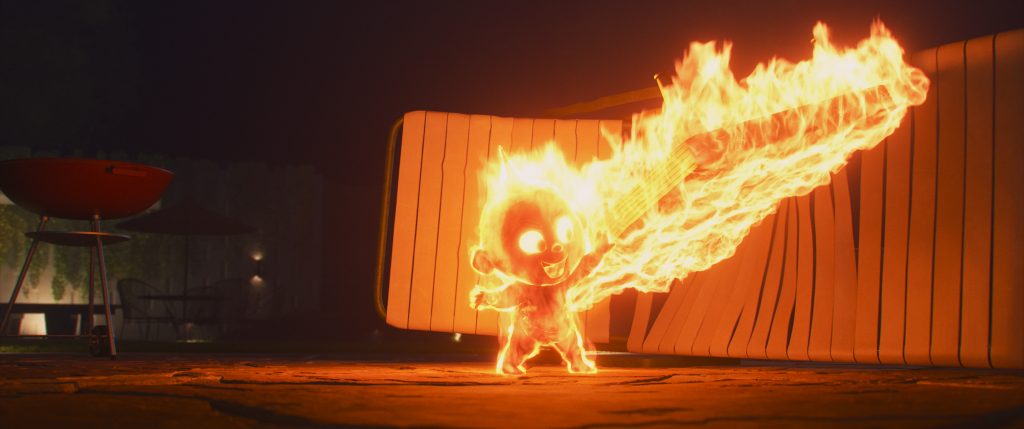 Ultimately the Pixar team liked the concept of glowing eyes and the fire "dancing" on his skin. It took a long time to come to this conclusion though and a LOT of ideas didn't make the cut. Their process of creating Jack Jack and all of his powers was to explore all of the options, even if they seemed like the wrong concept. This is part of the artistic process as it helps to spur new ideas and creativity.
Just to get an idea of HOW MUCH work went into Jack Jack's fire effect this is a very basic layer breakdown of how they created him:
*base fire simulation
*add Jack with no eyes
*blur
*body only fire simulation
*modify skin
*body fire cut out
*add modified Jack
*orange glow eyes
*original fire simulation,
*blur
You may have no idea what all of that means BUT I wanted to type it out so that you can see just how many layers the Pixar team had to work with to get the perfect creation of Jack Jack's fire effect. About 10 layers! This process above also allowed them to select each specific shot and edit it as needed. Can you imagine how long it took to come up with this perfect combination?!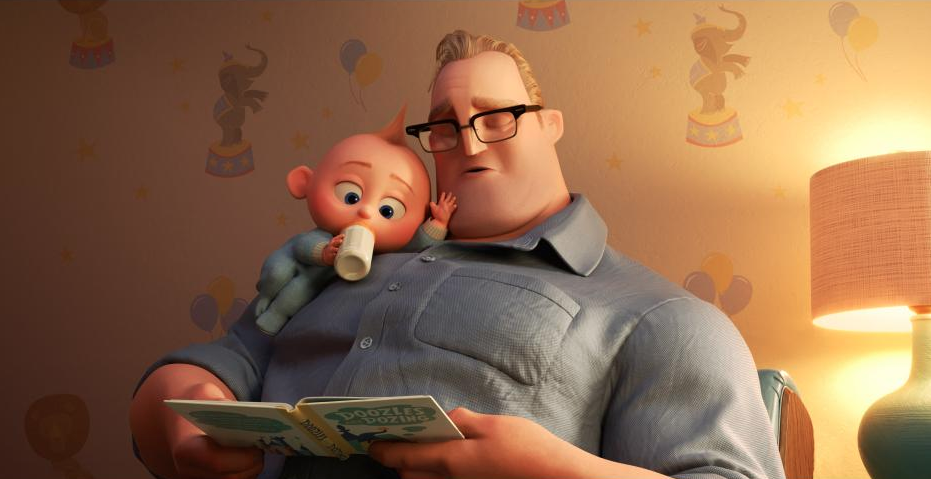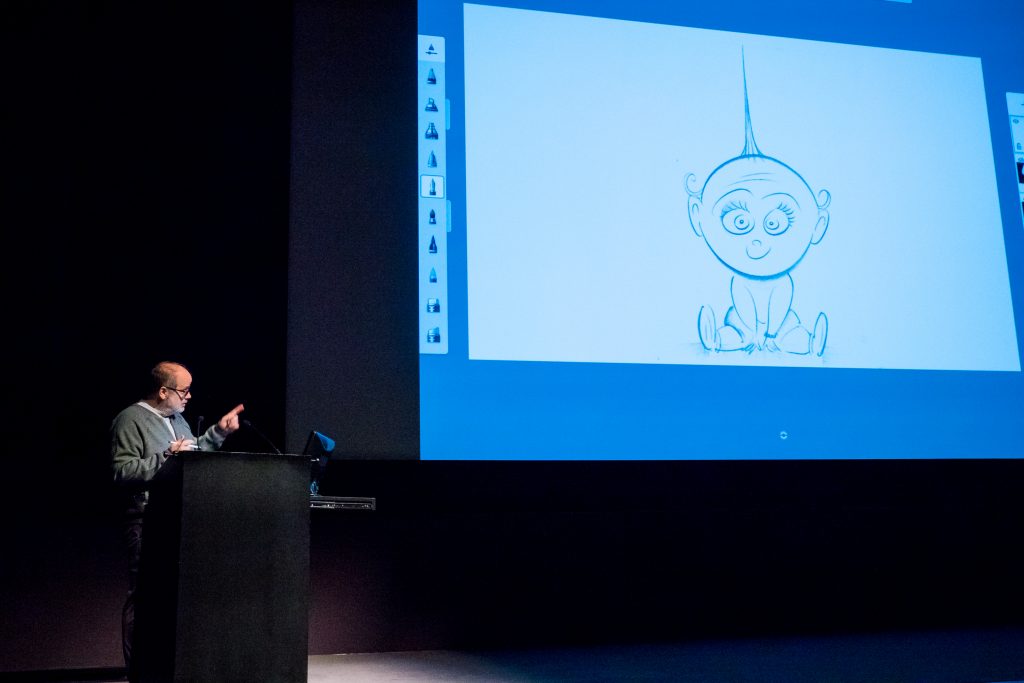 Jack Jack's Goo Effect:
FUN FACT: In Incredibles 2, Jack Jack's "goo" effect was what Pixar wanted in the first film but they didn't have the technology for!
A bit of a spoiler alert – one of Jack Jack's many super powers is a goo effect! This is where I REALLY wish I could share with you the presentation I watched and the many (many many many!) "goo baby" effects they tried and scrapped until they came up with the version used in the movie.
Even the Pixar team agreed:
Q: What was the hardest power to create for Jack-Jack?

A: Goo baby. We thought it would be a screen problem but it was an animation problem.
Again, the Pixar team went back to really relying on the idea that Jack Jack had to be funny and not gross or scary! As you can imagine, trying to animate a splatter of a goo baby head was NOT an easy process!
The Process of My FAVORITE Incredibles 2 Scene: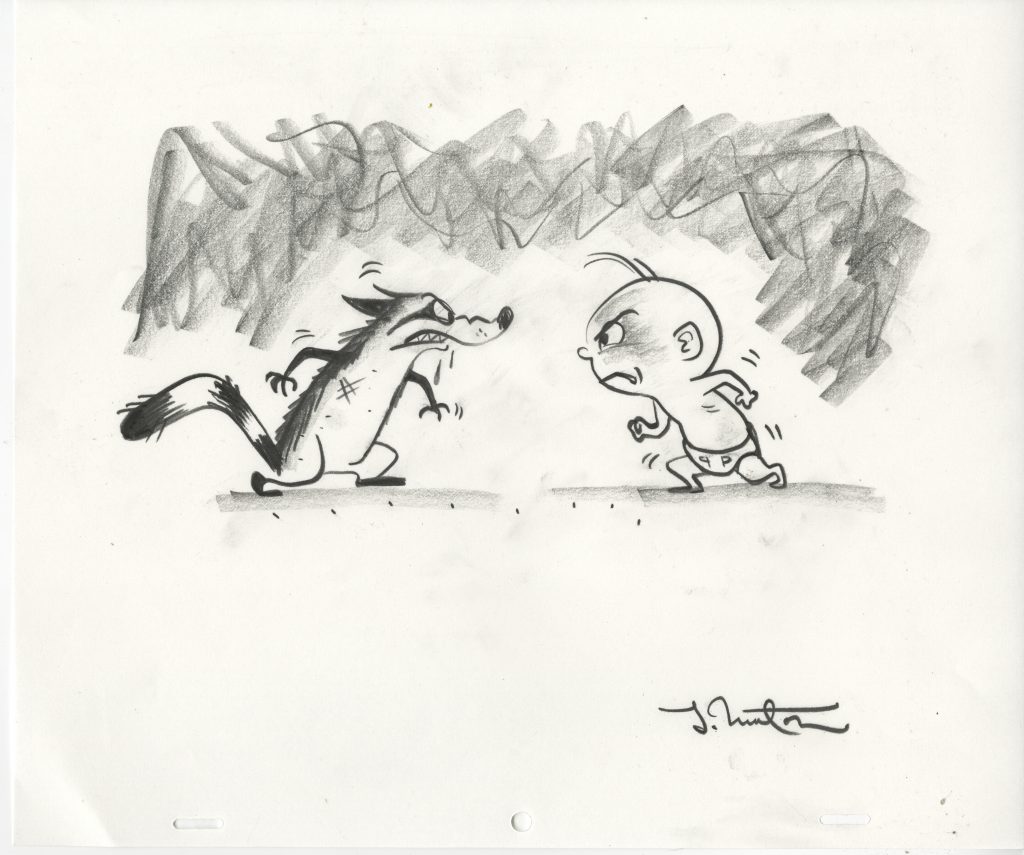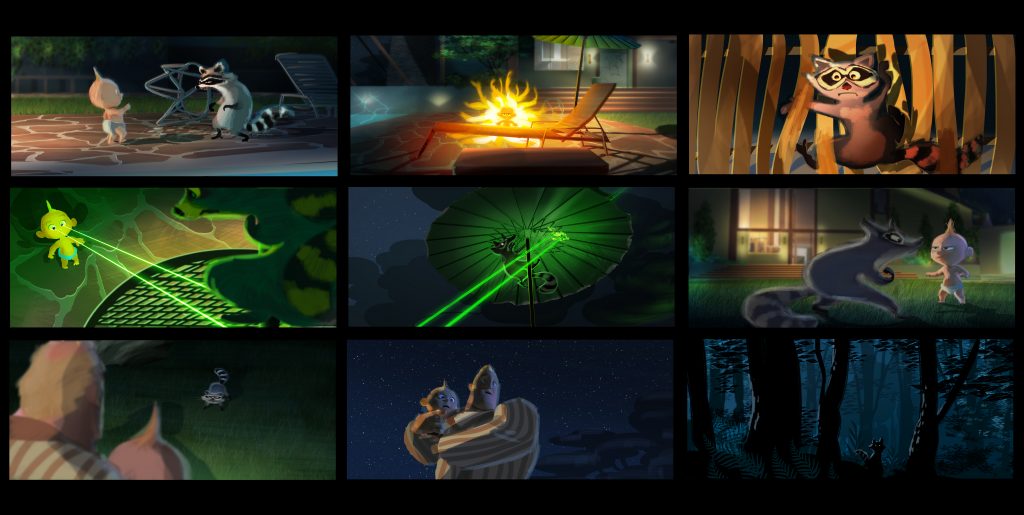 FUN FACT: Jack Jack has bottom teeth in Incredibles 2.
---
Jack-Jack Video Clips:
Jack Jack Cookie Recipe: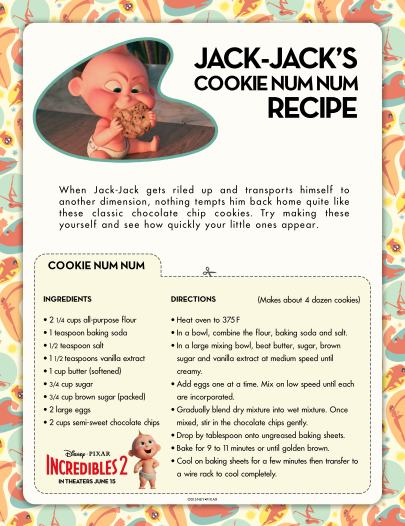 Jack Jack is downright hilarious and although my favorite scene with baby Jack Jack is the raccoon scene – this printable cookie recipe is perfect for celebrating the smallest superhero!
Printable Jack Jack Incredibles Coloring Page: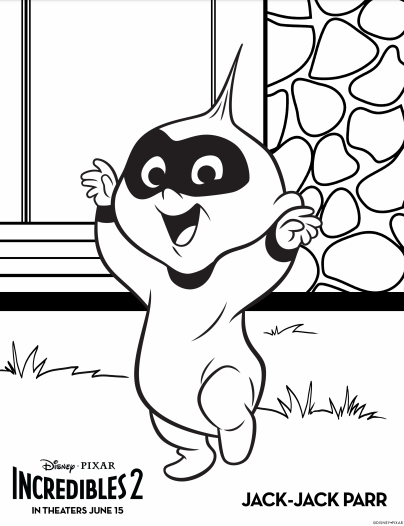 Click here for more FREE Incredibles 2 Coloring Pages! 
Check out some of our other Pixar Incredibles 2 Posts below:
Art, Math & Technology Behind Pixar Costume Designs
Top SECRET Pixar Archives Tour
How Did They Create Incredibles 2 Action Scenes?
Incredibles 2 Movie Fun Facts + Coloring Pages
Photo Tour of the Pixar Animation Studios Campus
Best Photo Spots on the Pixar Animation Studios Campus
Meet the First Pixar Female Director + Inside Look at Bao
Insight Into the World of Walt Disney:
The Walt Disney Family Museum
Photo Tour of Walt Disney's Office