Grow Mushrooms in Your Kitchen with North Spore
This post may contain affiliate links, view our disclosure policy for details.
Last year North Spore reached out to me about growing mushrooms right in my own home! Since discovering my love for foraging, I have learned a lot about mushrooms (and other medicinal plants) the past few years and am always thrilled to grow food at my house!
North Spore's mission is to make the world of mushrooms accessible to all, fostering innovation and collaboration to improve tomorrow.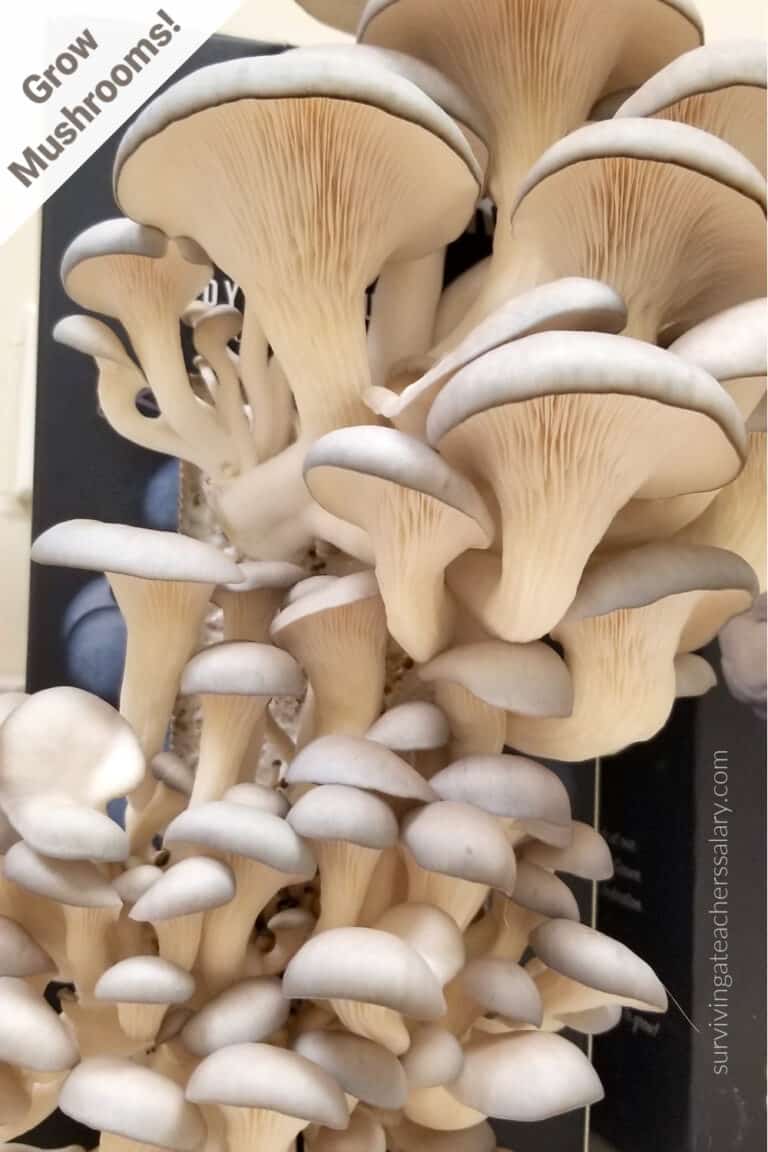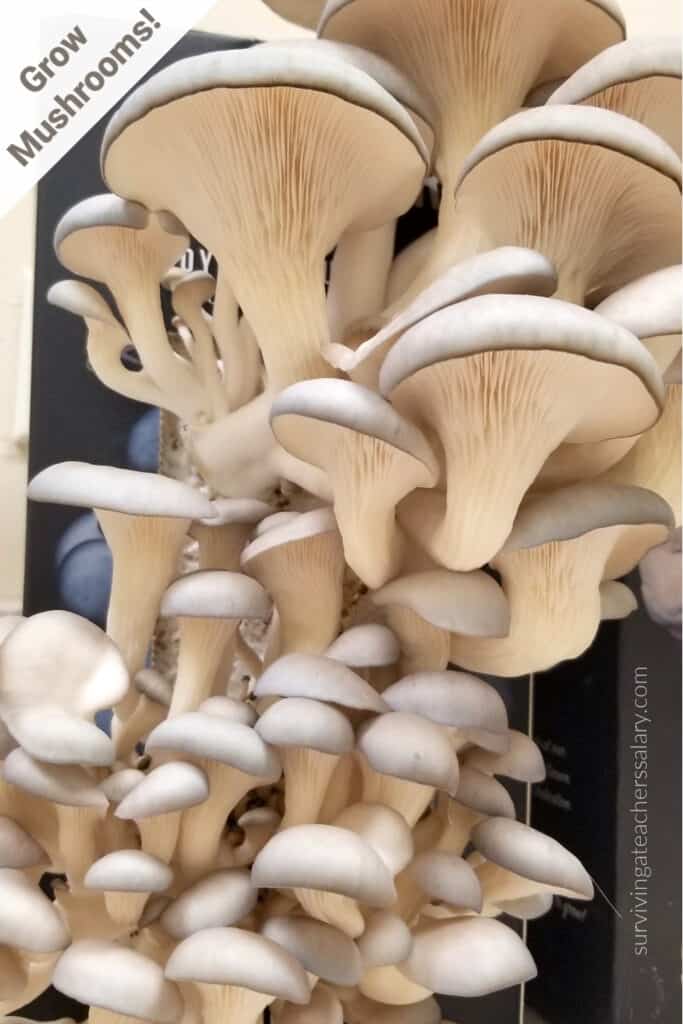 My family is pretty geeky when it comes to the outdoors. We've driven literally tens of thousands of miles on road trips – mostly to enjoy outdoor locations. We've spent countless hours hiking, mushroom hunting, herping, geocaching, fishing, identifying animal tracks, and pretty much anything else you can discover in nature. To say we are nature lovers is an understatement!
My Facebook groups list is full of snakes, entomology, mushrooms, foraging, gardening, etc. Believe it or not I had seen multiple people in several of my mushroom hunting & identification groups purchase North Spore kits – all with glowing reviews (and impressive photos!).
North Spore produces 100% of their spawn at its facility!
What impressed me initially more than anything was the amount of educational resources North Spore has on their site AND the fantastic variety of species of mushrooms available to grow at home. They're so much more than "just" a mushroom kit company.
North Spore truly seeks to teach others about mushrooms, their benefits, and make them accessible to everyone. In fact, they even have multiple mycologists on staff! (Getting your mycology degree is not an easy task! Trust me – I've looked into it!)
Not only do they have your typical FAQ sections but they also offer videos, additional resources, classes and events! Fungi are a fascinating world of its own and provide many health benefits too!
How to Set Up a Countertop Mushroom Garden Kit:
Read more about creating a mushroom garden here!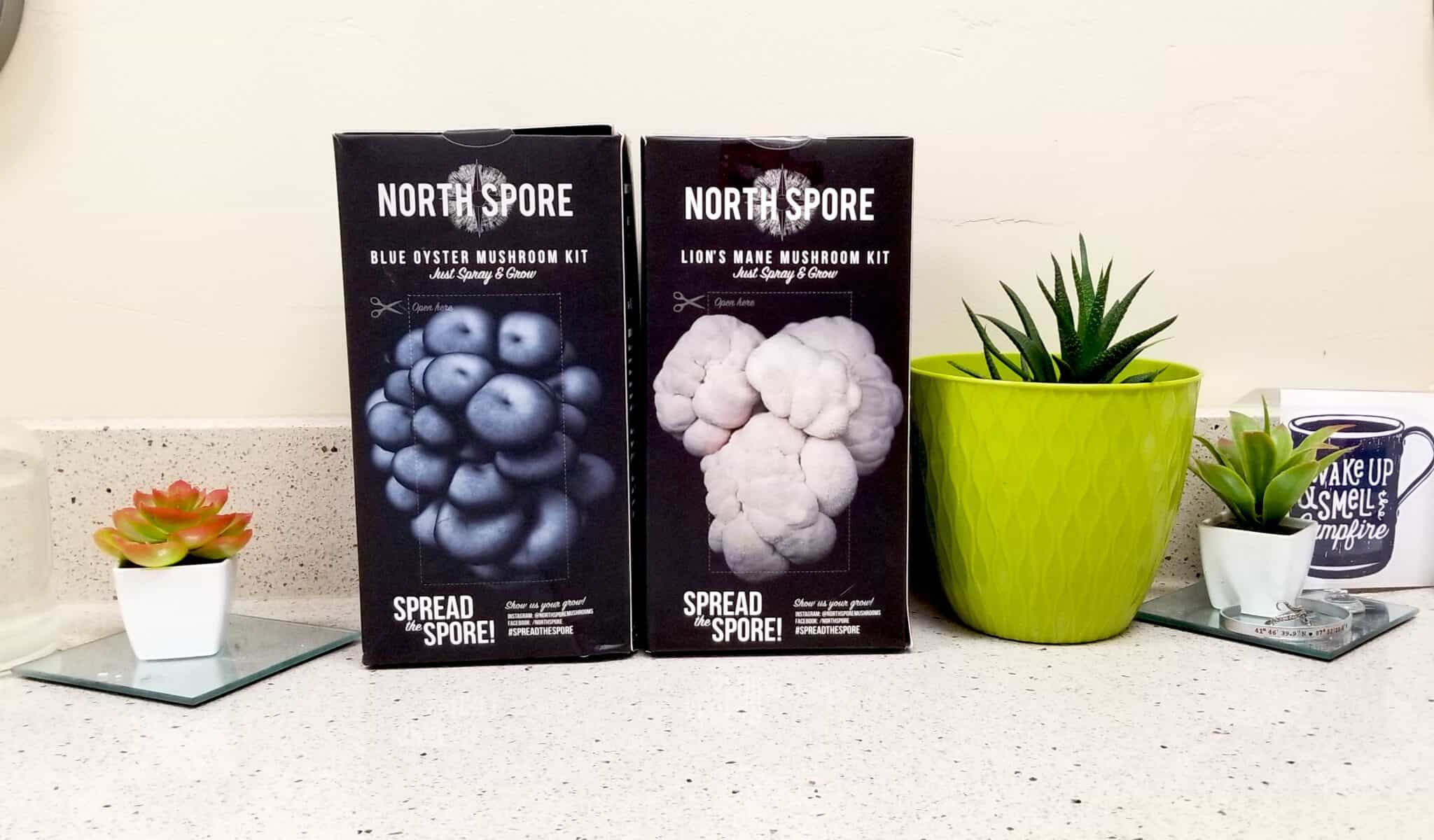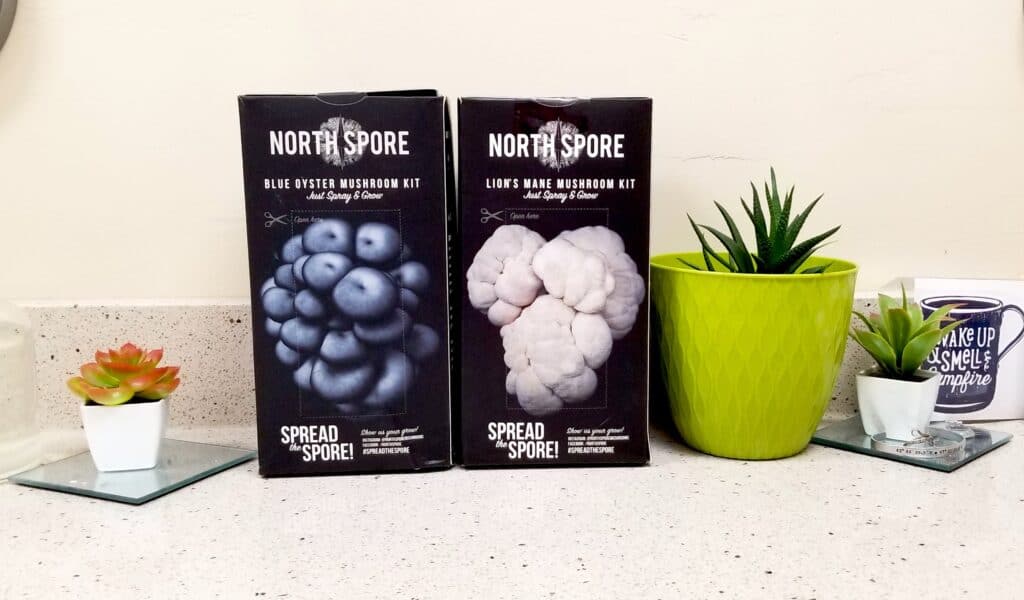 When I first opened up my North Spore box it was HEAVY! I couldn't believe how big and heavy these mushroom kits were!!! I've had a countertop mushroom kit in the past and it was nothing compared to the size of these things! WOW! Very impressive.
There are THREE easy steps to setting up your North Spore mushroom kit!
Open —– Spray —– Harvest
Cut open the front of the mushroom kit.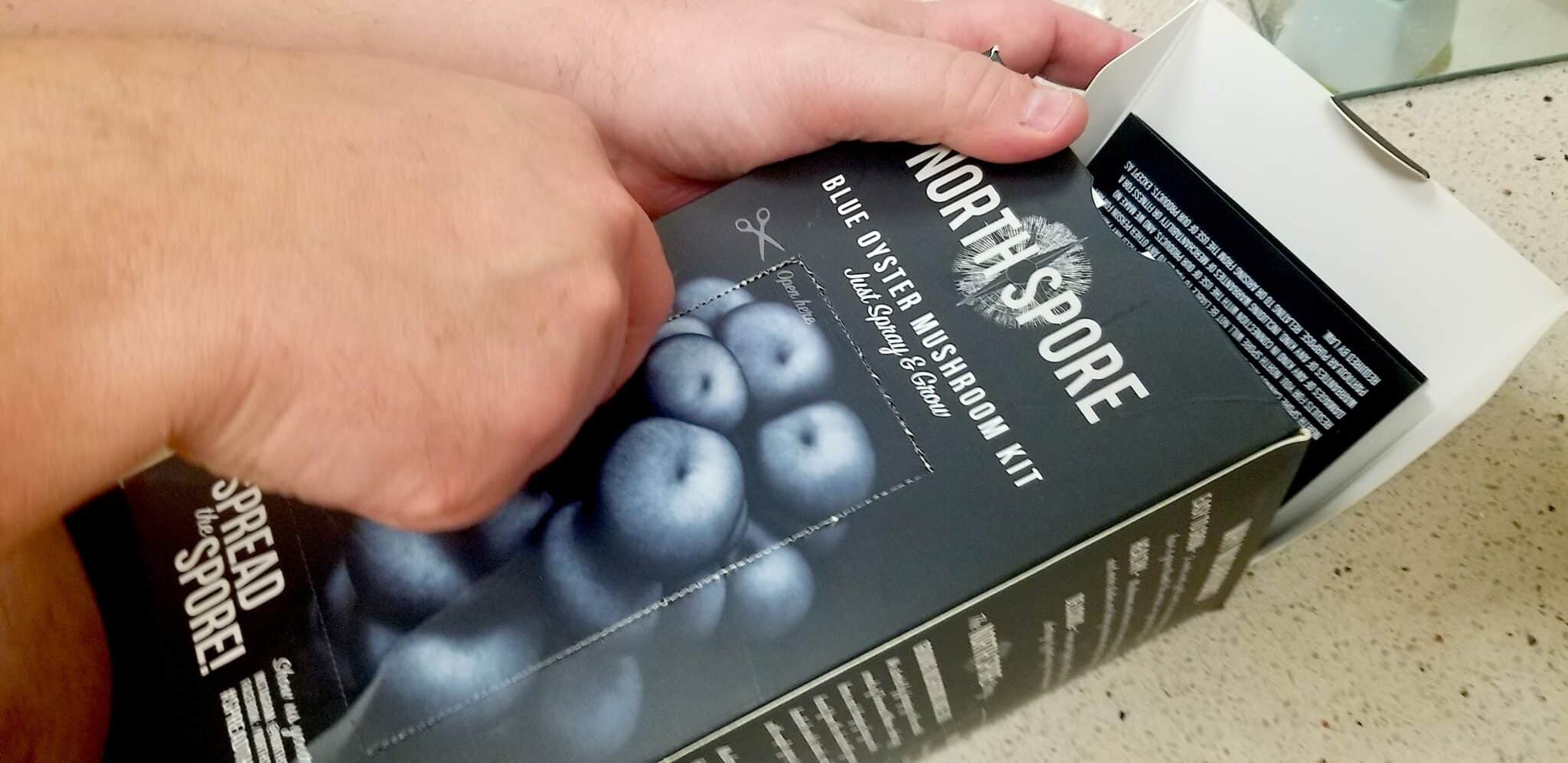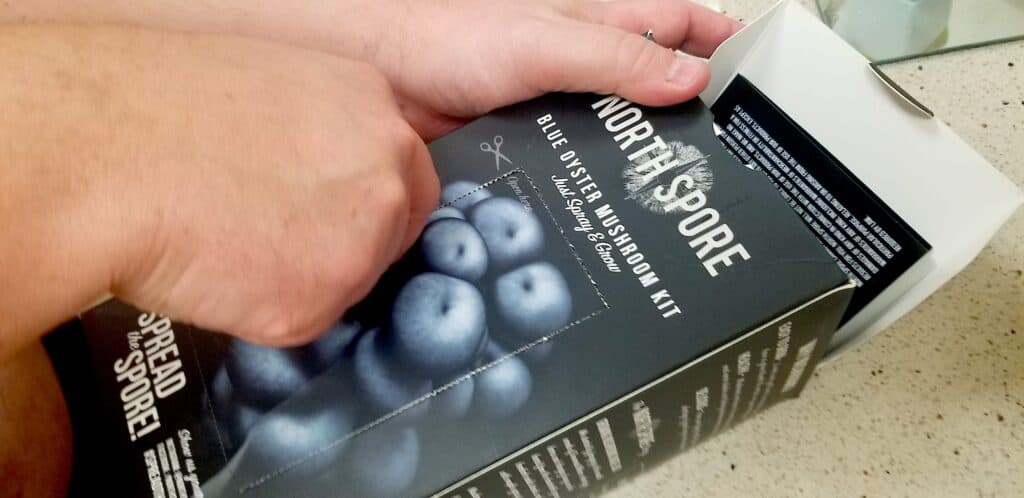 Directions are included in the box, but you can't miss the big "Open Here" perforated "window" on the front of the box! To make it a cleaner cut we used an X-acto knife but you could just use scissors or a knife.
2. Cut an "X" into the front of the mushroom bag.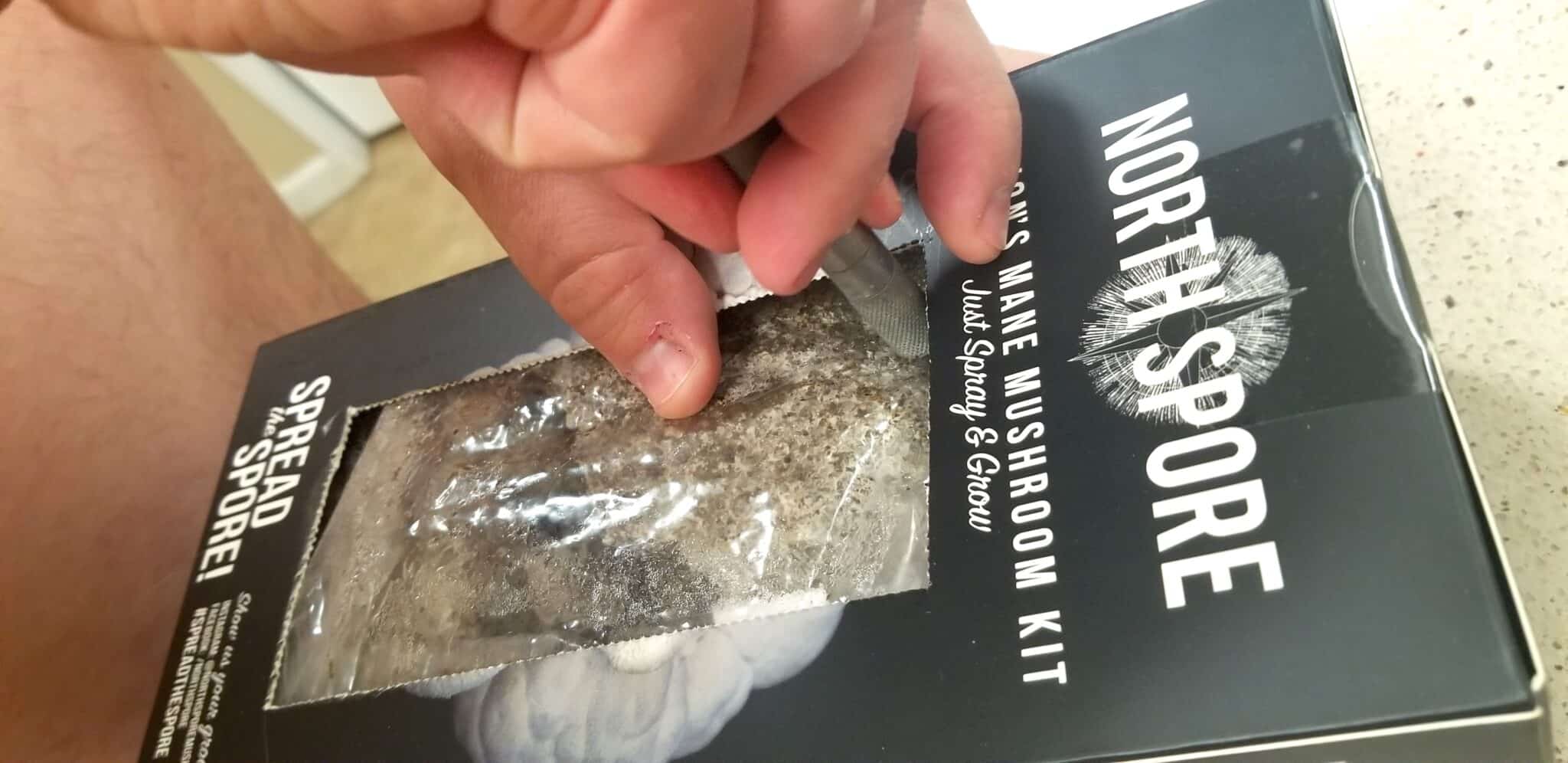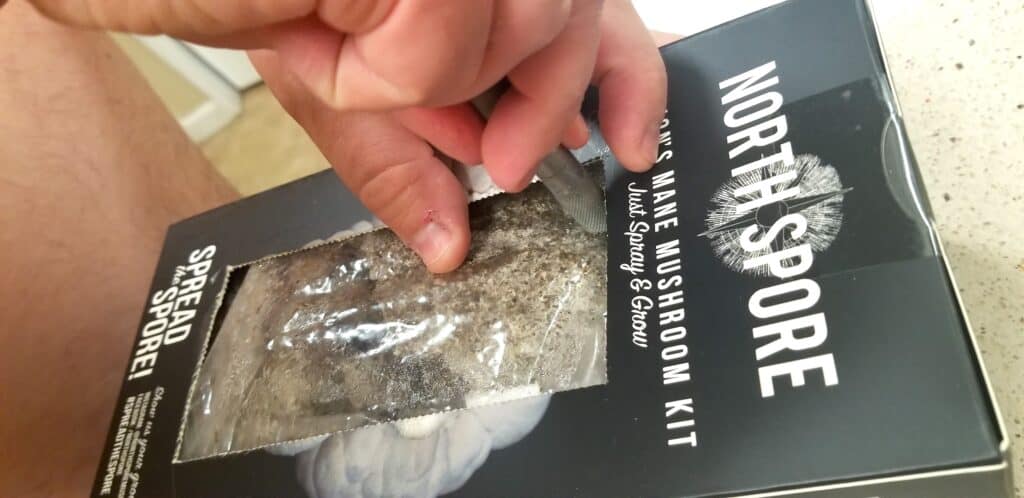 We then cut an "X" into the bag inside from corner to corner.
3. Spritz twice daily!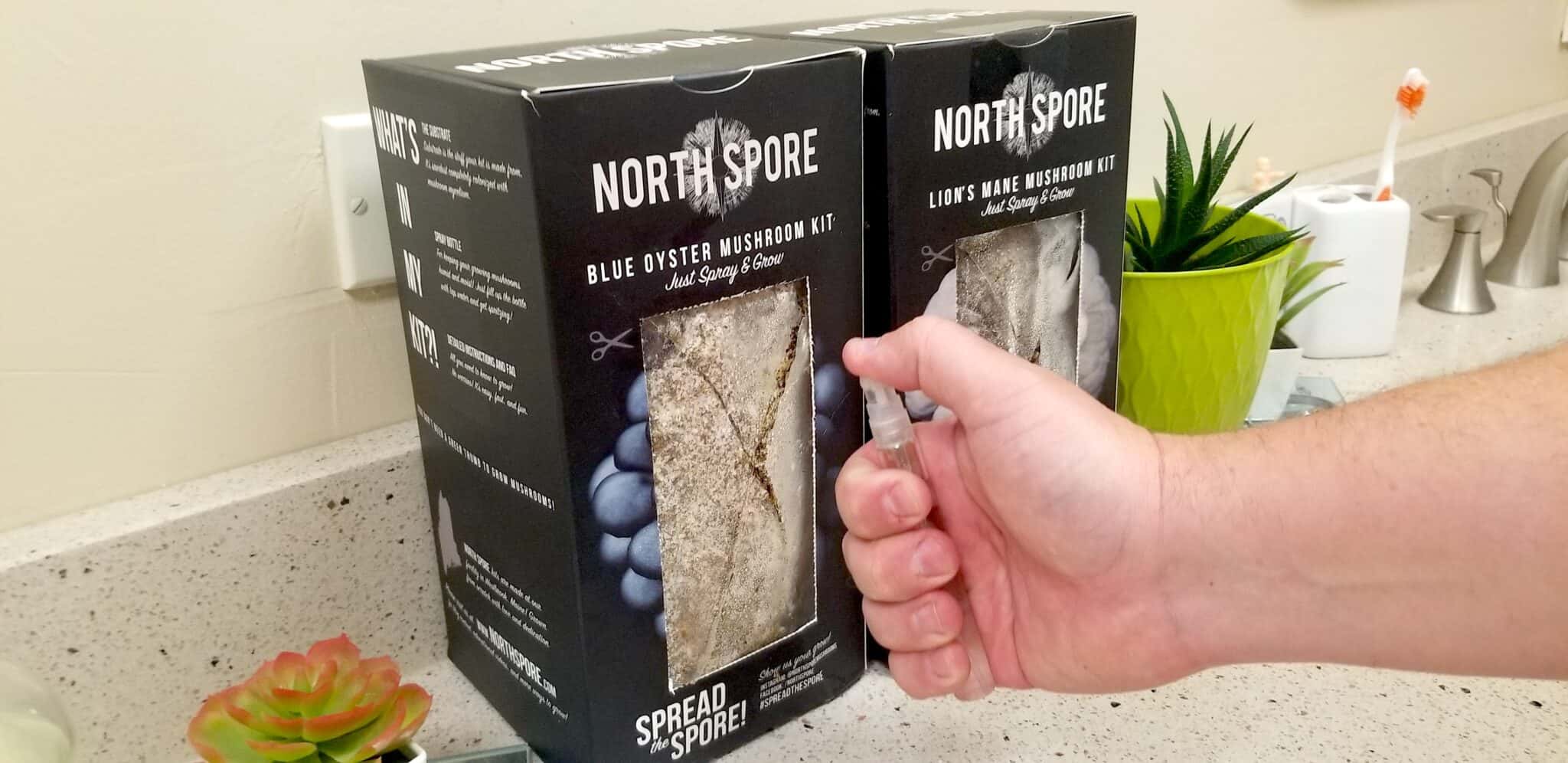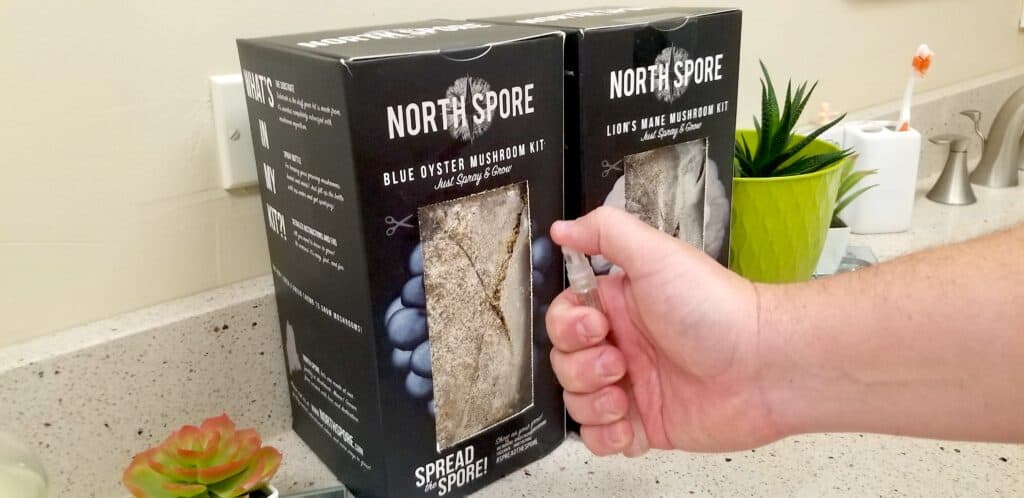 Spritz at least twice daily (more if you live in a dry climate). We decided to place these on our bathroom countertop as our sinks are in a separated room with no windows. That way we can easily monitor them and enjoy the process! We spritzed in the morning and at night.
Growing Blue Oyster Mushrooms: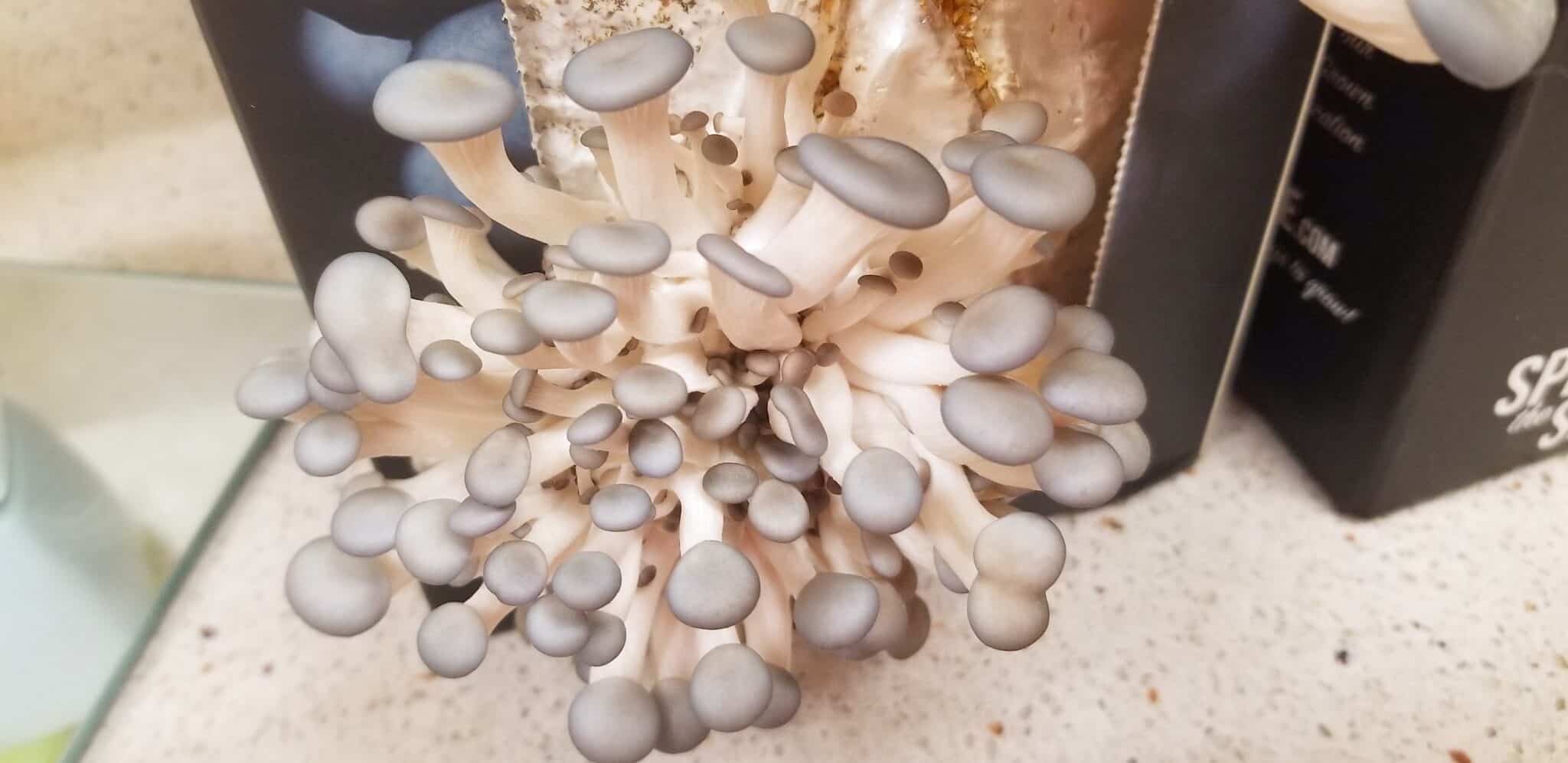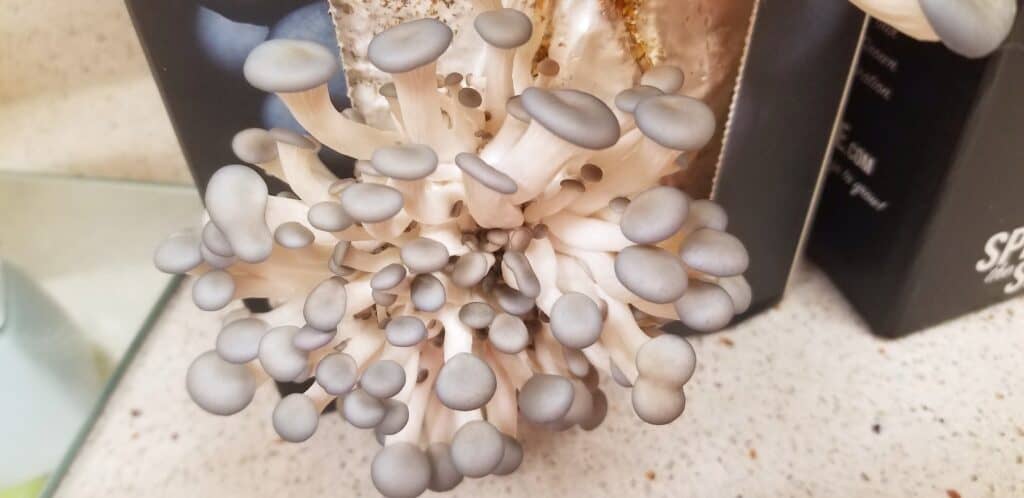 Look for mushrooms in about 2 weeks! Above you can see our Blue Oyster Mushrooms growing – this was day 2 once we saw growth (which happened in under two weeks!). Within a few days your blue oyster mushrooms will be ready to eat!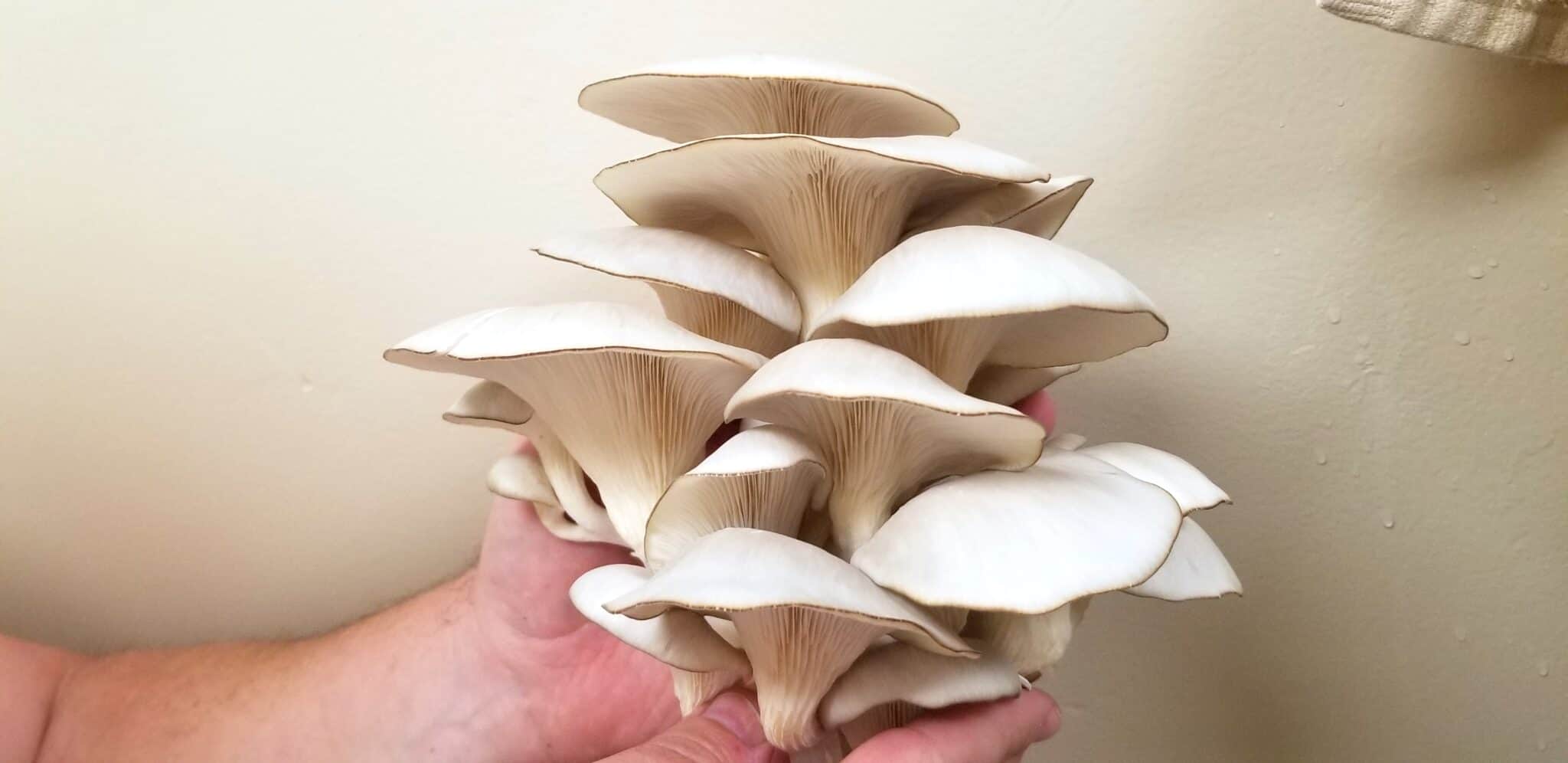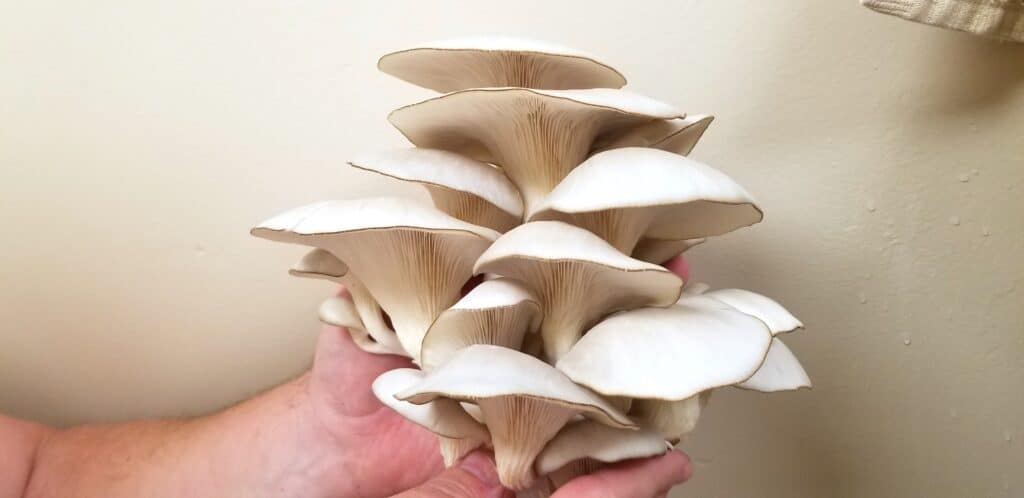 I couldn't believe how FAST the blue oysters grew! If you watched closely you could almost see them grow! Well, it felt like it anyway. There was a vast noticeable difference from morning to night each day as these blue oysters took on a life of its own!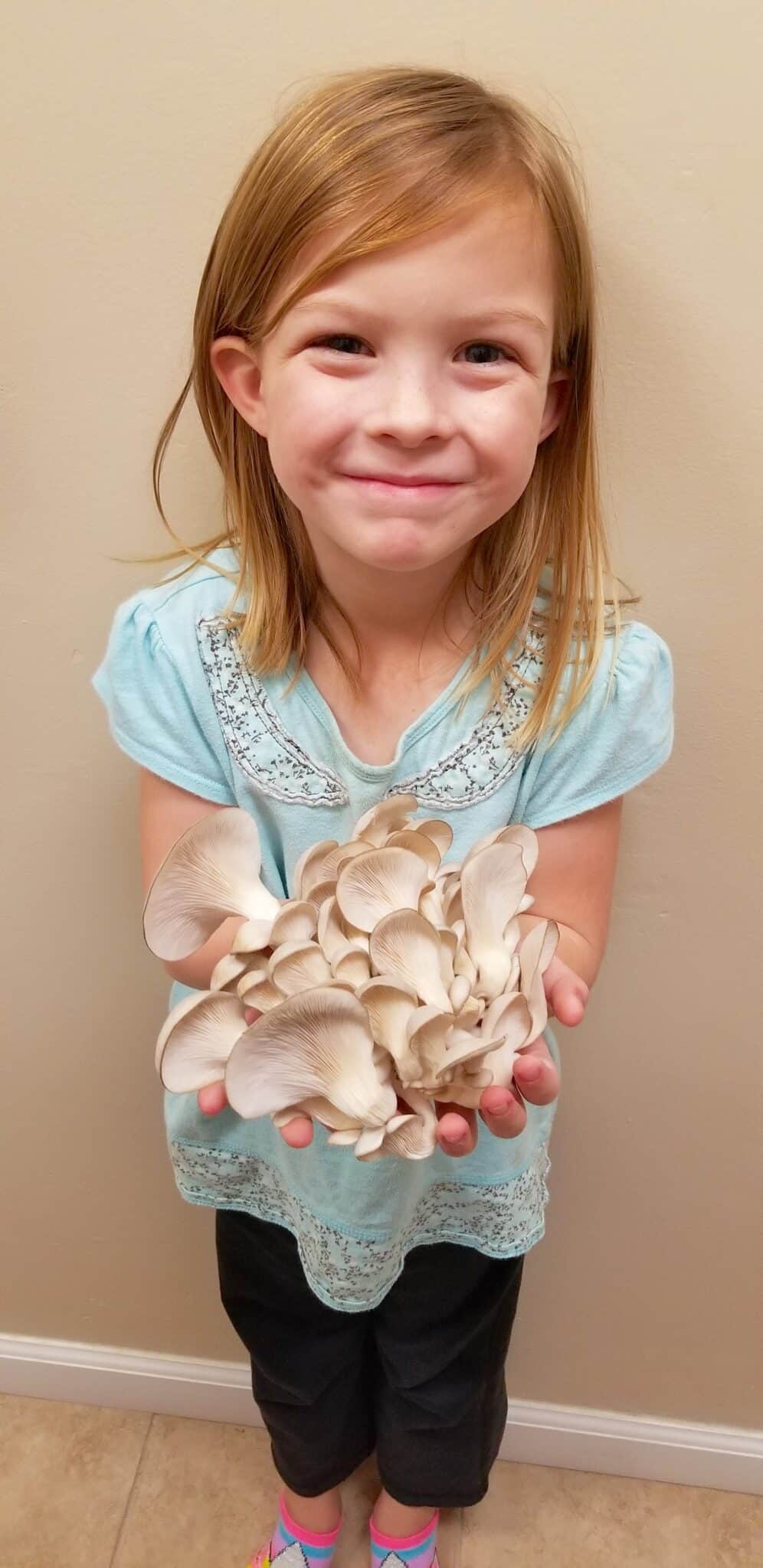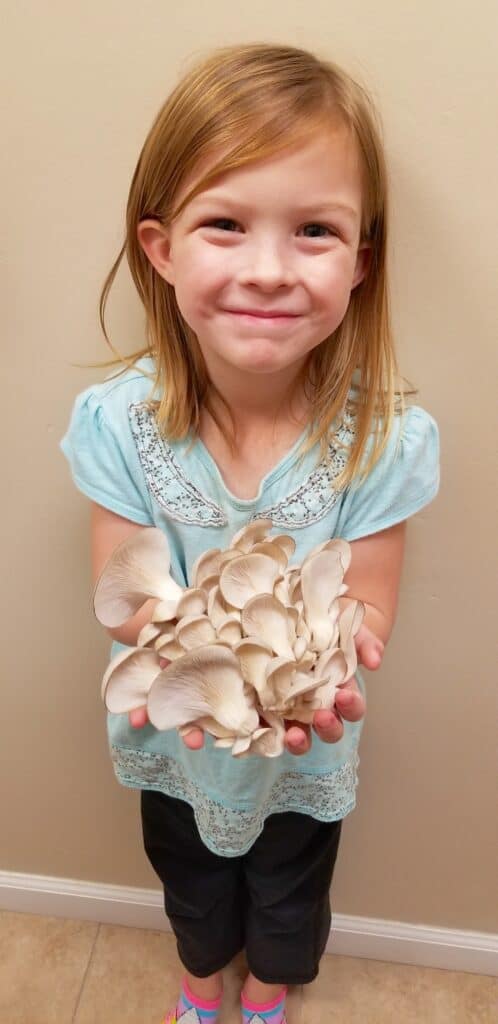 You can even place your kit outdoors after you've enjoyed your first round or two of mushrooms to try and grow some more! This has been a GREAT experience with our kids and would make an AWESOME classroom science lesson to watch!
If you're looking for a QUICK growing mushroom with big "WOW" results, I definitely recommend the Blue Oyster Mushrooms from North Spore! You can even try our mushroom spore art activity with these or forage some wild mushrooms for the spore project! (Please do NOT eat or taste wild mushrooms unless you are 100% positive what you are eating!)
When you're ready to harvest just slice the mushrooms right off! My husband decided to harvest them all at the same time and immediately made deep fried mushrooms as well as adding these to our homemade pizzas! YUM! (You'll see below that I typically hate the taste of mushrooms so I have some tips for those of you who don't like eating mushrooms, but I actually didn't mind the thinner oysters!)
Growing Lion's Mane Mushrooms: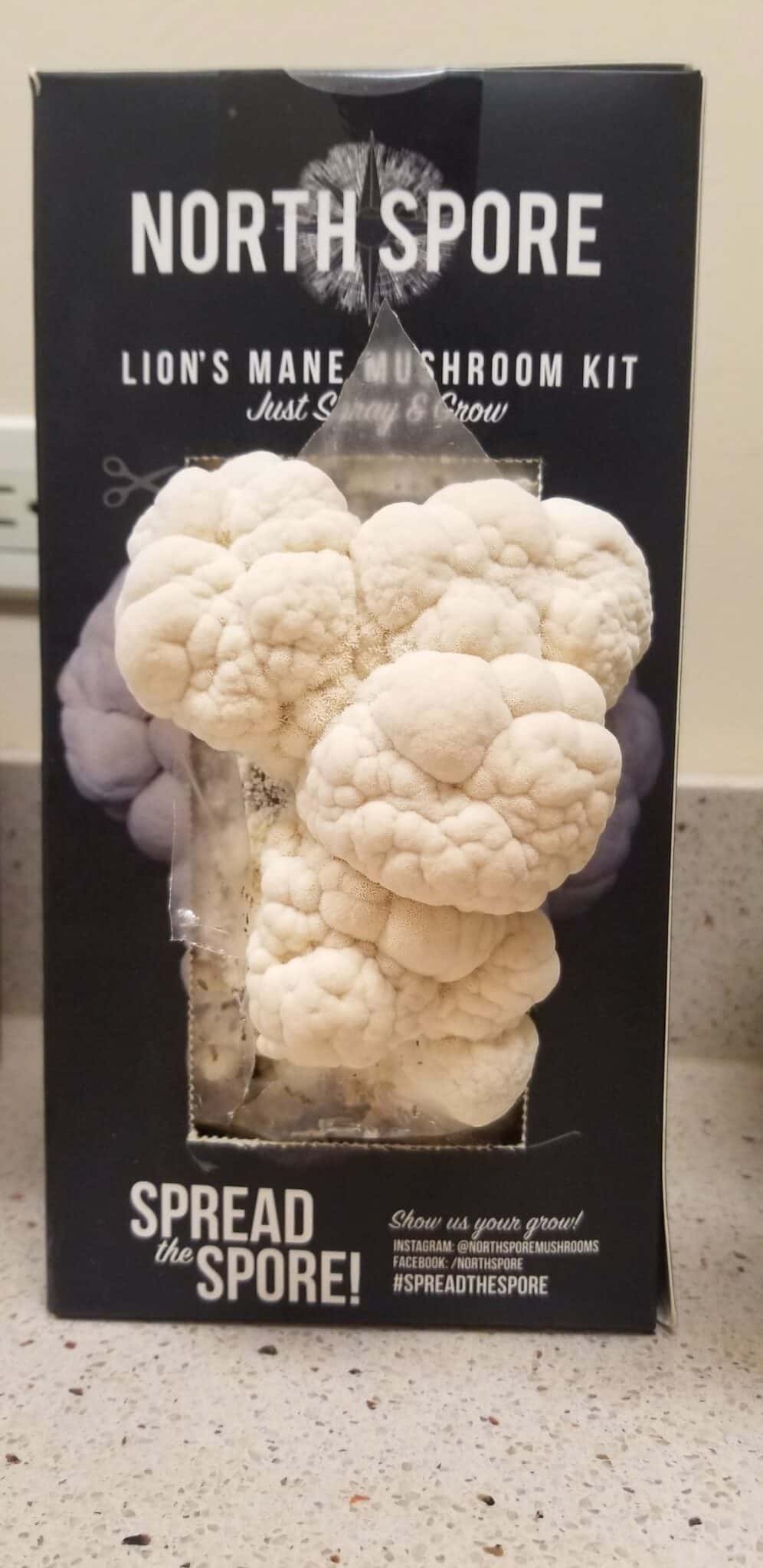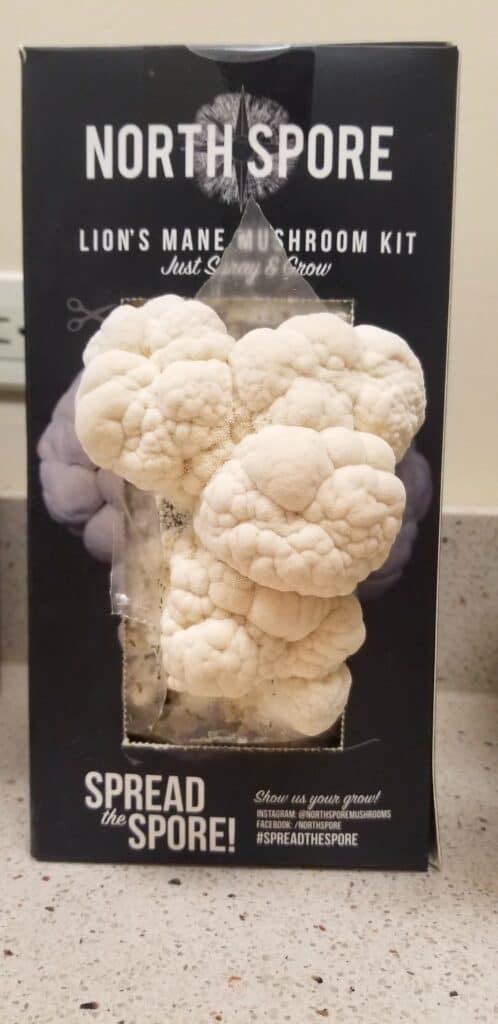 I was especially excited to try growing Lion's Mane mushrooms as I have seen many in my foraging groups but never actually found the mushroom myself outdoors. It grows quite slowly (especially compared to the blue oysters!) so patience is key here!
By the time we had grow (and eaten!) our first set of blue oyster mushrooms our Lion's Mane mushrooms had just barely become visible! Above is a full week after we harvested our blue oyster mushrooms for reference.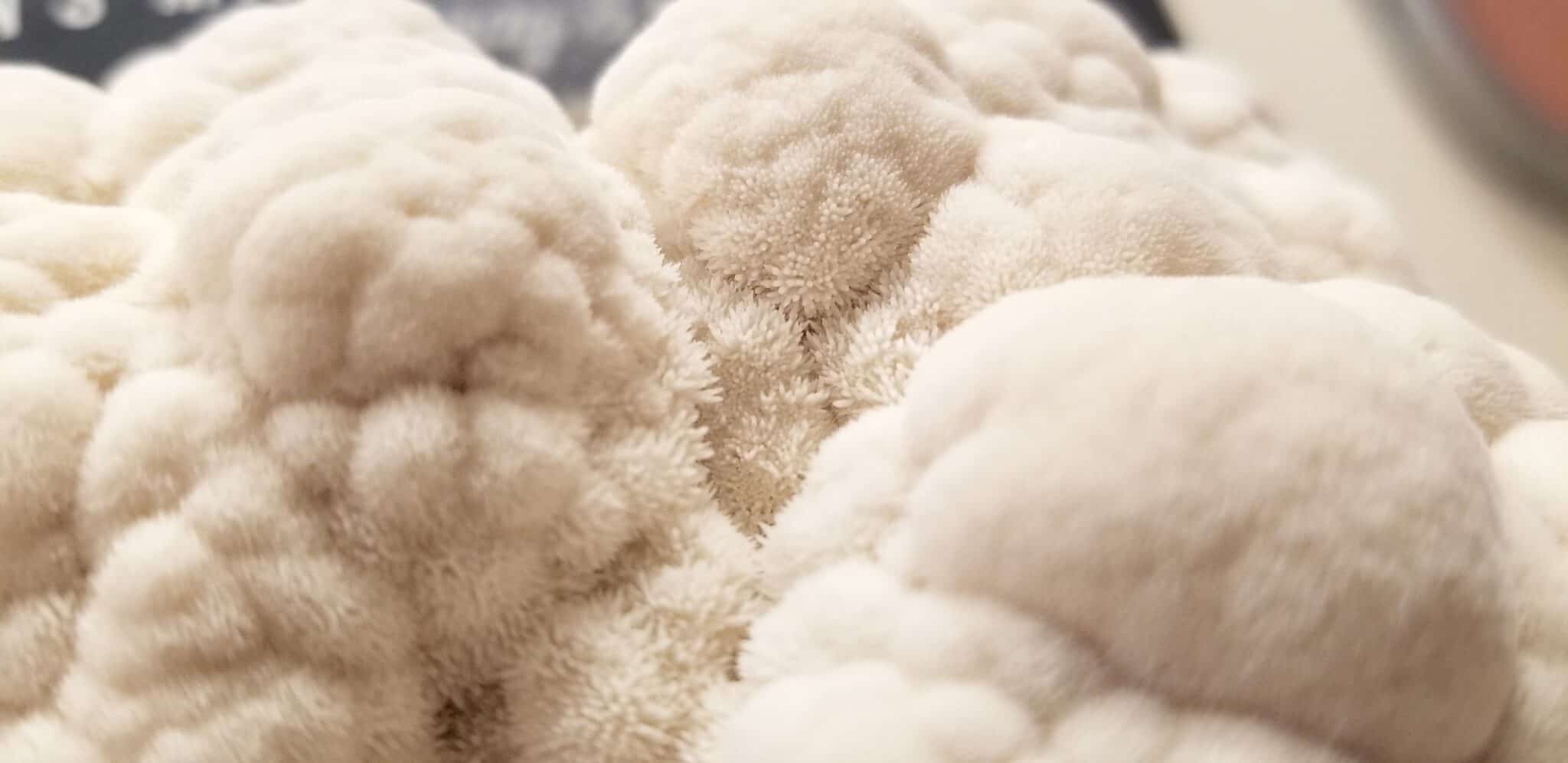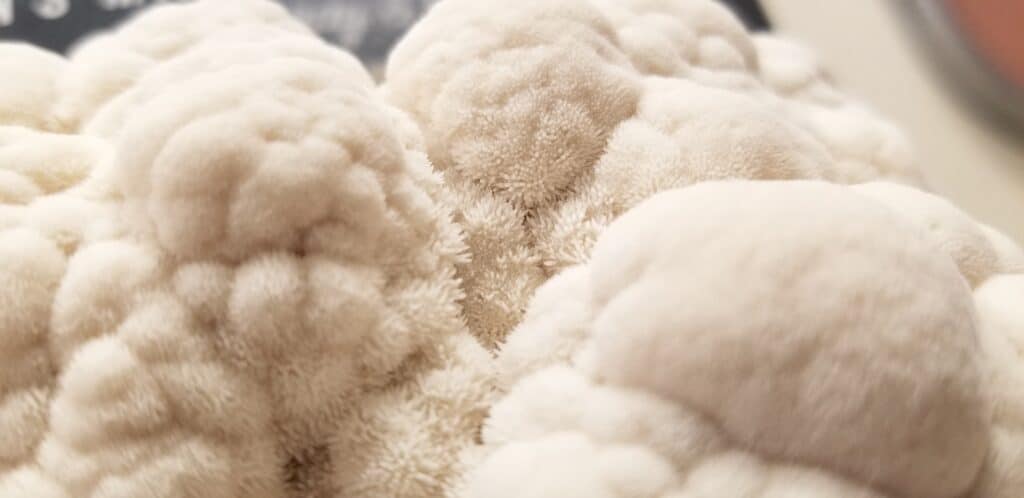 Lion's Mane mushroom is classified as a tooth fungus. It grows "tooth" formations that resemble long skinny spines as it gets bigger. Above you can see the start to the Lion's Mane spines as they grow. I actually can't wait to taste these mushrooms as I've heard they have a lobster or seafood type flavor!
I'll be updating the post when my Lion's Mane gets big enough to harvest!
3 Tips for Eating Mushrooms when you Hate the Texture:
Let's be honest here for a minute. While I have a biology degree and am absolutely fascinated by fungus (and am pretty obsessed with foraging for them), but I don't actually like the texture of mushrooms in general – at all! Nor do my kids! I give them to my husband to eat since he's a mushroom fanatic.
However, I realize many mushrooms have tremendous medicinal benefits, especially to those of us with autoimmune issues. Here are a few ideas for you to help increase your mushroom intake when you just can't handle the texture of mushrooms (my kids will eat them this way too!):
Brew it in a tea! Some mushrooms make amazing teas! You'll need to dry them and grind them first!
Turn them into supplements! You'll need to dry them and grind them first! You can then mix it in your food or add it into a capsule! You can also look into turning them into a tincture.
Chop them up TINY and add them into your meals! My biggest issue with eating mushrooms is their texture. But I have found I can absolutely tolerate them if they are chopped up to tiny bits (think mushroom soup!) and added into our roasts, spaghetti sauce, and other meals where you can mix it in with other ingredients! You can even break them down into a puree first if you need to or freeze them to alter the texture a bit!
Other North Spore products:
Mushroom Growing Countertop Kits
Mushroom Growing Log Kits
Dried Mushrooms
Mushroom Tinctures
Mushroom Substrate
Mushroom Spawning Tools
Varieties of Mushrooms Offered (at the time of this post):
Indoor Growing Kits:

Lion's Mane

Blue Oysters

Pink Oysters

Golden Oysters

Dried Mushrooms:

Morel

Chanterelle

Porcini

Lobster

Outdoor Growing Kits:

Nameko

Snow Oyster

Chestnut

Hen of the Woods

Blue Oyster

Golden Oyster

Italian Oyster

Chicken of the Woods

Shiitake

Reishi

Lion's Mane

Wellness Products & Misc.:

Lion's Mane Tincture

Cordyceps Tincture

Immunity Blend Tincture

Reishi Tincture

Chaga Tincture

Chaga Tea

Mushroom Spawn

Sterile Substrates

Cultivation Equipment

Cultures

Lab Equipment
More About the North Spore Company:
North Spore began when three college friends took their love for mushroom foraging (and fungi obsession) to the public! They produce all of their own spawn at its facility and also makes the sawdust, plug and grain spawn for consumers. They have multiple mycologists on staff with Master's Degrees and trained lab technicians overseeing our in-house laboratory, culture bank, and spawn production. They are striving to be a community hub for fungi enthusiasts!
---
Other Popular Science Activities: