How to Make a Fire Snake Science Experiment with Kids
This post may contain affiliate links, view our disclosure policy for details.
My boys really love science experiments – especially when it comes to ones that have fire! This easy tutorial below will show you how to make a fire snake science experiment with kids! It's great to pair with tea bag rockets too if you're looking for other STEM science experiments with fire.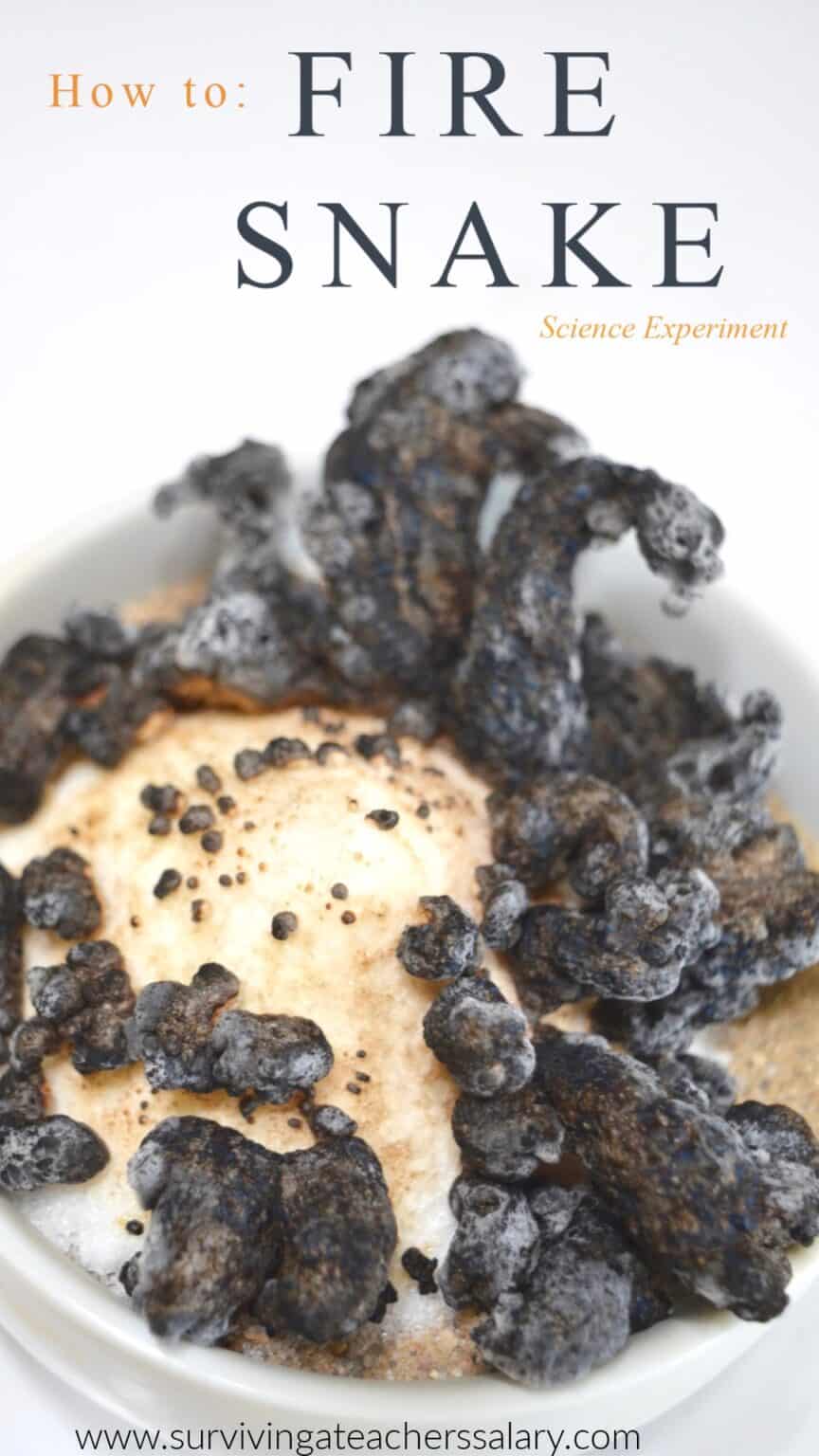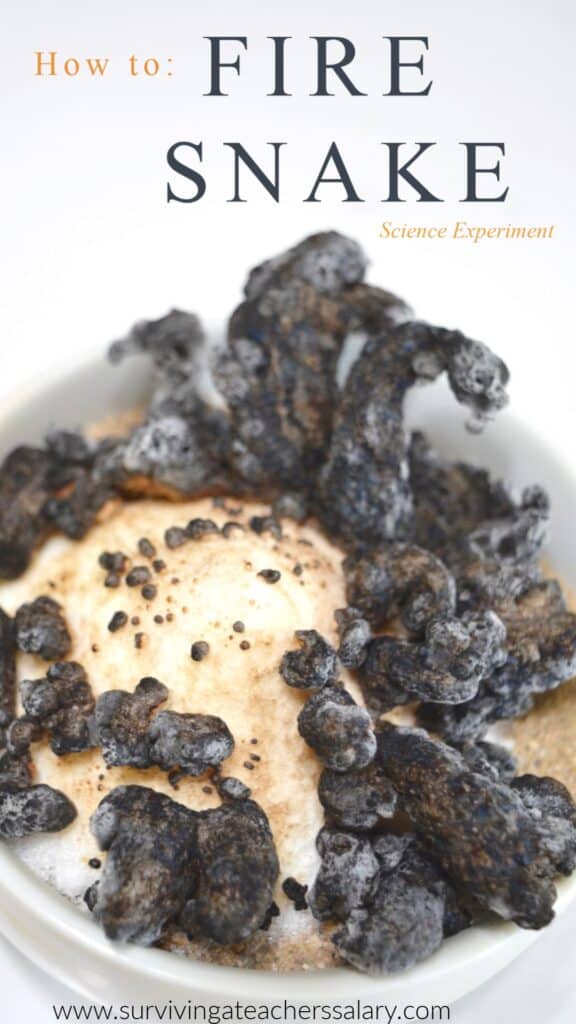 Doing science experiments with kids is an important tool of investigation that will really captivate your child's interest. Growing up I was obsessed with science (and nature!) – in fact my favorite "toy" growing up was my REAL chemistry set! (you know, the ones they aren't allowed to sell anymore?!)
There are plenty of "WOW" science experiments for kids that will have them whooping with excitement and begging to do the experiment over and over again. This fire snake experiment is one of them! Below are the materials, directions, and a video so that you can recreate the experience in your own home!
Fire Snake Science Experiment Materials:
Baking Soda

Sugar

Sand

Lighter Fluid

Lighter

Glass Bowl or Aluminum Tin
By following the fire snake directions below you can try your fire snake science experiment in TWO different ways for different results! Try them both and let us know which way you preferred!
How to Make a Fire Snake Directions:
First, start by filling the bottom of your glass bowl or aluminum tin with sand.
Most directions tell you to then saturate your sand with lighter fluid BUT we did ours differently because we wanted "baby snakes" everywhere! I recommend trying this fun science experiment both ways! (perfect if you have two kids that want to light the fire!)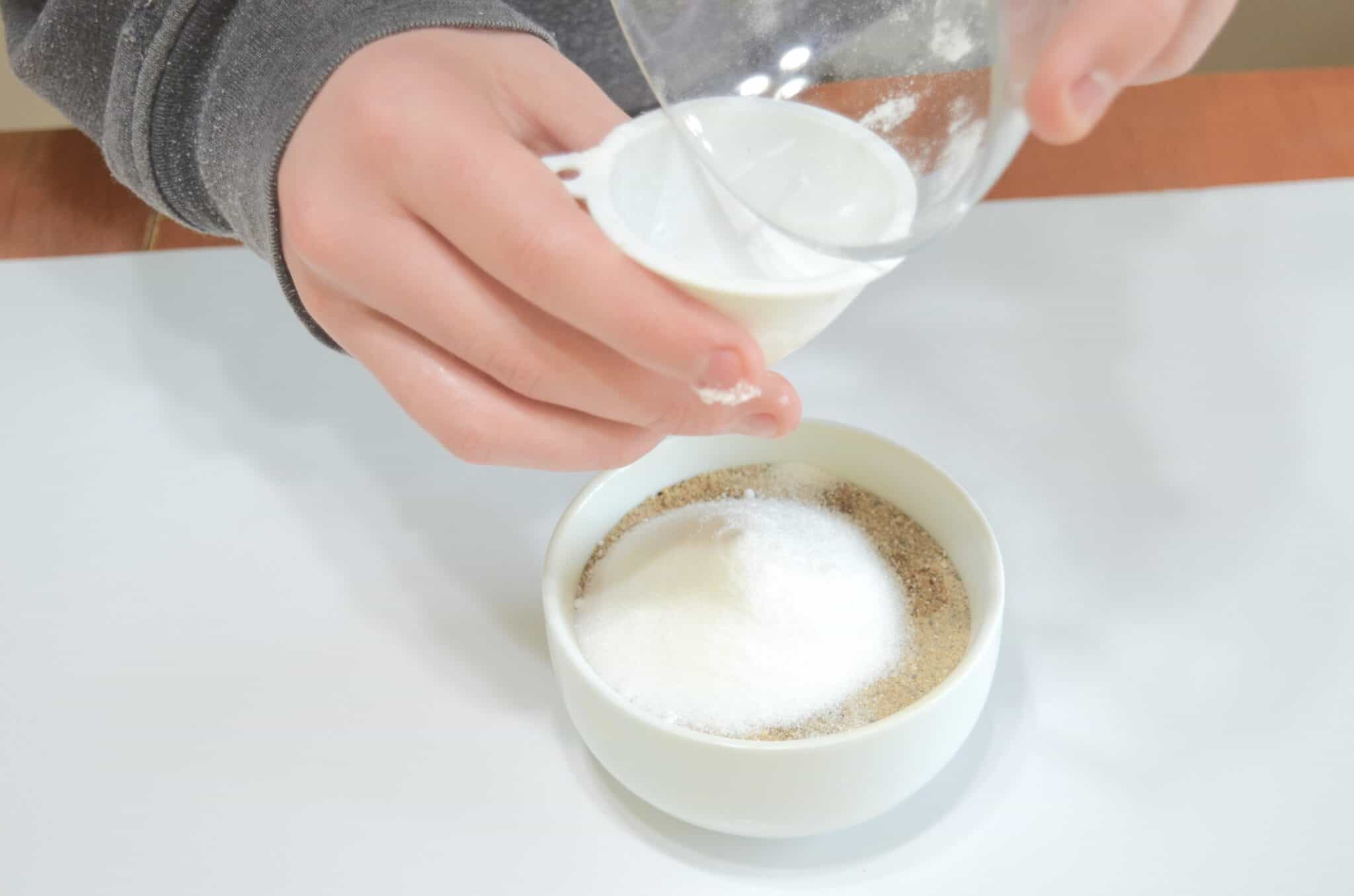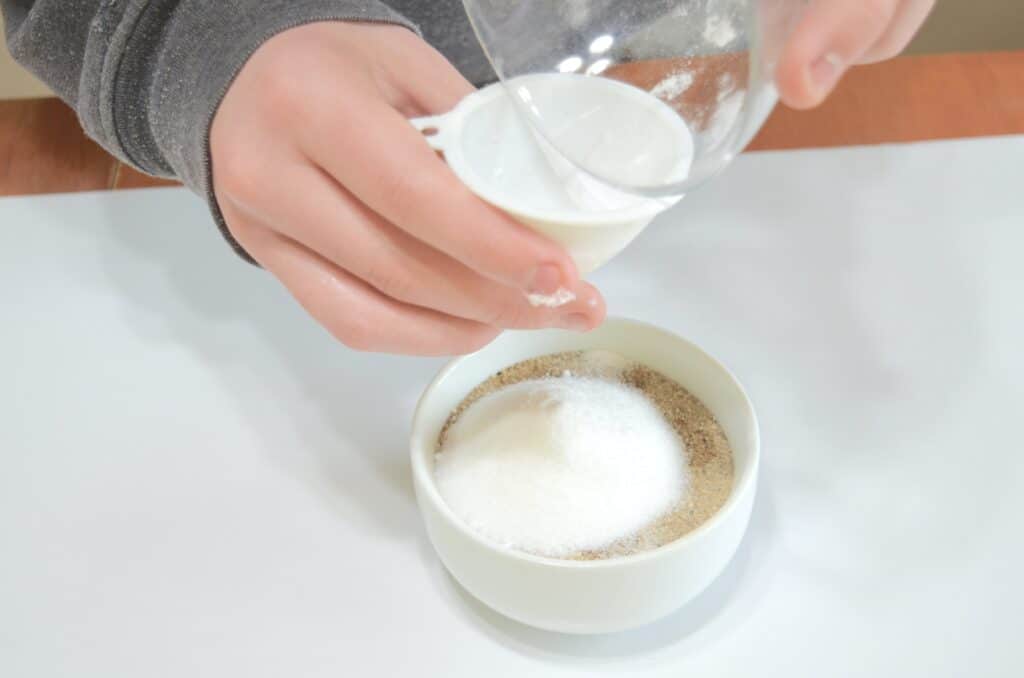 Add 4 Tablespoons of sugar and 1 Tablespoon of baking soda in a pile on top of the sand. You can use any amount of sugar and baking soda as long as you keep to the 4:1 ratio. We used a small funnel to help us pour the sugar and baking soda but that is totally optional.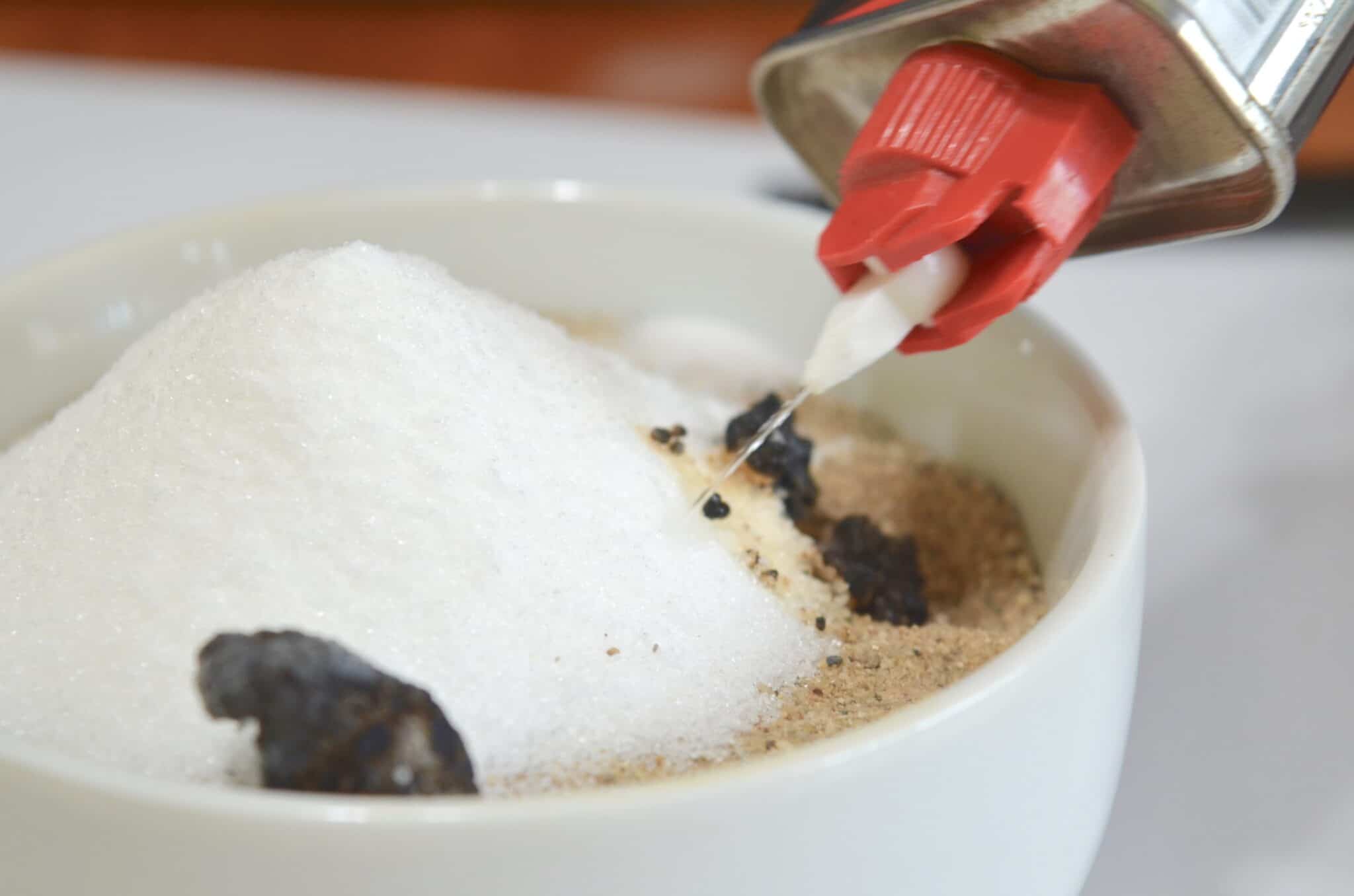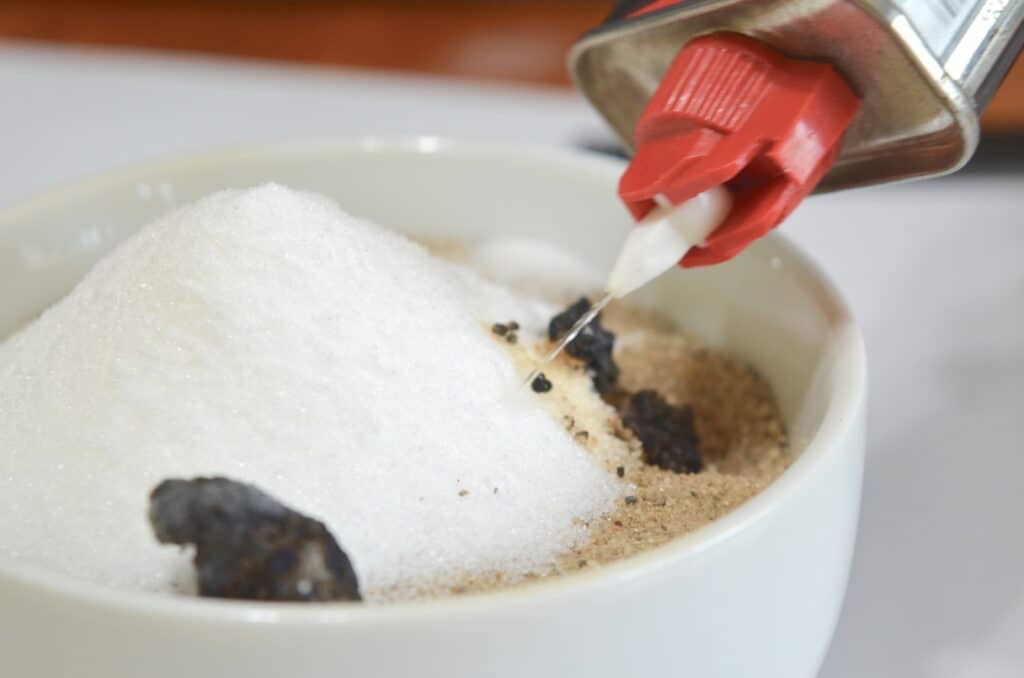 THEN squirt lighter fluid onto your sugar/baking soda mixture (unless of course you've saturated your sand instead). Essentially what you will see is baby snakes popping up anywhere your lighter fluid is once you have lit the mixture.
You don't want to short yourself on the lighter fluid – feel free to saturate it well!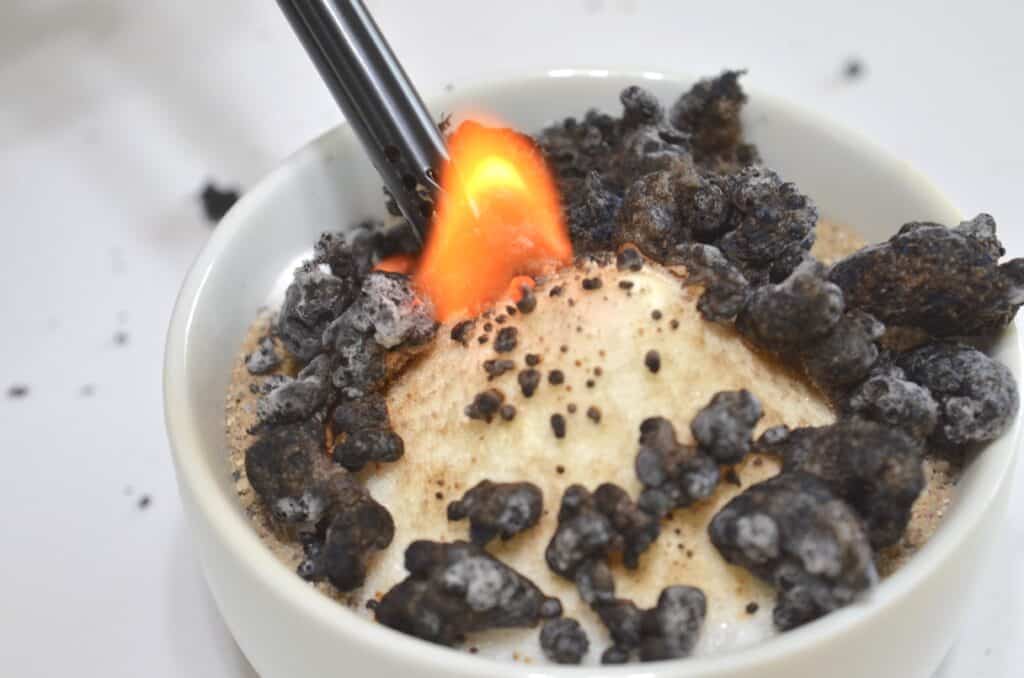 Go ahead and use your lighter where the lighter fluid has been placed! My goodness the results are mesmerizing to watch! Little black "snakes" will start popping up everywhere you light…..AND grow!
Once the snakes have COMPLETELY cooled off they are perfect safe to touch! Although be forewarned – they might leave you a little messy! It makes a great tactile sensory experience though for kids to investigate!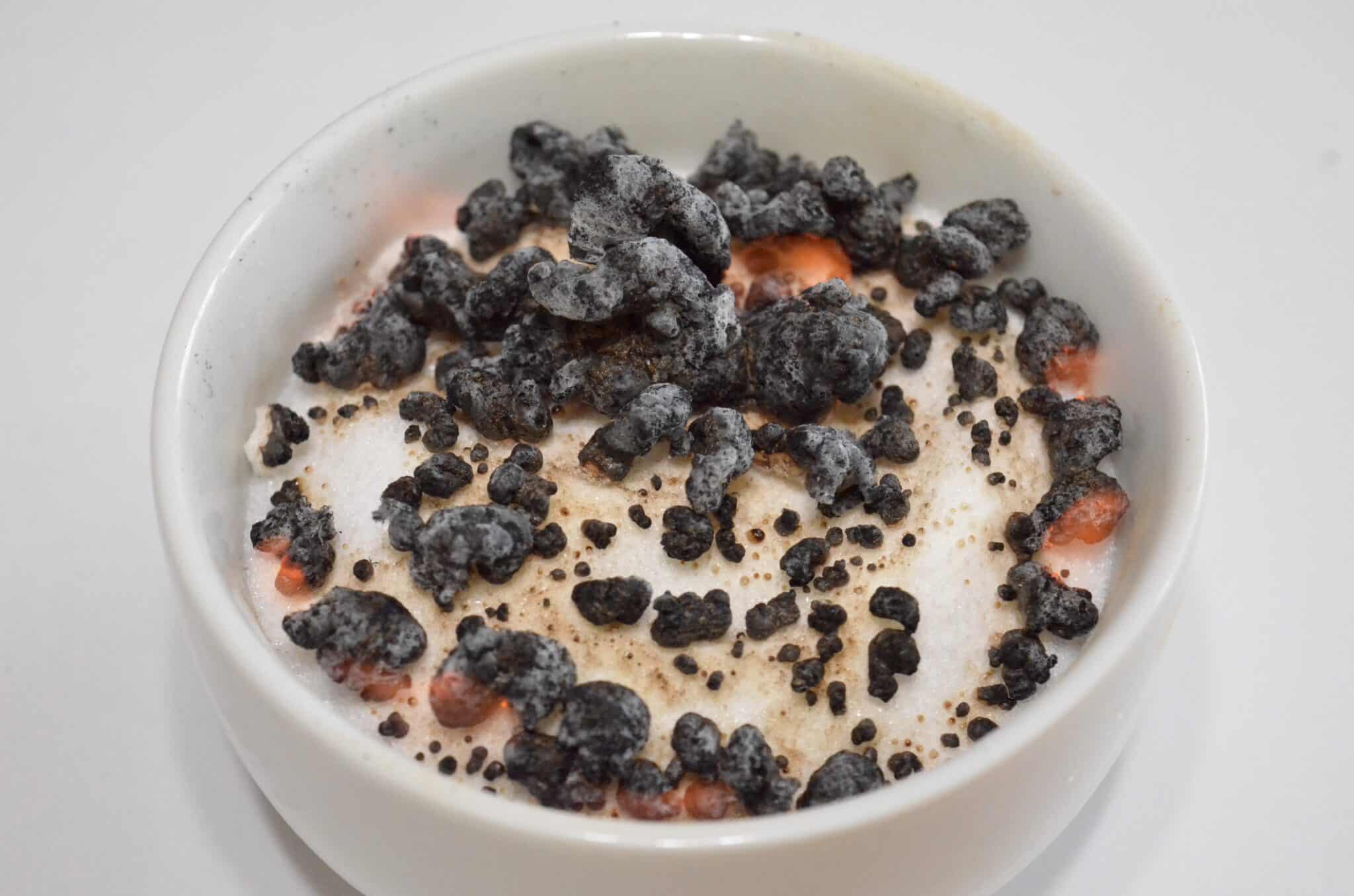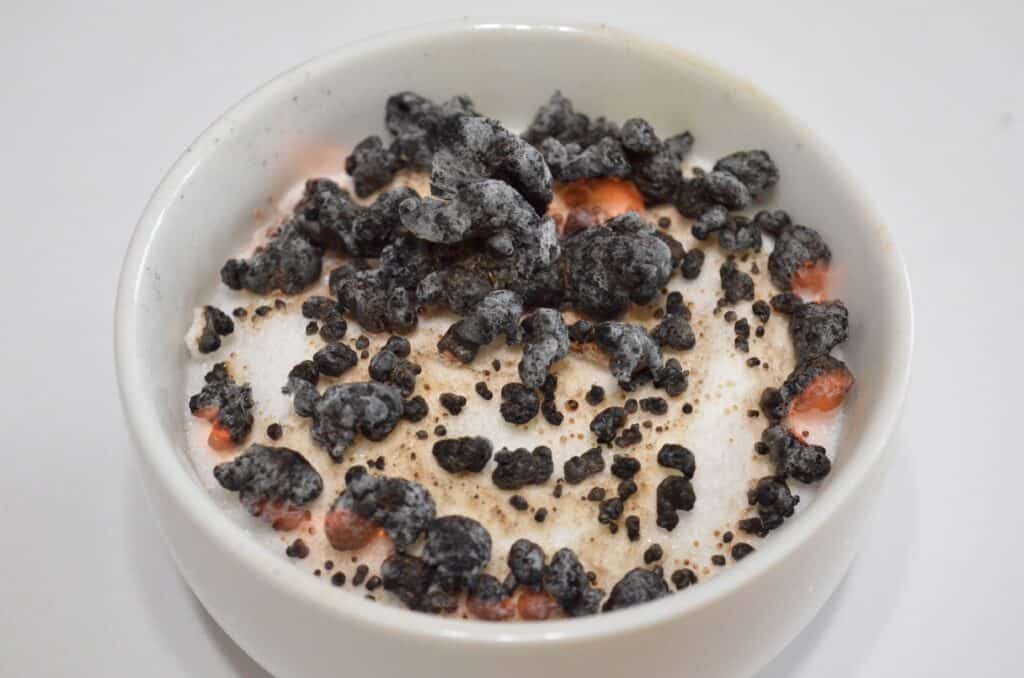 We did this experiment several times – pretty much until we ran out of supplies – because it is SO FUN to watch! Definitely check out the video we posted – it's a great close up overview of what you will expect when you do this experiment.
What a great hands on activity that kids can participate in! My boys LOVE fire so this is an easy safer science experiment for them to do with fire. Especially since the "fire" is so contained – there is little risk of real danger.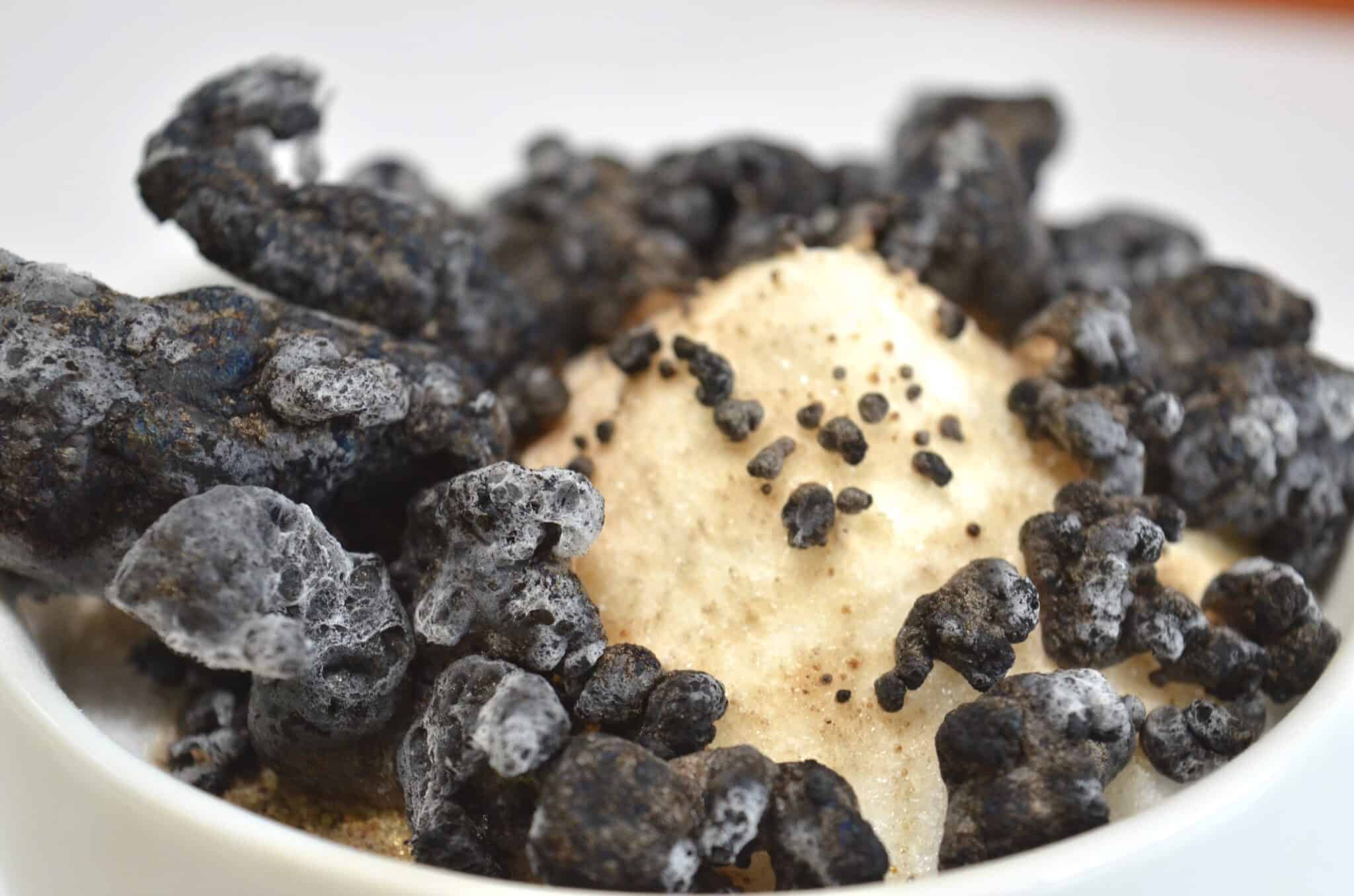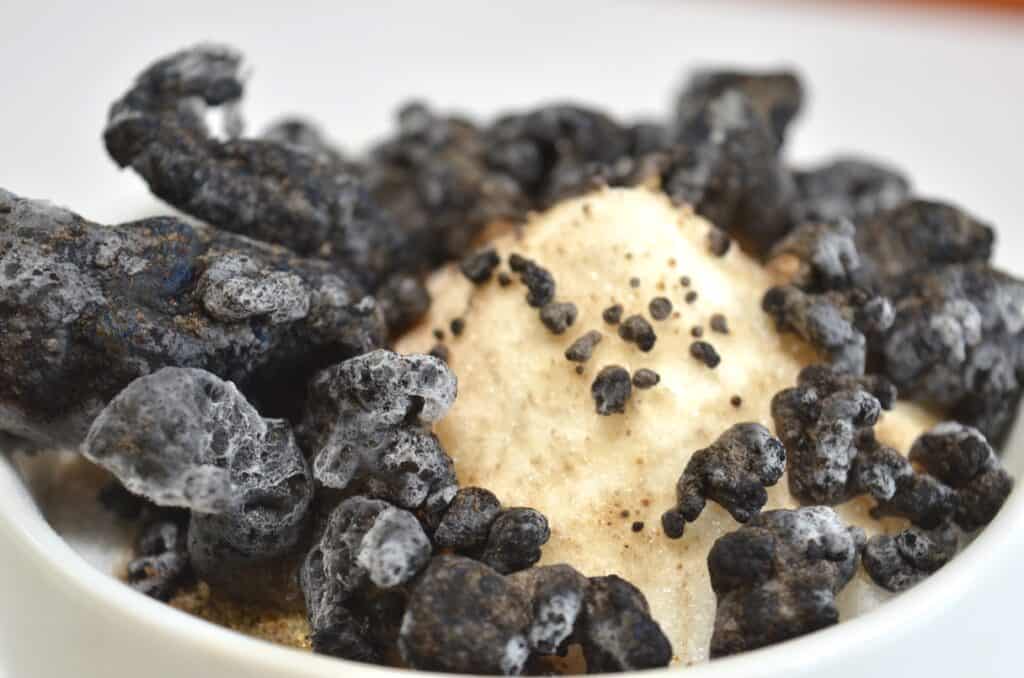 Here's a close up of the fire "snakes" that are created. The sand itself doesn't react to anything in the science experiment aside from distributing some heat. Although the snakes look hard and solid, they will crumble if you start messing with them.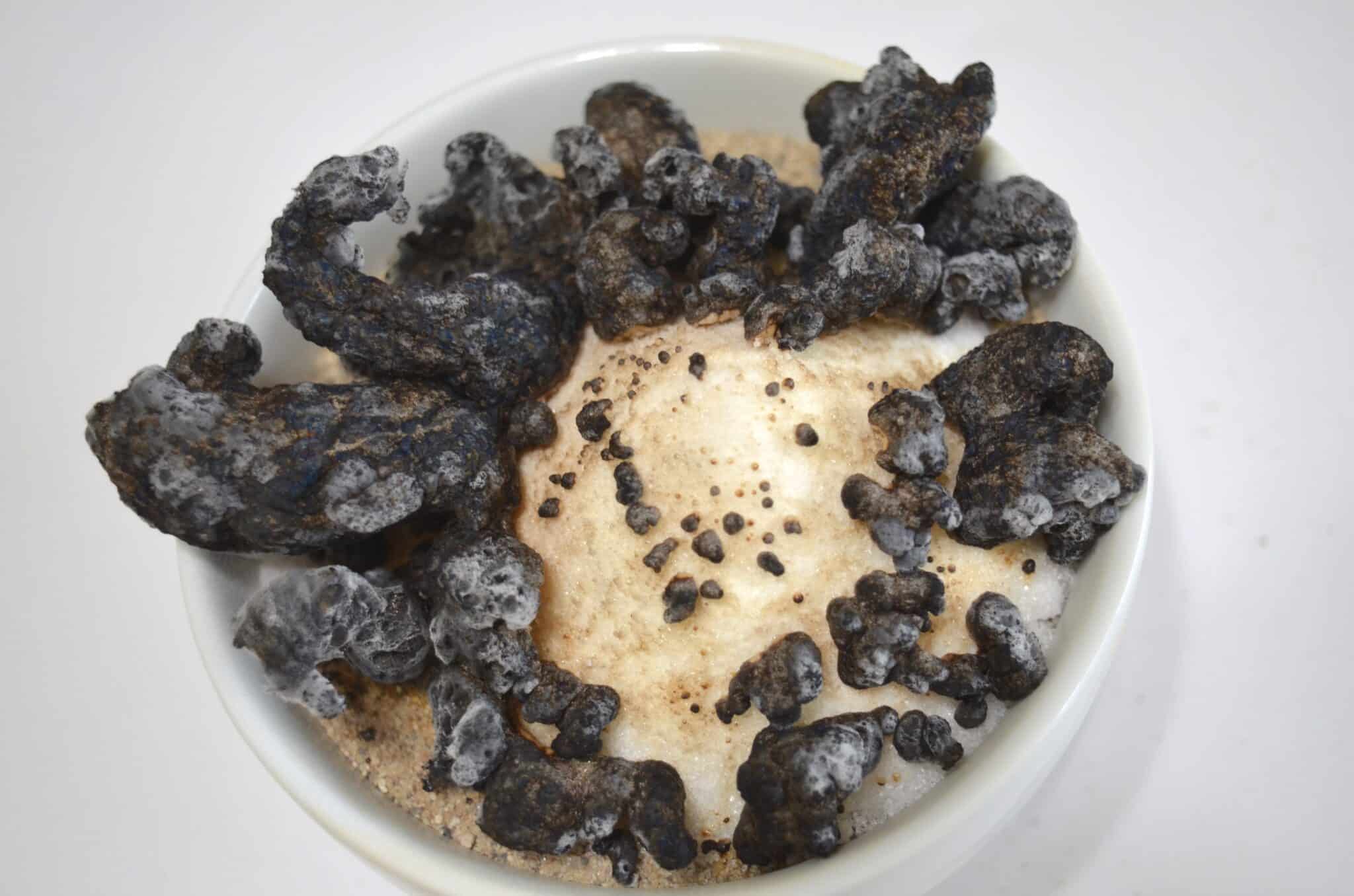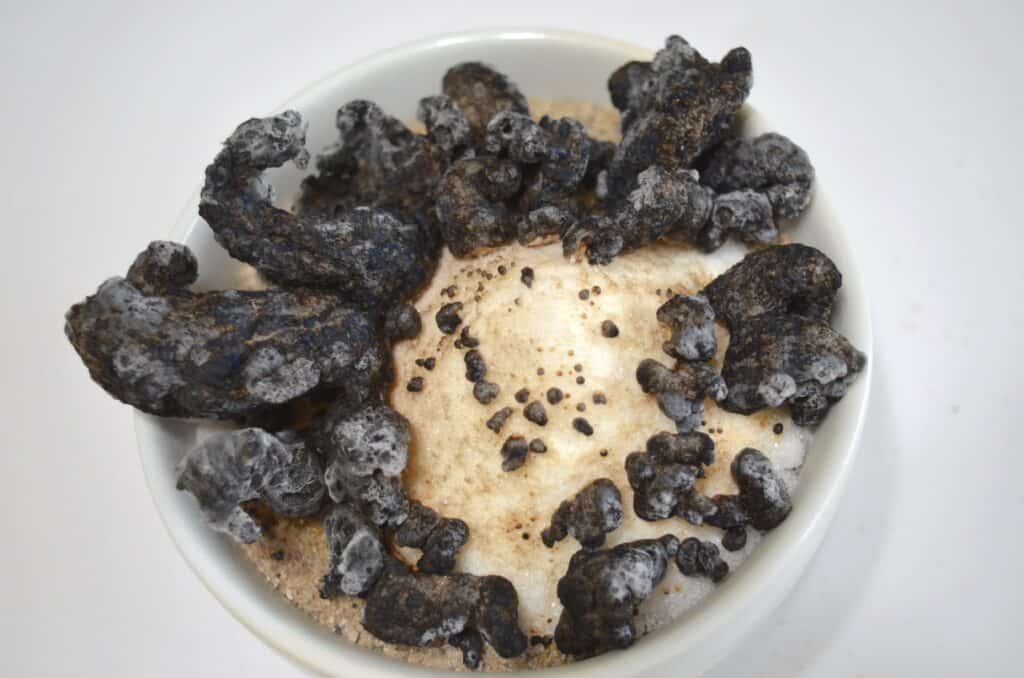 Every time you do this experiment although you have the same reaction, the art design will look different! It provides plenty of texture if your kids want to draw what each bowl looks like after you have created your snakes!
As with anything relating to fire, please make sure to have adult supervision available. We have free fire safety resources available too!
More STEM Activities for Kids: