DC65 ANIMAL Vacuum Available at Best Buy!
This post may contain affiliate links, view our disclosure policy for details.
The reviewer has been compensated in the form of a Best Buy Gift Card and/or received the product/service at a reduced price or for free.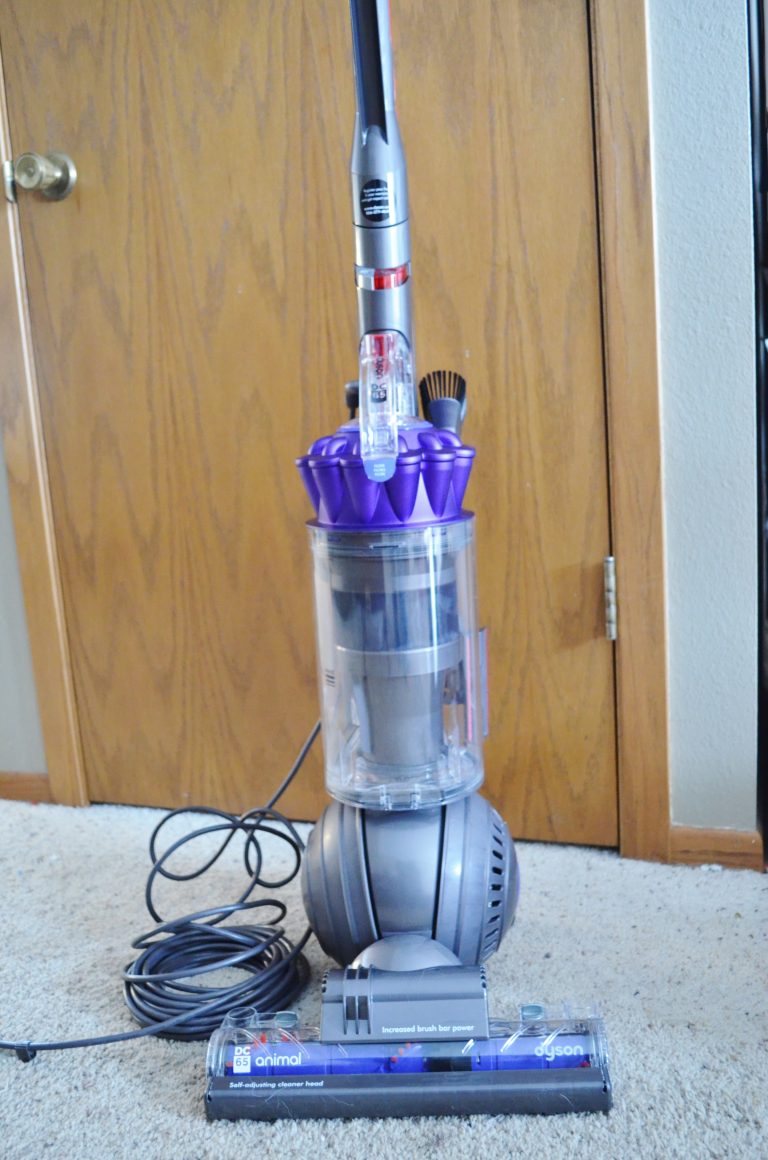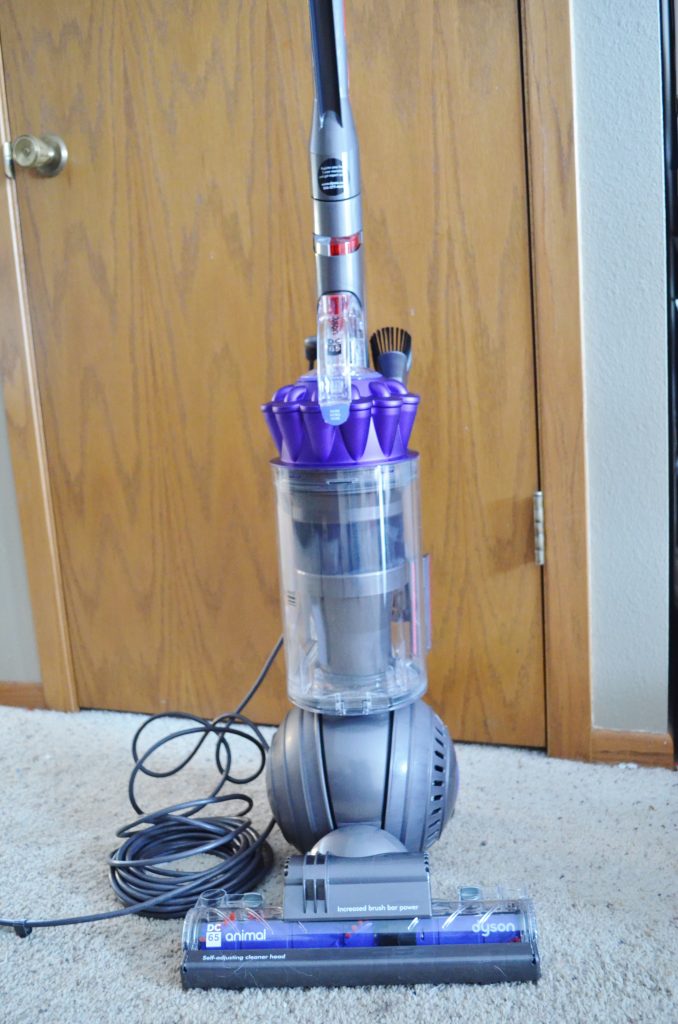 When my husband and I were first married (almost 10 years ago!) we had no money, quite literally! We did without pretty much everything, and for a long time after that we were just plain cheap. I won't lie! But being cheap came with a price……it came with knowing that not investing in the right products meant we would be buying them over and over and over again. Six years ago, after much research, we decided to invest in a Dyson Vacuum cleaner
– and we will NEVER buy anything other than a Dyson. That vacuum, now 6 years old is still running like a dream – no bags and no replaceable filters! So when Dyson asked if I wanted to try out the BRAND NEW DC65 ANIMAL I said HECK YEAH!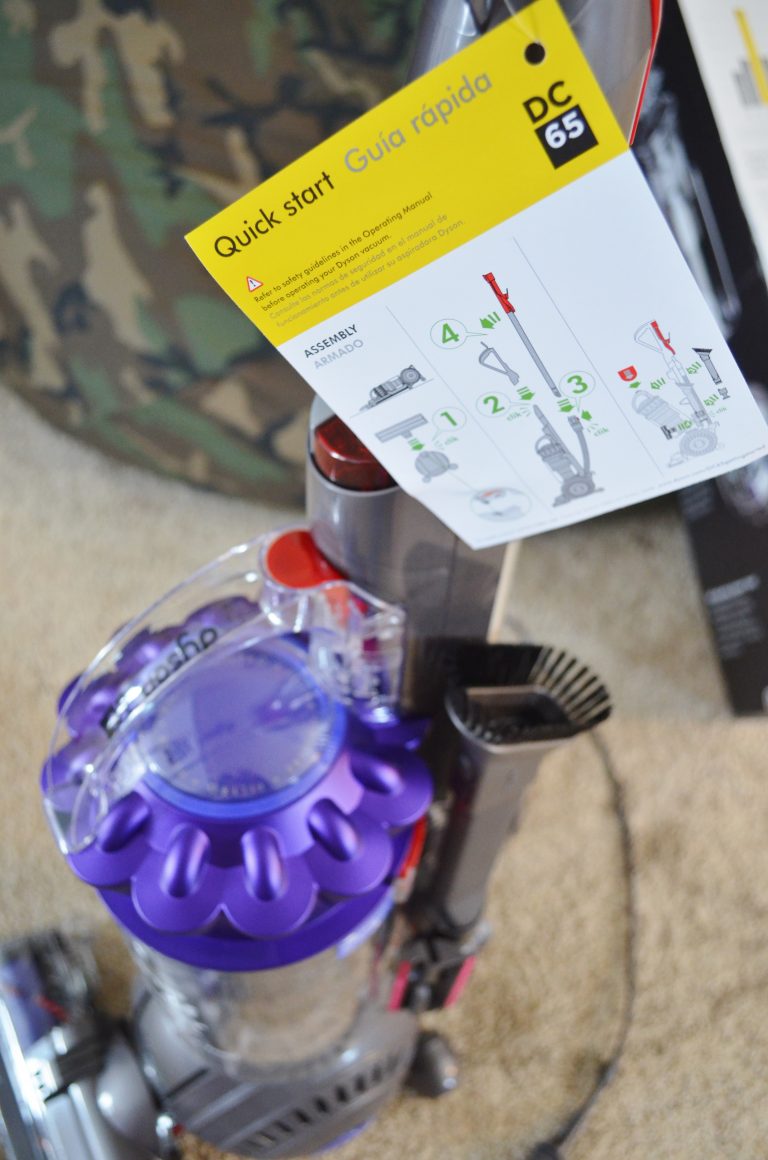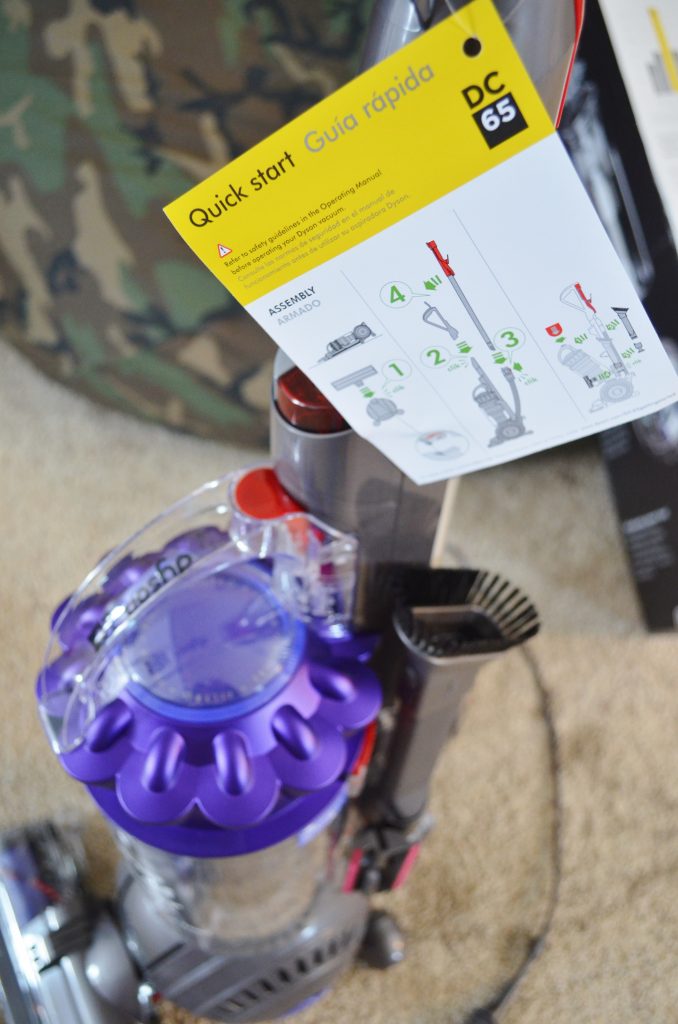 I was amazed at how complicated the Dyson DC65 ANIMAL was to put together! Thank goodness it literally had easy step-by-step directions attached right onto the machine! As you can see it is an upright vacuum, bagless, AND not only works on carpets but works on HARD floors too! Which is a HUGE plus for me as my house has both carpet and hard floors. This thing is such a breeze because I don't have to monkey around brooms and sweepers and vacuums – it's like an all in one system! Plus it's incredibly stylish and catches the eye of everyone that sees my vacuum out. The DC65 ANIMAL is available in 3 colors – platinum, fuchsia, and purple.
The DC65 has a 35 foot cord so if your house is smaller like mine there's no need to unplug and move the cord around! It also comes with a combination tool, a soft dusting brush, and a stair tool (my FAV new feature!!!). Oh my word I LOVE not having to lug a vacuum up and down the stairs to clean it (although in all reality I simply just don't clean my stairs because it's such a pain!). Check it out:
It's not only awesome for stairs but great if you tend to collect cobwebs up on your ceiling!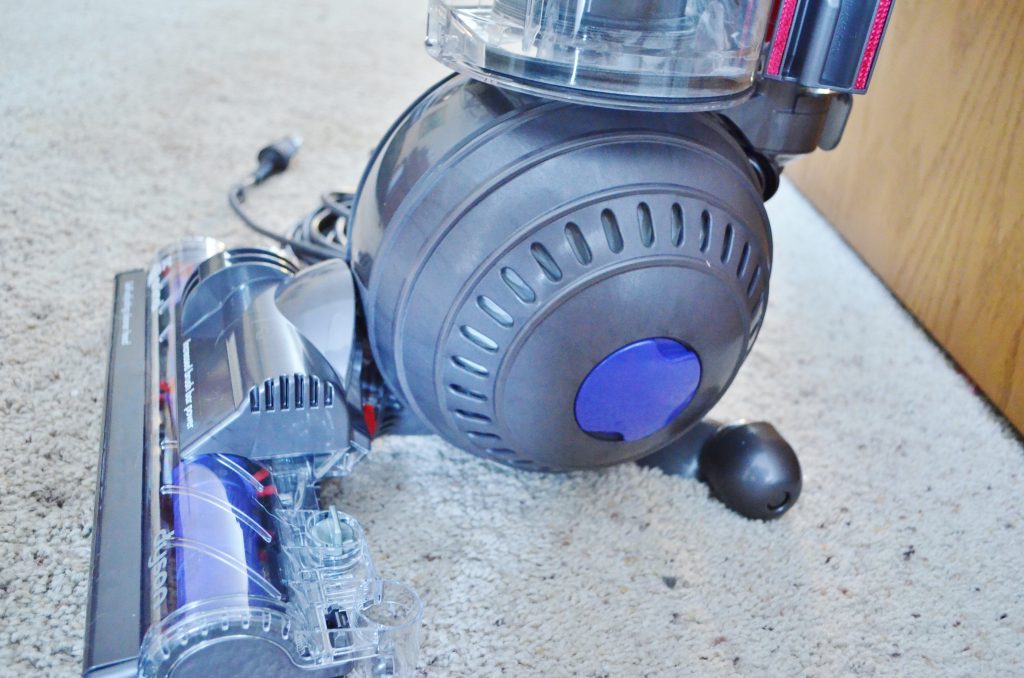 This bottom section we affectionately call "the ball". The DC65 ANIMAL is heavier than I'm used to but my other vacuum is not an upright so there is a huge weight difference! In reality it really isn't THAT heavy, but when you haven't used an upright in ages it takes some adjusting! The "ball" at the bottom actually allows you to pivot the vacuum around things like edges like you see in the photo below: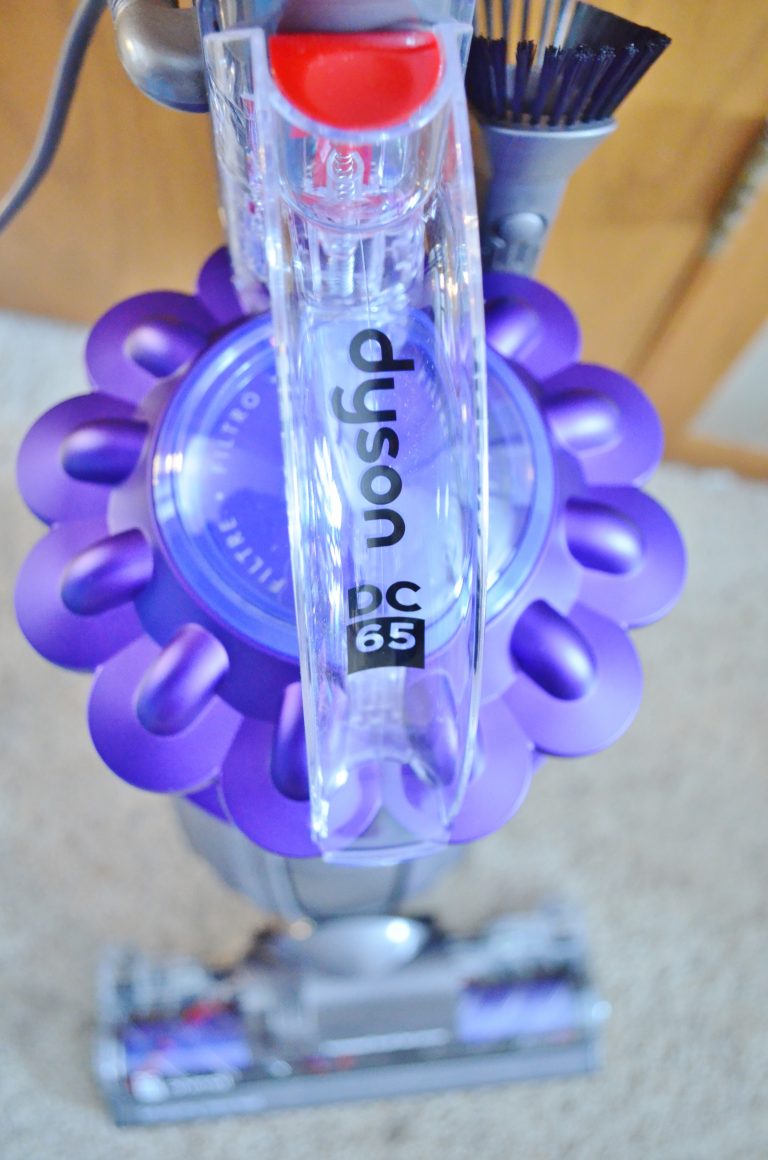 The DC65 ANIMAL has places to hold all of the attachments, and when the front canister is full you simply press the red button you see above to pop it off of the machine so that you can carry it to the garbage to empty it! I'm going to warn you – YOU MIGHT GET GROSSED OUT! I'm not kidding – my own complaint to the Dyson rep I talked to last summer is that their products suck SO well and cleans my carpet SO well that I feel like I'm living in a gross disgusting place! Are you ready to see what I pulled out of JUST my living room?!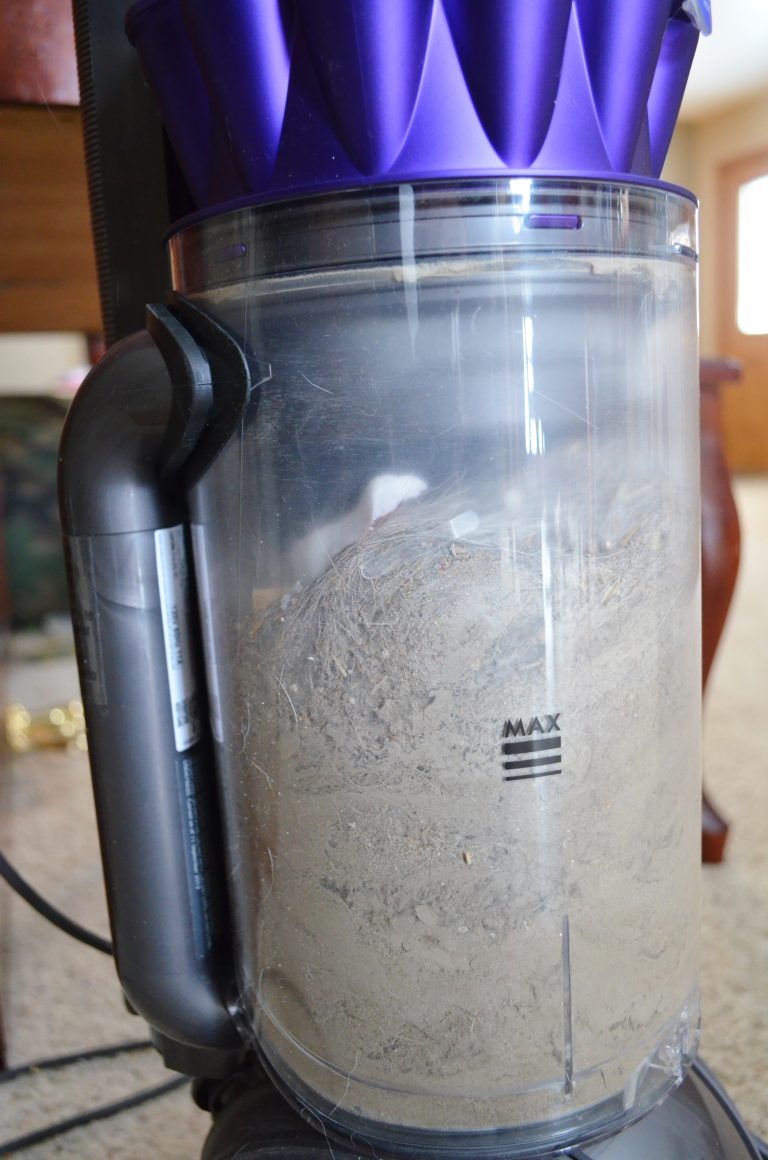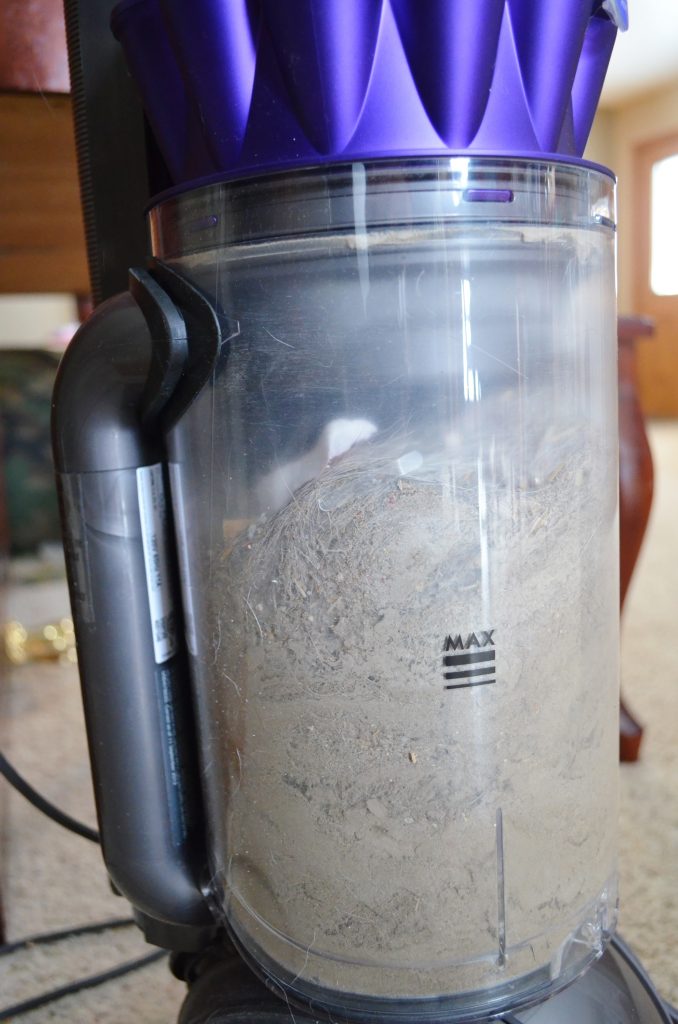 How gross is that!!?! And YES I do regularly vacuum my carpets, but lately only with a quick handheld vacuum. This new DC65 ANIMAL is a BEAST at cleaning. As you know we have a LOT of animals and plenty of dust during harvest season out in the country so I am constantly cleaning my carpets. Especially since my kiddos tend to have allergy and asthma problems so a good vacuum is an absolute MUST. You can actually see the dust, paper, and animal hair in the filled canister above!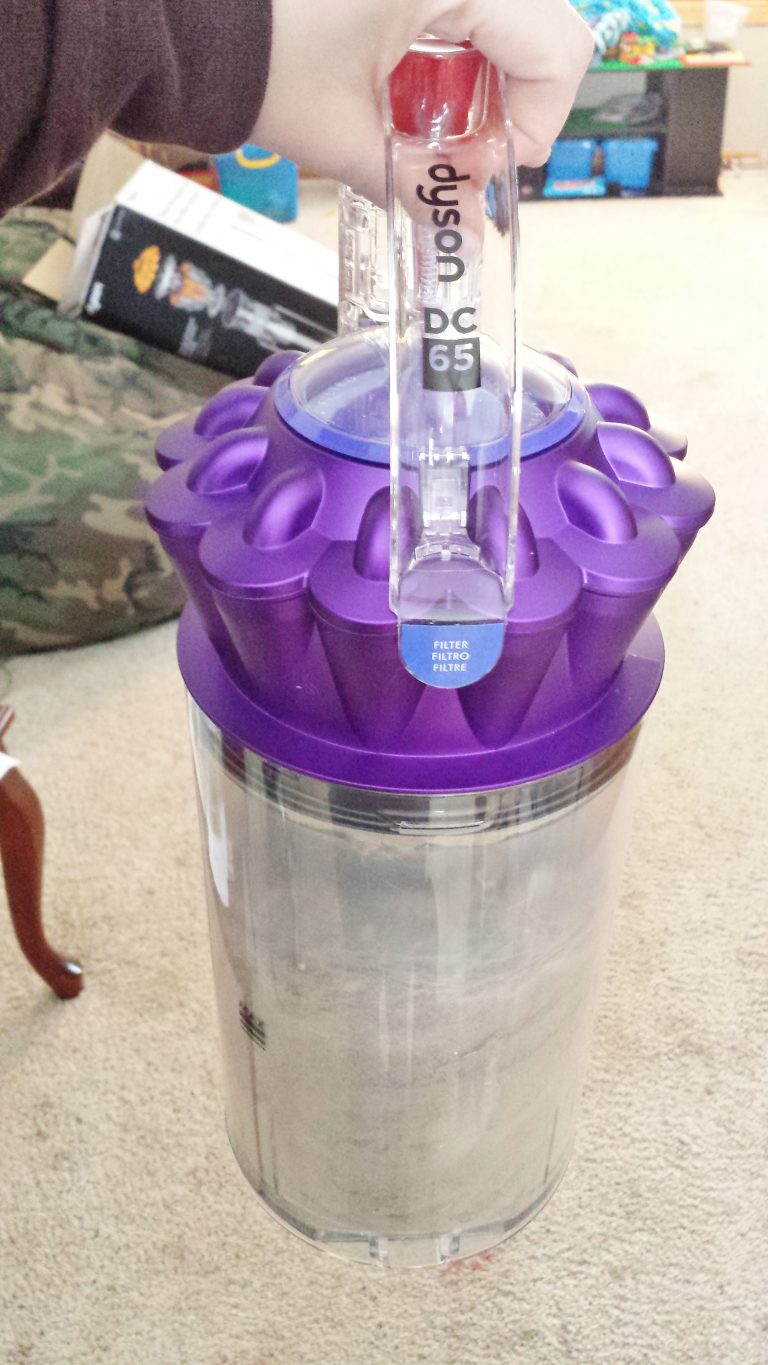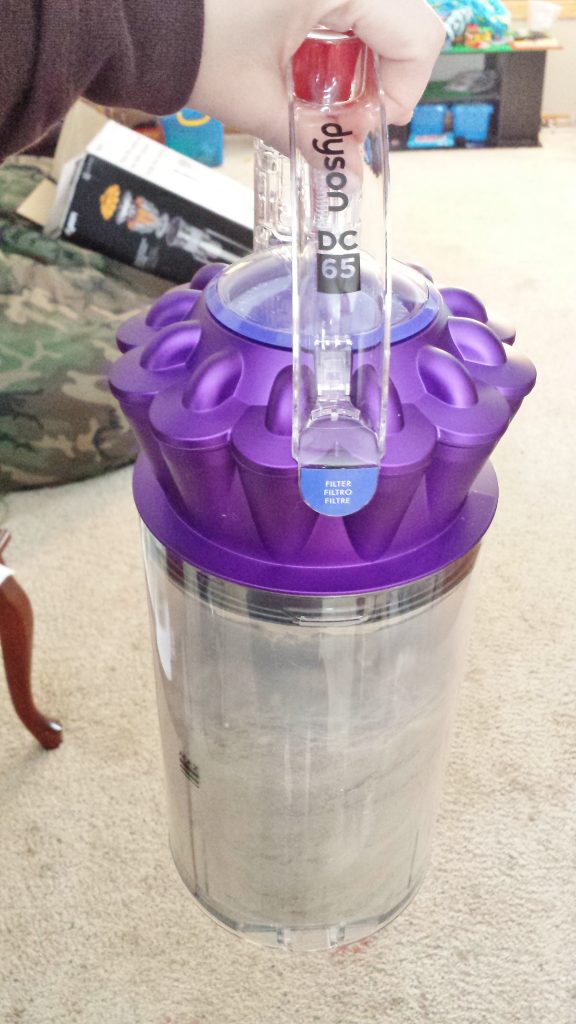 This is just a quick photo to show you how the canister separates off of the vacuum for emptying if you're not familiar with a Dyson. Dyson is KNOWN not only for it's high quality but that it sucks 2x's better than any other vacuum. This baby is built to last for 10 years! My kids will be looking at colleges in 10 years! Pretty much everyone I've ever talked to cringes a little at the price, but everyone that has ever actually owned a Dyson has also told me they will NEVER buy anything BUT a Dyson and it's worth every penny. And I will adamantly agree with that! Our family will never buy another brand – nothing beats the quality, durability, and sucking power of a Dyson!
The basic DC65 for Multi-Floor is $499. The ANIMAL (comes with TFT and dusting brush) is $599, and the Animal Complete (also comes with extra tools and Zorb) is $649. Expensive? Yes! Worth every penny of it? YES! I HIGHLY recommend, and will always recommend the Dyson brand. I have been nothing but 100% happy the past 7 years and their customer service is absolutely superb. If you want to make your money go the furthest it can and want to have a vacuum with the best cleaning power around – go for a Dyson!