Getting Started with a 3D Printer for Your Classroom, School, or Home
This post may contain affiliate links, view our disclosure policy for details.
The year was 2016 – I had heard of 3D printers but never actually seen one. Fast forward one short year to 2017 and we had partnered with Dremel Education which sent us a classroom-friendly printer (3D40 model
) – it was HUGE and to be honest, a little overwhelming! Below are some simple tips for getting started with a 3D printer in your classroom, school or home.
This post is written from my initial experience of going from absolutely zero knowledge of 3D printers to being able to confidently use one. 3D printers have launched small businesses the past few years as you're only limited by your creativity and access! Just look on Etsy to find everything from 3D printed cookie cutters to vases, jewelry and models!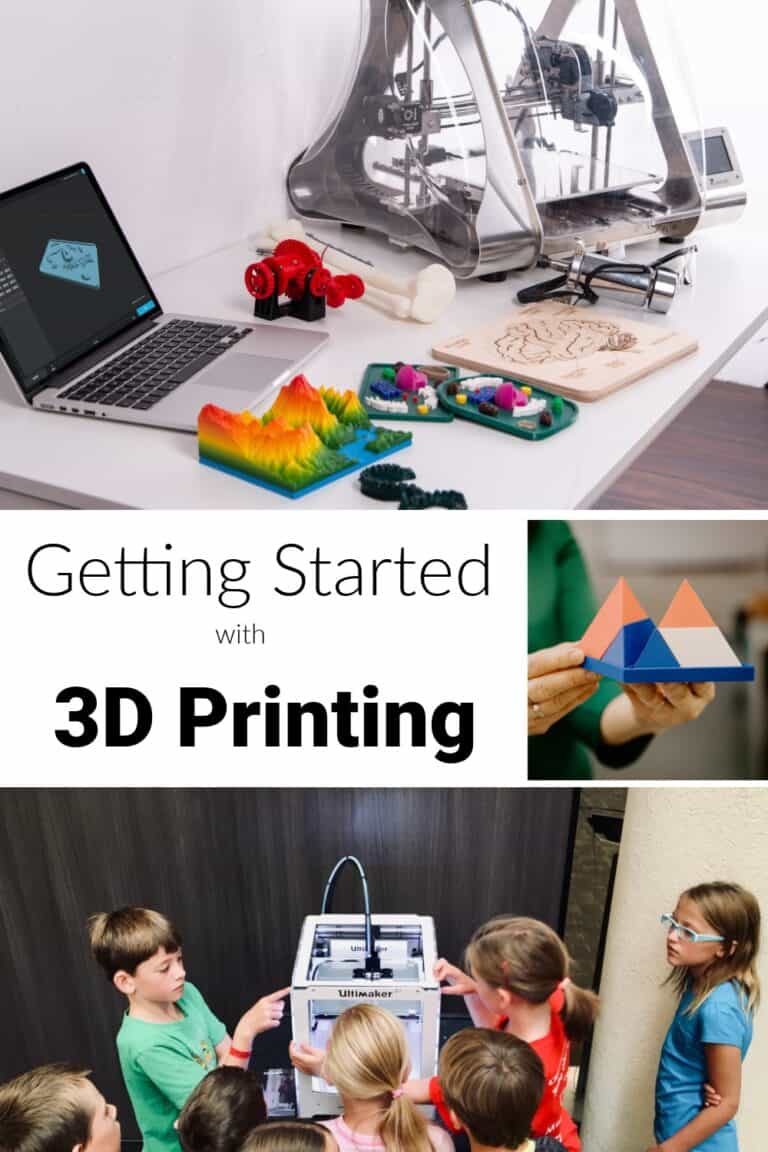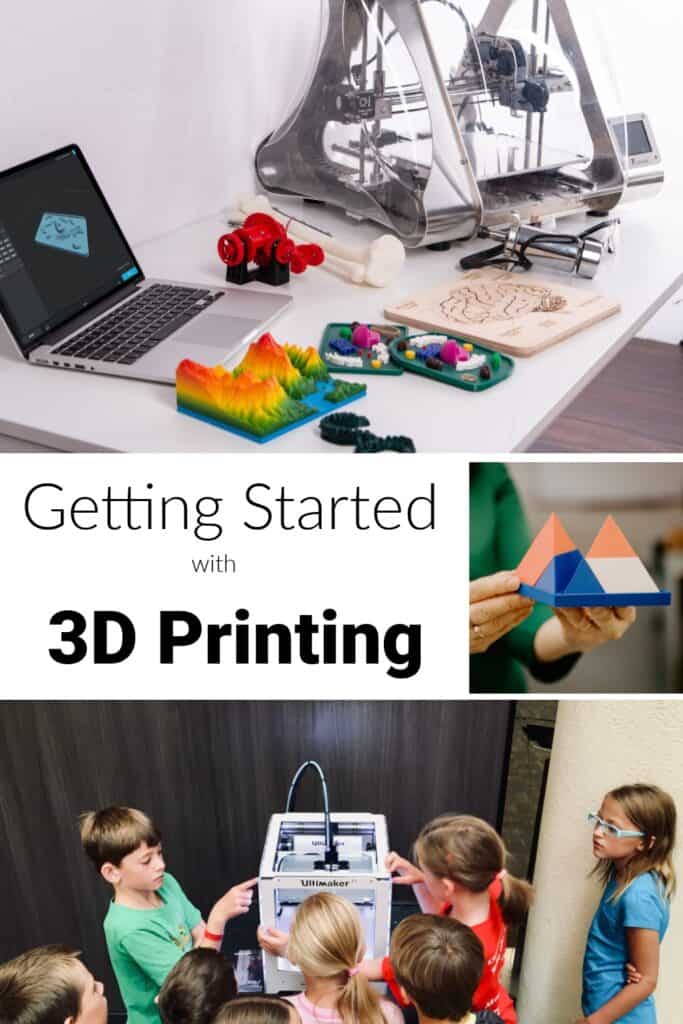 Knowing that my children will someday far surpass my knowledge of tech-savviness, my goal is to not only provide my kids the opportunity to learn but to learn along with them. And then once we learn it, share it with others. The best way to teach your students is to let them learn by doing, and 3D printers have already made astounding breakthroughs in just about every area of life.
Trust me – it's SO MUCH EASIER to just hand tech over to my teenager and say here you go – figure it out! Because he has all the time in the world to do just that. But the more I do that the more I fall behind in connecting with my kids and begin slipping out of touch with newer technologies.
3D printing does NOT have to be difficult at all, even though it sounds like it would be complicated, and our 3D printer was ridiculously simple to get started. I literally had our 3d printer printing out of a brand new sealed box in under 20 minutes.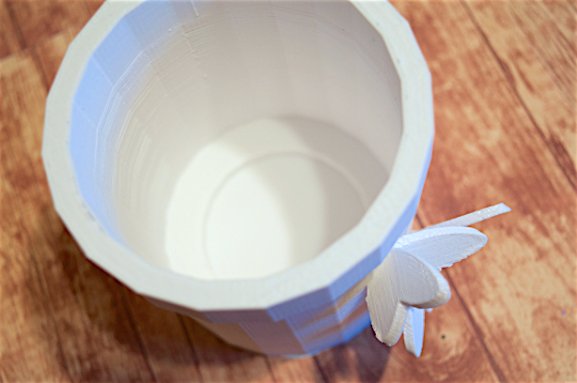 Dremel Education has since come out with newer models of 3d printers so our version is rather outdated, but I still love how big it is compared to other start up models. It's very user-friendly no matter how tech-challenged you are!
To get started with 3D printers it will help if you are familiar with the following terms:
build tape

build plates

nozzle
Quick Startup of Our 3D Printer:
The first exciting step is to take your shiny new 3D printer out of the box!! Make sure you have cleared off an area to set up your printer. You'll probably need an additional space to store some filament and any other supplies. Different 3D printers accept different types of filament, but for starters you'll want a PLA filament
.
Types of filament:
ABS
PLA
PET
PVA
Nylon
Sandstone
Wood
Metal
PETG
PP
Carbon Fibre
FLEX
HIPS
We started by pulling everything out of the box and plugging it in – the light inside was so bright! It's great for seeing what's going on in there! Every 3D printer is different though so you'll want to become very good friends with your manual! YouTube videos are also AWESOME for teaching you basic overviews in a more visual way.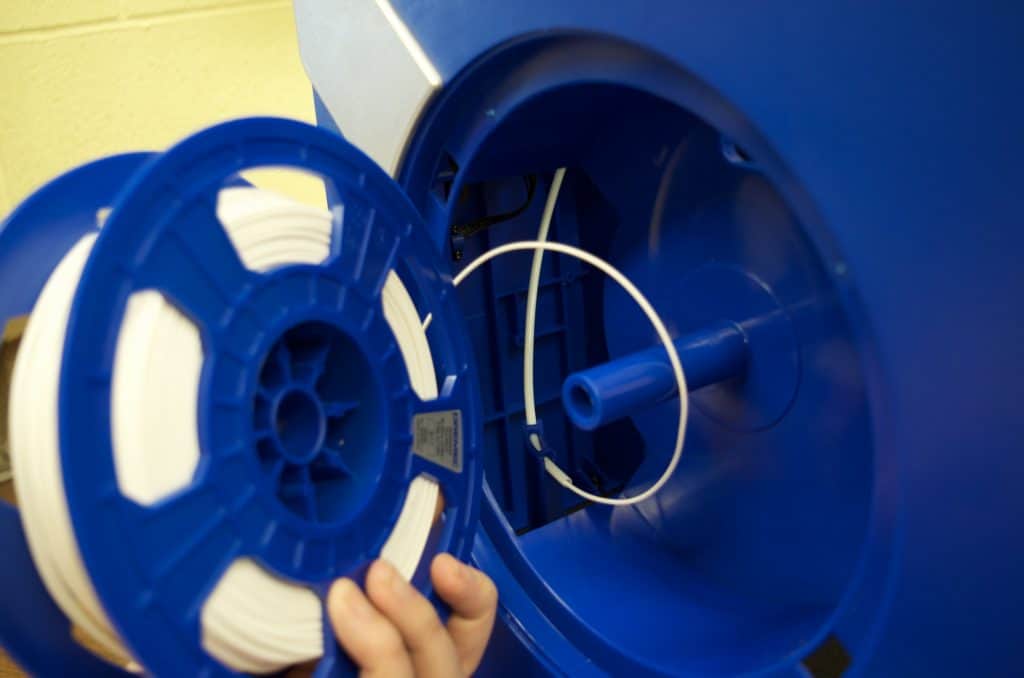 On the side of our 3D printer is little "pocket" for the filament spool. It's pretty self-explanatory when you see it – just open the hatch and place the filament spool inside! Most 3D printers only accept ONE color of filament at a time. If you want multi-colored projects you'll either need to change the filament spool mid-build or consider panting your 3D model afterwards.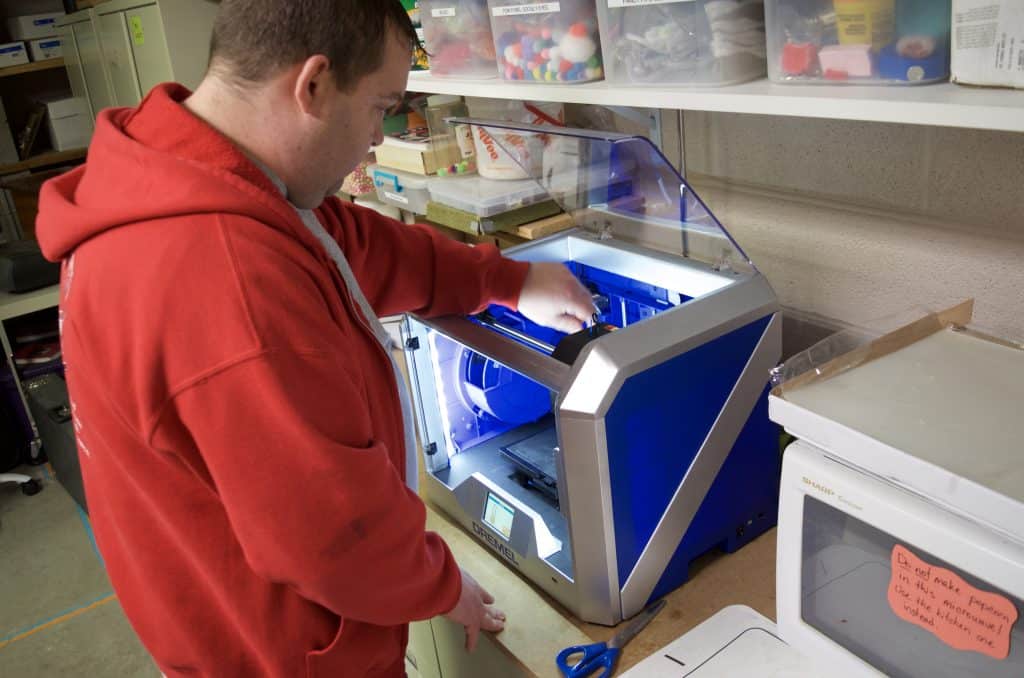 Like I said it took us under 20 minutes to pull it out of the box and start printing – and it probably would take a whole lot less if you weren't stopping to take photos every step of the way! Haha! There are loads of great free 3D printing files online you can access if you don't know how to create your own 3D models.
Don't get overwhelmed or hung up thinking you immediately need to know how to design and create masterpieces! I recommend learning how to use your 3d printer by printing free 3d files online! You can find everything from coat hooks to toys, desk supplies, planters and more!
Find free 3d printing files at:
How to Send 3D Printing Files to your 3D Printer:
There are two ways that we communicate to our Dremel 3D printer when it comes to printing files, but again, each brand/model is different. The easiest way is literally to put your 3d printing file onto a USB drive and insert the USB drive into your 3D printer directly but we can also send it wirelessly and use a touchscreen to choose our file.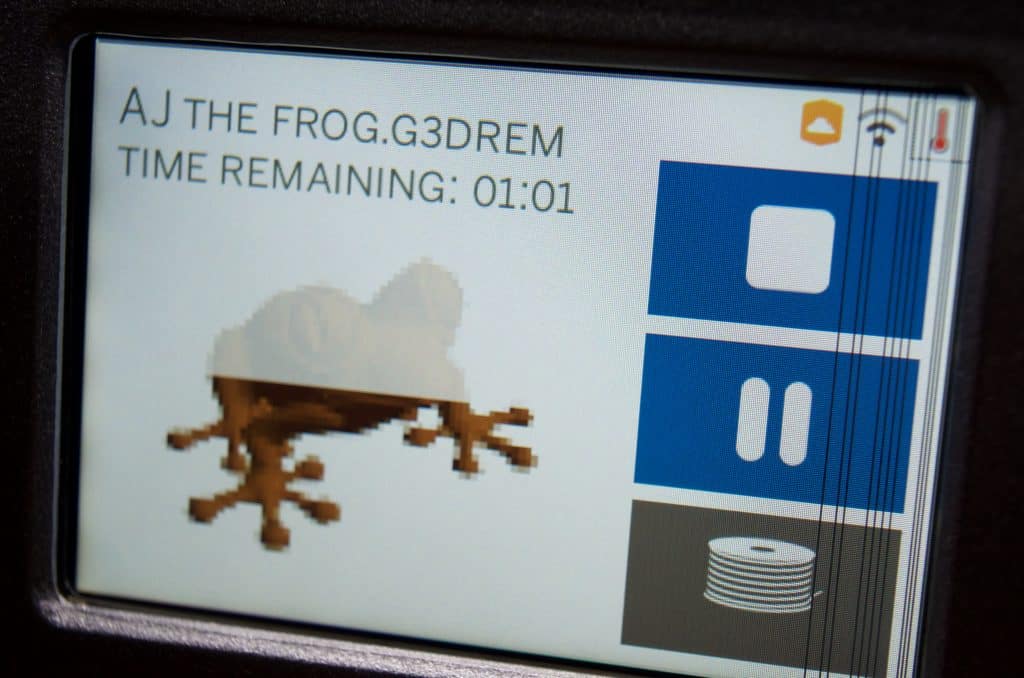 I really love our Dremel 3D Printer because it's pretty dummy friendly! You literally touch the file you want to print and hit the "play" button. You can see above that you can always pause your file as it's printing, stop the print if something goes wrong, and of course monitor how much of the project has printed based on the shaded in area on your file! (and the time left to complete the printing job)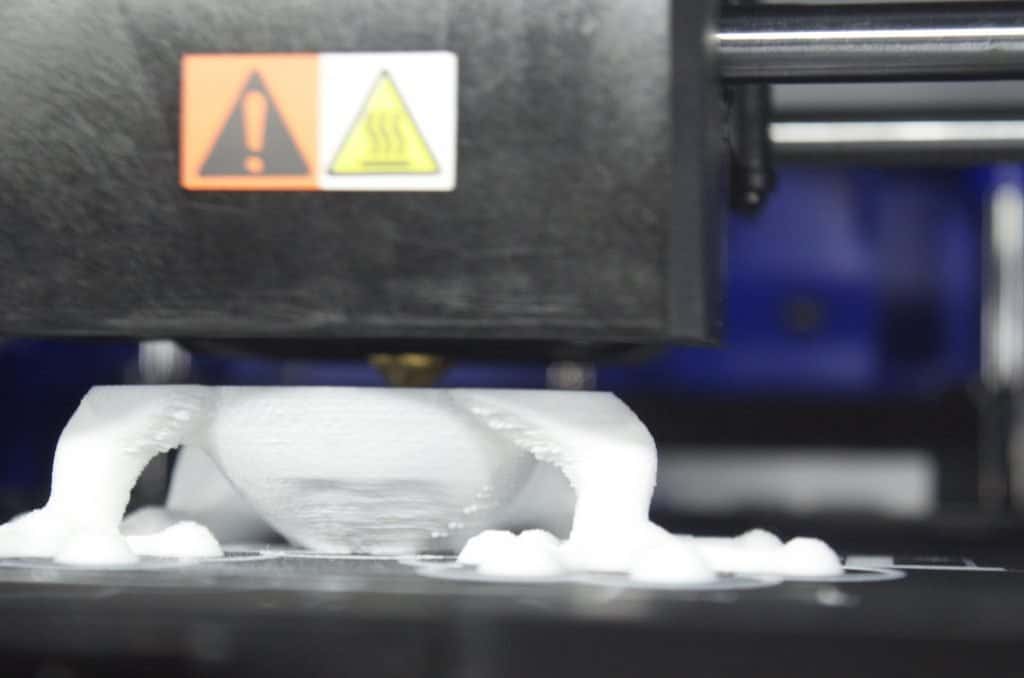 Here you can see a straight up close view of the frog as it is printing.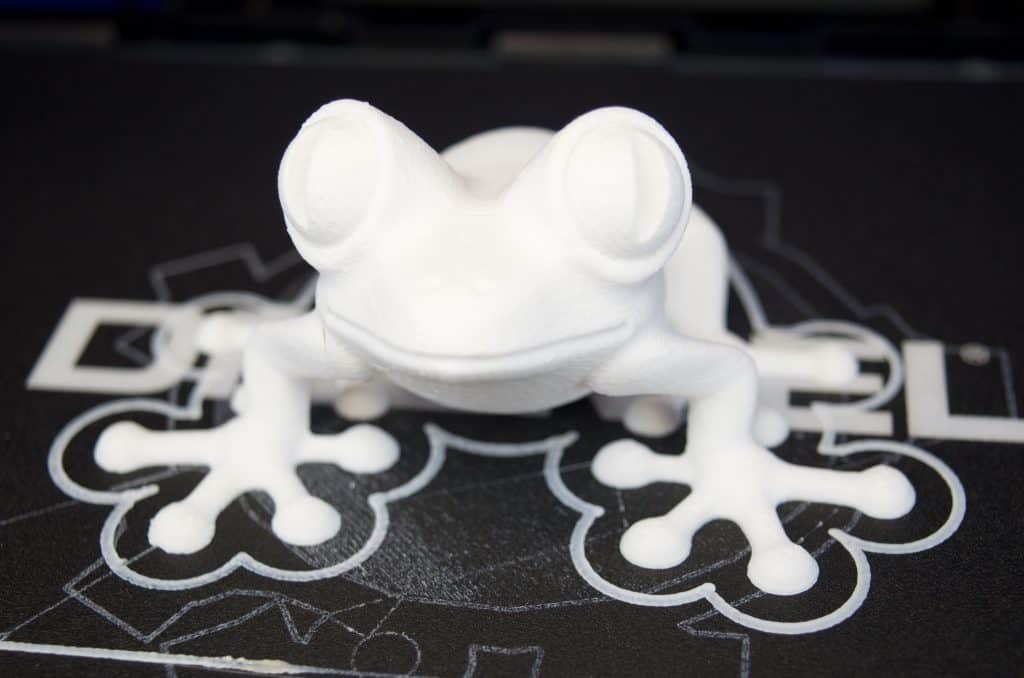 And here is AJ the frog all completed! The hardest part for me is always removing the 3D printing project off of the base plate. Once your 3d printing project has finished printing you will find that the object is "cemented" onto the base plate – you can NOT just pick it up! After all, the filament needs to stick to the base plate in order to print the project properly!
We have found the best luck by using a putty knife and trying to slide it underneath the project but if you've got a better way of removing your projects please let me know! I do typically remove the building platform before removing my 3d project but be careful as it is made from glass! You wouldn't want to drop it! Check your manual for suggestions regarding your specific model.
The biggest possible con for 3d printing is a small print base. As you can see this 3d printer is pretty giant for a starter! We rarely have to scale our models down smaller to fit on the plate. It's a great classroom size model. But most starter 3D printers have very small print bases. You can absolutely "slice" your model and glue it together after the build, but there are still so many things you can do with small models!
Additional 3D Printing Articles: