K'NEX Mario Cat Building Set STEM Toy Product Review
This post may contain affiliate links, view our disclosure policy for details.
I received the below product as part of the K'NEX Ambassador Program. All opinions are my own.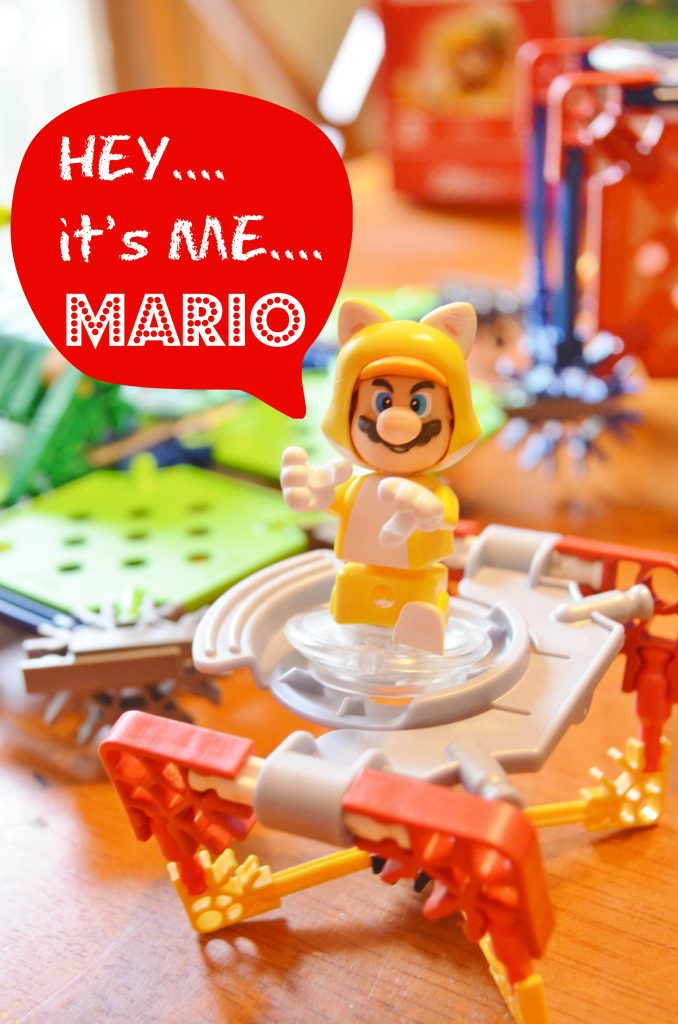 My kids are HUGE Mario fans (heck I grew up with Mario too!) so they are just absolutely obsessed with K'NEX Mario building sets! When we received the K'NEX Mario Cat Building set
as part of their ambassador program my kids were ALL over it! We have one or two other Mario K'NEX sets so my kids were pretty pysched to see Mario dressed up as a cat! What I really love about all of the Mario sets we have, this one included, is that my 7 year old son can put them together completely by himself. Not only does it make life easier for me but he just thrives on that sense of independence and accomplishment from putting them together without help. Besides the fact that I love the high quality of K'NEX products in general it is worth every penny to me when I see my son beaming from ear to ear because he was able to build these complete creations all by himself. I also have always highly encouraged these sets for my kids to help strengthen their fine motor skills as well! It's fun and developmentally appropriate all in one!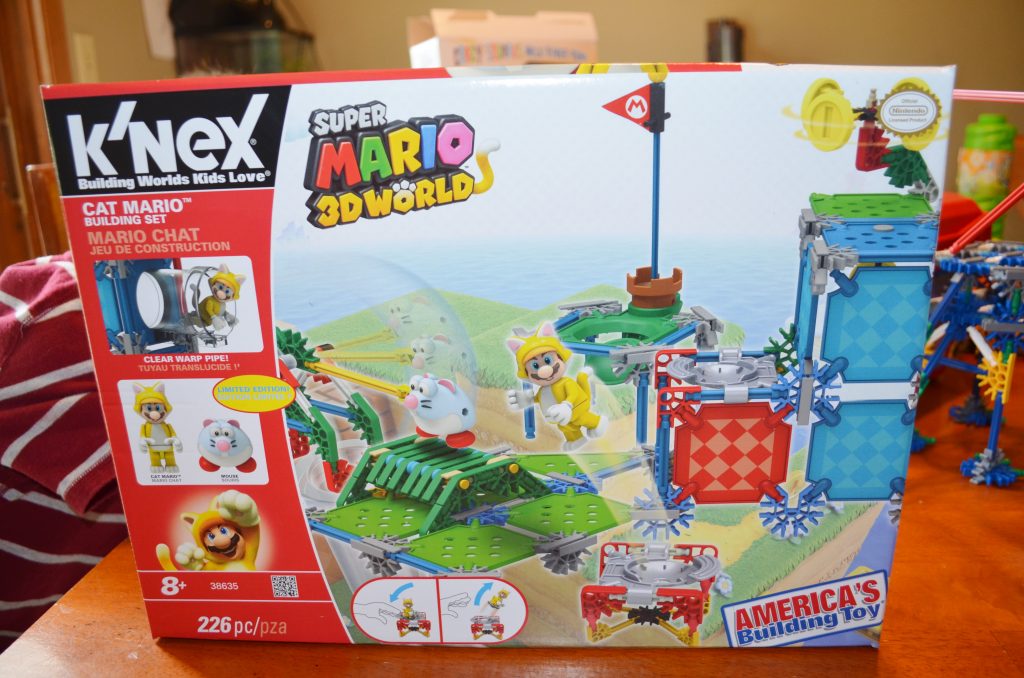 The Cat Mario set comes with 226 pieces and if you are familiar with any of the other Super Mario K'NEX sets it is a very similar set up with the square panels snapping together to build a structure which Mario can be launched off of and play on. We actually purchased a cheap $10 thrift store desk for our basement that is completely dedicated to our K'NEX sets so that the kids can keep all of their structures on display and play with them without needing to tear them down and put them away! Believe it or not they spend a lot of time down there making Mario and his counterparts move around on the K'NEX sets!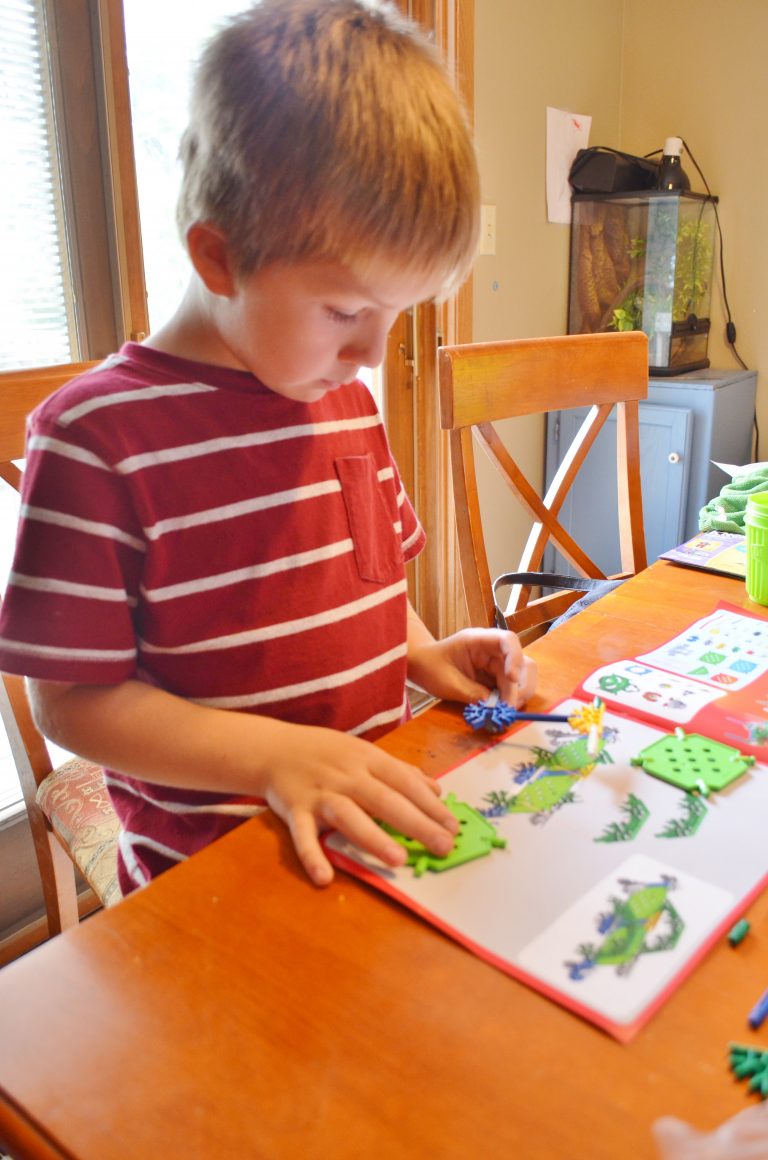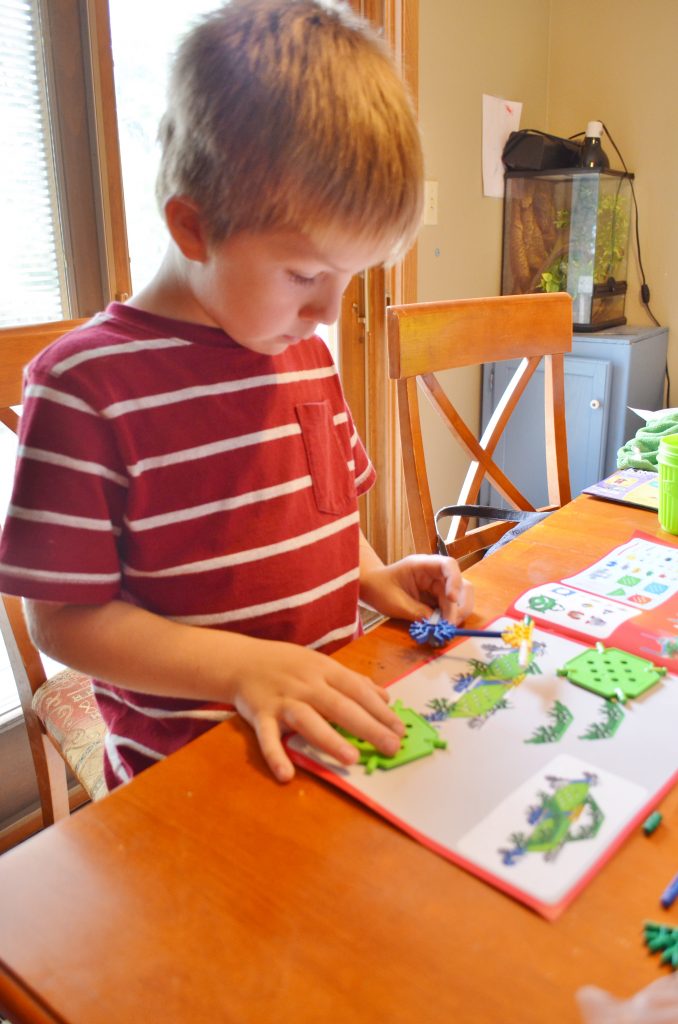 K'NEX Mario Directions:
The Cat Mario building set of course comes with a great colorful instruction book that is plenty large to lay out and match pieces alongside of. My son usually starts by collecting all of the pieces he needs for each page, then follows the illustrated images to build the setup for that page before moving on to the next page. I didn't want to hover over him with my camera while he was building so I don't have any "in process" photos but check out the cool platforms he built following the directions!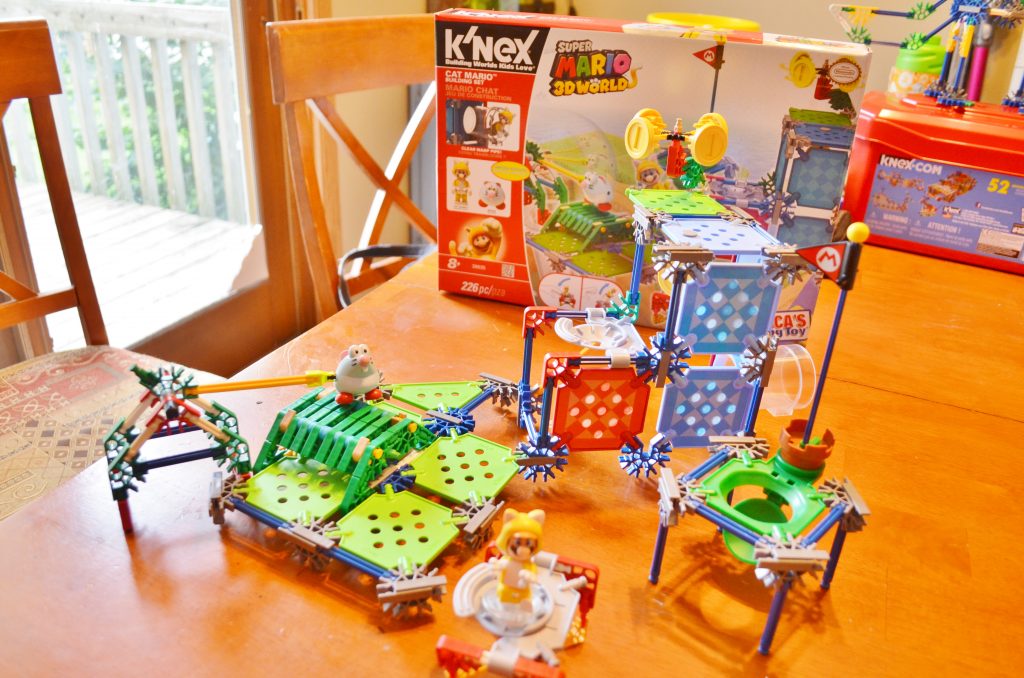 You can see that the structure is a multi-level playing course where Mario can "jump" around (or be launched!) as he battles the Mouse! The Mouse can actually rotate around as he goes after Mario who is also trying to collect the spinning coins you see towards the top of the platform! True to a real Mario game you even have time warp tunnels and of course the ever so popular pop up goal flag! And Mario comes with two different bottom pieces so that he can use legs to "run" around the set or be launched off of the launch pad to climb to various levels. I really love that all of our Mario sets can physically bounce him around. Even though we end up with pieces flying across the room it certainly makes the set more interactive for kids instead of just a stagnant "structure" sitting there. Between launching Mario, a goal flag that flips up, coins that spin around, and the Mouse which spins around there is plenty of interaction play available on this little set!
K'NEX Mario Characters: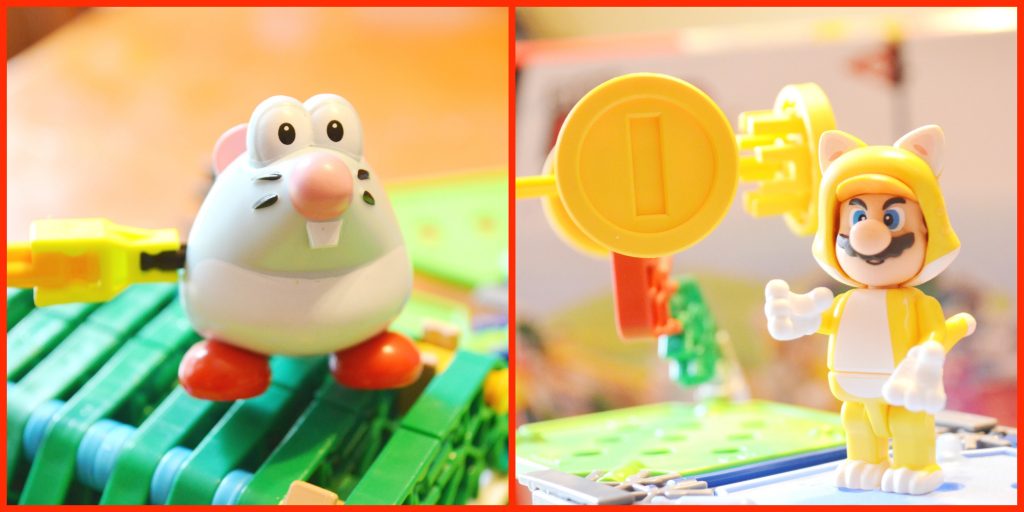 These little characters are exclusive to this K'NEX set and I think they are just the cutest! They certainly caught my kids eye!  Although we have other K'NEX Mario building sets this one has be far seemed to be my kids favorite. (maybe because we have a zillion cats?!) It's a really straightforward set to build with no complicated parts of building. If you're looking for a pretty simple not highly involved Mario K'NEX set to start your kids out on I highly recommend this one!! If you have other Mario sets you can easily extend the platforms and create a whole new playing world out of this set or attach it to other sets that you have! You can find this and other K'NEX buiding sets on KNEX.com, Amazon, and many mass retailers!