How to Make a Naturalist Lab for Science Classrooms & Decor
This post may contain affiliate links, view our disclosure policy for details.
For epic choices to add to your naturalist lab, check out Oriental Trading, Amazon, Dollar Tree, and Home Depot! If you're a teacher I invite you to join our Classroom Management & Engagement Resources e-mail list here!
---
It's no secret that Halloween is my absolute FAVORITE time of year! This year I had the epiphany to combine my sheer love of nature and science with my love for spooky Halloween decor!
The awesome thing about this diy naturalist lab is that it can work as home decor or classroom decor during Halloween AND all year long!
Great for those schools who can't technically celebrate Halloween as everything (well, almost everything!) you see in our naturalist lab would be found in a laboratory!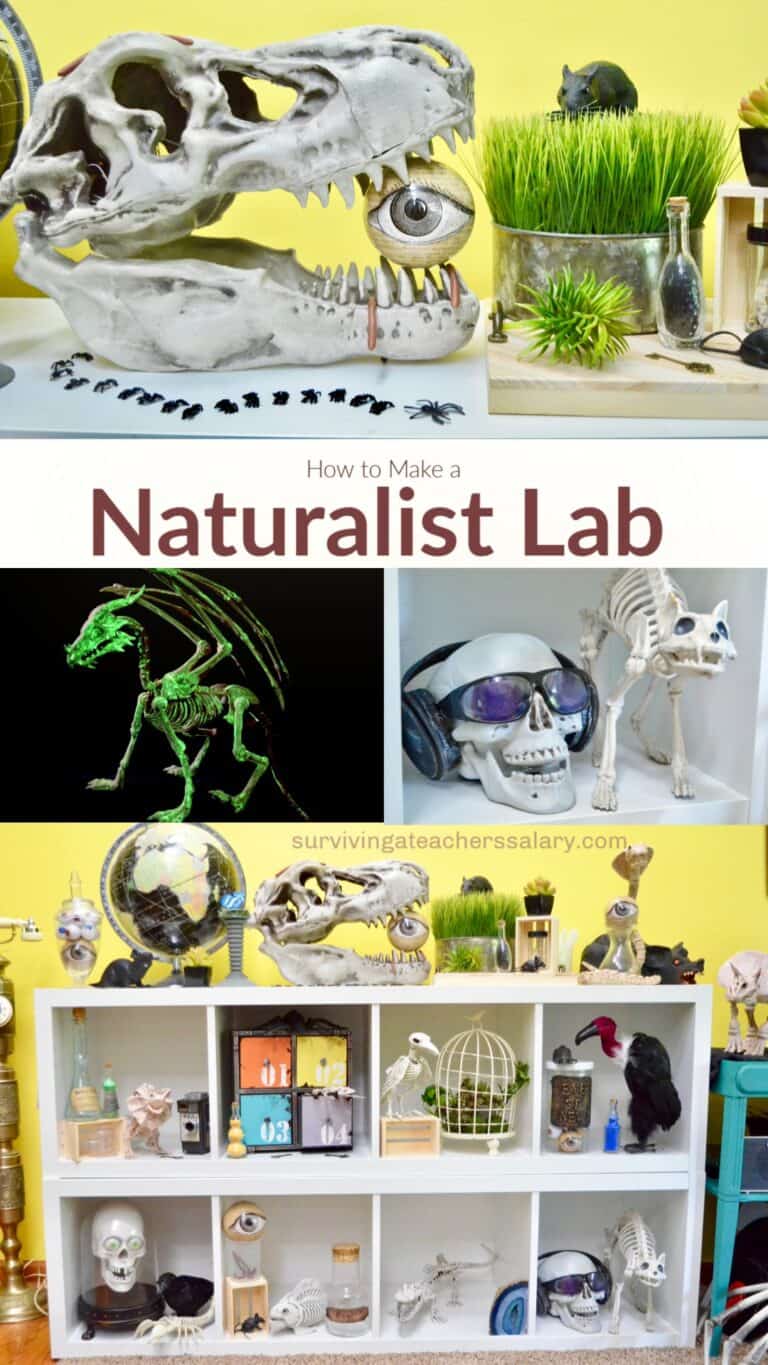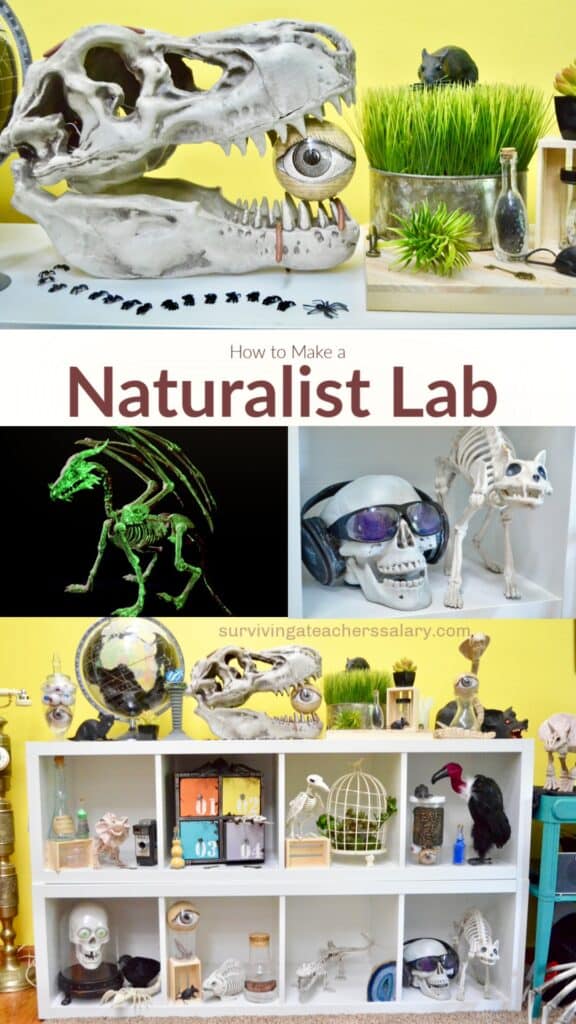 I partnered with Oriental Trading because they had the most extensive collection of exactly what I was looking for but I collect my Halloween and naturalist decor from a lot of places – including thrift stores!
Oriental has TONS of "scientific" animal and human skeletons, lab equipment, props and more that cross over great between Halloween and science!
Of course if you had an unlimited budget you could display real skeletons and specimens, but Oriental Trading had TONS of options and I love that kids of any age can handle these science lab props without worrying about breaking them.
How to Make a Naturalist Lab for your Classroom or Living Room: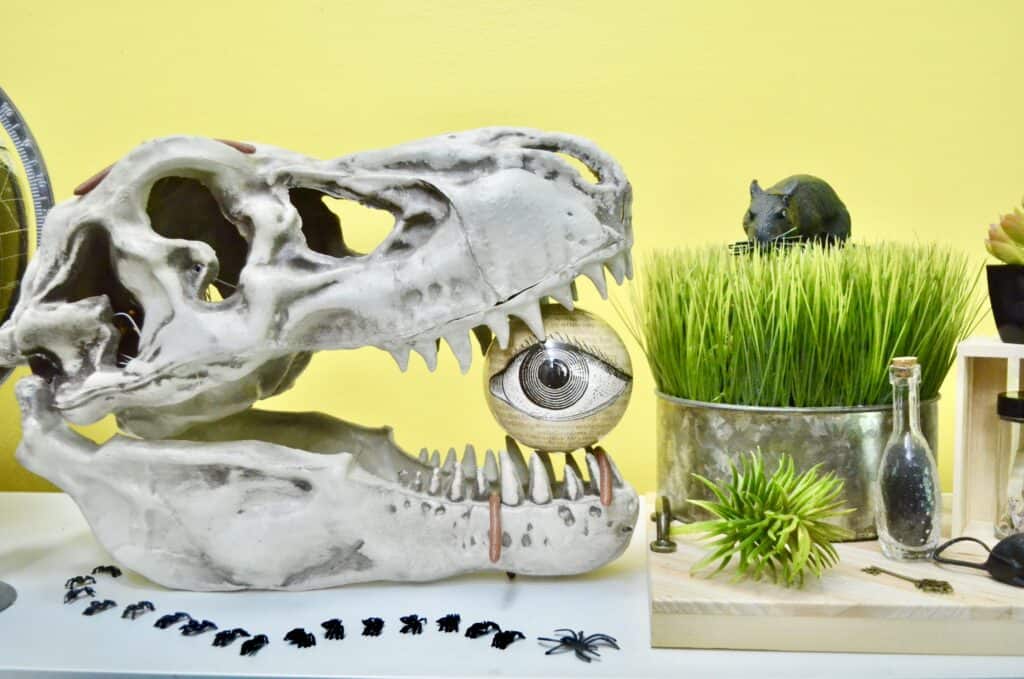 There are a few core categories of items that you will want to start with when designing your naturalist lab area! What you actually put in it can be totally designed by you! You can work with just about any color scheme or theme!
Below are some categories to consider for your science nature area that are not exclusive to Halloween:
Skeletons –
Everything listed in the skeletons section here can be found at Oriental Trading! And all but one skeleton you see in my photos also came from Oriental Trading over the years. In the past Target has had some really great affordable skeletons too.
Much to my husband's chagrin my collection of skeletons and Halloween decor grows every year. This is all just one corner of my living room!
Here are some skeleton ideas that would look great in your science lab:
T-Rex Head

Dinosaur

Frog

Birds

Cat

Dog

Pig

Dragon

Fish

Snakes

Lizards

Alligators

Spiders

Scorpions

Gazelle

Lab Equipment –
Being a science geek to the core I always have a weird random stash of science equipment around the house for science experiments with the kids as well as photo props. Strange I know!
If you're designing a science naturalist lab in a classroom you may have materials on hand, or can you use plastic versions for safety. Thrift stores and local science stores are a great place to pick up some lab ware. If you don't have time to spend I definitely recommend looking at these collections.
Ideas for science lab equipment to add to your naturalist lab:
Lab Coat

Safety Goggles

Magnifying Glass

Petri Dishes

Beakers

Glass jars

Tweezers

Pipettes

Test Tubes

Specimens –
The great thing about designing this faux naturalist lab is that you have the option to incorporate real items (like pine cones!) and use fake items for grosser or more expensive things!
It just depends whether you are wanting a faux naturalist lab set up or a scientifically accurate one! If it's found in nature it's acceptable!
If you're placing specimens in jars you can easily attach free printables that you find online or make your own to label your jars!
Eyeballs

Animals (rats, snakes, spiders, worms, crows)

Butterflies / Insects

Feathers

Bones

Extras –
It's the extras that put the finishing touches on your naturalist lab decorations. The extra small glass jar here, an air plant there. Don't be afraid to fill in the gaps of your naturalist lab with small quirky items that have to do with nature.
Anything green always brings a nice touch such as moss, air plants, faux grass, a cactus, etc. Don't be afraid to print free art for your walls either or incorporate something out of the ordinary like a pile of gears, monocle, birdcage, etc.!
Wooden crafts

Wooden trays

Writing pens

Faux plants (moss, grass, other greenery)

Stamps (for decorating crates & trays)

Glass Beads / Water Beads

Sand

Globes

Artwork

Birdcages

Cameras

Geodes

Vintage keys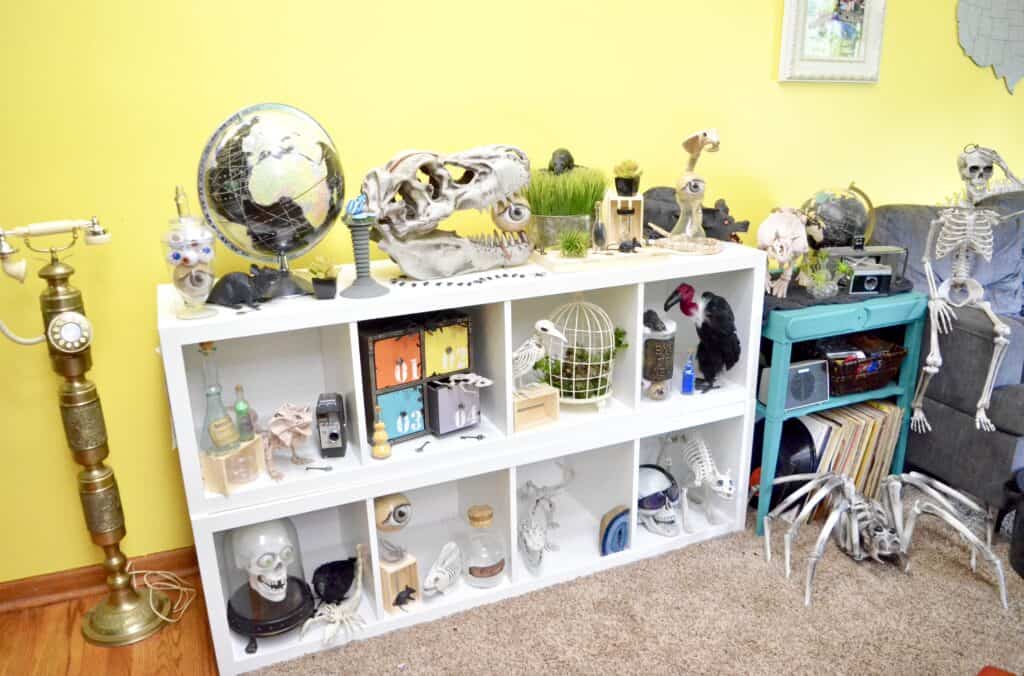 You'll notice above that this can absolutely be used for Halloween OR for a geeky science corner! It's a fantastic cross between both!
If you look on Pinterest for naturalist lab ideas you'll find a WILD variety of ideas! You can incorporate almost anything into it as well as have a variety of color schemes.
Typically you think of a naturalist lab as a very earthy toned area with lots of greens and browns, but you can see here I have a stark white area with bright modern colors!
There is no right or wrong way to set up your lab area – just stay within your theme!
Adding in Mythology or Cryptology: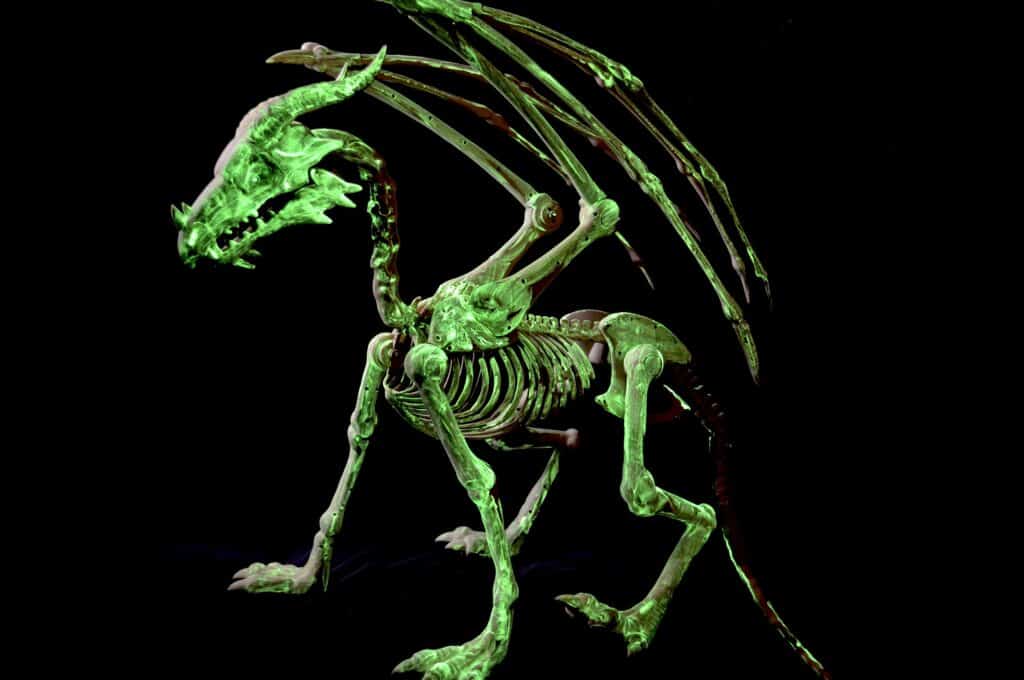 Depending on your naturalist lab design you can absolutely add in an element or feature from mythology or cryptology. After all, it is a science of its own.
Oriental Trading has an AWESOME Dragon Skeleton Halloween Decoration that they sent us which is the perfect addition for exploring the unknown side of science! He looks REALLY awesome during the day, but we wanted to make him stand out even more at night so I added some glow in the dark paint!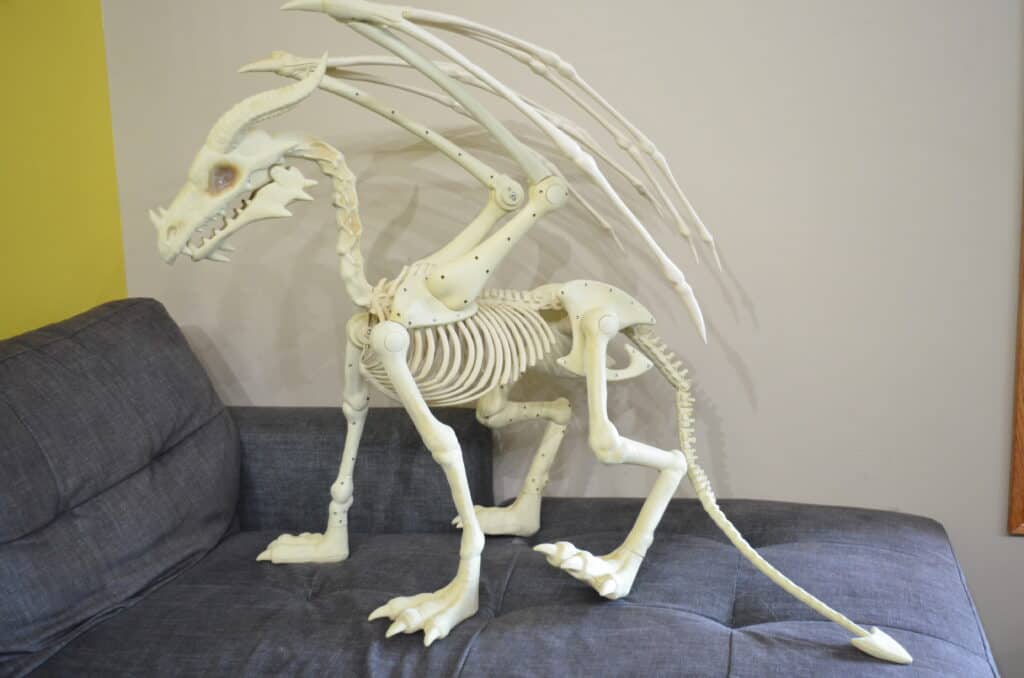 Tips for Working with Glow in the Dark Paint:
*It's best when working with an object that has a hard surface like our dragon skeleton from Oriental Trading. Trying to paint a porous substance can be extremely difficult.
*Begin painting in small sections! Since glow in the dark paint is opaque it can be very difficult to see where you have and haven't painted!
*After your paint has dried, take your object to a dark room to see what it looks like! I take photos with my phone camera so that I can see how the glow in the dark paint appears. Use these photos to guide you where to add additional layers of glow in the dark paint!
*In order to see your skeleton or object, it will need an occasional "charge" of light to make the glow in the dark paint effective. I recommend a small strobe light if you wish to constantly see the glow in the dark brightly, otherwise the flash of a phone flashlight will work just fine.
*Don't forget to paint the insides! Especially on movable objects like our dragon skeleton! It's tail, wings, jaw and legs move!
---
FREE Printable Naturalist Lab Artwork: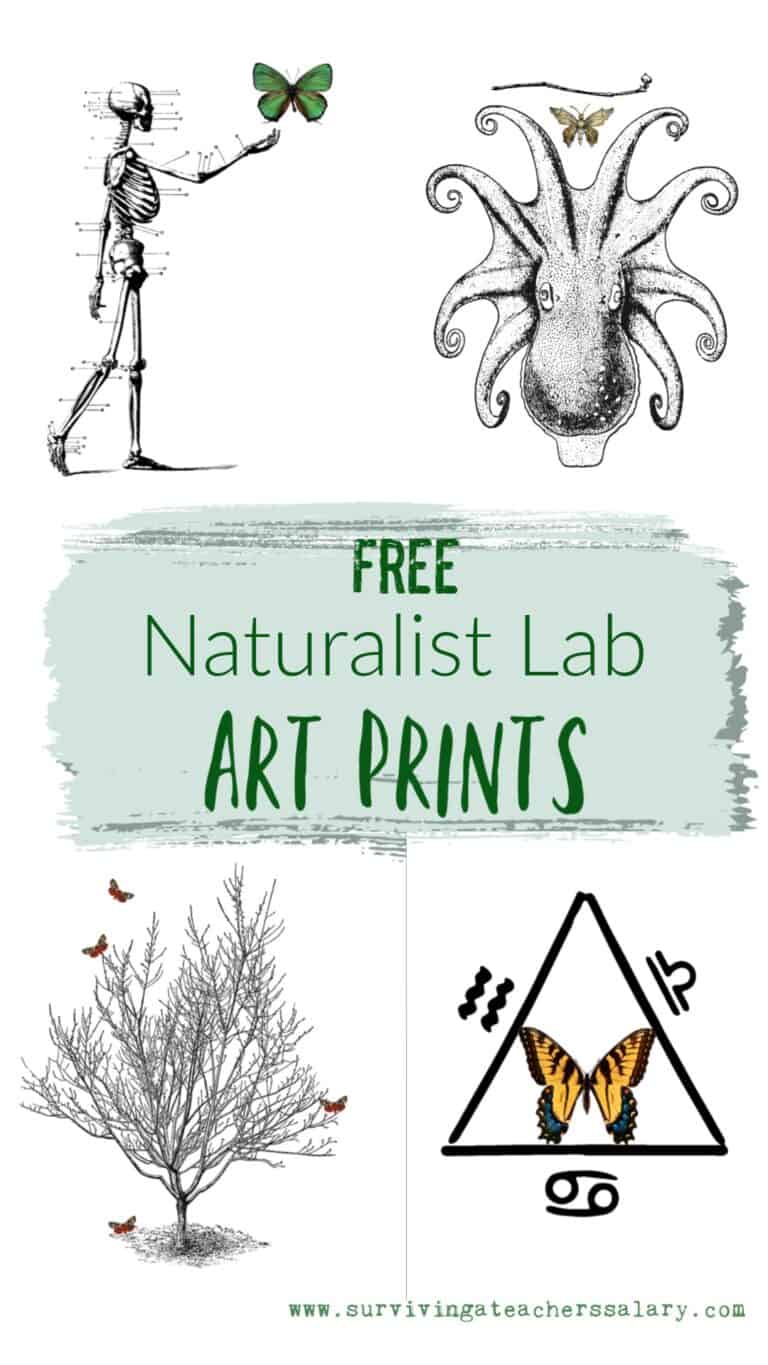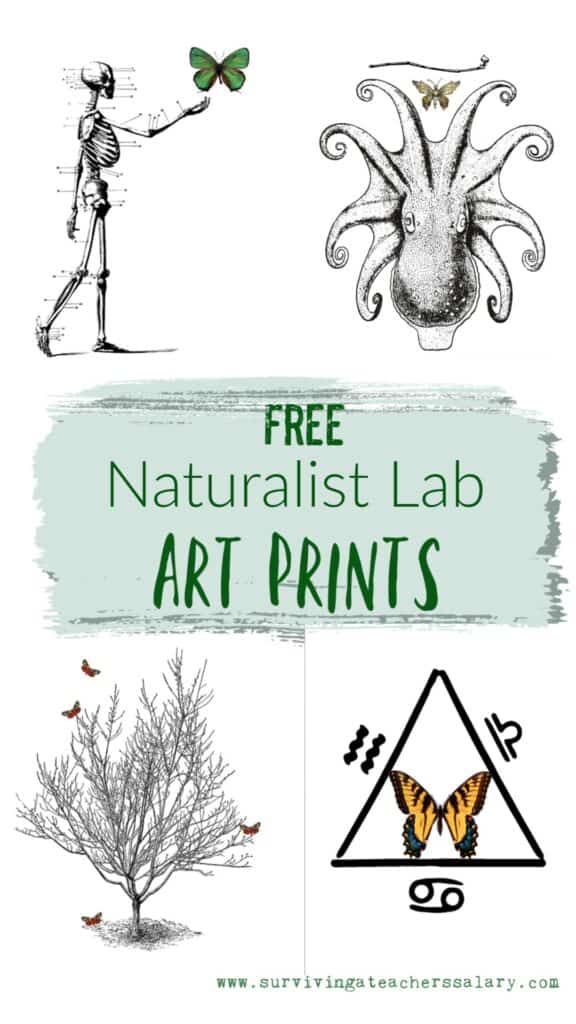 *TIP – I designed these art prints for a black and white background but you can print them on any colored or designed paper that you want to match your theme!