Family Fun Faces with Tyson Chicken Nuggets & FREE Plate Promo #NuggetSmiles
This post may contain affiliate links, view our disclosure policy for details.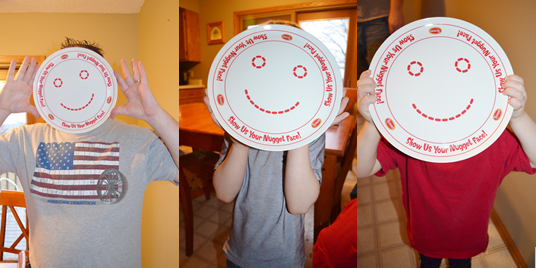 This past week not only were we supposed to get hit with a pretty sizeable snowstorm but all four people in our family came down with strep throat! We definitely needed a pick me up!! And we were in luck because Tyson had such a fun idea – making fun faces with chicken nuggets!!
So before the storm was supposed to hit my son and I quickly ran into to town to the grocery store and picked up a few bags of Tyson Chicken Nuggets. That's when I spotted their FREE plate promo listed on the packaging!
So what do you think I did? Bought 3 bags of chicken nuggets! Plus to make it even more fun I bought lots of veggies to use for my kids to make their own fun nugget faces!
It certainly kept us busy that afternoon!! One of my boys barely even ate dinner because he was so busy that afternoon creating fun silly nugget faces!
Here is my face! I used cilantro for the hair, chicken nuggets for the background of the face, mushrooms and black olive slices for the eyes, a carrot tip for the nose, and a green pepper slice for the mouth!
My littlest guy didn't want anything touching his precious nuggets that he wouldn't eat so he just piled strawberries on top of them! 🙂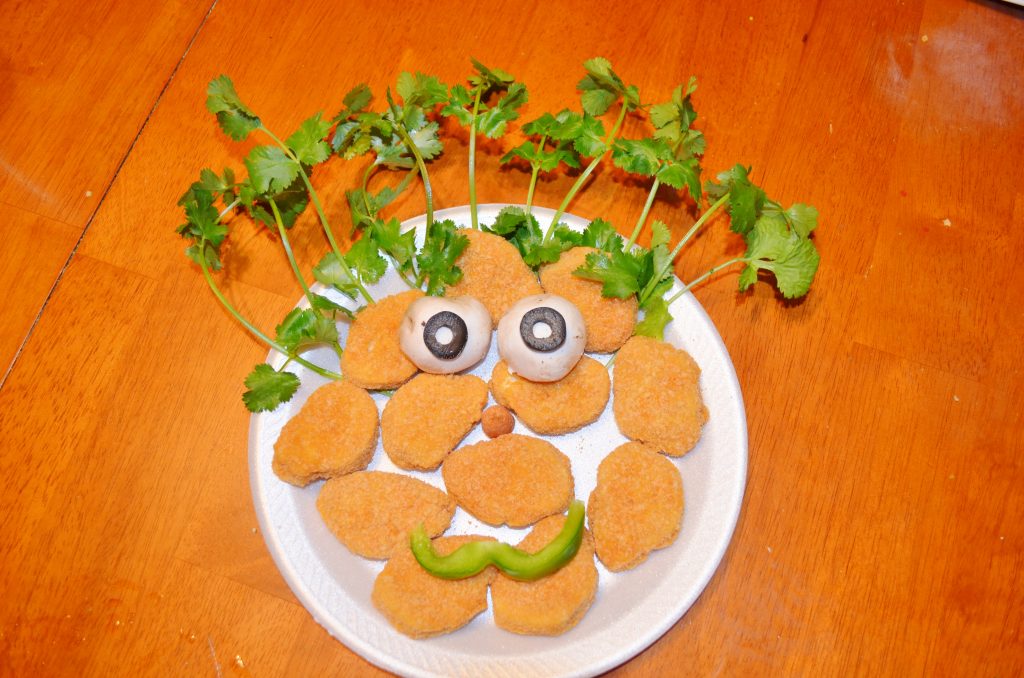 The other silly chicken nugget face were completely created by my kids! He also incorporated slices of cheese on his nuggets for teeth! Look how creative he was!
I couldn't believe how long he decided to create his silly faces!! He sat there for over an hour creating his face! And when we were done with our chicken nugget fun faces, guess what we did next?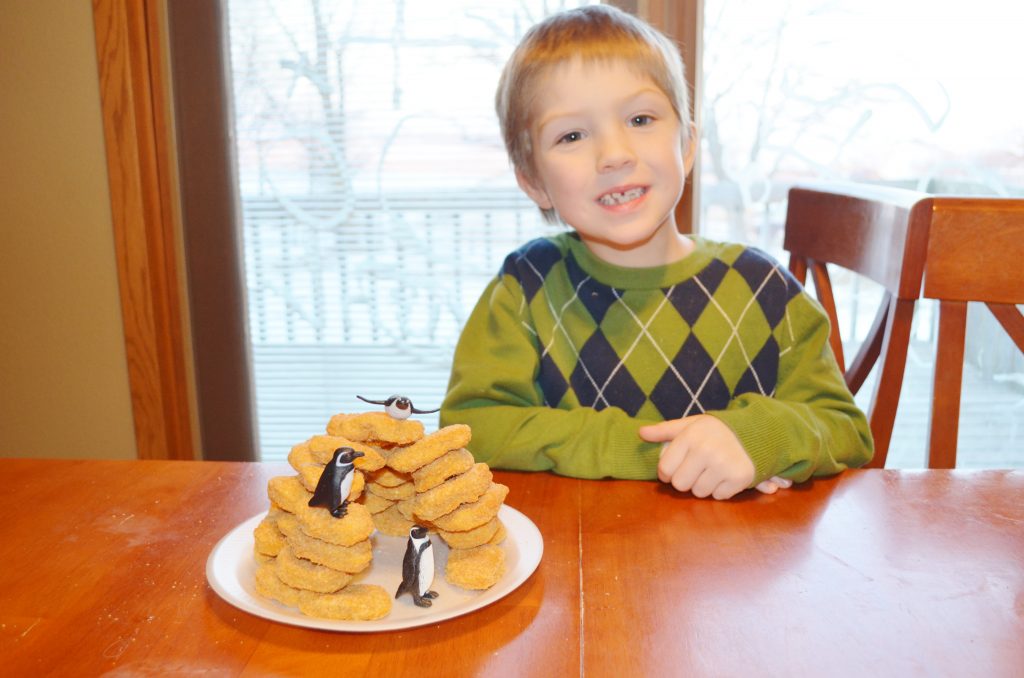 We created a chicken nugget igloo together! It's a one of a kind project! 🙂 Since my son has spent the past month focused on igloos, Inuits, penguins, and other snowy topics he has been obsessed with igloos!
He quickly grabbed his little penguin toys and played with our nugget igloo until it collapsed.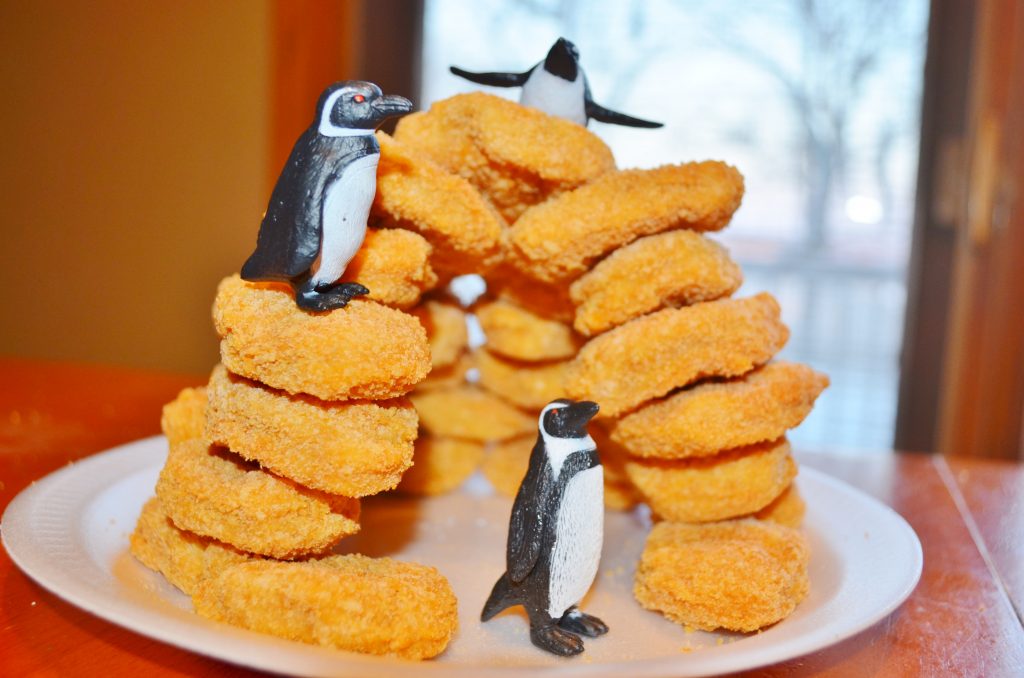 The nugget igloo was surprisingly easy to create! For the igloo I kept the nuggets frozen since it was easier to stack.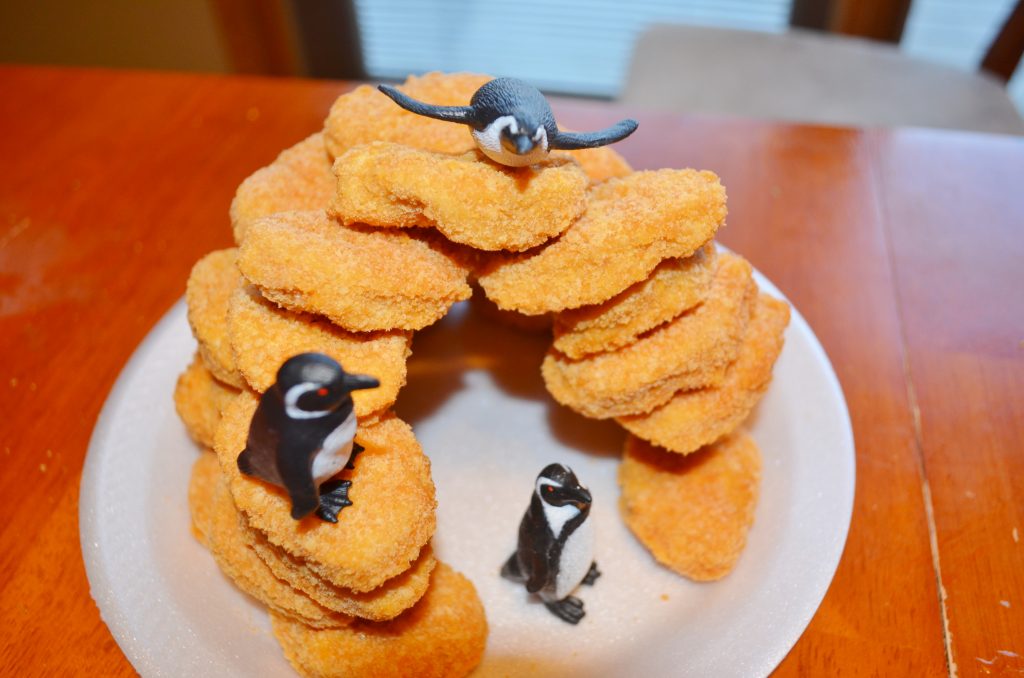 This was such a fun project that I don't think would have ever crossed my mind to do! My kids had SUCH a blast…..playing with your food isn't always bad! 😉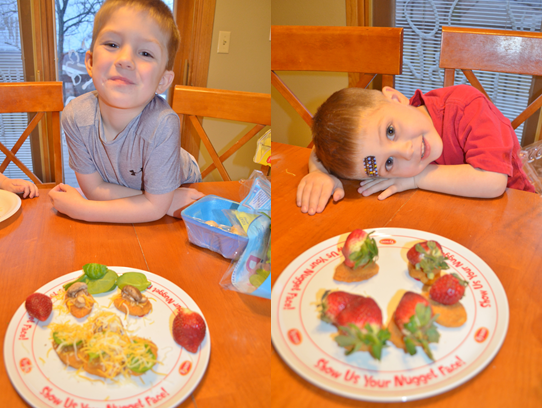 Disclosure: This shop has been compensated as part of a social shoppers insight study for Collective Bias and Tyson. All opinions are my own.