The 4 BEST Slime Recipes Including EDIBLE Slime Recipe
This post may contain affiliate links, view our disclosure policy for details.
SLIME SLIME SLIME! Every day my son rushes home from school and runs to the kitchen so he can try the next greatest batch of slime.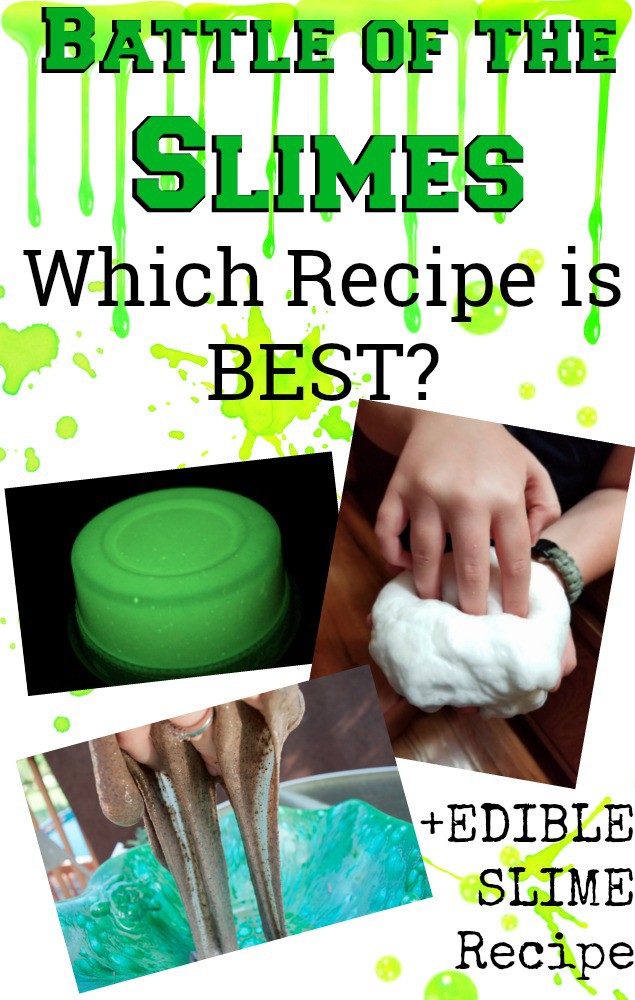 In fact I just ordered this set of storage containers for his slime business because he wanted to start selling them. (If you love supporting kid entrepreneurs check out the Children's Business Fair -my son has a strong passion for selling things!)
As my son was prepping for his business fair we made about 10 different slime recipes, and while all of them were decent enough, there were 4 absolute HANDS DOWN favorites! You'll notice that each one has very different ingredients – some with and without borax – and one edible recipe that was fantastic! PIN IT HERE so you can find the recipe later!
1.Mud Slime

Oh my goodness – this mud slime recipe I created is absolutely fantastic! It doesn't make a mess, it stores great in an airtight container, and we've been using and reusing it on a daily basis. You can find the entire recipe with tips on the mixing process here. It's great for playing with trucks, farm animals, dinosaurs, and all sorts of "get in the dirt" play. It DOES store well in an airtight container, however after a month or 2 it was pretty sticky.
---
2. Fluffy Slime

This fluffy slime recipe is my son's favorite. He absolutely adores this slime because it's just so darn fluffy. This is our "go to" slime recipe that feels the best, stretches the best, and stores the longest the best!
Ingredients needed:
1/2 cup glue
1/2 cup shaving cream
1/2 cup foaming hand soap
3 pumps of hand lotion
1 Tbsp. cornstarch
food coloring
1 tsp. Borax
Directions:
Combine 1/2 cup of liquid glue and 1/2 cup of shaving cream. Mix well.
Add in 1/2 cup of foaming hand soap. Mix well.
Add 1 Tbsp. cornstarch. Mix well.
Add 3 pumps of hand lotion and desired food coloring. Mix well.
PRE-MIX 1 tsp. Borax with 1 cup hot water. Once COMPLETELY dissolved add the solution 1 Tbsp. at a time until your slime looks good!
We have stored this for 2-3 months now and it still works great without any issues! Hands down overall this has been his best recipe for slime to stay good over an extended period of time. If he wants to play with slime this is the recipe that he makes. Just add any food coloring or whatever you want to it to make it awesome!
---
3. Slime Dough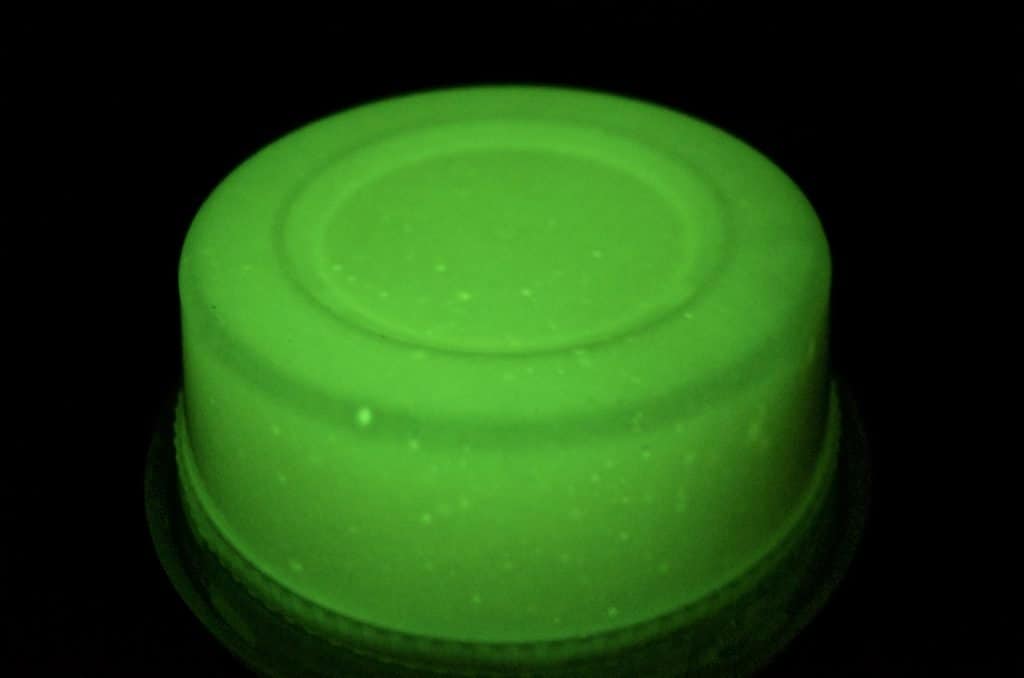 Ingredients Needed:
1/2 cup of glue
2 cups of shaving cream
1/4 cup of liquid starch (1 Tbsp. at a time)
Directions:
Combine 1/2 cup of liquid white glue with 2 cups of shaving cream and mix well until completely mixed.
Add liquid starch 1 Tbsp. at a time until you achieve the desired consistency.
This recipe was my son's 2nd favorite simply because it only needs 3 ingredients and can be made quickly! However after 1-2 months it turned into liquid (I think because of the high content of shaving cream!) and was more like real gooey slime than stretchable slime.
**This recipe AND the Fluffy Slime recipe above can EASILY be turned into Glow in the Dark or Magnetic Slime. We have had wildly HUGE success with both versions. We purchased this glow in the dark powder and this magnetic powder to mix and my son sells them like hot cakes! Start by adding 1/2 tsp. of either into your batch and add more if needed.
---
4. Edible Slime Recipe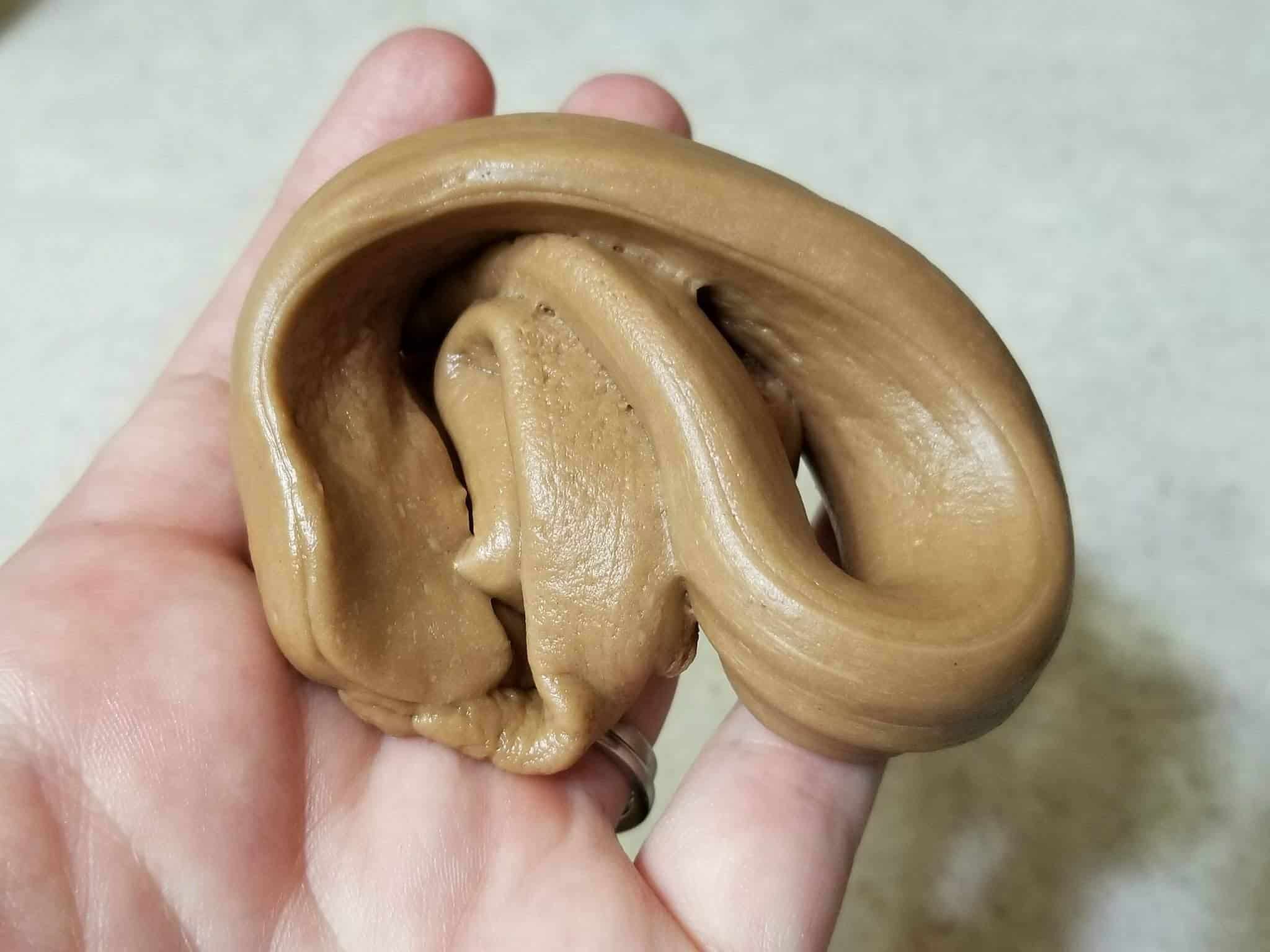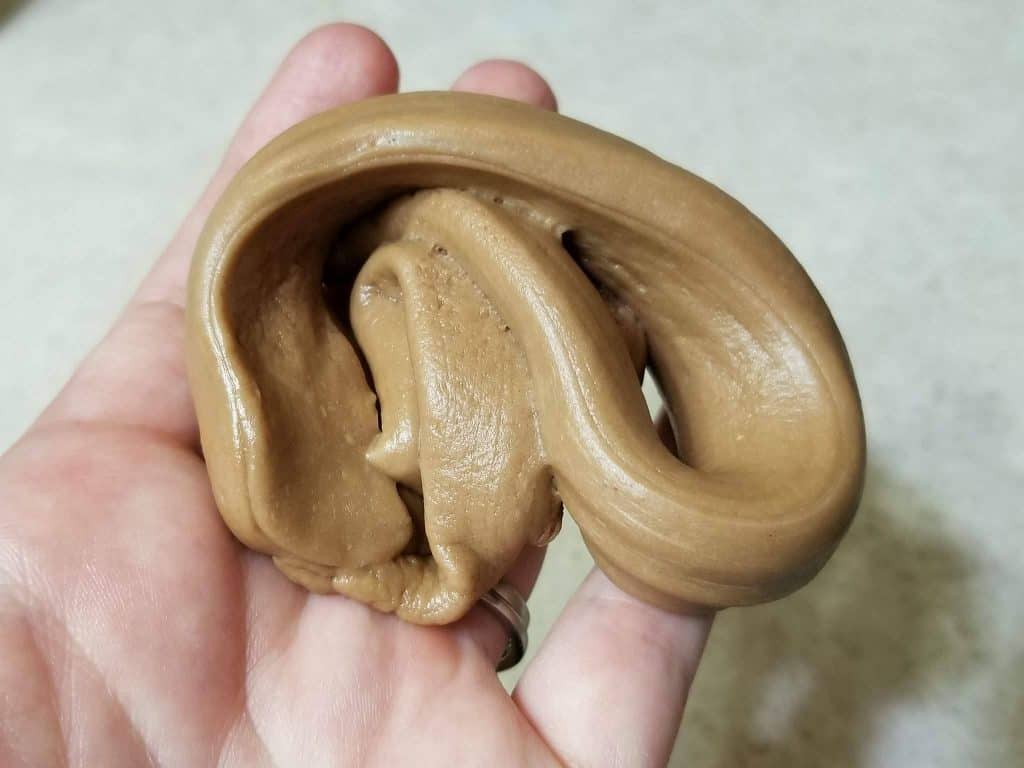 Ingredients Needed:
8 medium marshmallows
1 Hershey's Chocolate Bar
1 Tbsp. Coconut oil
Directions:
Microwave 8 medium marshmallows for about 10 seconds and mix well. (it won't be completely melted)
Add 4 rectangles of Hershey's chocolate bars on top and cook until melted.
Spread 50/50 cornstarch and powdered sugar onto a plate. Roll dough (once cool enough to touch) in the powder mix. Continue rubbing dough into the powder mix stretch and smooshing into plate until you achieve desired consistency. (see photo below)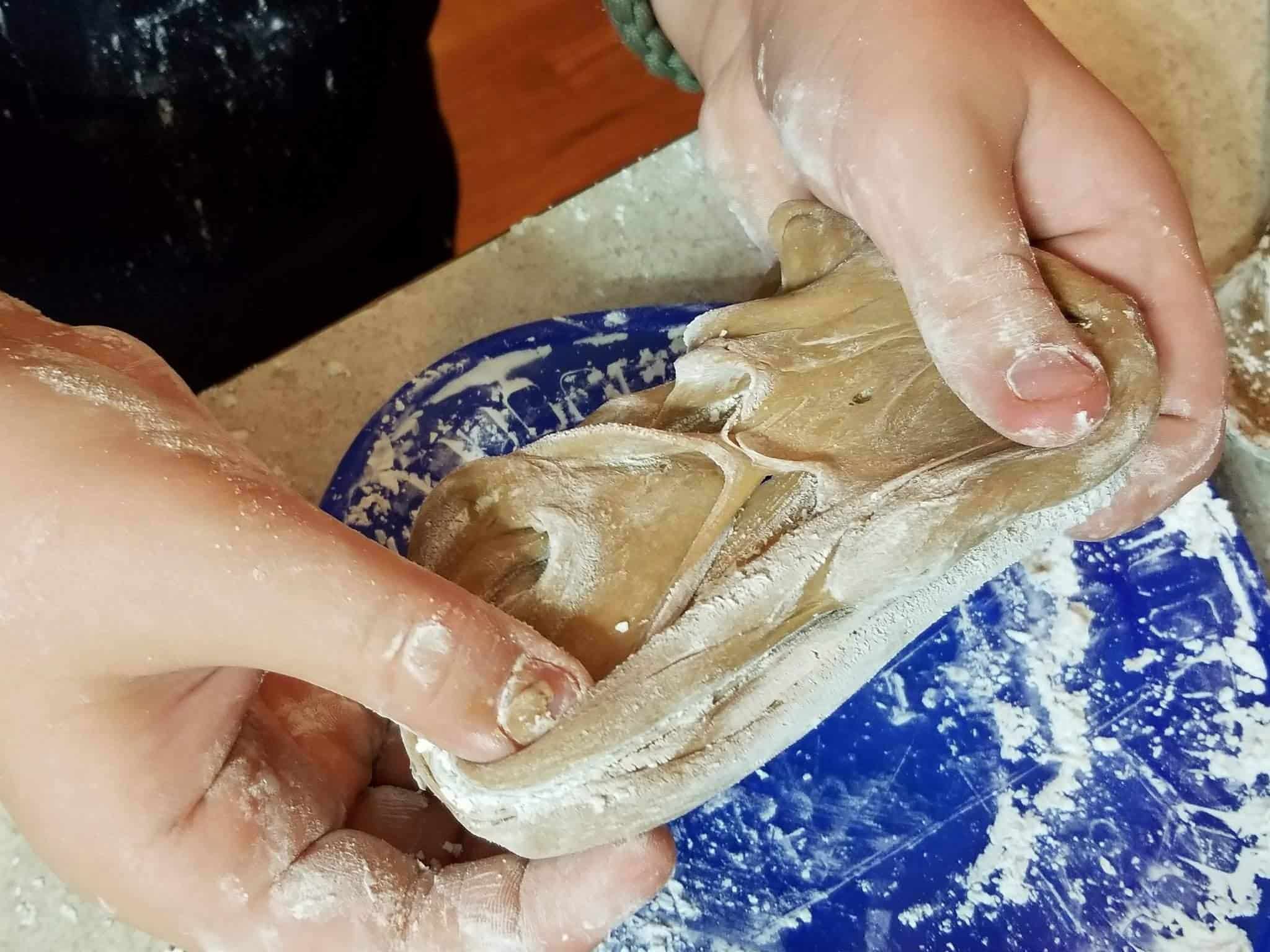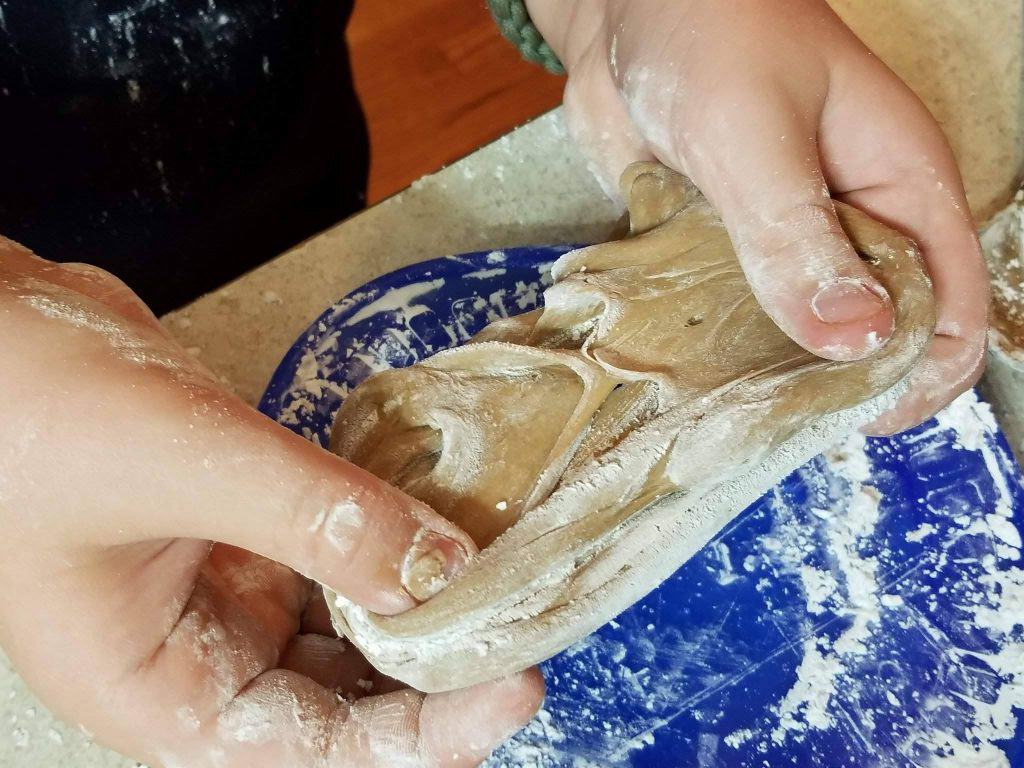 This edible slime recipe is DELICIOUS! It reminds me of a light chocolate chewy taffy type treat, SO good! it can be stretched and smashed just like slime, although with a thicker consistency. This is best eaten right after being made. By the next day it will become just a lump that still stretches some but is nowhere near the original recipe (although still very tasty!)
---
Buy your slime ingredients here:
Here are some of our other very popular slime and sensory posts: