How to Make Metamucil Slime Recipe Tutorial: Slime with Metamucil
This post may contain affiliate links, view our disclosure policy for details.
Now that I've got a toddler in my house again I'm back into the sensory play activities and because she's still into eating everything non edible I needed to make her "edible" or non-toxic DIY sensory recipes! I want to show you how to make Metamucil slime recipe  – it is icky sticky and truly slimy. GREAT for sensory recipe play! Seriously – the BEST slimey slime you'll ever try!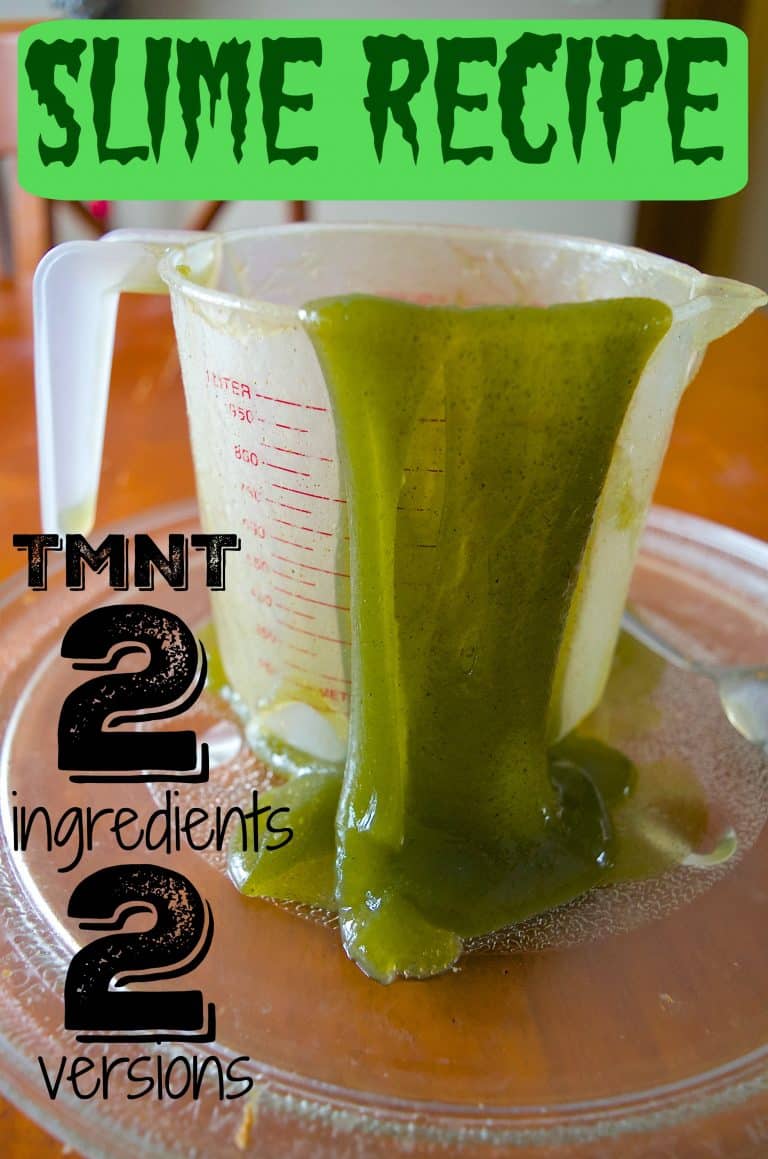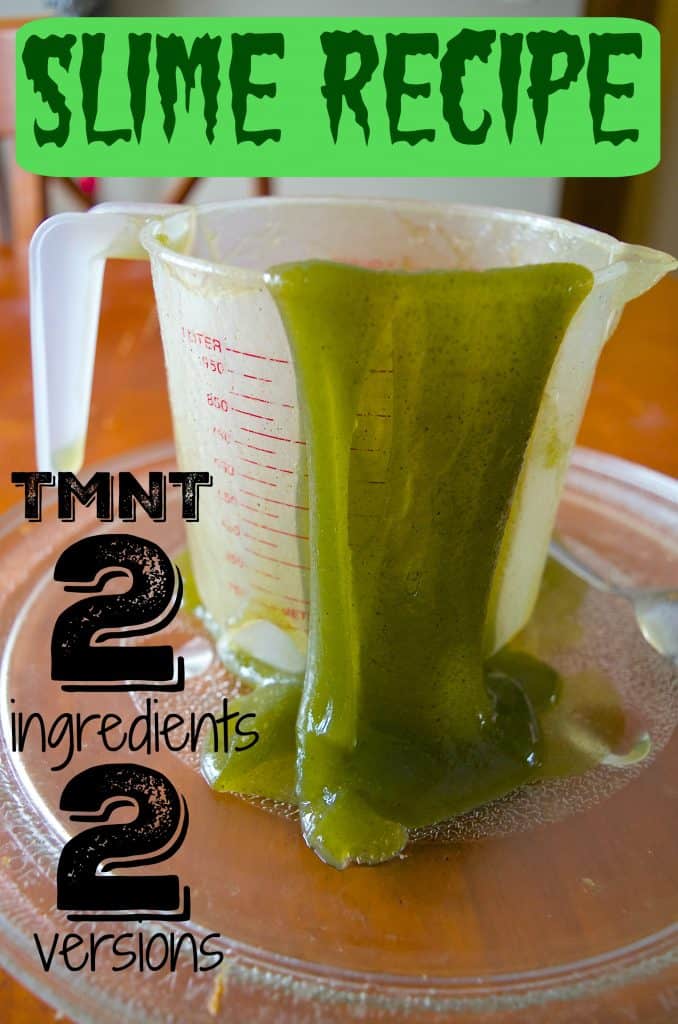 Last weekend I spent a lot of time on Pinterest trying all sorts of DIY sensory recipes and I have to be honest, most of them were HORRIBLE. I mean just HORRIBLE. I have my BS degree in Biology and the majority of the recipes I tried were a big mess and a big waste of money – I couldn't believe it!!
This ooegy gooey slime recipe failed horribly for me. I tried using Kool-aid as well as separate batches with food dyes trying to get the bright rainbow colors displayed but everything looked like a pile of poop. Not kidding – the bright blue food dye turned to nasty green. The neon green Kool-aid turned to nasty green. The pink Kool-aid turned to nasty green. NOTHING worked.
The first 3 times I made the recipe the gooey was SO horribly disgusting and sticky my kids had no choice but to sit in the bath tub to try and get the junk off. But persistency won out and although the color is terribly hideous for what I was trying to do – it actually will turn out perfect for ooey gooey slime recipes.
So I'll share with you how we made it, how to make horrible ooey and gooey metamucil fiber slime, AND how to make it so that it's actually nice to play with and NOT ooey and gooey!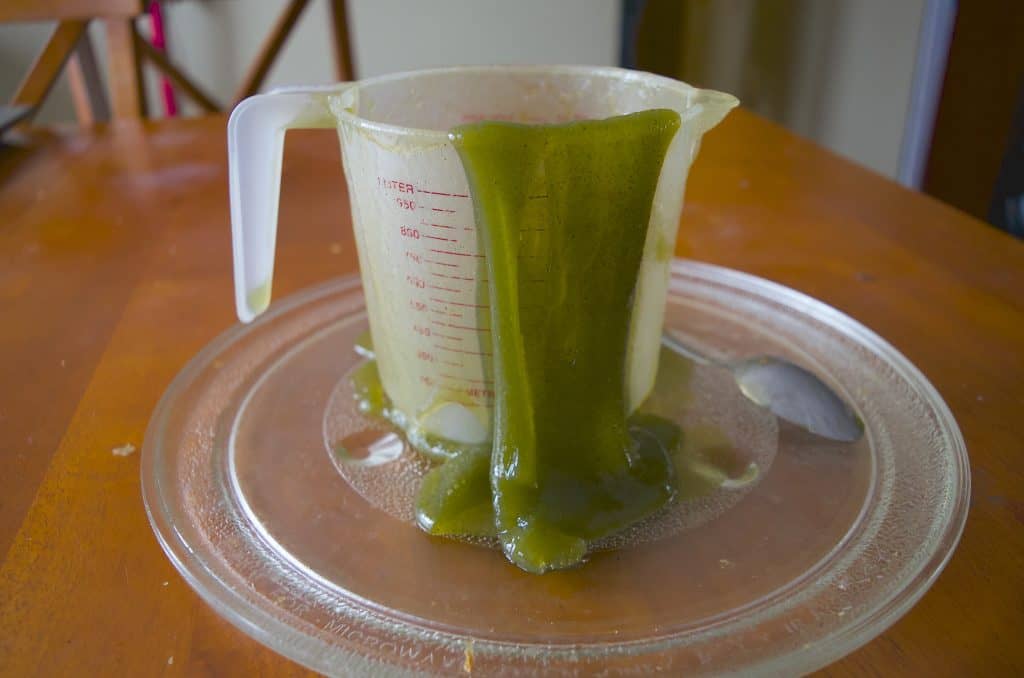 How to Make Metamucil Slime Recipe:
Mix 1 Tablespoon of Metamucil (generic Walmart brand) with JUST UNDER 1 cup of warm water.
For the specific batch you see above I had added 2 drops of blue food dye but as you can see it's not blue. All my batches turned out this color so you may need to make a few batches if you want to get it a different color. If you're making it for slime obstacles or a Teenage Mutant Ninja Turtle party you should be good to go!
Once you mix the Metamucil and water put it in the microwave for 2 minutes on high. It will be extremely hot and bubbly. Stir it and stick it back in the microwave for 2 more minutes on high.
Remove it and let it COMPLETELY cool. You do NOT want your kids to get burnt which is what will happen if you give it to them. When you remove it the metamucil slime will STILL be like watery thin. You won't start seeing the slimy consistency until it's about half way cooled. By the time it cools off it will be a blob of slime!
TIP – Make sure to keep an eye on the microwave while it's "cooking" so that it doesn't boil over like mine did above!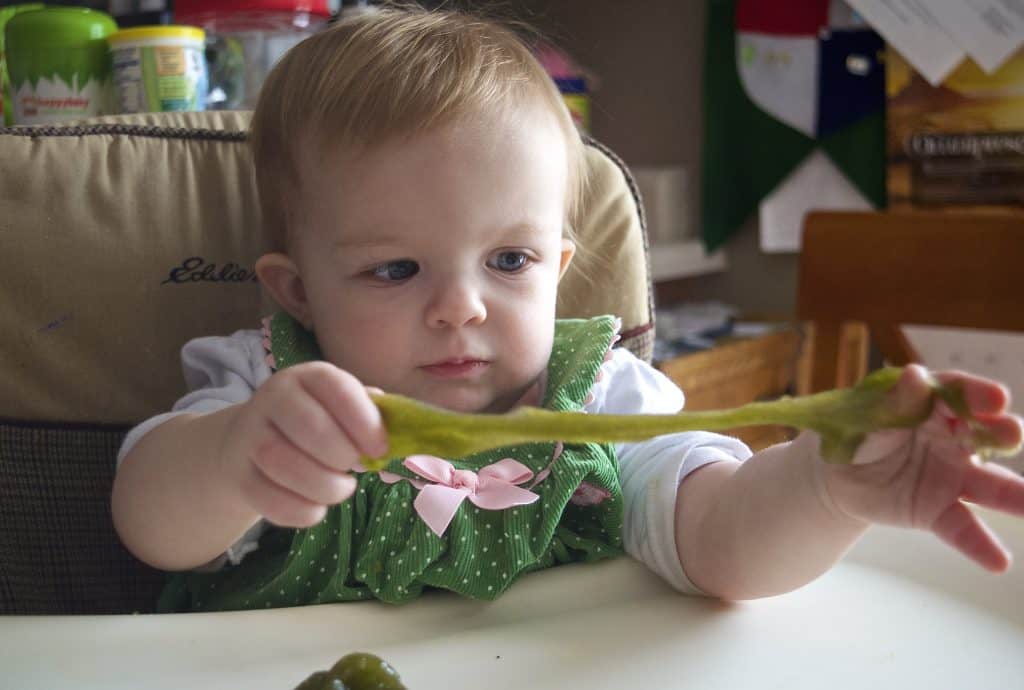 So the nice thing is that one container of metamucil will make a TON of metamucil slime so it's EXTREMELY cost effective for large groups. My first 3 batches were TOO watery though and after my slime had completely cooled it was the OOIEST SLIMIEST mess I'd ever ever seen.
Even washing it off was a chore because it was SO slimey. It would make for a great alternative to taking a bath with the Gelli Baff stuff which is VERY expensive! (just make sure if you are putting it down the drain you use a LOT of hot water so it doesn't clog anything!)
By the 4th time I decided to use JUST UNDER a cup of water and the consistency was perfect and did NOT stick to the kids fingers as you can see with my toddler above. It was more of a gak consistency. SO depending on what you want to make this recipe for will determine how much water you use!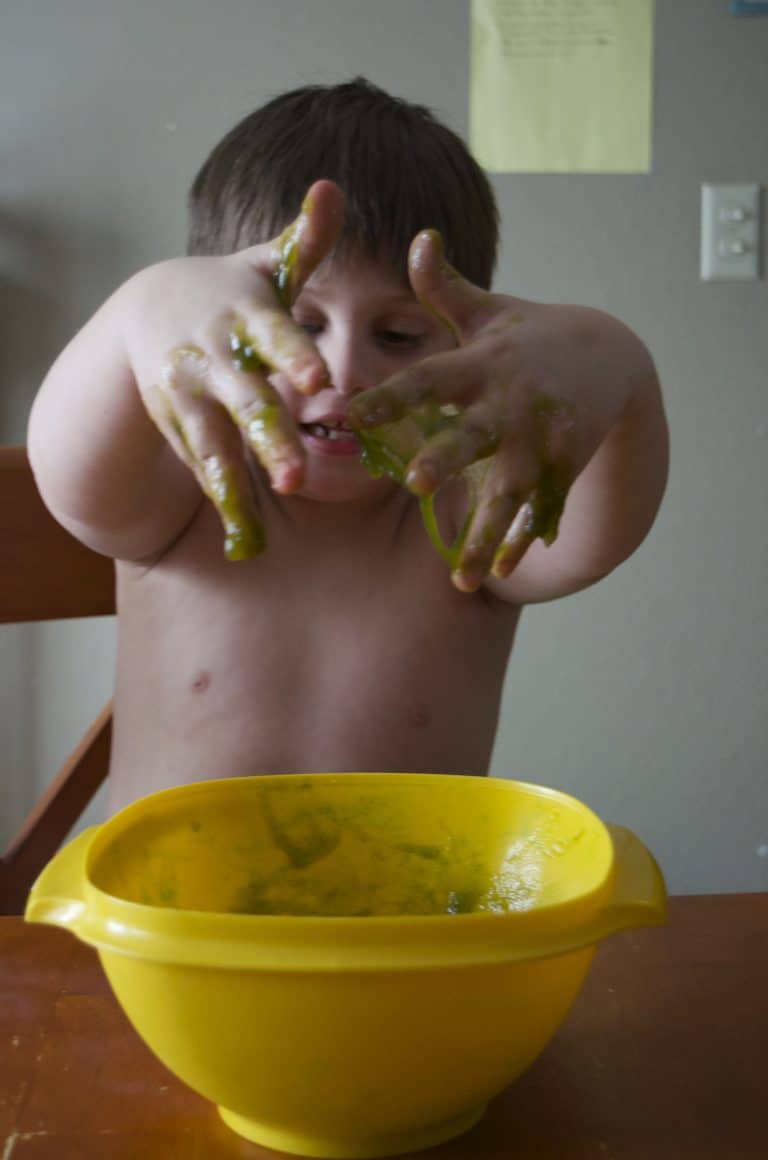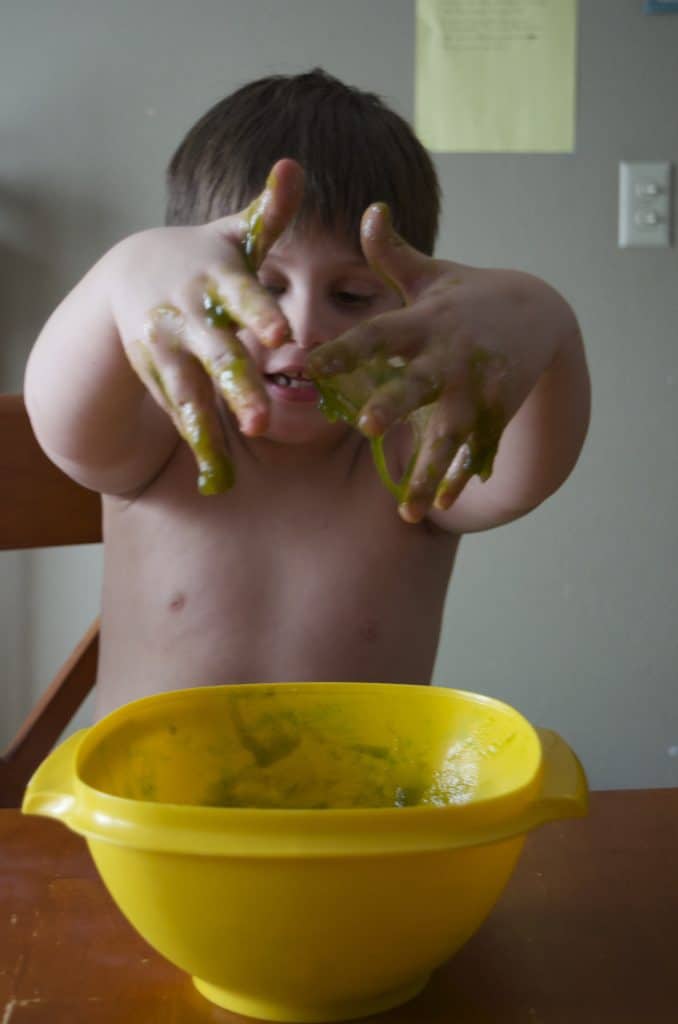 AND just so you get an idea this is the ooey gooey metamucil slime with too much water added that sticks to EVERYTHING. SO if you want some slime play around with it a little! Just remember – less water for less mess! 🙂 I'm actually going to mix play sand with it this summer and put it out in the sand box for some extra gooey sensory play!
Check out our other DIY Sensory Recipes!