How to Make Edible Homemade Play Dough Recipe with Koolaid- Rainbow Colors
This post may contain affiliate links, view our disclosure policy for details.
There are SO MANY homemade play dough recipes out there! Remember that Pinterest Fail turned awesome ooey gooey Homemade Slime Recipe we discovered?
That same weekend I also made tons of batches of homemade play dough searching for a non toxic edible recipe that was toddler friendly and this is the one we settled on!
(And just for the record, if you have a cat that likes to eat weird things I recommend storing this inside of a plastic sealed container instead of a Ziploc bag – our cat attacked ours!!)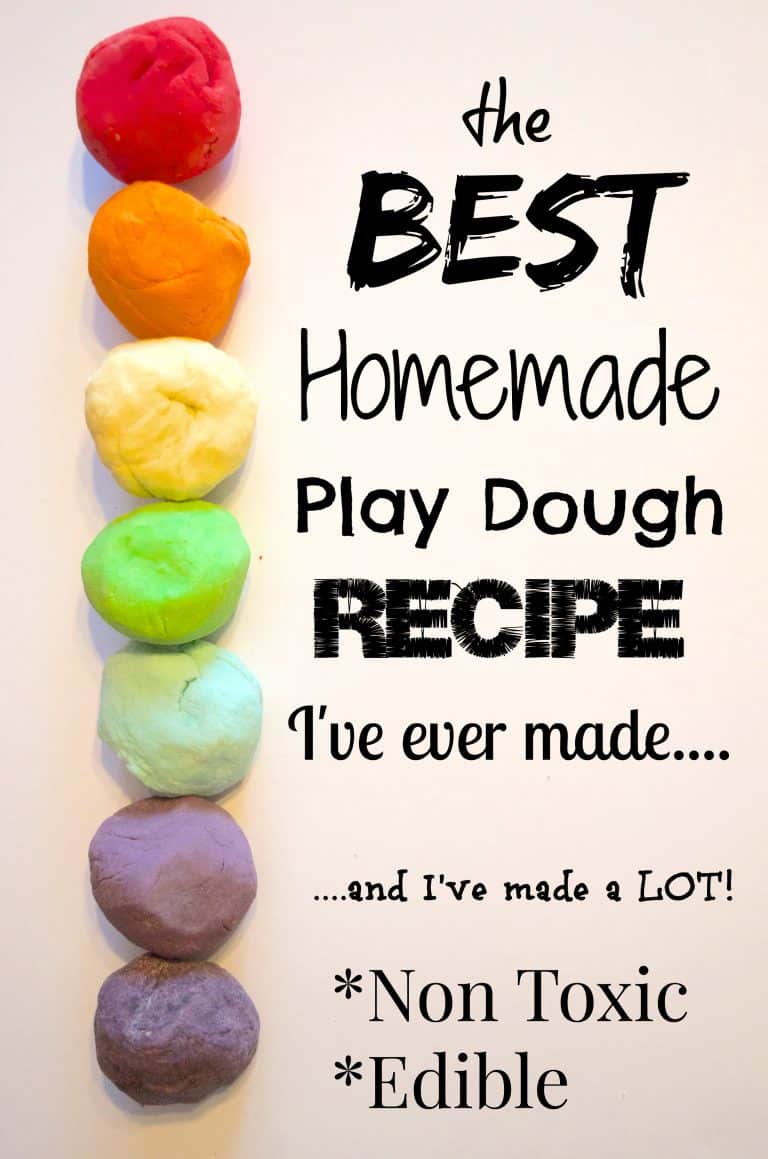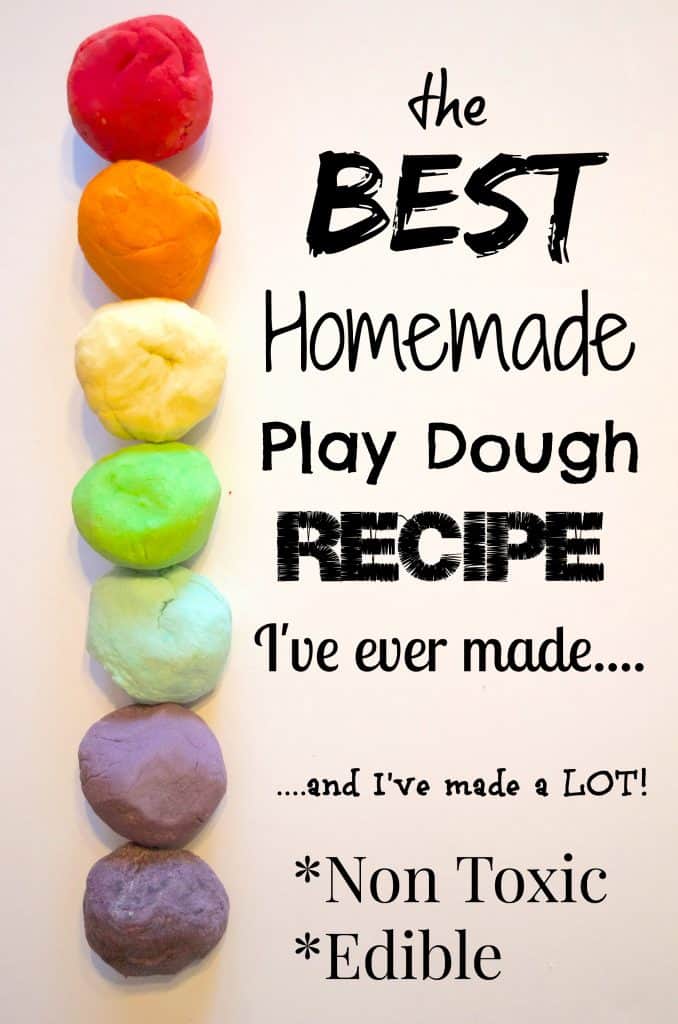 You can buy Play-Doh pretty inexpensively, but sometimes you want a quick toddler friendly version that's cheaper.
If you appreciate this free content and would like to help contribute in a small way in helping me continue providing free educational resources for others, feel free to send a token of your appreciation via Paypal here. Any amount helps and is greatly appreciated. Shop through your favorite Etsy store or use our Amazon link to make your purchases!
DIY Edible Homemade Play Dough Recipe:
1/2 cup all purpose flour
1/2 Tbsp. Canola oil
1/8 cup Salt
1/4 cup boiling water
1 pack Kool-aid
Mix all ingredients together well. Add flour if sticky. Make sure it is COOLED off completely before handing it to the child!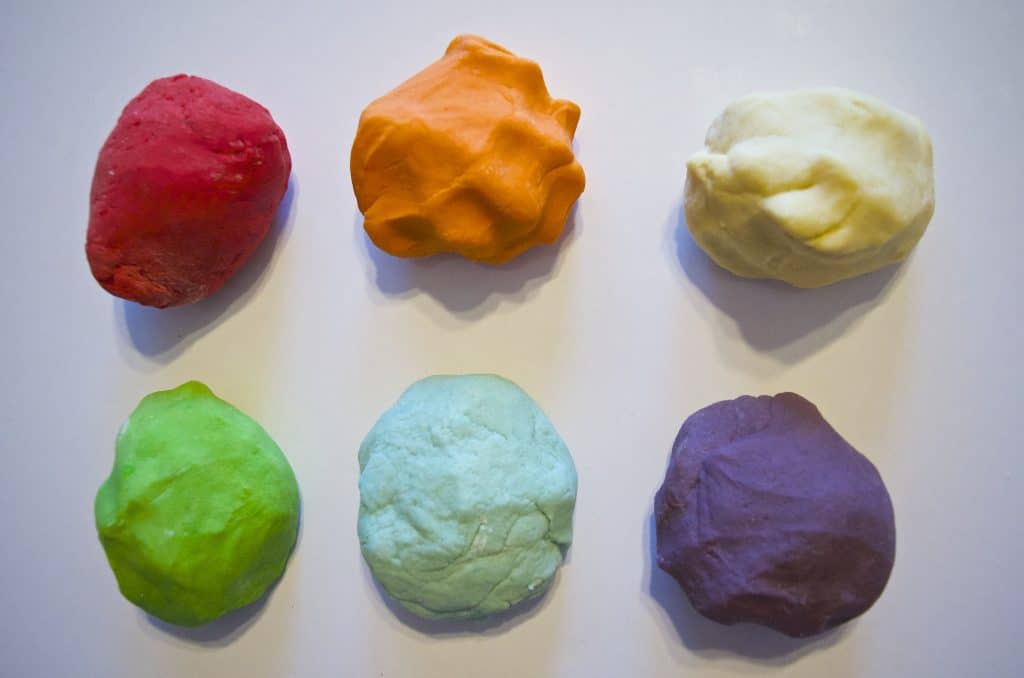 I wanted to make rainbow colored play dough for the kids to enjoy with St. Patrick's Day activities and then to go along with science prism lessons (and of course summer rainy season fun!) so I opted for using Koolaid packets instead of food dye. (except the light BLUE color you see above was achieved by adding 2 drops of food dye since the "blue" Koolaid I purchased actually ended up being red!).
Play around with the colors and have some fun! I tried both Grape and Purplesaurus colors for the purple play dough and they both turned out roughly the same color. The same for the Cherry and Tropical Punch flavors for the red color.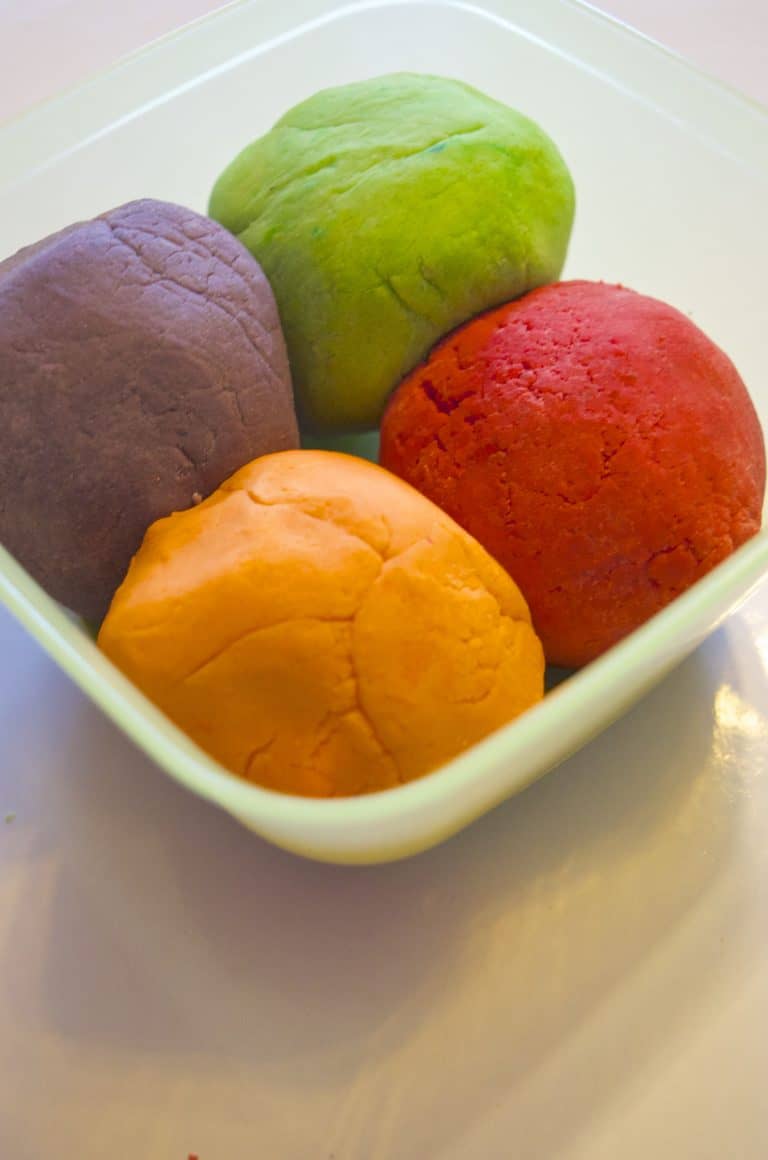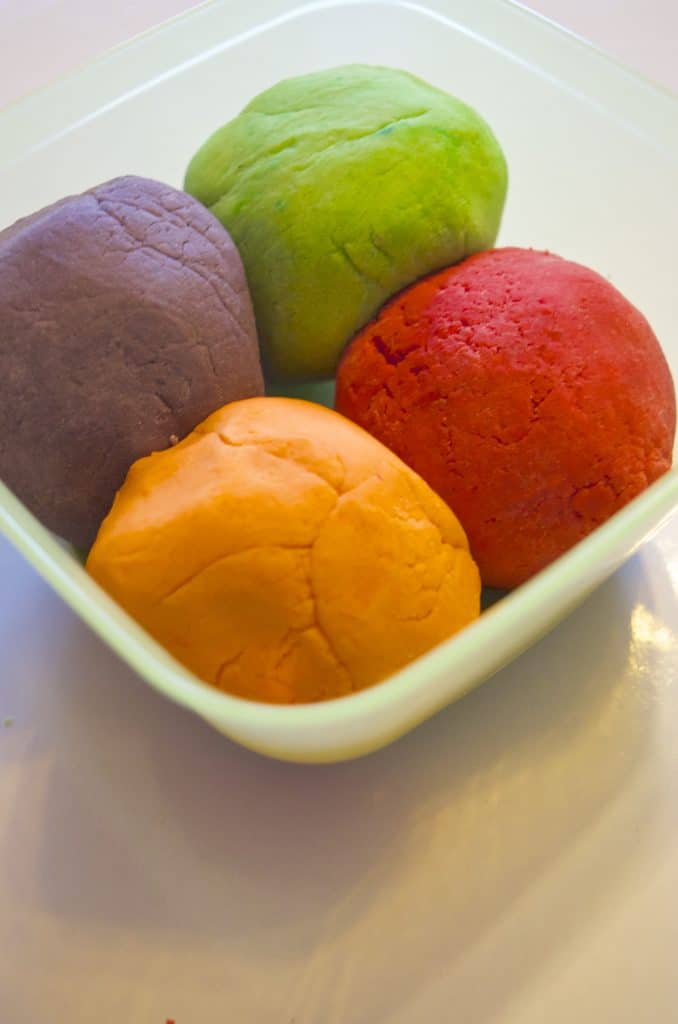 I know our local daycare/preschool is HUGE into sensory play so if you have extra consider giving your local daycare a call and asking if they want some extra homemade play dough!
Add a few rolls of your play dough into a container with some plastic animals, dinosaurs, trucks, or other items to encourage more fun!
We love the Safari Ltd. TOOBs
because you can center your sensory play around specific educational themes and they are high quality.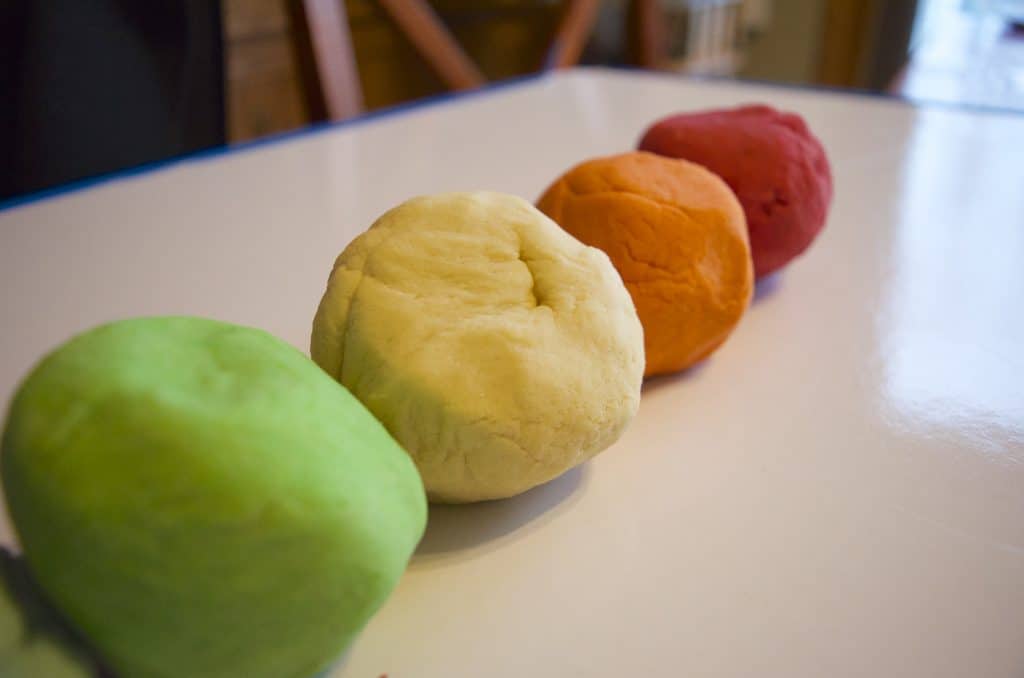 Do you have a "go-to" homemade play dough recipe that you use? I'd love for you to share it with us in the comments!
I love this recipe because it's so smooth and soft and smells seriously amazing! This recipe absolutely offers a strong smell for sensory play since you are using Kool-aid!
And for those of you interested I took a photo below of the specific flavors of Kool-aid that I bought and made so you can buy the same exact ones if you want them!
Extra Tips & Obvious Disclaimer: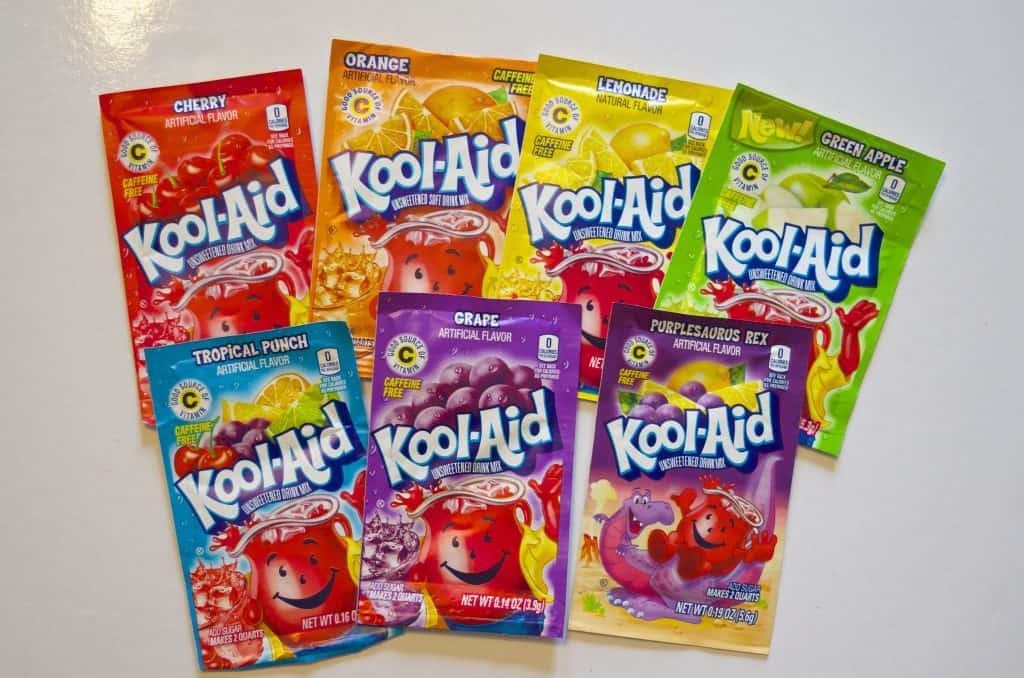 Obvious Disclaimer – this homemade play dough recipe is NOT meant for your child to eat or snack on!!! It is simply made with regular household kitchen ingredients and will not harm a curious toddler who goes in for a lick! I have NOT had any issues with hands being stained – make sure you have very very thoroughly mixed in the Kool-aid so there are no pockets of colors left unmixed!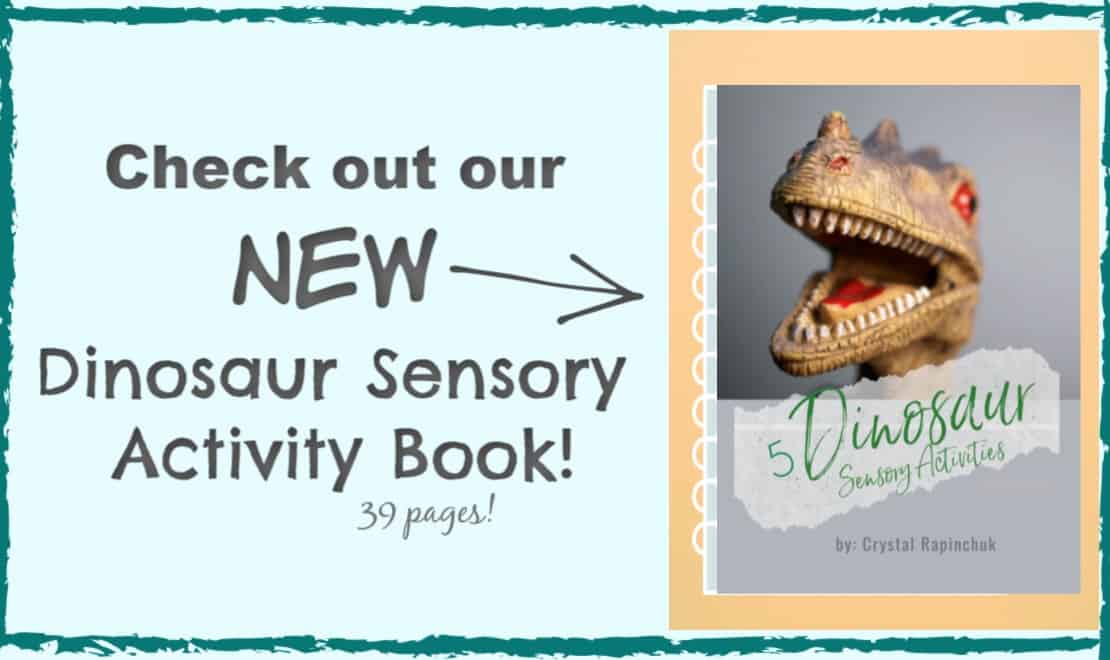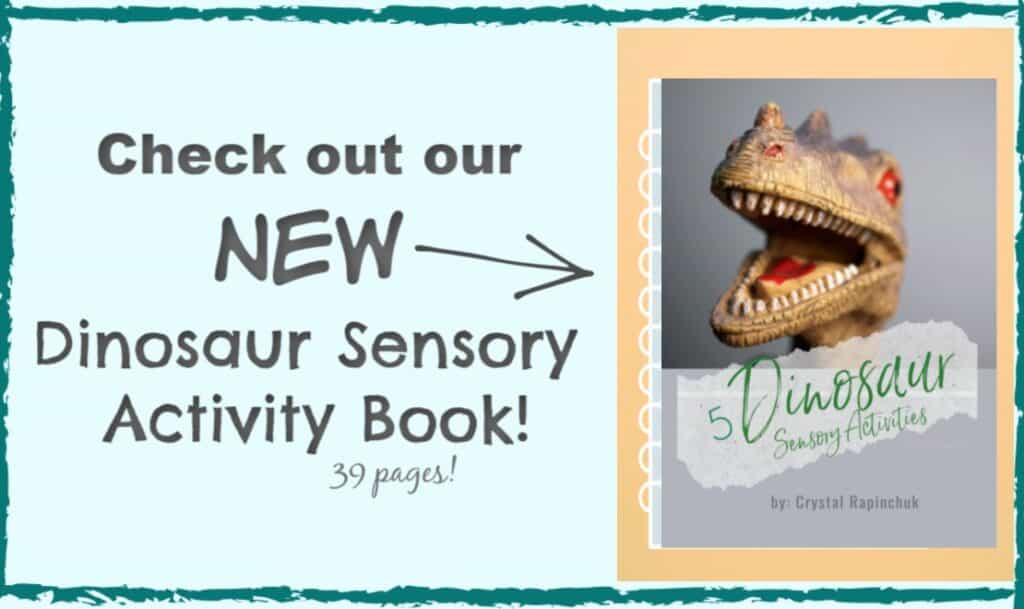 Other POPULAR Sensory Recipes: