Apple Tree Craft for Kids- GREAT for Behavior Management, Johnny Appleseed, Dr. Seuss, President's Day & more
This post may contain affiliate links, view our disclosure policy for details.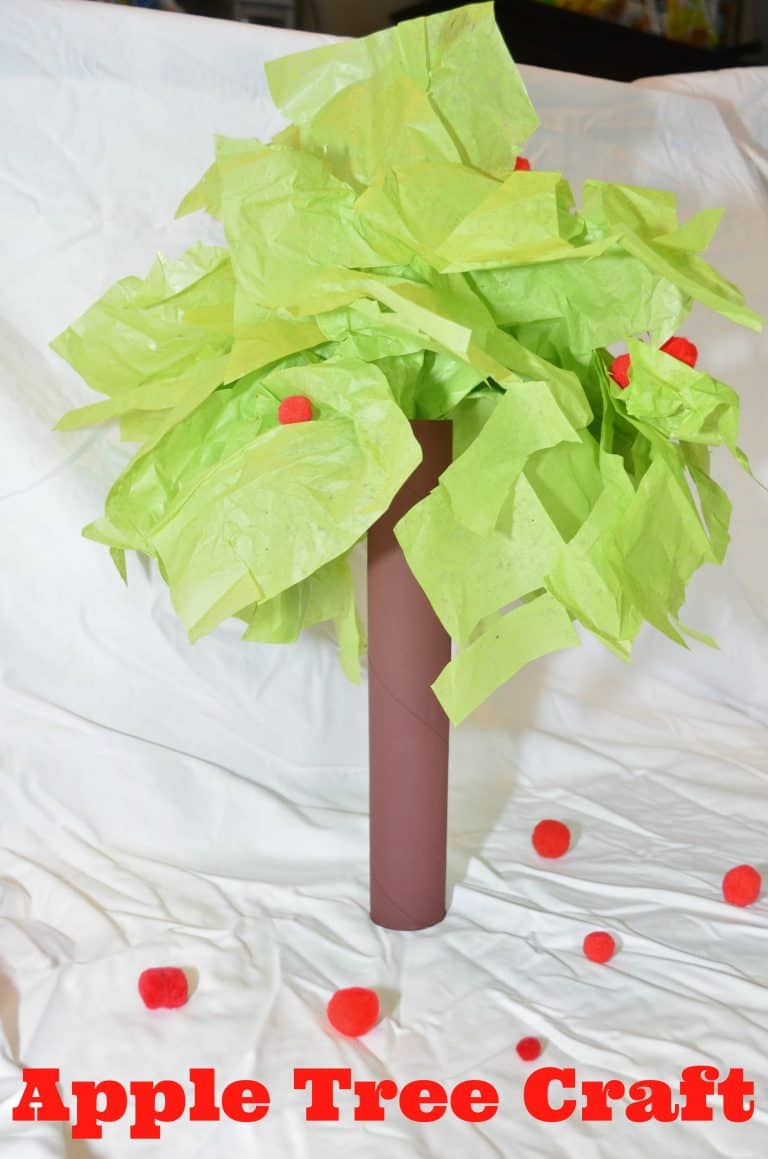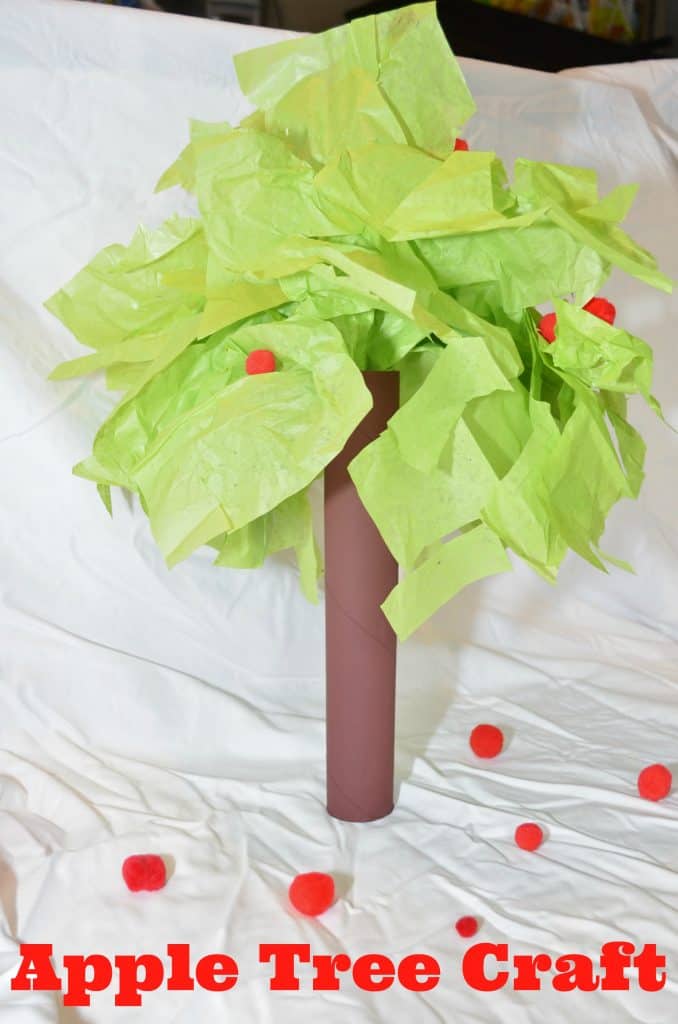 This Apple Tree Craft is SO fun and can be used for a wide variety of situations and holidays! It pairs great with Johnny Appleseed Day, Dr. Seuss' Ten Apples Up on Top!, or you could even call it a Cherry Tree and use it for President's Day (think George Washington!)! So I'm going to show you how to make this craft (super easy!) and then I'll give you a bunch of ideas, FREE printables and resources to go along with this! To make your own apple (or cherry) tree you'll need:
Recycled Paper Towel Tube
Green Tissue Paper
Red Pom Poms
Brown paint or construction paper
Start out by either painting your paper towel tube brown or taping brown construction paper on it. Then I took my green tissue paper and folded it similar to my Truffula Trees in a fan-like pattern, fluffed them out a bit, and then took a pair of scissors and literally just started hacking away at it. There is no right or wrong way to create your treetop – just start cutting into the paper like a maniac. Be careful, however, not to cut so much off that you're actually making the tissue paper fall off! Cut, scrunch, fluff….do whatever you want to make your tree look like you want it! Then simply pour some red pom poms on top. For added effect leave red pom poms on the counter underneath the tree as well. It will also give the students easy access to the "apples" or "cherries". That's it! Making the apple/cherry tree is easy! Here are some great ways that you can incorporate this craft into an extended activity in your classroom or at home.
Dr. Seuss Inspired Activities
Pair the following activities with the book Dr. Seuss' Ten Apples Up on Top!:
1. Apples on Students Heads Picture Display (like this photo on pinterest)
2. Apples on Students Heads Behavior Management – As you see students applying good behavior allow them to choose an "apple" and place it in a jar. When the jar is filled offer some type of reward (movie day, cookies, etc.)
3. See how many apples you can actually stack on top of each other.
Johnny Appleseed Inspired Activities
1.  Apples in a Jar Behavior Management
2. Student and Apples Writing Prompt – Have students describe their favorite apple, make a story about meeting Johnny Appleseed, "dissect" an apple and describe what's inside, etc.
3. Plant apple seeds and watch them grow!
President's Day "Cherry Tree" Activities
1. Cherry Tree Behavior Management (adopt from Johnny Appleseed's Behavior Management in a Jar)
MORE Apple Related Writing & Fine Motor Skills resources
FREE Apple Themed Letter Template Printable
FREE "Dear Johnny Appleseed" Letter Template Printable
No Sew Felt Apple Pie Activity
Chicka Chicka Boom Boom Tree Activities
You can also create this tree (minus the red pom poms) and use small letters to pair with Chicka Chicka Boom Boom!
1. Have one student per day choose a letter. Have the students see if they can form words each week with the letters chosen from the tree.