Dr. Seuss Books, Gifts, Classroom Decorations and more!
This post may contain affiliate links, view our disclosure policy for details.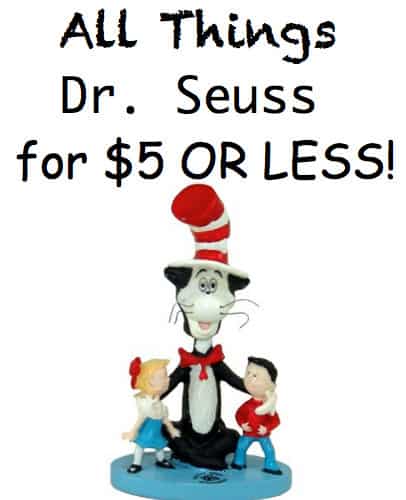 Dr. Seuss Day is such a HUGE celebration for us every year and I know many schools and classrooms around the country also celebrate! It's a great way to promote literacy to kids and enjoy a great author! Below I've listed all sorts of great Dr. Seuss items that are $5 OR LESS at the time I post this! As with anything online please double check prices before purchasing to verify it is still under $5! Prices are always subject to change.
Dr. Seuss APPS
The Cat in the Hat (Android) App
Green Eggs & Ham (Android) App
Dr. Seuss's ABC (Android) App
The Lorax (Android) App
Dr. Seuss Wall Decals
"You're off to great places, today is your day…"
"Today you are you that is truer than true…."
"Be who you are say what you feel…"
"The More that you read the more things you will know…"
"Why Fit in when you were born to stand out?" Car Sticker Decal
"Think and Wonder Wonder and Think"
Classroom Supplies & Crafty Stuff
32 Wearable "Thing" Hats
Giant Cat in the Hat Bulletin Board set
Dr. Seuss Craft Ribbon
Dr Seuss Cat in the Hat Adhesive Name Tags 40 pk.
Dr. Seuss Large Characters Bulletin Board 4 panels
Dr. Seuss ABC Foil Balloon
Dr Seuss Tented Nameplates (36 pk)
Grab your Hat Vertical Banner
Dr Seuss Lenticular 3D Pencil Toppers (24 pk)
Dr. Seuss TOYS & GAMES & KIDS
The Lorax Plush Toy
Dr. Seuss Fun Machine Game
Dr. Seuss Books UNDER $5 (ALL Hardcover or Board Book)
Gerald McBoing Boing
Dr. Seuss' ABC Amazing Alphabet Book
Oh the Thinks You Can Think
The Shape of Me and Other Stuff
Ten Apples Up on Top
Mr. Brown Can Moo Can You
Hop on Pop
Fox in Socks
There's a Wocket in my Pocket
Who Was Dr. Seuss? (by Janet Pascal)
Now You See Me…. (paperback)
I Can Draw it Myself, By Me, Myself – (paperback)
The Tooth Book
Hand Hand Fingers Thumb
OVER $5 but on SALE!
Seussisms: Wise & Witty Prescriptions
Dr. Seuss Happy Birthday Baby (hardcover)
Dr. Seuss "Oh the Places You'll Go" Stainless Steel Water Bottle
Thing 1 or 2 Blue Hair Wig for kids
Dr. Seuss 5 inch Bobblehead
There's No Place Like Space – All About our Solar System (hardcover)
Dr. Seuss Audio CD
Dr. Seuss Sticker Book
Dr Seuss JUMBO Alphabet Flash Cards
Dr Seuss LORAX Plush Puppet Play set
Dr Seuss Acrylic Tumbler
Dr Seuss Travel Tumbler Mug
Check out our POPULAR Dr. Seuss Posts!