Worm Factory 360 Worm Composting Bin Review
This post may contain affiliate links, view our disclosure policy for details.
Disclosure: I received the below product to use and keep. All opinions are my own.
It's been a few months since our announcement about growing worms and our first official update where I show you step by step how to set up your Worm Factory 360 Worm Composting Bin and my initial thoughts. I have to be honest, my opinions haven't changed much since that last update – I really like the Worm Factory 360 Worm Composting Bin for it's versatility and quality! It's an absolutely perfect choice for the classroom (yes, INDOORS!) and at home like I've been using for my garden.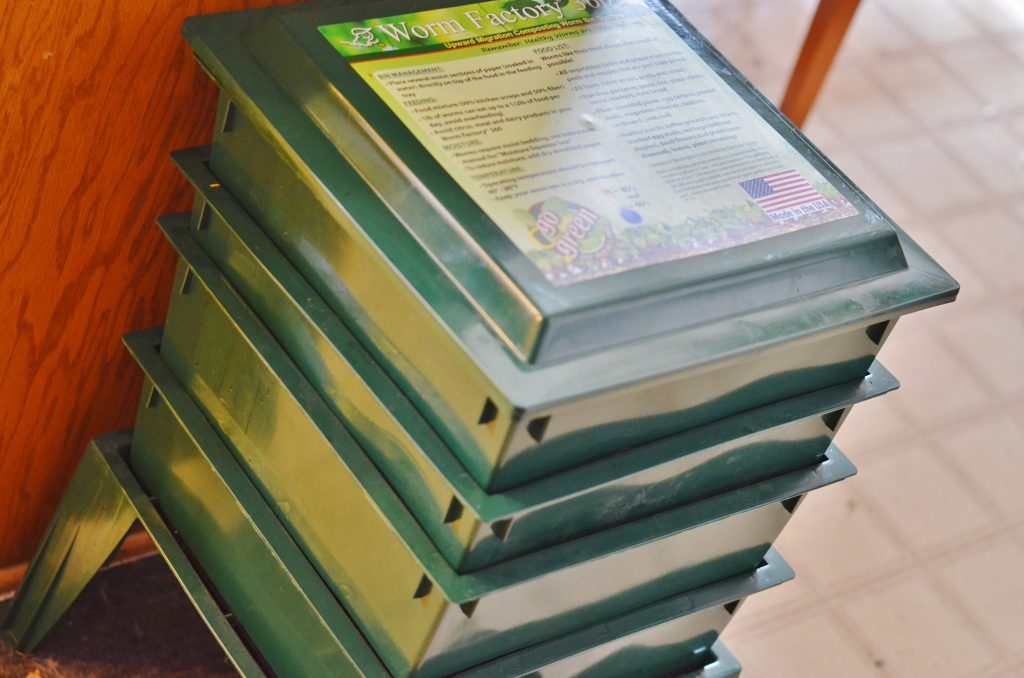 Doesn't it smell? That's gross!
I could just imagine the odors coming from decomposing food in my house. This was my first reaction to finding out that our Worm Factory 360 Composting Bin would need to be moved indoors. Our weather here in Iowa is just too extreme for the worms which wouldn't survive our brutal winters outdoors. I certainly didn't want to have to go trekking down into the basement every day just to add some table scraps to the worm bin so we made the decision to put our Worm Factory right in our kitchen! After being promised that not only there would be no odors coming from our worm bin that there would also be no flies near it I agreed to give it a try. After all, I was really more interested to see how smelly this would be to set up inside a classroom for a school project. (It would be awesome to work on this worm bin with your class throughout the year!!)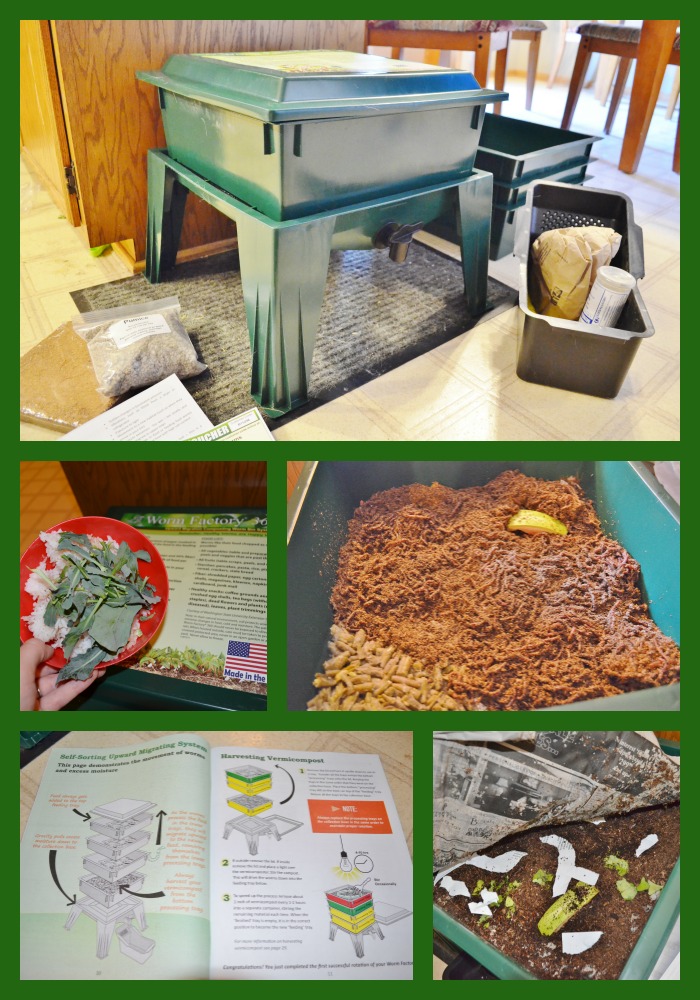 This is the photo from my original review with the simple steps on how to get started. When you set up your Worm Factory you only start with one tray. It actually takes months to get a full tray rotation system going on. In fact we haven't even made it to a full tray useage yet – but I stacked them together so you could see the height in the first photo! It only takes about 1/2 cup of food per day to keep these little red wigglers happy. Really the biggest thing that I have to keep an eye on is making sure that the Worm Factory is the perfect moistness and has the right amount of food. If it's too dry the worms will die, and if it's too wet it will get moldy and gross. I actually did really well the first month and barely thought about it. But then I put too much rice in one day, and then I cut back and it go too dry. It's a little bit of a learning process but it's definitely a great way to get some seriously good compost or let little hands learn about everything from compost to fertilizer, digestion, worms, recycling and more!
The Worm Factory comes in different colors so you can choose what best matches your decor or area outdoors if you don't have freezing weather. To this day we have never ever smelled anything coming from our Worm Factory nor have we seen any flies hanging around! In fact we have had numerous visitors over who not only didn't smell anything or realize that we were growing worms but they never even noticed our big worm bin sitting right in our kitchen – it blended right in! I actually had to point the Worm Factory out to our visitors as no one even noticed it so that was pretty cool. And on top of that, our pet pig who occasionally comes in the house and goes absolutely CRAZY over the smallest crumbs on the floor, NEVER EVER bothered our Worm Factory which was pretty amazing to me.
Overall? This is a pretty flawless system! I love that everything but water and newspaper is included in the set and it comes with a huge instruction manual that will just about answer all of your questions! Plus it has plenty of photo diagrams which I like because it's visual. If you want an awesome year-round classroom project, or you're into gardening like me and desperately need some compost – this is a great option! Don't forget that it takes a few months to get started with compost for your garden so hurry and get your set started before the spring comes!
Make sure to check out the Squirm Firm for other articles and products! You can also find Squirm Firm on Facebook!