Winter Penguin Ice Fishing Craft with Crayola Model Magic
This post may contain affiliate links, view our disclosure policy for details.
Disclosure: I received the supplies to create this craft. All opinions are my own.
OH MY GOODNESS how cute is this ice-fishing penguin!? I am totally in LOVE with how it turned out!! Crayola sent me a nice little box of art supplies including their Crayola Model Magic
(which I had never used before) and our entire family is now in love with Model Magic. The stuff is just absolutely amazing! Seriously – the coolest crafty compound we've used.
It is SO incredibly easy to shape and create things out of. Then you just leave it out for a day or two to air dry or keep it in a resealable bag to use later! This craft would pair up great with my (free!) Penguin Letter Template printable and my (free) Penguin Gift Tags!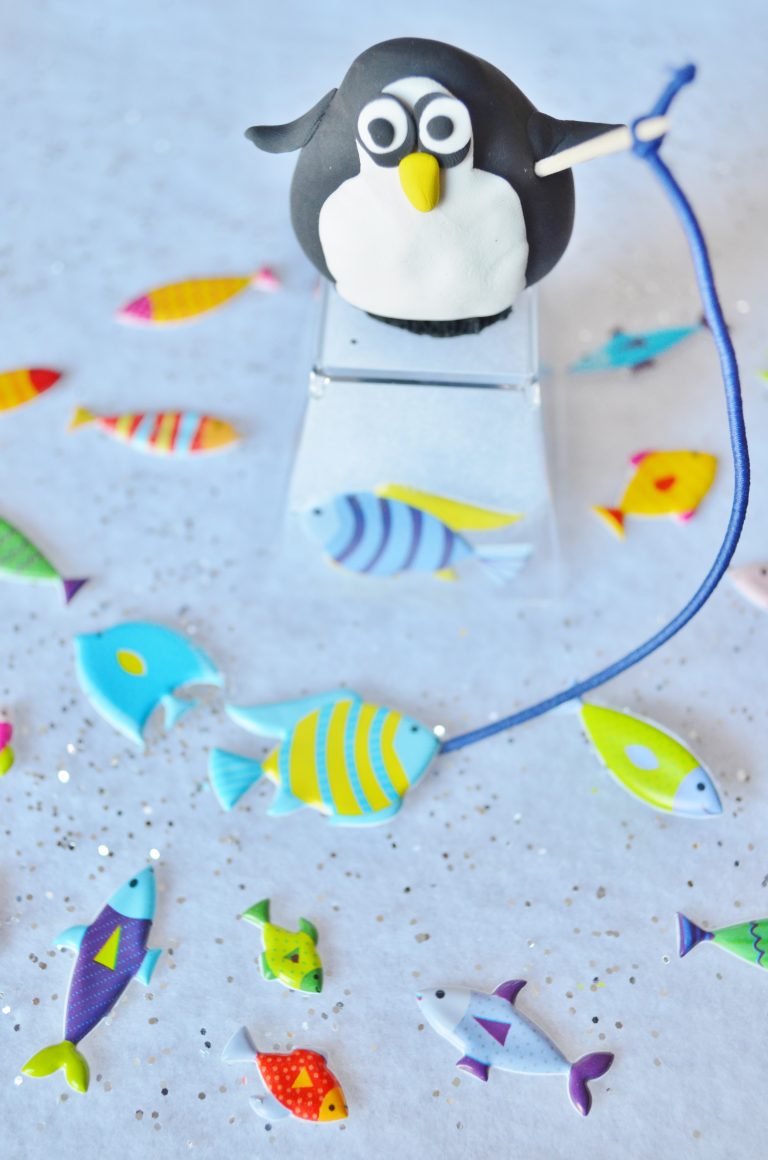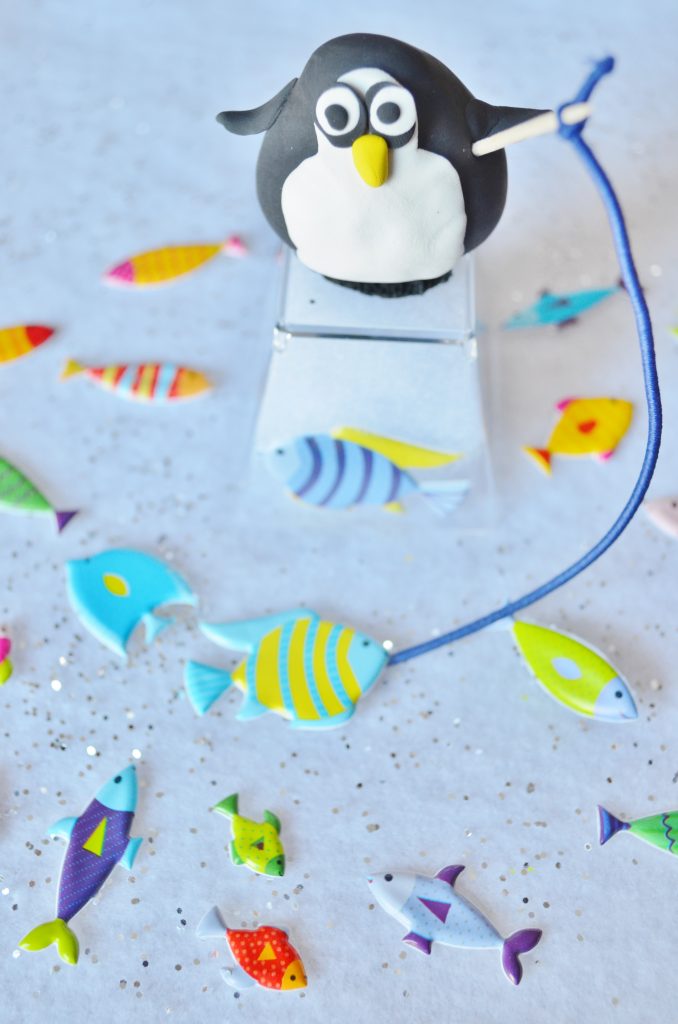 So I went to the store and bought all sorts of craft supplies that I didn't actually need for this project so I will be posting some more winter crafts soon! But for this cute little ice-fishing penguin craft you'll need:
Crayola Model Magic (black, white and orange or yellow)
string (a small scrap string will do)
clear cup/bowl
glitter (silver)
1 toothpick
white felt
cotton stuffing
fish (I used scrapbook stickers)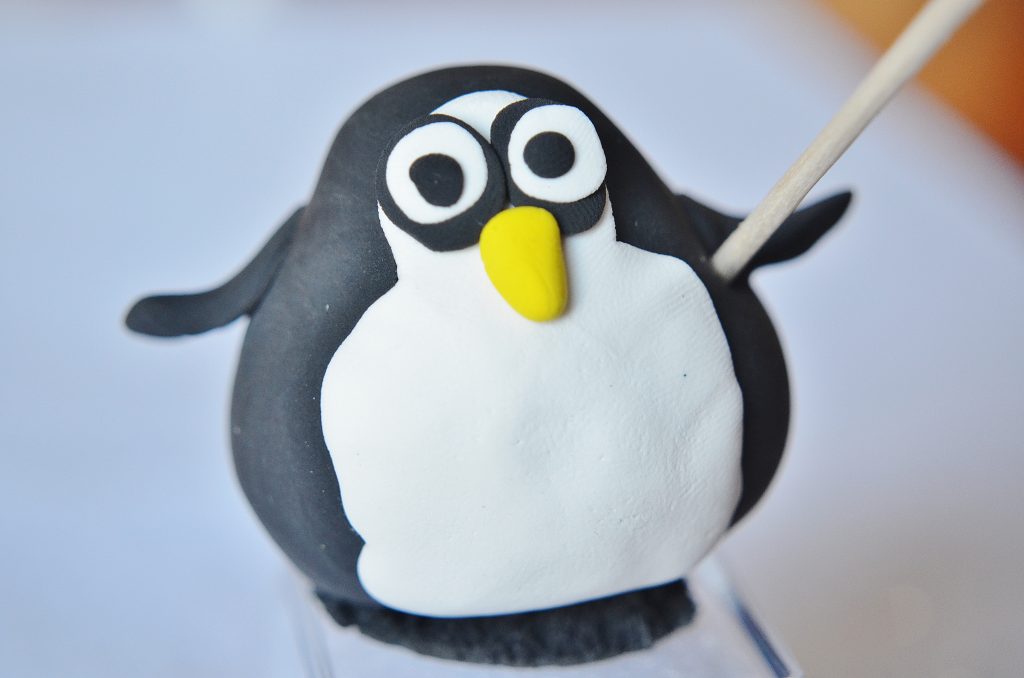 I literally made this little penguin in just minutes – it was surprisingly easy for a not-so-creative person! I pulled two tiny pieces of black Model Magic off to put to then side then rolled the black Model Magic into a ball and squished it down onto the table so that it would "stand" upright. The two small pieces I set aside I flattened and just lightly pressed them onto the sides of the black ball which formed both the penguin body and the penguin "arms".
Then I flattened out a piece of white Model Magic and pressed it onto the front of the penguin body as you see above. I pinched a tiny bit of yellow Model Magic off and stuck it onto the front for a beak (you can use orange for this too but I didn't have orange!). Then I made two small black dots for eyes, and two smaller white dots to put on top of the black eyes, then two even smaller black dots again to make the penguin eyes really stand out! When that was all done I stuck a toothpick through the side of the penguin to make it look like he was "holding" a fishing pole!
Once your penguin is created you can set up the rest of your scene! Lay down your square of white felt to make it look like a layer of ice. It doesn't matter how big/small this is – that will depend on where you will be storing this little craft. Then take your clear cup, stuff it with cotton and some fish, and place it open side down directly onto the felt so that the penguin can be placed on top of the clear cup. Sprinkle silver glitter on the white felt, then place your fish on top spread out on the "ice".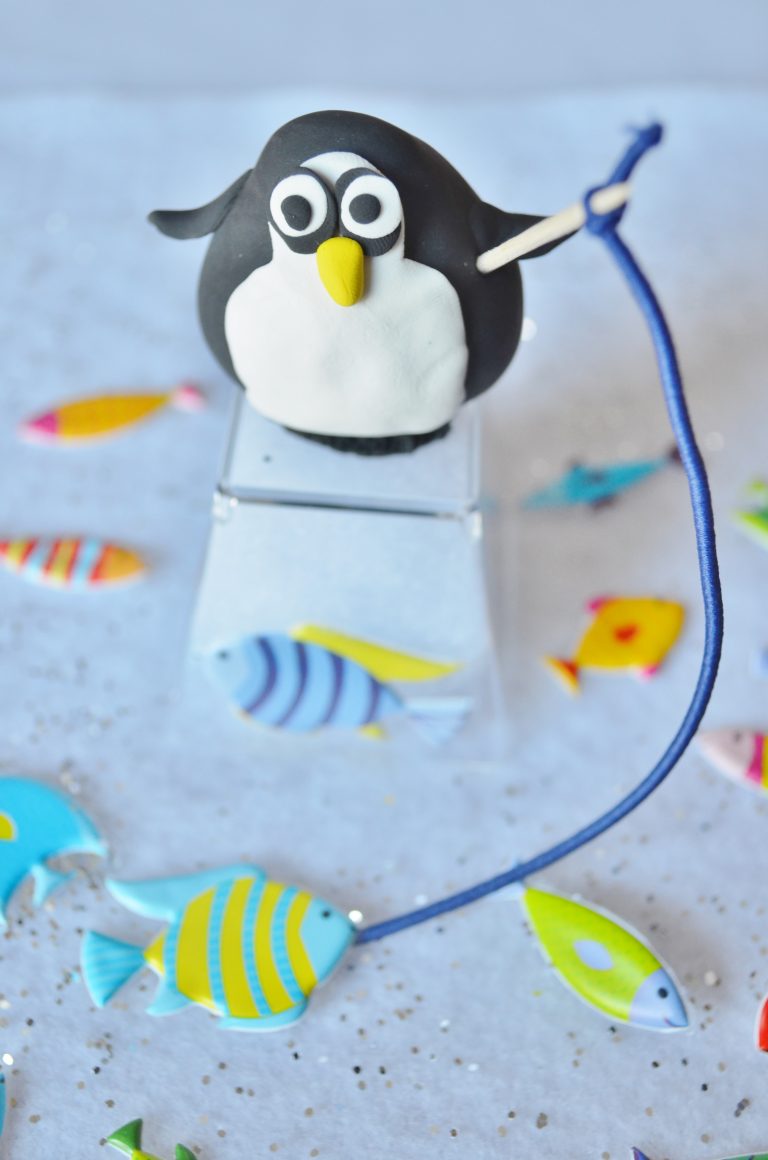 Then I took my little piece of string (I think mine is actually an elastic from an old ponytail holder!) and tied it to the tip of the toothpick making sure to leave the string long enough to just touch the white felt (ice) below.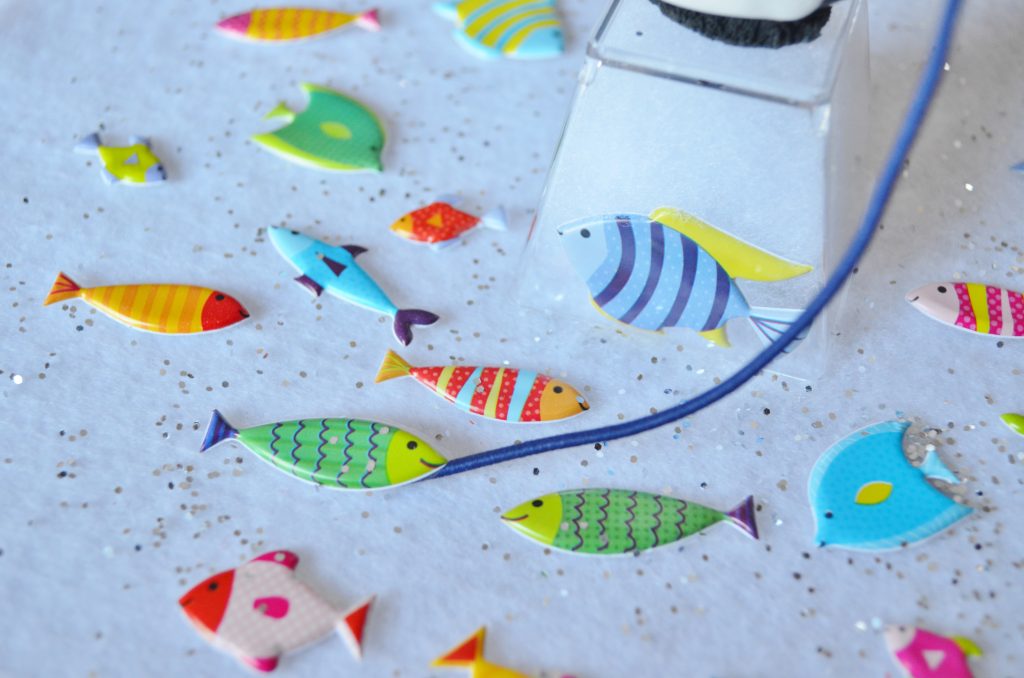 I laid a fish on top of the end of the string so it looks like the penguin caught a fish! You can also see in the clear cup ("iceberg") that I put a fish for display in there as well!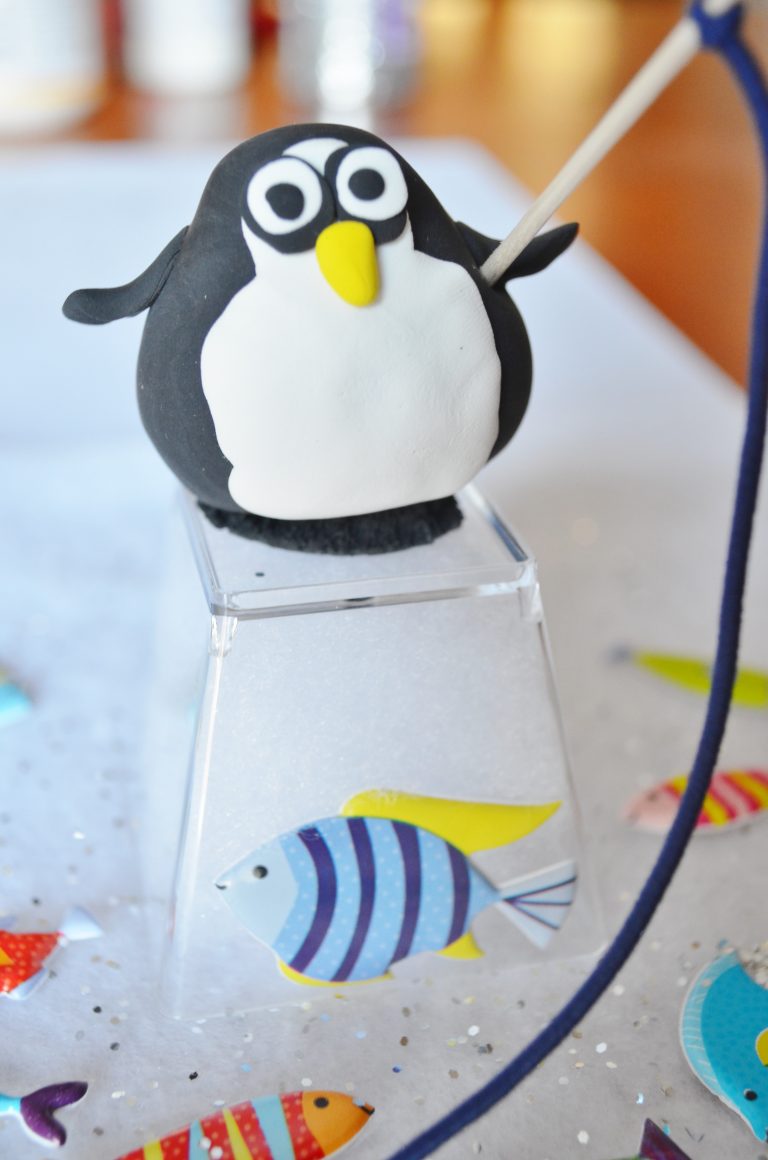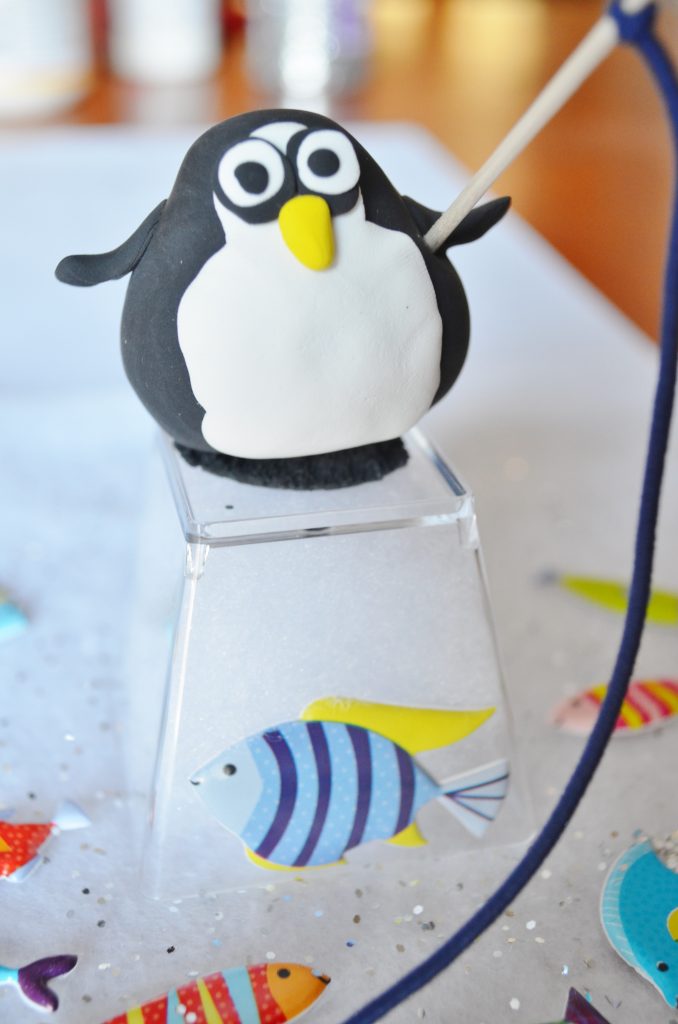 Here's a closer look at the fish in the "iceberg". This was SUCH a simple craft that you can literally set up in minutes if you wanted to. My original idea (but my small town that I go shopping in doesn't have everything I need!) was to use those large clear plastic drinking cups and drill a small hole in the middle of it so that the string actually went into the middle of the cup to simulate ice fishing better but all I could find at my store was these itty bitty dessert cups.
Which I actually think I like the fish spread out on the felt "ice" better than having them all inside a cup like my original idea! There you have it! You can easily turn this into an entire winter scene by creating a whole group of penguins, icebergs, and even polar bears!