Dyson DC59 Bagless Vacuum Review
This post may contain affiliate links, view our disclosure policy for details.
Disclosure: I received the below product in order to facilitate this review. All opinions are my own.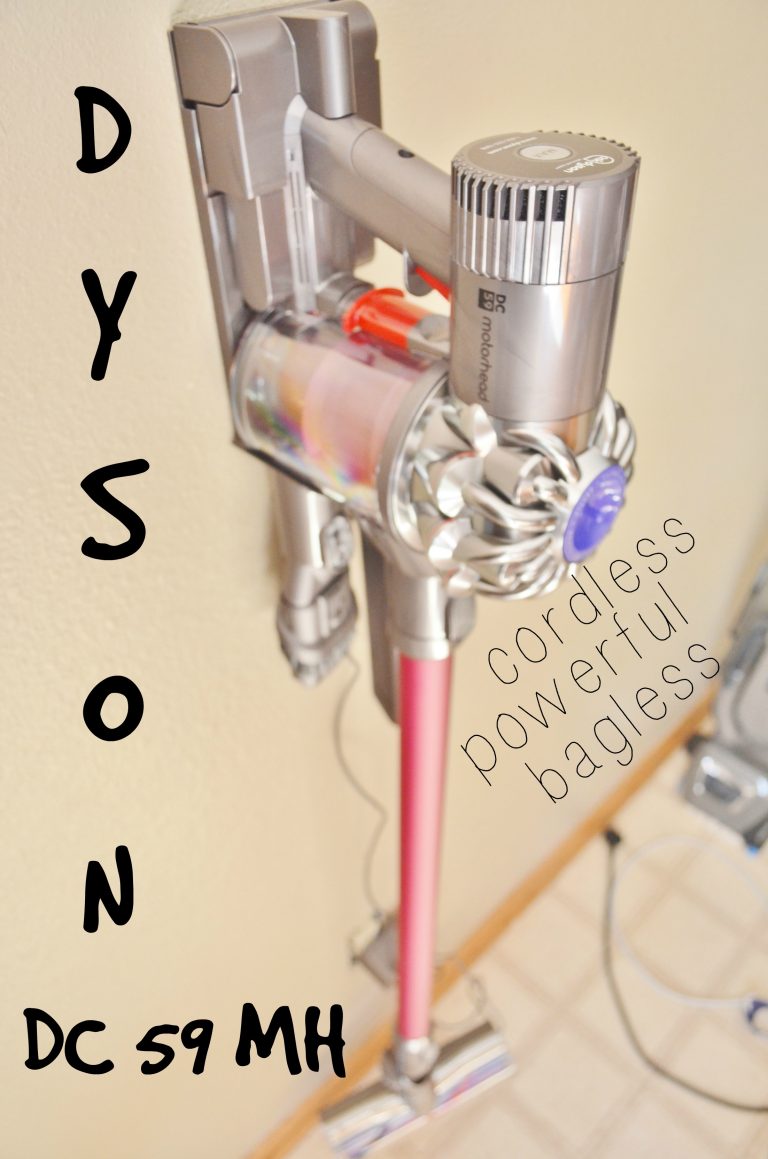 It's NO secret that our family LOVES Dyson products after purchasing our first one about 7 years ago now! (and YES we still have it and YES it still works!) Several years after we got married we realized it was more economical for us to invest in a really good vacuum then spend the money to buy a new one every few years…..and after a LOT of research (because we were poor newlyweds back then!) we settled on purchasing a Dyson vacuum and have never turned back. Now that we have both carpet and hard floors in our hours we REALLY love the new Dyson DC 59 MH Bagless Cordless Stick Vacuum
. It perfectly fits our crazy lifestyle which is insanely busy, kids in and out of the house constantly, a zillion animals in and out of the house, and we live in the country where there is plenty of dirt! Plus I love that we actually have this mounted in our dining room for super quick and easy access after meal and craft time at the table.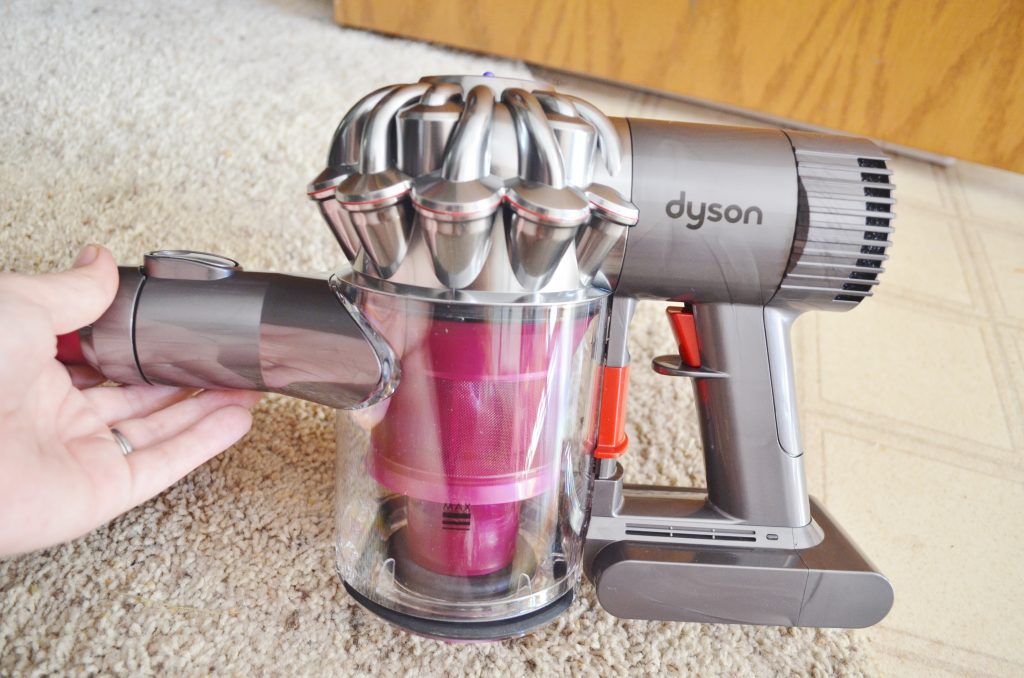 And I'm sure you didn't miss the snazzy new colors in this Dyson vacuum!!  Plus the extra "bling" of chrome detail – pretty cool! To be honest I don't get around to vacuuming the entire house much at all…..almost never, so I pretty much abuse the heck out of this DC59 vacuum and it has held up to my expectations so far! It sucks up pet hair really great, as well as everything else my family and pets have tracked in through the back door. There's an easy trap door button to release the dirty contents right into the trash, and a "MAX BOOST" button that I use specifically on the carpets for some extra suction power.

The turbine head seems much simpler underneath so I haven't had nearly as many issues with hair and stuff tying up in the head.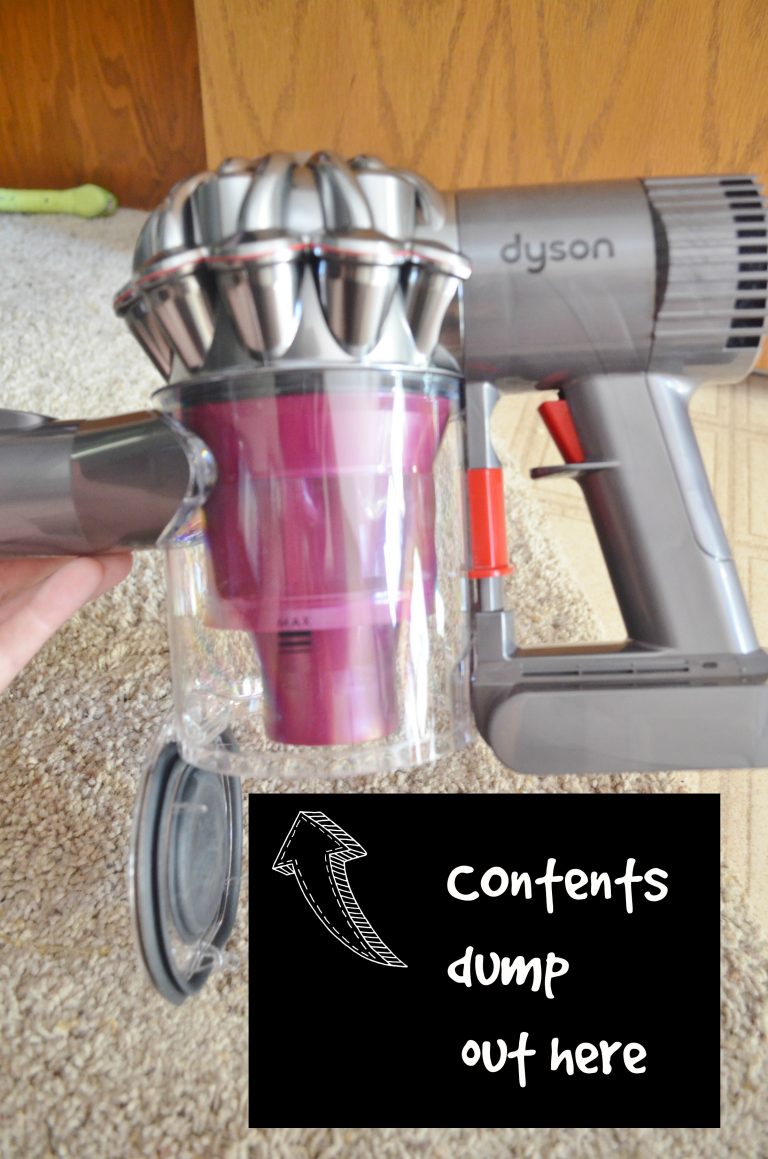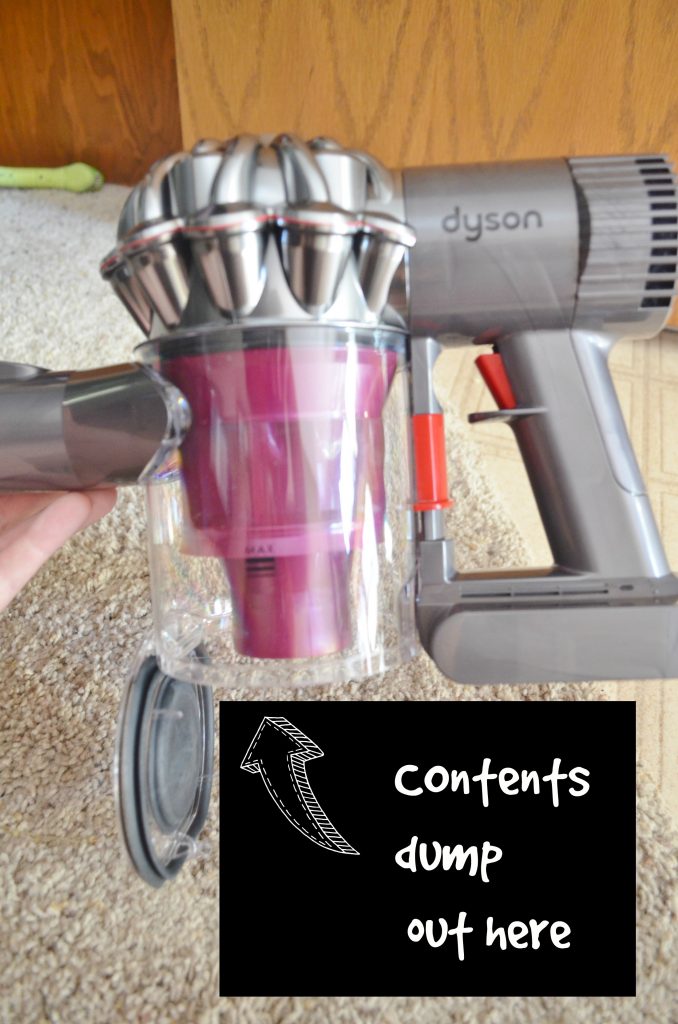 I had previously reviewed the DC44 which is the older version but the DC 59 is SO SO SO much better and a has a MUCH stronger suction – much more comparable to my "big" regular Dyson vacuum. One thing I hated dealing with "back in the day" with vacuums was bags and filters (remember having to replace belts on vacuums?!) so I am in LOVE with the fact that I need neither bags nor filters with my Dyson products. All of my Dyson products are bagless (just dump contents right into the trash) and the filters are washable!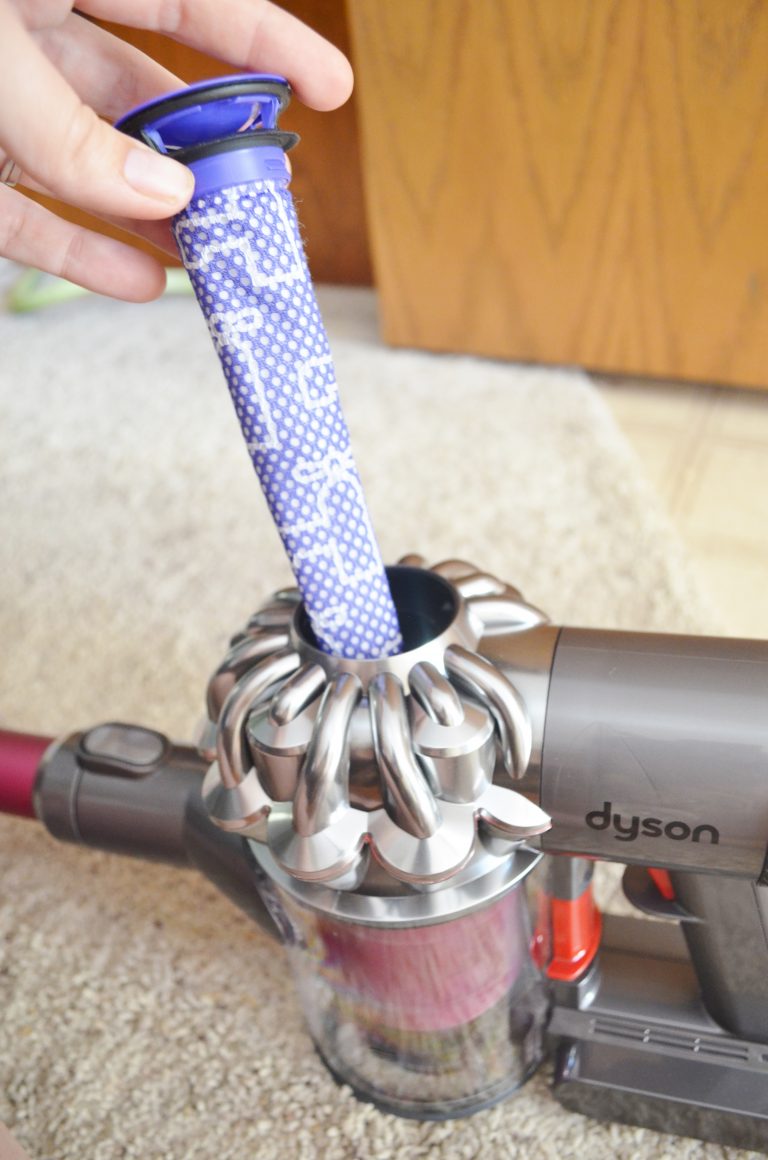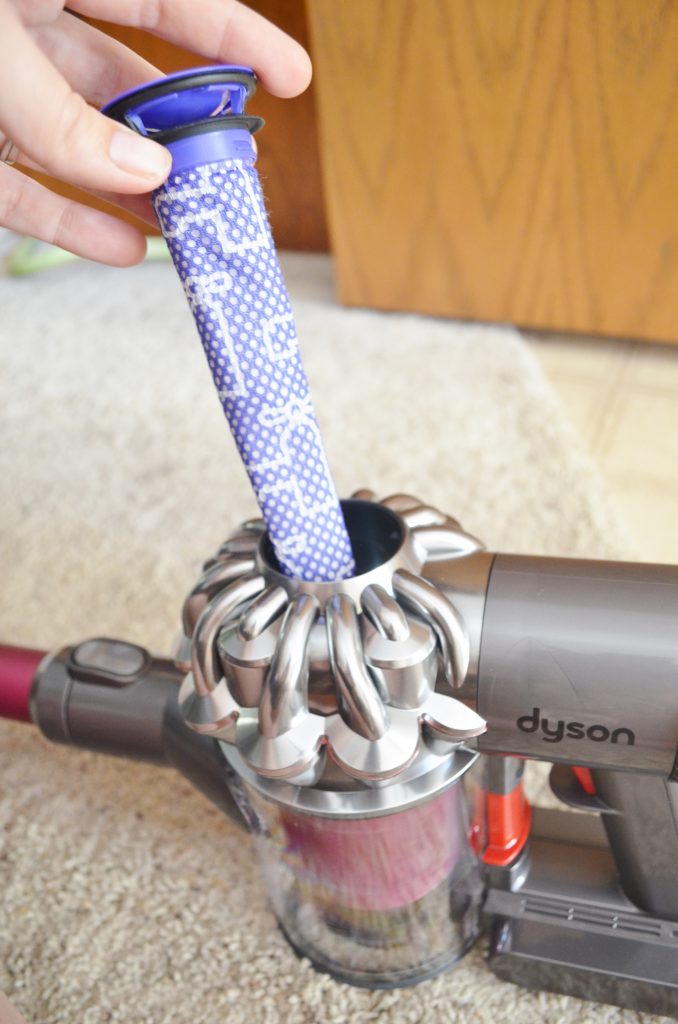 Check out how tiny this filter is! Pretty cool! SO OK, let's talk money, because honestly for a lot of us that's what it boils down to right?! Like I said we still use our original one that we bought 7 years ago! Plus there's no bags or filters to buy too. If you're on a tight budget and are saving up for this I definitely recommend it as an "only" vacuum for those households without heavy kid or pet traffic – unlike ours, a household that really doesn't bring in a lot of dirt into the house.
It's definitely strong enough for you! If you're like our family with a LOT of pets and constant kid/outdoor traffic inside this vacuum is an absolutely FABULOUS vacuum to have on hand for the every day clean up. It sucks up pet hair like crazy and pretty much daily takes care of keeping my house looking pretty decently in order. (If I have time, which is rare, I still like to deep clean my carpets with our big vacuum and then steam clean them.) If you try to use it on your whole house for a deep clean it will fill up the canister insanely quickly but I literally use this almost every single day. And as a plus my kids love using it too.
For me, it's the difference between vacuuming at all or not vacuuming! If you have a high amount of kid/pet traffic and can't afford this as a second vacuum I highly recommend the Dyson DC65 which is by far the best "regular" vacuum I've ever used.