We're Growing Worms!
This post may contain affiliate links, view our disclosure policy for details.
Ok, maybe not exactly "growing" worms but I do hope they will reproduce and keep the cycle going! If you've been with me most of the year you've followed us through building a chicken coop, doing a LOT of gardening, canning, and in the next few months we will be featuring other outdoor critters that are unique to nature and fun for kids. All of these "backyard farming" projects are not only healthier for your family but great learning lessons for your kiddos and can really help offset your budget. One of those outdoor critters that we will be featuring will be worms. But not just any type of worms….specifically Red Wiggler Worms. I've partnered with The Squirm Firm (what a fun name!) for multiple reasons (which is the best kind of project!) to feature one of their really exciting products.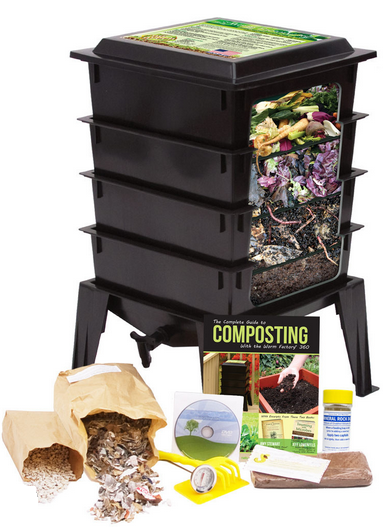 En route to our house right now is our very own Worm Factory 360 Worm Composting Bin. Dare I say I can hardly wait!! I have been considering composting with worms for quite some time now but I just didn't really know how to get started. I even tried creating my own composting bin which is working OK but I feel like it could be a LOT better. This special worm composting set will be hugely used by our family in several ways:
Garden Compost (I desperately need this!!)
Classroom Hands-on Project
Decomposition Lessons
Lessons on Worms, Nutrition and Soil
Growing Worms for Fishing Bait
Growing Worms for Toad food
We live out in the country where getting just about anything takes a "special trip into town". I know, getting to town is only 15 minutes away but I can't find everything I need there, and some things, like worms, are overpriced. Not to mention that I have a HUGE garden and not only want to find a more cost effective way to fertilize it but a more natural way. We also use a lot of worms for fishing in the warmer months as well as toad food which is also very hard to come by for us up here.
Now here's where it gets a little crazy! The weather here is already starting to cool off quite a bit and is easily hitting the 50's at night which means it is starting to get too cold for worms so since this product can be used indoors and outdoors we are taking the leap and trying out the Worm Factory 360 Worm Composting Bin INSIDE our house. Yep – my husband thought I was nuts, but then again, I'm pretty sure he thought that anyway! Not only would this provide a stable temperature for our worms year-round BUT it will also allow me to see how it would be odor-wise inside a classroom. If this project goes really well I want to buy extra trays to expand our little worm composting farm. SO head over and LIKE our new friends The Squirm Firm on Facebook and I'll keep you updated over the next few months as we journey through this new adventure! Make sure to follow us on Instagram as a lot of photos and updates will be posted there!