Simple & Tasty One Pan Pot Roast Recipe Dinner for the Family
This post may contain affiliate links, view our disclosure policy for details.
So I had EVERY intention to make this Pot Roast Recipe in my
slow cooker
(and you still can!) but my roast was so big that it didn't fit so I had to resort to my oven this time!
My roast was actually pretty solidly frozen even though I had it in the fridge for several days. SO you can either make this one pot dinner in your slow cooker on low all day OR use the baking directions below.
You'll notice that I used a different meat than most pot roast recipes called for because this is a budget saver!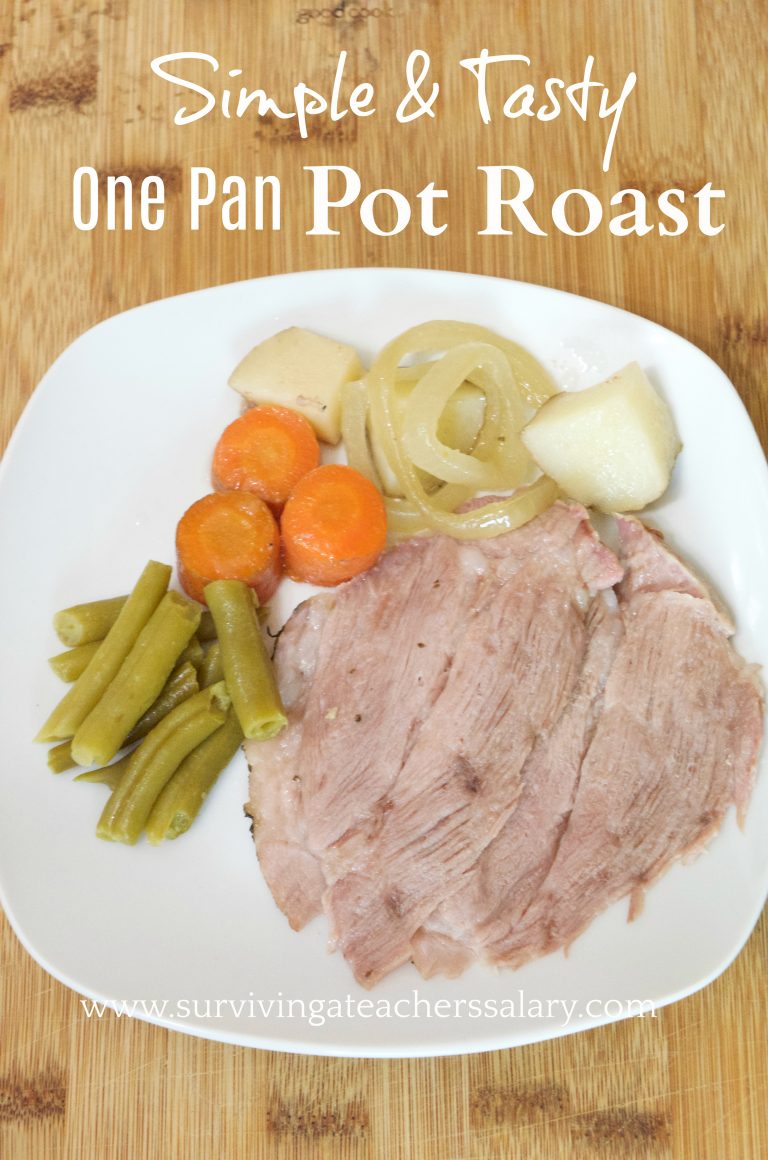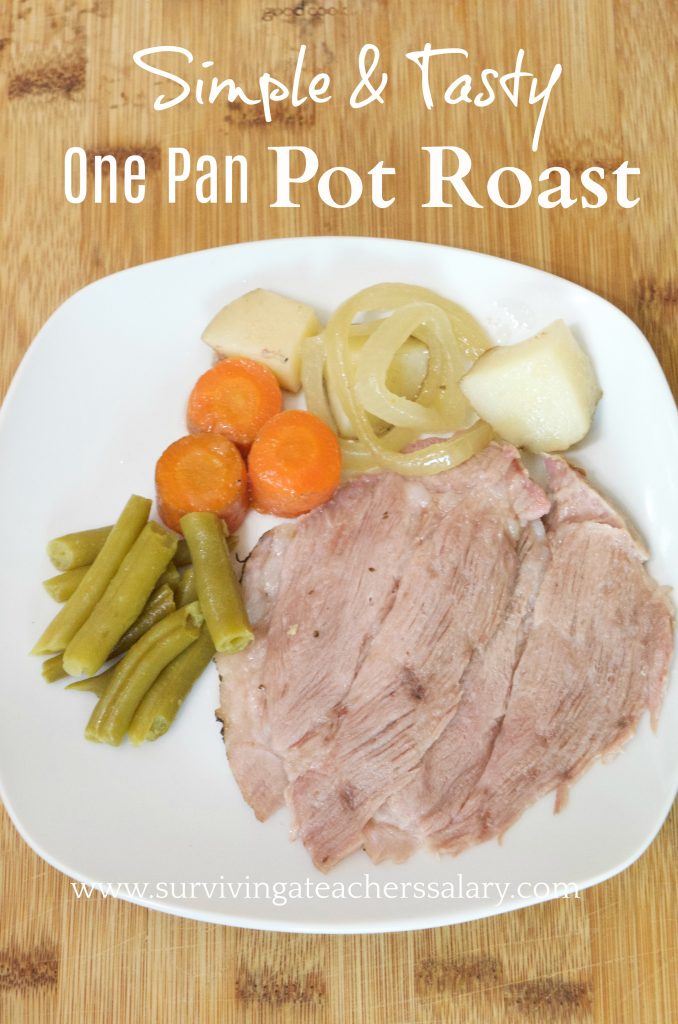 So my secret to my recipes is that – I don't follow a recipe HAHA! So the good thing about the recipes on my blog is that you will not find them anywhere else! (Unless someone copies me of course!)
My husband always teases me because he'll LOVE something I made and when he asks how I made it I'll say "I don't know!".
So I try really hard to keep track what I throw in my recipes as I'm cooking so that I can share them with you guys!
Pot Roast Ingredients:
5 lbs. pork butt roast
1 tsp. smoked salt
dash of black pepper
1 Tbsp. minced garlic
basil
1 sliced onion
2 sliced potatoes
2 carrots, sliced
1 cup white table wine
1 cup water pre-mixed w/1 tbsp Better Than Bouillon Beef Base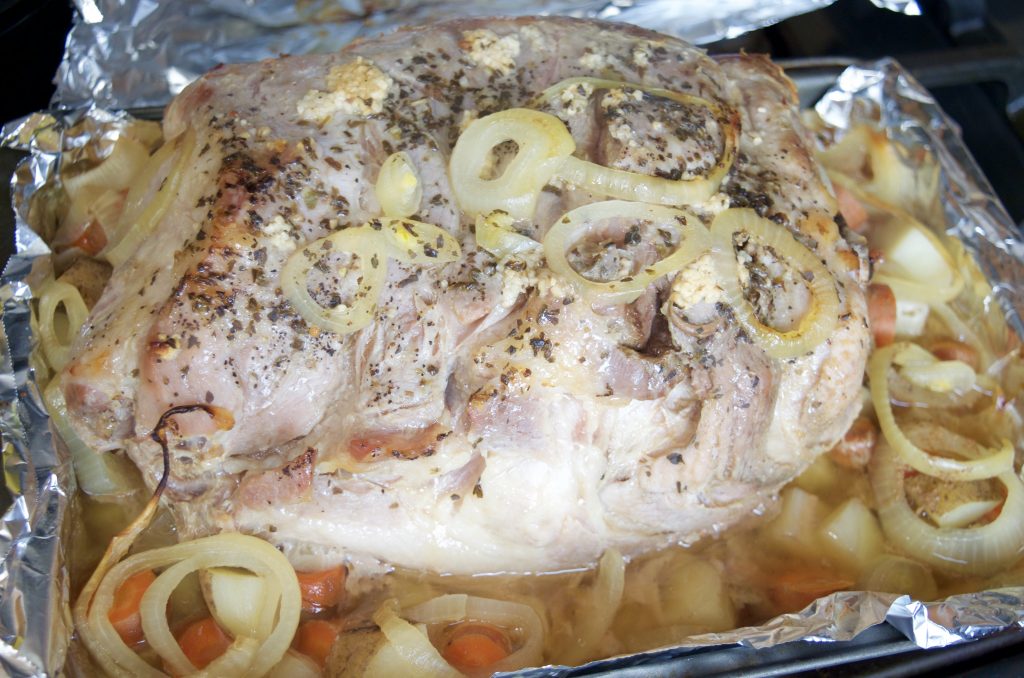 Preheat your oven to 275*F.
Lay your meat in the bottom of a foil lined baking pan or roasting pan.
Add the salt, pepper, garlic and basil directly onto the top of your meat.
Pour the white wine over the top of the meat.
Chop up your potatoes, carrots and onions as desired and lay them in the bottom of the pan around your roast.
Pre-mix a spoonful (about 1 Tbsp.) of your beef base into a cup of water and pour it on your roast. I really love Better Than Bouillon brand personally even though it's pricier – but it makes all the difference!
Completely tent your roast with aluminum foil to seal in the moisture.
Add a cookie sheet or baking pan in the oven and fill with water to help maintain the moisture.
Cook for about 4.5 hours.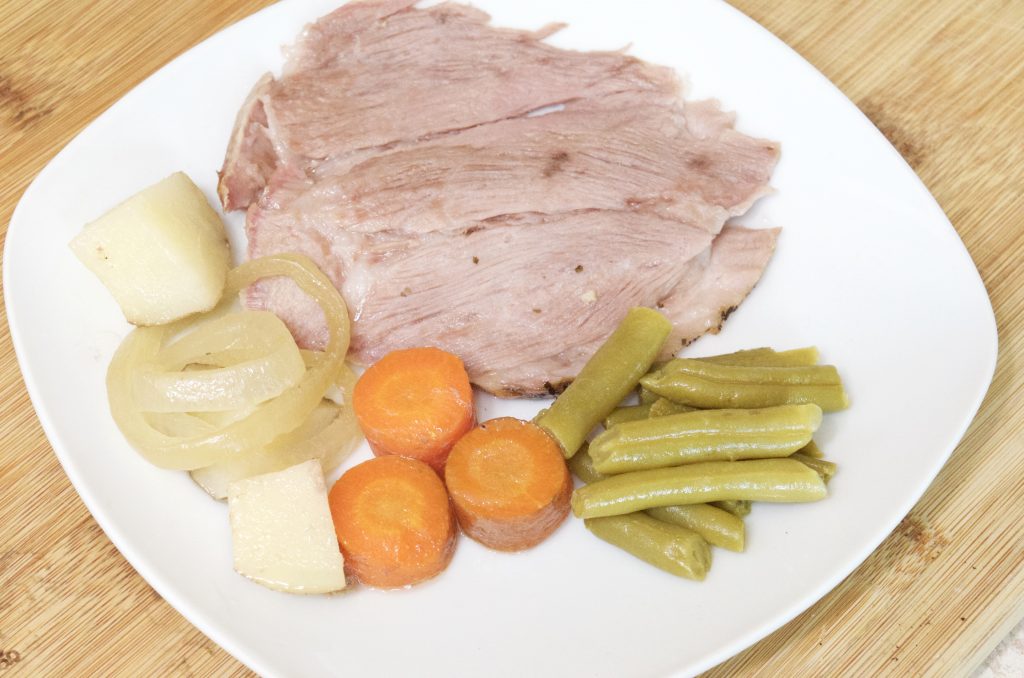 This dinner is great if you're hanging around the house on the weekend to cook or cut the roast up to fit inside your slow cooker and then just cook it on low until you get home from work.
The whole house smells AMAZING and because you've taken care to keep it moist during the cooking process it's really juicy and tender!
Other Amazing Simple Slow Cooker Recipes:
Kitchen Items I LOVE: