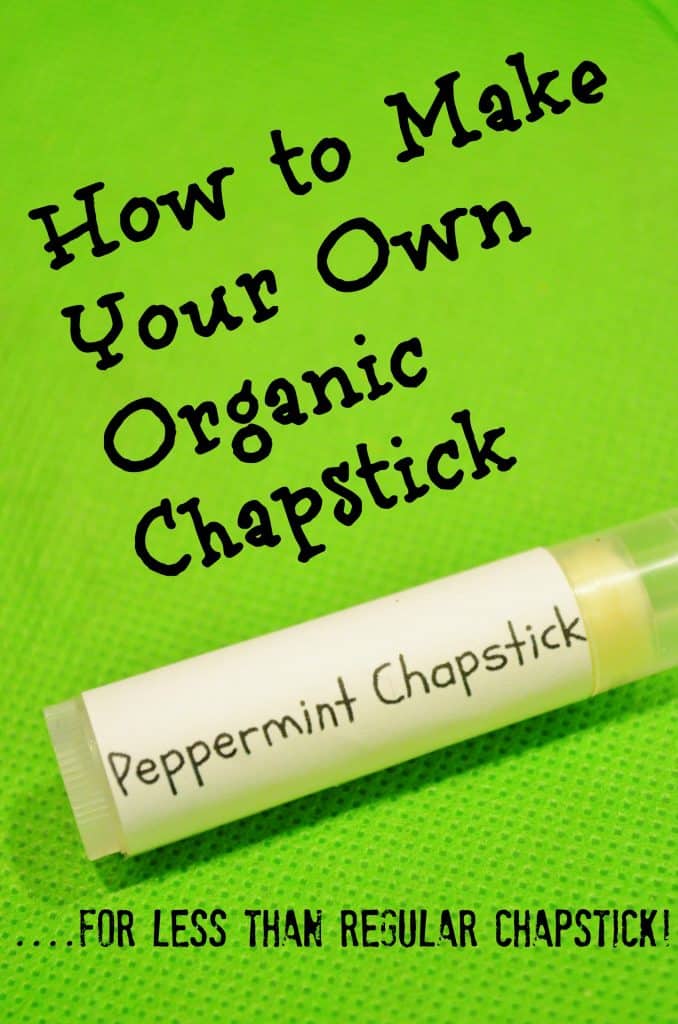 Learning how to make your own diy Organic Chapstick recipe is one of my favorite things not only to make but to give as gifts to my kid's friends and their teachers.  In my "pre-kid" life I worked in a corporate research lab so I LOVE mixing things up and making my own household items.
Well I couldn't pass up the chance to try it out, and (happily!) found that making our own organic chapstick was a LOT cheaper than buying plain regular over the counter chapstick! Which is great because not only is it healthier but I don't have to worry about my kids losing a zillion chapsticks anymore! This chapstick is AMAZING! It's creamy and moisturizing!
The price break down is an absolute steal. I haven't made hundreds of chapsticks yet because that is a lot but I'm estimating that the breakdown is roughly 30 cents or less per chapstick.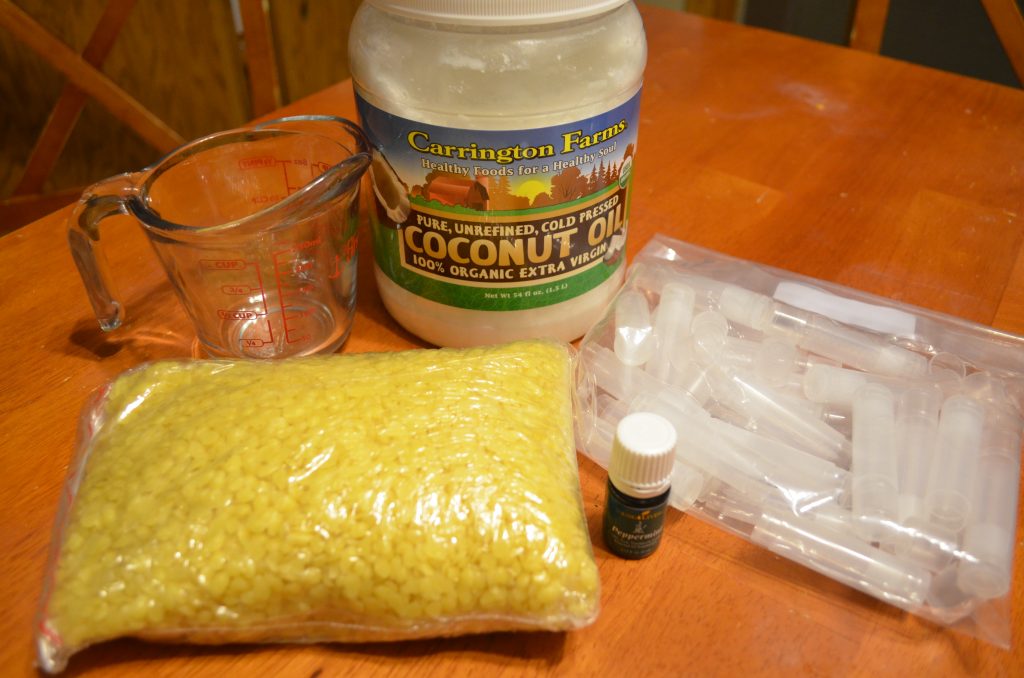 DIY Chapstick Recipe Ingredients:
12 drops  Peppermint Essential Oil

15 Empty Chapstick Tubes
3 Tbsp. Yellow Organic Beeswax
4 Tbsp. Organic Cold Pressed Unrefined Coconut Oil
Small Funnel

Cooking Pot
Glass Measuring Jar (or other glass jar)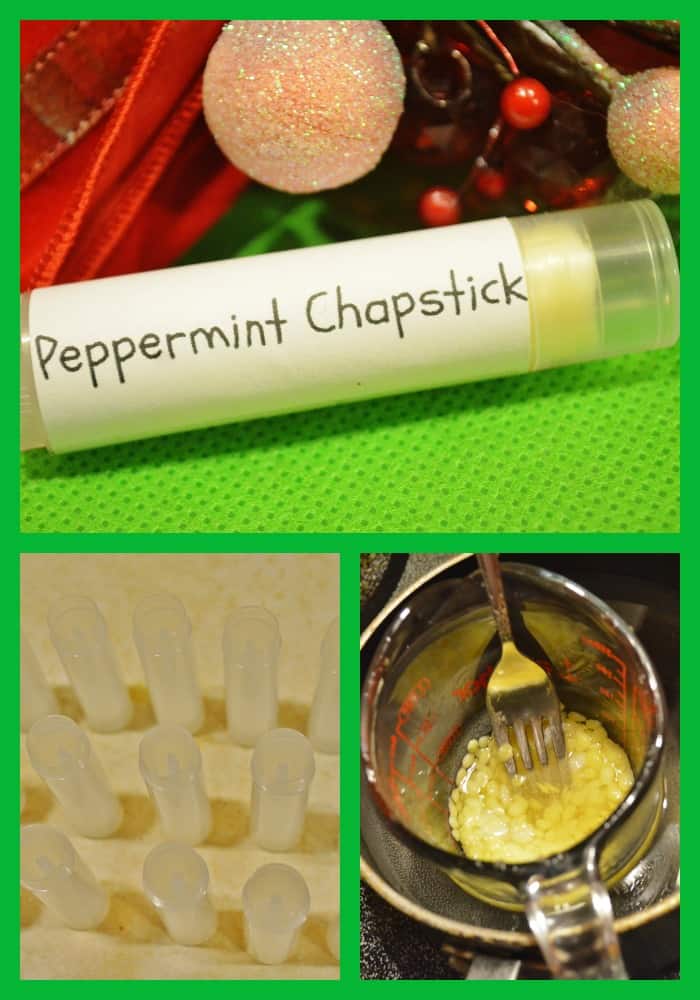 DIY Chapstick Recipe Directions (makes 15 chapstick tubes):
1.Melt 4 Tbsp. Coconut Oil and 3 Tbsp. Beeswax and mix together. Above you can see that I put both ingredients in a glass measuring cup and placed it into a pot of boiling water. The coconut Oil will melt almost right away but the beeswax will take a little while to melt so plan for 5-10 minutes of low to medium heat.
2.Once everything is completely melted and mixed remove from heat and add 12 drops of Peppermint Essential Oil. Stir.
3.Immediately begin to pour the mix into each of the chapstick tubes via a small funnel. The cooler the mix gets the less liquidy it gets and will go back to a hardened form. Just place your glass jar back in the pot of hot water and let it remelt!
I filled each of the chapstick tubes and then carefully poured the last couple drops on the top of each tube. It made exactly 15 perfect chapsticks that were the BEST chapsticks ever! It reminds me of a Burt's Bee
or beeswax type of chapstick. VERY smooth and creamy. We made Peppermint Chapsticks but you can buy any essential oil that you want and make your favorite flavor!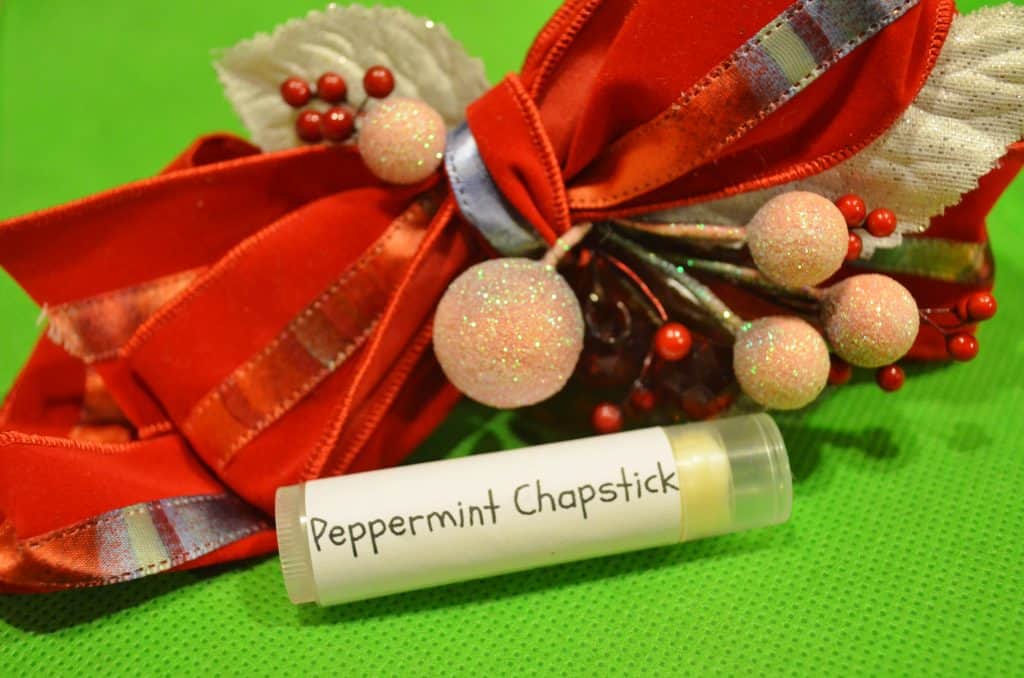 These make WONDERFUL and thoughtful gifts during the year!! Not to mention you'll be in chapstick heaven! These are great for those really chapped lips and if you want you can even squeeze 1 capsule of Vitamin E into your mix before your pour the liquid into the tubes.
I personally made two different printables that you can download and print (for free of course!). You can choose just plain black & white "Peppermint Chapstick" or a label that also has colored peppermints on it. Just cut the paper down to just before and after the letters like you see my chapstick above, and place tape over it! I rolled the paper all the way around the tube!
Click BELOW to download the PDF!