DIY Animal Tracks Activities & Nature Art
This post may contain affiliate links, view our disclosure policy for details.
Ever since our family has scheduled out our next 3 summers to spend a LOT of time camping and I had this AWESOME Animal Tracks ID Field Guide set designed for Exploration America (print it FREE!).
I've been wanting to build some more animal tracks activities for my kids to learn from and explore throughout the summer as we hike and camp. Below I'll show you how we made our Animal Tracks sponges and then the activities we are using them with!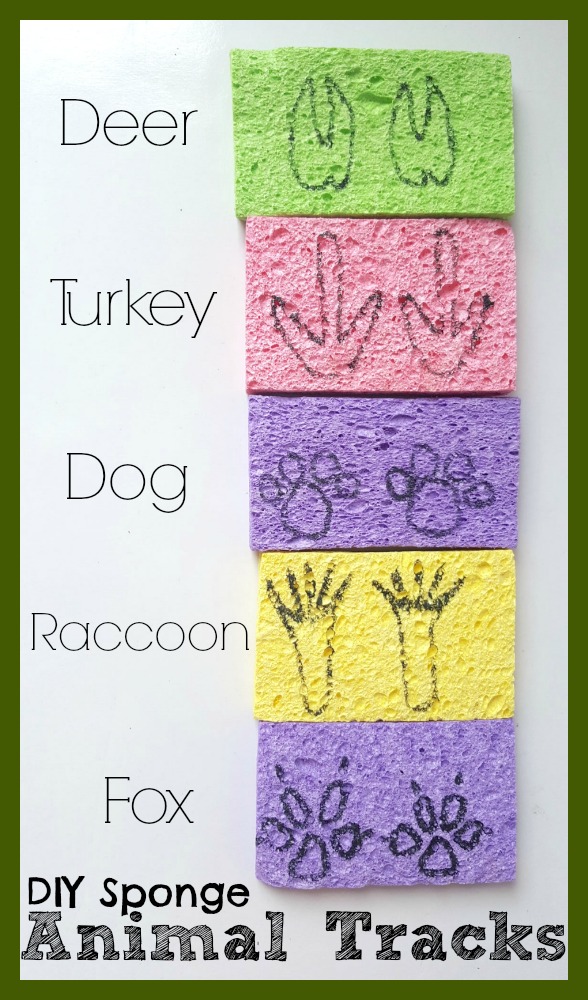 If you just want to purchase an easy DIY Animal Tracks kits I love this one!
DIY Animal Tracks Sponges Craft Instructions: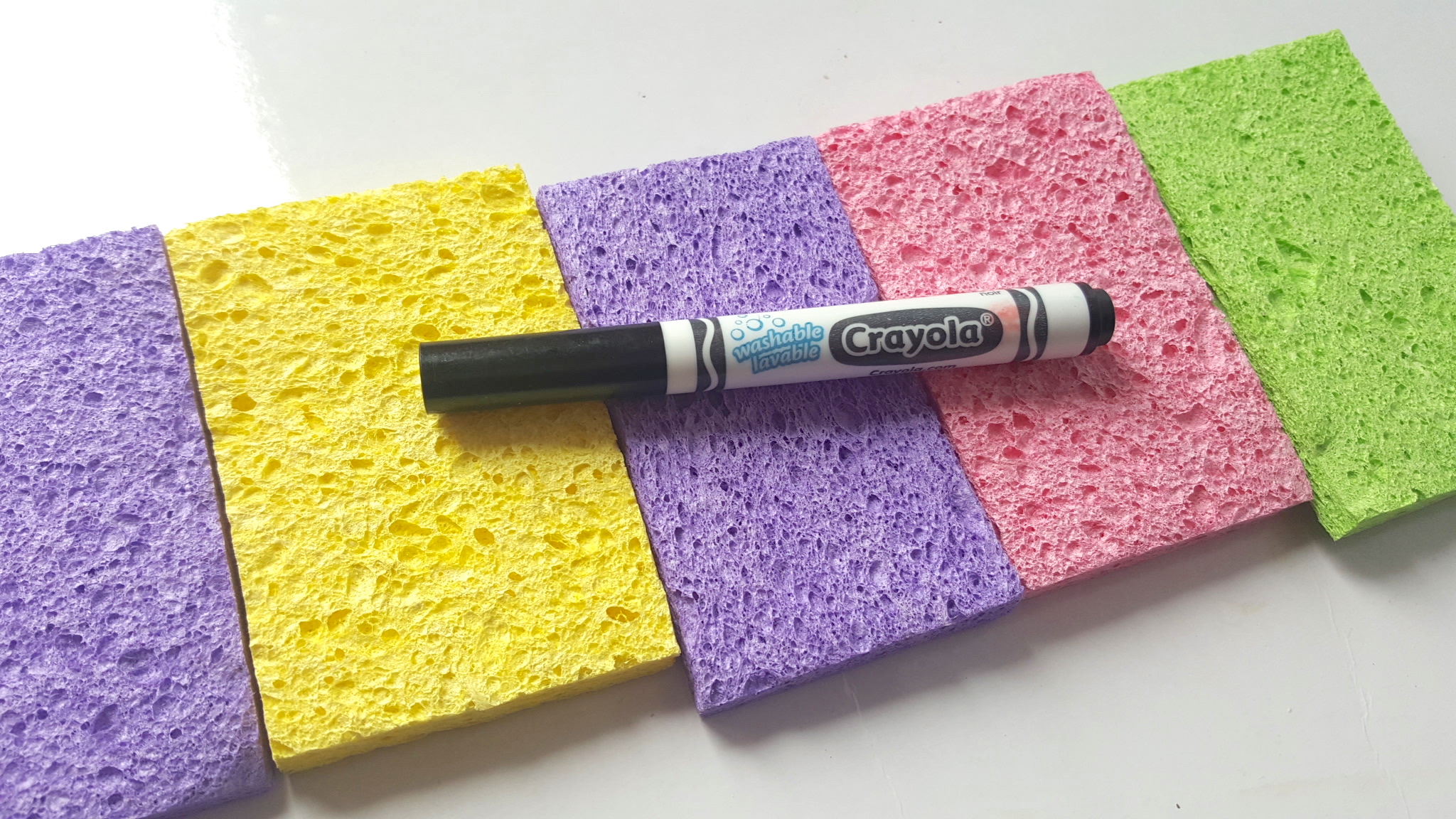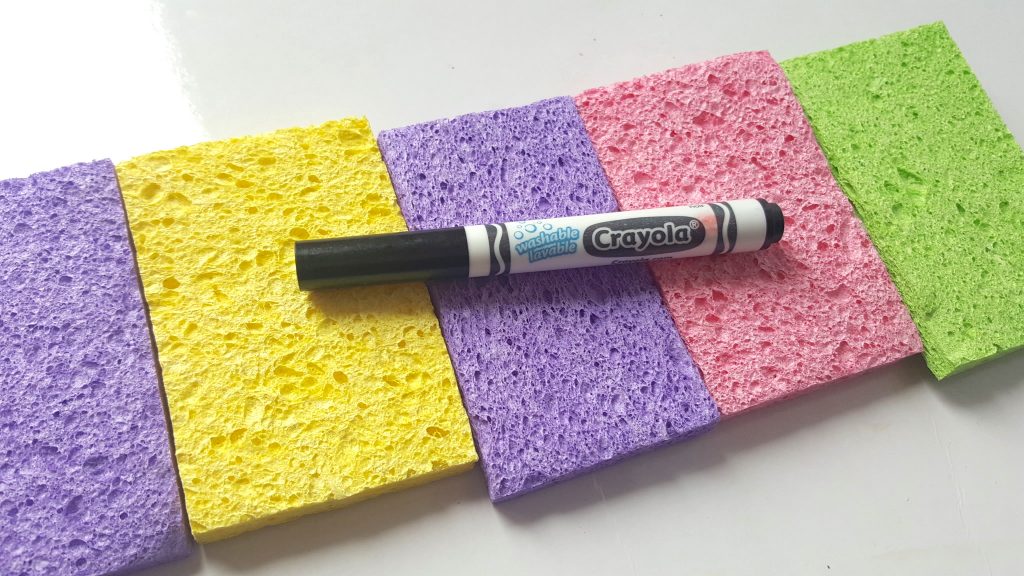 For all of our activities we based them off of the animal tracks sponges that we designed. They were easy to make but took an adult to carefully cut the tracks out. All you'll need is a washable black marker and a pile of (clean!) kitchen sponges
.
Make sure the sponges are not the scrubby ones or it will be more difficult to cut.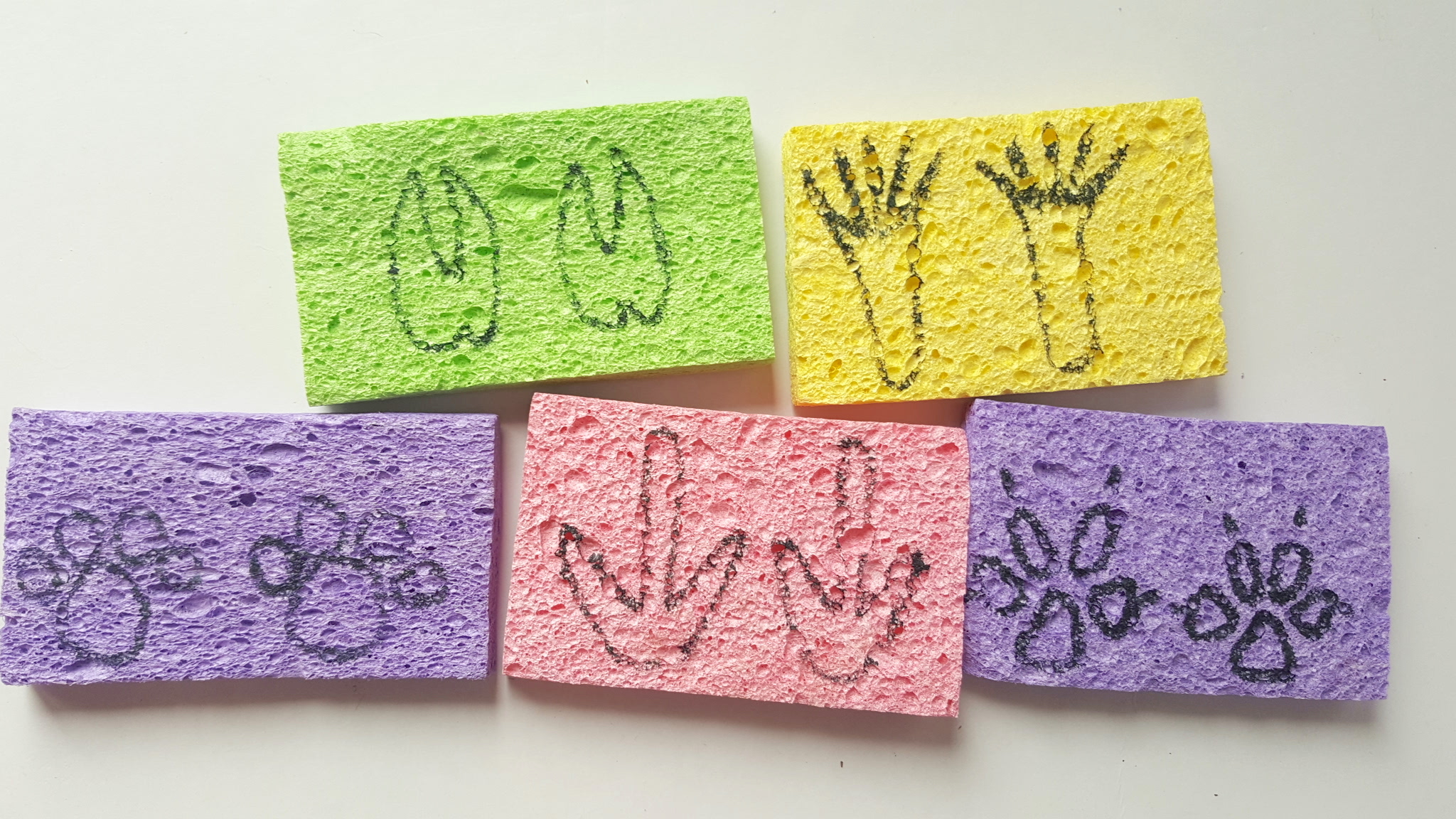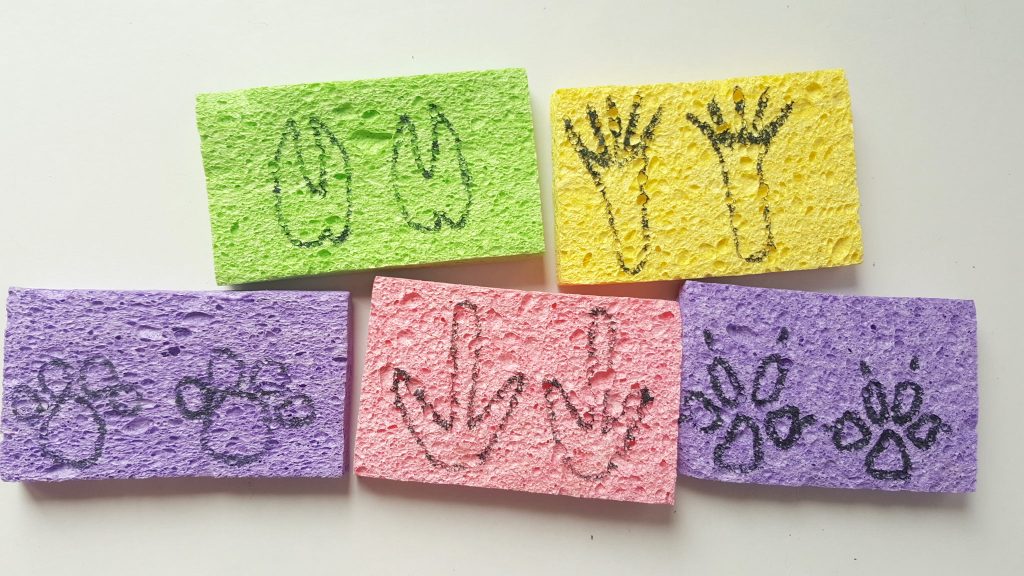 I patterned our animal tracks off of the Animal Tracks ID cards I printed from Exploration America but you can easily just use your washable marker to draw them directly onto the sponge too.
Some of the prints can be really difficult if there are a lot of tiny claws like the fox prints (purple sponge on the right) and prints that are very similar can be difficult to distinguish from a sponge too. Because of these I tried to stick with a larger variety of tracks that could easily be determined with an immediate glance.
If you have a good pair of sharp scissors and a flat sponge you can try cutting out the tracks but I used an X-ACTO knife
and a cutting board to carefully cut my tracks out. It wasn't difficult but took a little time.
If you want you can glue them on to small pieces of wood or plastic but we decided to leave them as is! I don't recommend glueing them to cardboard because you'll want to clean your sponge with water which would ruin the cardboard.
Don't feel like taking the time to create your own tracks? You can use these animal tracks stamps instead!
Here are a few activities you can do with your new Animal Tracks Sponges:
Animal Tracks Art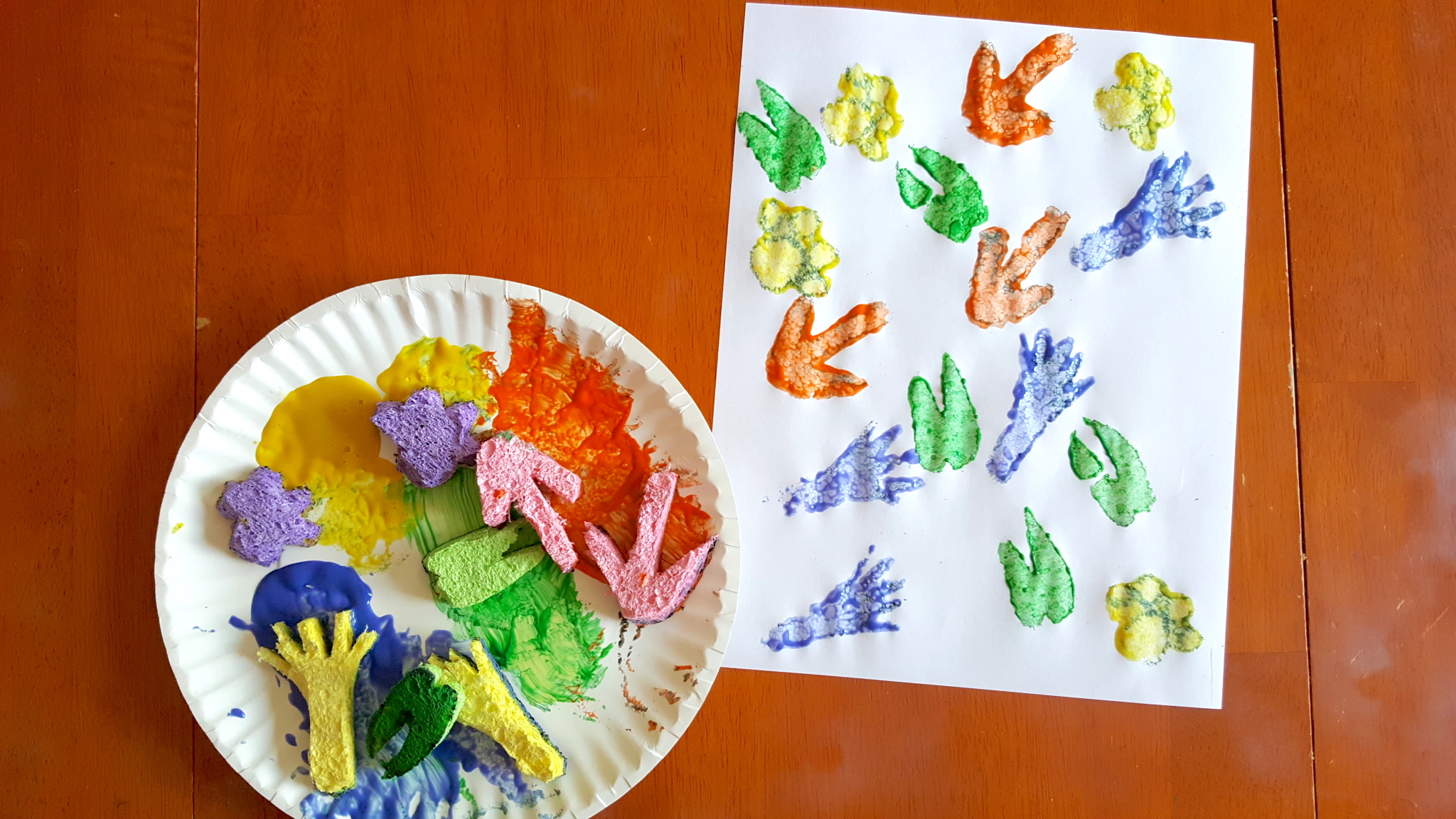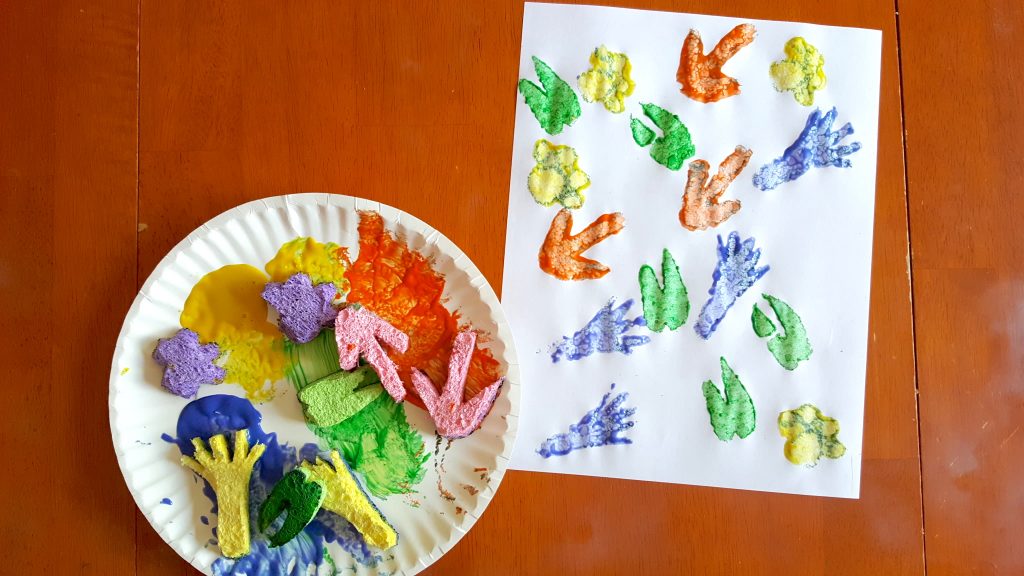 Using your new animal track sponges your kids can design their own artwork to hang up! Whether you decide to let them paint a canvas or frame a piece of paper is up to you!
You'll need:
Animal Track Sponges

Washable Paint
Simply press your sponge tracks into the paint, smear/dab around on a plate so you don't end up with a big glob of paint, and press firmly onto paper or canvas. Don't forget that you have TWO tracks per animal so rotate your tracks for a more realistic effect!
You can color code it as desired, create a nature themed gift, or follow a specific pattern you are learning about!
Animal Tracks Nature Walk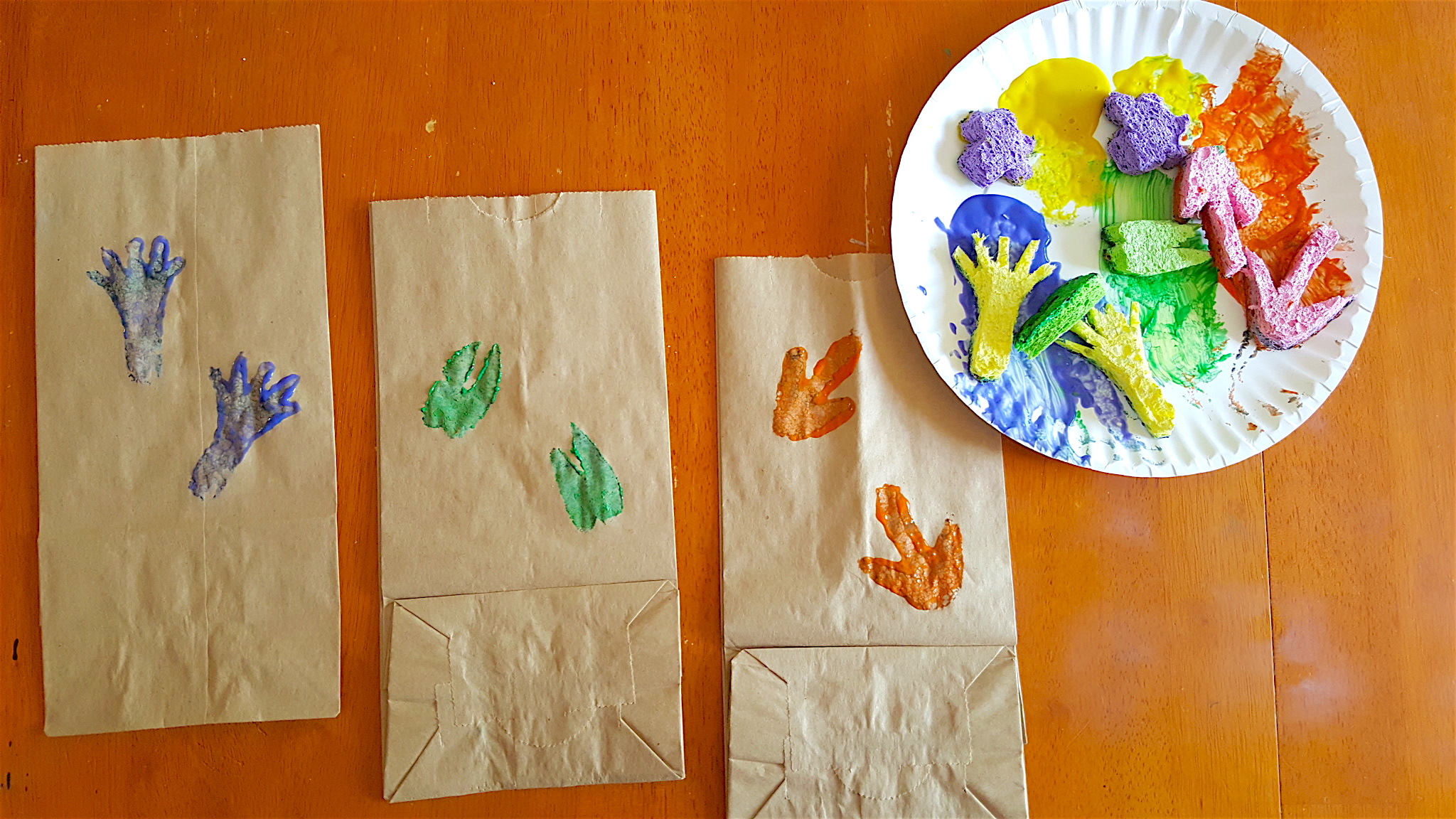 Our family spends a LOT of time outdoors so you can design these bags as a classroom or party activity, simply use to collect items on a nature walk, or spin it into a scavenger hunt!
You'll need:
Animal Tracks Sponges

Brown paper bags (1 per child)

Washable Paint
Using the same method explained in the artwork directions firmly press a set of paint covered animal tracks on each bag. Color code them or coordinate them as individual species to separate groups as needed.
Animal Tracks Sandbox Play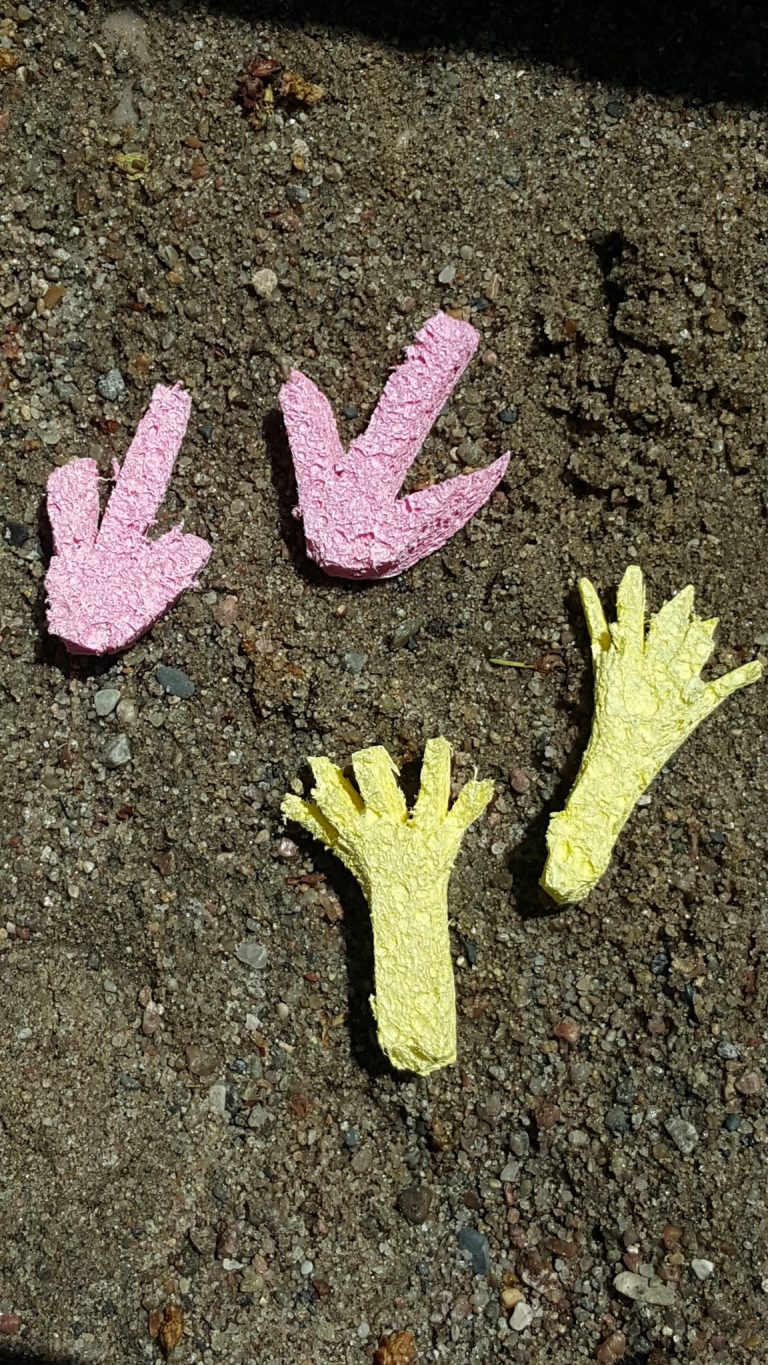 Whether your child is playing in the sandbox or you have a makeshift sandbox of other fine material (flour, cornmeal, etc.) you can use your sponge tracks to create designs in the sand! Just make sure your sand or material is dry so they show best.
Have your child use a stick, pencil, or their finger to write the name of each animal in the sand!
If you don't want to have to print off Animal Tracks ID cards you can just buy a set of Animal Tracks flashcards here! The book Tracks, Scat, and Signs is also a great one to take along on your adventures!
And if you're specifically going to a National Park you absolutely must check out the Who Pooped in the Park? series!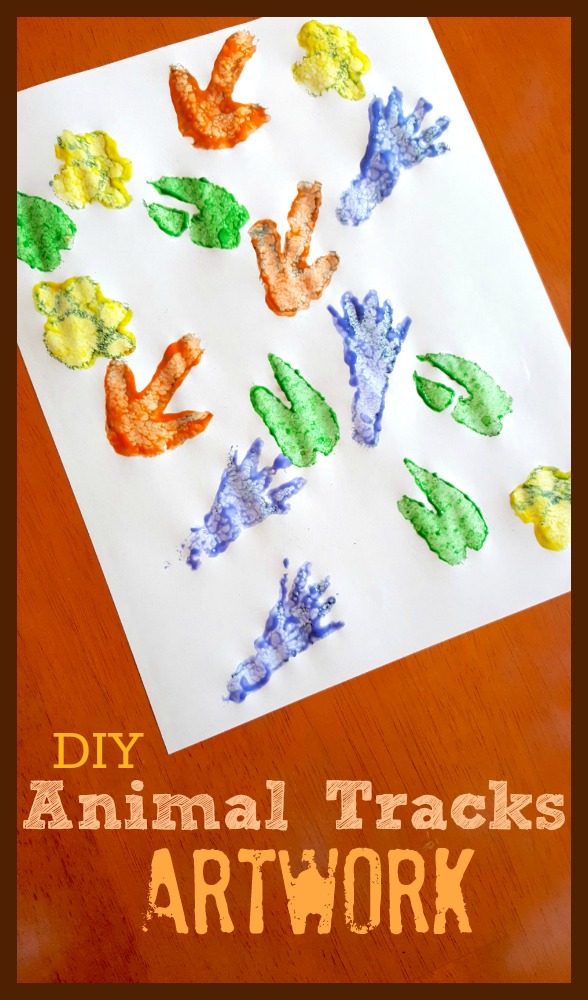 And of course you can always buy plaster of paris and practice taking molds of prints you find outdoors!