Our Morning at the Sensory Park – Common Grounds Playground, Lakeland, Florida
This post may contain affiliate links, view our disclosure policy for details.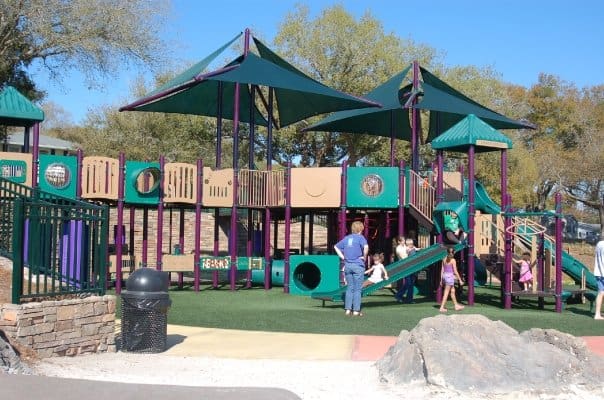 Just be forewarned there are LOTS of pictures ahead! I know some of you were interested in our local sensory/autism park – I wish you could all go! It's really incredible! Our city built it a few years ago to have somewhere friendly for children with autism, sensory needs, and a handicap/wheelchair to go to. They spent millions of dollars and it was well worth every penny spent.
In fact it was SO busy the first few years we actually didn't go because the crowds were crazy – I'm sure you can imagine why! The play set you see above is just one of MANY sets at the park which is completely fenced in with locked gates. I'm guessing it's on a good 4-5 acres. The above play set has slides, ropes, periscopes, musical chimes, rolling slides, rock walls, a gears station and a lot more.
There is no shortage of contraptions to climb for the daring!
This has got to be one of the coolest inventions I've seen at a kid's playground – a fake grass sliding hill! The kids can climb up the sides of the hill or run in the tunnels underneath and climb the ladder and ropes up to the top of the hill. Then it is positioned so that you can just sit at the top of the "grass" hill and slide down! Or as my son likes to do it he rolls down! Talk about the perfect thing for boys to do!
 There is also a real rock area to carefully climb through which I thought was pretty daring to put in but cool! I don't have a picture but next to the rock area is also a big sand pit and further up the hill is a real water pump that kids can pump water up into.
The rolling slide is a favorite of the little kids especially.
Throughout the park there are plenty of random hands-on stations that handicapped children to roll right into. PLUS that huge play set you saw up there in the first picture is completely accessible by ramp for those in a wheelchair which I thought was incredible.
My son is a sensory seeker, which means he craves sensory input, movement, rough play, messy play and anything else that will give you sensory input. One of his absolute favorite things out of the entire park are the spinning seats of which there are several different kinds.
The downside though is that he loves them so much he tends to spin way too long (he's gone for over 30 minutes spinning before!) and then he gets too overstimulated which shortens our trip to the park!
Above you see another really awesome play thing. That huge circle spins so kids can try walking up it as it's spinning or hold on and have someone else spin them. We usually spend a lot of time here as well.
Then there are the over-sized balance beams which move up and down as you walk across them.
If you're too scared to try the high beam there is a smaller "path" of shapes to try walking across. Looks simple doesn't it? BUT almost all of those shapes actually tilt almost down to the ground when you step on them – you really have to have good balance to make it through this path!
And what would a playground be without an extra high rope net?
There was no way I could take pictures of everything in the park AND watch the kids but in the middle of the park is a unique contraption of play equipment. Kids can climb through these "hoops", there is netting on the side to climb on as well as a unique slide to try and accomplish.
There are several brightly colored music areas which is great for little ones toddling around and those in a wheelchair.
And right in the middle of the park is this beautiful autism butterfly sculpture. I don't know if you can read what it says but it says "I have autism. It's not who I am."
There is another smaller play set area for younger children as well as picnic tables and pavilions too. If you're ever around the central Florida area this is THE playground to go to! As many pictures as there is above does not even show you everything the park has to offer. There is a gorgeous butterfly garden throughout the park and as the children are playing (depending on the time of year of course) butterflies are fluttering around – it's a bit surreal really!