Back to School Children's Books by Grade Level
This post may contain affiliate links, view our disclosure policy for details.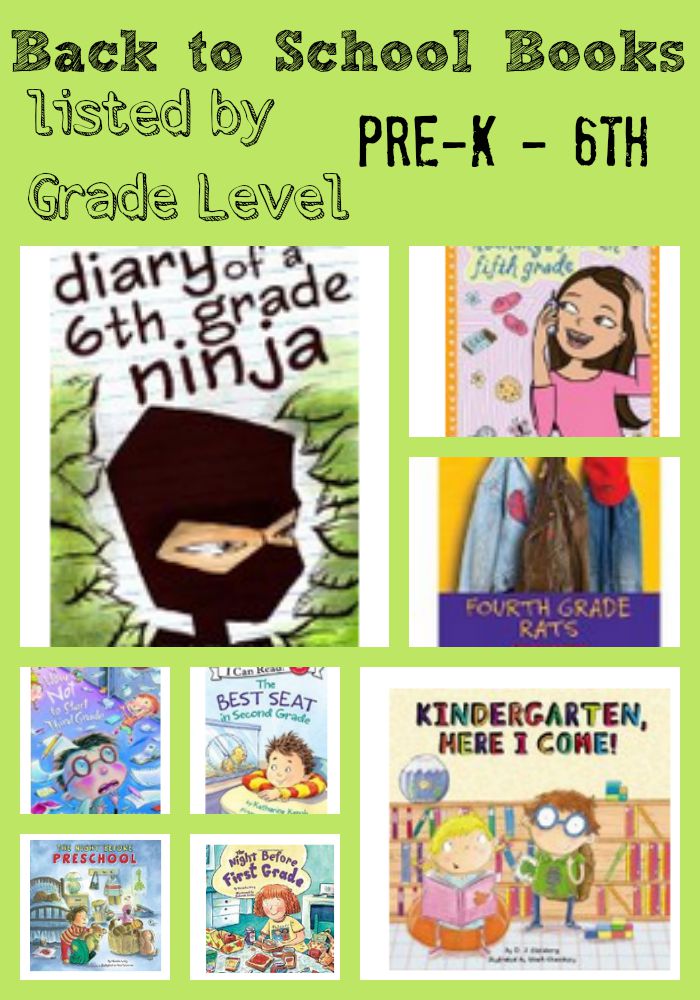 Back to school is in full swing for some of us and just gearing up for others – but children's books are never out of style! I LOVE gifting children's books and using them as incentives! Here are some great titles of back to school themed children's books by grade level.
Preschool:
What to Expect at Preschool (What to Expect Kids)
Preschooler's Busy Book: 365 Creative Games & Activities To Occupy 3-6 Year Olds
Maisy Goes to Preschool: A Maisy First Experiences Book
Kindergarten:
Kindergarten, Here I Come!
The Night Before Kindergarten (Reading Railroad Books)
Kindergarten Rocks!
Off To Kindergarten
BOB Books: Sight Words: Kindergarten
1st Grade:
The Night Before First Grade (Reading Railroad)
First Grade, Here I Come!
First Grade Jitters
Junie B., First Grader (at Last!) (Junie B. Jones, No. 18)
Princess Posey and the First Grade Parade: Book 1
First Grade Activities Homework Helper
2nd Grade:
The Best Seat in Second Grade (I Can Read Book 2)
Get Ready for Second Grade, Amber Brown
The One and Only Stuey Lewis: Stories from the Second Grade
Second Grade Rules, Amber Brown (Penguin Young Readers, L3)
Second Grade Big Workbook
Keena Ford and the Second-Grade Mix-Up
Second Grade Friends…again
3rd Grade:
How Not to Start Third Grade (Step into Reading 4)
I Was a Third Grade Spy
How to Be Cool in the Third Grade (Puffin Chapters)
Third Grade Angels
Math Made Easy: Third Grade Workbook (Math Made Easy)
The Clue of the Left-Handed Envelope/The Puzzle of the Pretty Pink Handkerchief: Third-Grade Detectives #1-2
4th Grade:
Fourth Grade Rats (Apple Paperbacks)
Fourth Grade Weirdo
Tales of a Fourth Grade Nothing
Fourth Grade Rats
Math Made Easy: Fourth Grade Workbook (Math Made Easy)
Help! Somebody Get Me Out of Fourth Grade #7 (Hank Zipzer)
5th Grade:
Nothing's Fair in Fifth Grade
Math Minutes, 5th Grade
My Life as a Fifth-Grade Comedian
President of the Whole Fifth Grade
ClueFinders 5th Grade Adventures: Secret of the Living Volcano
Amelia's 5th-Grade Notebook
Are You Smarter than a 5th Grader: Make the Grade
6th Grade:
Diary of a 6th Grade Ninja (a hilarious adventure for children ages 9-12)
6th Grade Spy (an exciting mystery for children ages 9-12)
Diary of a 6th Grade Ninja 2: Pirate Invasion (a hilarious adventure for children ages 9-12)
Diary of a 6th Grade Ninja 3: Rise of the Red Ninjas (a hilarious adventure for children ages 9-12)
Sixth Grade Can Really Kill You
ClueFinders 6th Grade Adventures
Sixth Grade Math Minutes
Diary of a 6th Grade Girl #1: How to Survive Middle School