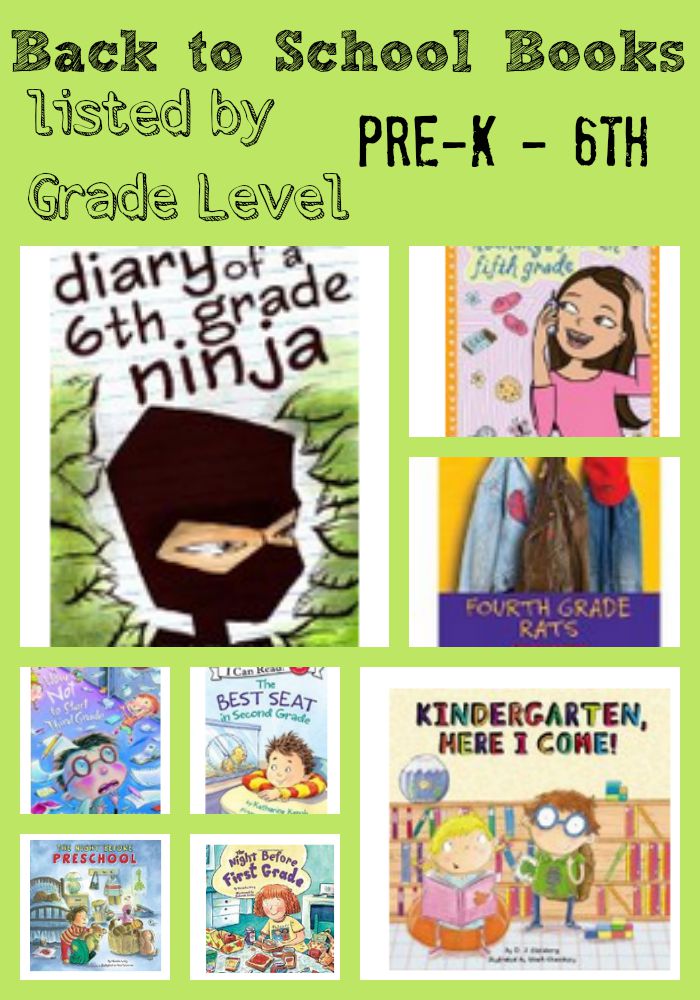 Back to school is in full swing for some of us and just gearing up for others – but children's books are never out of style! I LOVE gifting children's books and using them as incentives! Here are some great titles of back to school themed children's books by grade level.
Preschool:
The Night Before Preschool
Big Preschool Workbook
Preschool Scholar: Ages 3-5
What to Expect at Preschool (What to Expect Kids)
Preschooler's Busy Book: 365 Creative Games & Activities To Occupy 3-6 Year Olds
Maisy Goes to Preschool: A Maisy First Experiences Book
Kindergarten:
Kindergarten, Here I Come!
The Night Before Kindergarten (Reading Railroad Books)
Kindergarten Rocks!
Off To Kindergarten
BOB Books: Sight Words: Kindergarten
1st Grade:
The Night Before First Grade (Reading Railroad)
First Grade, Here I Come!
First Grade Jitters
Junie B., First Grader (at Last!) (Junie B. Jones, No. 18)
Princess Posey and the First Grade Parade: Book 1
First Grade Activities Homework Helper
2nd Grade:
The Best Seat in Second Grade (I Can Read Book 2)
Get Ready for Second Grade, Amber Brown
The One and Only Stuey Lewis: Stories from the Second Grade
Second Grade Rules, Amber Brown (Penguin Young Readers, L3)
Second Grade Big Workbook
Keena Ford and the Second-Grade Mix-Up
3rd Grade:
How Not to Start Third Grade (Step into Reading 4)
I Was a Third Grade Spy
How to Be Cool in the Third Grade (Puffin Chapters)
Third Grade Angels
Math Made Easy: Third Grade Workbook (Math Made Easy)
The Clue of the Left-Handed Envelope/The Puzzle of the Pretty Pink Handkerchief: Third-Grade Detectives #1-2
4th Grade:
Fourth Grade Rats (Apple Paperbacks)
Fourth Grade Weirdo
Tales of a Fourth Grade Nothing
Fourth Grade Rats
Math Made Easy: Fourth Grade Workbook (Math Made Easy)
Help! Somebody Get Me Out of Fourth Grade #7 (Hank Zipzer)
5th Grade:
Nothing's Fair in Fifth Grade
Math Minutes, 5th Grade
My Life as a Fifth-Grade Comedian
President of the Whole Fifth Grade
ClueFinders 5th Grade Adventures: Secret of the Living Volcano
Amelia's 5th-Grade Notebook
Are You Smarter than a 5th Grader: Make the Grade
(video game)
6th Grade:
Diary of a 6th Grade Ninja (a hilarious adventure for children ages 9-12)
6th Grade Spy (an exciting mystery for children ages 9-12)
Diary of a 6th Grade Ninja 2: Pirate Invasion (a hilarious adventure for children ages 9-12)
Diary of a 6th Grade Ninja 3: Rise of the Red Ninjas (a hilarious adventure for children ages 9-12)
Sixth Grade Can Really Kill You
ClueFinders 6th Grade Adventures
Sixth Grade Math Minutes
Diary of a 6th Grade Girl #1: How to Survive Middle School
The 6th Grade Nickname Game