DIY Agate Slice Coasters Handmade Natural Gift Set
This post may contain affiliate links, view our disclosure policy for details.
I am absolutely in LOVE with how easy it is to make your own gorgeous handmade diy agate coasters – after looking around I realized they were so far out of my budget it was to buy ones from the store!
Buy agate slices at Hobby Lobby, on Etsy or on Amazon here!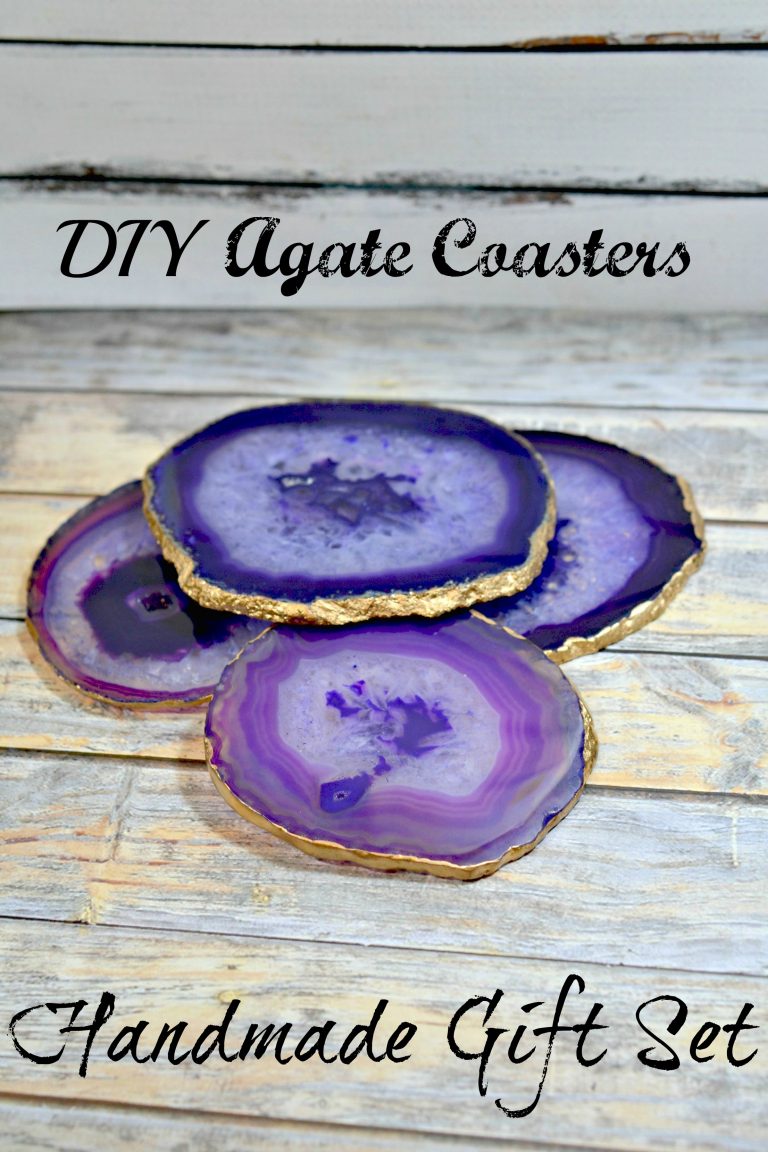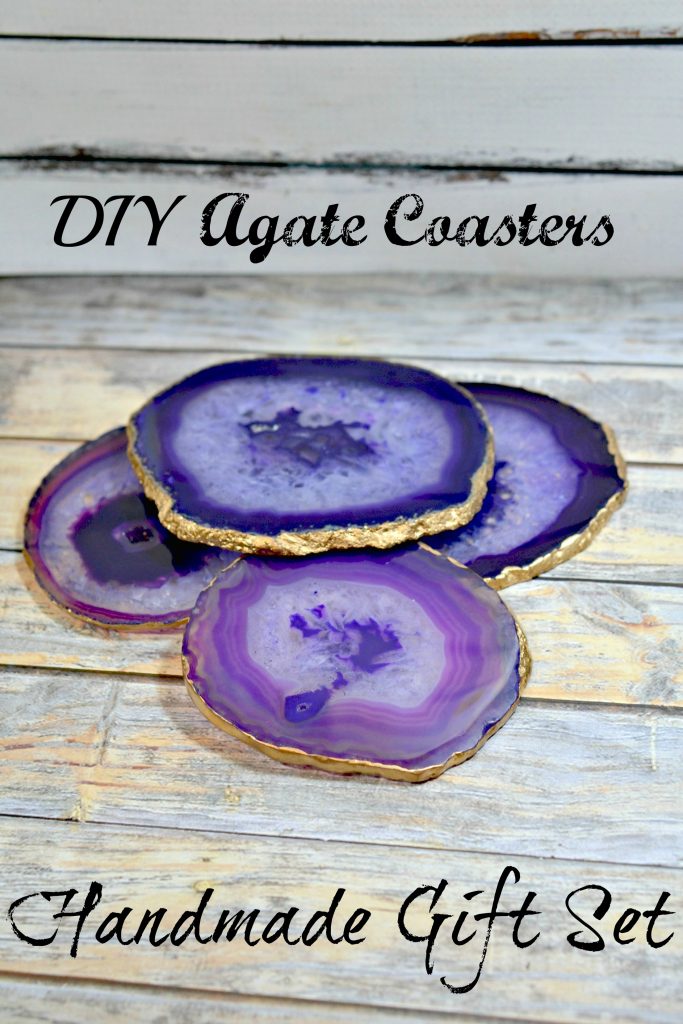 Anthropologie has a set here for almost $100, the agate set at Neiman Marcus is $175 and my favorite agate set at Belle & June is $155! You can easily make your own diy agate coasters for a fraction of the cost and they make a stunning gift set!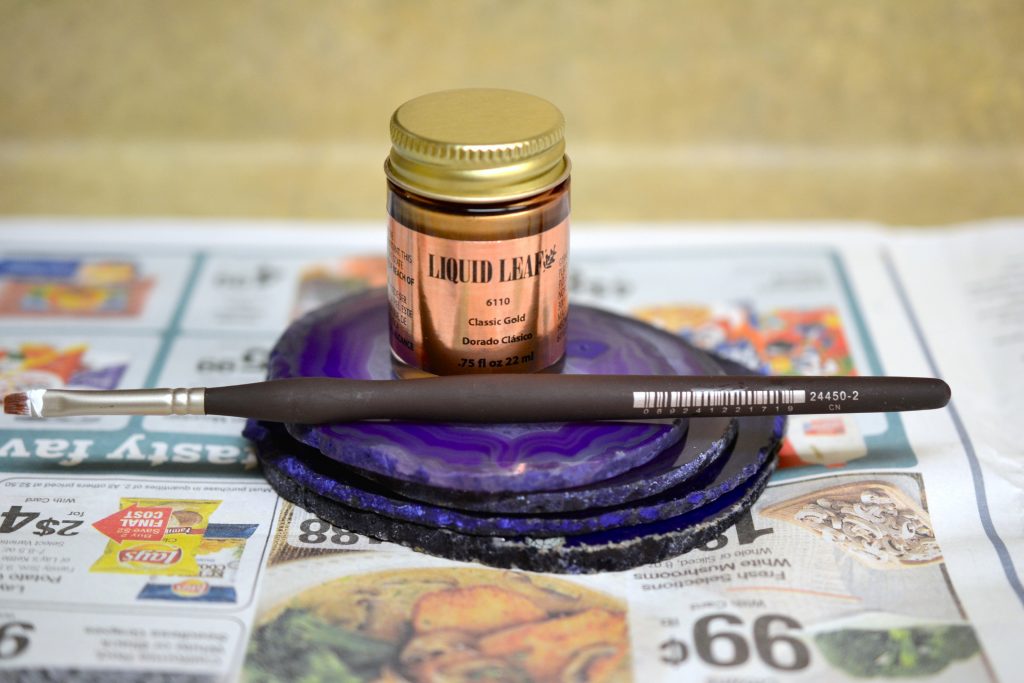 DIY Agate Slice Coaster Supplies:
*Agate Slices (see note below)
Liquid Leafing – Classic Gold (Feel free to try out the silver accent too!)
Small paintbrush
Rubber Feet (optional but will help give coasters more stability)
Newspaper
NOTE – Etsy has the most beautiful options of agate slices. Amazon sells quite a variety of agate slices including this fun set for light tables so you can browse all the variety of  slices there. I actually ended up getting my agate slices at Hobby Lobby in the store. 
If you want to make a larger amount for holiday gifts I would check here for bulk orders. There are also some gorgeous and extremely affordable agate bookends here too which pair nicely with these coasters.



You will want your slices to be large enough for a glass to sit on.  Slices vary in size and are not all perfectly round.  The smallest coaster I had was 3 inches in diameter at its smallest and it was just big enough.
 If you are able to find the agate in person you will be able to judge in person, but if I were to order online I would order the 3.5 – 4" size and put in a request for rounder shapes.
DIY Agate Slice Coaster Instructions: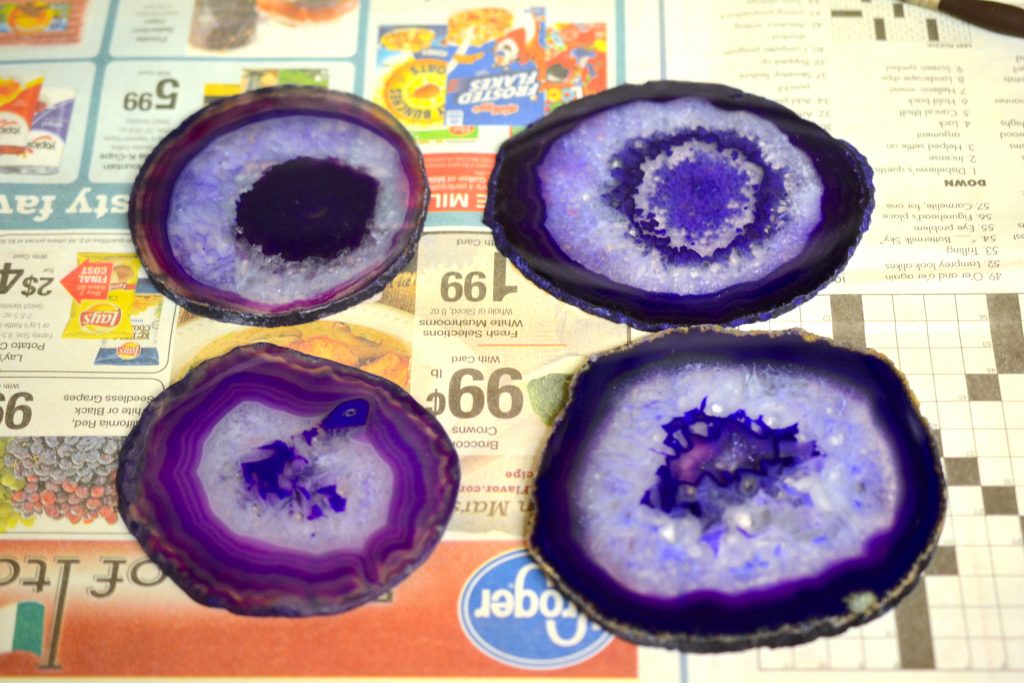 1. Lay down a sheet of newspaper to work on.  
2. Shake your liquid leafing well before opening.  This can smell kind of strong, so if you are sensitive I would be sure to make sure in a well ventilated area.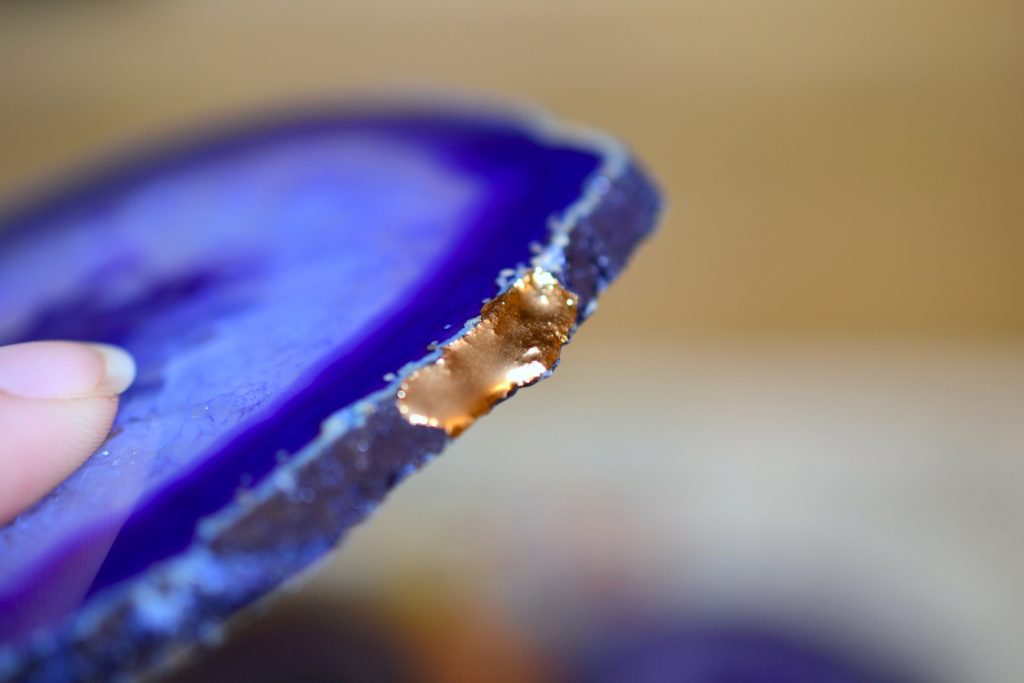 3. Dip your small paint brush in the liquid leafing.  A little bit will go a long way!
4. Make small brush strokes around the outside of your agate slice.  The liquid leafing dries quickly.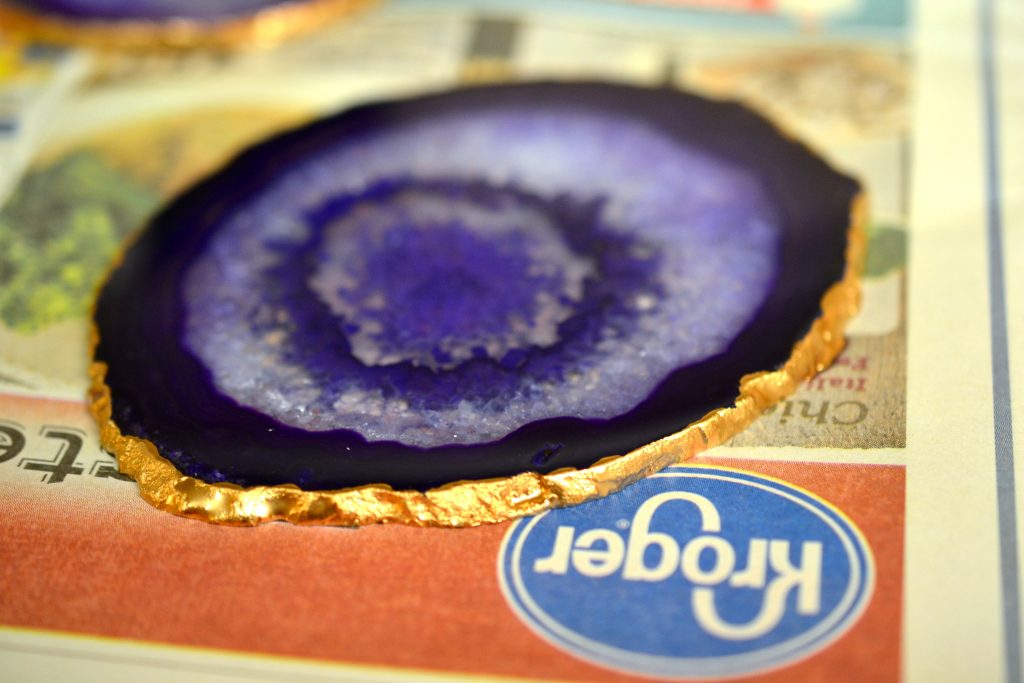 5, Set the slice on the newspaper to finish drying.  
6. If you are using rubber feet, stick a few on whichever side you deem as 'the bottom' spacing them out evenly.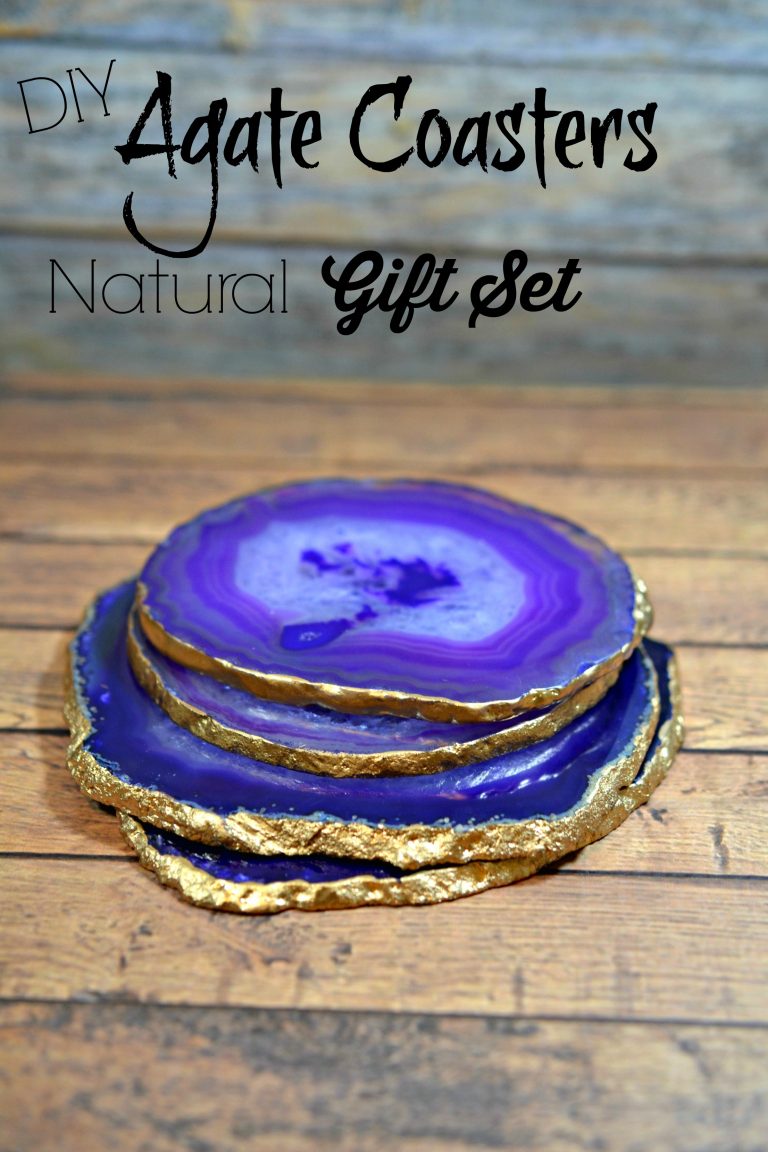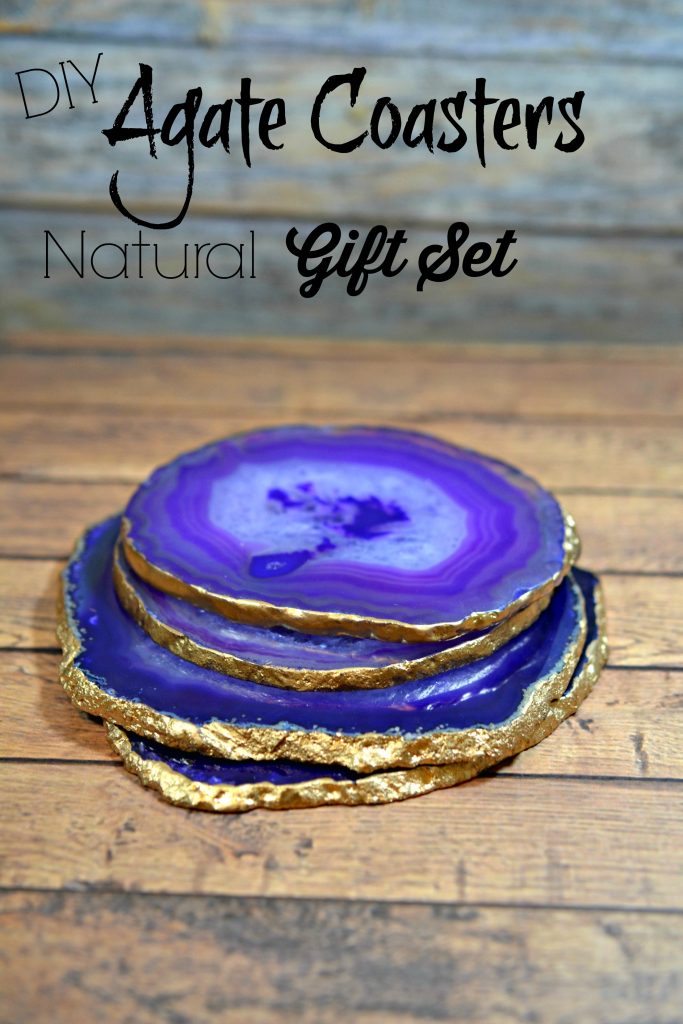 TIP- If you accidentally get some gold on the stone surface, just allow it to dry and then dip a Q-tip in nail polish remover and gently rub.  It should come off.  
If you're decent at painting you can try your hand at this DIY Agate Artwork I found on Pinterest! And if your kids want to try to create their own Faux Agate Coasters check out this tutorial I found! 
Popular DIY Home Posts: