20 Crazy Ideas to do Outdoors with your Kids Before the Summer Ends
This post may contain affiliate links, view our disclosure policy for details.
Our family loves the outdoors but sadly the summer is dwindling which means school is just around the corner! For us we have just a few weeks left of summer – so let's make the most of it!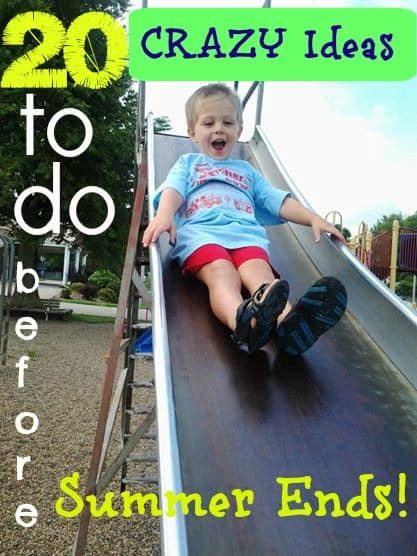 Even though my kids LOVE time to be bored on their own and do whatever it is kids do to occupy themselves in the summer, they still get a little stir crazy occasionally and these ideas below do a great job at getting families to spend some fun time together.
Ideas that your kids will love to just add a little crazy memories into your summer!
1. Build a Brick Wall (not kidding! It looks like fun!)
2. Paint your Fence- Let your kids make your backyard a mural!
3. Plant a Butterfly Garden. (or a Fairy Garden!)
4. Go Geocaching.
5. Make a mud pit or have a mud fight! (our kids favorite!)
6. Build an obstacle course.
7. Build a Treehouse or Club Fort.
8. Build an Enormous erupting volcano (baking soda, vinegar, red food dye!)
9. Make a time capsule- then bury it!
10. Make a pinata 
11. Shoot Rockets (I recommend Estes Rockets)
12. Have a Luau in your backyard.
13. Build a Totem Pole out of cardboard boxes.
14. Build a bonfire. Then roast s'mores!
16. Build a birdhouse & decorate it.
19. Catch fireflies, butterflies, lizards, or frogs!
20. Create a giant slip n slide with a tarp, water, and dish soap!
23. Fly a kite! Make your own!
Do you have any fun and unique ideas to keep your kids busy for the rest of the summer?