Cast Iron Skillet Campfire Brownies Camping Recipe
This post may contain affiliate links, view our disclosure policy for details.
Ever since discovering how EASY it is to make cast iron skillet campfire brownies this camping recipe has been a HUGE hit around the campfire! You don't need tons of supplies to drag with you when you go camping either.
Check out how we make our campfire brownies below. And if you're planning a camping birthday party we have an awesome post all about that along with a fabulous tutorial on how to make a "flaming" campfire cake!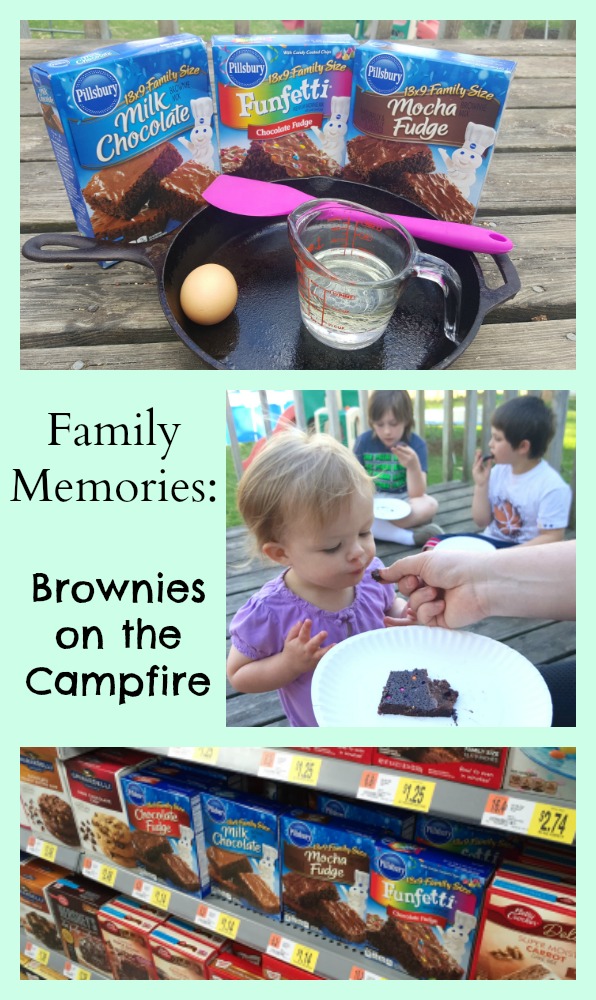 Our family is no stranger to creating fun quality time together but this year our focus is on camping! Camping is our favorite adventure and I've been researching easy non perishable ways to create yummy meals for us as we road trip through the next several summers and beyond. Now that it's so lovely and warm out where we live the campers and tents are popping out in all directions!
That's when it hit me – I could totally use a Brownie box mix
while we were tent camping to bake over the open campfire and let the kids help me create our treat! No need for mixing bowls – you can mix it all in your cast iron pan! I lucked out at the store because it also had a lot of camping gear on clearance! I found some cute digital camping scrapbook files to create a memory book too!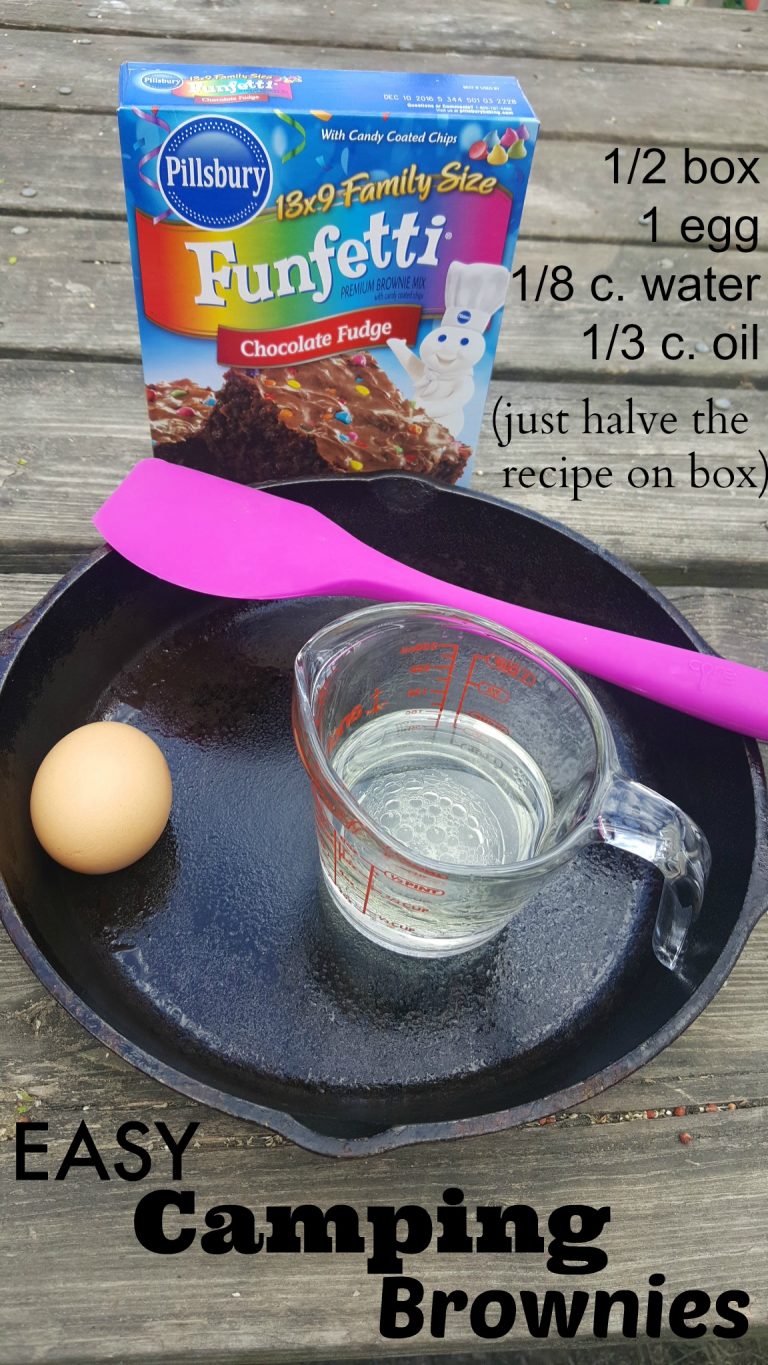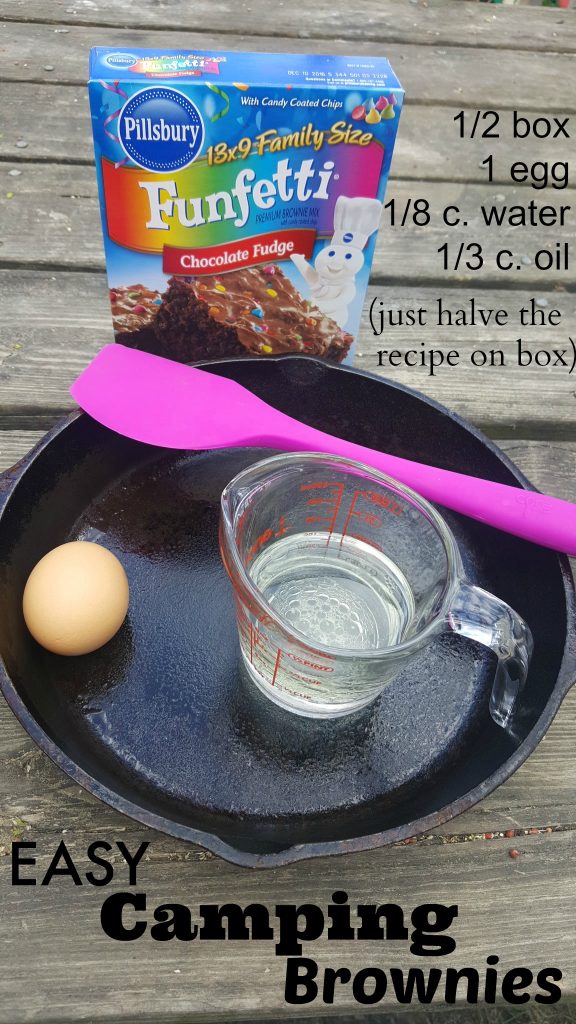 So that we didn't create waste or leftovers (especially near bear camps!) to keep for another day I decided to try something new for us- open campfire brownies in a cast iron pan. YUM! All I did was pick out a favorite Pillsbury brownie mix from our camping stash and halved everything the box called for on the back! (We just used a half box of brownie mix each night for 2 nights in a row.)
For the mix itself I did the best I could to pour half in the pan along with 1 egg, 1/8 cup of water, and 1/3 cup of oil. Just dump it all in together and stir it up!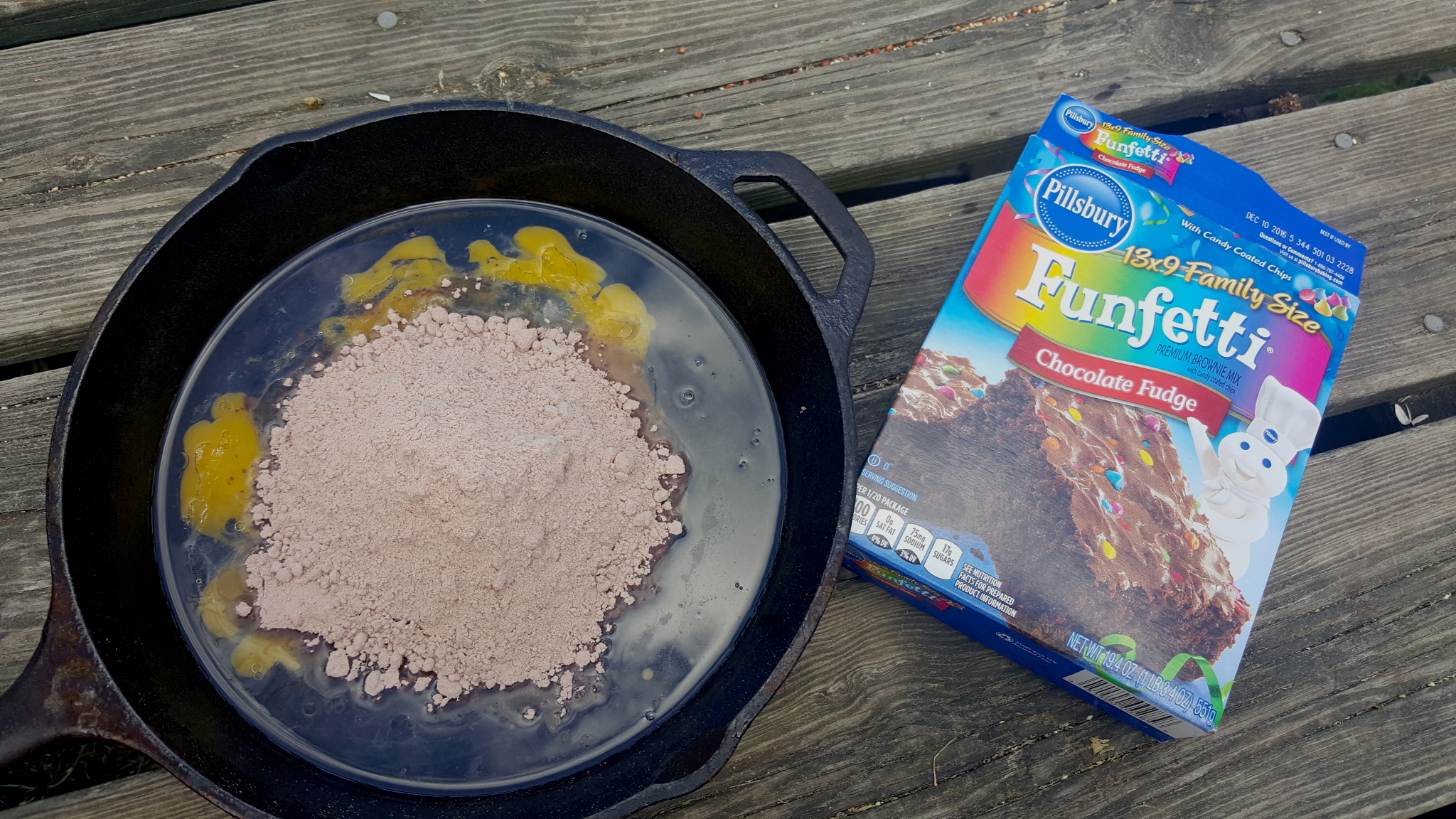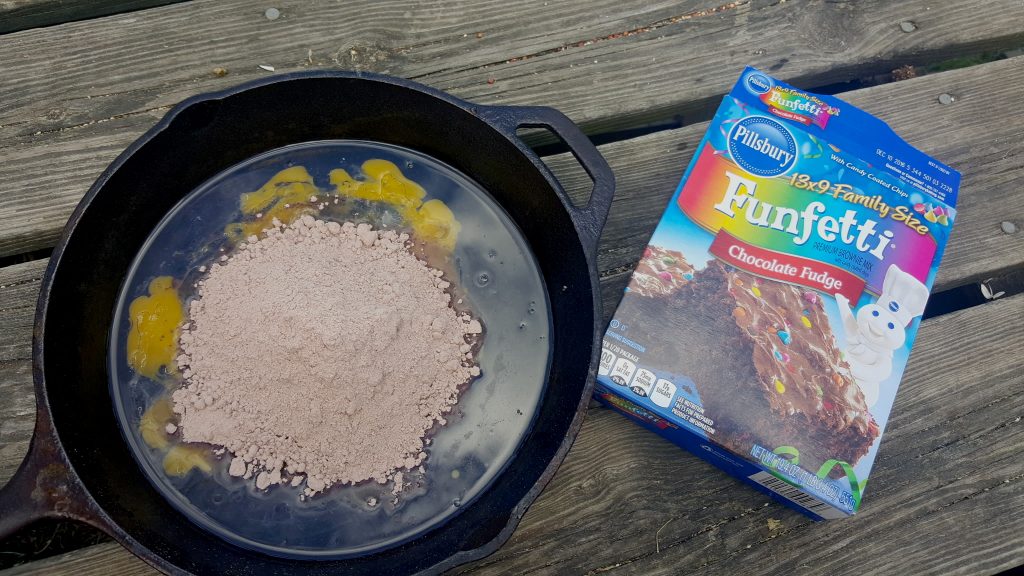 Pour all of your ingredients directly into your cast iron pan and place the remainder of your ingredients in an airtight container or bag and store in your vehicle. Mix the ingredients in the pot until everything is blended together smoothly. Mixing it all right in your pot means there's no extra dishes to clean (always a huge win while you're camping!) and it worked really well! I didn't have any problems with sticking either so clean up was easy.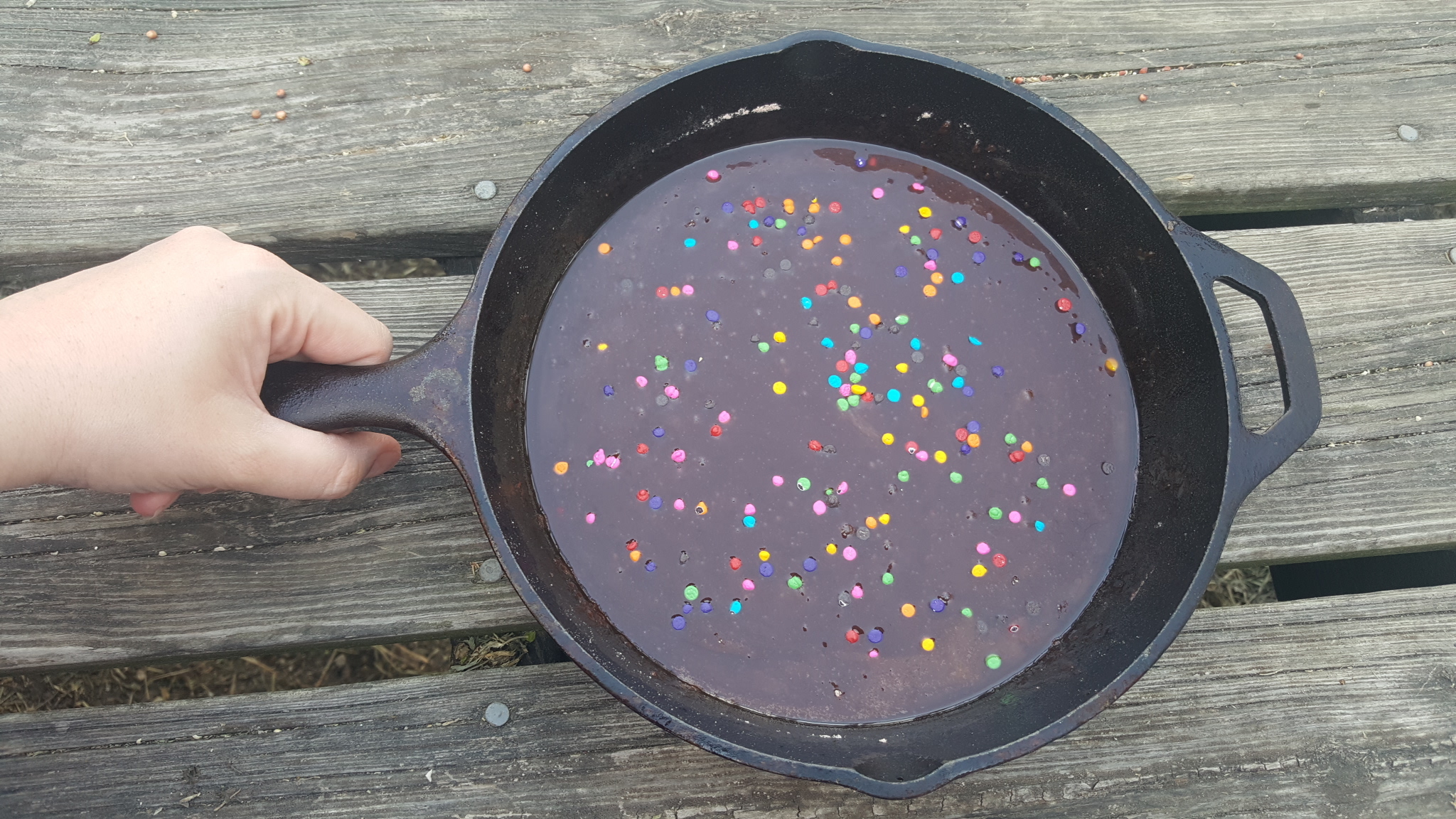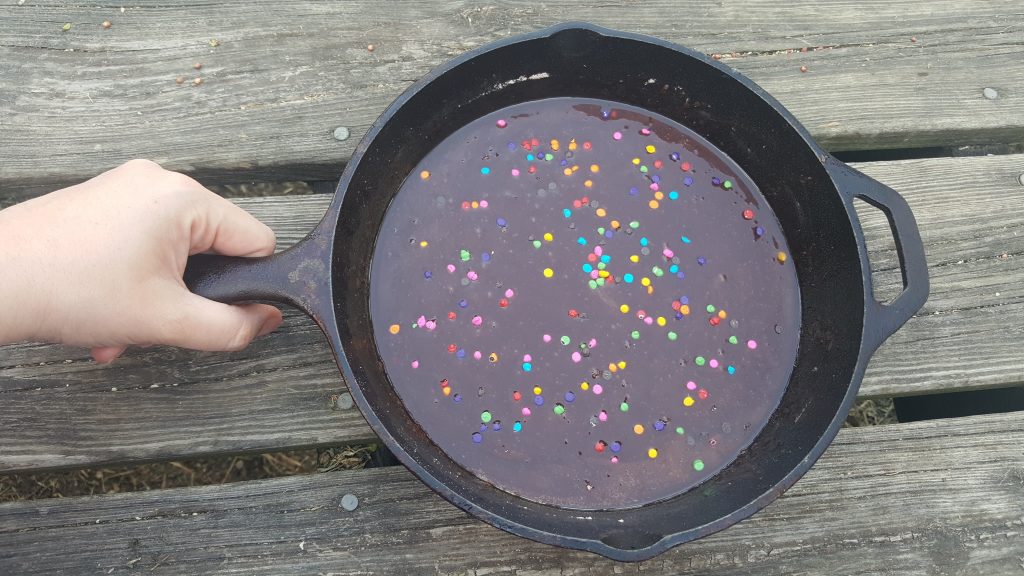 For our first trial (because there will be many more memories made making campfire brownies!) we used the Pillsbury Funfetti brownie mix
and added the candies right on top before placing our cast iron pan over the fire! It takes about 30 minutes (give or take 10) depending how close you have it to the fire.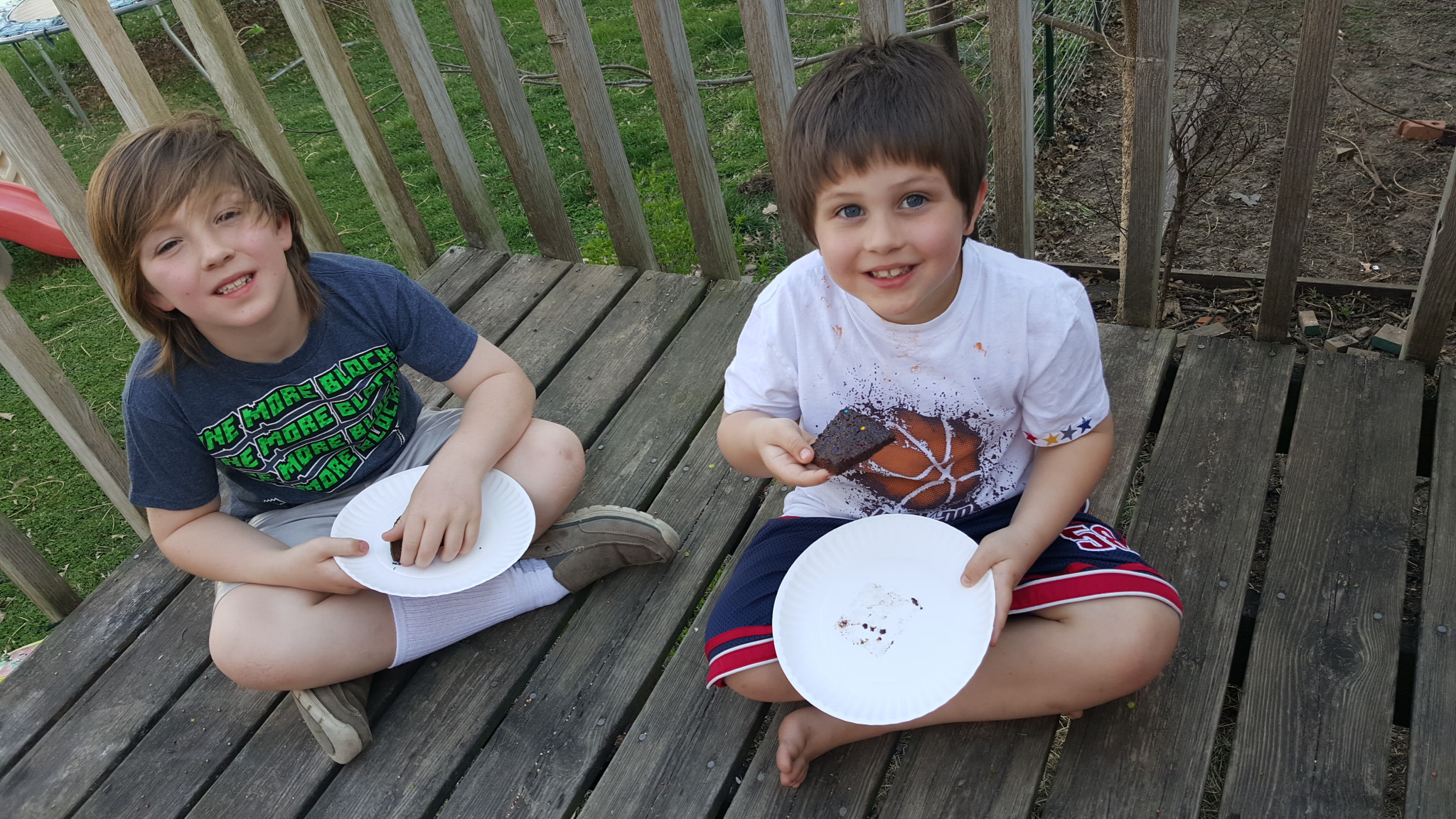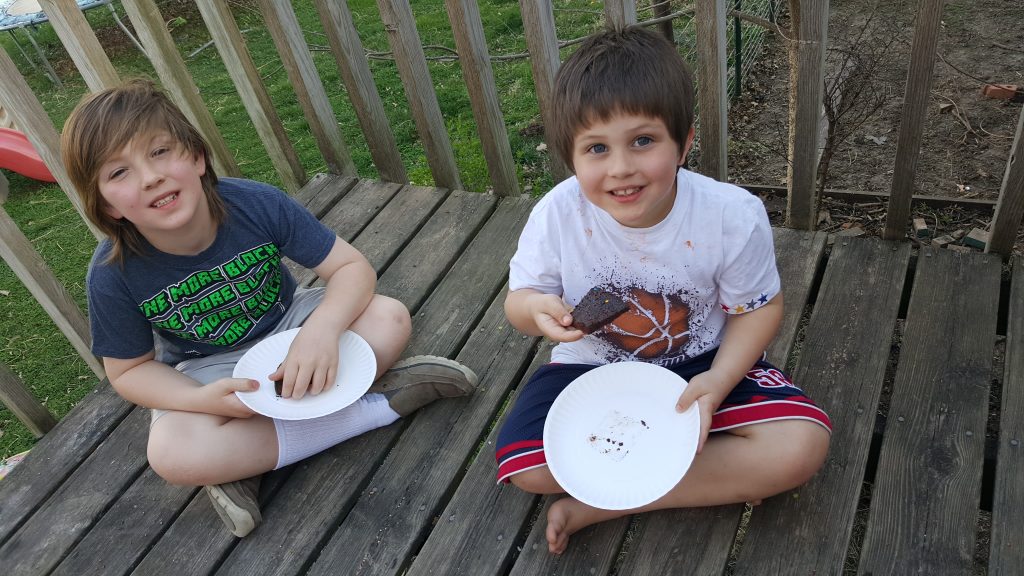 These are SO delicious and WAY easier to make while we're camping than messy s'mores! Plus I'm not a marshmallow fan and we all love brownies! For our family of 5 one regular sized cast iron pan of campfire brownies over the fire was a real splurge. If we have camping neighbors close by we always offer our extras to go around!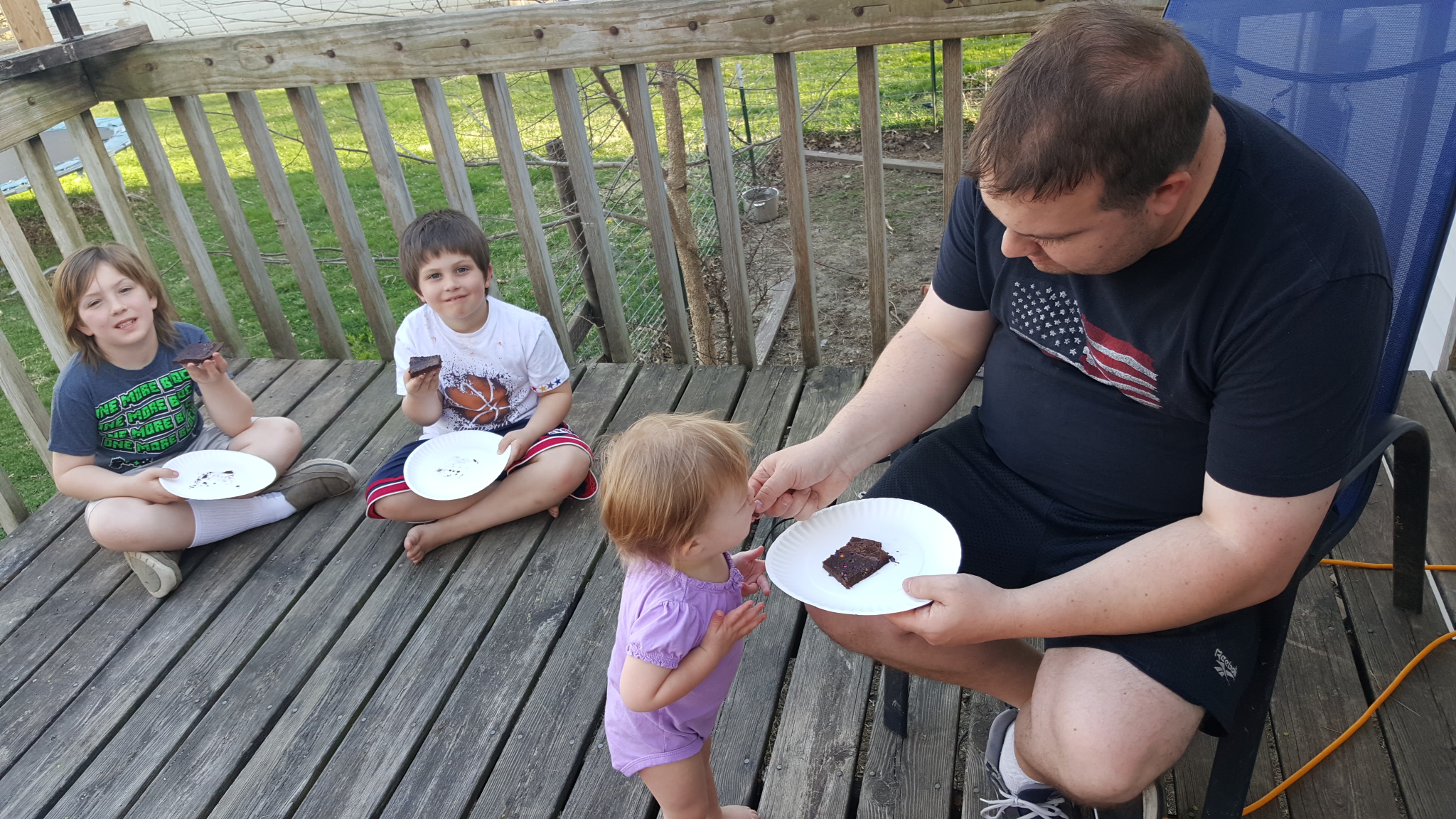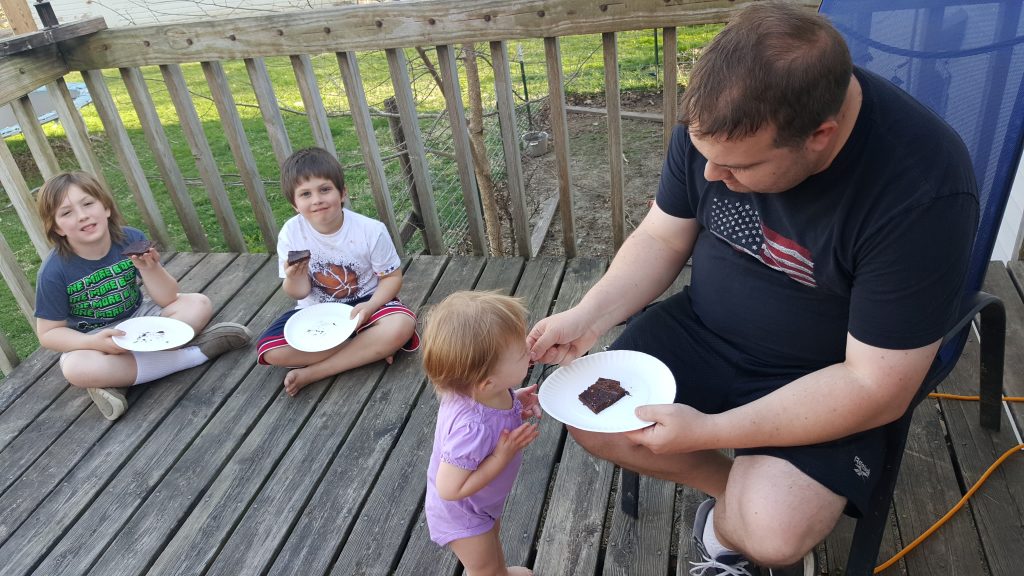 Even our toddler got to share with daddy!
If you've got some other non refrigerated camping recipe ideas I'd LOVE to hear about them! We hit road trips pretty hard and pop in and out of campgrounds so the only refrigerated food we grab is usually a dozen eggs (for breakfast and one total Pillsbury brownie mix spread between 2 nights) and something that doesn't spoil too easy for lunches.
Not a camper? Don't forget to turn your family fun time into an educational exploration with our Candy Caper Mystery worksheet!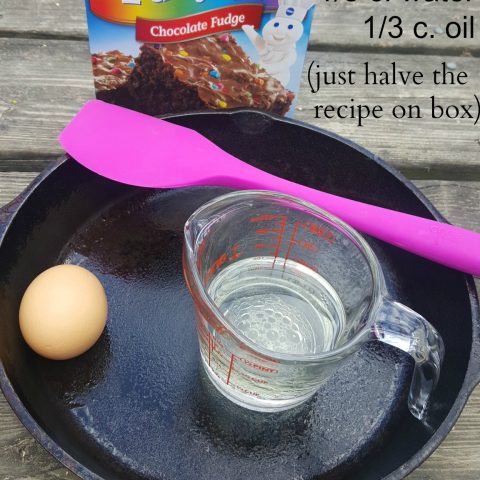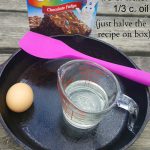 Campfire Brownies Cast Iron Recipe
How to make campfire brownies while camping.
Ingredients
1/2

box

brownie mix

1

large

egg

1/8

cup

water

1/3

cup

oil
Instructions
Dump everything inside of your cast iron pan.