The Mystery of the Candy Caper – Making Memories with a Pillsbury Brownie Mix
This post may contain affiliate links, view our disclosure policy for details.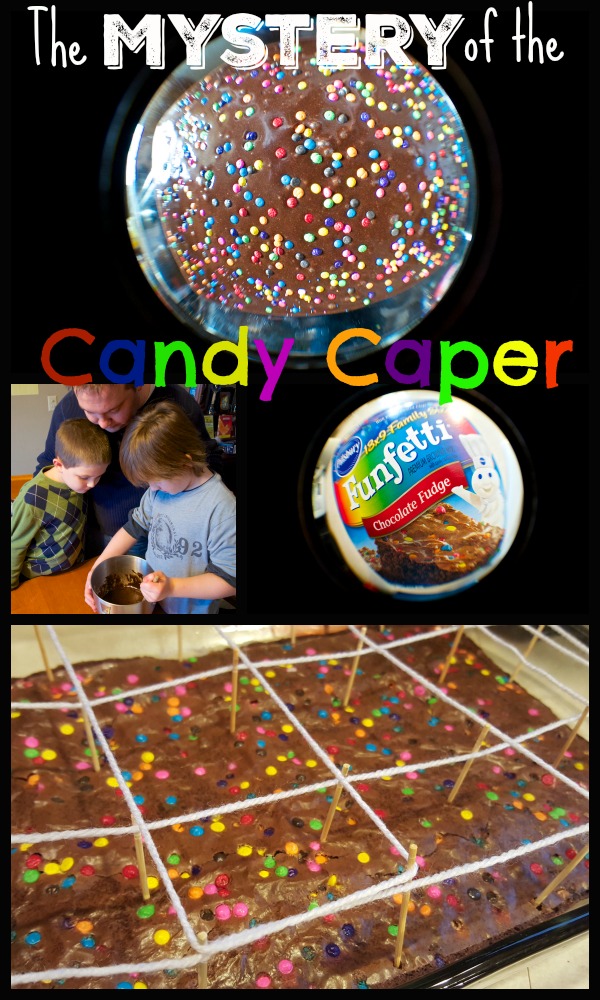 BRING IT ON GAME DAY! My middle son especially is really branching out lately into trying out a variety of sports so I'm excited to share his passion this year for the big game! Last year it was soccer, he's currently on a basketball team and he wants to check out football and hockey next! I have a creative knack for turning educational ideas into fun memories with my kids. I thought this would be a great way to mix up a moment and to spark my kids imagination and curiosity while baking in the kitchen together during game time! I was recently asked by The J.M. Smucker Company encouraged me to create some unique ideas for their brownie mixes and that is just up my alley!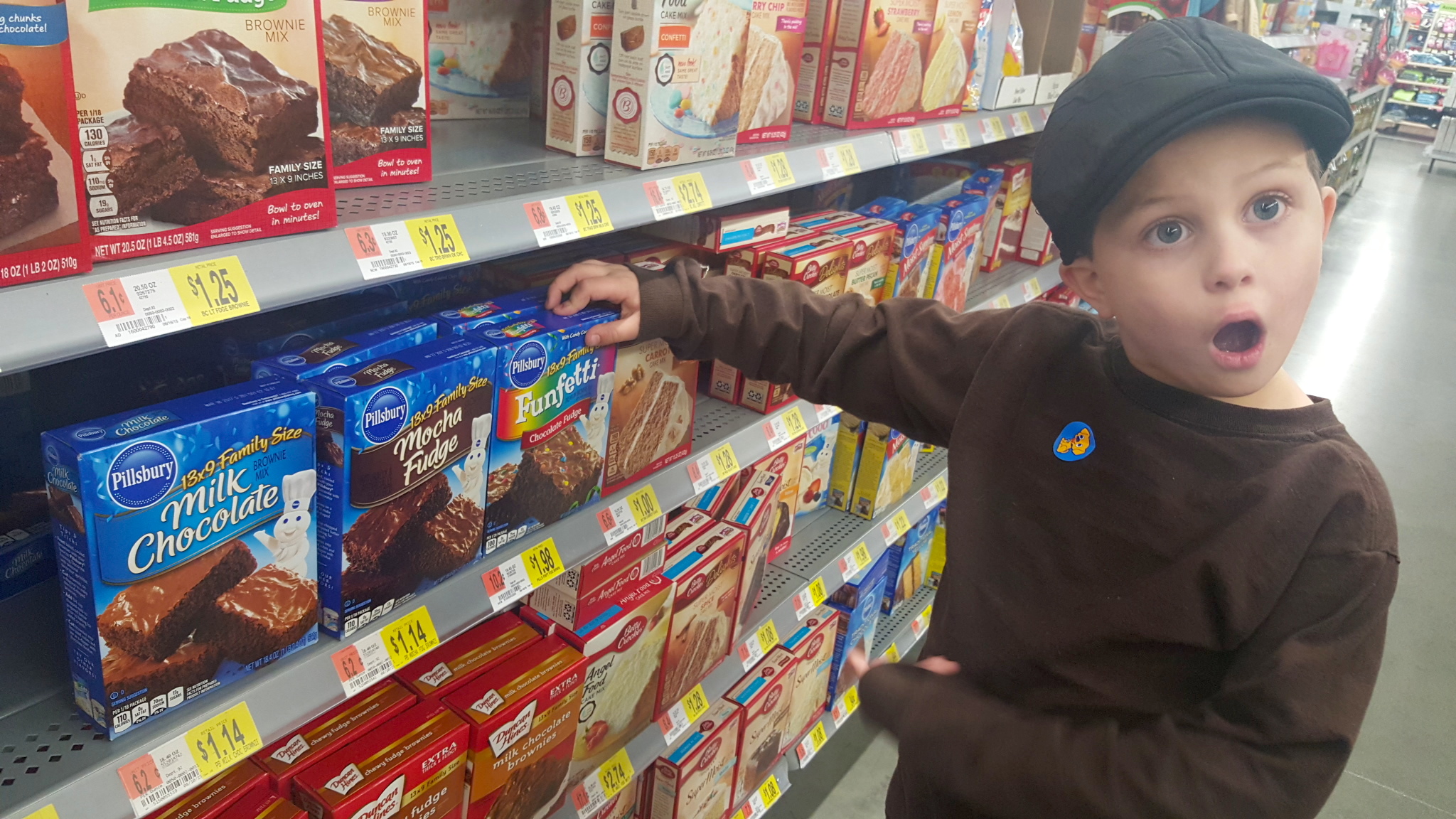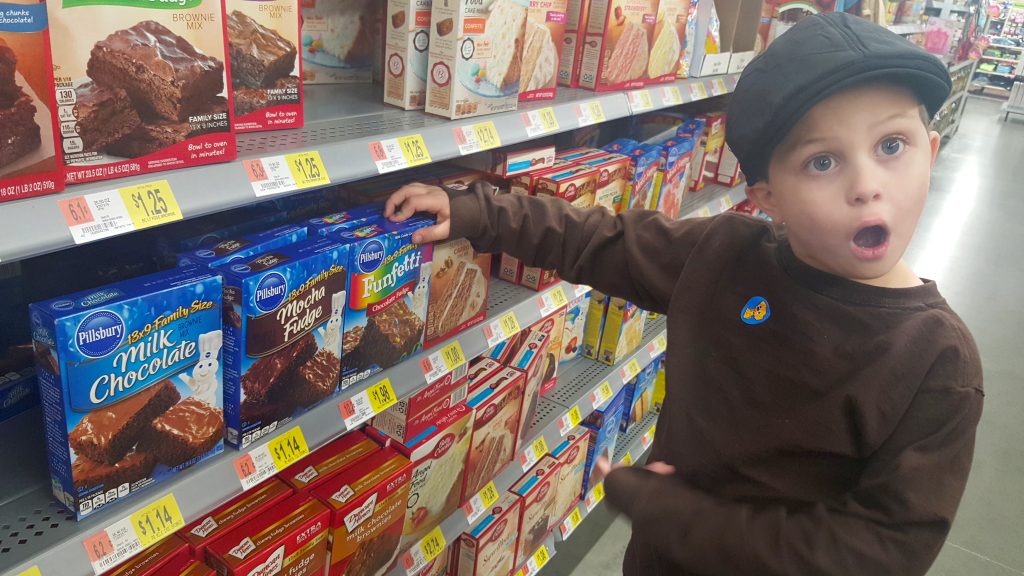 I enlisted the help of one of my kids to run with me to Walmart to pick up some Pillsbury brownie mix! Grocery shopping isn't my boys favorite thing to do in the world so I try to let them share in the choices of what we pick out, and sometimes I like to surprise them! Not only was my son excited when I stopped so long in the baking aisle but when I told him to pick out FOUR boxes of Pillsbury brownie mix he couldn't contain his excitement! Then of course he got that gleam in his eye and begged for some Pillsbury frosting to go with it. (I feel a story coming on! – If you give a kid a brownie mix, he'll ask for some frosting to go with it….) Recently I've been using the Ibotta app to save money on our groceries and there's a Pillsbury coupon to "clip" that you can access right here!
The mission? A TOP SECRET Game Day Mystery and some awesome brownies for our teachers lounge for Valentine's Day! As much as I'd love to always make everything from scratch it's SO much easier with the kids to grab some extra box mixes – and they are inexpensive to stock up on too! On occasion my kids ask if we can bake something so I like to have a few extra boxes on hand.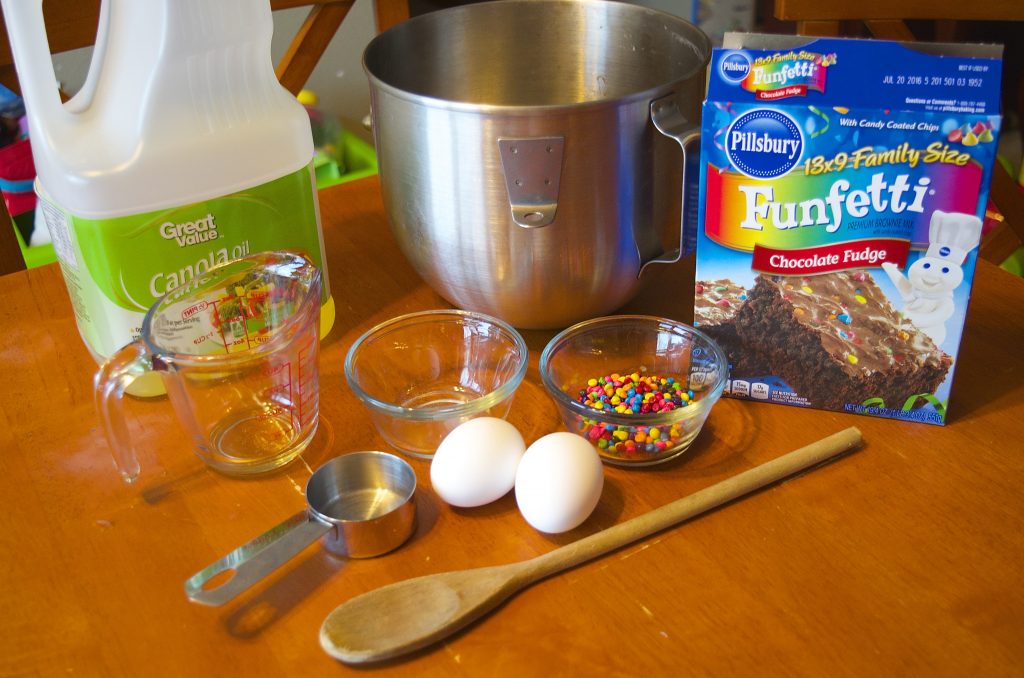 One day when the kids came home from school they arrived at home to find this on the dining room table! The mystery was about to begin! The kids enjoy watching the sports game with my husband for a while but it doesn't hold their interest like it does the rest of us adults so I came up with a plan for us to all enjoy a treat and keep the kids occupied for a while on the side. BUT FIRST – the kids were in charge of making the brownies!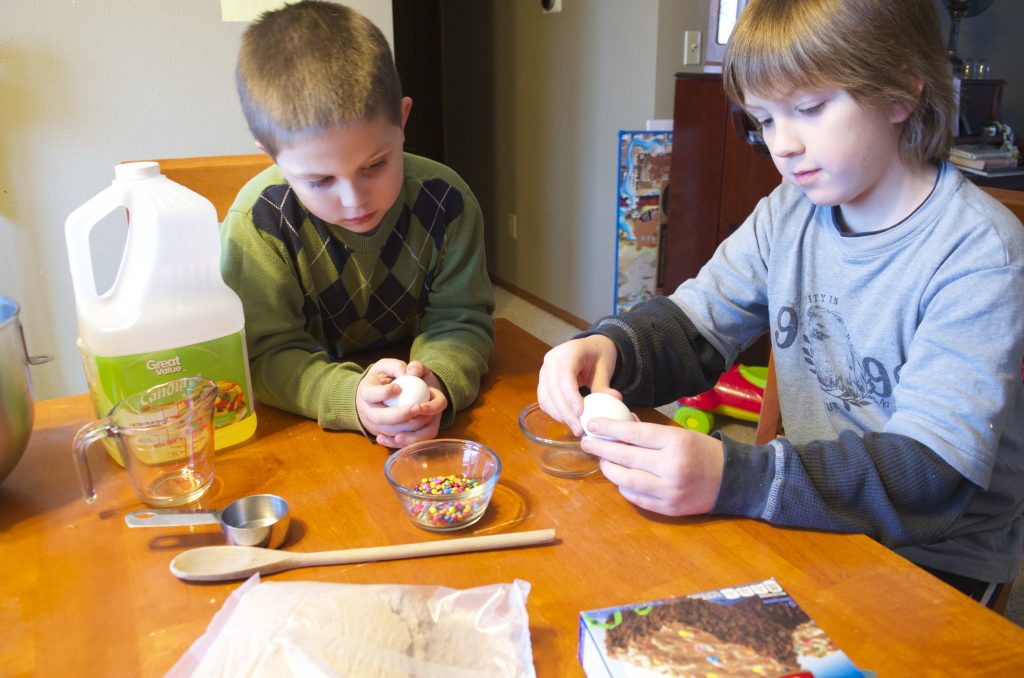 Getting kids in the kitchen is so important and I love that they can easily read the ingredients off of the back of the brownie box mix. Since it's shown in both writing and as an illustration it makes it easy for both kids who can and cannot read. It also teaches them how to follow directions and learn about measurements! Both of my boys LOVE baking and creating their own goodies in the kitchen! This was a team effort.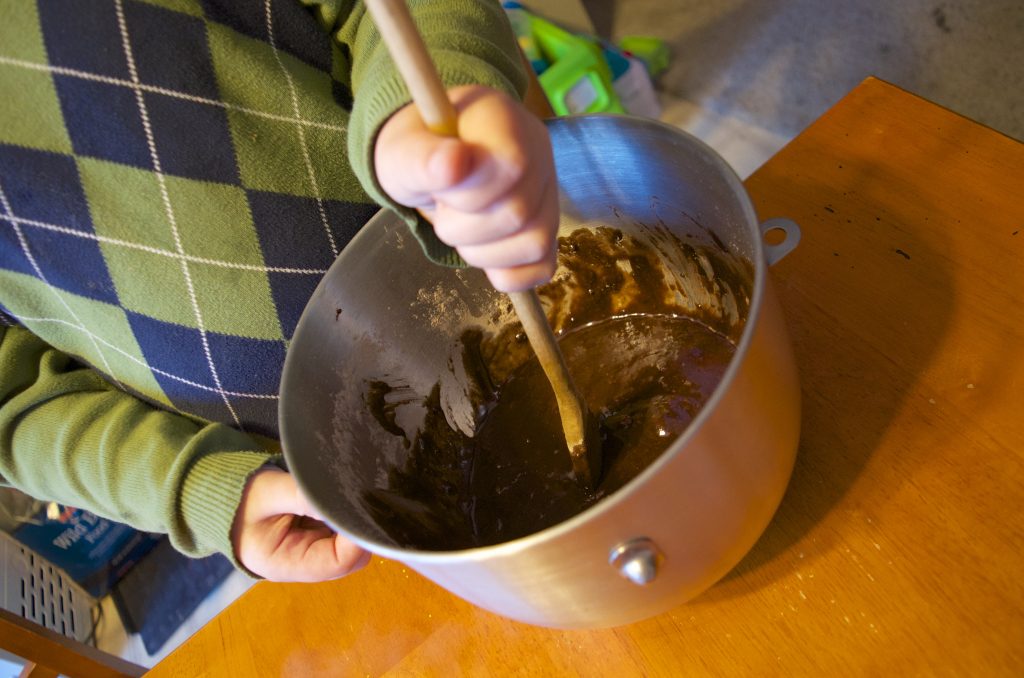 We decided to take turns adding and mixing the ingredients and then I pulled out two smaller square bans for baking so that they each had their own batch.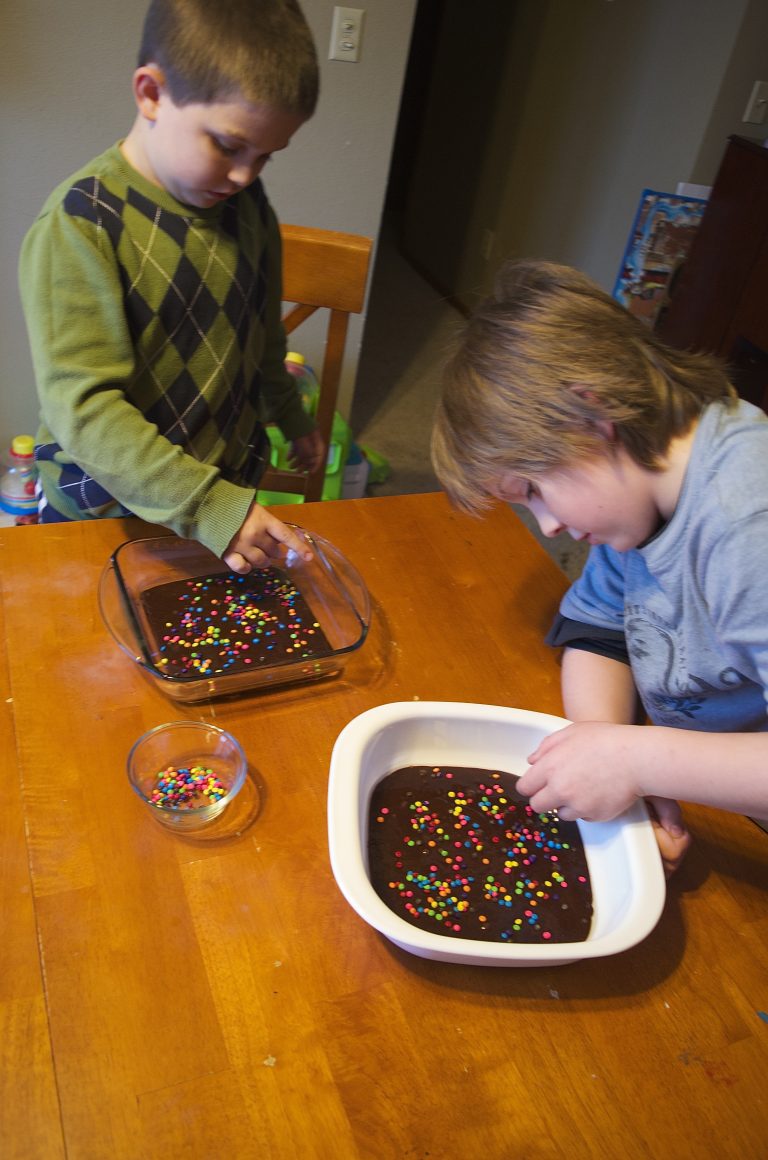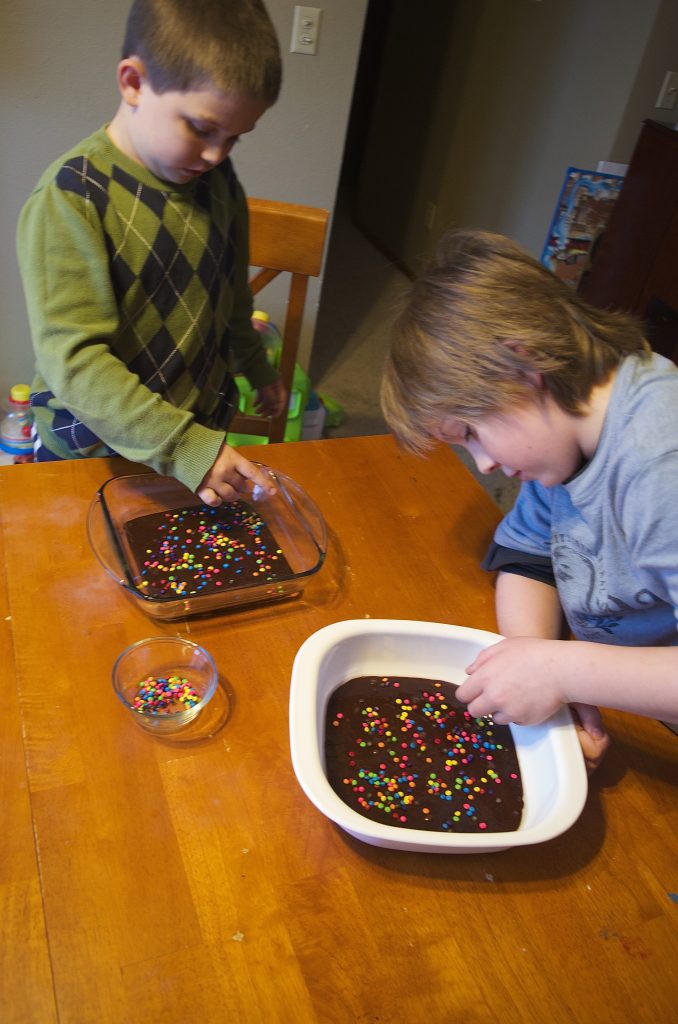 This is where the MYSTERY began, however. As the kids were decorating their brownie batches I instructed them to take note of the colors and shapes they were spreading into the pan and to hold onto that thought for later. My kids know me well enough that when I start talking cryptically that means there's something fun around the corner!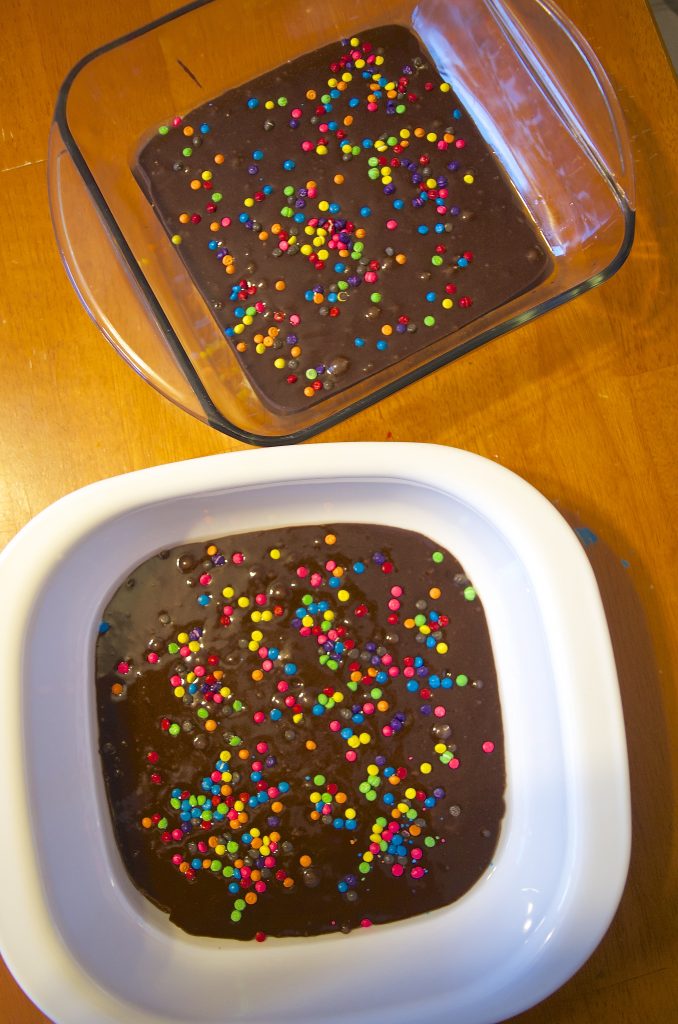 Once the kids had their batches of brownies ready I popped it in the oven for them and handed them this printable writing prompt.
By the time their brownies were done baking they had spun an entire imaginative tales about their mysterious creature. The boys are very involved in playing Minecraft and love that every element is used for a specific purpose. So I decided to section off a grid of brownies from a batch that I had made previously so they could practice their excavating and archeology skills at acquiring each of the candied colors in the "dig".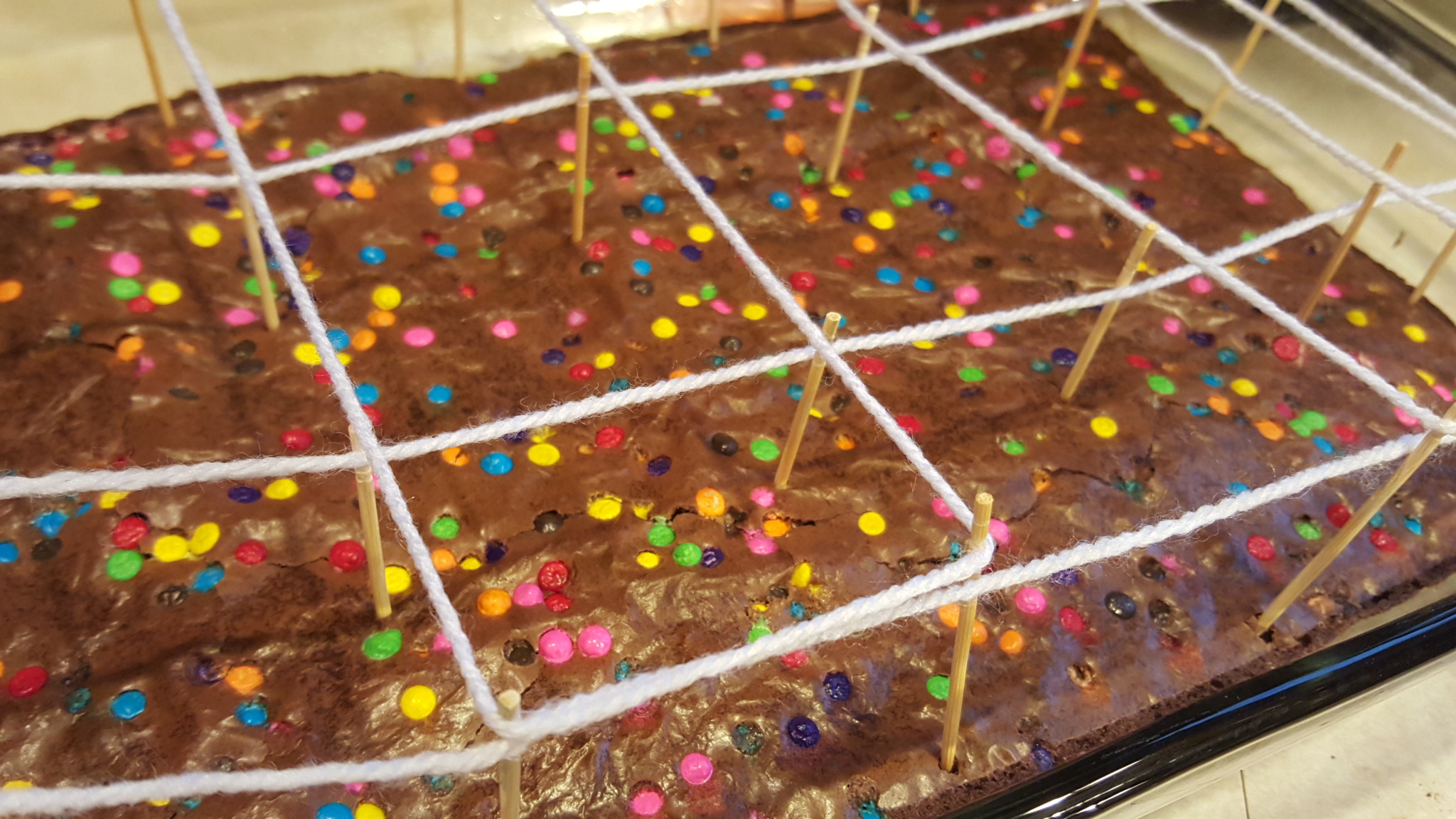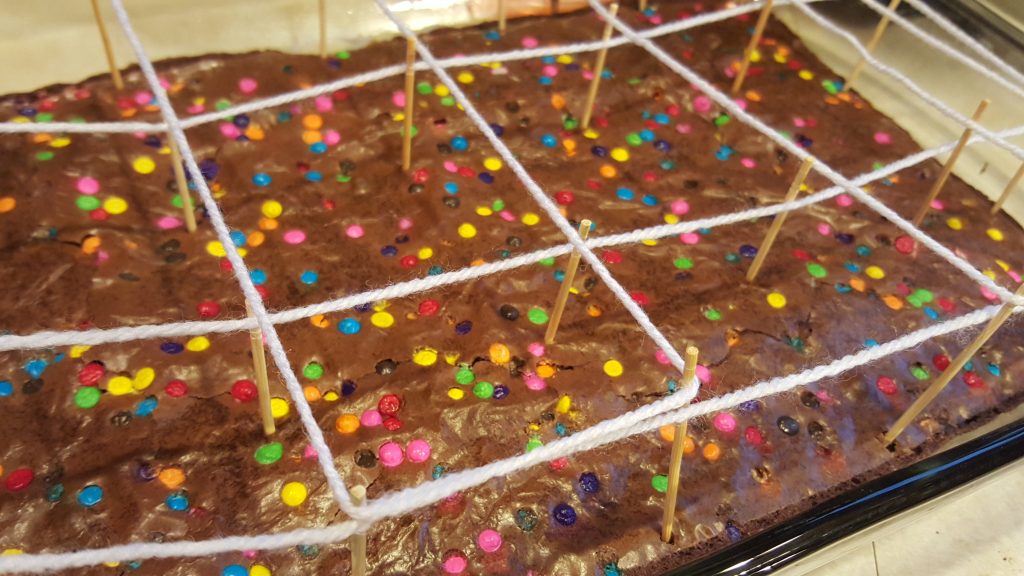 We then imagined that each colored candy had a specific purpose and decided to graph our acquired skills (via candies!) into the a chart which we labeled with each color's special use! Overall it was a fun and extremely simple watch to spend some family time together crossing over both our love of sports and some imaginative stories for the kids to create!
STAY TUNED – I have an easy and decorative way to spread the love to teachers with some Pillsbury Brownies for Valentine's Day coming up soon! And in the meantime I KNOW you want to make something yummy! Check out this mouth watering Pinterest board for some new ideas!
This is a sponsored conversation written by me on behalf of The J.M. Smucker Company. The opinions and text are all mine.
This is a sponsored conversation written by me on behalf of The J.M. Smucker Company. The opinions and text are all mine.