25 Budget Friendly Homemade DIY Teacher Appreciation Gift Ideas
This post may contain affiliate links, view our disclosure policy for details.
It's NO SECRET on our blog that we LOVE TEACHERS! I mean, my husband is a teacher! I see how HARD teachers work during school, on the weekends, and yes, even at night after everyone has gone home to their families! These creative teacher appreciation gift ideas are easy to make yourself and are cost friendly for the family on a budget!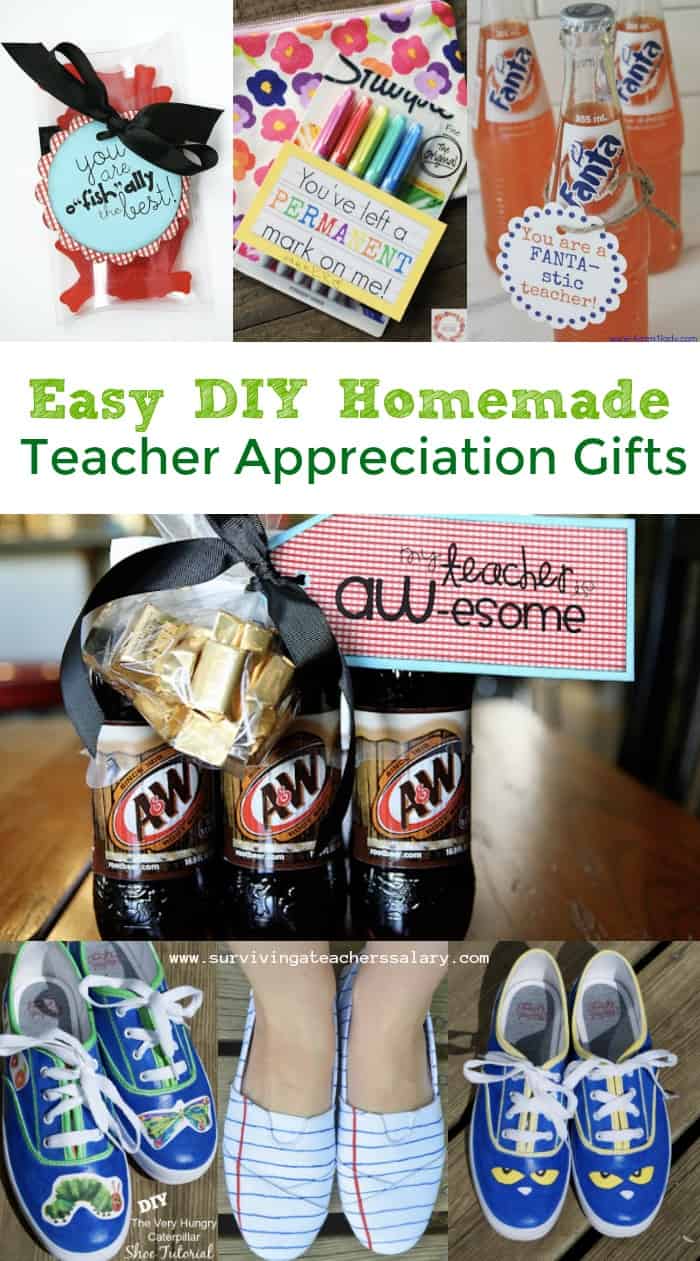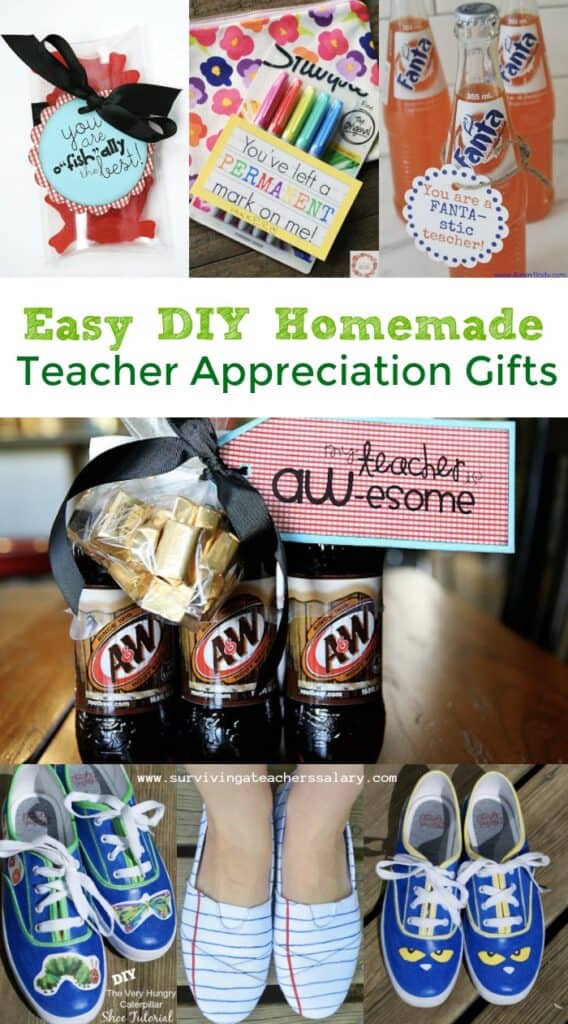 As a mom (and wife of a teacher!) not only do I juggle the time and budget to splurge on my kid's teachers but with my husband being on the receiving end I've also learned the gifts not to give our teachers! If you can go crazy and all out on gifts that's awesome! But most of us can't, however, these gifts are still thoughtful and fun to receive!
25+ Fun Ideas for your Teacher Appreciation Gift: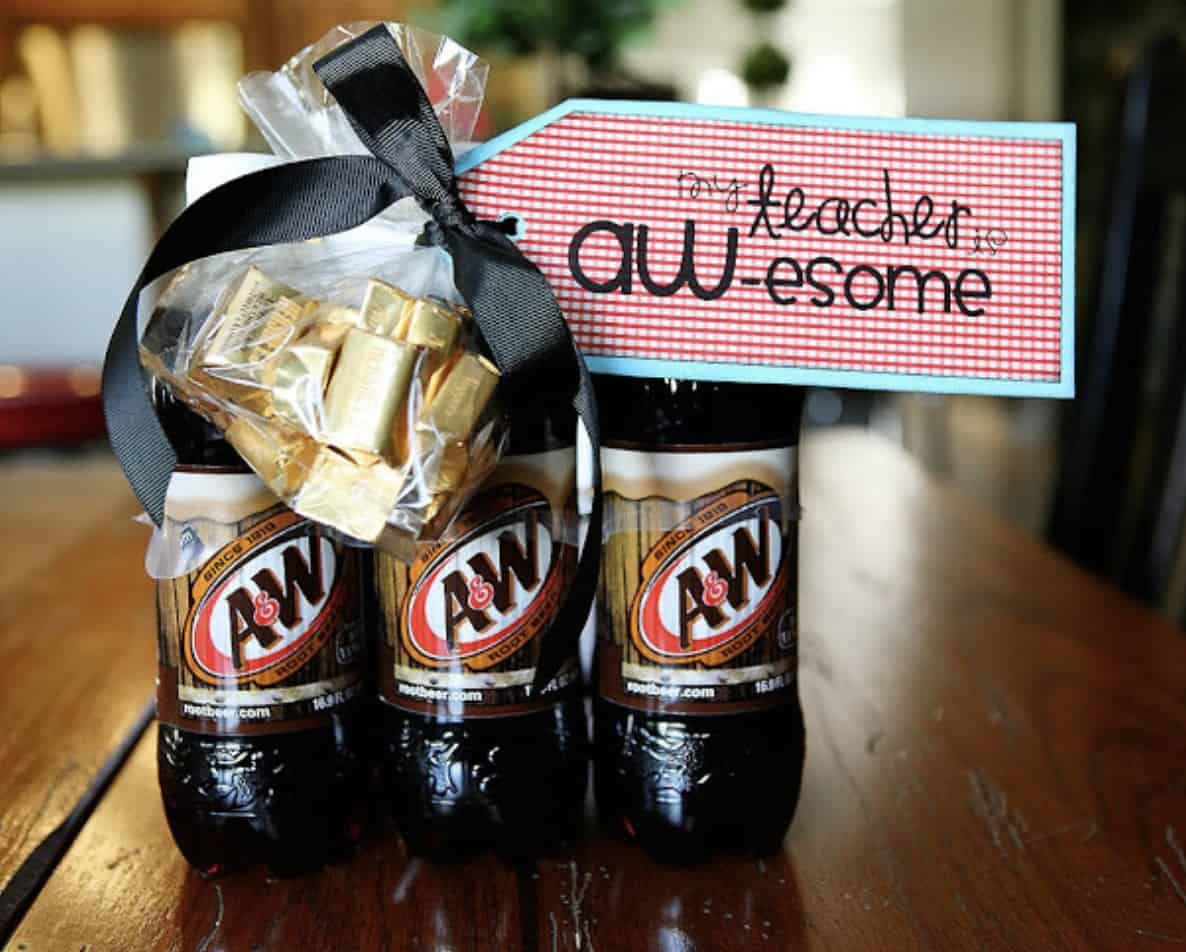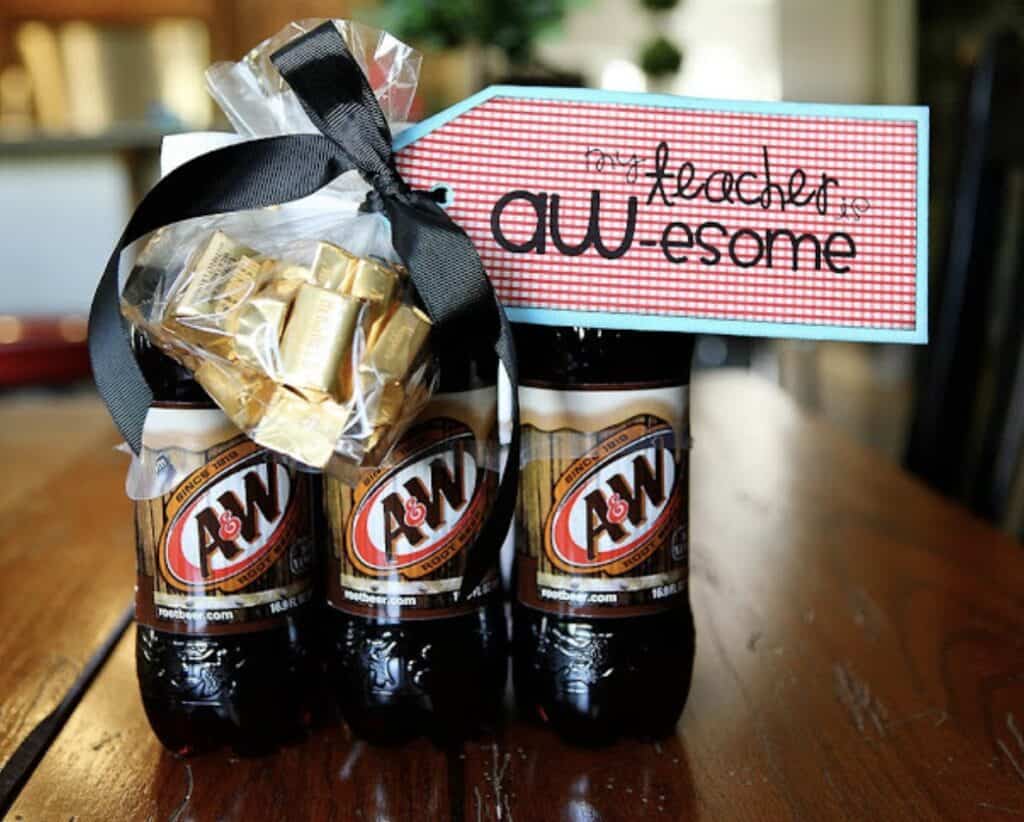 1. My Teacher is "AW-esome"! Go here to find an easy printable template. Just add root beer!
2. Every teacher needs more Sharpie markers!! There is a free printable that reads "Thank you for coloring our lives and making us Sharpies" from Design, Wash, Rinse Repeat.
3. Give your teacher their favorite donut (or box of donuts!) with a note that says "Donut you know how much we appreciate you?"
4. You deserve chocolate!! Thanks for all you do! This is from the same sight as above. All you have to do is add your teacher's favorite chocolate bar. You can buy them in bulk on Amazon or warehouse stores like Sam's Club.
5. If your teacher like movies, you can give them some movies tickets or a gift card to to Redbox. You can easily turn this into a fun little gift basket!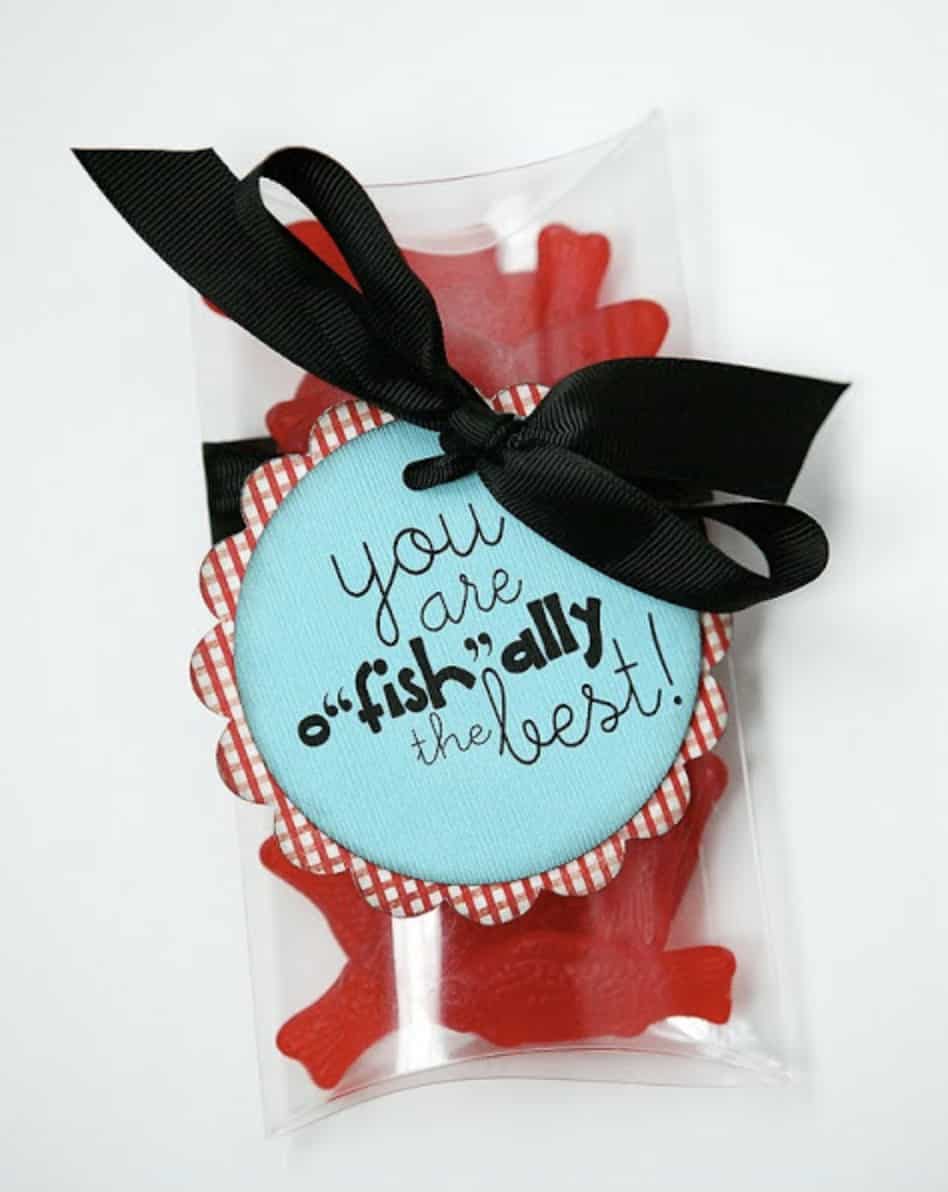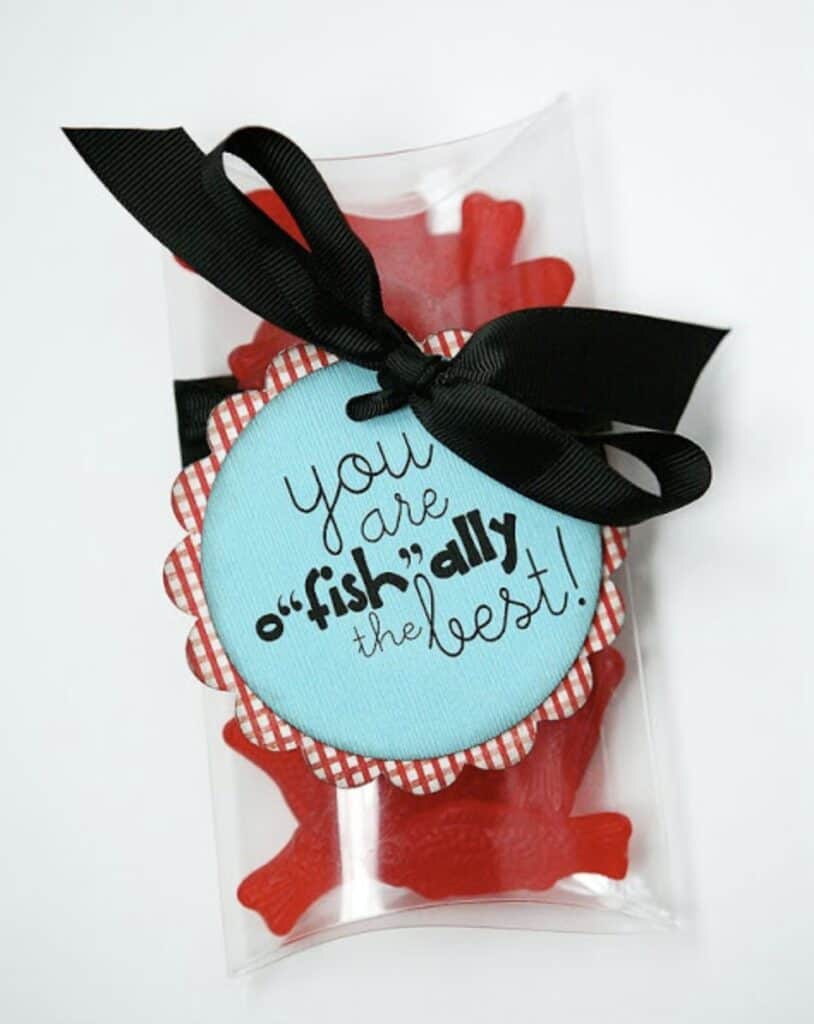 6. You are o"fish"ally the best! Again, this is from the blog eighteen25. They have the template all set up for you, making this a super easy gift. All you have to do is add swedish fish or even some goldfish. You can buy Swedish fish in bulk too!
7. Here is a free 8×10 printable from Balancing Home. You might consider framing this or print it on cardstock and place inside a clipboard.
8. You're the star of our class. This picture says star of the family, but nothing but country has a template for star of the class, perfect for teacher appreciation!
9. Fill an oven mitt with the treats, add a tag with some ribbon for a really cute gift idea. Check it out here.
10. Thanks for making me a sharpie. Print this cute template and add a marker! Easy and cute.
11. Give some Jelly Beans and include a note that says "No Beans about it – Mrs (enter Teacher's Name) Rules!"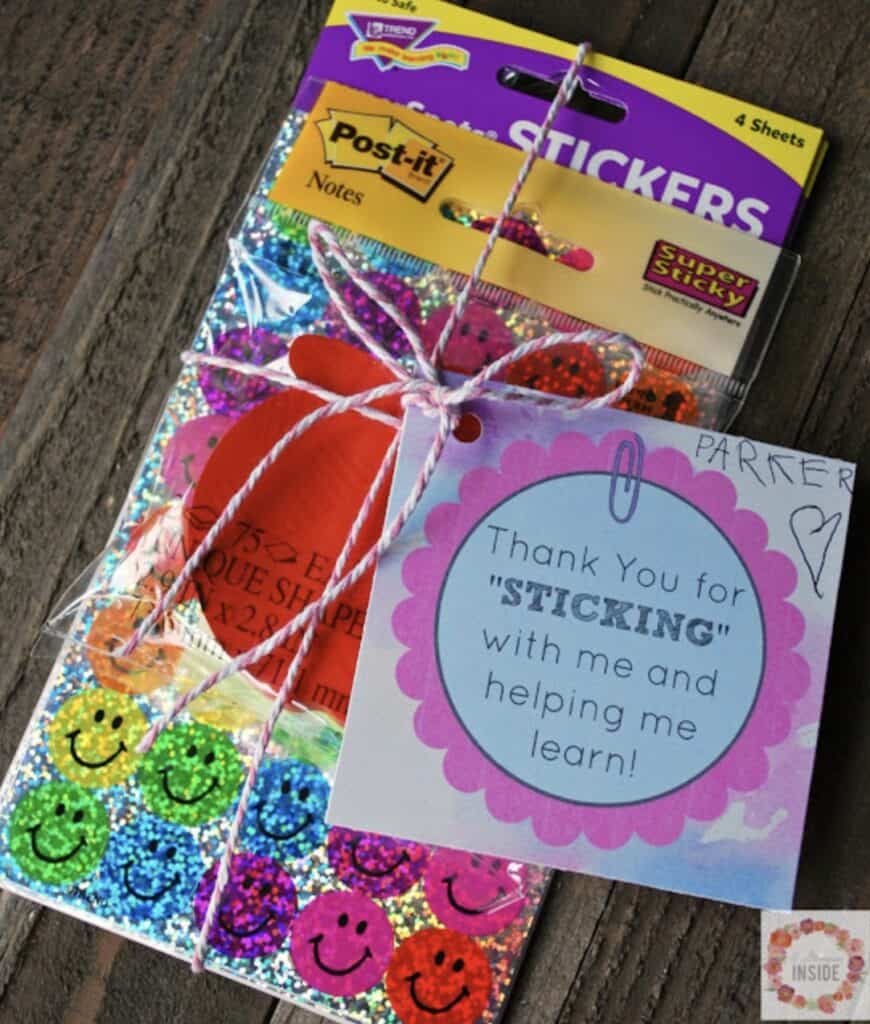 12. Thank you for STICKING with me! A Glimpse InsideThis simple label from is sure to make your teacher smile!
13. I love this idea of giving your teacher a HUGE bottle of Purell hand sanitizer and jazzing it up and personalizing it.
14. You're a 'tea'-riffic teacher! All you need is a bottle of water and some tea mix. You can find great prices on tea and accessories on Amazon!
15. Apples alone are not enough, teachers need hugs too! What a sweet idea for your teacher! There is no template, but it would be super easy to replicate.
16. Create a brightly colored Crayon Caddy Holder for them to hold their pencils, scissors, or paper clips!
17. Give your Teacher their favorite drink and attach a note that says "Thanks for POURING into Gavin's life". Of course use you're kids name.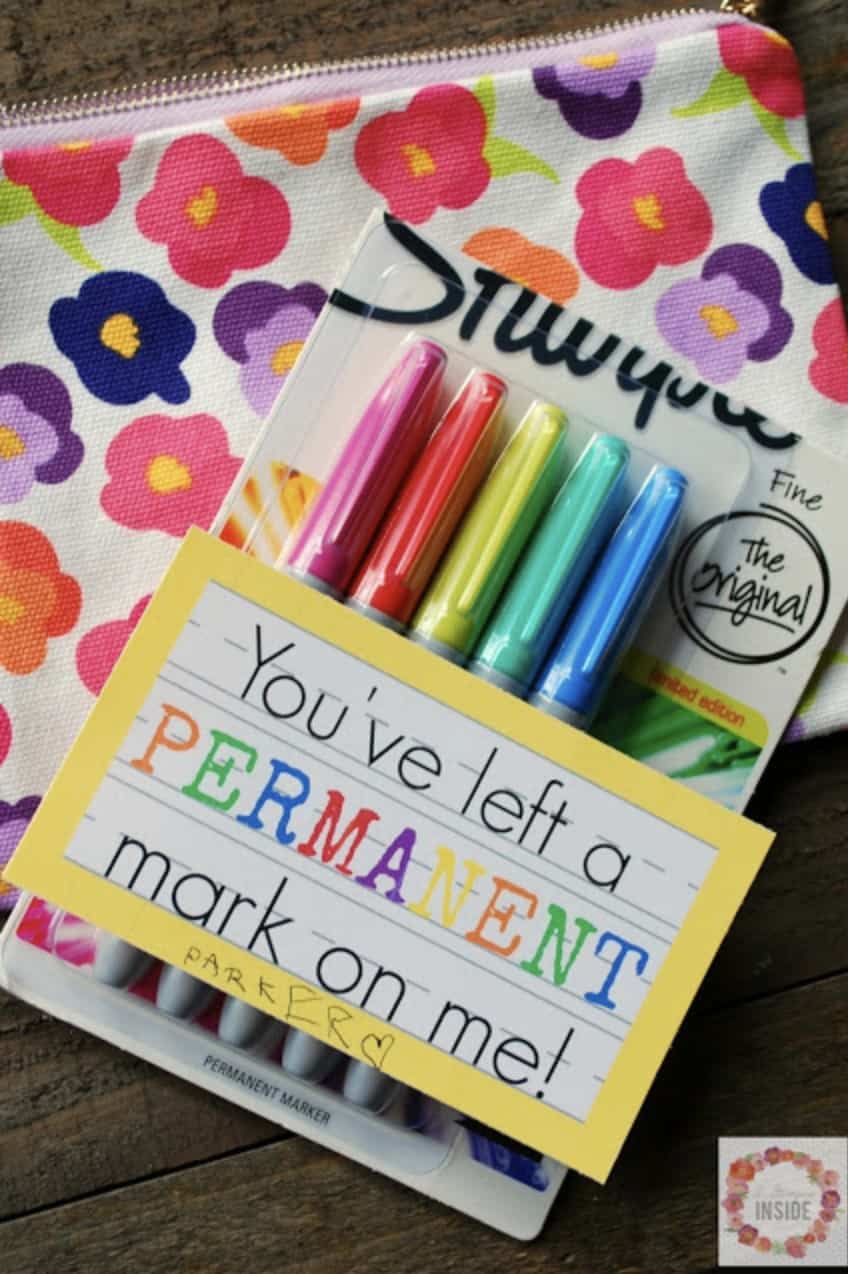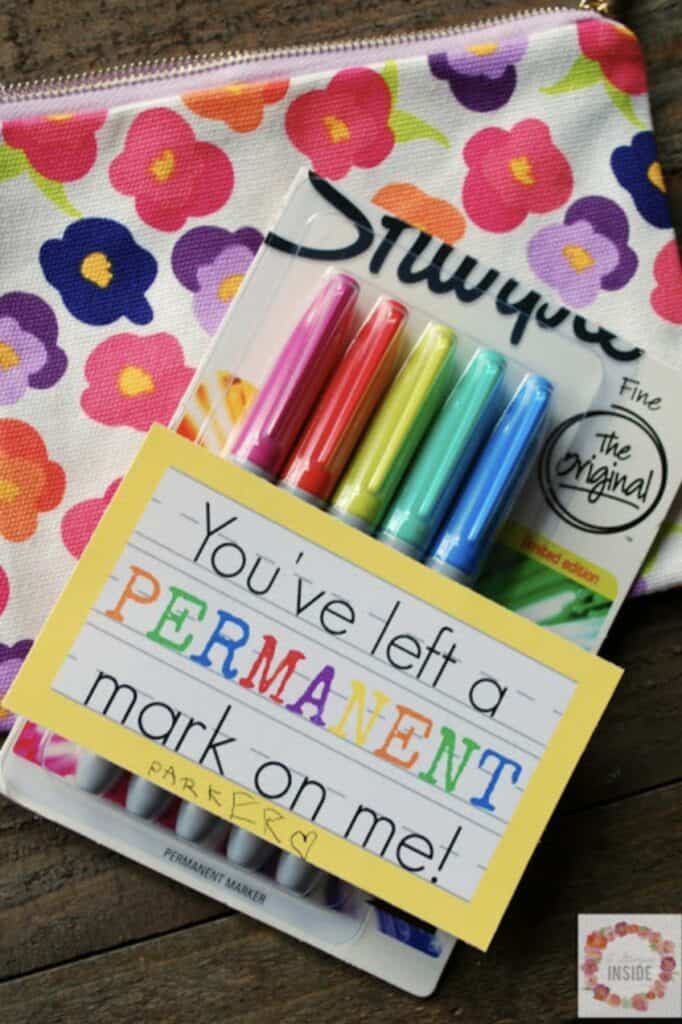 18. Every teacher LOVES Sharpie Markers
and this label from A Glimpse Inside is perfect to go with it!
19. You're the 'hi-lite' of my day! Practical and cute. My favorite!
Just attach this cute tag to a highlighter
(or two).
20. Thanks for keeping me on TARGET – Target gift card holder!
21. I'm nuts about you! Create a nutty gift bag – it's a tasty alternative to candy plus a cute little note. Perfect!
22. How about a bottle of nail polish with this cute "Mani Thanks" label?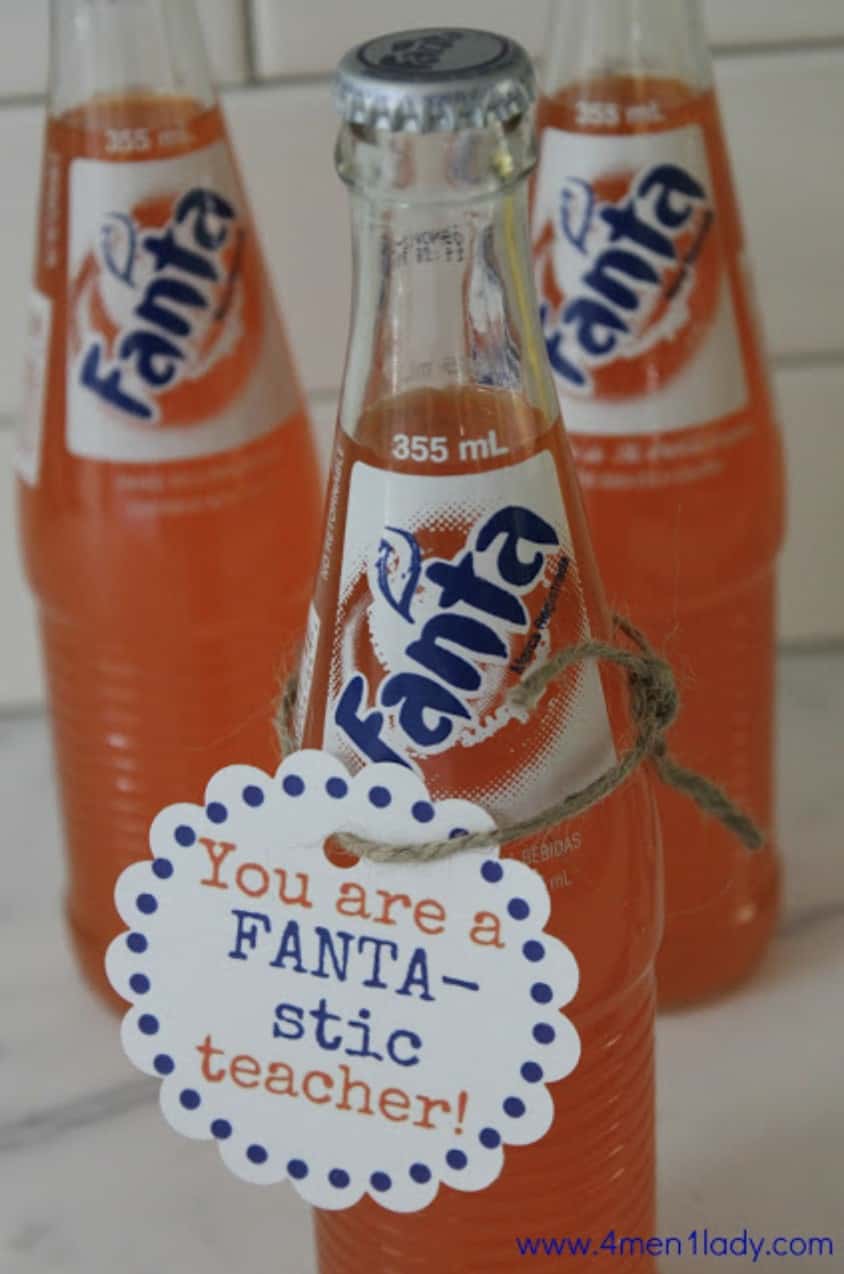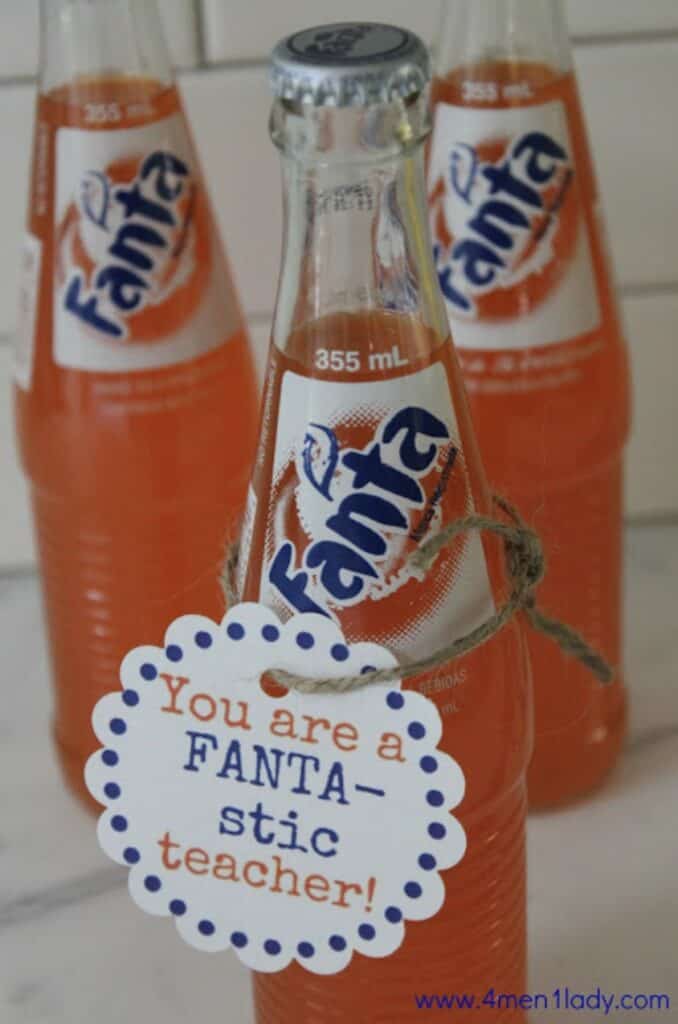 23. I love this gift idea using Fanta – Check it out here.
24. We Need Smore Teachers Like You Printable– give your teacher this delicious smore treat! Love this printable.
25. Make your teacher this fun artwork made out of crayons. You can buy everything at Dollar Tree or on Amazon!
More DIY Teacher Gift ideas!
Homemade Personalized Pencil Holder
Redbox Movie Night Basket
DIY Air Freshener
DIY Chalkboard Frame Plaque
NO SEW Coffee Mug Sleeve
10 MORE DIY Teacher Gifts