DIY Handmade Movie Night Redbox Gift Basket Teacher Gift Idea
This post may contain affiliate links, view our disclosure policy for details.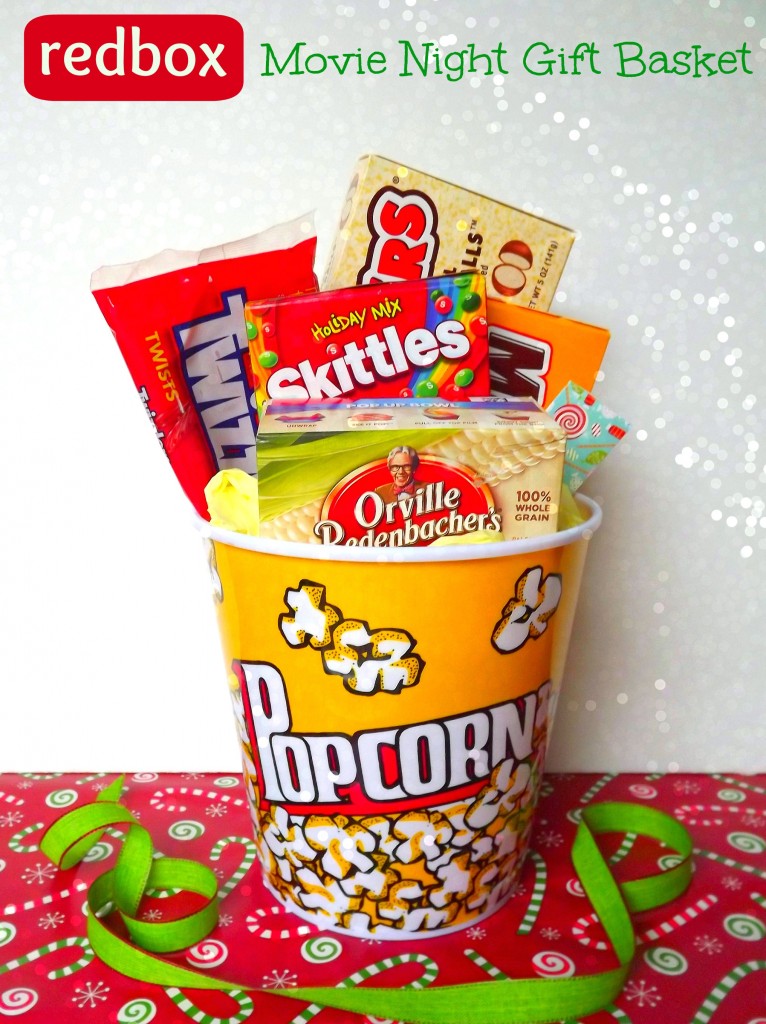 One of my FAVORITE things to make are movie night gift baskets! They are so fun and enjoyable to give and make! If your kids are in school it is that time of year to start thinking about teacher gifts!
I know this can be a daunting task if you have multiple teachers to do gifts for! (Anything handmade from your child is also a big bonus!) But if you're looking to do something a little extra here is a fun idea for you that I know we've always appreciated getting in the past – make your teachers a Movie Night Redbox gift basket!
It doesn't have to be fancy and you can keep it to $5 if you need! This turns out to be a unique and a much appreciated teacher's gift that won't break your budget!
What is a Redbox Movie Promo Code?
You may be familiar with Redbox movie rentals but for those of you who aren't let me give you a quick run down. Redbox movie kiosks are set up outside of drugstores, supermarkets, and other various retail stores. What makes a Redbox unique is how affordable it is.
Each rental is just over $1 and there are hundreds of movies available to rent! You pick the movie(s) you want, swipe your credit/debit card or use a promo code, and the movie is yours to rent until 9:00 p.m. the following day.
Ideas for your DIY Movie Night Redbox Gift Basket:
*1 Popcorn bucket – this can be purchased many places for the Dollar Tree has it for $1!
*Yellow Tissue Paper (optional) – just crumple up and stuff in the bucket
*Assorted Movie Candy – usually $1 or less each at Walmart or the Dollar Tree
*Movie popcorn – this is a must of course!!
*1 Redbox Gift Card (or Amazon gift card or any other theater)
Now for the Redbox gift card you can choose to buy a physical gift card or an e-gift card that will be sent directly to the teacher's e-mail. (Or send it to yourself and then print it out to add in your gift basket) You can choose to pay for 1 movie or a general gift card amount like $5 to be re-used for several movies. It's completely up to you and your budget!
Putting the basket itself together is SO simple and definitely easy to do if you are making several of them. Begin by filling the bottom of the bucket with several pieces of crumpled tissue paper to help the goodies stick up out of the bucket a bit.
Then fill with your popcorn and candies! If you are considering making several buckets I recommend adding 1-2 bags of individual popcorn instead of an entire box to save space and money. Be sure to stagger the items a bit so the recipient can see everything in the bucket at a quick glance! Fill any "holes" with crumpled pieces of tissue paper!
You can add the gift card inside the bucket or attach it to a gift tag with a personal message from you or your kids! If you chose an e-gift card you can also write a personal message letting the teacher know to check their inbox for their movie rental!
I LOVE this idea because it's so thoughtful and you can easily adjust it to fit any budget! A single movie, a $5-$10 gift card, 1 candy, a bunch of candies, a bag, a bucket, etc. There are SO many options depending on your price range and what you can find in stores or at home! Remember to make it creative and make it your own. A thoughtful message signed by your child is always a perfect touch.
How to buy a Redbox gift code as a gift:
To find the promo code bundle, click on the "gifts" tab at the top of the Redbox page, scroll way down and on the left is the option to "send promo code bundles". Click it and fill in the info. Design your card.
If you want to give each code to a different person, you can edit the "to" section after you pay for the codes. Send it to YOUR e-mail address and then you can click each code and print out separate papers for each teacher with just one code on it!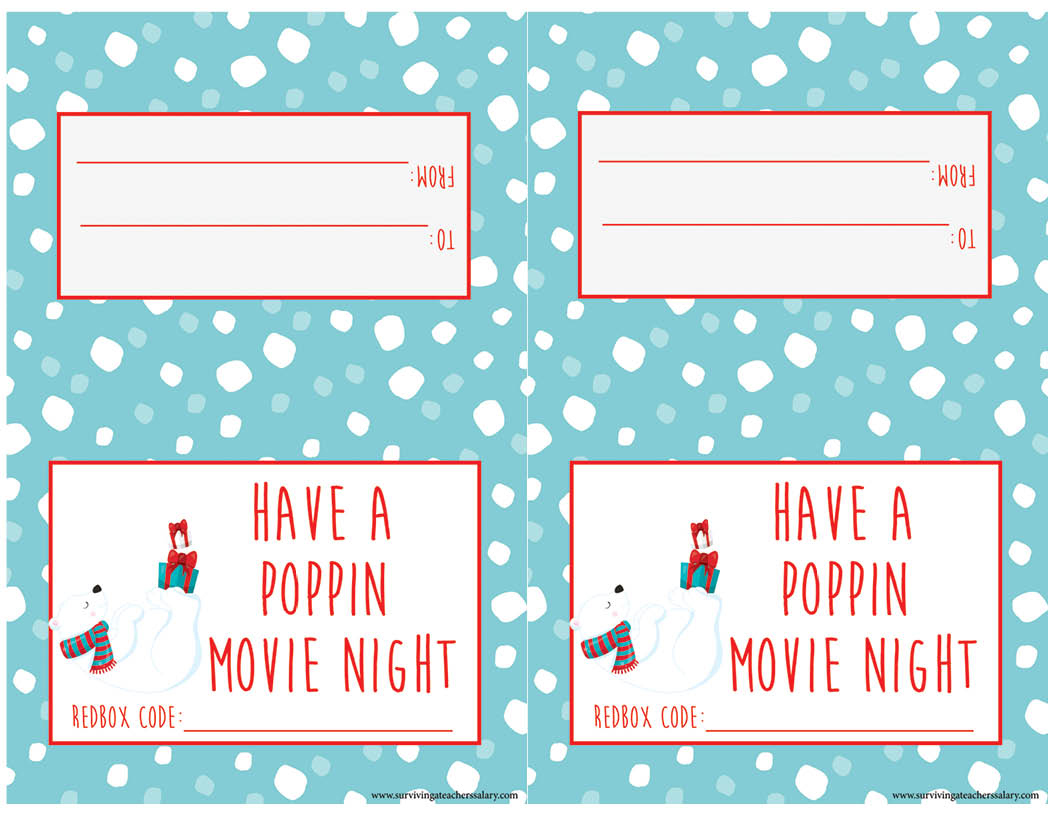 Movie Night Basket Gift Ideas to Buy: