DIY Chalkboard Frame Gift for Teachers
This post may contain affiliate links, view our disclosure policy for details.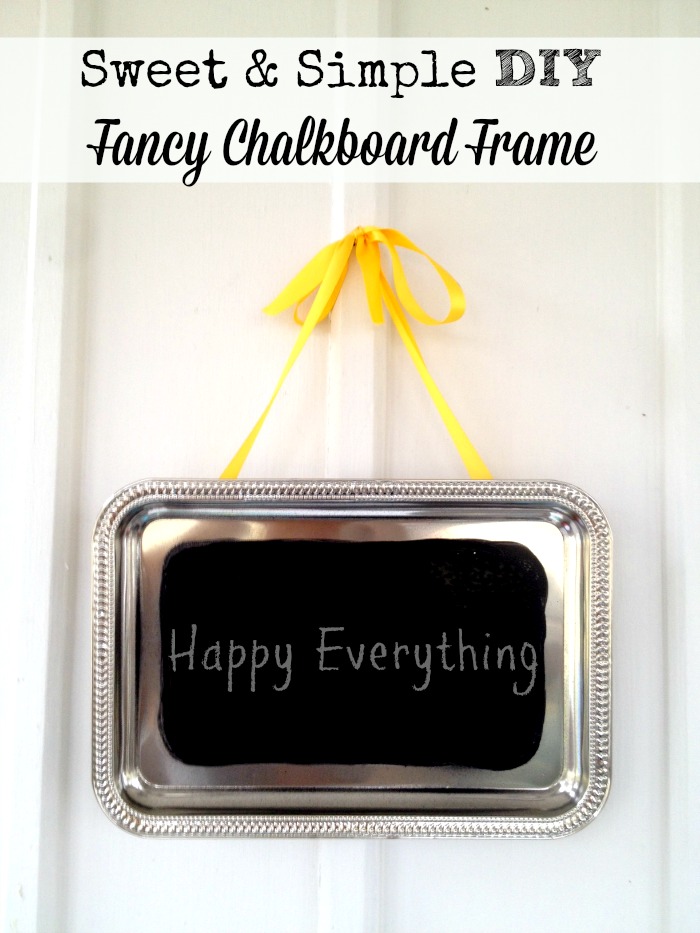 Spring often puts us in the mood for sprucing up our spaces so why not get spruced up for less? Not to mention since it's the end of the school year you may be thinking about teacher gifts, Mother's Day gifts, Grandparent's Day gifts, etc. You can easily make your own chalkboard frame, perfect for staying organized, using just a few dollar store supplies and paint! In no time you can have a chalkboard frame perfect for decorating your home or office, or even for giving as a gift. Take a look below at how to make your own in just a few minutes … YES minutes!
Supplies Needed:
Faux silver Tray
Ribbon
Chalkboard Paint
Brush
Hot glue & glue gun
We found the tray and ribbon at our local dollar store for just $1 each. Chalkboard paint can be found at any craft or hardware store for a few bucks a can or I usually just order it on Amazon. You only need a little so one can can go a LONG way and will last you many projects.
Directions:
1. Begin by applying paint to your brush and applying it to the inside of your tray. Try to stay in the center creating a square or rectangle with the paint.
2. After your first coat has dried apply a second, and even a third if needed. You want the paint to be nice and thick.
3. Cut a length of ribbon and glue it to the back of the tray. Tie the ends together into a bow.
4. Allow the paint to dry for 24 hours prior to using. When dry, use basic chalkboard chalk to write on it with.
Now all you need to do is hang your chalkboard frame and go! It is ready to display your memos, greetings, and more. Gather your supplies and give this simple DIY project a try. The end result is a sweet and simple chalkboard frame that is sure to spruce up your space for less.